No Comments
AleBlazers | Q&A With Funkytown Brewery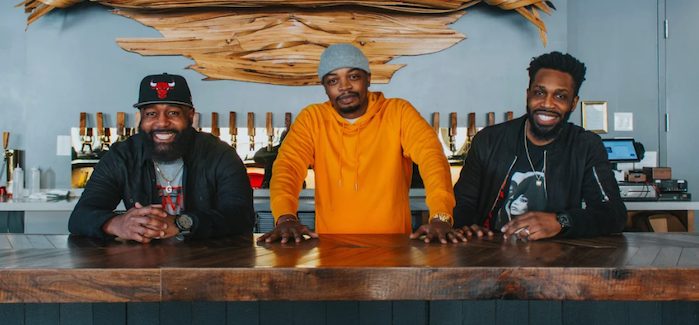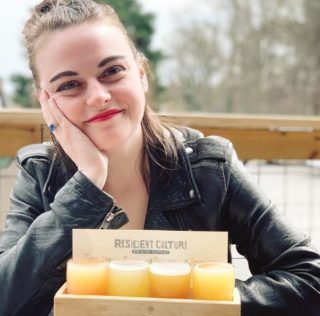 As a part of the PorchDrinking AleBlazers series, we're excited to chat with the owners of Funkytown Brewery, Richard Bloomfield, Zachary Day and Gregory Williams! With their opening in October 2021, they became the second Black-owned brewery in Chicago that is currently operating. We discuss the future of Funkytown, how they started working with a brewery incubator, the importance of diversity in craft beer and more!
Whenever a new brewery opens its doors, it is always an exciting moment. However, when childhood friends make a dream come true, it's even better. This is what happened with Funkytown Brewery and its owners, Richard Bloomfield, Zachary Day and Gregory Williams. Instead of opening up an individual taproom, they paired with Pilot Project, a brewery incubator, and has seen success since launching their beers in October of 2021.
How did Funkytown Brewery come to be? How did your team get involved in craft beer and interested in this industry?
We've been drinking beer since college, consistently upping our beer quality, moving on from malt liquors to the nationally distributed brands, to the locally produced craft brew. Honestly, we were choosing beers by the coolest label or funniest brew name, but noticed we didn't see anything that represented our environment, culture and sub-cultures, our any designs that put someone that look like us on label.
So back in 2017, we all had our professional jobs but still had the desire to work for ourselves and achieve financial independence on our own terms.  I think we just reached a point where we thought, "are we going to create our own business or just never try?"  Never attempting is a failure, in our view.  We just started thinking about what we like, what we do, and what can we bring to market where we can create a competitive advantage.  We were probably drinking beer when these conversations were happening, so it was an instant link.  At that time, we still didn't know our beer styles or flavor profiles really well.  We just purchased the stuff with dope labels and knew about some of the local favorites.  Once we decided we were going to open a brewery, we got on Google, found the homebrewing equipment we needed, put some money together and bought about $1400 worth of supplies and equipment.  From there, we started to brew, learn, and grow.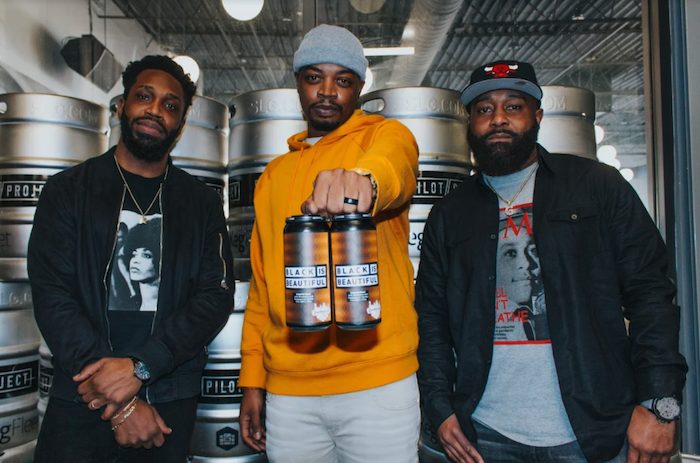 How did you end up brewing at Pilot Project, a brewery incubator in Chicago?
We learned about contract brewing at Freshfest 2019. Like, we learned the term and definition of "contract brewing" at the event. From there, through various internet searches we saw an article about a new thing called "brewery incubators" and then came across Pilot Project right here in Chicago.  They opened about two months before we discovered them.  We reached out immediately, learned about their business model, provided some of our homebrew samples and kept in touch.  We loved their business model and saw this as our best entry point into the market, with all the additional support they provide outside of just brewing up our homebrew recipes in larger quantities.  When the opportunity to audition with Pilot Project came up in June 2021, we were ready.  We developed our business plan and strategy to mesh with Pilot Project's strategy and make use of all the resources they provide.  I think we had a dope power point presentation!
I personally love your messaging and branding – 90's hip hop references are always a great idea in my book. Did you always want to have an emphasis on music or did that come about later?
First, THANK YOU! We always had an emphasis on music. In our initial brainstorm sessions, we talked about playing our own music in the brewpub. Not just the hits, or what made the top 40, but those deeper album cuts.  Those cuts that had lyrics that truly resonated, hip-hop quotables, music that motivates you in some way.  We all think we're better DJs (with the aux cord) than each other, so we see opportunities for creating a vibe, and having fun playing hip-hop, R&B, soul, reggae and other pop hits across decades.  Funkytown is going to put together the greatest playlists!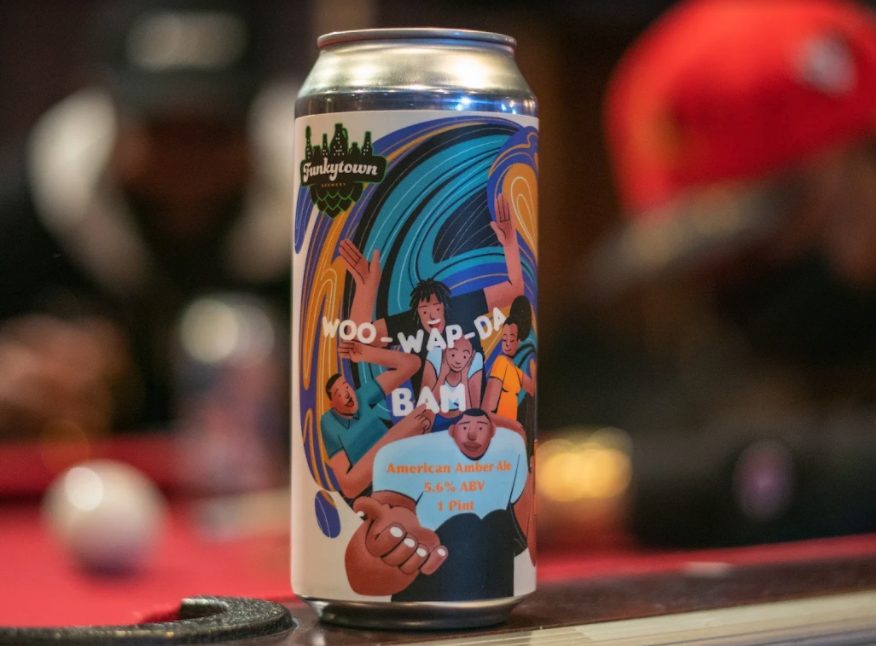 You've said previously that your point of view is "big on self-love, self-improvement, self-growth, and impactful dialogue". There has been a huge push in the craft beer industry as of late to address systemic issues within the industry. Where do you see growth, as well as room for improvement?
It's a good thing that there are various outlets and trade organizations speaking up and having conversations about the need for diversity and inclusion. Bringing the issue to forefront identifies and builds awareness around the problem.  We do still worry about what action is being taken at the individual brewery level.  There are places really living out the mission of diversity and inclusion and the values that complement it, but too many stories still crop up regarding racism, misogyny, prejudiced or predatory behavior in the industry.  The stories usually expose a pattern of behavior that was allowed, encouraged, or never addressed – even after someone complains to management.  As a beer community, we should do a better job holding other breweries accountable when these reports come out.  Right now, it seems as if it is all on the victims to hold these breweries accountable.
Where would you like to see the craft beer industry in regards to diversity in ownership, employment, consumer over the next couple of years?
We believe with consistent exposure and awareness, craft beer will grow in diverse ownership, employment and consumers over the next few years.  There are numerous Black-owned breweries in planning or that are currently contracting that I expect to have their own homes soon. I'm aware of some woman-owned and other intersections by gender, sex, race, and religion that are looking to break through and create their own space in the industry.  I expect the diversity of this new owner group to look for diversity in their hiring which brings more folks into the industry, which leads to more people in our community that know and understand craft beer.  From there the curiosity and interest should continue to spread through communities who have been underserved historically.
How was navigating the pandemic during the push to open the brewery?
We really wanted to push and launch in 2020, but the pandemic slowed that down, and slowed life down in general.  With us all working from home, and social life dwindling down just close friends and family, we locked in on our business plan and strategy.  We purchased design assets (logo, label art, software, etc), tackled some of the legal aspects and expanding our homebrewing efforts by joining a local brew club, CHAOS brew club.  When the opportunity came up for us to audition for a slot at Pilot Project, we felt really prepared to explain how our mission, vision, strategy, design, and product align to create a lane in the industry that is sustainable.
Lastly, what do you see on the horizon for 2022? What are you most excited about? Any sneak peeks at flavor profiles or potential beer styles launching?
We're excited for the return of beer festivals and people being outside again (fingers crossed)! We are looking to participate in a couple beer festivals for the first time, also looking to attend some as just beer lovers.
No sneak peek on beer styles, but we will continue to focus on palatable, low-bitterness and low astringency styles through 2022. And always fun label artwork! Hopefully, we make it on to some end-of-the-year best label lists or awards! We are also going to have a bunch of different market/event activations that help people better understand the Funkytown identity (and have a ball). Basically, we're excited about everything!
In addition to brewing at Pilot Project, you can find Funkytown at Haymarket Pub & Brewery for their residency in honor of Black History Month, which started Sunday, February 13th and goes for six weeks. Alongside Funkytown will be Moor's Brewing, Black Horizon Brewing and Turner Haus Brewery, all four of which have at least partial Black ownership. You can read more about the residency here. 
Featured Image Courtesy of Funkytown Brewery
---