No Comments
AleBlazers Series | Q&A with Sarah Flora of Flora Brewing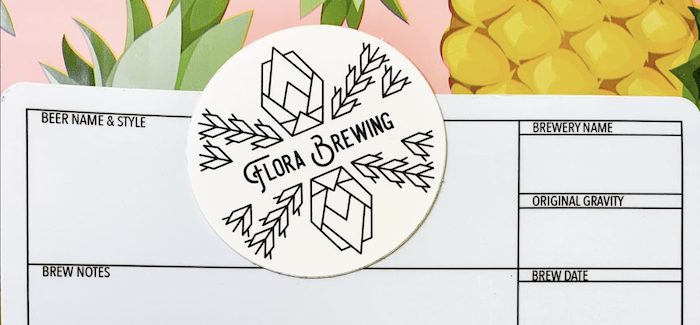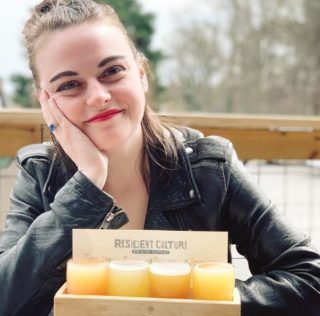 As part of the PorchDrinking AleBlazers Series, I was excited to get to chat with Sarah Flora of Flora Brewing. If you've had a chance to peruse her website or YouTube channel, you know that she is a top-notch homebrewer. Additionally, she just made her commercial debut at Pilot Project Brewing, a brewery incubator in Chicago, with Medusa, a Pale Ale that is perfect for summer!
Tell me a little bit about Flora Brewing and how you got started. How did you get involved with focusing on brewing on YouTube & hosting a podcast?
When I started homebrewing I noticed that people were more interested in my brewing process vs just reviewing the beer style so I decided to start filming my brew days and posting them on YouTube since at the time Instagram wasn't supportive of long form content or monetization for educational content like this. For my podcast Brewing After Hours, it actually wasn't my idea but Ash Eliot of Women of the Bevolution and my husband who is an audio engineer convinced me that it was the obvious next step. It didn't hurt that we already had microphones and sound foam lying around the house.
View this post on Instagram
As a homebrewer first, how was moving into the first commercial brew with Medusa at Pilot Project?
Thanks to the guidance of Dan, Jordan, Glenn and everyone else on the team at Pilot Project it was a wonderful experience. I've heard many brewers say that moving to a commercial system isn't much different than brewing on a homebrew system and there is credence to that statement. I think the biggest difference was that I usually don't sparge or lauter my mash so cycling the wort over the grain for about an hour was new to me, it increases your mash time significantly. I'm used to being done with my mash in an hour or less depending on what I'm making at the moment.
How did you decide on Medusa as your first commercial brew?
Working in the art world, I'm a very visual first type of person. I thought about the hops I wanted to use and that led to a visual of what I wanted this beer to be. I started working on the artwork for the beer and that helped inspire the recipe. Medusa was the obvious choice. So many things are in play with this hop, it's a neomexicanus variety and is gaining popularity in the commercial brewing world for being both delicious and strange.
The neomexicanus varieties come from the American West and are suited for drier climates than European varieties. I think if we want to continue making a water heavy product like beer while drought is devastating much of our farmland we need to make a conscious effort to plant varieties of crops that are more water efficient. Making a gallon of beer takes about 5-10 gallons of water (depending who you ask) so anything we can do to decrease the water consumption in the brewing process is important.
View this post on Instagram
What expansion plans do you currently have that you can share with us? Will you be doing more beers at Pilot Project or other brewery incubators like Pilot Project?
Yes we are in discussion with collaborating more with Pilot Project, which is an ideal model for my goals right now in brewing. I find such value in learning from brewing professionals. I probably learned more in my day of brewing with Glenn at Pilot Project than I did for the previous year brewing on my own. I would love to release a beer in California and Washington, I spend my time between the states and want to be able to share my beer with everyone!
As a homebrewer for many years, how do you come up with your recipes?
I start by thinking what style I want to make or what novel ingredients I want to use. I frequently use the guides on Brew Your Own (byo.com) to get an idea of what a style requires. The Beer Judge Certification Program style guidelines is also a great place to start. From there I just start messing around with ingredient levels in the BrewFather app that calculates IBU ABV and a bunch of other metrics. I buy ingredients in bulk so I try to keep to ingredients I already have on hand or can grab at my local grocery. If I'm going to use a fruit, herb, spice, or something unexpected I think about it like you would about cooking a meal. What other flavors go well with the flavors you're set on using? Will it need to have acidity, sweetness, or bitterness to balance the ingredient? I think most of my willingness to experiment came from my willingness to experiment in the kitchen. I'm a huge fan of Samin Nosrat's book Salt Fat Acid Heat. It changed the way I cook and helped me understand flavors more than an entire lifetime of cooking.
What advice do you have for women coming up in the craft beer industry and/or women looking to enter the industry?
Go for it. Women have as much right to be in the brewhouse as men do. After all, women were the first brewers.
* * * * *
Ending on some great advice, make sure to check out more of Sarah's content below!
Beginning of Medusa : Homebrew Version
Medusa is available on draft at Pilot Project Brewing in Logan Square in Chicago, as well as some stores throughout the Chicagoland area!
Featured image courtesy of Flora Brewing
---