No Comments
Colorado Breweries Who Won Big at the 2022 GABF Competition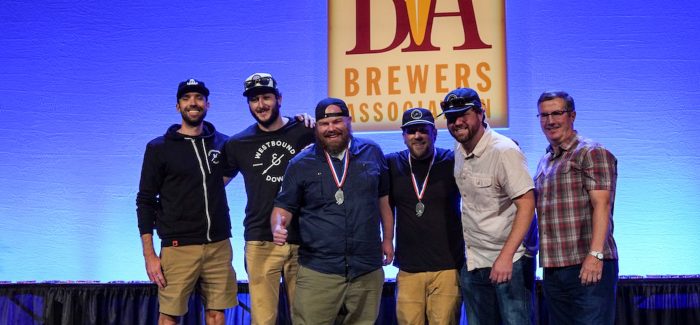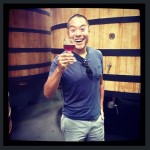 Colorado has perennially performed well at GABF, but after a somewhat lackluster showing last year with only 21 medals they rebounded in a big way in 2022. This year, independent breweries from the Centennial State took home 26 medals including one of the major brewery awards, with Left Hand Brewing taking home Brewery of the Year honors in the 15,001-100,000 Barrels category.
In addition to the major award, Left Hand Brewing also won a bronze medal in the Belgian-Style Strong Specialty Ale for St. Vrain, and a silver in the Milk Stout category for Left Hand Milk Stout. Our Mutual Friend Brewery also took home multiple awards this year for the second consecutive year with a gold medal for Trystero in the Brett Beer category, and silver in the Mixed-Culture Brett Beer category for Biere Orvale taking their total GABF medal count up to eight historically. Westbound & Down Brewing also took home multiple honors with a silver in the Collaboration Beer category in partnership with Bierstadt Lagerhaus for their Chicago Peaks Kolsch, as well as a silver for Spirit of the West in the English India Pale Ale or New Zealand India Pale Ale category.
Cannonball Creek continued its impressive streak of winning medals at 10 consecutive GABF competitions, this year earning a bronze medal in the Specialty Saison category for Rosemary Sourdough Saison.
Other breweries who have now tallied multiple medals throughout their existence include Odell Brewing, which earned its 19th GABF medal historically with a Bronze in the Imperial Stout Category for Dark Helmet. Dry Dock Brewing, earned a silver medal for Docktoberfest in the German-Style Maerzen category this year and despite taking home no medals last year, Dry Dock has now won 13 medals in the last 15 years.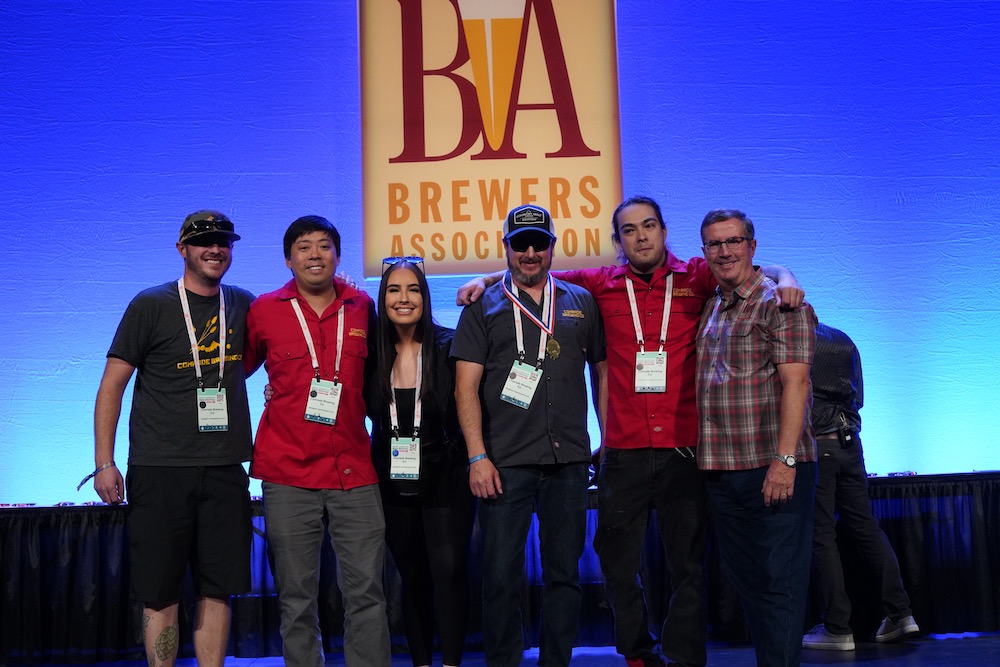 Twisted Pine earned its 12th GABF medal by winning silver for Rockin' Roggen in the Rye Beer Category. Comrade Brewing earned its 7th GABF medal historically as More Dodge Less Ram took home another Gold medal in the American-style IPA category. Crooked Stave, took home its 5th medal historically by winning Gold in the Belgian-style Sour category this year with Stay the Funk In after that same beer took home a Silver medal in the same category last year. The Post Brewing earned its 5th GABF medal as well this time with El Corn taking gold in the International Dark Lager category.
Cerebral Brewing, Baere Brewing, Launch Pad Brewery, New Terrain, and Holidaily Brewing all returned to the stage this year each earning their third GABF honors this year.
Here are the official medal winners from Colorado breweries in 2022
Category 2: American Fruit Beer – 128 Entries
Silver: Black Razz Blonde – Joyride Brewing – Edgewater, CO
Category 6: Chili Beer – 88 Entries
Bronze: Fuego Reserva, Cerebral Brewing – Florence St., Aurora, CO
Category 12: Rye Beers – 48 Entries
Silver: Rockin' Roggen, Twisted Pine Brewing Co., Boulder, CO
Category 17: Other Strong Beer – 70 Entries
Silver: Hello Darkness, River North Brewery, Denver, CO
Category 22: Gluten-Free Beer – 49 Entries
Silver: BuckWit Belgian, Holidaily Brewing Co. – Production Facility, Golden, CO
Category 24: American Sour Ale – 25 Entries
Silver: Mirage, New Terrain Brewing Co., Golden, CO
Category 26: Brett Beer – 42 Entries
Gold: Trystero, Our Mutual Friend Brewing Co., Denver, CO
Category 27: Mixed-Culture Brett Beer – 61 Entries
Silver: Biere Ovale, Our Mutual Friend Brewing Co., Denver, CO
Category 28: Wood- and Barrel-Aged Beer – 59 Entries
Gold: Barrel-Aged Soft Skills, Jessup Farm Barrel House, Fort Collins, CO
Category 30: Wood- and Barrel-Aged Strong Stout – 170 Entries
Bronze: Wooden Mayhem, Rock Cut Brewing Co., Estes Park, CO
Category 50: German-Style Maerzen – 207 Entries
Silver: Docktoberfest, Dry Dock Brewing Co. – North Dock, Aurora, CO
Category 52: International Dark Lager – 86 Entries
Gold: El Corn, The Post Brewing Co., Lafayette, CO
Category 54: German-Style Doppelbock or Eisbock – 47 Entries
Silver: Execrator, Resolute Brewing Co., Centennial, CO
Category 57: English Ale – 47 Entries
Silver: Citronaut, Launch Pad Brewery, Aurora, CO
Category 59: English India Pale Ale or New Zealand India Pale Ale – 88 Entries
Silver: Spirit of the West, Westbound & Down Brewing Co., Idaho Springs, CO
Category 64: American-Style India Pale Ale – 423 Entries
Gold: More Dodge Less RAM, Comrade Brewing Co., Denver, CO
Category 72: Scottish-Style Ale – 49 Entries
Silver: Laughing Lab Scottish Ale, Bristol Brewing Co., Colorado Springs, COColorado Breweries Who Won Big at the 2021 GABF Competition
Category 84: Classic Saison – 81 Entries
Silver: Saison, Baere Brewing Co., Denver, CO
Category 85: Specialty Saison – 66 Entries
Bronze: Rosemary Sourdough Saison, Cannonball Creek Brewing Co., Golden, CO
Category 86: Belgian-Style Sour Ale – 50 Entries
Gold: Stay The Funk In, Crooked Stave, Denver, CO
Category 87: Belgian-Style Strong Specialty Ale – 76 Entries
Bronze: St. Vrain, Left Hand Brewing Co., Longmont, CO
Category 94: Oatmeal Stout – 66 Entries
Silver: Milk Stout, Left Hand Brewing Co., Longmont, CO
Category 95: Imperial Stout – 73 Entries
Bronze: Dark Helmet, Odell Brewing – Sloan's Lake Brewhouse, Denver, CO
Pro-Am Competition – 35 Entries
Silver: Sticky Fingers Saison, CooperSmith's Pub and Brewing & AHA Member: Mark Pennick, Fort Collins, CO
Collaboration Competition – 94 Entries
Silver: Chicago Peaks Kölsch, Westbound & Down Brewing Co. / Bierstadt Lagerhaus, San Diego, CA
15,001–100,000 Barrels Brewery and Brewer of the Year
Left Hand Brewing Co – Longmont, CO
---