No Comments
Alvarado Street Brewery | Motor Oil No. 17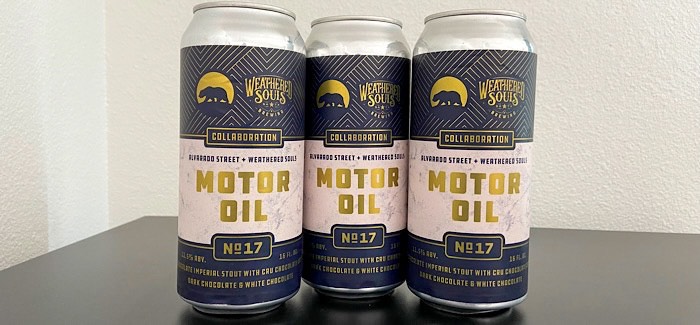 As the weather cools, leaves begin to change color and the smells of pumpkin spice are inescapable, it's hard to beat the comforting warmth of an Imperial Stout. Alvarado Street Brewery in collaboration with Weathered Souls Brewing Company is bringing the latest version of Motor Oil. Motor Oil No.17 is a Chocolate Imperial Stout registers with an impressive 11.5% ABV.
What's so impressive? How easy drinking it is. Motor Oil is loaded with chocolate. It all starts with Cacao nibs from Cru chocolate. Then additions of both white and dark chocolate make this an absolute chocolate bomb. Indulgence doesn't do it justice; it's a decadent treat that teeters between brownie bites, fortified chocolate milk and chocolate frosting. With all that, this beer is balanced. Not too thick or viscous.
This beer pours out dark brown. Any darker and it would be black. The head is rich cocoa in color and as it warms up you get an intense chocolate milk aroma. It's a big beer that finishes with unsweetened chocolate flavors that linger just enough to cut the sweetness.
This beer might be a bit too easy to drink, is that possible? As you sit with it for a while you will get that alcohol warmth, that will hit you right in the cheeks. This is a perfect beer to share with a friend or two as you take in a chilly Fall afternoon or evening around the fire pit. It's a perfect complement to the stresses of the holiday season.
---