No Comments
FIRST LOOK | Public Offering Brewing Opening on South Broadway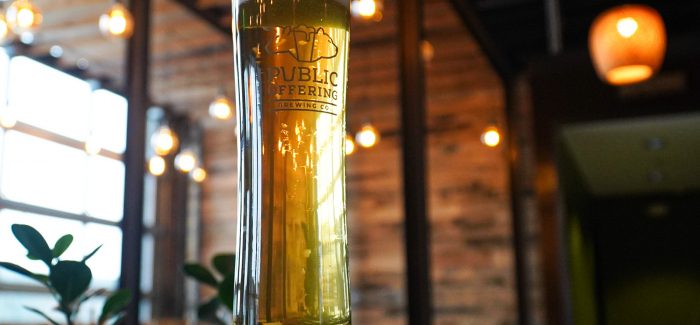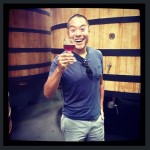 As a resident of West Wash Park for the past 16 years, Cody Higginbottom feels a deep kinship with his neighborhood. But that communal bond will be further deepened today when he officially opens Public Offering Brewing at 1736 South Broadway.
This stretch of South Broadway hasn't always garnered the same kind of attention that other regions of Denver like the RiNo Arts District, Tennyson Street, and even the section of Broadway just north of Alameda have seen throughout the years. However, even despite the recent departure of Black Project Brewing, the Ruby Hill, Platt Park, and West Wash Park neighborhoods have begun to coalesce around a number of new and existing breweries to become a true beer destination.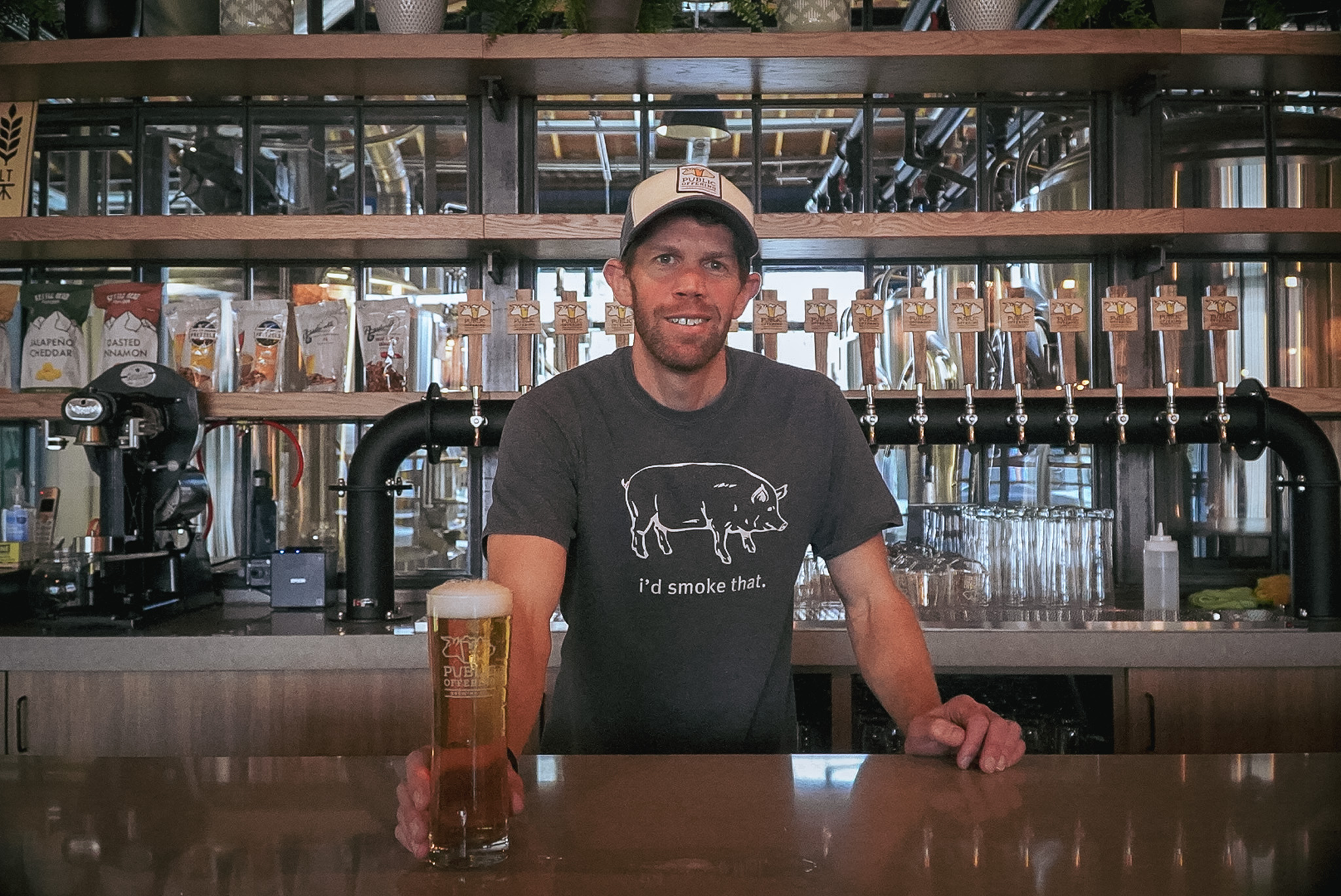 Public Offering's arrival, just three doors down from Grandma's House, joins the recent additions of Ratio Beerworks Overland, nearby Denver Beer Company's South Downing location, Sunroom Brewing which opened last month a little further south in Englewood, as well as existing staples like Chain Reaction Brewing, The Post Brewing, and Platt Park Brewing.
Higginbottom hopes that the addition of Public Offering can help further drive the neighborhood as a brewery hopping destination, while also offering something a little different.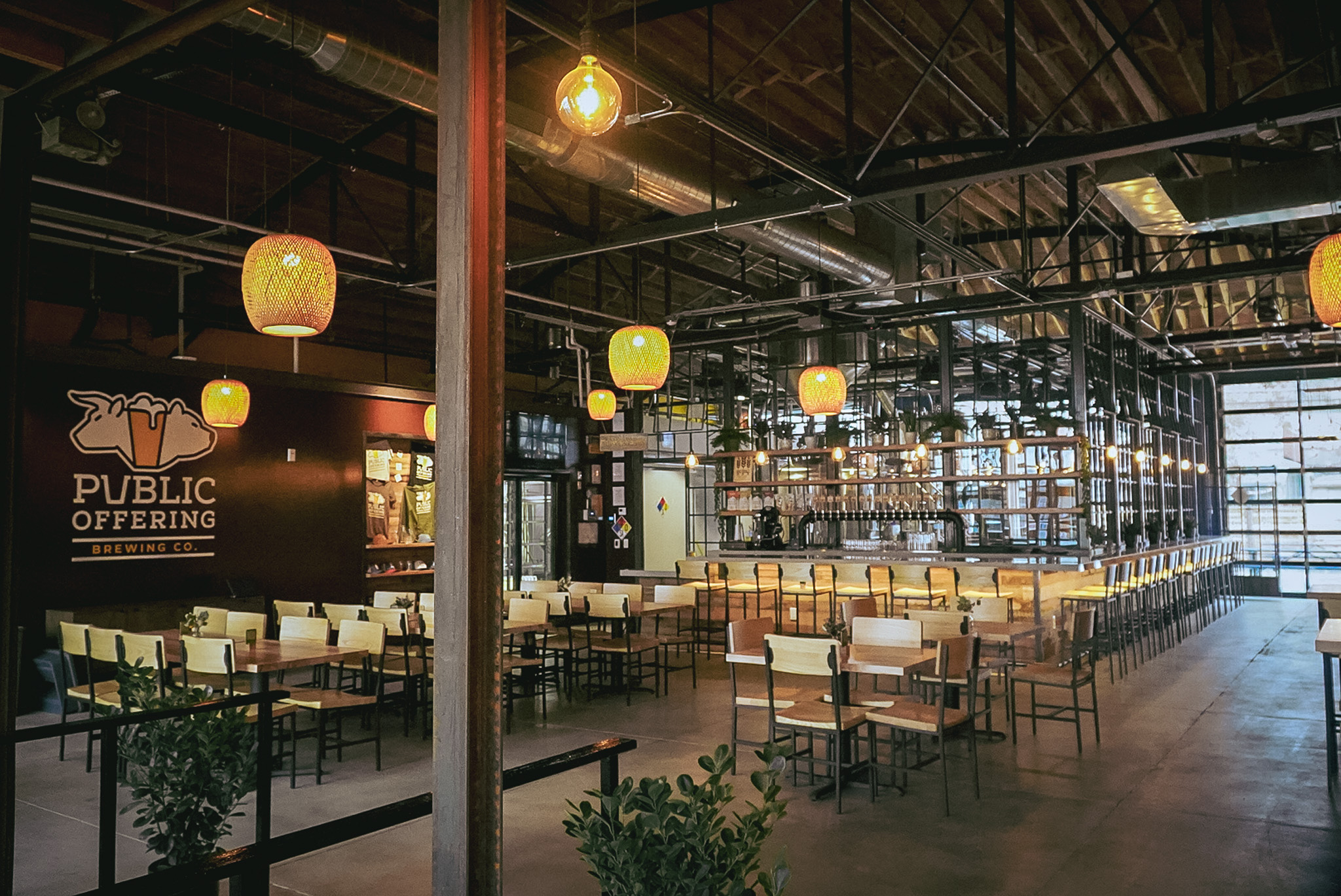 Creating a Common Space
The name Public Offering is a tongue-in-cheek reference to Founder Cody Higginbottom's investment banking background. In this case, the meaning has pivoted from the cutthroat world of Wall Street to an inclusive community focus. Instead, Higginbottom hopes to offer up his beer and the brewery space to the neighborhood by creating a warm and welcoming environment with beers that reflect the taste preferences of its residents.
"We're opening with about 60% hop-forward beers, but if our customers gravitate towards Saisons and malt-forward styles, we're absolutely open to shifting that percentage," explained Higginbottom.
According to taproom manager Bryan Boynton, Public Offering wants to create connections among both customers and staff. "We are looking to create one big neighborhood of beer drinking friends, so guests should always expect to feel welcome and comfortable at Public Offering."
Higginbottom adds, "For so many people, beer can be a common bond and the catalyst for conversation and friendship. We just want to take it one step further and make our customers and community feel like our brewery is their brewery and create one big neighborhood of beer-loving friends."
It Begins With the Physical Space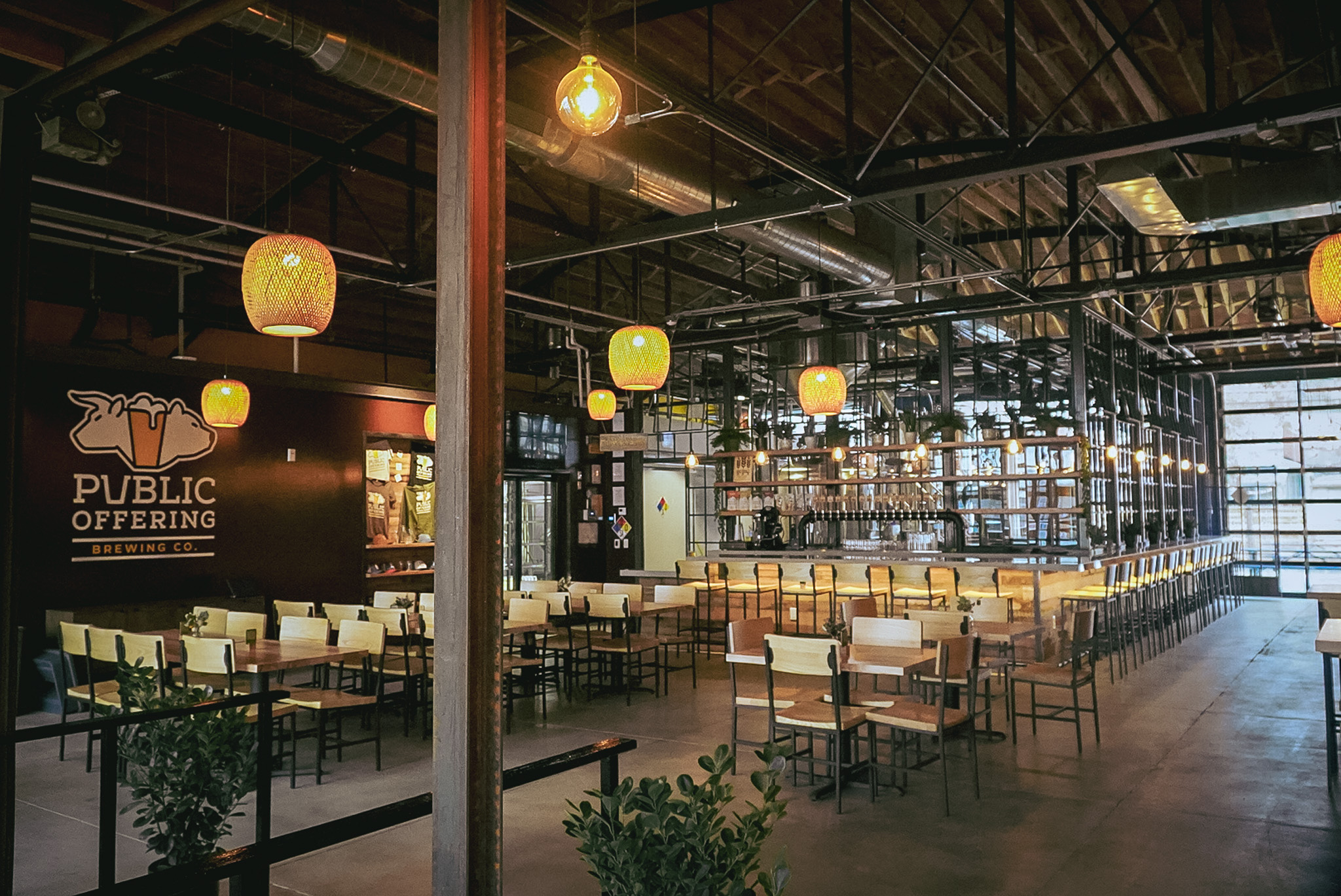 For Higginbottom, the first step in creating that warm and welcoming environment meant designing a taproom that could embue those characteristics. This was a lesson that Higginbottom picked up from his time interning for Station 26 Brewing through the Regis University Applied Brewing Science Program. His time at Station 26 was not only instrumental from a brewing standpoint under the tutelage of Head Brewer Wayne Waananen, but also in understanding the importance the role a taproom can play in an otherwise non-commercial neighborhood.
"Justin (Baccary) did such a great job with the look and feel and it helped to transform a former firehouse into a welcoming taproom experience," explained Higginbottom. "My time there showed me just what kind of role taproom can serve to become the lifeblood of a brewery, and its something I hope to mimic here."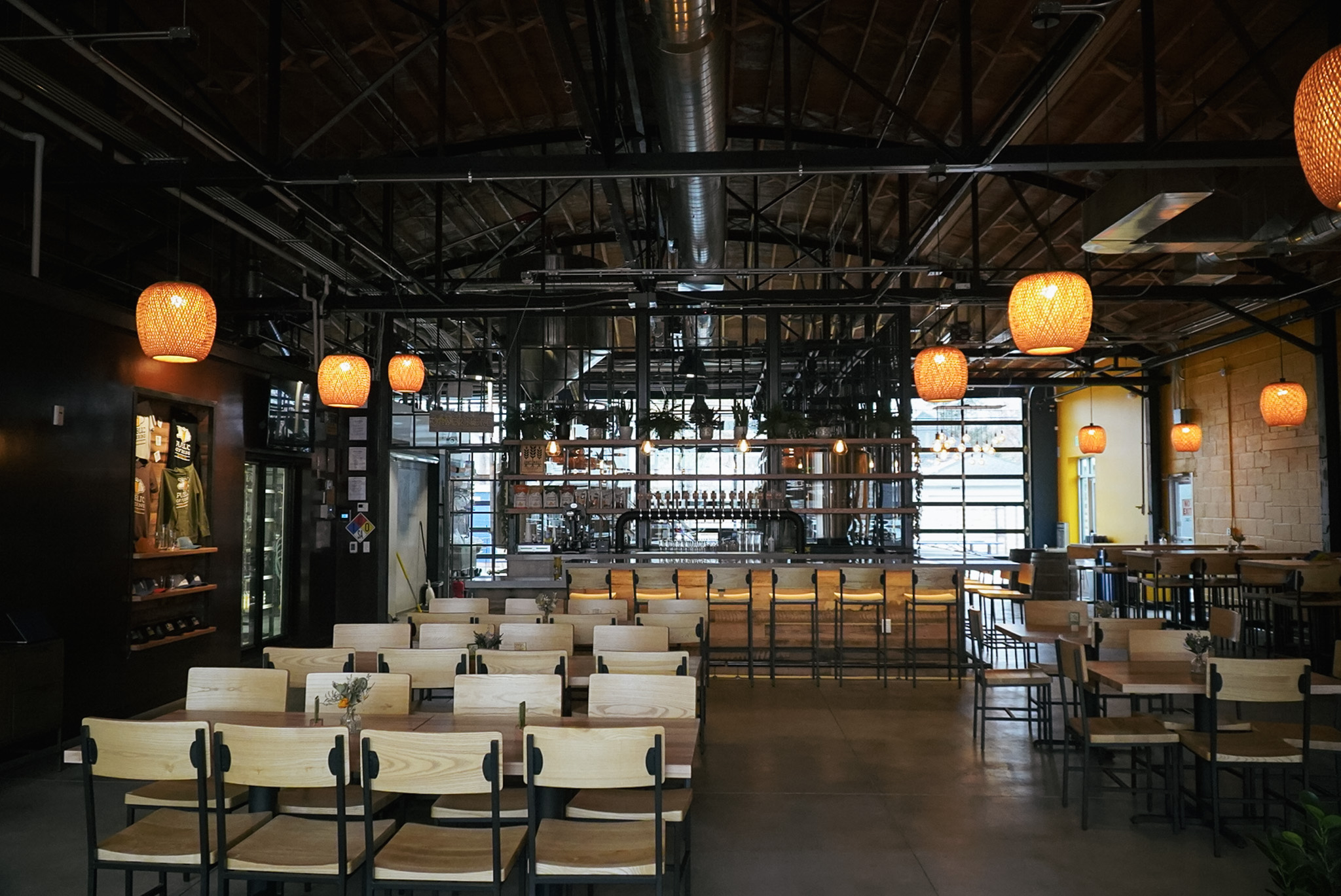 To achieve Public Offering's communal feel, Higginbottom called on the help of Chord Design Studio and Mark Davis of Novum Contracting Group. Instead of the more traditional cold, cramped, industrial feel, Public Offering's 4000 square foot tasting room features windowed garage doors that lead into an indoor pergola with greenery, warm lighting, and an open floor plan as well as a 2,000 square foot patio for warmer weather. Rather than completely walling of their brewhouse, the backbar features all glass paneling that provides visitors a window into every step of the brewing process.
"We want our patrons to be able to check out all of the action and ask questions," said Higginbottom. "Our hope is to be able to take regulars into the brewhouse so they can truly feel part of this brewery and understand the process."
Local Ingredients Drive a Variety of Styles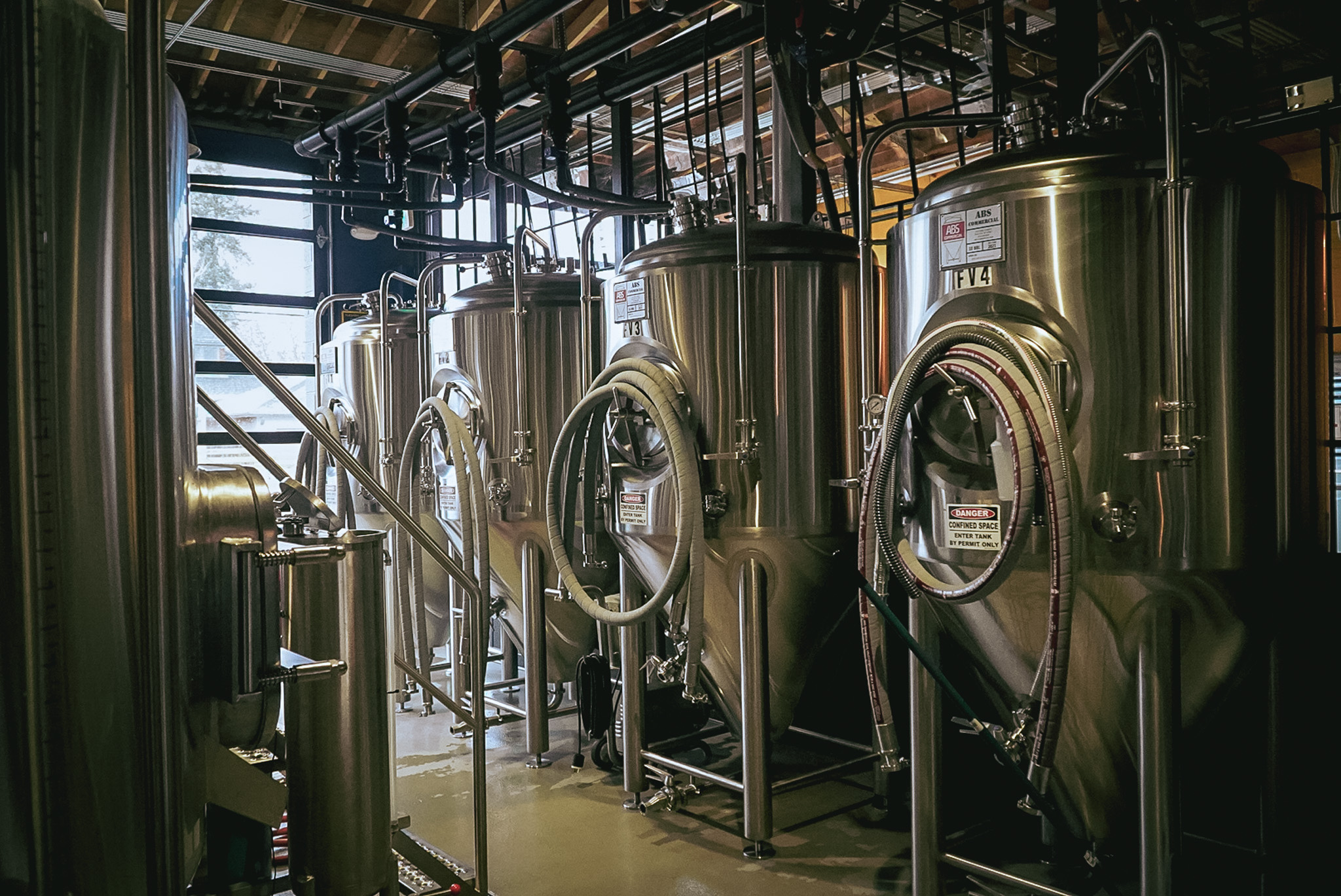 But locality extends beyond just the space and its prioritization on the neighborhood. Public Offering also plans to focus on local ingredients whenever possible. The brewery's current tap list features Kolsch, a Blonde, a New Zealand Pale Ale, as West Coast IPA, as well as a Hazy IPA. And of those five offerings, all but one features local malts from Root Shoot Malting and Troubador Malting. Because of that grain-to-glass commitment to utilizing local malts, Public Offering is also a Craft Malt Certified brewery. Beyond local malt, Higginbottom has also worked with locally-based Propogate Yeast Lab and other local yeast banks to keep that element as local as possible as well.
Higginbottom notes that he began using local malt as a homebrewer but was further impressed with the quality of terroir-driven malt during his time at Station 26.
"You can tell a difference from using local malts, but it all shows a commitment to supporting your neighbors who are also small local businesses," said Higginbottom.
Grand Opening a Community Event
Like most new craft breweries, Public Offering faced a long road leading up to their opening, with unexpected twists, turns, and delays. However, now that it's become reality, Higginbottom couldn't be more excited. "It's a huge relief to feel like we finally have some sense of control over our own destiny," he says, adding, "I'm so excited to share our beers and taproom with everyone. I hope the community joins us along the journey — we want them to be a part of it every step of the way!"
With this weekend's grand opening, residents in Denver's South Broadway neighborhood now have even more reasons to get out of the house during the dark days of winter. Likewise, locals and visitors can add one more stop to an already-great Broadway pub crawl.
Public Offering Brewing opens today, November 18 at Noon and will be open Tuesdays and Wednesdays from 3-10pm, Thursdays from 2-10pm, Fridays and Saturdays, from Noon-10pm and Sundays from Noon-9pm.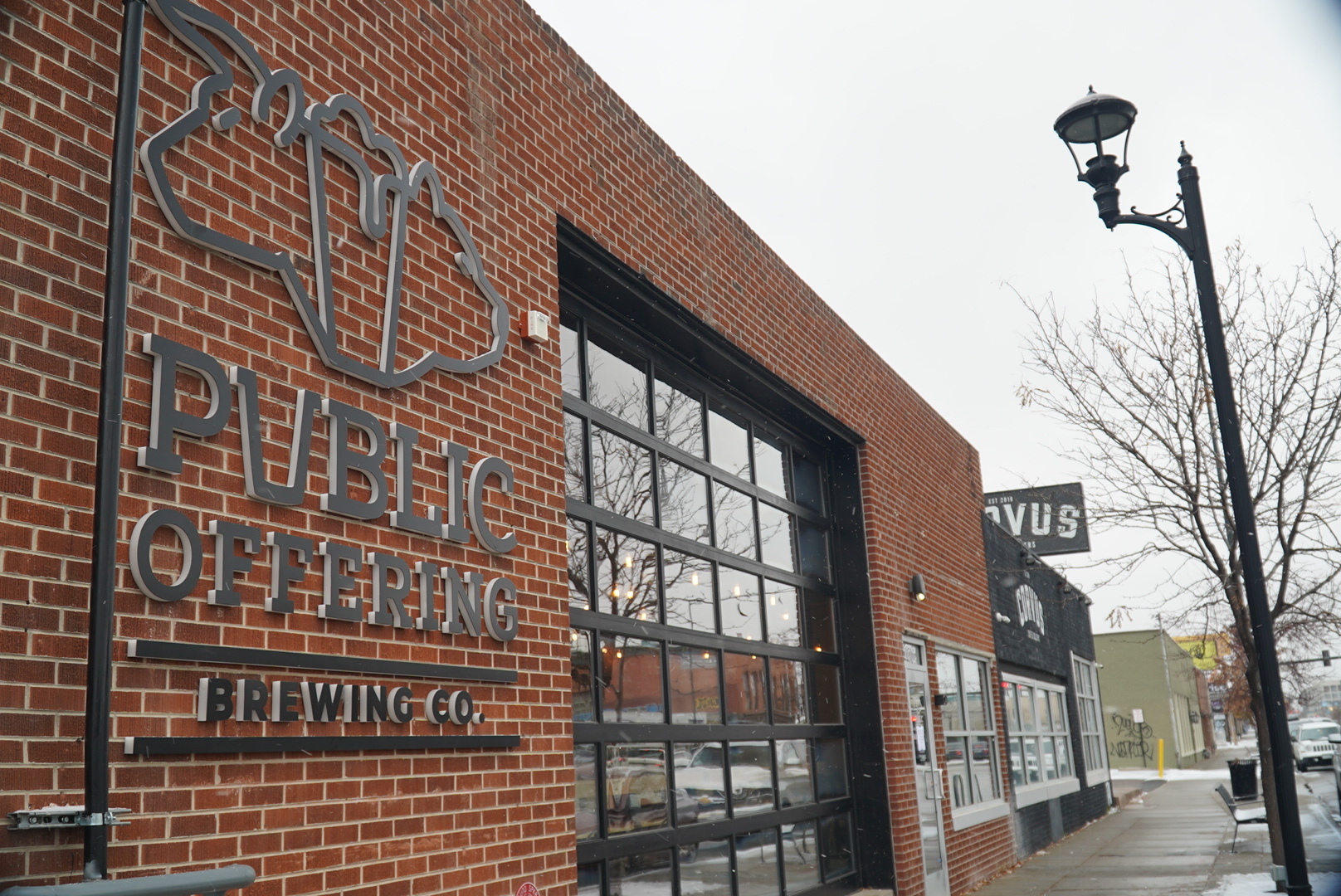 This article was co-written by Tristan Chan and Scott Grossman
---