No Comments
The Epic Origin Story of DuClaw Brewing's Sweet Baby Jesus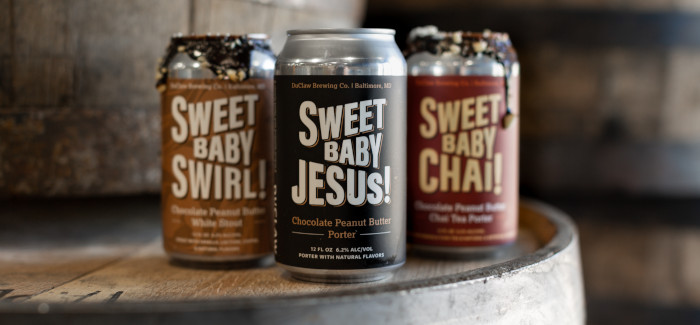 Have you ever tried a beer that was so unexpectedly good that you immediately exclaimed your surprise at its serendipitous deliciousness out loud? Maybe it was another beer, but probably it was DuClaw Brewing Company's Sweet Baby Jesus! Peanut Butter Porter.
The Birth of a Sweet Baby
Sweet Baby Jesus! was born in 2010, when DuClaw's brewers were experimenting with a new recipe during a period when adjunct-laden beers were a tiny niche in the craft beer market, and Pastry Stouts and Porters were virtually unheard of. They knew they wanted a peanut butter flavored beer, and they knew they had to do it right. One of the biggest obstacles was that they couldn't use actual peanut butter in the recipe, as oils separate during the brewing process, causing head retention and quality control issues.
Nevertheless, the brewers persisted. After multiple pilot batches (and likely countless exclamations of frustration), the beer named itself when one of the brewers sampled the first recipe that would be released to the public and shouted with joy, "Sweet Baby Jesus! We got it!" Founder and President David Benfield thought that would be a perfect name for the beer and Sweet Baby Jesus! (the beer, that is) was born.
View this post on Instagram
What's in a Name?
Inevitably, the name caused a stir, although Benfield didn't have any kind of marketing-by-controversy ploy in mind when he went with the name. He was simply echoing childhood memories of what his grandmother in Georgia would exclaim when she wanted to express surprise or excitement: "Sweet Baby Jesus!" There was no push back upon the initial release of the beer, but when it made it into chain stores, the brewery began to receive complaints about associating Jesus and alcohol. Benfield even appeared on Fox News when asked to defend the name. When asked, "Well, would you name a beer, 'Sweet Baby Muhammad'?" Benfield simply responded "No" and explained that is is a very common exclamatory phrase that often appears in shows and movies and is not meant to be defamatory.
Although it most assuredly still has its naysayers, the controversy has mostly passed and it certainly hasn't hurt sales. The beer has become so popular that there is now an entire series. When distributors began asking for quantities in barrels rather than cases, DuClaw knew they had a hit on their hands. And it wasn't because of the supposedly offensive name; it was very much because drinkers enjoyed what was at the time a fresh new approach to the standard porter. Undoubtedly, many drinkers (this writer included) exclaimed that very phrase upon first having a drink.
You're the brewery that does that one beer, right?
Eventually sales slowed, and it appeared that the initial blessing was going to be followed by a "one hit wonder" curse. After all, tasty as it is, it's not the sort of beer that drinkers are likely to chug down by the six- or twelve-pack. With the fickle nature of the craft beer industry becoming apparent, Benfield knew he had to formulate a strategy. While continuing to brew traditional beers and releasing other highly creative beers (and names), the brewery began crafting and releasing other beers with variations on the Sweet Baby Jesus! name and recipe.
The next incarnation of Sweet Baby, a one-off Imperial Stout variant named For Pete's Sake!, was released in 2015. Next up was a coffee variant, Sweet Baby Java!, released as a new core brand in 2017. In 2022, triplets were born, with Sweet Baby Chai! (a Chai Tea Peanut Butter Porter), Sweet Baby Swirl! (a Vanilla Peanut Butter White Stout) and Sweet Baby Hazel! (a Hazelnut Chocolate Porter) being added to the Sweet Baby line. The newest release, Sweet Baby Banana! (a Chocolate Peanut Butter Banana Porter) has recently been added to the growing Sweet Baby family.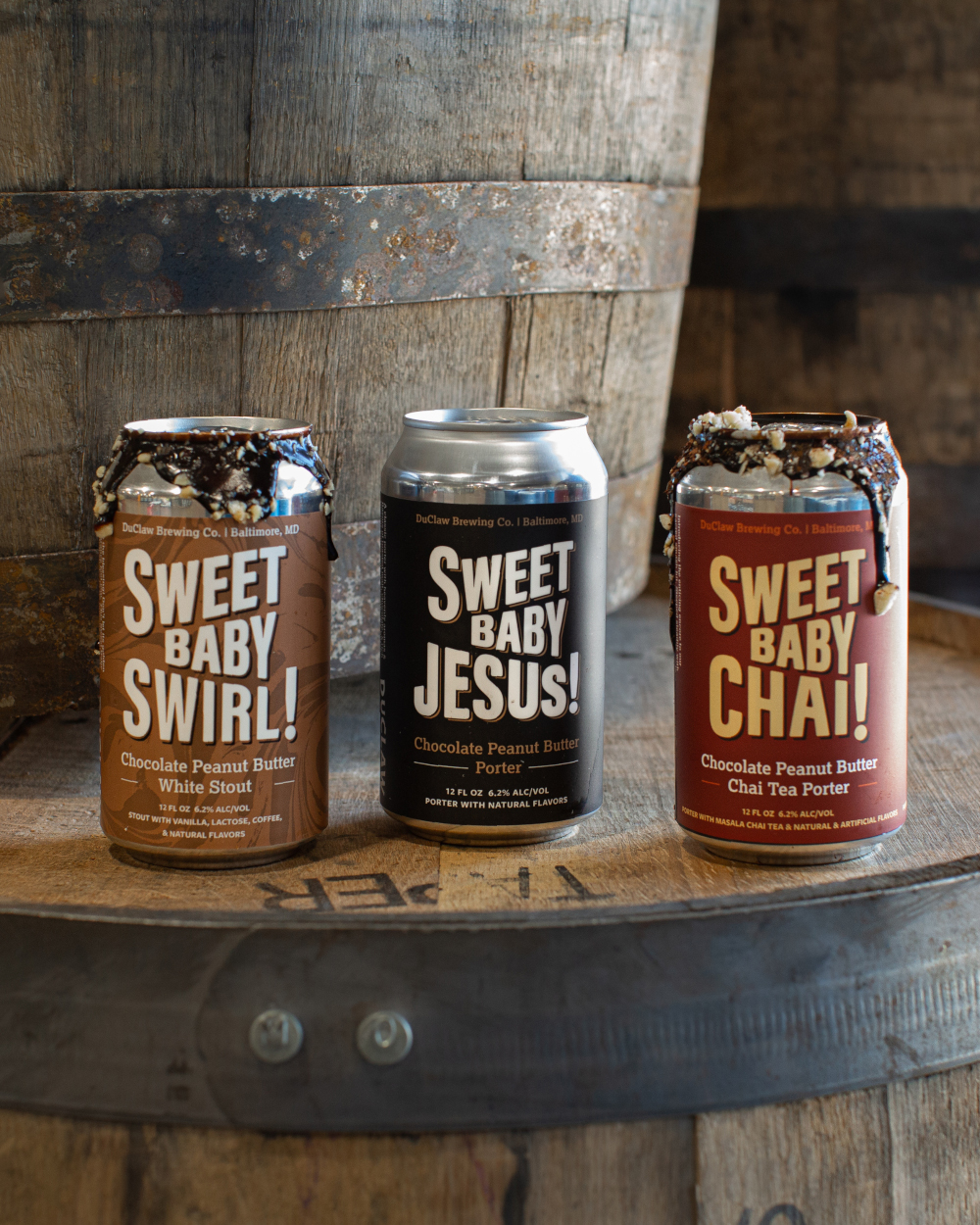 A Winning Brand
Clearly, the Sweet Baby line has stuck to consumers like peanut butter on the palate. "Even today, it still surprises me," Benfield said. "When people are talking about this style, we're in the conversation or a comparison. I take it as a compliment that we're still a measuring stick."
A big thank you to DuClaw's Photographer & Marketing Manager Rachel Bradley for her grace and patience in providing information for this article. If you haven't already, be sure to get you some Sweet Baby Jesus!
Photos contributed by DuClaw Brewing Co.
---