No Comments
The Weekly Buzz | January 6 – 12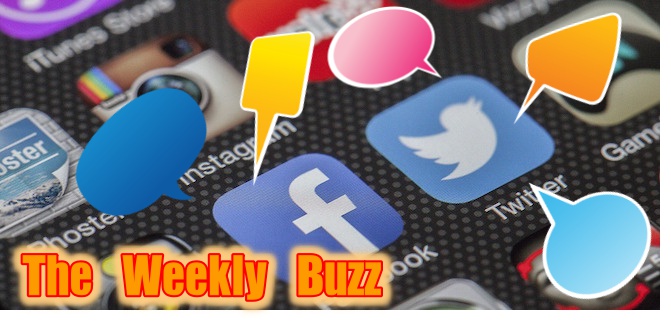 Things are finally getting back to normal after the holidays. There are no more family gatherings to attend, and I'm no longer in denial about how fat I've gotten. Beer news on social media is quickly ramping back up as everyone returns to work. We've got events, new beers, returning old beers, job announcements, events, and shenanigans. It's like I have a purpose again! Settle in and prepare to live vicariously through my Weekly Buzz.
Another brewery trying to preserve the environment. HOORAY!
We're proud to have made the list of 10 zero-waste companies that are doing their part to conserve the environment. https://t.co/A6gWNHwk24

— Sierra Nevada Beer (@SierraNevada) January 12, 2017
---
I can't think of a better release date.
We're releasing our Devil's Hearth #BelgianTripel at both locations just in time for Friday the 13th. Stay tuned #lvbeer pic.twitter.com/4uWOPDCIb5

— Fegley's Brew Works (@TheBrewWorks) January 6, 2017
---
Go drink for a good cause!
.@AveryBrewingCo's #BrewingGiveBackFest @worldcafelive aids @Philabundance We'll be there Will you? #GoodFightFriday https://t.co/xadm5dkZPX pic.twitter.com/sPr2MOguw4

— Yards Brewing Co. (@yardsbrew) January 6, 2017
An abnormal collaboration is happening.
Fat Heads Brewing and Three Floyds Brewing collaborating Confidentiality and Disclosure IPA with Lupulin Powder. Its not Normal!! pic.twitter.com/CcZ17A4VJe

— Fat Head's Brewery (@FatHeadsBeer) January 6, 2017
---
I bet you hope those cans will make it to your area.
Loading up the canning line for the first-ever run of Flesh & Blood IPA!! Coming at ya soon…. pic.twitter.com/2kqZxNDpQC

— Dogfish Head Brewery (@dogfishbeer) January 6, 2017
---
Will someone cook this for me?
Chili, Beer, Football. Today's to-do list is manageable. pic.twitter.com/UVPelYK9tO

— Flying Dog Brewery (@FlyingDog) January 8, 2017
---
I though Argyle was an engineer in Star Trek: The Next Generation…
Here's to another year filled with random holidays no one knew existed. Use the excuse to #RaiseYourAnchor! #NationalArgyleDay pic.twitter.com/v17DhbuZ7R

— Anchor Brewing (@AnchorBrewing) January 8, 2017
---
This seems like the opposite of "craft" to me.
I guess we won't need brewers anymore: Keurig working on in-home booze brewer https://t.co/T9X55AuQa0 via @abc7chicago

— Brew: Museum of Beer (@BrewMuseum) January 8, 2017
---
New barrel-aged release coming soon!
Masterfully crafted, aged to perfection & now rolling down the line. 4-packs & 750mLs of Frootwood coming soon! https://t.co/Rc2MgujN2W pic.twitter.com/Hh5DeeuHrd

— Founders Brewing Co. (@foundersbrewing) January 7, 2017
---
Interesting news out of Michigan.
https://www.instagram.com/p/BPDxHSOA8qM/
---
A long-awaited return!
After a nearly four-year absence, Mysterium, our refreshing ale spiced with cardamom and chamomile is back! #duclaw #cbcrbd #CraftBeer pic.twitter.com/gTQVNDI4C5

— DuClaw Brewing News (@DuClawNews) January 9, 2017
---
Beer job! We've got a beer job here!
We're hiring for an Inland NW Market Manager! Apply now or share with your qualified friends. https://t.co/31b4OZAwTK Cheers! pic.twitter.com/QcSqy4VltX

— Ninkasi Brewing (@NinkasiBrewing) January 9, 2017
---
This. All of this. In my belly. Please.
https://www.instagram.com/p/BPDpISng4vV/
---
Get the 2016 vintage while you can!
Sucaba is taking a "Sucabbatical" this year (see what we did there?!), so stock up on bottles at FW locations now! New beer coming Feb. 4th! pic.twitter.com/h71PamLpX0

— Firestone Walker (@FirestoneWalker) January 9, 2017
---
Every business can do a little more to help the environment!
We pledge to do our part to create a #LowCarbonUSA and ask US leaders to do the same. Join us? https://t.co/ojz7cVTZ0E pic.twitter.com/52B4lGflPw

— New Belgium Brewing (@newbelgium) January 10, 2017
---
I wish this photo was scratch-and-sniff.
This smell never gets old! Filling bourbon barrels for Curieux. pic.twitter.com/yD3UMAIurH

— Allagash Brewing Co (@AllagashBrewing) January 10, 2017
---
If you can't have beer, you should definitely have this.
https://www.instagram.com/p/BPGAxVVhfYu/
---
More beer jobs!
We're looking for Sales Market Representatives. Join the Terrapin Tribe! https://t.co/kC9lQVBEPh pic.twitter.com/vYhiLBJ7Th

— Terrapin Beer Co. (@TerrapinBeerCo) January 10, 2017
---
Dare we say? It's an "orgy" of beer?
Guess what kids? Jamie's decided for this year's #SexualChocolate release (Jan. 28) that there will be NO BOTTLE LIMIT on purchases. #gonuts pic.twitter.com/M99xlsG4U2

— Foothills Brewing (@FoothillsBeer) January 10, 2017
---
Oh, Boulder Beer, the pipes, the pipes are calling…
Here's a sneak peek at a special beer we're brewing just in time for #StPatricksDay! May the road rise to meet you. #Slainte! #coffeestout pic.twitter.com/CHPQhfHlTG

— Boulder Beer Company (@BoulderBeerCo) January 11, 2017
---
I want eleventy-five cases.
It's the most wonder time of the year… ? #ihophbg #nuggetnectar #troegsway https://t.co/C5ip1Xybj2 pic.twitter.com/Tyx6eFzL01

— Harrisburg Beer Week (@HBGBeerWeek) January 12, 2017
---
Support these great causes!
Shop here and support #BeerisLove https://t.co/iqh8jjn4E5 @ArtThatFeeds @WomenWhoCode @TRRUSA pic.twitter.com/z5HT9otRAg

— Ninkasi Brewing (@NinkasiBrewing) January 12, 2017
---
Go taste some rare beers. You won't regret it!
Rare cellared beers and a seven course meal from @StoneBrewingCo. Feb 5. #escondido #supersunday Tix avail. https://t.co/Z1WMEelcfc pic.twitter.com/WAF2MckO0p

— SD Brewers Guild (@sdbrewers) January 11, 2017
---
Some new art for an old standard.
Is this a bad time to reveal our new #StoneIPA label? pic.twitter.com/tHitAHq7RG

— Stone Brewing (@StoneBrewingCo) January 12, 2017
---
This giveaway is EXTREME!
?EXTREME GIVEAWAY!? Enter to win a pair of tix to @BeerAdvocate Extreme Beer Fest and a two night stay in Boston -> https://t.co/UDXROcRgUd pic.twitter.com/C0wIOXZT9l

— Otter Creek Brewing (@OtterCreekBeer) January 12, 2017
---
New beer alert!!!
Check out our new release Liberty IPA, a bold and modern twist on an original craft classic Liberty Ale.https://t.co/lSlV5x3gH5 pic.twitter.com/SHOhxac9fp

— Anchor Brewing (@AnchorBrewing) January 12, 2017
---
I want to follow that barrel.
---
Turn it up to 11!
---