No Comments
The Weekly Buzz | September 9th – September 15th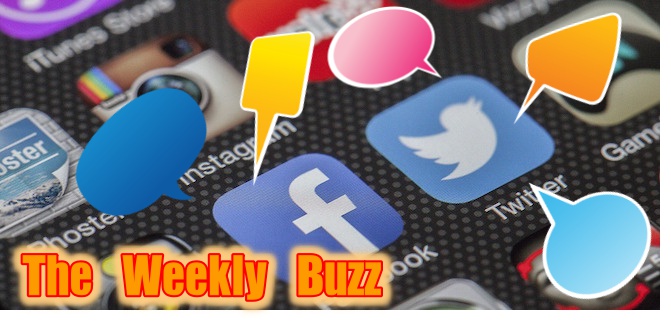 Unfortunately, we had to take last week off due to an unexpected emergency, but we're back and more buzzed than ever! This week, social media has been chock full of job opportunities, beer event announcements, giveaways, and even bad touches. Fasten your seat belts, pour a beer into the appropriate glassware, and prepare yourself for The Weekly Buzz!

Should I jump right in with some moderately inappropriate touching? Probably!
You guys should grab some Dicks @TheStraightHops @jennifercassada @CrazyKegs @zappafaye @Essau1969 @JacobGrimes pic.twitter.com/R5DDPfFpTD

— Mark (@CasaskullMark) September 9, 2016
---
The California Beer Summit was blowing up social media all week! Here's a little taste of what they had going on.
Happening now at #CABeerSummit: Lessons From Your Barrel Maker with Phil Burton from Barrel Builders pic.twitter.com/j43XTqJqPf

— CACraftBrewers (@CACraftBrewers) September 9, 2016
---
Say what you will about Big Beer, but I'll never turn down a free ride home from the stadium.
#FlyEaglesFly! @MillerLite is giving away FREE @SEPTA rides on Sunday! Details: https://t.co/a6G06kSmVO pic.twitter.com/9GEwHfGUfF

— Philadelphia Eagles (@Eagles) September 9, 2016
---
Good on Bell's Brewery for collecting (and matching) donations for a good cause!
Today, we're collecting donations for @Pints4Prostates at the #EccentricCafe, matched by our owner Larry Bell. pic.twitter.com/9Hs9xTRJjB

— Bell's Brewery (@BellsBrewery) September 10, 2016
---
If it played a catchy jingle, I'd chase it down the street!
I get the same feeling seeing this truck in my town @NightShiftBeer as I did seeing the ice cream truck when I was 5 pic.twitter.com/QraP6sYnng

— Michael (@mikejmichaud) September 11, 2016
---
Craft Beer… at a Star Trek event… in the Air and Space museum?!? I can barely control my nerdgasm!
Honored to pour at the @airandspace this evening and toast to #StarTrek50! ? ? pic.twitter.com/kP0KkDwBx7

— Ninkasi Brewing (@NinkasiBrewing) September 11, 2016
---
DC Beer Week is coming up, and here is EVERY event!
Just announced: The entire lineup of events for DC Beer Week 2016! Check them out at https://t.co/PyvYl7VxV3 @DCBeerWeek #DCBW2016

— ChurchKey (@churchkeydc) September 10, 2016
---
For those who love beer AND our environment, here's something educational!
Did you know the BA published three sustainability manuals for brewers? Free to download – https://t.co/QEwrdBW8Q6

— Brewers Association (@BrewersAssoc) September 11, 2016
---
Want to make a living tweeting about craft beer? Here's your chance!
BA Job Opening: Social Media Manager – https://t.co/CxFf7jLo3e

— Brewers Association (@BrewersAssoc) September 11, 2016
---
We'd like more details IMMEDIATELY!
Mitch Steele (@mitchatstone) To Open Yet-To-Be Named Brewpub in Atlanta,GA https://t.co/Y1rbxj5Ao5 #GAbeer #beer pic.twitter.com/fYGKZA2WKz

— The Full Pint (@thefullpint) September 12, 2016
---
The Copenhagen Beer Celebration is coming to the US. Do you have your tickets yet?
Join us, @MikkellerBeer , and 50+ breweries at @copenhagenbeer Sept 23+24. Get your tix now: https://t.co/5j7fZshFfr pic.twitter.com/xXW3U3cOSl

— Jack's Abby (@JacksAbby) September 13, 2016
---
Hop on your bike and head to Left Hand Brewing!
We ❤️ ? & ?! We're stoked to be honored as a Bicycle Friendly Business by @BikeLeague. #ComeOnBy! pic.twitter.com/8dqvQs14ve

— Left Hand Brewing Co (@LeftHandBrewing) September 13, 2016
---
This one is for the Hop Heads… That is a beautiful sight.
Brewing a new wet hopped beer at the pub today, look for Lazy Leaf on tap later this fall! pic.twitter.com/80qiJvpzi1

— Short's Brewing (@ShortsBrewing) September 12, 2016
---
It's the Great Pumpkin Beer Debate, Charlie Brown! What's your take on it?
Pumpkin #Beer hate makes us hypocrites. Join me in discussing it, and raise a glass of it (if you dare)!https://t.co/Xpk5JWf6FV

— Beer Simple Blog (@beersimpleblog) September 12, 2016
---
Here's a chance to score some free tickets to the King of Prussia Beer Fest in PA!
3 TICKET PAIRS to @KOPBeerfest #GIVEAWAY

RT this, LIKE this, FOLLOW us, more info on our Fb#contest #craftbeer pic.twitter.com/JNvrRYdCVd

— BreweriesinPA (@BreweriesinPA) September 12, 2016
---
A big step forward for the planet! Hopefully, they don't stop there.
All our major breweries are now CERTIFIED landfill-free. ? Learn more → https://t.co/asg22ZIsXa pic.twitter.com/gTLnz46ads

— MillerCoors (@MillerCoors) September 13, 2016
---
Looks like they've finally figured out how to get me to run a marathon…
Thanks to our friends at @GRMarathon for helping us brew Mile 27, the beer we'll be serving at the finish line! pic.twitter.com/r0HGfwgnpu

— New Holland Brewing (@newhollandbrew) September 13, 2016
---
A cyclocross races, live music AND beer? Sounds like a great way to spend a day outside!
Join us this Saturday at the Boulder Bike & Brew Cyclocross Festival @bikevalmont from 10am-6pm! #EatDrinkBoulder pic.twitter.com/zb3bkPHBWI

— Boulder Beer Company (@BoulderBeerCo) September 13, 2016
---
There may be some changes on the horizon in Oklahoma!
Local craft beer lovers rejoice as Oklahoma debates future alcohol laws https://t.co/Kt60dohE1p

— FOX23 (@FOX23) September 15, 2016
---