No Comments
Crystal Springs Brewing Celebrates Historic 13th Anniversary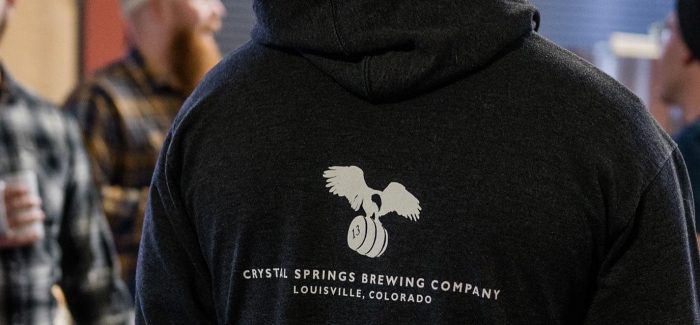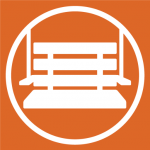 The number 13 has appeared repeatedly throughout the history of Crystal Springs Brewing. Co-owner Tom Horst was born on the 13th. His son was born on the 13th. Multiple other family members were born on the 13th. The opening day for the brewery was May 13, 2010. When they were poised to open their first taproom, they closed on the property on the 13th, a date randomly set by the title company. That taproom — guess how far it was from their original brewery / home? 13 miles. With their approaching 13th anniversary, Crystal Springs has proved that 13 does not have to be an unlucky number and can in fact turn a garage homebrew operation into a successful commercial brewery.
Why Don't We Start a Brewery?
Tom began homebrewing in the late 80's when his son moved back home to Colorado from South Dakota. The sentence from his son "it's legal to brew your own beer in Colorado, so we should do that!" was all it took for Tom to dive headfirst into making his own beer. Tom continued his homebrewing passion and married his wife Kristy in 1995. The birth of twin daughters in 1997 is the only thing that took him away from brewing for any amount of time. Fast forward to the late 2000's, and Tom and Kristy started thinking about how they would put their daughters through college on a teacher's salary. Tom opined "I'll either have to get another job OR…" and Kristy finished that sentence "…Why don't we start a brewery?" That was all the motivation Tom needed — "10 minutes later I was writing a business plan."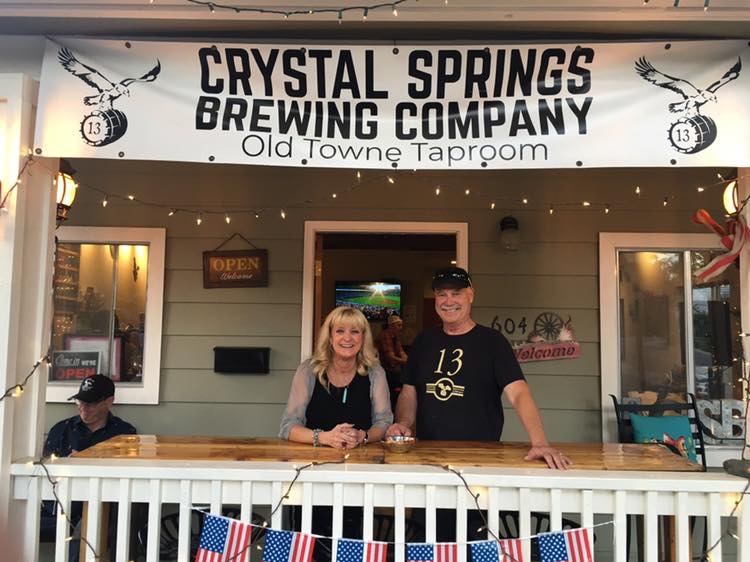 Tom and Kristy considered going the traditional route of securing financing and funding through investors while they also consulted with local alcohol businesses on their business models. The now defunct Boulder Creek Winery proved inspirational as they showed the Horsts that an alcohol-making business could legally and successfully operate out of one's garage in Boulder County, requiring much less startup capital to get the brewery running. With this knowledge in hand, self-financing proved sufficient, TTB and Colorado licenses were applied for and in April 2010 Crystal Springs could officially begin brewing beer. 
While Crystal Springs could technically have a public taproom out of the Horst's garage, their mountain location made parking logistics too difficult to manage, meaning distribution would be their only sales channel. Crystal Springs started selling bottles to 4 local liquor stores and kegs to 2 restaurants. Bottling proved to be a family affair as Tom, Kristy and their daughters spent hours hand bottling, capping, labeling and writing on cases of bottles at a time. Those first 2 beers they sold, Summertime Anytime Kolsch and Doc's American Porter, are still popular beers to this day, proving that they had nailed the right beers from the start. 
Boulder County Boom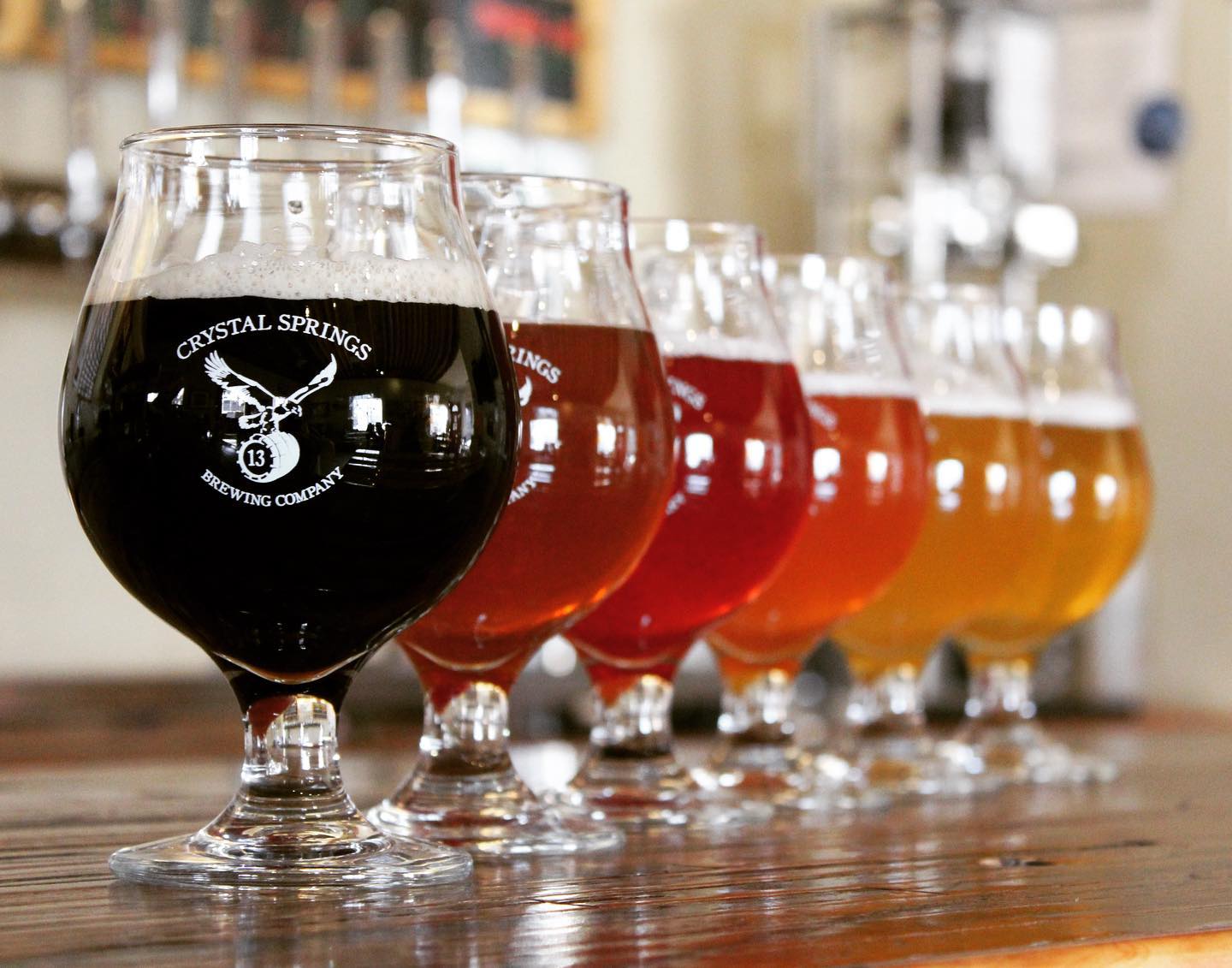 Accounts kept expanding, necessitating an upgrade from the 20 gallon homebrew setup they had, so a 2 bbl system was purchased and set up in spring 2011. A taproom was always a desire for Crystal Springs, and they began researching locations to open. While Boulder would have been a convenient and popular location, prices were already becoming unreasonable in the early 2010's, forcing their search to broaden. Eventually Kristy found a spot in the Colorado Tech Center where they bought some space in 2013 and moved over their 2 bbl system. "It was a great joy for us to meet the people who were drinking our beer," said Tom, allowing them to connect with the local community in a meaningful way. A 15 bbl system was purchased later on, greatly expanding their brewing capacity, and the Main St. taproom location in Louisville was opened in 2017. 
The onset and prolonged nature of COVID forced Crystal Springs to close their Colorado Tech Center taproom and focus on canning there, and they quickly pivoted to selling to-go cans and crowlers out the front door of Main St. Once again the value of a strong local community proved crucial to Crystal Springs. "We had a couple in Niwot that would go around their neighborhood, take orders from everybody and then buy 15-20 cases of beer," recounted Tom. Crystal Springs had ingrained themselves in people's lives and proved invaluable in coping with the hard times during COVID lockdowns. 
Anniversary Celebration
13 years after opening a humble garage-based brewing operation on a 20 gallon system, Crystal Springs is poised to celebrate their birthday in a big way with a full week of events. Monday featured a party at the OG Crystal Springs location, Tom and Kristy's house, Tuesday was a special Crystal Springs trivia at the taproom and Wednesday was a tour of the Brewer's Lounge at the Colorado Tech Center. Thirsty Thursday featured the re-release of special Crystal Springs beers from the past and the debut of their 13th anniversary beer, a hoppy Lager with considerable backbone. Colin Woods, Director of BS at Crystal Springs, astutely described the hoppy Lager as "a Lager that we hopped." Adding a little more detail he continued "it's kind of like a Pilsner but more smooth." Anniversary eve on Friday will be a special day with lots of frills leading up to the main event. Saturday, the 13th anniversary, will feature an anniversary glass release, food specials, new merchandise and a VIP experience. 
Crystal Springs has survived and thrived for 13 years, setting up an anniversary week that celebrates its storied history. It is not easy to turn a homebrewing passion into a successful brewery, but help and support from family, friends and the local community makes it a more likely venture to succeed. While a 13th anniversary only happens once, a 26th anniversary is a mere 13 years away. Crystal Springs hopes to keep the lucky 13 alive and well.
Featured image courtesy of Crystal Springs
---