No Comments
14th Annual Ohio Pawpaw Festival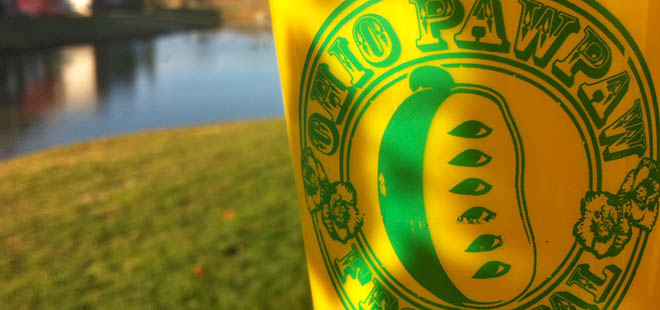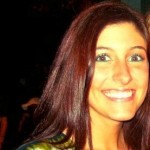 Two months ago, back when it was still 70 degrees and absolutely gorgeous outside, I went back to good ol' Athens, Ohio, home of Ohio Brew Week, to check out the beers on tap at the 14th Annual Ohio Pawpaw Festival. For those of you who don't know, the pawpaw is North America's largest native tree fruit, and Southern Ohio is home to some of the largest and best tasting on the planet. I picked up my parents '95 Jaguar and my good friend Bruce, and we headed out to Lake Snowden in Albany. Bruce was the optimal choice for a companion, as he was voted Athens 2nd Best Bartender by The Athens News. Despite my parents having lived in Athens for the last 13 years, I had actually never been to the Pawpaw Festival before, and I was surprised by how many people were there.
We waited in line for what felt like forever (probably because it was Saturday and I was hungover from the night before), and then we paid $8 a piece to get in. Bruce, being the gentleman he is, took care of both of us BUT I did pay him back later! The first thing we did was make a beeline for the beer tent, which of course meant waiting in one line to purchase drink tickets and a plastic Pawpaw Festival cup, and then waiting in yet another line for beer. Bruce decided to start with Marietta Brewing Company's Pawpaw Porter. It had a 5.9% ABV and a color that made it easily mistakable for red wine. I had a sip, and with dark malts, spicy hops, and pawpaws, it kind of tasted like it too. I, on the other hand, was at a loss for what to try first. Thirsty Dog Brewing Company had a Pawpaw Saison that looked interesting, and Bruce told me, "If you like Belgians, you'll like this." I do happen to like Belgians, so I took his advice. It had an extremely strong banana flavor, not dissimilar to Wells Banana Bread Beer, which makes sense since pawpaws tend to have a tropical flavor consisting of banana, mango, and pineapple. It was good, but it went down slow due to my state.
Although I went solely for the beer, we decided to walk around and see what else the festival had to offer while we drank. There was a pawpaw tent where you could learn about the pawpaw, and where the best pawpaw competition, pawpaw cook-off, and pawpaw eating contest all took place. Unfortunately, we did not partake, nor did we get to see any of these events taking place. They also had horse-drawn wagon rides, inflatables, a snake tent I could've done without, alpacas (which I loved!), the East of the River Shawnee Tribe, and arts and crafts for sale. We stopped at a booth selling dog treats and bought some for Bruce's puppy Aldon, and then proceeded to play with the dogs at Paws at the Pawpaw. There was a rib joint that smelled delicious, and a band playing that sounded horrific. Bruce called them gypsies. I don't know if that was their name, or if that's what they are, but either way, they weren't good.
Once I finished, we went back to the beer tent and got two more. I still wasn't feeling great, so I only got a half a cup of Buckeye Brewing Company's Pawpaw Wheat, but that was enough. It was decently strong at 6% ABV, but it just didn't have much flavor. Neither did Bruce's Weasel Boy Brewing Company Pawpaw Pale Ale, which smelled much fruitier than it tasted. Because Bruce works at Jackie O's Pub & Brewery, and I was planning on going there later, we chose not to try their Pawpaw Wheat. However, I did end up getting a sample during Jackie O's brewmaster Sean White's presentation on beer brewing at the Ohio County Fair Tent. At 9% ABV, it was by far the strongest of any of the pawpaw beers on tap, and it had a mango flavor that was much stronger than the others. It even made the Buckeye Brewing Pawpaw Wheat I was holding taste better! We also got to try Jackie O's Nuptu-Ale, which Sean brewed for his wedding. Made with lemon verbena, paradise seeds, and yarrow, it was aromatic enough to be a perfume, and its flavor was just as deliciously intense. In addition to giving a quick overview of basic brewing, Sean also discussed adjuncts and herbs, spices and botanicals, including those native to Ohio, and varying yeast strains, like using Ohio Microflora in addition to your traditional yeast. I do have a copy of his speaking notes, so if anyone is interested in specifics, please let me know in the comments section below. After he hit these talking points, we got to taste a habanero beer, which only enhanced my love of chili-flavored alcoholic beverages.
Following Sean's presentation, we decided to head back to town. Some people decided to camp out, which we could have done Friday night, Saturday night, or all weekend for an extra charge. Regardless, we had a great time, and we couldn't have asked for better weather. I definitely recommend it to anyone who will be in Ohio mid-September next year!