No Comments
Beervana: Chicago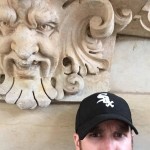 So, just a bit of background – I'm originally from the Chicago area, and I lived in the city for four years prior to moving to Denver in late 2009. I wasn't really approaching the ranks of beer geek prior to my move, but I've been fortunate to retain a fantastic group of friends and family that still live all over the north side of Chicago and a job that affords me the opportunity to make a return trip every couple months. I've made it my goal to hit up the best bars and breweries the city has to offer each time I'm back.
A couple weeks ago, I had a very strange dream where I basically created a list of the best beer spots in the city/area using Minority Report-style technology. If you haven't seen the movie, I'll give you a few seconds to reference Google…
Got it? Good. Just to confirm, I'm nothing like Tom Cruise. Anyway, I felt it would be a disservice to let this list rot away in my head, so I got to writing it all down. Perfect blog post, right? Unfortunately, one of the beer bars was one I had yet to visit – it entered my subconscious based on my friends' stellar reviews alone (that bar was Fischman's, which was well worth a visit). After my visit back to the city last week, I now feel that I can finally provide a decent list for folks who may be interested.
So without further ado, here are some damn fine beer options separated by whether they are beer bars or breweries. Hope you enjoy – and if you do happen to visit any of these spots during an upcoming stop in Chicago, please don't hate me if it doesn't pan out.
Beer Bars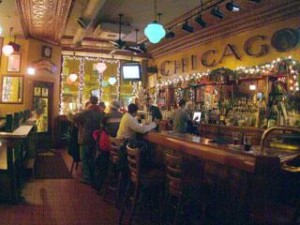 Fischman's Tavern: This is such an unassuming place to walk into. The bar fills the room – an oval with a large space for the sole bartender to cater to customers, most of which are older and drink Heineken or Miller Lite. Previous descriptions of this being a beer bar are thrown for a loop – that is until you see the drink list. It's not expansive by any means, but it's full of beers you likely will not encounter elsewhere. Beers like Rage from Greenbush Brewing Company out of Michigan, or Saugatuck Brewing's Neapolitan Milk Stout. It's an impressive list, somehow made even more impressive by the setting. This has the look and feel of a dive bar. It's a damn good feeling, though, particularly in an era where food service is being embraced by bars in lieu of a more intimate atmosphere. Bonus: Make some time to visit the attached liquor store, which features a large selection of bombers, many of which are unavailable elsewhere.
Hopleaf: Fair warning: The size of this place can be a bit overwhelming, but it's totally worth it. Head upstairs to escape the crowds a bit, and then try in vain to work your way through the menu before a server comes. This has been an issue for me at Hopleaf. Do I want Zombie Dust, or do I want the crazy high ABV Goose Island barrel aged beer they have on tap? Or hell, what about these 10 other beers that sound interesting? (Spoiler alert: I almost always go with Zombie Dust) In addition to having a beer menu chalk full of rarities, there are dozens of beer events and collaborations held here each year, so you're bound to stumble into something amazing. Bonus: Hopleaf can be a bit of a wait for food (although, if you're patient, it's worth the wait). So, thankfully it's in an area with plenty of great food options. Try Tapas Las Ramblas for small plates or Big Jones for southern fare.
Fountainhead: It has a similar approach to Hopleaf – the food offerings are similar, the beer menu is equally expansive, but the feel of the bars could not be more different. As stated above, Hopleaf is a fairly large bar. Fountainhead on the other hand has a neighborhood pub vibe – just one that is very upscale. The downside to this is that it can get crowded fairly quickly, but this isn't a problem you're likely to encounter that often. I prefer Fountainhead for its bottled selection versus its taplist, which isn't meant to be a knock against what they have on tap. It just speaks to how impressive their bottled list can be. You'll encounter a wide range of imports and semi-rare U.S. craft beers. My suggestion would be to visit another spot on this list for what they have on tap and go straight to the bottled menu upon entering Fountainhead. Strategery! Bonus: If you haven't tried mead before, this is the spot to try it.
Sheffield's: I've bemoaned the area around Wrigley Field for quite some time, despite having lived there between 2006 and 2009. Most of this disgust is directed at the bars and restaurants in the direct vicinity of the ballpark. Several faux-clubs and terrible restaurants with overpriced Bud products dot the area – it's pretending to be Bourbon Street without a tenth of the charm. The lone bright spot without having to walk blocks east or west is Sheffield's. Located about a half mile from the ballpark, this is really the only spot to pre or post game if you're making a trip to Wrigley. Featuring one of the best taplists in the city and underrated food, particularly the BBQ options, it's the only combination of both you're likely to encounter anywhere in the area. Bonus: Head back to the Beer School Bar for special tappings updated daily. Recent highlights include Dark Mild from Two Brothers and Red Eye Coffee Porter from Founders.
Map Room: The only place on this list that's a good choice any time of day. Start your morning off with a pastry and a cup of Intelligentsia coffee, which will put any Starbucks latte you've ever had to shame. Bucktown is a cool little neighborhood, too – just a quick blue line trip away from downtown, if that's where you're staying. But really, we're here to talk about beer. This place is truly about beer – they don't mess around. Chalkboard behind the bar featuring the current taplist? Check. Cash only bar? Check. This is a place for beer geeks. It's not going to have the random old guys chilling with a Miller Lite a la Fischman's. It's not going to have drunken Cubs fans slipping in vomit outside a la Sheffield's. This is different. While not my favorite tap selection in the city, it does change quite often. You may find yourself visiting when they randomly have some amazing rarity on the menu. And really, it's in a great location. Bucktown isn't a bad spot to spend a weekend night in the city of Chicago, and this should be your first stop if you chose to do so. Bonus: An amazing little taco joint called Big Star is located just down the street. Make that visit a priority.
Breweries
Half Acre: I've sung Half Acre's praises elsewhere, most notably in a recent review of their Daisy Cutter Pale Ale, but no Chicago brewery list would be complete without another mention. Their recently expanded brewery is incredibly welcoming and features several beers you likely will not find in bottled form at surrounding liquor stores. Hell, you may not even find them at the amazing beer bars scattered around the city. This brewery is worth a trip for their specialty beers alone. They are incredibly creative with the naming and combination of flavors. It's a more mature version of Renegade, for you Denverites.
Three Floyds: Okay, so it's not technically located in Chicago. Close enough. Quite possibly my favorite brewery outside of Russian River, it's incredibly popular around the city. Don't be surprised to see a Three Floyds beer be one of the few sold out beers at a random bar. It happens. A lot. Your safest bet to actually locate something that's not a regular staple is to drag your butt over to the brewery. Plus, you can say you made a trip to Indiana. If you're into that sort of thing.
Goose Island: Despite the recent acquisition by Anheuser-Busch, the best beers are still made in house. Evidence of the ongoing popularity of Goose Island was showcased with the autumn 2012 release of their famed Bourbon County Stout (BCS) beers, which sold out across the city and started popping up on the web for upwards of $200 a bottle. Expecting to find BCS on tap may be unrealistic, but other specialty brews like Big John, Lolita and Juliet are nothing to scoff at.
Revolution: I'll admit it; Logan Square is not a spot I ever imagined a prominent brewery popping up. Not that it's a bad neighborhood, but it doesn't have the same vibe and youth oriented feel as Lakeview/Lincoln Park/Bucktown that would typically attract an up and coming brewery. Maybe that's what attracted the brewers to open this fairly impressive brewery in early 2010. The neighborhood fits the motif. Raised fist tap handles greet you as you walk inside – the bar is prominent, and it makes you forget there is a restaurant attached. The beers are all pretty fantastic, but I gravitate towards their specialty beers or (if you're lucky) any deep wood series or cask-conditioned ales they may have on tap. Try to arrive early Wednesday through Saturday for a brewery tour.
Well, that's my "storied" list of Beervana in Chicago, which is not in any way meant to be comprehensive. I'm sure I managed to miss some key spots – Longman & Eagle and Publican come to mind in terms of beer bars, but I sadly have not visited either location yet. Keep an eye out for Pipeworks opening up their taproom sometime this year. It's a fantastic new brewery, and they easily would have made my write-up if they had a dedicated spot to drink their delicious beer.
Feel free to leave any beer bars or breweries I may have overlooked in the comments section below. Cheers!