3 Comments
Finch's Beer Co.: threadless India Pale Ale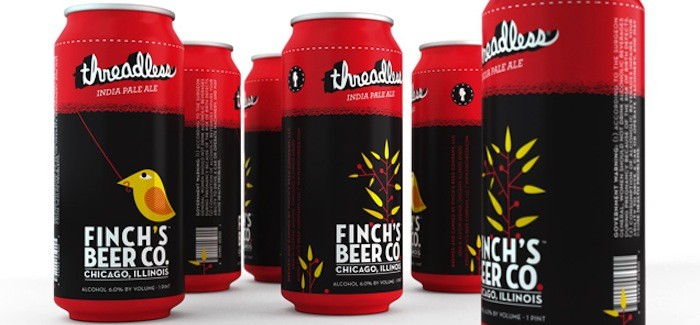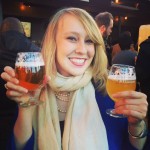 ABV: 6%
IBU: 90
On Friday afternoon, I popped into my neighborhood Whole Foods to pick up something new to drink for the weekend. DC summers are a swampy mess – this is what we get when our Founding Fathers decided to build our nation's capital on top of a place surrounded by marshes, tidal plains, and multiple rivers. Nicely done, gents. Apparently it's a myth that DC was built on a swamp; I say close enough. Considering the unbearable humidity and high temps (I am currently enjoying 92% humidity on this 72 degree day), I sought out something that seemed cool and refreshing. I glazed over the usual suspects and personal favorites, and then stumbled upon a bright red tallboy can sporting a cheery little yellow bird. The four-pack of pint-sized cans called out to me from its cool perch in the beer fridge: Finch's Beer Co. threadless India Pale Ale. Awesome t-shirts, an adorable bird, and a refreshing IPA? I was sold.Thanks, Chicago!
I have said this before, but I am in love with this new trend toward embracing cans in craft beer. Yes, I love it for the environmental friendliness of the process but I honestly just love it because there is nothing better than a beer in a can on a hot summer day. IPAs are the perfect candidate for canning, as well, as that aluminum keeps out light and ensures the freshest brew possible.
For my reviewing purposes, I poured a snifter-full of threadless to see what exactly was lurking inside that chirpy red cylinder. This brew pours a deep amber with a medium head that disappears rather quickly. The nose is very hoppy with a light malt undertone. At 6% ABV, this is not a knock-you-out-after-one-drink IPA, which is refreshing. The taste is a very pleasant bitter orange with very light, delicately sweet notes of pine. You are left with a tangy finish that lingers with flavors of both resin and a bit of metal.  This is a wonderful summer drinking beer, and that little birdie will gladly keep you company all day long.
And because I spent a lot of time on threadless while writing this showcase, here are few recommendations from me to you:
Abraham Lincoln Punching a T-Rex