No Comments
DryHop Brewers Berliner Weiss Release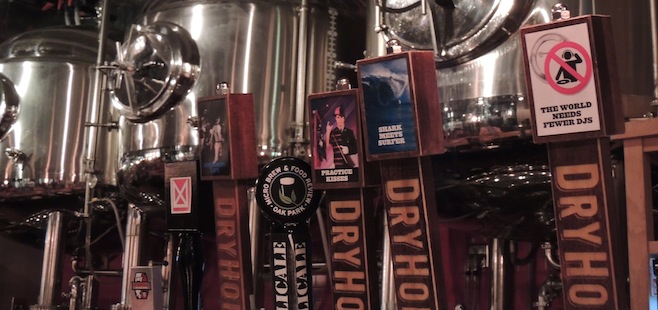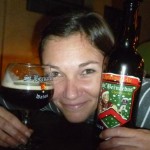 The Berliner Weiss is an old German style whose origins are somewhat mysterious. Some say it is a derivative of an old wheat and barley ale brewed in Halberstadt, while others say it was brought to Berlin by the Protestant French Huguenots in the late 17th century. Still others cite relics that prove it was first invented in Berlin in 1572. Whatever the story, Berliner Weisse beers are delicious. They are tart, sour, and bright, with champagne-like carbonation, and are generally offered with a choice of fruit flavorings.
The sweetness of the fruit tends to cut the tartness and a little bit of the carbonation, and I would recommend it for first-time adventurers into the style. Personally, I go straight for the base beer. I like that fizzy sour tartness just the way it is.
DryHop's Berliner, dubbed The World Needs Fewer DJs, is everything a Berliner should be. The flavor components are all present in perfect proportion, and with the ABV at 3.5%, you can drink these all day long. Raspberry and passionfruit flavorings are offered, and both are delicious. I am a huge fan of this beer, and I was lucky enough to attend the official release, which also featured a tap takeover of Goose Island's Five Sisters.
Gillian, Lolita, Juliet, Halia, and Madame Rose are all complex vintage ales that are produced in extremely limited quantities. Due to time constraints, I was only able to try one of them, so I chose the Gillian. Made with white pepper, strawberry, and honey, and partially wine barrel-aged, this beer comes in at 9.5% ABV. Although Goose Island doesn't specify the type of wine barrel used, the extremely dry finish of the Gillian lends itself to chardonnay or something similar. The sweetness of the honey balances the bite of the strawberries well, and the white pepper comes through at the beginning, but doesn't overstay its welcome. I really loved this beer, and if you come across it, you should absolutely try it.
DryHop has become one of my favorite spots in Chicago over the last few months. The beers are consistently solid, the staff is knowledgeable and personable, and the food is amazing. I'm excited about this Berliner Weiss, and I look forward to seeing more mouth-puckering selections from them in the future.