No Comments
Schlafly | Pumpkin Ale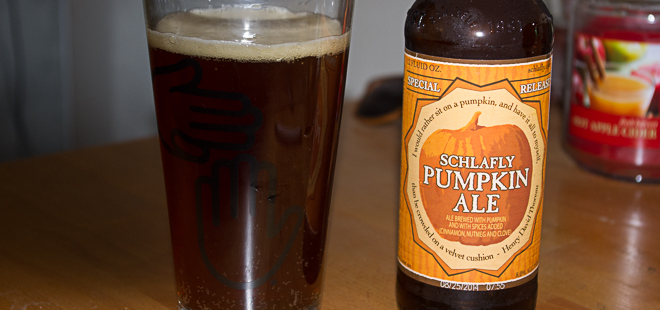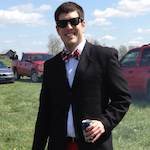 ABV: 8.0% | IBU: 16
Pumpkin beers have been a contentious issue on PorchDrinking over the past six weeks. Opinions certainly differ on the propriety of drinking pumpkin beer in August, but since we're well into October, I hope I'm not in the minority in calling pumpkin beer season officially open for business. They're not for everyone, these pumpkin beers. They tend to offend the Reinheitsgebot in nearly every way possible. Not only do they have adulterating spices such as nutmeg, cinnamon and cloves, but they're usually chock full of "pumpkin".
While some enterprising brewers do use fresh pumpkin, many use *gasp* canned pumpkin, including such craft beer notables such as Sam Calgione's Dogfish Head and Milwaukee's Lakefront Brewery. The pie filling staple of canned pumpkin, as it turns out, is not pumpkin at all – it's actually squash, and not even a member of the same plant species as the jack-o-lantern. Interesting, but let's be honest — who cares. Whether it's a pumpkin beer, a squash beer, or just a pumpkin spice beer (with no gourd at all); they ring in fall like no other flavor.
https://instagram.com/p/9UREi4v4m8/
Schlafly Pumpkin Ale pours a rich, umber shade; it's filtered, and crystal clear. It has a thin white head that quickly dissipates. The cinnamon and nutmeg come out strongly in the nose, but there's an effervescent sharpness from the combination of CO2 and malt that helps to cut through and tone down the spice and make it quite pleasant.
The flavor is great; the pumpkin chucks itself up out of the glass and into your mouth. It has the sweet and earthy flavor you would expect. However, the spice notes creep up behind the pumpkin and keep the sweetness in check.
The real striking thing about this beer is the mouthfeel. It is thick and luxurious, almost creamy. It has the silky feel of a nitro beer, but still manages to tickle your tongue with a light effervescence.
This is a big pumpkin beer, not quite as big and in-your-face as Southern Tier's Pumking (the closest big pumpkin beer I can think of that is still chasing a pumpkin pie taste, rather than using pumpkin as a complementary flavor). This beer is a bit less cloying than Pumking and more quaffable. I could drink two pints of Schlafly's Pumpkin Ale; I'm ready to throw in the towel after a mere snifter of Pumpking. This is one of the best, most drinkable pumpkin ales that I've ever had. Come next August, I'll be counting down the days to October.
---