No Comments
Ellis Island Casino & Brewery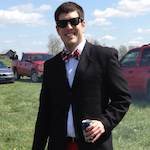 Las Vegas is synonymous with excess. Strolling around the Bellagio or trendy new Cosmopolitan, it is all too common to see a Chinese businessman with stacks of strangely colored chips at the baccarat table, or a hip-hop star and their entourage with an endless stream of overpriced bottles of vodka and champagne in the VIP area of an equally overpriced club. This is one of the attractions of Vegas. This and the scantily clad waitstaff, ready to bring a seemingly never-ending supply of drinks for as long as you're willing to keep gambling.
Las Vegas has another side too, not the seedy strip clubs northwest of the strip, and not the revitalized Fremont Street, but the off-the-strip "locals" casinos. These casinos cater to those who grew weary of the bright lights, large crowds, and high prices of Las Vegas Boulevard. Locals casinos tend to feature $3 blackjacks and craps, and offer an atmosphere that is a bit more modest than the big name super-resorts on the strip.
This is a beer blog though, so why are we talking about casinos? Ellis Island, thats why. This off-the-strip casino is located just 1 block off the strip, behind the Paris and Harrah's. Not only is Ellis Island a great no-frills casino, it has a fantastic brewery to match.
When I first heard about Ellis Island, I assumed it was a new restaurant or themed area in the New York-New York. It is not. In fact, it's an entirely separate casino. The main attractions at EI are cheap tables, excellent, inexpensive BBQ, and beer. EI has its own on-site brewery with a brew list that includes a Light, Amber, Stout, IPA, Lager, Wheat, and Root Beer, and all at rock bottom prices. I paid anywhere from $0 to $2 for a 20 oz beer (their price scale seems to slide, depending on which bartender you go to, your tipping history, and whether or not you're playing the video poker machines at the bar), and it's solid beer. I wasn't at all surprised to see multiple awards on the wall of the brew room.
IPA
Ellis Island's IPA is a wonderful, balanced beer. It aims for, and hits somewhere, between an English and American IPA, neither aggressively hopped, or cloyingly malty. This is a no-gimmick, well-balanced 5.5%-6% ABV IPA. Overall, my initial impression is that this is not a beer meant to "hot dog" around with the style. It is very drinkable, has an excellent, creamy mouth feel, and has a solid, amber malty backbone kept well in check with a medium hop aroma and bite.
Stout
The stout has a great, roasty character and light body. There are a lot of dark, toasty notes on the nose and in the flavor. Again, spot on to style. I'd have liked this even more if it was served on Nitro, but it still hit the spot on draft. And it paired perfectly with a rack of ribs (which come in at a bargain $14 when you join the players club).
Overall
Ellis Island is a fantastic place to check out if you're in Vegas and are in the mood for something different. In a city that is all but devoid of decent beer (at least near the strip), Ellis Island is a welcome change of pace. And they even offer to-go cups, so you can take that one last brew with you to keep you warm (or cool) on your way back to the strip.