No Comments
Evil Twin Brewing | Ashtray Heart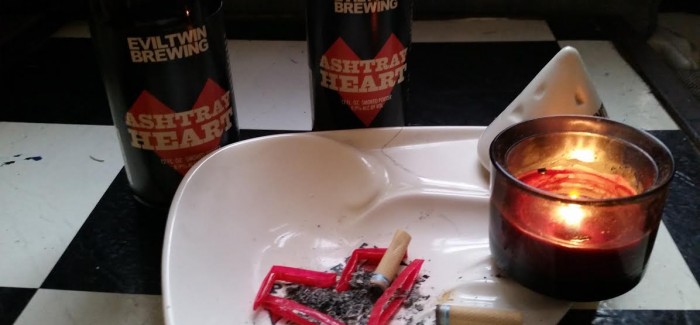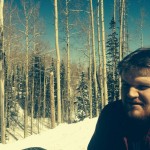 ABV: 8.9%
I miss smoking in bars. My clothes and hair don't reek every night, and the lack of clouds of noxious oxygen thieves in bars dulling taste and smell might have done more to promote the rise of craft beer than any other external factor – but the romance of the dive bar is largely sustained by the haze that lingers around dim light bulbs. There was a certain je ne sais quoi that many establishments lost once they cleaned up (while others revealed even worse smells that the smoke was hiding). In my eternal hunt to recapture this hazy atmosphere, I stumbled into one of my favorite dive bars in Brooklyn (low lights, great bartender, amazing jukebox, check-check-check), and discovered Evil Twin's Ashtray Heart. With one sip, I found the gritty but smooth feeling I was missing, with none of smoking's greatly-enhanced chance of lung cancer.
Named after the Placebo song "Ashtray Heart," this beer packs two decades of the band's Teenage Angst, Black-Eyed liquid eyeliner, and androgynous Matrix wardrobe into a mash mixer and creates a beautiful Kitsch Object with serious flavor. Evil Twin, perhaps up to their brew culture mocking tricks again, labels the beer a porter on the bottles and a stout on the label.
The head is a dingy wheat that pours thick and disappears quickly. Color-wise, not 'dark caramel,' not ebony or graphite. Pitch black. A few shades darker than a Hot Topic that's lost electricity.
The first note is the sharp, bitter taste of strong-brewed All-Nite diner coffee that makes your eyes shoot open and throttles you awake. As it fills your mouth, Ashtray Heart feels less heavy than it's front loaded shock might suggest. The smokiness flows, coming down from the coffee notes to suggest slightly creamy, delicious smoked meat. I'm talking bacon or kielbasa soaked in a well-made Bloody Mary. If this taste is completely foreign to you – you need to find a better brunch place. Eventually the meaty flavor dissipates, leaving you the Bitter End of burnt cocoa flavor. The smoky aftertaste lasts forever, and like a cigarette, it stays with you and rejects any attempt at palate cleansing. Unlike a cigarette, it actually works with the food you might eat afterward, enhancing the food's flavor rather than making everything taste like you've Been Smoking Too Long.
For What It's Worth, Evil Twin has created a hearty porter (or stout, whichever) to recreate those smoggy old times in your favorite dive. It's the perfect beer to make Too Many Friends, find a partner for some Bedroom Dancing, or surrender to the Innocence of Sleep. It's up to you.