No Comments
Columbus Brewing Company | Creeper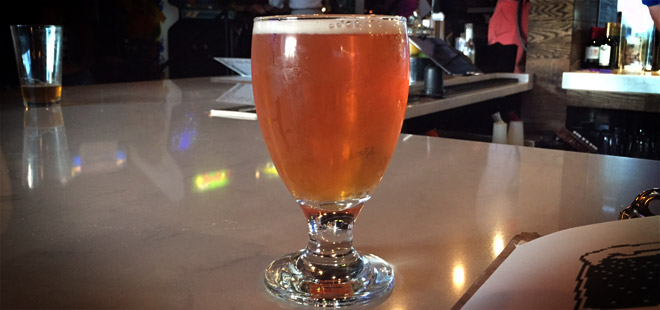 ABV: 10.5% | IBUs: 100
Throughout the year, Columbus Brewing Company drops delicious bombs on unsuspecting palates. Some are malt bombs, like Sohio Stout, while some are hop bombs, like Thunderlips, Dalton and Bodhi. While the legend of Bodhi is growing after winning a bronze medal at GABF and an exquisite writeup on this very site, Bodhi has a gold medal winning big brother in Columbus Brewing Company's Creeper.
Creeper is an imperial IPA that can easily sneak up on you. It pours crystal clear with a rich orange glow and a modest half-inch head. While not overly dry, what little malt character there was seemed to dissipate as the glass warmed. It is an amazingly smooth imperial IPA, packed with citra and Mosaic hops. Citra and Mosaic are high alpha acid (AA) hops with dominant tropical fruit tang and aroma. Creeper also has old favorites like Chinook and Centennial hops. According to brewmaster/owner Eric Bean, the hop bill varies from year to year, depending on the CBC inventory. Since hops are an agricultural product, varieties can vary from year to year, region to region, and even field to field.
As with much of CBC's lineup, Creeper is currently draft-only. Good news is on the horizon in the form of a massive expansion east of downtown Columbus. This will more than double their current capacity to 25,000+ barrels. Along with the increase in beer production comes the promise of Bodhi (and hopefully Creeper) in bottles, as well as the possibility of a canning line in the future. If you can't make it to Columbus, be sure to stop by the CBC table at the Great American Beer Festival in September.
---