No Comments
Ultimate 6er | Road Trip Regional Edition: Midwest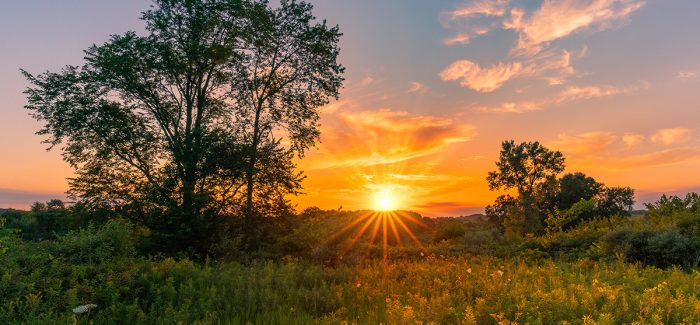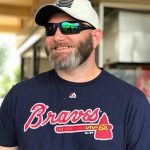 Join us as we road trip across the United States in what is to be a follow-up article to the Craft Beer Across America article. In that article, we explored a craft beer from every state (excluding districts and territories) to showcase some of the unknown, or lesser-known, craftier beers that the U.S. craft beer scene has to offer. While that article focused mainly on the beers, this article focuses on specific breweries from a region we think would be fun to visit. We're going to sprinkle in a couple of bigger craft breweries in each six-brewery regional section just to help spread the word for some of the not-so-big breweries in the mix.
This is by no means a "best of" brewery list. We just wanted to highlight some breweries that brew excellent beer and have great environments and to possibly find out more about what they do other than brew beer. Please join us as we start our road trip with the Midwest Region which includes Ohio, Minnesota, Wisconsin, Iowa, Indiana and Illinois!
The first stop on our Midwest region road trip puts us in Mason, OH, which is situated about a half hour north of Cincinnati.
The literal definition of Sonder is as follows:
"The realization that each random passerby is living a life as vivid and complex as your own—populated with their own ambitions, friends, routines, worries and inherited craziness—an epic story that continues invisibly around you like an anthill sprawling deep underground, with elaborate passageways to thousands of other lives that you'll never know existed, in which you might appear only once, as an extra sipping coffee in the background, as a blur of traffic passing on the highway, as a lighted window at dusk."
With that being said, Sonder Brewing believes that just as every person has a unique story, so does every beer. The story of Sonder beer begins with their unique, high-quality beer selection brewed on site at the Sonder Brewing production facility and taproom located in the Cincinnati area at 8584 Duke Boulevard in Mason, Ohio. The 15,200-square-foot building holds a 30-barrel brew house with American-made equipment and features 2,000-square-feet of taproom space. The Sonder brewing team, led by Chase Legler, has over 40 years of craft brewing experience, with a passion for quality and flavor that showcases throughout the Sonder beer lineup.
High-quality is something that really shows up in their beer. You can tell that they take pride in their craft. They want you to be able to not only like their beer, but also to enjoy the experience of their beer and to create an exceptional tasting experience.
The Beer
The beer we're featuring for this article is You Betcha!, a deliciously craft New England style IPA. You Betcha! is a tantalizing "Haze" bomb that's soft and juicy. It provides those tasty tropical notes that are characteristic of the New England IPA style. You want the Haze? You can't handle the Haze!!! The beer gets its name from a catchy "Wisconsin" phrase, You Betcha! The COO of Sonder is from Wisconsin. He just happened to bring that phrase with him, and they ended up naming a beer after it. Sonder notes that it's ironic that they ended up having a New England style IPA named after a phrase that Legler uses quite often since he didn't previously care for that style.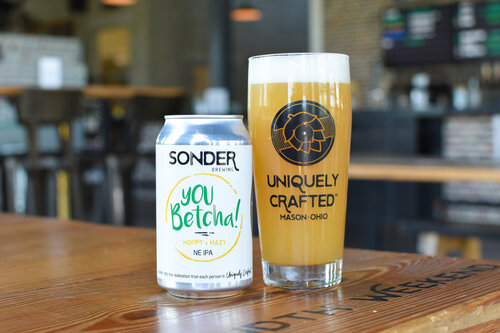 As you can tell from the above picture, you can't see through this beer! This is how this style of beer should look. When you see this beer, you know it's going to be an explosion of flavor. Ripe tropical fruit flavors coat the palate, with a hint of bitterness finishing it off. All of the variables come together to create an easy-drinking beer that you can drink a few rounds of.
Giving Back
Sonder isn't just about brewing great beer though, as with most breweries we feature, they are very active in the community. One that we found most interesting is their "Givin' On A Prayer" program. The program helps Sonder highlight great organizations and support them financially. Givin' On A Prayer occurs monthly and includes a dedicated tap. 10% of their month-long draft sales of that tap go to the benefit. There is also a Givin' On A Prayer day during which 20% of sales of the tap draft pours go towards the benefit. Sonder encourages organizations to partner and promote with them all month long. Not only is that a great idea, we also now have the famous Bon Jovi song stuck in our heads. It's a win-win situation!
If you find yourself near the greater Cincinnati area, please stop by Sonder and give them a try. We promise that you won't be disappointed in any of their offerings. Will you thoroughly enjoy your time there? You Betcha!
We're zig-zagging around on this road trip and our next stop puts us in St. Paul, Minnesota at the doors of BlackStack Brewing.
The Space
Our time with BlackStack begins with a small history lesson. The building that BlackStack is in began as The American Can Building, dating back to 1889. Beginning in 1902, it was a canning factory that produced billions of tin cans for the likes of Hormel foods, Swift & Co. and Armour & Co. for well-known brands like Spam, Green Giant, Swift meats, Fischer nuts, Hershey's chocolate and Rayette hairspray.
In the late twentieth century, the food packaging industry found new ways to store food. The downward spiral in canning caused the last owner of the building to close its operations in 2007. St. Paul city officials considered demolishing the old building, but in 2013, a California development company that repurposes old industrial buildings bought the former canning factory.
That's when BlackStack comes into play. You could say it was love at first sight between the old building and BlackStack as when they first laid their eyes on the building. They knew it would become their home. After countless hours of retrofitting and bringing the 20,000 square-foot space to code, they turned it into an open, inviting taproom. BlackStacks states that they want their customers to feel as though they're in an industrial cathedral-meets-modern museum that has an abundance of natural light and infinitely comfortable seating.
The Beer
The beer we're featuring for this article is Amarillo & Chill, a Cold IPA featuring Amarillo hops. Amarillo & Chill is a beer that's part of their Single Hop Cold IPA series which features a single hop in each version. While we can't vouch for the other versions, we can tell you that Amarillo & Chill is delicious!
It's a well-balanced IPA that's refreshing and crisp! We get a hint of fruitiness that finishes somewhat dry and clean. You could relax and enjoy more than a few of these beers and not feel bad about it.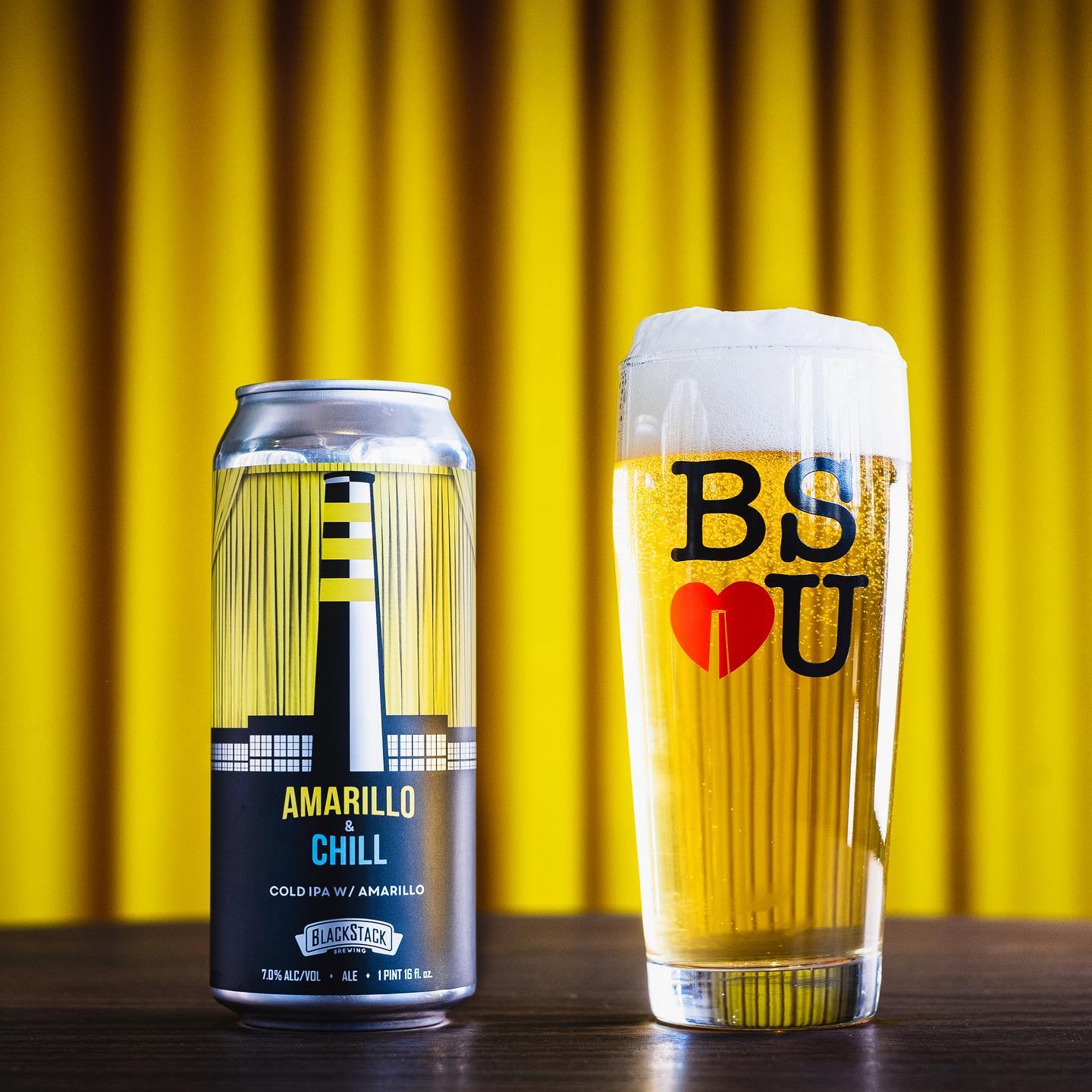 As you can see above, the beer pours very clean and clear. You just know by looking at the beer what type of experience you're going to have while drinking it. It doesn't fill you up, and while it may look like it doesn't have much to offer as far as appearance goes, that's where you would be fooled. Amarillo & Chill for us was damn near perfect in every aspect.
Fasten your seatbelts as we head on over to the great state of Wisconsin where we visit 1840 Brewing Company in Milwaukee.
1840 Brewing Company is an urban farmhouse brewery located in the historic Milwaukee neighborhood of Bay View. They craft high quality Ales, Lagers, Sours and Stouts with a focus on barrel-aging and blending.
1840 Brewing gets their name from the fact that the year 1840 was the first year that a commercial brewery started in Milwaukee's rich brewing heritage. We find that remarkably interesting and clever in how they came about their name.
1840 is all about that slow beer! Slow beer is a methodology and a vibe. While some of their beers may take over 24 months to make, all of their products are crafted with the same attention to detail in ingredients, process and timing. 1840 invites you to slow down and enjoy every sip with them!
The Beer
The beer we're featuring for this article was a special release beer by the name of Hawaiian Drinking Chocolate, or HDC. HDC is a barrel-aged beer that was aged in 19 year old Elijah Craig Bourbon barrels. It's conditioned on toasted coconut, macadamia nuts and Ugandan vanilla beans. If all of that sounds ridiculously delicious to you, then you are 100% correct. This beer is an absolute masterpiece. It's as if every part of the brewing process was so delicately done to extract every little bit of flavor they could get out of it.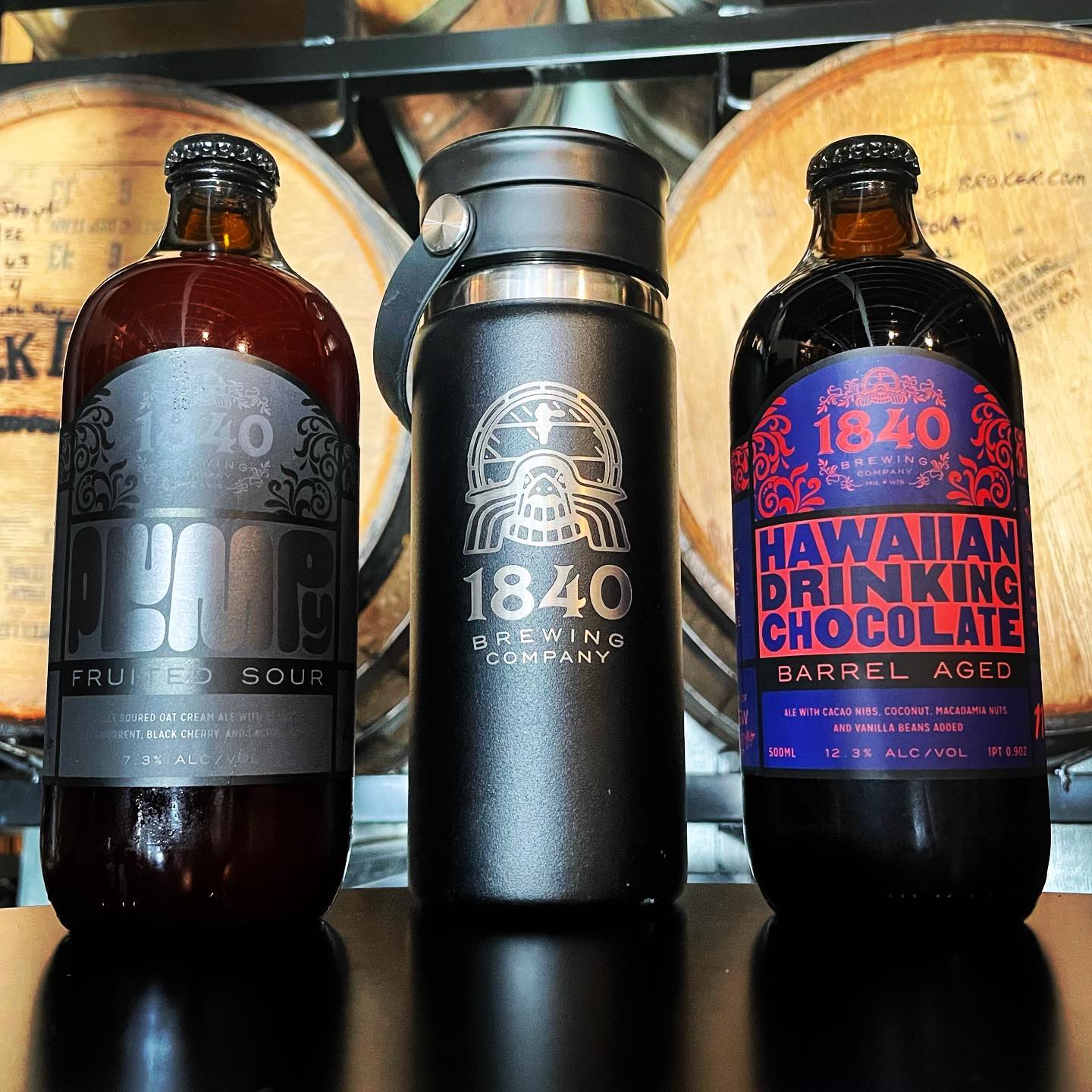 The star of the show for this beer is obviously the chocolate but only slightly over the barrel-aged notes. The chocolate is rich without being overpowering, yet subtle on the back end that gives way to the barrel-aged palate pleasing flavor. The coconut is there and comes in about mid-palate, but it's very subtle and adds just enough to put this beer over the top. This is one of the best barrel-aged Stouts we've tried in recent memory here at PorchDrinking!
1840 notes that their taps change quite often, so be sure to stop by just as often and see what they have to offer. You just might find your next favorite beer!
The next stop on our road trip puts us in the town of Newton, Iowa, at Gezellig Brewing Company. Gezellig was founded by Betsy Duffy and Mindi Vanden Bosch. As Gezellig says, they're two women who enjoy craft beer, visiting breweries with their families and they firmly believe in the recruiting power of a glass of beer. Betsy continues to be on-site daily to oversee the operations, and she always loves to meet new people!
Their head brewer, Joe Kesteloot is somewhat of a brewing legend! He began his brewing career after being introduced to home brewing by his father's friend after graduating college at Iowa State University. After attending and graduating from American Brewers Guild, he became a brewer at Cold Spring Brewing Company in Cold Spring, MN.
In 2009, Kesteloot and his family moved to Knoxville, IA where he became head brewer for Peace Tree Brewing Company. During his tenure with Peace Tree, his beers won two gold medals at the Great American Beer Festival. Gezellig considers themselves lucky to be able have Kesteloot join their family as head brewer in 2021.
The Beer
The beer we're featuring from Gezellig is their Imperial IPA by the name of Hugzilla! At the 2020 Great American Beer Festival, Hugzilla took home the Silver medal in that category.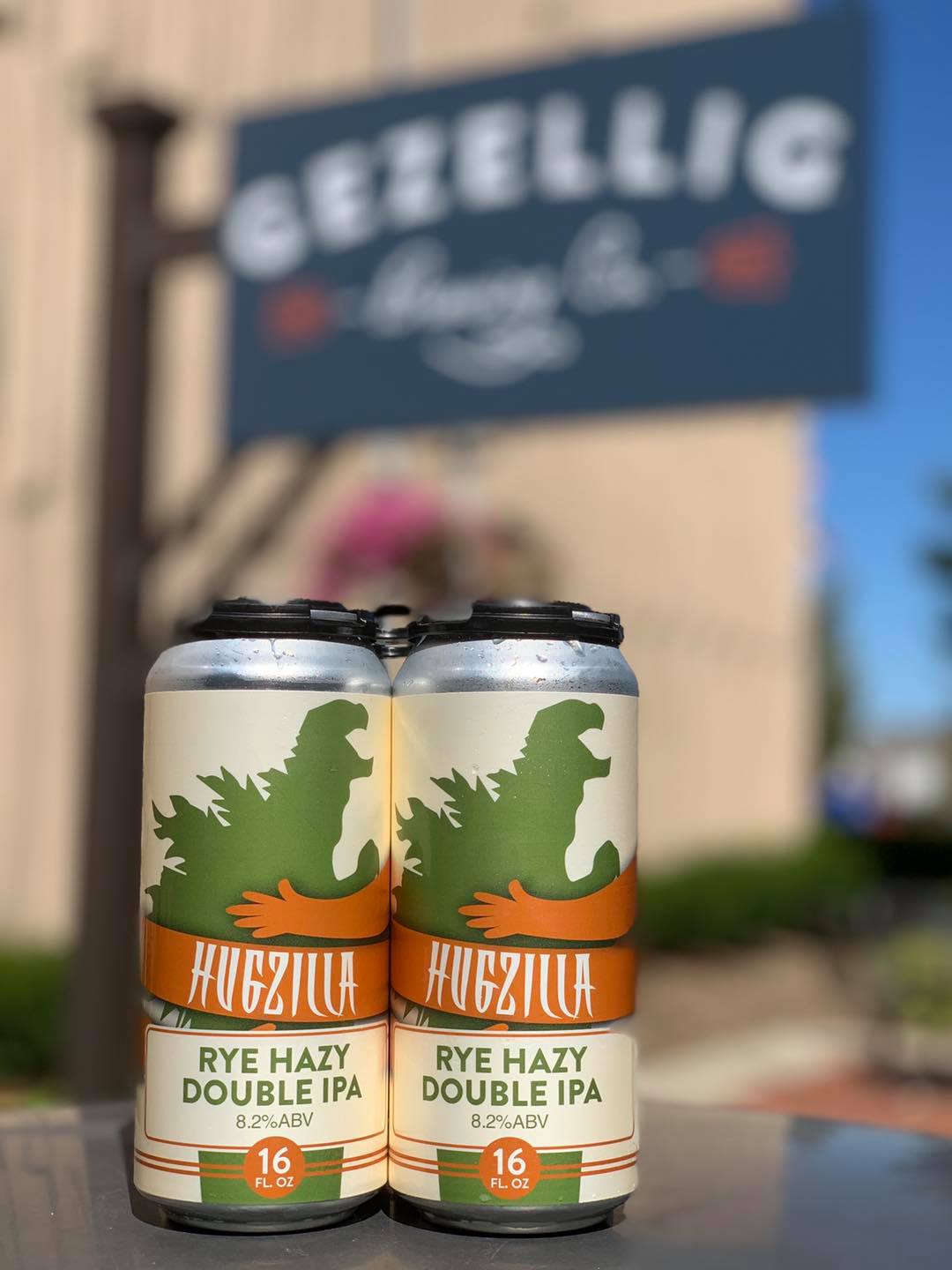 You get notes of luscious peach, lemon and pineapple from the hop combination of Strata, Citra, Lemondrop, Sabro and Lotus. As you might expect, this is one hop-bomb of a beer! Pungent notes of peach and lemon dance across the palate, while the subtle hints of vanilla and coconut come in at the end to take part in this hop tango. The hop combination really make this beer stand out in a category that can be oversaturated at times. The flavors make you want to go back to this beer instead of trying to find the latest "what's hot" beers at the moment.
Gezellig invites you to come out and try their beers and enjoy their beautiful taproom experience. It's a nice inviting space to relax and enjoy some extremely well brewed craft beers!
If you brought your pet with you on this road trip, our next brewery on the list is a perfect spot for you. Metazoa Brewing Company is a pet-friendly, open-concept brewery located in downtown Indianapolis that features great skyline views and over 16 delicious craft beer styles on tap.
Metazoa was founded in 2016 by Dave Worthington who was a homebrewer, animal lover and overall craft beer enthusiast. Worthington and his family had always enjoyed donating to animal charities and fostering rescued animals. As Worthington began dreamed of owning a brewery, he realized that he wanted to offer something even more special, so Metazoa was born. Since that day, Worthington has continued to build the company around a promise to donate five percent of all company profits to unique animal charities in Indiana and beyond.
From Mug Club members and frequent visitors to the pet-friendly taproom, to local retailers and casual supporters who order Metazoa beer at local watering holes, the Metazoa community is ever-growing as is their support of animals. By the end of 2019, Metazoa's donations to animal welfare organizations since their grand opening in 2016 totaled over $100,000. Worthington's dream of building a place where community can "drink beer to help animals" has become a full-fledged reality!
The Beer
The beer we're featuring for this article is their vanilla latte-inspired Blonde Ale called Trash Panda. It is made with coffee from Blue Mind Roasting and finished with marshmallows to add a touch of sweetness. Trash Panda has a perfectly balanced body achieved by adding flaked oats and wheat.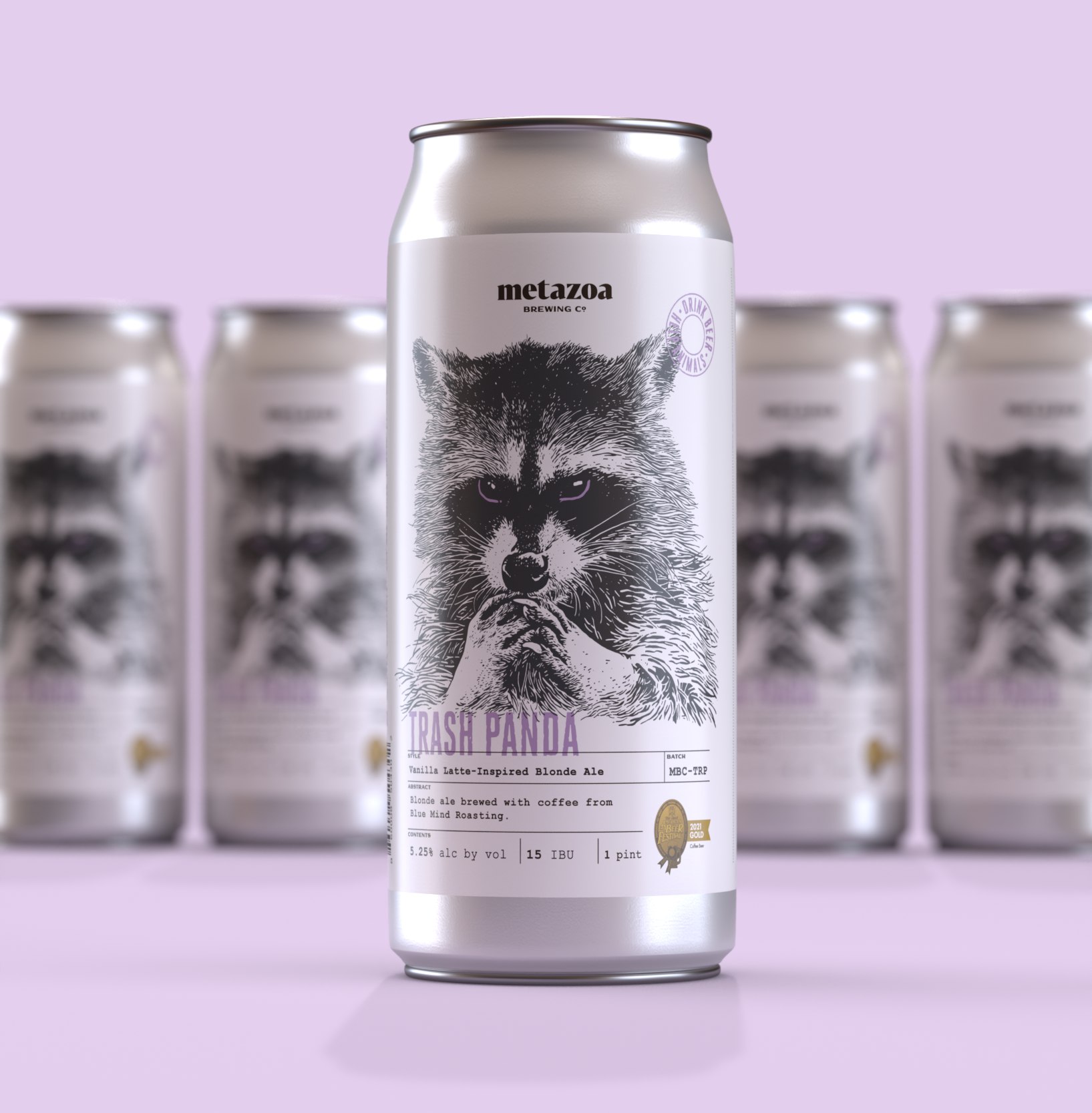 Trash Panda was designed to confuse and delight your senses while combining the light and crisp drinkability of a Blonde Ale with smooth and sweet latte characteristics that put you in mind of espresso and vanilla! Some people might think that coffee and beer don't belong together, but we assure you, we are not those people. A great coffee Blonde Ale is hard to come by sometimes and we're overjoyed that Metazoa brews this delectable beer. We love a good trash panda over here at PorchDrinking as well, and now we have it in the liquid form too! Not to be outdone by its flavor alone, Trash Panda won gold at the Great American Beer festival in 2021!
We would visit Metazoa for their love of animals alone even if their beer was bland, but factor in their world-class beer and you don't have to say anything else. Don't take our word for it though! If you find yourself in their area, be sure to stop by and tell them PorchDrinking sent you!
The last stop on our Midwest road trip has us stopping in Chicago to check out Maplewood Brewery and Distillery.
Maplewood opened with the mission to push liquid boundaries in an unassuming building nestled in Chicago's historic Logan Square Neighborhood.
The first of its kind to establish brewing and distilling roots under a single roof, Maplewood has been producing finely-crafted beer and spirits since 2014. Three years after moving in the production facility, Maplewood opened their Lounge, a neighborhood staple doubling as a taproom and cocktail bar. Beginning commercial distribution throughout Illinois shortly after settling into Logan Square, Maplewood has since expanded their distribution footprint into Missouri, Indiana, Wisconsin and Kansas. Maplewood's fans have come to expect expertly crafted beer and spirits in a wide range of styles!
The Beer
The beer we're featuring for this article is Sidewalk Surfer, a West Coast Double IPA. Sidewalk Surfer is brewed with hand selected Strata, Mosaic and Chinook hops. Before we delve into the flavor profile and notes of this beer, we just want to say that this beer is a pure pleasure to drink. It's one of the absolute best West Coast-style Double IPAs we've had in recent memory. We know everybody's palate is different, but this beer is just that good!
As expected from a West Coast DIPA, the resin and pine are upfront and noticeable. The hop bitterness is just right with this one. It's not overly bitter yet not super sweet. You do get some notes of peach and a subtle hint of tropical fruit that add some sweetness to the beer, but it's just balanced so well. The Strata hop addition to this beer for us is the star of the show. It pushes this beer over the top and adds that unique flavor profile that has you wanting to seek it out over and over. The dankness is abundant with this one, and we're all about it! It's crisp and clean with a slightly dry finish with the bitterness lingering just slightly.
We could go on and on and write more about it, but words aren't really going to do justice for Sidewalk Surfer. You just have to try this one for yourself and enjoy. Please do yourself a favor and stop by Maplewood to not only try this beer, but try all of their other offerings that we're sure you will love!
---