One Comment
Happy Hour Post | The Saga Continues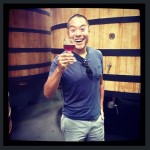 Times are a changing in the craft beer-o-sphere. Each day, more and more news breaks on acquisitions, ESOPS, private equity stakes, and CEO successions of long time industry staples. We've also seen major brewery expansion announcements, exciting bottle releases, event debuts and essentially more news that can possibly be distilled into individual breaking stories and our weekly growler fill alone.
So as we first alluded to nearly a year ago in the debut of the Happy Hour Post, we want to do a better job of serving our readership. We'll begin slowly, mostly on major news days, and soon moving to a daily format, recapping all of the major beer news that happens each day. But even more so, borrowing from our good friends at Kentucky Sports Radio as they've been doing with their their late night post recapping Kentucky sports news each day, we'll also add a little pop culture to keep things interesting. This is after all, what the porch drinking experience is all about.
Usually this post will take place at the end of the day, but for this kickoff (and since we had such a big news day yesterday) I thought I'd bring y'all a morning shot of Mocha Stout. Lets get to the good stuff.
Star Wars: The Force Awakens Trailer Revealed
It's not often I spend the day with my heart a flutter, but as news broke on the impending release of the final Star Wars Episode 7 trailer and subsequent ticket release, I reverted back to the 10 year old me, wielding a wiffle ball bat deflecting invisible blaster shots, leading the rebellion, on the playground, while also ensuring a prolonged virginity. This was my life growing up. I owned a beagle who I named Yoda, my nose was buried in copies of Star Wars: The Essential Guide to Vehicles & Vessels and Timothy Zahn's Thrawn Trilogy, and even through college proudly displayed a rebel star fleet of micromachine X-Wings, B-Wings, Mon Calamari star cruisers and Millennium Falcon afixed to the dash of my 07′ Mazda 626. Zero fucks were given.
The only mention of the prequels, which will not be named, shall be relegated to the fact that I will from hence forth, no further acknowledge their existence, however with that said, JJ Abram's take looks signals a return to the Star Wars universe we grew up loving. Last night's trailer gave a glimpse into the redemption that many a fanboy/girl had been hoping for, one that will fulfill a legacy started 38 years ago. There aren't many films these days that deserve the hype, media, and fandom associated with the classics, but this is one is everything. Enjoy with me (I've already watched the trailer more times than I have the prequels shall not be named… dammit, I did it again) as the saga continues.
Ballast Point Files First Steps Toward Becoming Publicly Traded Company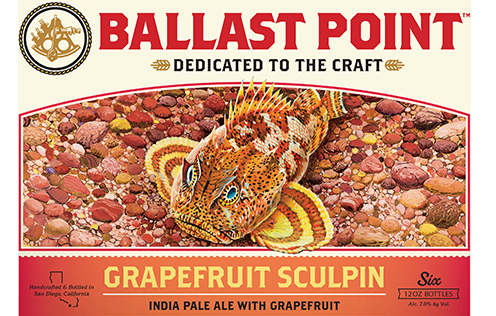 As West Coaster SD reported yesterday, Ballast Point Brewing has kicked off initials steps toward becoming a publicly traded company by filing an S-1 with the Securities and Exchange Commission. Perhaps the best part of this report is that Ballast Point's purposed NASDAQ symbol is PINT. The IPS is valued at $175.2 million. To read more visit West Coaster SD.
Boulevard Expansion to Arizona and Kentucky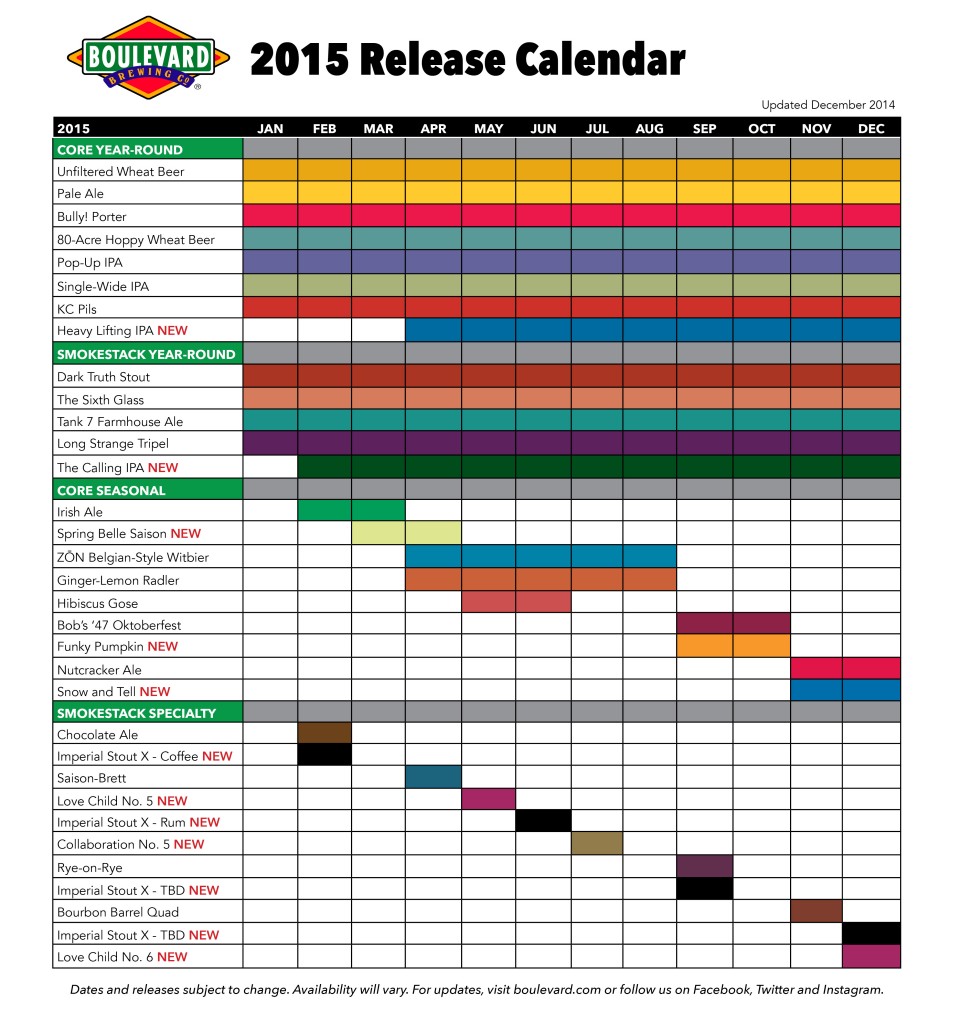 According to CraftBeer.com yesterday, Boulevard's full portfolio of beers will be available in Arizona and Kentucky as early as January. The Kansas City brewery, which was purchased by Duvel Moortgat two years ago, has been undergoing a massive expansion which will allow for wider distribution.
"With the addition of six new 1,000-barrel fermentation tanks, plans to expand our distribution territory can become a reality," said Bobby Dykstra, Vice President of sales for Duvel Moortgat USA. "There has been a strong and persistent demand for Boulevard beers in Arizona for quite some time and Kentucky is seeing an explosion of craft beer excitement. We're thrilled to bring the taste of the Midwest to these states."
Michigan, Connecticut, Rhode Island, Albany, New York and parts of upstate New York and Delaware can expect Boulevard distribution to arrive in early 2016 as well though distributor licenses have not yet been signed for those locations as of now.
Firestone Walker Announces Upcoming Release of XIX Anniversary Ale
Perhaps one of the more sought-after anniversary beers is going old school this year. Firestone Walker which invites esteemed winemaker friends to blend elements of their portfolio of beers each to arrive at the finished Anniversary Ale, announced that this year's blend will only consist of Parabola, Stickee Monkee, Bravo, and Velvet Merkin.
"We went back to the basics this year," said Brewmaster Matt Brynildson. "We offered the winemakers a smaller number of barrel-aged beers to work with, and we eliminated the option of blending in our hoppy stainless steel finished beers. They were surprised at first, but it resulted in a rich and complex beer that is centered on barrel-aged flavors."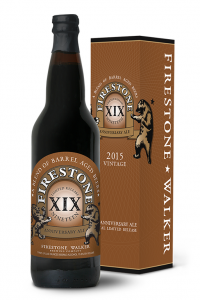 Brynildson noted that the previous addition of hoppy component beers often overpowered the flavors of the overall project.
"In a blending session, the palate can easily gravitate to hops, because they are assertive and seductive," Brynildson said. "I was concerned that hoppiness might begin to encroach on the intended style of the Anniversary Ale, so I eliminated the temptation."
He added, "In many ways, this latest beer reflects more of what a typical wine blend would be in terms of the number of components and how those components can work together. I believe it truly embodies what this project is all about."
This year, 13 winemakers were paired off and presented with the base component beers to blend. Each pair submitted their final blend and those results were presented, blind tasted, and judged by the final group. Sherman Thacher and Daniel Callan of Thacher Winery are credited with creating the winning blend that became XIX, granting them possession of the coveted cardboard crown that is awarded to the winning team each year.
Founders Breakfast Stout Returns

Grand Rapids based Founders Brewing's wildly popular Breakfast Stout has been released to the public once again. And while Founders is still no available here in Colorado where PorchDrinking is based, we're hearing rumblings about that soon changing. Stay tuned for more. The map shown above lists states where Founders is current available for distribution and the yellow states represent limited distro.
Perennial Announces Dates for Abraxas Release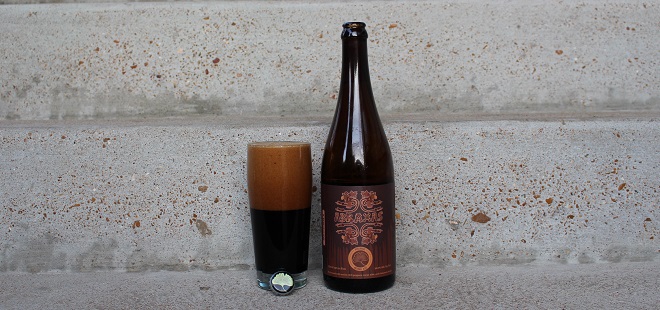 Perennial announced last week that it'd be holding a special Abraxas release, their Imperial Stout brewed with ancho chili peppers, cacao nibs, vanilla beans and cinnamon sticks. The release event will grant attendees 2 bottles of 2015 Abraxas, 1 bottle of 2015 Coffee Abraxas and special bottle holder bag, however tickets for the event sold out quickly. The wide release of Abraxas is available to the public on November 10, 2015
Mephistopheles Release Date on Halloween
Finally Avery Brewing will hold a special release party for Mephistopheles, their 15-17% stout which serves as the final installment of their "Demon Series"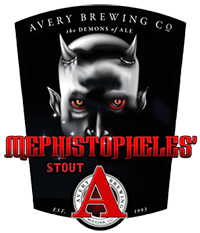 Draft pours & bottles to-go will be available on Saturday, Oct 31 starting at 11am. Costume contests at 4pm and 8pm with special prizes for the best Avery-related costumes!
After the brewery release, bottles of Meph will make it onto store shelves around AZ, CA, CO, IL, KS, KY, MA, MN, MO, NM, NY, OK, PA, SC, TX, VA, WA, WI, and WY. To find Meph near you, please put your zip code into the Avery Brew Finder at www.averybrewing.com/find-avery-beer.
---