No Comments
Good People Brewing | Hazy Snake IPA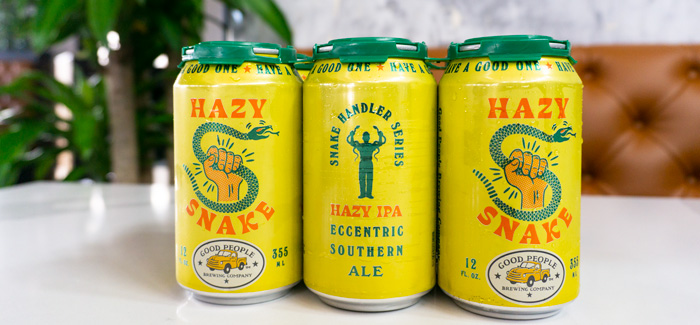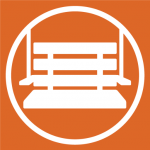 For their first new beer release in five years, the old-school folks at Good People are jumping onto a new-school beer trend with Hazy Snake IPA.
Based in Birmingham, Alabama, Good People Brewing Co. prides themselves on brewing "the #1-selling IPA in Alabama for the last 10 years," known simply as Good People IPA. Aside from this flagship, Good People distributes several other core brands throughout Alabama and Middle Tennessee, including their Snake Handler Double IPA, Muchacho Mexican-style Lager, Good People Pale Ale, and now, Hazy Snake IPA.
In describing the origins of Hazy Snake IPA, Brendon Healy, Tennessee Market Manager at Good People Brewing, stated:
"The first question I get is 'Is this a hazy version of Snake Handler?' When we were looking at brewing a hazy IPA, if it was a 10% 4-pack, there wouldn't be as much commercial viability for consumers on, let's say, a Wednesday night. The reason Snake Handler is so successful isn't just because of the quality, it's also kind of a rarity – you want to have that special occasion beer. With Hazy Snake IPA, we wanted a price point, ABV, and flavor profile that would be attractive and approachable but also would still speak to some of the flavor qualities from a sensory perspective that we draw out of Snake Handler."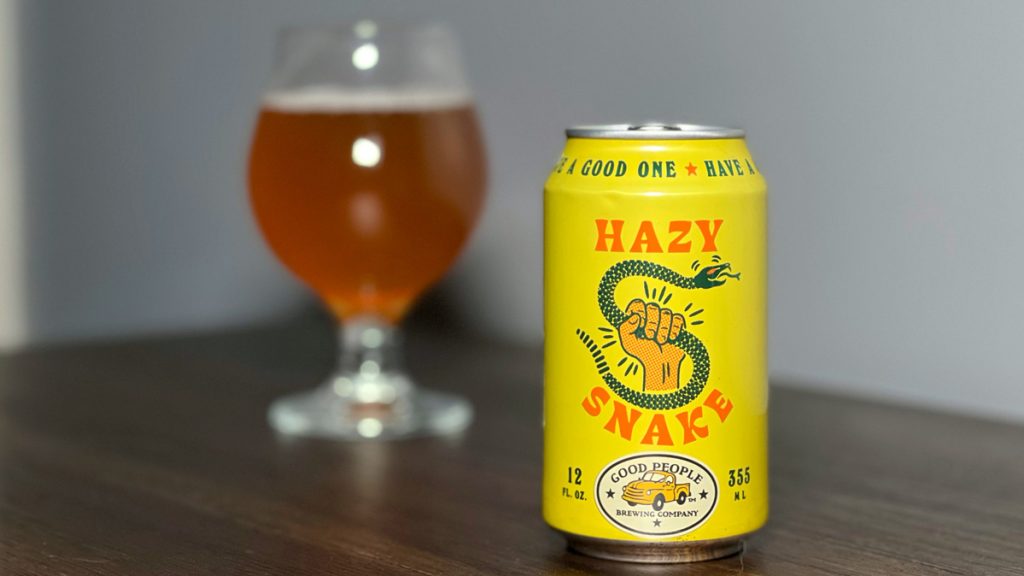 Especially since they hold a veteran market position in Alabama & Tennessee for more traditional beer styles, with Hazy Snake, their goal was to produce an admirable representation of this new-school beer style without alienating their core fanbase. Accordingly, while many of today's top Hazy IPA breweries sell their beer in packs of 4 x 16 ounce cans, Good People wanted to stick with the traditional 6 x 12 ounce cans, while coming in at an approachable ABV and price point.
The result is a full-bodied, flavorful Hazy IPA with an ABV of 6.9% and a retail price of around $11.99, putting it in a similar market as Sierra Nevada's Hazy Little Thing and Bell's Official Hazy IPA.
Hazy Snake is a citrus-forward IPA brewed with Idaho 7, Citra, Mosaic, Simcoe, and Cascade hops (all sourced from industry leader Yakima Chief), and uses flaked oats as opposed to lactose for a soft, creamy body without being too sweet or heavy on the palate. You can expect prominent notes of pineapple and grapefruit followed by softer undertones of mandarin orange, papaya, stone fruit, and berry.
Brendon Healy adds: "At the end of the day, that term 'drinkable' is the most important thing. I think we're all able to process this in our own way about what this means." With Hazy Snake IPA, Good People Brewing succeeds in delivering a respectable amount of hop flavor while keeping it smooth, refreshing, and yes – dangerously drinkable.
Want to give this beer a try? Find it at bottle shops & grocery stores across Alabama & Middle Tennessee, or stop by Good People's taproom in Birmingham!
Featured image courtesy of Good People Brewing
---