No Comments
Ultimate 6er | Zinzinnati Oktoberfest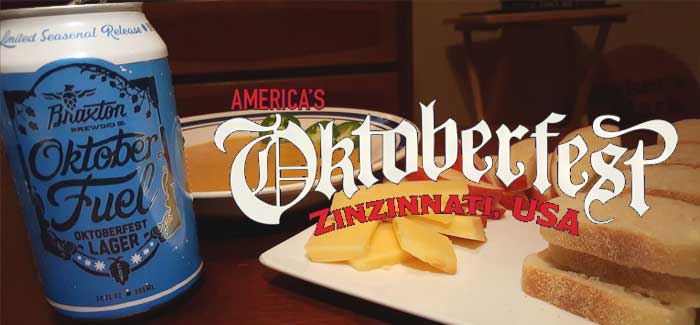 With only a few days away from the largest Oktoberfest in the United States, it's time to put on the drinking cap. Each year more than 500,000 people come to Cincinnati (aka Zinzinnati) to attend this rich German heritage event sampling German-style food, music and my favorite, beer.
This year's Oktoberfest will kick off at 11:30 a.m. on Friday, September 16th with the Running of the Weiners, where 100 dachshunds will race and one will be crowned "King of the Wiener Dogs." Oktoberfest will continue throughout the weekend with bands, games and plenty of other entertainment. So get your steins, bratwursts and pretzels ready for this Oktoberfest-themed 6er.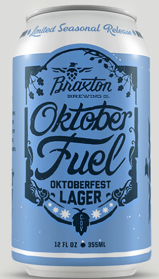 ABV: 6% | IBU: 20
Prost! This beer is a traditional Oktoberfest style lager brewed with German malts, decoction mashing, and noble hops. Light amber color with toasty, bready, and biscuity characteristics making it a great brew for fall. This beer is "fuel for fall" and is going to make a great beer to enjoy during camping, football games, or just hanging out watching the leaves change colors.
Side note: Not only was this beer refreshing to drink, it made one hell of a beer cheese.
---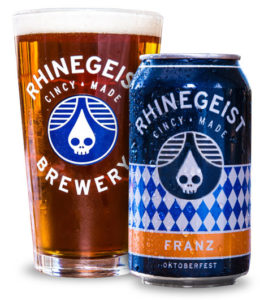 ABV: 5.4% | IBU: 20
With a combination of Pale Ale, Munich, Vienna, and Caramunich malts, this non-traditional take on an Oktoberfest style beer is actually an Ale. It still has the bready characteristics like an Oktoberfest lager with a slightly sweet flavor and crisp finish. It pours a light amber color with slight head retention. The aroma of this brew is a slight caramel and toasty. Rhinegeist is having their 3rd Annual Franztoberfest this Saturday September 19th, starting at noon so get your lederhosen ready!
---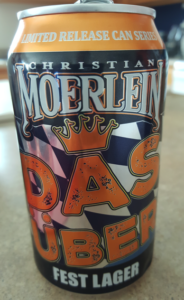 ABV: 5.2% | IBU: 20
Recently released for the first time in cans as part of their limited release can series, Das Uber is an Oktoberfest lager that shows off the German heritage brewing style in Cincinnati. This beer pours a light golden color and has a refreshing light body and mouthfeel. The beer is very light to drink during  the last humid days of summer and the transition into cool, fall nights. This is one of the few seasonal beers that they brew for Oktoberfest season.
Christian Moerlein is Cincinnati's oldest operating brewery dating back to 1853. After Prohibition, the brewery was able to be reintroduced to the Queen City in the Over the Rhine area in 1981.
---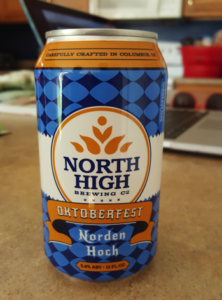 ABV: 5.6% | IBU: 25
Driving up 71 North to Columbus is where you'll find this brewery. North High is a microbrewery that opened up in 2011 and is the only Brew on Premises establishment in Columbus. They have a large list of different recipes that customers can choose from to brew a small batch at the brewery. The North High taproom includes a full bar and a great beer drinking environment. They began canning their beers in May 2015 and have added their Oktoberfest to the list. This brew pours a deep copper color with a slight spice note and a smooth finish.
---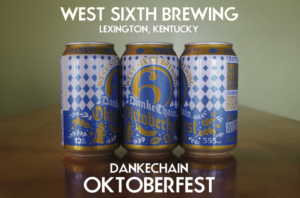 ABV: 5.5% | IBU: 20
For the second year in a row, West 6th Brewing releases their version of an Oktoberfest lager. The name Danke Chain is referring to Food Chain, the non-profit indoor aquaponics fish farm that located in the same building as the brewery. Sustainability and giving back to the community are very important at West 6th Brewing company. They use their spent grain from brewing for fish food, the fish waste for fertilizing garden greens and then the greens and fish are harvested for the Smithtown Seafood restaurant that is also in the same building. I could go on and on about how West 6th gives back to the community, but back to the Danke Chain. This beer is deep copper in color with caramel notes and a crisp finish.
---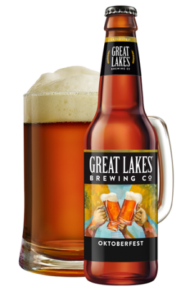 ABV: 6.5% | IBU: 20
Every year Great Lakes never disappoints with their classic take on the German style Oktoberfest. This beer pours an amber color and has smooth malt flavors that make me excited for fall to start to enjoy this one around a bonfire. The hops are very mild making this a very inviting brew for new or current beer drinkers. Fun fact I learned from the Great Lakes website is that the brewery reuses the grain from the beer to make barley pretzels in their brewpub.
---