No Comments
La Cumbre Brewing | Monzón Wet Hopped Pale Ale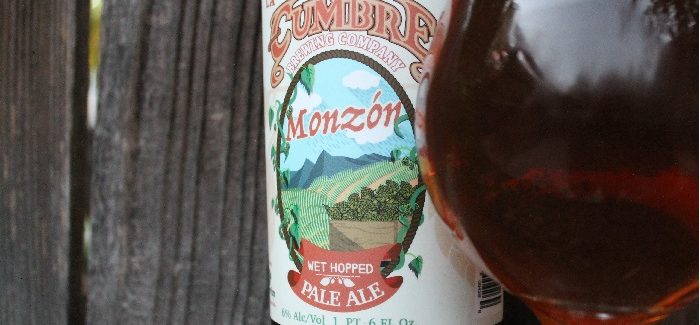 This showcase is sponsored by Small Batch Liquors.
ABV: 6.0%
Bottle: Crown Capped 675ml
Brewed on: 09/09/2016 | Sampled on: 09/17/2016
The Brewery
Success comes in many forms. For La Cumbre, it's the first sip of a sublime ale, or an exquisite lager. If pride is a deadly sin, they all have a date with destiny.
Like so many great businesses, La Cumbre Brewing Co. is the realization of a long-held dream.
Years of study, apprenticeship and then brewing preceded that day in December of 2010 when La Cumbre Brewing Co. opened. Artists, crafts people, philosophers, teachers, scientists, philanthropists, fellow entrepreneurs; they all contributed to what La Cumbre is, and they all did it for love. Love of the dream. Love of finely crafted beer.
The quest to make the greatest beer available is a noble one. Budgetary restrictions have nothing to do with that quest. Advertising and branding campaigns don't either. The equipment you use needs to be of a high quality to accomplish the goal. Ingredients need to be carefully chosen. But intentions are paramount. Experience and expertise are essential.
La Cumbre Brewing Co. is located at 3313 Girard Blvd NE, Albuquerque, NM 87107. Check them out on Twitter, Facebook and Instagram.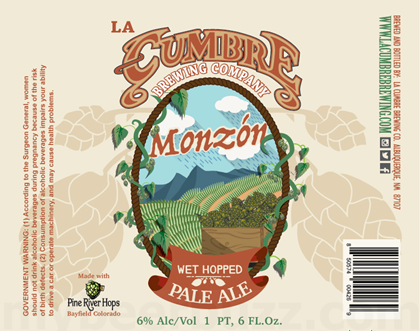 The Beer
The Monzón was made with Fresh (really fresh, picked the night before and given down over night to us the next morning) hops from Pine River Hops.
Here is the bill:
Grains
Great Western Vienna malt
Bairds Maris otter
Hops
Chinook and Meridian in the boil and whirlpool
Chinook in the hop-back
Dry hopped with Centennial and Meridian
*The Chinook hops were whole cone hops from Pine River Hops in Bayfield CO
Meridian gives Monzón pronounced melon notes, sweet lemon, mixed berry, tropical fruit, and cool mint! It's such a great showcase of subtlety and balance with the sometimes robust Chinook and Centennial hops. The versatility of Meridian lends complexity to this ale while also playing nicely with the other hops.
Much like Meridian's aroma of fruit and citrus, the Centennial heads out there will still rejoice in its representation of bitterness and aroma in this Pale Ale. The spice and pine and grapefruit of Chinook have a chance to breath in this brew as evidenced by both the aroma and the quaff. (Who doesn't love a good Chinook burp now and again?!)
The harvest of the Chinook Whole Cone Hops was done the day before this beer was brewed. NOW THAT IS SOME FRESHNESS!
The hops used in Monzón were harvested from Pine River Hops out of Bayfield, CO. For those unfamiliar with their story, check out their spot and that sweet homemade trellis system!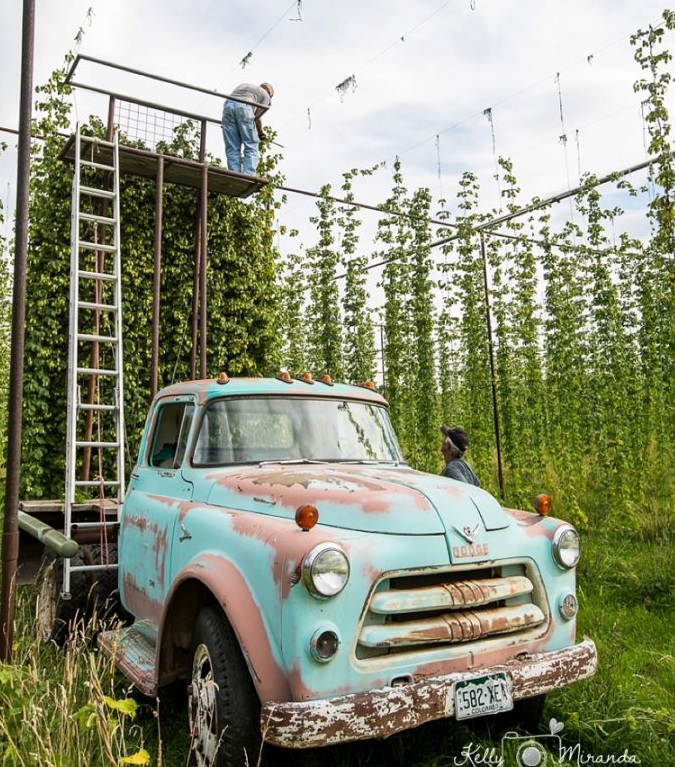 Whether you're in the mood for something hop-forward Elevated IPA's or one of their malt-bomb Malpais Stouts, La Cumbre Brewing is bringing a solid lineup of brews to the mountain region and you shouldn't sleep on anything they are brewing up! I can't dote on these folks enough. Keep up the good work, La Cumbre!
La Cumbre Brewing Co. brews move quick and are available at Small Batch Liquors. Make sure to swing in and tell them PorchDrinking sent ya!
You can find this brew and many other fantastic carefully curated craft beers available for purchase at Small Batch Liquors in Denver, Colorado.


4340 Tennyson St.
Denver, CO 80212
---