No Comments
Roughtail Brewing Co. | Hoptometrist Double IPA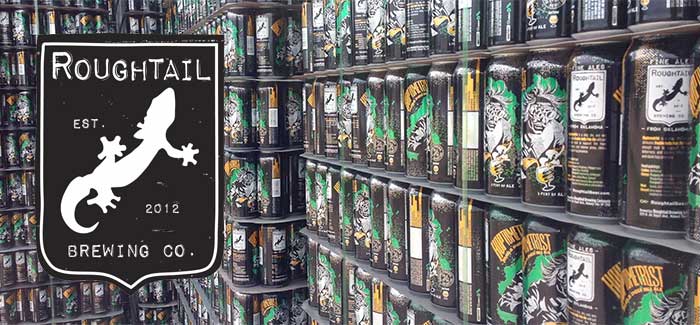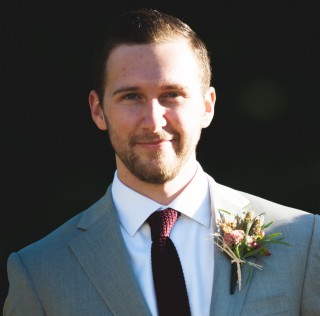 If you know many people from the great state of Texas, you know they can be pretty prideful about their homeland. It's almost as if state pride runs in the water for those who are born and raised in the Lone Star State. There was a time, before I had moved away, where I wasn't sure anything good could come from one of the other 49, especially our step-cousins to the north, Oklahoma. However, over the years, I've come to realize that Oklahoma was not all I once despised. Heck, many wonderful things have come from there – Garth Brooks for instance! My wife! Prairie beer, the electric guitar, Chuck Norris, and now? Roughtail Brewing Co.
I realized my newest Oklahoma love at the hands of a good friend of mine who has recently moved to the Sooner town of Norman, just outside of Oklahoma City. Due to its close proximity to Midwest City, OK, he's been gracious enough to bring me some of Roughtail's beer when he visits – most notably their year round IIPA, Hoptometrist.
Hoptometrist is one of Roughtail's year round beers and according to their CEO, Blaine Stansel, it's by far the most popular and fastest growing among its peers. Roughtail is currently distributing only to Oklahoma (mainly the Tulsa and OKC metros) and Kansas. However, again in Stansel's words, "We hope to expand into Arkansas and Texas eventually, but we are just trying to add tanks now and catch up with demand. At some point we would love to be distributed in every state that touches Oklahoma, which doesn't sound like a lot, but that's really a large swath of the country when you look at it." This is sure to bring much happiness to not only those in Arkansas, Texas and Kansas, but also New Mexico, Colorado, Louisiana and Missouri.
As far as the beer itself, the 16 ounce can depicts a crazed hop scientist concocting what's sure to be something gnarly and delicious. Roughtail's website characterizes the brew as an American-style Double IPA with descriptors such as "crisp, dry and very drinkable with just enough malt to support the huge bitterness and intense piney, citrusy, dank hop presence." The beer comes in at 9% ABV, 100 IBUs and features a rotating bill of hops.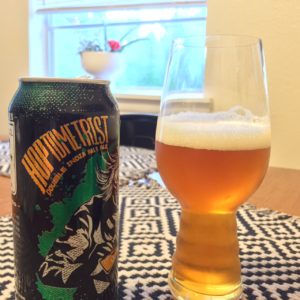 When I asked Stansel if he could shed some insight into what particular hops were used, he explained that the beer has evolved over the years due to increasing availability of new varieties of hops. "The hops rotate based upon what we can get. [Hoptometrist] has changed quite a bit over the years and so has our IPA as we've been able to get our hands on new varieties of hops that beginning breweries don't get. So for instance we use three different hops in the whirlpool and fermenter that we couldn't have gotten our hands on three years ago. Sometimes new stuff comes onto the market mid-year that we have a chance to grab and we do." This is a very interesting consideration that I often look over when trying beers from new breweries. Whatever the hop list consists of – this beer delivers.
Hoptometrist pours from the can a gorgeous translucent gold with a slight amber or burnt orange hue and a lingering two-finger head of fine white bubbles. Before you even raise the glass to your nose, the huge citrus and pine aromas make themselves apparent and as the beer warms, those same aromas get slightly mustier.
Awesome stuff. The taste follows the nose very nicely being mostly dominated by citrus fruits, particularly grapefruit and almost a candied orange. The finish is dry but not uncomfortably so; it really is an inviting and very drinkable beer. There is a strong malt backbone which perfectly balances out the hop onslaught (without being too sweet), especially when this beer is fresh.
If you find this beer at a store, it's almost guaranteed to be fresh as it disappears from the shelves nearly as fast as Roughtail can brew and can it. Even if it didn't sell out, Roughtail pulls any remaining old batches they find that bear a different "Born On" sticker from the batch currently being distributed. They are committed to the quality and freshness that Hoptometrist embodies.
This beer left me very happy, sad and excited. Happy that I discovered it, sad that I can't buy it within two hours of my house  and excited to see what's to come from Stansel and the crew at Roughtail. Be sure to look for their beers the next time you make it to Oklahoma and stop in at the brewery should you find yourself in Oklahoma City!
---