No Comments
Brewery Showcase | Recess Brewing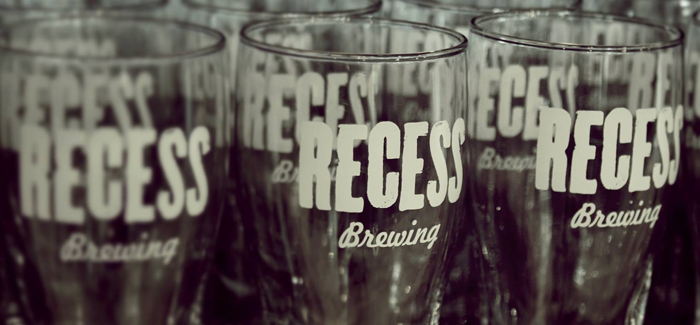 If there ever was a town that could be described as a picture postcard, it may be Edwardsville, Illinois. As you come off I-255 North, you'll be led along New Poeg Road on your way to Main Street where this All-American small town is home to one of the fastest growing craft breweries in the area — Recess Brewing.
Located at 307 N. Main St., Recess Brewing is home to a five-barrel brewhouse that has three fermentors and six serving tanks. With ten taps for their in-house beers, you'll find year-round beers as well as seasonal and one-off brews.
School's Out
Owner and brewmaster Matt Flach had been teaching high school science in Chicago when he discovered homebrewing. "It just so happened that there was another teacher who had been homebrewing for about 10 years already. So, we started to talk about brewing together, bouncing recipes of each other and just making our brewing a collaborative effort," said Flach. "Naturally the talks eventually led us down the path of thinking about opening our own taproom and what it would take."
But what to call it?
The two teachers put their heads together and realized Recess Brewing was the perfect name. "It has a very positive connotation in American society and is often used to refer to a fun time. We were aiming for a laid back environment where people could talk and hang out so we thought this name fit perfectly."
They were right and nearly a decade later in 2013, Flach had a chance to realize his dream in his hometown of Edwardsville. He was able to purchase their current building and then he got to work, opening his brewery and taproom in November, 2014.
The taproom is open to everyone and can hold up to 100 beer lovers. This is the one and only place to fill up your growler or enjoy a pint of Recess Brewing beer.
The Beer
Recess Brewing has ten in-house beers on tap, creating a really nice selection of beers ranging from super light to super stout. They also have a nitro tap and on beer presented in a bottle. Here is the tap list, as of September, 2016.
Lincoln's Lament
Premium American Lager | ABV: 6.1% | IBU: 27
A rendition of a Civil War era style beer, this beer has a malty taste but a very clean finish. The liberal use of Hallertau hops is balanced perfectly with Pilsen malt base for a light taste that goes great with barbecuing and outdoor activities.
Mamby Pamby
Light Lager | ABV: 4.3%  | IBU: 14
A version of a light Lincoln's Lament, this is the perfect lawn mowing beer. With a focus on the grain bill, this beer remains very clean and light with minimal hop character.
Mutha' Road
Black Pale Ale | ABV: 4.8% | IBU: 24
Made to coincide with the Route 66 Festival in Edwardsville, this pale ale is light in body and easy drinking. It has 6 row, roasted barley, and flaked corn in the mash and Amarillo hops in the boil. Every aspect of this beer was created to match a factoid about the original Mother Road so have some fun figuring out these trivia points as you have a glass!
Yellow Buss
American Pale Ale | ABV: 5.4% | IBU: 35
Over 11 pounds of the aroma hops Hallertau Blanc and Hull Melon make this beer very fruity. Passionfruit, grapefruit, strawberry, and cantaloupe are present with a moderate bitterness level that makes this a smooth drinking APA.
Wabash Station
American Pale Ale | ABV: 6.5% | IBU: 50
Recess Brewing is the first Illinois brewery to take part in the Ales for ALS fundraiser. This fundraiser allows brewers to use a unique hop blend to create a one-time beer. In return, $1 is donated to ALS research for every Wabash Station sold! Since the blend is full of very floral hops it was decided to make an IPA. With a total of eleven pounds of hops, this beer is not for the IPA weary. You will get a lot of citrus and fruitiness on both the front and back ends. With a very basic grain bill, the hops really shine through.
2211
IPA | ABV: 7.4% | IBU: 70
Have you ever been punched in the face by a flower? This floral IPA that is made with multiple hop varieties totaling about two pounds/barrel and with it comes an aroma that will attack your senses.
Hop Square
Hoppy American Nut Brown | ABV: 6.1% | IBU: 43
The very first beer through the equipment. A happy accident that created a hoppier American brown. It has a malty backbone but is dry hopped to give it some extra kick.
Four Square
American Nut Brown | ABV: 5.6% | IBU: 30
This is our version of a nutty, American brown ale. It has four varieties of aromatic grains giving it a very distinct and unique flavor. Not quite a nut brown. Not quite an American brown. We think it is a perfect balance between the two.
Pedagogical
Session Porter | ABV: 4.9% | IBU: 31
This low-ABV porter will teach you a thing or two about small beers with big flavor. It is meant to provide the body and flavor of a big porter but in a fashion in which it can be enjoyed all day long.
Hussies in Space
American Stout | ABV: 6.3% | IBU: 33 IBU
An American Stout that is a hybrid of a sweet stout and a milk stout. The lingering sweetness comes from a lactose addiction that pairs perfectly with the roasted malts in the mash.
On Nitro Tap:
Four Square
American Nut Brown | ABV: 5.6% | IBU: 30
This is a version of a nutty, American brown ale. It has four varieties of aromatic grains giving it a very distinct and unique flavor. Not quite a nut brown. Not quite an American brown, but rather a perfect balance between the two.
In Bottles:
Clown Assassin
Belgian Dubbel | ABV: 7.1% | IBU: 25
Possibly one of the best beer labels ever, Clown Assassin debuted in bottles in February and became an instant success. This beer pours cloudy and shortly thereafter the banana and fruits hit your nose.  These flavors come through at first drink. The alcohol comes through in the end with a slightly warming sensation.
Recess Brewing is a Community Supported Brewery Program
Flach's vision goes beyond creating great beer; he wants to make it as available as possible to a many as possible.  To do so he's created the Community Supported Brewery Program.  He explained,  "The idea comes from community supported agriculture, where you sign up to get a weekly or monthly box of fresh-from-the-farm produce. Instead of produce, we'll be filling your CSB growler with a fresh brew once or twice a month depending on your membership level."
For the details and benefits, head over to the CSB page.
---