No Comments
Avery Brewing Discontinues Dictator Series in 2017, Expands Barrel Program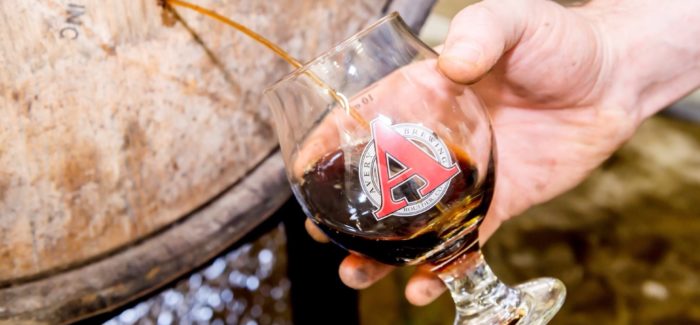 From IPA to BBA, craft beer continues to evolve, and Colorado's Avery Brewing is unafraid to ride that wave of transformation and help influence its direction. In 2017, Avery Brewing will offer fans far more fermented pleasures from its Botanicals & Barrels series, as well as a add to its year-round selections. While that is exciting news for many fans of Avery, it comes with a price — a few long time favorites will have to be retired.
In 2017, Avery Brewing will dedicate more of the brewery's resources — space, equipment, brewers, and barrels — towards its barreling program, notably for the Botanicals & Barrels series. In addition to producing more of its increasingly popular Raspberry Sour and Vanilla Bean Stout, the Boulder-based brewery will offer Tangerine Quad, Apricot Sour, Ginger Sour, and Coconut Porter for a total of six year-round, nationally distributed offerings.
How does Avery Brewing go about deciding on a new beer menu? Is it through meetings with salespeople and market research? No. It's the beer, it's always the beer.
Vanessa Cory, marketing communication manager, explained "Our primary form of 'market research' is through our tap room, and the beers that are consistently asked for time and time again are usually considered for larger distribution. For example, the Tangerine Quad that will be released next month as part of the Botanicals & Barrels series was inspired by a beer called Mondo Roboticus that was just released at the brewery… we have always been proud to brew beers that our brewers are excited about rather than brewing what we think the market wants." For instance, Avery's inclusion at FoBAB (Festival of Barrel Aged Beer) in Chicago included, Expletus, which Avery's barreling guru Andy Parker noted, "We entered Expletus in into Fruited Sour category as a long-shot… while it might not fit the category very well, it's a great beer. And it has more Tequila flavor than any beer I've ever encountered, which is polarizing and awesome. While Expletus [didn't] win a medal, it was fun to bring our craziest and best beers."
https://www.instagram.com/p/BKuaIMzAEK9/?taken-by=tapswithtor
Avery Brewing will also add White Rascal, Liliko'i Kepolo and El Gose to the year-round menu, and the brewery will continue to focus on the growth of the highly sought-after Annual Barrel Series, which includes seasonal favorites such as Tweak, Rumpkin, and Uncle Jacob's — perfect beers for fans of high ABV brews. In addition. Avery will continue to provide numerous one-time brews as part of its Barrel-Aged Series, a result of Avery's dedication towards innovation and experimentation. Avery Brewing noted, "Avery has already produced over 40 beers in this series, and future creations will continue be available for select market releases or brewery-only releases in Boulder, Colorado. By the end of 2016, Avery plans to have over 3300 barrels in its artisanal collection."
https://www.instagram.com/p/BJoFGI1A-iN/?taken-by=averybrewingco
Not long ago, Avery's success manifested itself into a new, much larger brewery. I asked Vanessa how much that played into the decision to focus more on the barreling program. She responded, "The barrel-aging program has been in the works for the past ten years, but it's been in the last few years that the team has been able to brew larger batches that are consistent batch over batch. They finally feel confident that we can produce year-round, nationally distributed beers that will taste the same no matter when they are brewed. Hence, the decision to focus on our Botanicals & Barrels series, plus the Barrel-Aged Series isn't necessarily because of our move to the new brewery, but you cannot deny that the new brewery has allowed us to brew larger batches and experiment a lot more. We actually have an entirely different facility a block away that houses our barrels and it does have the space for us to grow this program in the next few years, which is something that wasn't possible at our old brewery."
But, like any brewery that's excited to bring new toys to a nearby bar or liquor store, some old toys must get stored away. Avery Brewing noted in a press release, "Avery is exorcising the Demons of Ale series, which includes Samael's, The Beast, and Mephistopheles, and deposing two members of the Dictator series, The Kaiser and The Czar. These beers, along with Salvation and Dugana, will be retired by the end of 2016." Now before anyone lights torches and storms the Avery castle, Travis Rupp, Avery's resident Beer Archaeologist and head of the Barrel- Aging program added, "Just because we are killing off these beers doesn't mean that we won't resurrect them in the form of tap room rarities or throw them in a barrel."
https://www.instagram.com/p/BH5Dq4PD2if/?taken-by=powers_mathew
Avery Brewing Company's co-founder and CEO, Adam Avery noted, "These beers led the way for everything we do today to push the boundaries of our beer. Now we are taking all that courage, expertise, and quality control we gained and amplifying it in a much bigger way in our barrel program. We are not only focused on making our barrel program the biggest out there with annual production of multiple different styles of barrel-aged beer, but more importantly we are committed to making it the best and highest quality. This is challenging us more than we've ever challenged ourselves before – and that's a good thing." He added,
"It's hard to say goodbye, but I couldn't be more excited to see the reaction of our fans when these barrel-aged beers get in their hands."
---