No Comments
Almanac Taproom and Big Rec Taproom Open in San Francisco's East Mission District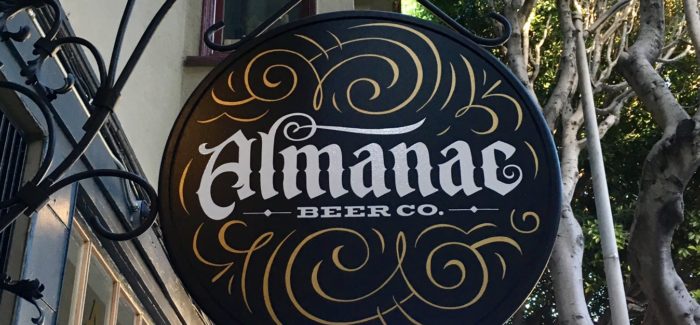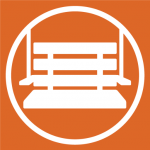 I am pretty lucky to live in San Francisco and be completely surrounded by an un-ending host of great breweries and beer bars. However, a few weeks ago in late-December SF was gifted with the opening of two top notch additions just blocks apart, and probably more important, two blocks to my house (humble brag).
The Mission District has longs stood as San Francisco's best thriving beer location, however most of the best spots fall between 14th and 18th Streets. Once you get down to 24th Street, especially east of Mission, the beer scene historically has dwindled in options (that said Rosamunde and Pi Bar are two great beer bars, hence the mention of east of Mission). However, that has now significantly changed with the addition of Almanac Brewing's first taproom and the Big Rec Taproom, opened by the guys behind the Crafty Fox.
Almanac Taproom
Almanac Beer Co. has been cranking out great beers since 2010, but up until now, they did not have a taproom or physical location to visit. That all changed on December 30, 2016, when their first physical taproom location opened for business.
The Taproom is located on 24th, just West of Potrero Avenue and took over the former Sous Beurre space, which became available just a few months back after their unfortunate closure.
Almanac had no immediate plans to open the taproom, but when the opportunity for the Sous Beurre's space came up, they had to jump on it.
Almanac had planned on a grand opening on New Year's Eve, however we were lucky enough to be treated to an early preview of the new facility December 30, 2016. Given the proximity to my house, a friend and I arrived right at 3 PM for the opening and I was lucky enough to get the first beer poured, the New Taproom Smell IPA, which was fantastic and followed the trend of the hazy IPAs that have become so prevalent this past year.
https://www.instagram.com/p/BOqLnFehRAt/?taken-by=californiaipa
The layout of the space did not change much, but Almanac has done a fantastic job with the decor, adding a mural and sprucing up the bar and kitchen. However, what may have been the biggest transformation and greatest new feature is the beer garden out back.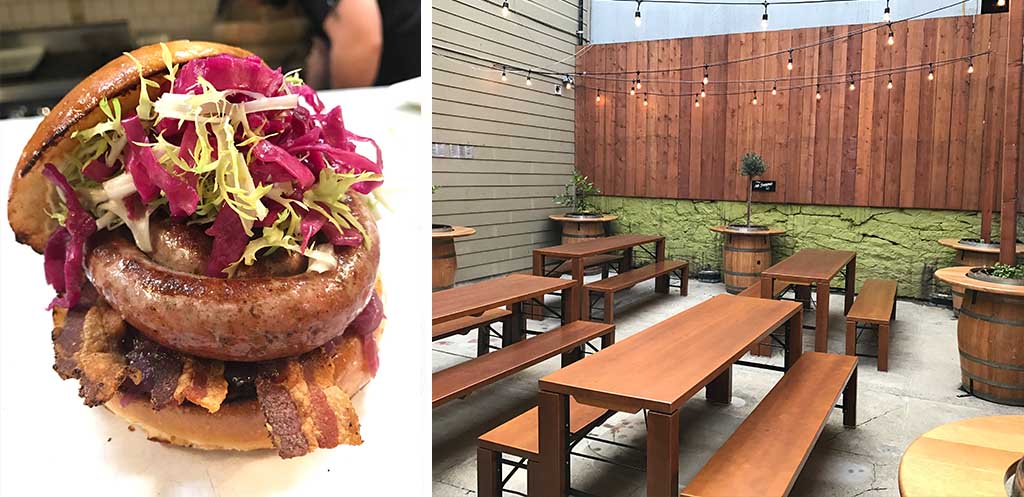 The beer garden is spacious and serves as the perfect summertime hang spot; the only bummer is no pups allowed.
The beer lineup is impressive. Obviously all Almanac beers, but a hearty fifteen beers on tap, including taproom exclusives that aren't available for distribution, along with several bottles and can offerings. While I generally tend to gravitate toward their hoppy sours, it is hard to miss with any beer in this lineup. Almanac's new taproom also includes wine on tap, however, for wine drinkers, I would suggest trying the Grand Cru series, which are a beer/wine hybrid and phenomenal. My wife is a wine drinker and she loves these, and actually chooses them over wine!
As for food, there is a full, but limited menu (as it should be in my opinion, if you have a taproom, the focus should be on the beer and items that pair well with the beer!). Mostly small plates like cheese plates, oysters and spam musubi, along with a few burgers/sandwiches, and the house favorite hop jelly donuts.
Overall, Almanac is (obviously) a glorious addition to the San Francisco, and more importantly, 24th Street beer scene.
Big Rec Tap Room
The other December opening on 24th Street was the re-opening of Big Rec Tap Room, this time with different owners.
As I have mentioned in a prior post, the Crafty Fox is probably my favorite beer bar in SF.  So to hear the guys behind the Crafty Fox were opening a bar blocks away from my house? Heavenly.
Big Rec had existed in a previous form, but with an ambiance which left much to be desired and a meager beer list it was time it saw new life. When I heard about the reimagined version, I was pumped. Crafty Fox tends to have one of the best beer lineups, so I knew they would bring the same to Big Rec. They have 15 beers on tap, and you can expect similar gems to Crafty Fox.
https://www.instagram.com/p/BOvg9Wtllxe/?taken-by=californiaipa
Big Rec is intended to be more of a sports bar vibe, and the eventual plan is to potentially have pitchers. So, the expectation is that if you want to get your hands on the really hard to get beers, the Crafty Fox may still be the destination, but if you want a great burger and to watch the game, Big Rec is the choice.
They space has been brightened up and several TVs have been added.  The look is much cleaner than before and there are plenty of TVs to enjoy the game.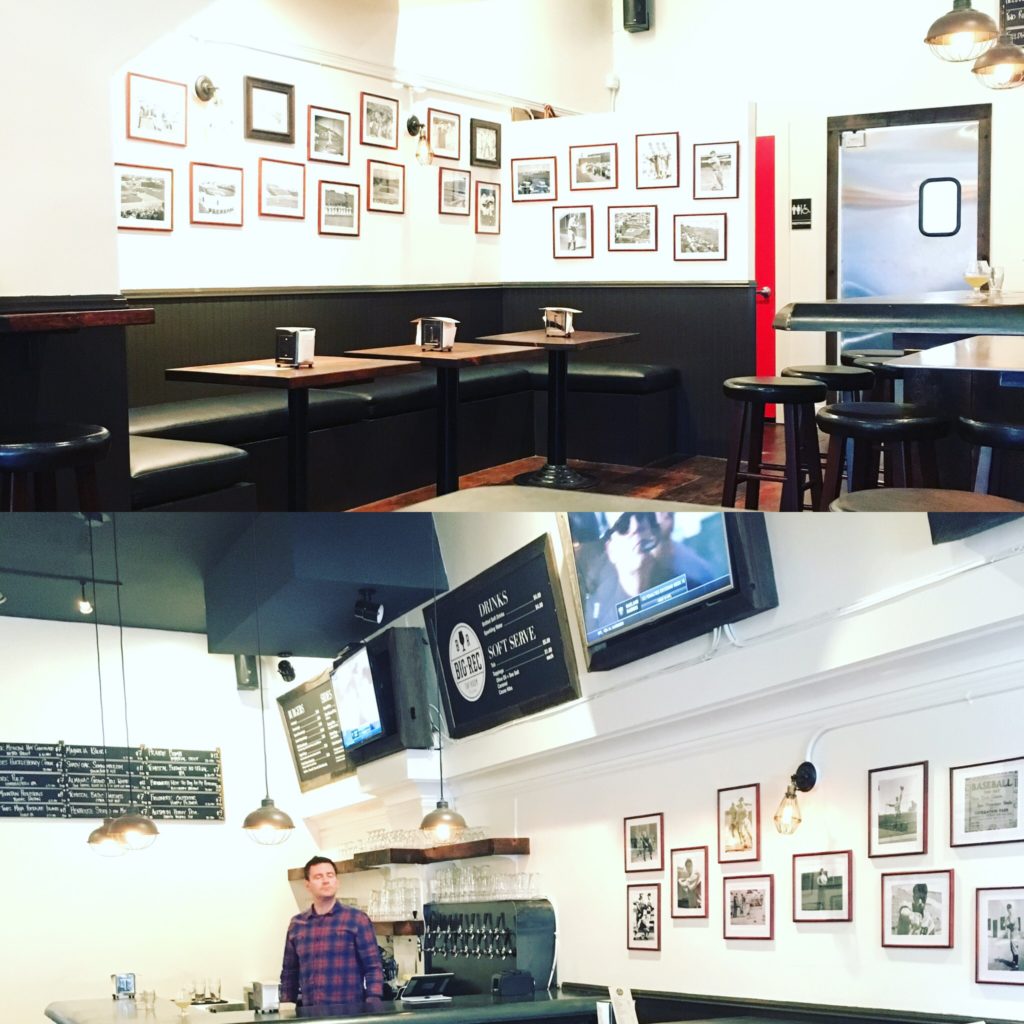 The food menu is simple, but delicious. Several different kinds of burgers, fries with different cheese toppings, and soft serve for dessert (including with my favorite topping, olive oil).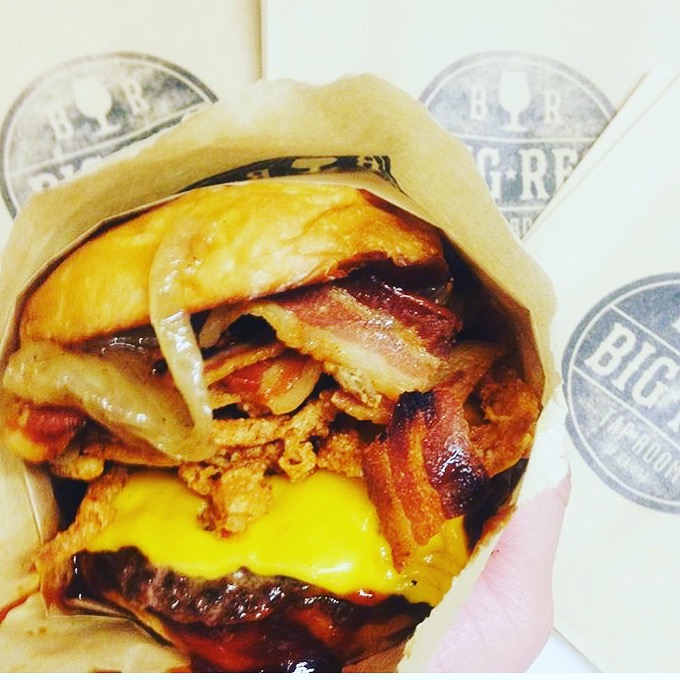 Expect great bartenders (decent chance they will be one of the owners), great beers and food and a laid back vibe. San Francisco is lacking in solid sports bars, so it is fantastic to see one come to 24th Street. Long term, the plan is also to add a beer garden in the back patio, which I cannot wait to see.
Overall, December was a banner month for 24th Street.  I am beyond pumped to have these two spots stumbling distance from home, and hope to see you all there!
---