No Comments
Stem Ciders | Off-Dry Apple Cider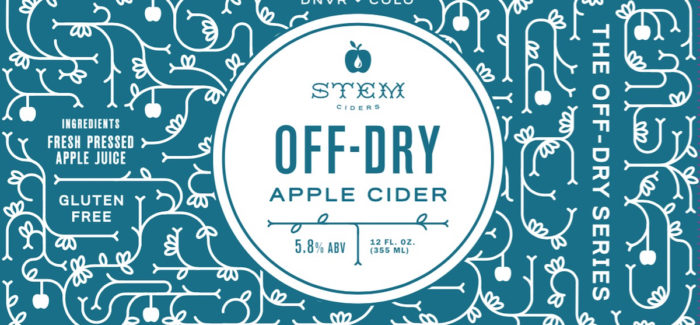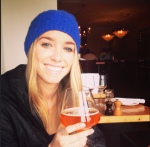 Here at PorchDrinking, while beer will always be our first love, we also enjoy occasionally dabbling in other forms of imbibing such as bourbon, rum, mead and cider. And there is one Colorado cidery that has risen to prominence in recent years, it's Stem Ciders in Denver's River North Art District. Lucky enough for me, one of my closest friends is the assistant cider maker over at Stem Ciders and she was willing to talk to me about the cidery's newest offering.
Off-Dry Apple Cider | Stem Ciders
ABV: 5.8%
Stem Ciders has been a pioneer of innovative approaches toward cider making, from their Novo Coffee cider to their Raspberry Apple Cider, to barrel-aging ciders, this Denver-based company is consistently pushing the boundaries on flavorful ciders without added sugars. Last month, Stem Ciders introduced their brand-spanking new Off-Dry Series and debuted its initial offering of Off-Dry Apple Cider. While the cider is made in the Colorado's capital city, Off-Dry's apple origins hail from the Pacific Northwest – a region know for its apples.
Origin Story
In my quest to discover the story behind Off-Dry, I reached out to Kelley Toney, the assistant cider maker over at Stem. She was willing to fill me in on how Stem conceived Off-Dry and what makes it so special.
When I spoke to Kelley, she explained to me that Off-Dry and its drier twin, Real Dry Apple Cider are both made from the same Pacific Northwest apple varieties. That's where the two diverge however.
The spectrum of different cider styles ranges from dry to off-dry, to semi-dry to semi-sweet. A given cider has a certain amount of residual sugar after the fermentation process and which type of style that cider falls under depends on that amount of sugar left over. According to Kelley, Stem initially envisioned making an off-dry cider because the company had not made an off-dry or a semi-dry cider yet. Moreover, "since the off-dry style isn't super sweet, we thought Off-Dry would match well with our cider line," which is on the dry side of cider spectrum.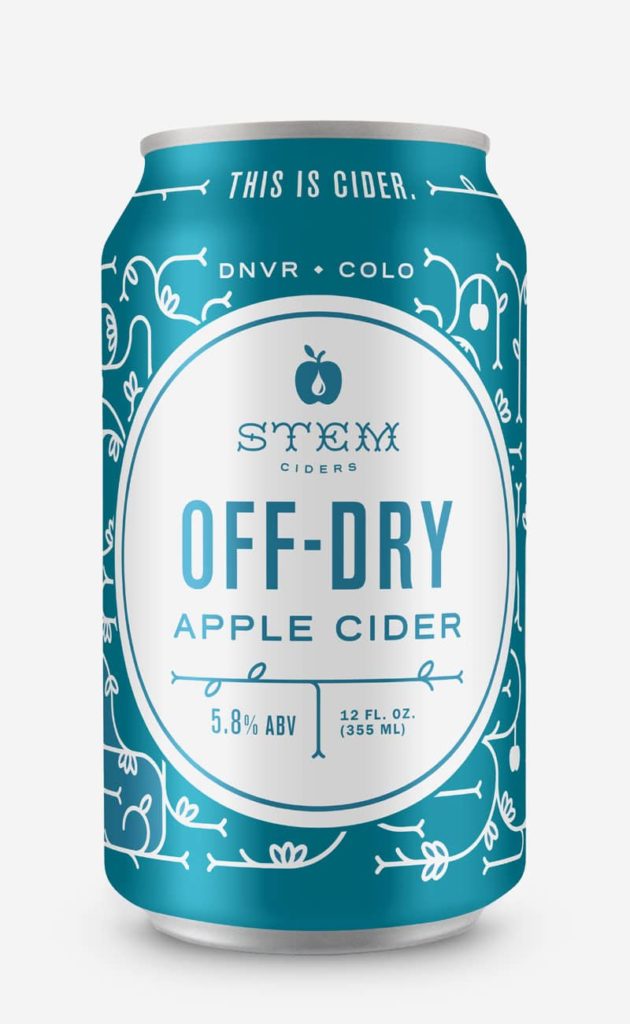 In a way, Off-Dry is a more complicated cider to make because the cider makers have to keep a really close eye on it as it ferments. Once it hits that right amount of residual sugar, Off-Dry has to go right into filtration immediately. Kelley recalled that Ian Capps, Stem's head cider maker, in the past has gone into their RiNo production facility in the middle of the night to make sure the Off-Dry batch didn't get below the target residual sugar threshold. Talk about dedication!
In experimenting with this off-dry style, Stem first started with Project M and Project N before ending up with the finalized Off-Dry recipe. The purpose of the first two test runs were to test exactly how much sugar Stem wanted to be present in its Off-Dry, Kelley explained to me.
In honing in on that residual sugar sweet spot, Stem "had both Project M and N in the taproom and we asked customers what they liked best." This way, Stem had an idea what its Denver cider drinkers were looking for in a cider that has a touch of sweetness.
Expansion
Not only will 2017 be a big year for Stem due to its Off-Dry Series release, but the company will also open a 30,000 square-foot facility on the Front Range. The company recently announced that this new location is anticipated to open by the fourth quarter of this year! This Lafayette facility will be a full-service restaurant and will allow Stem to expand into a larger much-needed production space, where they will be able to produce 100,000 barrels of cider a year. The small Boulder county town of Lafayette is also home to some great craft breweries such as Odd13, Liquid Mechanics and The Post.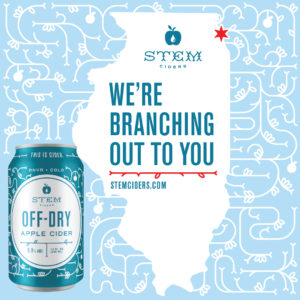 Another exciting development for Stem is their recent expansion to the Midwest. The cidery recently partnered up with distributor Breakthru Beverage and Fort Collins brewery Odell Brewing Company to expand its ciders distribution beyond its home state of Colorado.
Currently, Stem's ciders are available both in Colorado and Illinois. Moreover, this week also marks Cider Week as well as CiderCon and Cider Summit Chicago, making it perfect timing for Stem's new foray into the Chicagoland territory. The cidery will bring their flagship ciders up to the Land of Lincoln which includes: Real Dry Apple Cider, Hopped Apple Cider, Raspberry Apple Cider and Off-Dry. Click here for a list of tasting events in Chicago where to try out Off-Dry and other Stem ciders this month!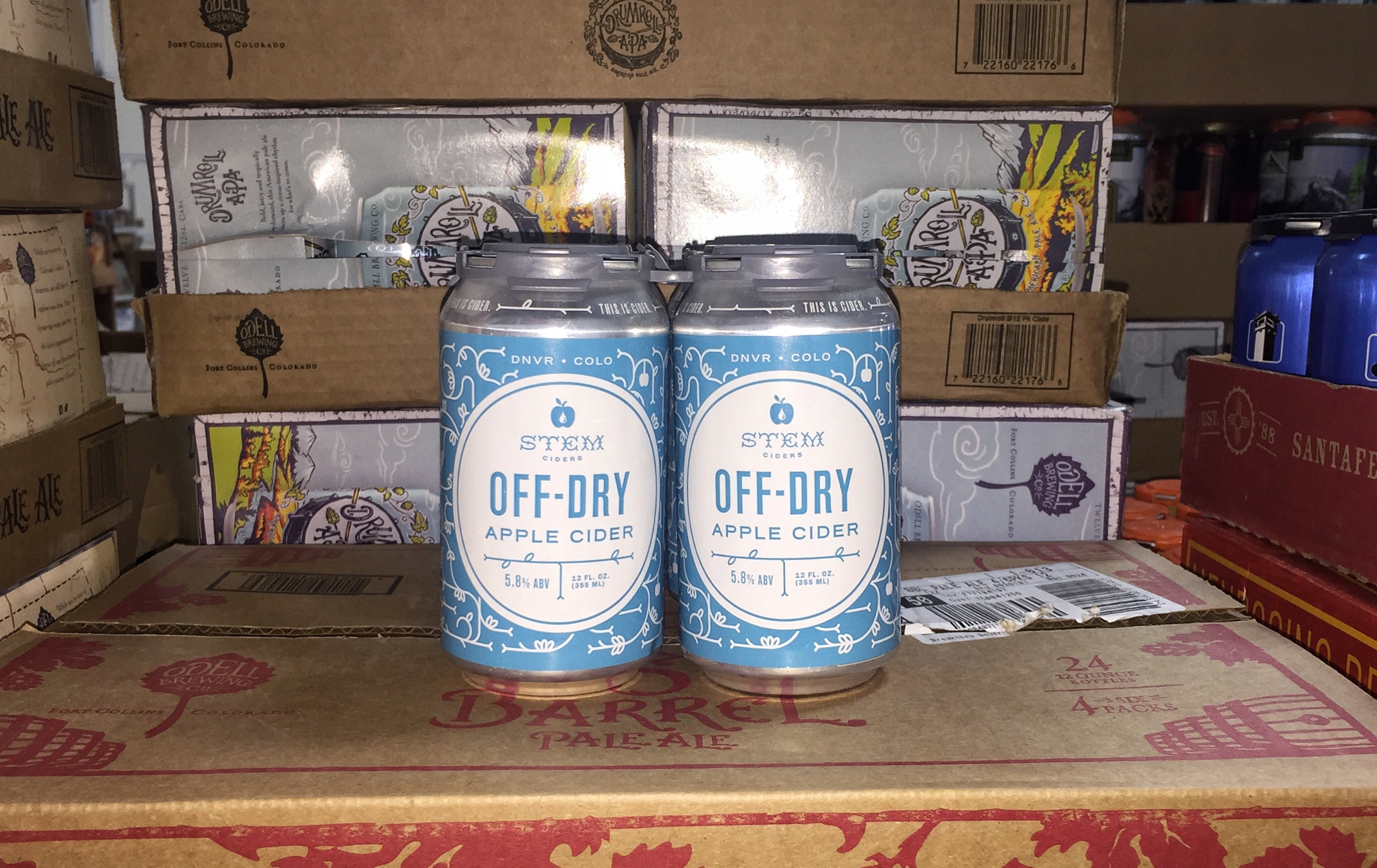 Flavor, Pairings & Availability
Toney noted "I love that it doesn't have too much sugar." For her, Off-Dry "has a little bit more floral notes, and you can taste more of the apple in it." Overall, she thinks that Off-Dry exhibits a more vibrant flavor than other traditional ciders on that are currently available on the market.
According to Stem's website, the Off-Dry will pair well with some spicy curry, fish and chips, pork belly and tacos! Kelley thinks bacon would go really well with Off-Dry as "something hardy and a little bit salty."
Stem's Off-Dry Apple Cider is available in 12oz 4-packs as well as on draft in select places. Be sure to grab a can of Off-Dry because I think it will quickly become your go-to cider as it has for me!
---