No Comments
San Francisco Beer Week | Can't-Miss Events February 11-13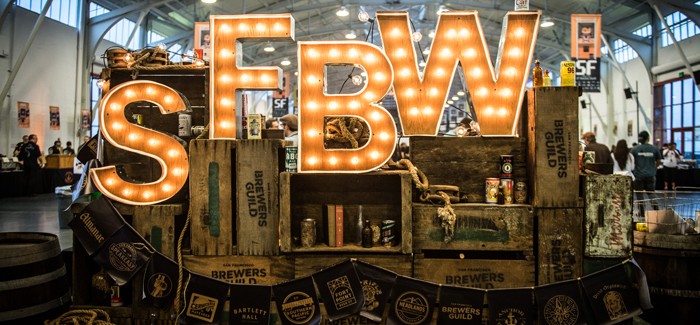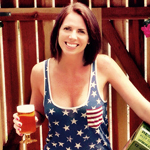 Cover photo courtesy of San Francisco Brewers Guild (Gama Nine Photography)
Friday, February 10 is the only day where it is an easy decision on which San Francisco Beer Week (SFBW) event to go to, as there is only one event. The Opening Gala is an event not to be missed with over 135 breweries pouring incredible first time beers like G & T Gose and rare beers including Pliny the Younger. Day Two, Three, and Four of San Francisco Beer Week aren't as easy with 129, 90, 75 events happening respectively. Here are the events that we are looking forward to for Saturday, Sunday and Monday of SFBW.
Saturday, February 11
16th Double IPA Festival
The Bistro 1001 B Street Hayward, CA 94541
11:00am -4:00pm
Admission: $55.00
Over 60 Double and 30 Triple IPAs on tap with live music, cheese tastings, grilled sausages, and frickles.
Tap List: 21a Blah Blah Blah, Ale Industries Neeed to Please, Altamont Juice and Scarcity, Almanac Frisco, Auburn ZZ Hop and PU240, Ballast Point Dorado and Manta Ray, Bartlett Furly Ghost and Hyphy Wifey, Beach Chalet 10th Anniversary, Beachwood Hops Of Fury, Bear Republic Cafe Racer 15 and Kompromat, Benoit-Casper P12, Berryessa Trendy and Super Seperation, Bike Dog Dogmatic, Boneyard Hop Venom and Notorious, Campbell T.O.W., CellarMaker Terpene Station, Chapman Searching for WiFi, Coronado Beach Break, Danville Chux and Tres Diablo, Deschutes Sageflight, Devise Anguish and Basilica, Devils Canyon, Dogfish Head 90 and 120 Minute, Drakes Hopocalypse Green Label, Eagle Rock SUM, EEL River, Emerald Triangle, El Segundo 5 lb Sledge and Power Plant, Faction Hop Soup and Melvin collab Stud Muffin, Fat Heads Hop Juju and One for the Road, Fieldwork Tundra, Firestone Walker (TBD), Gigantic Ginormous and Too big to fall, Half Door #Buzzwords and "I", Half Moon Bay I Need a Miracle and The Bat Flip, Heretic Evil 3 and Evil Cousin, Hermitage Ale of the Imp, Highwater Hoppyrighted, Hop Dogma Silly Gimmick NE Style, Hop Saint Hops to the Wall, Institution Disarray and Surgeon, Iron Springs Compulsory, Kaweah Slauncher, Kern River Hop Nookie and Oh So Mainey, Knee Deep No Seed No Stems and West Side, Mad River Slamming Salmon, Magnolia Promised Land, Marin Brass and White Widow, Moonraker All hops and Extremis, Monkey Paw Richmans, Morgan Territory Atmospheric River, Mraz Reckless use of Hops and Slackpacker, New Glory Copious, New Helvetia Indomitable City, Ninkasi Velocihoptor, Pacific Coast, Phantom Carriage Incident, Pizza Port Bressi Doheny and Kook, Pizza Port Carlsbad Hons Shot First and Thruster, Pizza Port OB Jetty and Party Sauce, Pizza port SB Holy Dank, Pizza Port SC Mae Day, Russian River Pliny the Elder and Younger, Saint Archer Mosaic, Shadow Puppet Shadowbox, Sierra Nevada Hoptimum, Smog City Cryo Havoc, Social Kitchen Jungle Cruise, South Park Humanity, Tap It S.N.A.F.U., Three Weavers Knotty, Track 7 Motherland and Left Eye Right Eye, Triple Rock Hop Salad and Hop, Trip, Stumble, and Triple Voodoo
United Sours of America, An American Sour/ Funk Fest
The Monk's Kettle (3141 16th Street San Francisco, CA 94103)
11:00am -11:30pm
Admission: no cover
The Rare Barrel, RRBC, Cascade, The Bruery, Lost Abbey (2014 Red Poppy), Allagash, Logsdon, Phantom Carriage, and more on about 20 taps. Glass pours from the bottle and a killer vintage list will also be available.
Special Bottle Saturday
Jane's Beer Store (720 Villa Street Mountain View, CA 94041)
12:00pm -9:30pm
Admission: no cover
Bottle List: Drie Fontenien Armond & Gaston, Cantillon Fou Foune 2015 & 2016 and Classic Gueuze, Tilquin Quetche and Mure, Perennial Abraxas, Oskar Blues Barrel Aged Ten Fidy, De Garde Pale and Saison Facile, Firestone Helldorado and Velvet Merkin 2016, Barrel Words Agrestic and Lil Opal, BFM Grand Cru, Prairie Apple Brandy and Pirate Bomb, Highwater Barrel Aged Campfire Stout, Pelican Captain of the Sea and Mother of all Storms, Bruery Cuivre, Poterie, Mash & Vanilla, and Melange #14, Evil Twin Michigan Maple Jesus, Omnipollo Yellow Belly, Boulevard/Firestone Collab #6, Hanger 24 Pugachevs Cobra 2016
Sour Saturday Sh!Storm
Old Devil Moon (3472 Mission Street San Francisco, CA 94110)
12:00pm-2:00am
Cost: $20.00 (5 tickets for 4oz pours) Further Pours $4.00, Full Pints also Available
Breweries: Sante Adarius, The Rare Barrel, Mad Fritz, Grimm Artisanal, Toolbox, Panil, Paradox,  Flat Tail, Propolis, Phantom Carriage, Almanac, Lost Abbey, Libertine etc
The Reunion (The Bruery, Societe Brewing & The Rare Barrel)
The Rare Barrel (940 Parker Street Berkeley CA)
1:00pm -10:00pm
Admission: no cover
Each brewery will be serving 5 beers for you to try at the Tasting Room starting at 1PM. There will be 3 bars set up inside of the brewery. *Real Smoked BBQ will be in the parking lot.*
Dogfish Head Total Tap Takeover Ft 120 Minute IPA
The Sycamore (2140 Mission Street, San Francisco, CA 94110)
5:00-11:00pm
Cost: no fee to get into event
Tap List: 120 Minute IPA, World Wide Stout, Beer for Breakfast Chicory Stout, Beer to Drink Music to Belgian Triple, Chocolate Lobster Porter, Fall on Me Belgian Farmhouse, Flesh & Blood IPA, 2015 Pennsylvania Tuxedo Pale Ale, Squall IPA, Siracusa Nera Stout, and Seaquench Ale Sour.
Founder's Brewing Tap Takeover
The Willows (1582 Folsom Street, San Francisco, CA 94103)
8:00pm -1:00am
Admission: no cover
Tap list: 2016 KBS, Frootwood, Lizard of Coz, Curmudgeon, Devil Dancer, Imperial Stout, Backwoods Bastard, Dirty Bastard, Baltic Porter, and Sleeper Cell Imperial IPA
---
Sunday, February 12
Strong Beer Brunch (21st A, Drakes, Three Weavers & Cleophous Quealy)
21st Amendment (563 2nd Street San Francisco, CA 94107)
10:00am – 2:00pm
Admission: no cover
A la carte brunch menu featuring delicious food and Strong Beer pairings from 21A, Three Weavers and Cleophous Quealy
So-Cal Total Tap Takeover
Beer Revolution (464 3rd Street Oakland, Oakland CA 94607)
12:00pm-11:00pm
Admission: no cover
Breweries: Bagby Beer, Coronado, Pizza Port, Hanger 24, Eagle Rock, Phantom Carriage, Abnormal Brewing, Bottle Logic, Ballast Point, Monkey Paw, South Park Brewing Co, & Lost Abbey.
Current Draft List:
Eagle Rock: La Suerte Mexican Imperial Stout
Hangar 24 Pugachev's Cobra 2016, Wing Over Barleywine, and Sour orange wheat
Abnormal: Sour Session, Hugs & Kisses, Amassed, Calamansi Saison, Jolly Good, Boss Pour, Deviation, and Mocha Mostra
Bottle Logic: Tattered Prince and Recursion
Bagby: No Talent Punks, Uncharted Cherritory, and Weisser Than I Look
Hop Concept: Dank and Sticky
Bruery:  Share this Mole Imperial Stout and Rueuze
Lost Abbey: deliverance and santo Ron Diego
Fall:  2am Bike Ride Coffee Vanilla Stout, Green Hat IPA, Crystal Mess Pale Ale, Speedo's Tiki Love God Brown Ale, Magical & Delicious Pale Ale, and Plenty for All Pilsner
Beachwood Amalgamator IPA
Ballast Point: Habanero Sculpin, Sea Monster, Cinnamon Raisin Commodore, Manta Ray DIPA, and Red Velvet Nitro
Phantom Carriage: Cushing (anniv.beer), Centennial Muis, Tart Cherry Broadacres, Tahitian, Vanilla Calamityville, Monkey Paw TBA, and South Park TBA
Coronado: Barrel Aged German Chocolate Cake, Gordonado IPA, Beach Break IPA, and Mean Tajin Mango IPA
Pizza Port: 2016 strong Ale Barrel Aged Imperial Stout, Manu bay IPA, Fogged In Pale Ale, and Merica
Cellarmaker & The Rare Barrel Collaboration Release
The Rare Barrel (940 Parker Street Berkeley, CA 94710)
1:00pm – 8:00pm
Admission: no cover
3 Collaboration Beers from two of the Bay Area's best breweries! Real Smoked BBQ will be in the parking lot
Walker's Wild Ride with Firestone
Liquid Gold (1040 Hyde Street, San Francisco, CA 94109)
2:00pm -10:00pm
Admission: no cover
Enjoy the company of the Lion (David Walker) and Barrelmeister of Firestone Barrelworks (Jeffers Richardson) while drinking La Piccola, Velvet Anejo Merkin, Pivo Pils, Easy Jack, Luponic Distortion, and Nitro Merlin.
Anderson Valley Meet the Brewer & The Secret Language Boontling
Zeitgeist (199 Valencia Street San Francisco, CA 94103)
3:00pm -10:00pm
Admission: no cover
Learn the history of Boonville and secret language of Boontling. Bahl Hornin'!  Anderson Brews on tap including G&T Gose (Cocktail-Inspired Gose), Ee Tah! IPA (Our new, absolutely delicious IPA), Boont Oude Bruijn (Barrel-Aged Flemish-Style Ale), Featherleggy Bulrusher (Barrel-Aged Sour Stout), Barrel-Aged Baltic Porter, Poleeko Pale Ale, Huge Arker (Wild Turkey Bourbon Barrel-Aged Russian Imperial Stout), Boont Amber Ale, Barkley's Belgian Ale, Hobneelch'n Hoppy Saison, Heelch O' Hops Double IPA, Horse Tongue Wheat, 22oz bottles (Barrel-Aged Begian-Style Wheat Ale with Brettanomyces)
---
Monday, February 13
Chicago Breweries Night Ft. Goose Island
The Sycamore (2140 Mission Street San Francisco)
5:00pm -11:30pm
Admission: no cover
Pour List: Bourbon County Stout, Bourbon County Barleywine, Hombre, Hombre Tropical, Demolition, Low Gose, Ad Astra, White Velvet, and BCS Rare.
Liberty Stash Tasting
21st Amendment (563 2nd Street San Francisco, CA 94107)
5:00-pm – 9:00pm
Admission: no cover
Vertical tastings of rare, limited release barrel aged versions of Monk's Blood, Lower de Boom, He Said, Baby Horse, and more.
Blackberry Farm & Evil Twin Beer Dinner
The Monks Kettle (3141 16th Street San Francisco, CA 94103)
6:00pm -11:00pm
Cost $135.00 Ticketed-Only Event [SOLD OUT — ACCEPTING NAMES FOR THE WAIT LIST]
8-course feast accompanied by 11 beers from Blackberry Farm & Evil Twin. Menu available by clicking here. Please email Nat Cutler at [email protected] for more details
Double Trouble with Founders
Harry's Hofbrau (14900 E 14th Street San Leandro, CA 94578)
6:00pm-11:00pm
Admission: no cover
Details: Founder's Beers will include KBS, Backwoods Bastard, and Double Trouble 3xIPA(First time ever in the Bay Area and one of only 2 kegs)
Modern Times Brew Night
Beer Revolution (464 3rd Street, Oakland, CA 94607)
6:00pm -11:00pm
Admission: no cover
Beer Revolution is hosting a crazy Modern Times Tap Takeover. They'll be tapping all four variants of Bourbon Barrel Aged Devil's Teeth plus a whole host of awesome special beers that normally don't leave the brewery. Lineup includes: Bourbon Barrel Aged Devil's Teeth, BA Devil's Teeth w/ Almonds, Vanilla, and Cocoa Nibs, BA Devil's Teeth w/ BA Coffee, BA Devil's Teeth w/ Chocolate, Hazelnut, and Orange, Cloud Giant IPA, Golden Pineapple IPA, Dinosaur World DIPA, Triton Project IPA, Schwarz Black Lager w/ Coffee, NITRO Black House w/ Coconut and Cocoa Nibs
Blazing World Hoppy Dank Amber, Fruitlands Sour Gose w/ Blood Orange and Hibiscus
Fieldwork Brewing Beer Dinner
Bar Crudo (655 Divisidero Street, San Francisco, CA 94117)
6:30-9:00pm
Cost: $85.00
Chefs Mike Selvera and Melissa Perfit will create a thoughtful 5 course menu that will match with 5 Fieldwork beers. Fieldwork representatives Tiffany McFarland, and Tim Roberts will be on hand. For reservations, please call the restaurant at 415 409 0679.
More information can be found by clicking here.
Hope to see you out there!
Follow Victoria's beer adventures on Instagram and Twitter @tapswithtor!
Follow Simon's beer adventures on Instagram @CaliforniaIPA!
---