17 Comments
Growing List of National Breweries Rescind RSVP to Wicked Weed Funkatorium Invitational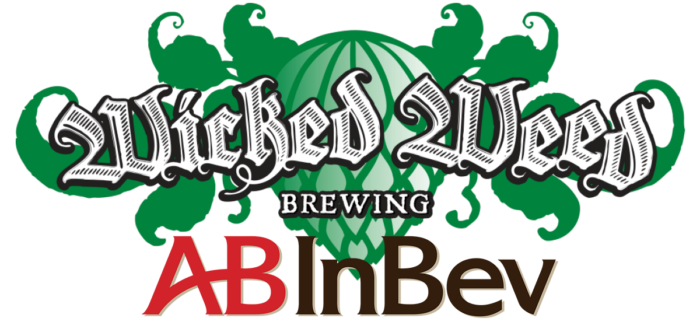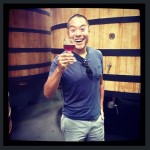 It has been a rough twenty four hours for the craft beer industry, as droves of national brewers have begun voicing their responses to Wicked Weed Brewing's acquisition by Anheuser-Busch InBev. The first and perhaps most high profile response came from Jester King Brewing's Jeffrey Stuffings who shared a heartfelt, but definitive statement on the Austin brewery's policy toward future collaborations and sales of Wicked Weed products.
In the last 24 hours a majority of responding brewers have followed in Stuffings' message, expressing an outpour of respect, support and empathy for the employees of Wicked Weed while coming out in opposition of the decision to sell to ABI based upon principal.
A few notable statements have been made by the likes of The Rare Barrel, Sierra Nevada and Black Project. While others simply declined or rescinded their participation in July's Wicked Weed Funkatorium Invitation. The following are but a few collections of statements
The Rare Barrel's Response:
This has been an awkward and emotional last 24 hours for us.

Over the years, we've become good friends with the Wicked Weed crew. We've grown to really respect the people and their beers. We've shared many beers together, made a beer together, are in the process of making another beer together, enjoyed events around the country, and hosted Wicked Weed events at our barrel house. We've shared some really good times together over the last couple of years.

It's about values.

Yesterday, Wicked Weed announced that they are selling their brewery to the megabrewery AB InBev (Budweiser, Shock Top). Here at The Rare Barrel, we've made a decision not to serve, collaborate with, or affiliate with AB InBev because our values do not align with theirs.

In order to stay true to our values, we're pulling out of the second part of our collaboration, will not be attending their festivals, and will not be able to serve their beer in our Tasting Room anymore.

While our values diverge and we part ways, we wish the people at Wicked Weed all the best.
Modern Time's Response (Link to Jaco McKean's speech can be found here):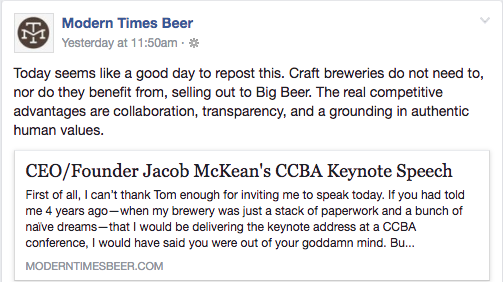 Sierra Nevada's subtle jab at remaining independent.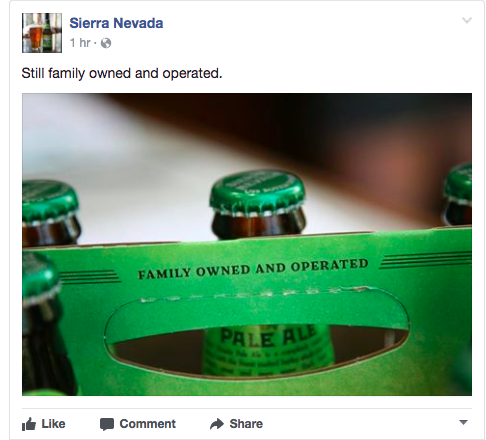 Black Project Spontaneous & Wild Ales Response (Full post can be found here)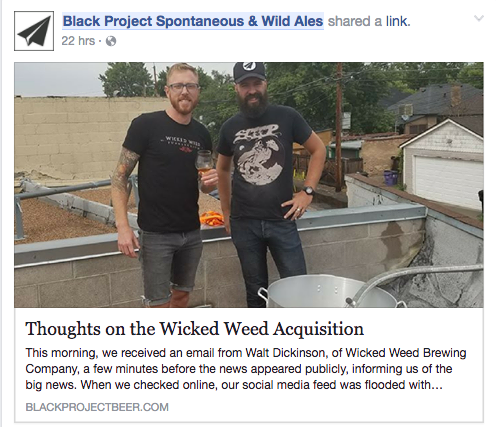 Below is the growing list of breweries who have respectfully declined or rescinded their RSVPs to the 2017 Wicked Weed Funkatorium Invitational. Special credit to the good folks at Tenemu who first broke an initial list before we could fully compile our own research prior to this post going live.
4 Hands Brewing
Allagash Brewing
Almanac Beer
Anderson Valley
Arizona Wilderness Brewing
Avery Brewing
Beachwood BBQ
Birds Fly South Ale Project
Black Project Brewing
Breakside Brewing
Brew By Numbers
Captain Lawrence Brewing
Casa Agria Specialty Ales
Cascade Brewing
Creature Comforts Beer
Crooked Stave Artisan Beer Project
de Garde Brewing
Dry River Brewing
Ecliptic Brewing
Funk Factory Geuzeria
Funkwerks
Fonta Flora Brewery
Green Bench Brewing
Grimm Artisanal Ales
Hi-Wire Brewing
Haw River Farmhouse Ales
Holy Mountain Brewing
J. Wakefield Brewery
Jackie O's Public House & Brewpub
Jester King Brewery
Jolly Pumpkin Artisan Ales
Night Shift Brewery
NOLA Brewing
Odell Brewing
OEC Brewing
Other Half Brewing
Oxbow
Paradox Beer Co.
Perennial Artisan Ales
Right Proper Brewing
The Rare Barrel
Sante Adairius Rustic Ales
Scratch Brewing
Side Project
Societe Brewing
Springdale Beer
Steel String Brewery
The Commons Brewery
Three Taverns Brewing
Transmitter Brewing
Trillium Brewing Co.
Trinity Brewing
Trophy Brewing
Troegs Independent Brewing
TRVE Brewing
Upland Brewing
Weyerbacher Brewing
Wild Beer Co.
Wolves & People Farmhouse Brewery
Wooden Robot Brewery
Yazoo Brewing
Zebulon Artisan Ales
---