No Comments
Event Recap | Phoenixville Beer & Wine Festival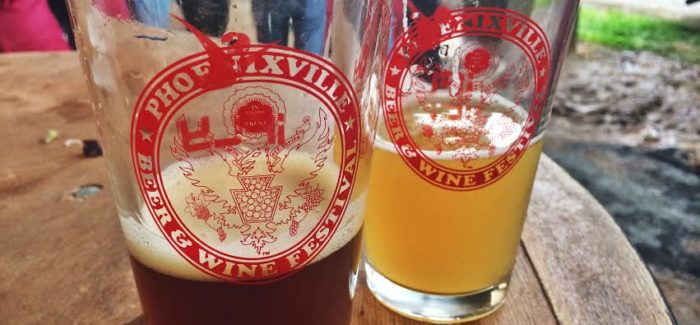 Even the forecast for a Nor'easter couldn't keep the spirits down at the first annual Phoenixville Beer and Wine Festival in Phoenixville, Pennsylvania. Despite the wind and the rain, the masses descended upon the rain-soaked Kimberton Fairgrounds to attend the sold-out event with raincoats and umbrellas in tow. Twenty-six craft breweries, along with multiple cideries, wineries, distillers and meaderies came to show off their creations for the thirsty crowd.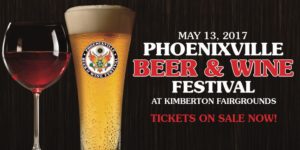 The breweries that participated offered 100+ beers and ranged from uber-local locations such as Hidden River Brewing and Levante Brewing Company to national brands like Ballast Point and Avery Brewing Company.
Stable 12 Brewing Company, located in Phoenixville, Pennsylvania, created a brew especially for this event. In collaboration with Bridge Street Chocolates and Your Mom's Place, Stable 12 Your Mom's Bridge Street Bourbon Bacon Imperial Chocolate Stout was born and it was every bit as delicious as it sounds! Kellina Holt, Stable 12's marketing coordinator, explained the inspiration behind this creation:
"Organizer of the event, Tim Hennessey dreamed up a beer that combined some of Phoenixville, (Bridge Street in particular) favorite things. Your Mom's has become a staple for good locally sourced comfort food. Bridge Street Chocolates is a destination for chocolate lovers. Our Brewmaster, Mike Deger is an crazy genius when it comes to doing this big barrel aged stouts, so it made sense for Tim to approach us, and we're so glad he did! "
Doors opened at 12 p.m. for VIP ticket holders and 1 p.m. for general admission. Every guest received a commemorative event pint glass and a chip to vote for their favorite company.  VIP's had the opportunity to try some special varieties including Manayunk Brewing Company's Flandiddly Red Flanders Style Sour Red Ale (great name, right?), which was not too sour, but had a nice fruity bite. Tuned Up Brewing Company provided a dangerously smooth Belgian Quad.  At 11.5% ABV, the sweet and malty flavor made this brew very deceptive!
The general admission crowd enjoyed a selection of IPA's, Belgian ales and even a refreshing farmhouse saison with peaches, compliments of Mellow Mink Brewing. The crowd seemed pleased with the available tastings. "The event was fun despite the weather," said Andrew McCall, festival attendee, and fellow beer-lover. "There was more coverage from the weather than I thought there would be."
This festival benefited the Phoenixville Public Library, a registered 501c3 Pennsylvania non-profit organization. The library serves a diverse region through access to information, technology, social networking and educational programming.
Click on the links below to check out all of the breweries featured at this event:

---