No Comments
Birds Fly South Hosts The Funk Collective Festival as Alternative to Wicked Weed Invitational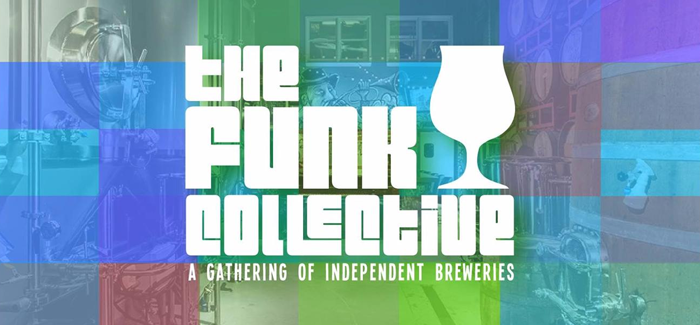 Birds Fly South Ale Project announced on Tuesday that they will be hosting The Funk Collective Festival as an alternative to the Wicked Weed Funkatorium Invitational.
Two weeks ago, a majority of breweries who were previously scheduled to participate in the Funkatorium Invitational took part in a mass exodus from the festival after Wicked Weed announced their acquisition by Anheuser-Busch InBev.
The Funk Collective: A Gathering of Independent Breweries, will include several of the original breweries that constituted the Funkatorium Invitational lineup. This alternative wild and sour forward fest, hosted by Greenville, SC's Birds Fly South, The Community Tap and Charleston, SC's Revelry Brewing, will take place July 7-8. The main event will take place Saturday, July 8 with over 25 breweries "dedicated to the art of sour and funky beer." On Friday, July 7, a smaller, more intimate event will be held featuring 15 breweries.
Proceeds from this event will be donated to the Eblen-Kimmel Charity of Asheville, NC. This is the same non-profit group that was also tied to Wicked Weed's Funkatorium Invitational.
Ticket prices for each of the sessions include a commemorative tasting glass, unlimited two-ounce samples of your choice of beers, and a festival guide to help you navigate the taps and tents. Profits from the Funk Collective go to Eblen-Kimmel Charities in Asheville, NC. More information on parking, shuttles and other day-of information will be emailed to ticket holders as it becomes available.
A Gathering of Independent Breweries
Friday July 7
Upstate Brewery Showcase & VIP Experience
5-9pm
Includes 12+ upstate breweries on-site as well as a special VIP area where you can drink rare and select cases of funky beers from 10+ incredible breweries around the world. Are you a VIP? These beers certainly are. And before you ask, yep, we're keeping that short list of rare beers a secret. It's that. Freaking. Good.
13 Stripes Brewery (Taylors, SC)
Benford Brewing (Lancaster, SC)
Birds Fly South Ale Project (Greenville, SC)
Brewery 85 (Greenville, SC)
Conquest Brewing Co., Inc. (Columbia, SC)
Full Spectrum Brewing (Fort Mill, SC)
Golden Grove Farm & Brew (Pelzer, SC)
Legal Remedy Brewing (Rock Hill, SC)
Quest Brewing Co. (Greenville, SC)
River Rat Brewery (Columbia, SC)
RJ Rockers Brewery (Spartanburg, SC)
Swamp Cabbage Brewing Co. (Columbia, SC)
Thomas Creek Brewery (Greenville, SC)
Saturday July 8
The Funk Collective Festival
VIP Early Entry at 3pm, Festival 4-8pm
Includes 35+ breweries from across the nation, all of whom are committed to producing funky and sour beers. Also includes a food ticket for two White Duck tacos. The format for Saturday will be slightly different than most beer festivals. We will tap kegs and pop bottles in a communal, mixed lineup. This is a strategically balanced plan to help encourage attendees to move throughout the festival.
Against the Grain Brewing (Louisville, KY)
Almanac Beer Co (San Francisco, CA)
American Solera (Tulsa, OK)
Anderson Valley Brewing Co (Anderson Valley, CA)
Bell's Brewery (Kalamazoo, MI)
Birds Fly South Ale Project (Greenville, SC)
BlackBerry Farms (Walland, TN)
Breakside Brewery (Portland, OR)
Captain Lawrence Brewing Co (Elmsford, NY)
Carolina Bauernhaus (Anderson, SC)
Cascade Brewing Barrel House (Portland, OR)
Charles Towne Fermentory (Indianapolis, IN)
Commonwealth Brewing Co (Virginia Beach, VA)
Deciduous Brewing Co (Newmarket, NH)
D9 Brewing Co (Cornelious, NC)
Dry River Brewing Co (LA, CA)
Edmund's Oast Brewing Co (harleston, SC)
Fonta Flora Brewery (Morganton, NC)
Freehouse Brewery (North Charleston, SC)
Granite Falls Brew Pub (Granite Falls, NC)
Haw River Farmhouse Ales (Saxaphaw, NC)
Hi-Wire Brewing (Asheville, NC)
Holy City Brewery (Charleston, SC)
Jolly Pumpkin Brewery (Dexter, MI)
Libertine Brewing Co. (San Luis Obispo, CA)
NOLA Brewing Co (Nola, LA)
Ocelot Brewing Co (Dulles, VA)
Revelry Brewing Co (Charleston, SC)
Saint Somewhere Brewing (Tarpon Springs, FL)
Salud Cerveceria (Charlotte, NC)
Scofflaw Brewing Co. (Charlotte, NC)
Southern Brewing Co. (Athens, GA)
Von Seitz Theoreticals
Weyerbacher Brewing Co (Easton, PA)
Westbrook Brewing Co (Charleston, SC)
Wooden Robot Brewery (Charlotte, NC)
Yazoo Brewing Co (Nashville, TN)
On May 4, 2017, after news broke of Wicked Weed Brewing Co's acquisition by ABInBev, Birds Fly South released a statement on their facebook page explaining their decision to back out of the Wicked Weed Funkatorium Invitational:
" We are all trying to make the best choices for ourselves and our families. We understand this is a business decision for Wicked Weed, however we simply cannot participate with the direct lobby group that is influencing SC laws that in turn negatively impact our closest friends." – Shawn, Lindsay, & The BFS Family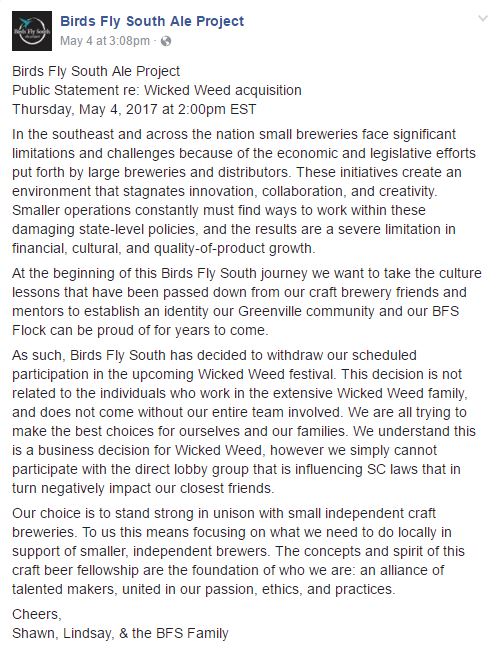 ---