No Comments
Brewery Showcase | Yergey Brewing Company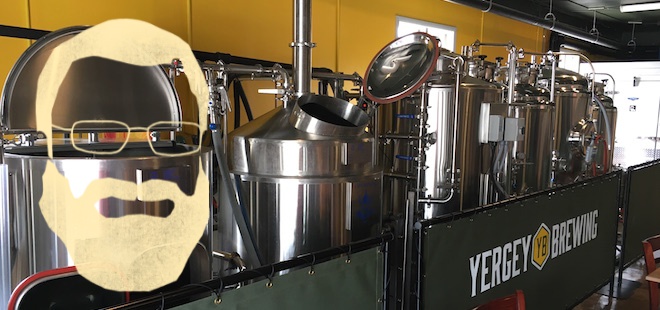 Featured image: Yergey Brewing Company
Tucked away in the small town of Emmaus, Pennsylvania is one of the best kept secrets of the Lehigh Valley's craft beer scene. Behind an ominous chain-link fence on a side street stands one of eastern PA's most inviting neighborhood breweries: Yergey Brewing Company.
Yergey Brewing Company's founder and head brewer, Jim Yergey, may be the oldest head brewer in the Lehigh Valley, but he's also the one who is having the most fun. Spend five minutes chatting with him at the bar, and you will instantly recognize that sparkle in his eye. It doesn't seem like there is anywhere else he would rather be. After a long career as a chemist, Jim chose to spend his retirement in his own brewery, and it definitely suits him.
After years of homebrewing with his sons (including an annual family homebrew competition), Jim entered and won the "Be Our Brewer For a Day" homebrew competition at Fegley's Brew Works in 2014. The victory earned him the opportunity to brew his beer on Fegley's commercial brewing system, and the experience led directly to Jim's decision to open Yergey Brewing Company in September of 2016.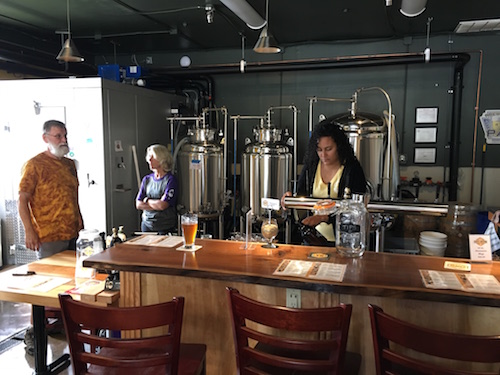 The brewing operation at Yergey Brewing Company is centered around a 2.5-barrel brew system and a handful of 2.5- to 5-barrel fermenters. This little brewery isn't capable of brewing a large volume of beer, but Jim Yergey isn't worried by that. He seems to enjoy the idea that people have to come here to get this beer from him at the source. If you ask him, he WILL tell you the story behind the beer in your glass.
The tasting room is functional, yet comfortable. During the day, when Jim and his son are brewing, the chairs and tables are moved to create more workspace. In the evening, everything is replaced so that visitors can enjoy the space. Jim even built the wooden slab bar himself, and it is stunning. Outside, you will find a bit of outdoor seating, with more to come as soon as the polyurethane dries.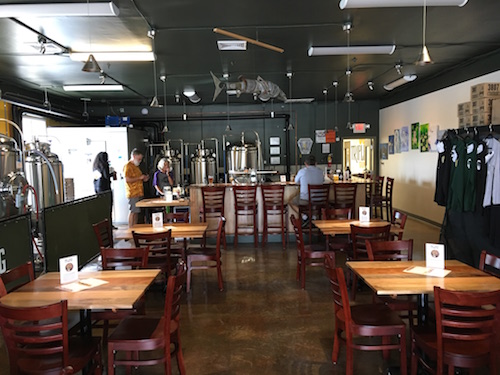 Yergey Brewing Company hosts a food truck every night that they are open, so there is no need to make dinner reservations somewhere else. They also have occasionally live music in the taproom, which turns this lovely spot into a well-rounded evening destination.
Notable Brews
Hoptileitious
ABV: 7.8%
This Double IPA is the beer that started it all. Jim won the Fegley's homebrew competition with it, and it's the best seller in the Yergey taproom. This amber-colored ale is packed with citrus and floral hop character, which is supported by a strong, caramel-y malt backbone. Fun fact: Hoptileitious actually LOST the Yergey family homebrew competition the year that it won the Fegley's contest.
Patchwork Pale
ABV: 4.9%
If you are looking for citrus flavors in a crisp, sessionable package, this American Pale Ale is for you. Dry-hopped with Mosaic and balanced by the slightest hint of malt sweetness, this beer will help you finish off the toughest work day or see you through the hottest summer picnic. Fill up your Yergey sippy cup and go out for a stroll. That's right. Adult sippy cups are totally a thing at Yergey Brewing Company!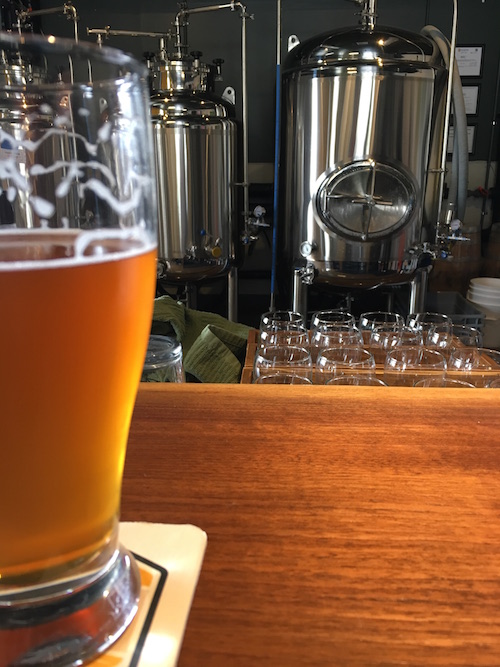 Three Kings & A Bourbon Street Wench
ABV: 8.9%
The barrel-aged version of Yergey's Imperial Stout is a wonderful cool weather sipper. Grab a seat outside by the patio heater, and you will be in for a treat. This brew is aged in bourbon barrels for only a few weeks. This is long enough to imbue the beer with bourbon flavor, but not long enough to add much oakiness or vanilla notes.  Don't forget to ask Jim about is this beer was named (and his daughter-in-law's reaction to being called a wench)!
The Bottom Line
Yergey Brewing Company is the friendliest little brewery you will ever visit. From the moment you walk through the door, you get the feeling that this is the kind of place where everyone knows your name. The entire staff (all the way up to Jim Yergey himself) is eager to take you on a complete tour of their taplist and ensure that you leave happy. Don't just stop in here to have a flight and run. Hang around for a while. Have a chat. Soak it all in. It won't be long before you decide to be a regular in their taproom, and you'll be all the better for it.
---