No Comments
Brewery Showcase | Charleville Brewing Company & Tavern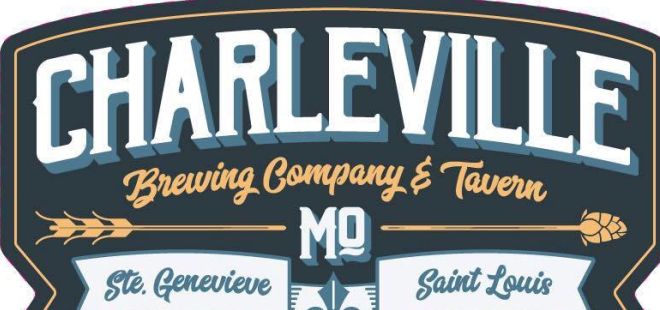 As a solo beer writer with a full time job, I've come this realization—I won't be able to attend every new brewery opening, and I won't be able to drink every new beer.
This has been worrisome, but after speaking with a few owners and managers of local craft breweries, I now understand that most beer media will cover grand openings, but that the effect wears off pretty quick.  It's reminding the beer loving public months later about what's happening and what's new that will pay off for everyone. So with that in mind, I'm not going to worry about missing the grand openings, but rather let each new brewery work out its kinks before writing a feature on them, their beer and potentially their menu. This will also allow you and I, the reader, to benefit from multiple visits to the brewery, which is frankly more fun anyway.
Recently, I paid a second and third visit to what is now the closest craft brewery to my home, Charleville Brewing Company & Tavern located at 2101 Chouteau Avenue in St. Louis, MO..
Brewery-ography
The Charleville brand is well known in this area.  The original location, which is still very much in operation in Ste Genevieve, Missouri, draws inspiration from the land and from family heritage. Owners Jack and Joal Russell pride themselves on offering distinctive, handcrafted wines and beers in a relaxed atmosphere.
But the time was definitely right to expand to St. Louis. The idea of brewing in St. Louis goes back to when the Russels started brewing originally in Ste. Genevieve.  "If you're not in St. Louis, then you're not local, said Tait Russell, director of operations for Charleville and the son of Jack and Joal. In early 2016 they got the green light to look around for a location in St. Louis.  Tait looked at properties all across the city and county but felt a commitment to the city. "At first we were open to all over, but the city made sense from a business perspective," said Tait.
By late August 2016, Tait had three or four spots in mind and the idea of connecting with a food partner came up.  Through a family connection, he reached out to Paul and Wendy Hamilton, owners of 1111 Mississippi, Vin de Set, and the 21st Street Brewers Bar.  "Paul said they were very interested in working together and happened to be thinking of buying the building across the street from Vin de Set.  I loved the location and the stars started to align," explained Tait.

The beer officially began flowing this past May, when Charleville officially opened its doors in South St. Louis. The room is open and has an excellent flow from the front door.  You are swept into a small, open level seating area, and then down into the main bar area.
The bar anchors the room with plenty of seating and is surrounded by a good number of high tables as well.
Looking at their beer board, it's clear to me that Charleville shows a willingness to have a broad selection of beer styles.
"Overall we are just beer lovers and are not limiting ourselves to styles and trends," said Tait.  "We want to make good beer for ourselves and for folks who want to venture out.  We are not trying to reinvent the wheel.  We want to be inclusive, not exclusive. Beers for everyone. All are welcome."
Small Draft Batches

Charleville opened its new tap room with a diverse menu of small draft batches.
Hop Roulette—A pale ale that will feature a different hop each time it is made. The first hop was German Mandarina, a variety with a citrus profile.
Nitro Dreamcicle—A cream ale containing orange zest, peel, and vanilla.
Belgian Pale Ale—Another pale ale brewed with lemon zest and homegrown lemon grass from the Hamilton Farms.
Short Black Sun—A variation of their Long White Cloud, a New Zealand style pilsner brewed with all New Zealand hops variety as its base. The variation is in the grain bill, with three different NZ hop varieties and an additional ingredient that makes the beer black, but does not change the taste composition.
What We Drank
2101 Pale Ale
ABV: 5.7% | IBU: 40

The name of this beer is no mystery, it's the address of the brewery.  The experimenting to find a solid pale ale ended for Charlesville when this beer was created.  The recipe was created by Charlesville head brewer Kevin Klein and it's modeled on Sierra Nevada's pale ale and contains Cascade Hops.  The beer pours a burnt orange with a fair hop on the nose. My first sip is flavorful and lingers nicely, but not overly malty. You'll get a some pine and citrus notes as well.
Chouteau Commons
ABV: 4.9%

Chouteau Commons is another nod to the new tap room's location on Chouteau Avenue. Lagers are hard, but Klein has a fondness for them.  He wanted to play around with steam beers brewed with lagers yeast and fermented ale temperatures.  This is his version of a California Common.  Before I knew this, I wrote on UnTappd "pours hazy orange like an Anchor Steam." Very light on the nose. Everything about this beer is light. Not unpleasant, just light.  It's very malt forward, a bit fruity.  It has the smoothness like a lager, but fruity like an ale, because of the warmer temperature.
Half-Wit Wheat
ABV: 4.5% | IBU: 12
Half-Wit Wheat is one of the flagship beers that debuted 14 years ago. This is an unfiltered wheat hybrid of an American wheat and Belgian wit using orange, coriander and an American wheat yeast strain.  If you have not ever had a Charlesville beer before, consider this a good introduction.  It has a low ABV, and a nice citrus profile—and very sessionable.
Hoptimistic India Pale Ale
ABV: 6.5% | IBU: 65

It's good to know which beer is the favorite of the guys who brew it, and this is Russell's personal favorite—and mine too. The 2nd of the original three flagship beers, it was created in 2006 by a former brewmaster and is believed to be one of the first IPAs brewed locally. It pours amber in color, and has fruity and low hops on the nose. On the tongue, the beer is juicy, almost candy-ish and tropical. You'll get citrus, pine and a little watermelon.  I contend that this is Charleville's best beer. It's very well balanced, has great flavor, and is an easy drinking IPA.
Late Night Karate Kicks
ABV: 6.3%

Back in the day, Charleville held an in-house brewing contest and this recipe won.  After a bit of adjusting, this beer has become a medium body stout that is cold-infused with Chauvin coffee—that's one pound of coffee per one barrel of beer.  It pours a rich coffee brown color, with coffee and chocolate on the nose. It is full bodied but a suprisingly light drinking stout. This beer has lots of coffee, chocolate, vanilla, and maple flavor. It would pair perfectly with pancakes.

What We Ate
Charlesville packs a solid menu.  Starters include a mix of appetizers and bruschetta options. Stand outs for me were the Beer Brined Fried Wings and the Loaded Hand Cut Fries, loaded with bacon, cheddar, scallions, balsamic ketchup, and creamy ranch.
But the appetizer we LOVED was the most basic of appetizers: a bowl of fresh popcorn, deliciously mixed with ranch dressing seasoning.  It was fantastic.

The sandwich I recommend was a winner.  It's called a Beef Patty Melt Twister which includes beef, tornado alley caramelized onions, white cheddar and bacon, and Russian dressing on toasted rye. It was a hearty sandwich, to say the least.
In Conclusion

Charleville doesn't feel like a restaurant, and it doesn't feel like a brewery.  It's a brewpub, with the best of both. Beer lovers will enjoy the adventure, but if you're not into the brew and just want to eat and enjoy yourself, you won't feel intimidated.
I'm excited that another brewery is calling South City home and I'm excited about the zest for creativity I see in Charleville Brewing Company & Tavern's brewing!
Feature image courtesy of Charleville Brewing Company & Tavern.
---