No Comments
Brewery Showcase | Sun King Brewery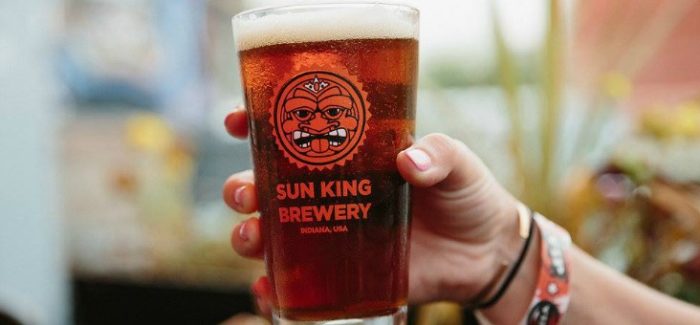 "As a startup, you have the opportunity to self-distribute since nobody knows who you are," said distributors to Sun King Brewery co-founder, Clay Robinson in 2009. Now, as Indiana's second largest brewery and with numerous, prestigious brewing medals to its name, plenty of people know about Sun King Brewing.
Clay, along with Dave Colt weaved their way through the brewing business for a few years before finally working together at RAM in Indianapolis where they collected several medals, including the 2007 Brewery of the Year title. Two years later, the two left the cramped confines of RAM and, along with the help Clay's father, Omar, and another friend, Andy Fagg, Sun King arose as Indianapolis' first production brewery since 1948.
Sun King Quenches Indy's Thirst
Success for Sun King didn't happen overnight, but it certainly happened quickly. Clay with his Volvo station wagon and Andy with his Ford F250 lugged 500 barrels of beer around to locations during the brewery's first year. "I'd run stuff to the south side, and Andy would run stuff to the north side. We were effectively almost hot-shotting, our original distribution setup was people texted me, I wrote it on a whiteboard, and then we would deliver beer," said Clay. Meanwhile, Clay also played double-duty, spending time in the brewhouse making sure there was beer to lug!
A year later, 500 turned into a rate of 5,000 per year, and before you know it, 30,000 barrels rolled out of the Sun King production facility. So, they needed a Sprinter, and then they needed 15 of them.
Unfortunately, the original brewer's license forbade Sun King from distributing beer from its taproom location once it exceeded 20,000 barrels. So, Sun King, along with 3 Floyds, worked towards changing the legislation. In 2011, the cap rose to 30,000 barrels and then by 2015 the cap went up to 90,000.
"If you're doing 5,000 barrels without a lab, you're insane.'"
Sun King then looked inward. "We started investing in infrastructure improvements, and we spent like $2 million on expanded fermentation and new canning line and upgraded centrifuge and all of these things that would allow us to produce more beer."
Clay also noted, "John Mallett up at Bell's, and my friend Dave who used to be at Oskar Blues were both like 'You need a lab. If you're doing 5,000 barrels without a lab, you're insane.'" Not only did they follow that advice, but they also hired someone to head the lab.
"Our chief science officer has a double master's degree in like analytical chemistry and forensic science. He worked in our tap room while he was getting his second masters degree and decided, 'You know what, I don't want to work in a crime lab, I want to work in beer. So, can I work here?' We said, 'Um, yes…yes you can! Please let's get all CSI on that shit!'"
The new facilities provided the opportunity to conduct shelf stability testing — two year's worth, which allowed Sun King to sell in Indiana' grocery stores where cold beer is not allowed to be sold. The result is beer that tastes the same today, tomorrow, and months later.
While at the store, you might notice the plethora of Sun King cans wrapped in beautiful label artwork. They take cans seriously, and did so well before it was all the rage. In fact, Sun King likes it so much, it hosts an annual festival to honor canned beer. Breweries from all over the nation attend the aptly named "Canvitational," which this year will be held on September 9.
Sun King Heads to Chicago
Sun King recently brought its consistent-quality beer to Chicago, the nation's third biggest market. On the surface, it may seem like a huge step for Sun King, but the leap is much less daunting than it appears.
Chicago and Indiana enjoy a deep connection. Just ask 3 Floyds, 18th Street Brewery and every person who hangs a degree on his or her wall from Purdue, Notre Dame and Indiana University.
"If you went to college in Indiana in the last seven or eight years, you've more than likely drunk Sun King while you were in college at one of your college bars. It was maybe your introduction into craft beer. A lot of people who work in Chicago live in northern Indiana, so they're exposed to our beer. You've got this really kind of crossover of in Chicago; there's a lot of mix there," explained Clay.
Sun King has no desire to conquer Chicago, but merely join the craft beer party and fill a niche, along with collaborating with breweries such as Revolution, Half Acre, and Solemn Oath.
What To Expect from Sun King
Sun King offers a bountiful beer lineup that not only includes familiar styles but also unique flagships such as its Sunlight Cream Ale and Wee-Mac Scottish-Style Ale. Moreover, Sun King Brewery's dedication to sessionable beers and canning its Reserve Series (small batch barrel aged and sours) in resealable 16 oz. Alumi-Tek cans (see picture, below) allow one to regularly enjoy Sun King without having to worry about feeling too tipsy, which enjoys broad appeal to many types of beer drinkers.
Clay Robinson demonstrates the same passion and pride for Sun King as a parent does when speaking about his or her child. Then again, he also displays the same type of exuberance as a child. Akin to "show and tell," Clay could not be more excited to tell me about Sun King — more stories than I can share with you, here. Needless to say, To speak to Clay is to speak to a person who flat-out loves his job, and loves his brewery (and his co- founders, and employees, and Indiana, and Chicago). Such passion rarely results in failure, and Sun King has little, if any, business-growth-altering failures.
If you don't know Sun King, you will soon.
https://www.instagram.com/p/BLHInQtj2GL/?taken-by=sunkingbrewing
---