3 Comments
Event Preview | Talking Metal Monkey Brewing Artisan Market with John Streetz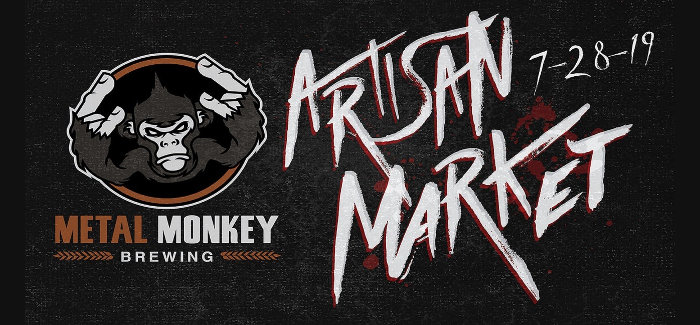 The second annual Metal Monkey Brewing Artisan Market hosted by Metal Monkey Brewing celebrates "craft" in its many forms. The event allows patrons to shop for unique gifts created by more than 30 local artists while sipping on craft beer, enjoying meals from local food trucks and listening to live, local music. Moreover, a percentage of all event proceeds will be donated to The St. Baldrick's Foundation.
One artist, John E. Streetz, of Bead Streetz, is a well-known figure among Chicago's brewing scene, both because of frequent visitations to Chicago-area breweries and because he regularly displays his artwork there. John is heavily involved in the Artisan Market event. He spoke with us about his work, the connection between artists and craft beer and the event at Metal Monkey.

PorchDrinking: What makes the relationship between the art community and the craft beer community so easy to meld?
John Streetz: Beer. Beer is a social thing as is crafting and selling art. They go very well together in my opinion. In meeting people in the beer industry and talking arts and crafts, I'm always seeking to promote art at local breweries, even if I can't be the one popping up there.
Certain breweries already have a mission to support their local artists like Elder Brewing, Scallywag Brewing and Wolfden Brewing. While there are far more now that support their local artists, these have allowed small exhibits within the brewery or offer pop-up opportunities. Scallywag Brewing, for instance, allows a pop-up artist every other Sunday and has one wall in which an artist can exhibit their pieces for a period of time.
At the end of the day, I want breweries and craft beer bars to feel comfortable with pop-ups, art exhibits and supporting the local arts. It helps the local artists, but also brings new people and excitement to the brewery or bar.
Craft "community" is a well known industry mantra; can we presume that same relationship exists amidst artists?
Very much so, in my opinion. As artists, we all work to support each other. Share good events, offer feedback and develop comradery.
I'm honored to be able to help Metal Monkey Brewing with setting up this show as I've brought in a large group of talented artists and crafters that I've met along the way. And this is giving everyone a great opportunity to share their art with the community at Metal Monkey Brewing.
https://www.instagram.com/p/Bu1JMIHFiQ3/
How did you foster a relationship with so many breweries, which allowed you to tie your art business to it?
Money. Lots and lots of money. Honestly, a lot of the time it was just being a regular at the brewery and asking the questions. In other cases, I was keeping a keen eye of social media and looking for shows at breweries I could join.
One of the first brewery-like events I did was at the Beer House, now closed, at Yorktown Mall in Lombard, IL. It was a charity event and a lot of people from local breweries were there. I believe that was my first time being exposed to selling crafts in a craft beer environment. Prior to that I was do church and school craft shows.
I did a few shows through ShowGals, a two-woman team of craft show organizers. That got me into breweries like Evil Horse, Hailstorm and Imperial Oak.
After that it was a bit more organic to get into breweries. Being friends with people and expanding my connections in the beer and craft world opened up lots of opportunities.
Some of the breweries I've had the pleasure of appearing at include Hailstorm, More Brewing, Skeleton Key, Metal Monkey, Evil Horse, Lagunitas, Miskatonic, Myths and Legends, 18th Street, Wolfden, Exit Strategy, Roaring Table, Elmhurst Brewing, Solemn Oath Brewing, Only Child Brewing, Revolution Brewing, Metropolitan Brewing, Imperial Oak and more.
Some of these were actual art and craft shows, and not just me popping up at them. For instance, 18th Street Brewing holds a BAN ART fair every year that Bead Streetz has been at twice.
Can you tell us about the Metal Monkey Brewing Artisan Market event?
It's going to be epic. There will be food trucks, live music, and more then 30 artisans bringing their best to the show. The majority of the artists will be outside but about nine artists will be inside so I encourage everyone to make the full rounds to see all of the talent. There will be a beer tent outside with a few beers but anyone looking for the full spread of beers available will need to go inside for that.
There will be a large variety of items; you'll find everything from dark and mysterious to fun and cute. Beard oil, original art, prints, sculptures, pottery, crocheted items, shirts, patches, socks, cards, soap, recycled furniture, darkcycled dolls, magical Perler bead creations, jewelry, terrariums and so much more. We will have a Henna artist, an Italian ICE artisan and Team Stunod with St. Baldrick's Charity will be raffling off items and raising money for their charity.
I spent time making sure each of the artists were unique to the rest, and that there was minimal overlap of specific types of styles or items. For instance, Self Made is our only soap artisan. There are only two jewelry artisans that each are unique to each other. This approach allows a better experience for all that come to the fest and a better show for each of the artists.
I want the artists and crafters to succeed. And equally want the visitors to have a great time and find a great selection of unique and fun items.
The Metal Monkey Brewing Artisan Market event is free to attend and is kid, family and dog friendly.
(For more on the event, see: For more information, follow the Facebook Event Page: )
https://www.instagram.com/p/Bx7y9cxFIK-/
What can guests expect from you? Tell us about Bead Streetz.
I make magic with Perler beads. I'm someone capable of working with Perler beads in a professional and artistic manner. Time, patience, and the art of melting plastic with an iron are all part of my process. I refer to myself as a master-beader making old and current things in an 8bit or similar look. In all seriousness, I've taken a kid's pastime and turned it into an adult OCD lifetime. I create characters from video games, movies, comics and anime by using these beads and it has proven very satisfactory to myself and more importantly, the people that visit my table.
Some of my favorite items are my beer themed creations. I don't carry a lot of them in stock but Megaman with a stein of beer in hand or Link holding up a glass of beer instead of a sword or triforce is golden to me.
The Brewery
We would be remiss if we did not give a shout out to Metal Monkey Brewing, who will celebrate four years of brewing in January, 2020. Situated in Romeoville, Illinois, a southwestern suburb of Chicago, Metal Monkey has grown from a tiny operation to one with a substantial following. Its music events are growing ever more popular, as is its yearly release of its barrel-aged series, Asmodeus.  For this writer, what makes Metal Monkey worthy of visiting (besides its staff's passion for inclusiveness and lack of pretension) is how the brewery rarely disappoints those who still enjoy a nice dose of malt and beers "that taste like beer." For instance, it's rare that one won't find its Fonkey Mucker Russian Imperial Stout on tap. But, if lighter is your deal, Metal Monkey has plenty of wheat beers, pale ales and pilsners. On the more historical side, the brewery makes a mean Gose-style, too.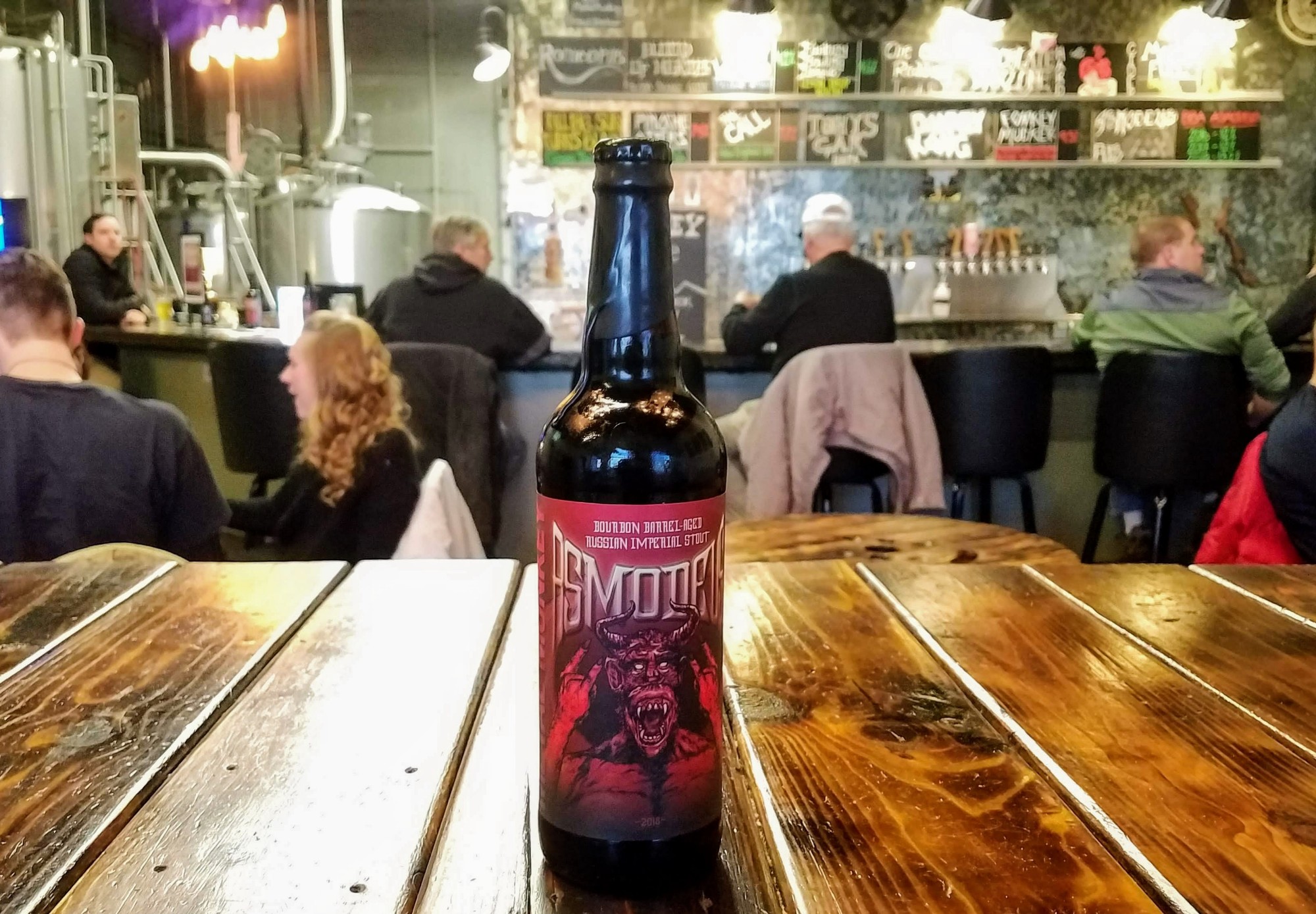 ---