No Comments
Event Recap | Noon Whistle Brewing Second Anniversary (Chicago)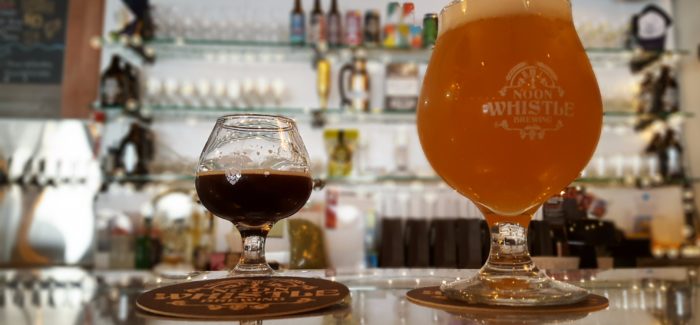 Noon Whistle Brewing | Photo Credit: Mathew Powers
Suburban Chicago's Noon Whistle Brewing is located in an old strip mall and barely visible from the main road; a location unlikely to garner a passing grade in a Business 101 class. Makes no matter because in the craft beer world, it's not location, location, location that's essential; it's libation, fermentation, innovation.
The beer emerging from Noon Whistle Brewing pulls throngs of thirsty patrons through its doors. And that is why when I arrived a few minutes after the noon hour on a Friday — the first of two days dedicated for its two-year anniversary — I was far from the only person ready to indulge in a parade of special releases. By the time I left that night, the place was packed.
It may seem that noon is a bit early to start drinking beer, but only if you don't understand the dynamic between Chicagoans and its cheese-headed neighbors to the north, in Wisconsin. Despite the state being home to the hated Packers, Wisconsin serves as a place where Chicagoans frequently vacation. Such is the case with Brewmaster Paul Kreiner who routinely traveled with his family to Marquette, Wisconsin. In Marquette, the town whistle blows at noon and signifies to people, take a break, chill out, and hey — have a beer.
Thus, my arrival at noon, along with a flock of thirsty Noon Whistle fans, seemed apropos. But, while Noon Whistle focuses on low-ABV session beer, the brewery does not refrain from offering a substantial collection of big beers and sours. And on its 2nd Anniversary, Noon Whistle provided an onslaught of brewing variety to its patrons, and many of the beers had been woken from its barrelled-slumber and then tapped and devoured.
Of course, this writer felt no shame in indulging.
https://www.instagram.com/p/BPNyEYzj3c9/?taken-by=powers_mathew&hl=en
Right Near the Peach Boyeeeee New England IPA 7.1% : This is the aged version of Funny Gummy New England IPA comprised of ten pounds of hops per barrel, including Mosaic, Citra, Amarillo, Galaxy. But this aged variety also includes 210 lbs of peaches. Even Kreiner was surprised at the result, "I was afraid it would be overly sweet, but it wasn't even close — it was great."
I agree. Imagine the peach flavor one enjoys in a savory food dish and that's the type of peach flavor that was in this brew — Abundantly peach without the noticeable sugary-sweetness. A+ beer!
Smack This Black Sour 5% : Admittedly, I have only begun to explore black sours so I'm tasting these beers without much reference (so far). But, the beer, to me, presented some notes of toasted chocolate on the nose that coincided with a bitter-sweet chocolate flavor on the palate. However, that almost immediately gives way to a sour that can only be described with, "oooh, nice." The beer is sublime. It's a light to medium body and finishes clean. Forget poetics, the beer is damn good.
Fancy Cabernet Swanky Smack: Wow, how to describe this one? Cabernet, sour, little oak (French Oak, I believe), little acidic, little dry, little fruity – it's just a world of flavors and aromas that somehow manage to meld into one easy-drinking delicious sour. Loved it.
Bob Ross Did It (Barrel Aged Scotch Ale): I love this beer. I most recently enjoyed it (prior to this fest) during the Festival of Barrel Aged Beer (FoBAB) in November. Aged in bourbon barrels, this Scotch ale provides sweetness that blends exquisitely with the bourbon, and what Noon Whistle notes as spice notes provided by tobacco and vanilla.
---
Here's the list of what they released that weekend (it's okay if you don't know each beer, you can tell by the labels that this brewery is not afraid to flex its brewing muscles, including involving cabernet, sours, cinnamon, fruit, and more).
The full Noon Whistle 2nd Anniversary beer list can be found here:
The two-day sour beer station:
Face Smack (Berliner) | Swanky Smack (Red) | Smack This (Black)| Passion Fruit Face Smack
Guava Gose | Gose
Barrel-aged tappings:
Conan the Mandarin (Cabernet BA wheat ale)
Bourbon Smack | Cabernet Swanky Smack | Fancy Cabernet Swanky Smack
Bob Ross Did It | Bob Ross Did it Old Fashioned
Imperial Bernie Stout & Imperial Bernie with Vanilla & Imperial Bernie with Cinnamon
New England Style IPA (as noted above):
Anniversary New England IPA | Right Near the Peach Boyeeeee New England IPA
There were food trucks, there was fun, there were a lot of people. But, what made the festival, and what makes Noon Whistle Brewing successful, is its beer — good at noon, during happy hour, or any time of the day.
https://www.instagram.com/p/BOYbzifhf8r/?taken-at=521160329&hl=en
---