No Comments
2 Days, 2 Nights | A Complete Guide to Fort Collins, Colorado's Craft Beer Scene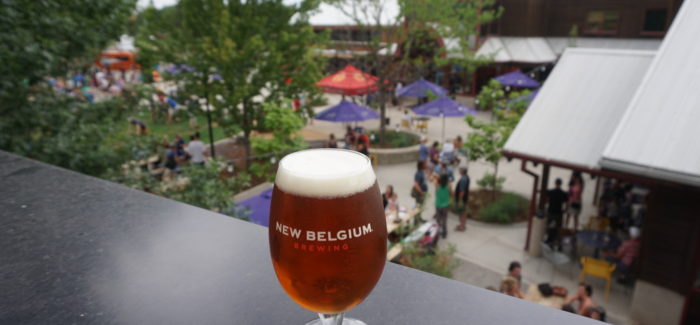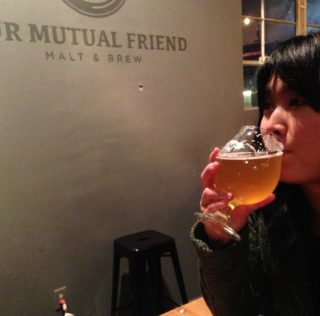 Situated on the Cache La Poudre River and about 65 miles north of Denver lies Fort Collins, home of the CSU Rams and where craft beer flows in abundance. Two years ago, I moved to Fort Collins from Denver and I was a bit apprehensive; Denver was home to me. There was always something to do — whether it was a Rockies game, art opening or new brewery to check out. And admittedly, as a proud Colorado Buffalo (#Skobuffs), Fort Collins felt a little like enemy territory.
But like one of those teachable Hallmark movie moments, Fort Collins proved me wrong. This college town is the fourth largest city in Colorado but it has plenty of local charm. Fort Collins is laid back like a lackadaisical Sunday afternoon. It'll make you want to hop on your cruiser bike and ride over to the nearest brewery and watch the sun sink down across the foothills. Fort Collins has made me a tourist in my own state — which is really refreshing. And so, I present to you, the best spots to visit the next time you're in Fort Collins — in my humble opinion, of course.
Day 1 | Saturday
Morning
Depending on how early you get up, Snooze is a vibrant retro eatery in the heart of Old Town (that's Downtown Fort Collins) that has fantastic pancakes and other breakfast goodies. My favorites are the Pineapple Upside Down Pancakes, and the Breakfast Pot Pie. I recommend ordering both to prevent food envy. Show up to Snooze after 9 a.m., though, and you'll likely have to wait for an hour or more. If standing awkwardly with hunger among strangers isn't your jam, then head over to Blue Agave, a restaurant with Mexican-inspired eats. Their Southwest Eggs Benedict is delicious; instead of your standard English muffin and Canadian bacon, they use goat cheese polenta cakes and sliced prosciutto (so purists beware)!
After breakfast, take a stroll down College Avenue where numerous boutiques, cafes, bars and restaurants are lined up quaintly awaiting your presence. This historic area is quite the charmer and it makes sense since Disneyland's Mainstreet USA was modeled after it!
Other bomb breakfast spots: Urban Egg Eatery, Lucile's, Silver Grill Cafe, The Little Bird Bakeshop.
Midday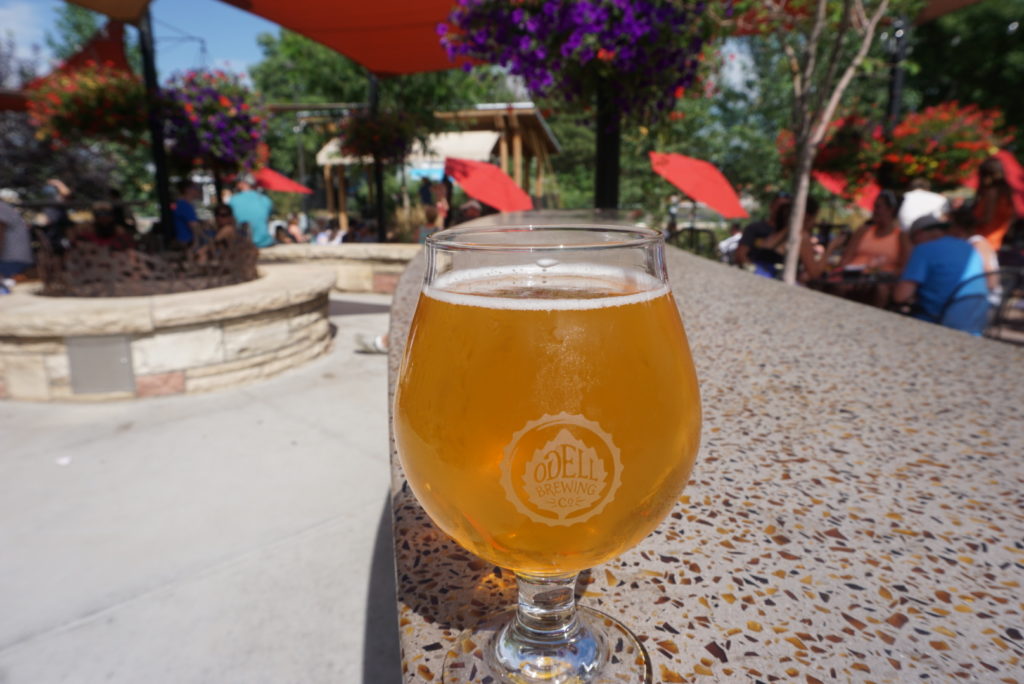 With your belly full of delicious pancakes, head down to Odell Brewing, and soak up the sun on their expansive patio while listening to local bands. IPA lovers take note — Odell IPA has set the standard for the Amercan-style IPA category at GABF, and it's the only American-style IPA to win gold at both GABF and the World Beer Cup. IMO, Odell has one of the best patios in Fort Collins so make sure you carve out some time to chill at this local hot spot.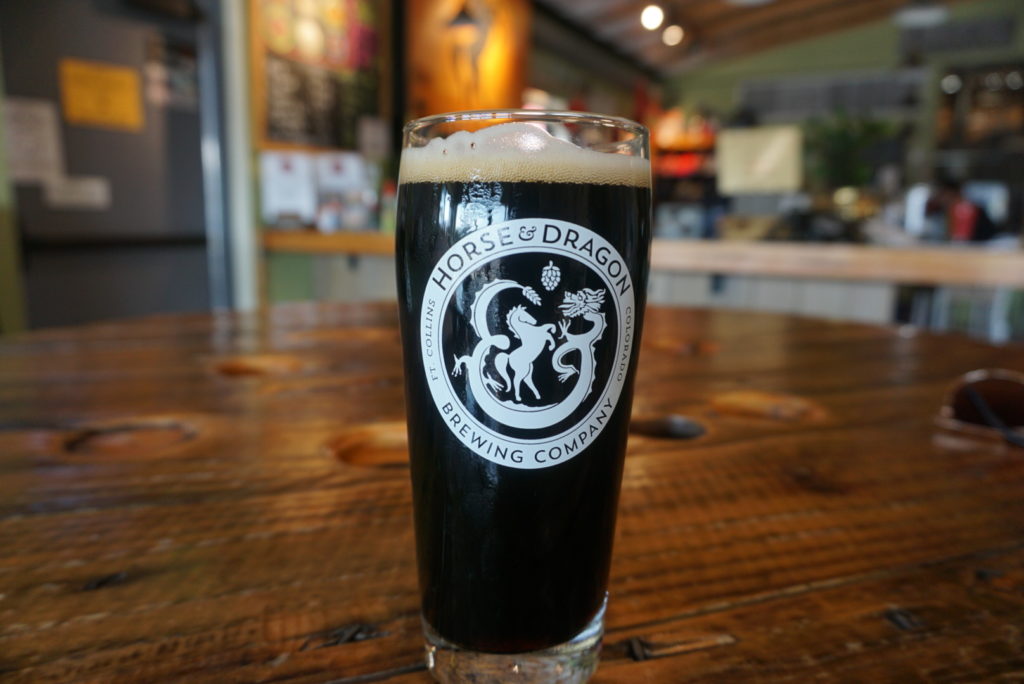 Next, continue down Lincoln Avenue for the next stop on your brewery tour. Horse & Dragon Brewing is a bright red brewery that is tucked away in an industrial part of town but is overflowing with local charm and good beer. Originally an airplane hanger and now brewery, Horse & Dragon is on draft at most bars and restaurants in town but trust me, you'll want to experience the family-run brewery yourself. Grab a pint of Sad Panda, throw in a couple of bucks in their charitable donations bucket (pay-it-forward, man), and strike up a conversation with any of the friendly patrons or bar staff.
Roughly half a mile away, journey over to Funkwerks, a saison-focused brewery with some room for Belgian styles, small batch experimentals, and sour beers. This brewery was awarded Small Brewing Company of the Year in 2012 at GABF. The brewery's main lineup of beers has two standouts, Saison and Raspberry Provincial, both of which have medaled at GABF in previous years.
Think you can squeeze in one more? Head over to Snowbank Brewing, a brewery founded by homebrewers who love the Colorado lifestyle.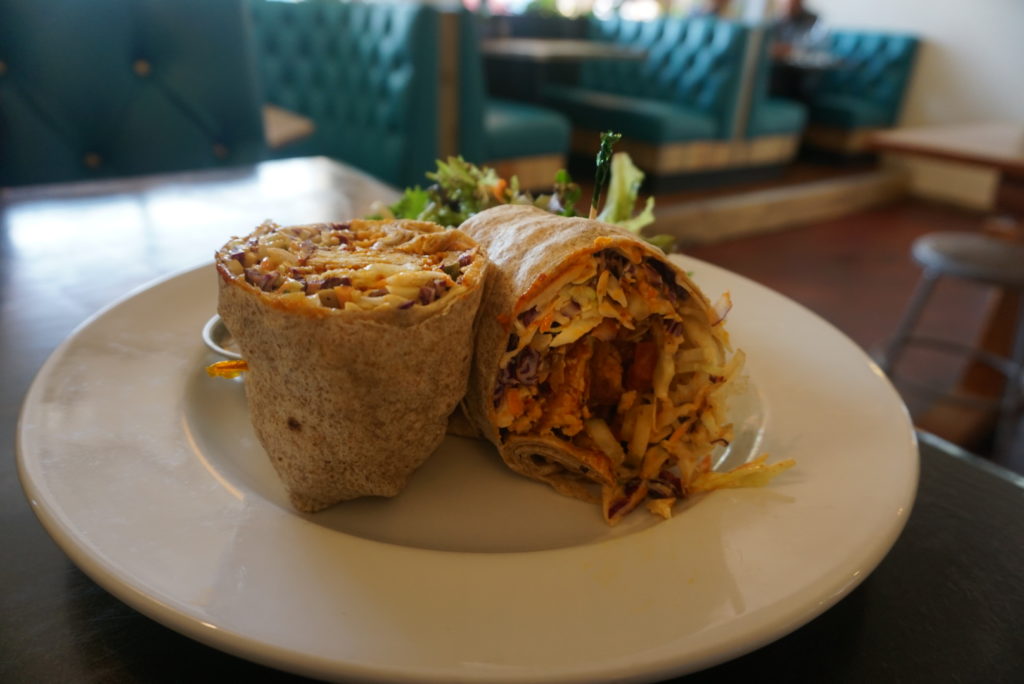 For lunch, you'll want to go to Tasty Harmony located on Oak Street in Old Town. Full disclosure, I'm never one to turn down a good steak and I believe in the magical healing powers of bacon, but my favorite restaurant in Fort Collins is a restaurant that specializes in healthy plant-based cuisine. Their made from scratch meals and creative flavors could turn me to the dark side. Order the Ricky Bobby, a wrap that's filled with deep fried tempeh, dipped in hot wing sauce, with shredded cashew cheese, coleslaw, pickles, tomato and red onion. If you are super hungry, skip the side salad and get a side of mashed potatoes. The gravy is some sort of curried, yummy slice of heaven.
While you're exploring Old Town, Fort Collins' downtown district, be sure to take time to explore a few local craft beer bars such as Tap and Handle, The Mayor of Old Town, and The Forge Publick House, but it's also a chance to snag some major bottle scores from Craft Beer Cellar which is conveniently located near Tasty Harmony. Craft Beer Cellar goes out of their way to source beers from Colorado breweries that don't normally distribute that far up north, plus they've constantly got access to major national breweries as well.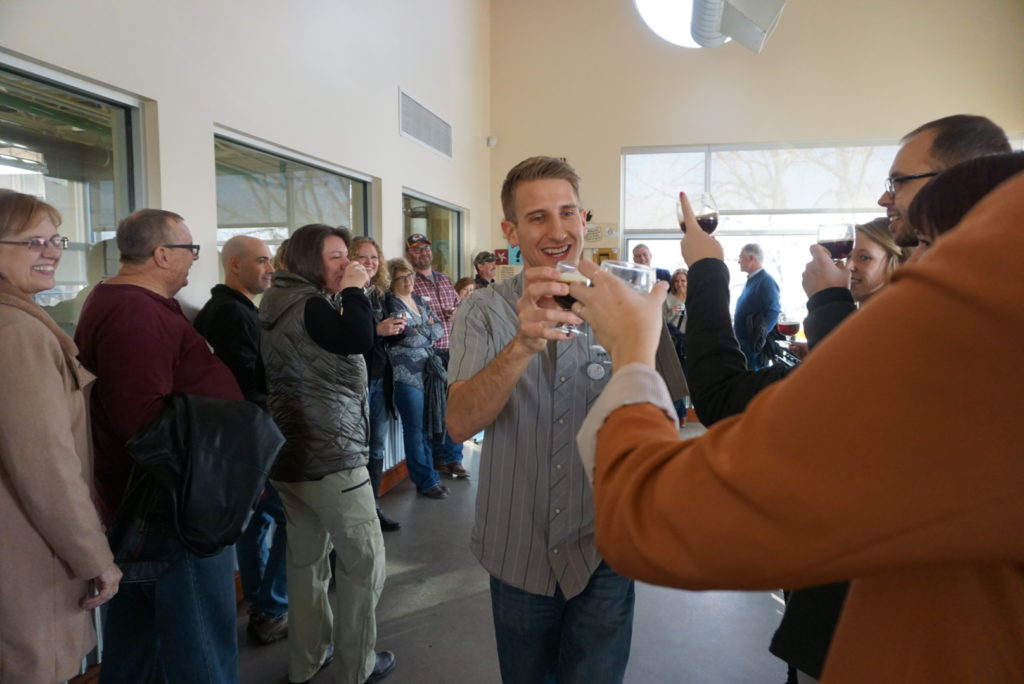 After you're feeling well fed and content, walk, bike, or skip over to New Belgium Brewing, the country's fourth largest craft brewery. At the mothership, there is no better way to experience the heart of New Belgium than a tour through the brewery. And there are no better people to take you along the ride than the barstaff themselves. Called liquid center representatives, these wonderful, friendly, spirited, and eccentric humans will take you through 90 minutes of history, culture, and company sustainability practices with free tastings all along the way. My favorite part of the tour is a walk through the Foeder Forest, an area that houses 64 French Oak foeders (and one American Oak foeder). While all tours generally follow the same topics, no tour is the same and every tour guide brings their own unique perspective. Tours begin every half hour starting from 11 a.m. until 4:30 p.m. And they are so incredibly popular that you'll want to reserve ahead of time or you'll end up on a waitlist—don't be that guy. Pro tip: an hour and a half of tasters plus a few pints will get quite the buzz going. If you plan on visiting more breweries, pace yourself.
Side note: Another option for Saturday is making a quick side trip to Greeley to visit WeldWerks Brewing. Regardless of when you plan to go, be sure to carve out plans to visit this brewery that USA Today named best new brewery in the country last year. Their New England IPA game is strong. I shouldn't have to tell you to bring home to-go Juicy Bits, but I will in case you have a minor lapse of good judgement. For lunch, one of my favorite food trucks in Fort Collins just happens to be at WeldWerks on most Saturdays. Tramp About serves delicious specialty burgers, Po Boys, Cubanos (which are mouth-watering good) and other goodies out of a trailer constructed of scrap metal and wood. And right around the corner from WeldWerks in Greeley is the equally impressive Wiley Roots Brewing who've been cranking out a tremendous core lineup as well as a talented barrel-aged series. Their Something Came in the Mail Imperial Stout variant series is always a must as well as their wild and sour offerings which include the likes of Funk Yo Couch and Pua Aloalo, a revelation in the form of a Vanilla Hibiscus Golden Sour.
Evening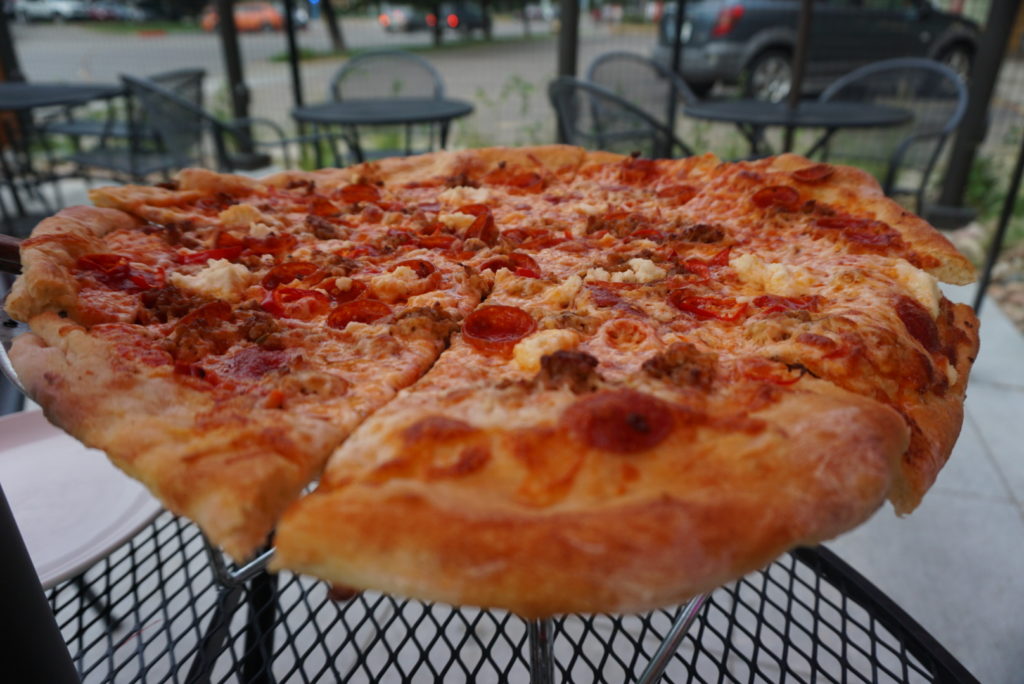 If you've hit up all of the breweries that I've suggested thus far, you seriously need to soak up some of that alcohol with delicious pizza. Every college town needs a go-to pizza spot, and for me that spot is Uncle's Pizzeria. For ten years, Uncle's has been making hand tossed pizza and handmade pasta in Fort Collins. And, they always have local beer on tap — yay more beer! Do yourself a solid and order their Ricotta Pizza. This is literally the best pizza that I have ever had. This pizza comes fully equipped with pepperoni, sausage, fresno peppers, dollops of ricotta and chili oil, aka the perfect pizza. (Note: sadly, Uncle's has since closed).
Now it's time to speed up the tempo a little bit with some live Jazz at Ace Gillett's, a sophisticated underground bar 50 feet below the historic Armstrong Hotel. Here, let yourself get swept away to a different time and era and sip on a handcrafted martini while listening to Ace Gillett's Subterranean Jazz Trio whose musicality ranges from 40's swing and 50's rhythm and blues, to the jazz soul era of the 60s. If you'd rather continue the beer route, skip Ace Gillett's and head over to Equinox Brewing, a local favorite that boasts delicious beer and live music. On most Saturday's Equinox has live music ranging from Americana to honky tonk. This place has a relaxed, down home vibe that is a perfect end to your Saturday night.
Other spots to check out: Austin's American Grill, CooperSmith's Pub and Brewing, Choice City Butcher & Deli, The Mainline Alehouse, Jax Fish House & Oyster Bar, Steakout Saloon (for $5 steak sandwiches).

Day 2 | Sunday
Morning
Today, we're keeping things closer to midtown, another popular area in Fort Collins. But first, breakfast. La Creperie & French Bakery is a local gem. The owner perfected his craft in a bakery in Brittany, France before moving to Fort Collins to bake the artisan way — no preservatives, mixed powders or chemicals. Choose from an assortment of croissants, brioches and pastries. Whatever you decide, make sure someone in your group orders a galette, which is savory paper thin buckwheat crepe with folded up edges and is filled with cheese, egg, sausage, etc. Don't be shy, make sure to also order a crepe to sweeten your day. Note: this spot is cash only so plan accordingly.
Now let's be honest, if you have been following my instructions meticulously then kudos to you — you've had a lot to drink. So put on your hiking shoes and let's see what else Fort Collins has to offer. One of my favorite hikes is Arthur's Rock at Lory State Park. To get there, you'll need to drive to the nearby town of Bellvue. There is a $7 fee to get in but it is well worth it. The hike itself is relatively short (3.4 miles out and back) taking you through a grassy meadow, meandering switchbacks, and finally a scramble up to Arthur's Rock where you will have spectacular views of Horsetooth Reservoir from above.
Other hikes you can check out: Foothills Trail, Grey Rock Trail (be aware, this one is 7.3 miles round trip), Horsetooth Rock Trail.
Midday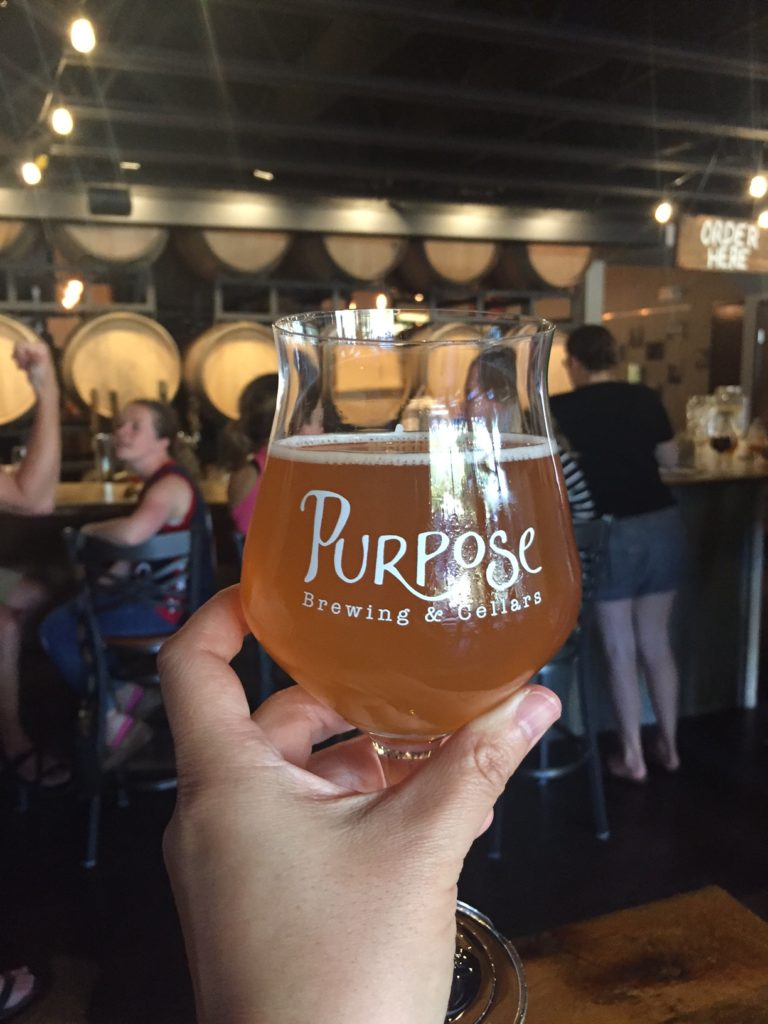 On your way back toward midtown for lunch, reward yourself with delicious handcrafted beer from Purpose Brewing and Cellars. This is the brewery in which Peter Bouckaert, brewmaster at New Belgium Brewing, will be transitioning to help create limited batch specialty brews born from decades of brewing knowledge and creativity. Together with Bouckaert's wife Frezi, Zach Wilson, former head brewer at 1933 Brewing, his wife Laura, former marketing manager at 1933, the fantastic foursome has been making waves in the local beer community since they opened up their doors in August. Using an array of ingredients and local malts, combined with knowledge experience and creativity, Purpose Brewing is only open Friday to Sunday from 12 p.m. to 7 p.m. Their beer, called their "beer artwork," will change week-to-week although you'll see the name Smoeltrekker every week. Smoeltrekker will feature a different sour beer that's aged in one of their barrels—and each one is uniquely different.
One could say there is no better pairing than chicken and beer. You can get both at Music City Hot Chicken, a fast casual spot that showcases Nashville style hot chicken. Delicious fried chicken, sides made from scratch (don't question me on this, get the mac n' cheese), and craft beer. You can't go wrong here.
Next, head next door to Black Bottle Brewery, a brewpub that has ridiculous beer names (Bockstreet's Bock, The Last Unicorn). The good folks at Black Bottle don't take themselves too seriously but their beer is seriously good. I recommend trying Scuba Steve, one of their IPA staples.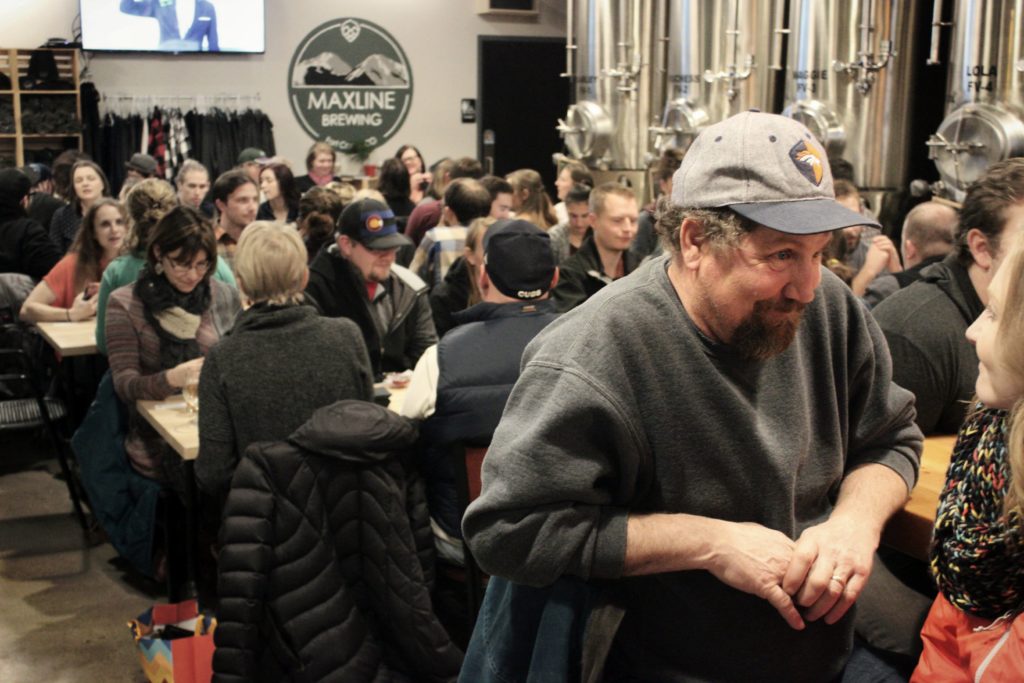 Round out your afternoon at Maxline Brewing, a popular midtown brewery that uses their tasting room as a test kitchen for new batches to come. The brewery also does quite a bit of food and beer pairings, bingo nights, live music, and other events. So if you're looking for good beer and good atmosphere, be sure to check out Maxline.
Also try to squeeze in: Zwei Brewing, McClellan's Brewing Company, Three Four Beer Co.
Evening
As the sun starts to set, make your way over to The Farmhouse at Jessup Farm for dinner. Located in the Jessup Farm Artisan Village on Timberline between Prospect and Drake, The Farmhouse restaurant serves elevated country and healthy farm fare inside a 133 year old building which includes a 1/4 acre and chicken coop in their backyard. Because their menu is seasonal, I can't call out a particular dish. But whether its brunch or dinner, every dish that I have had at The Farmhouse has been exceptional.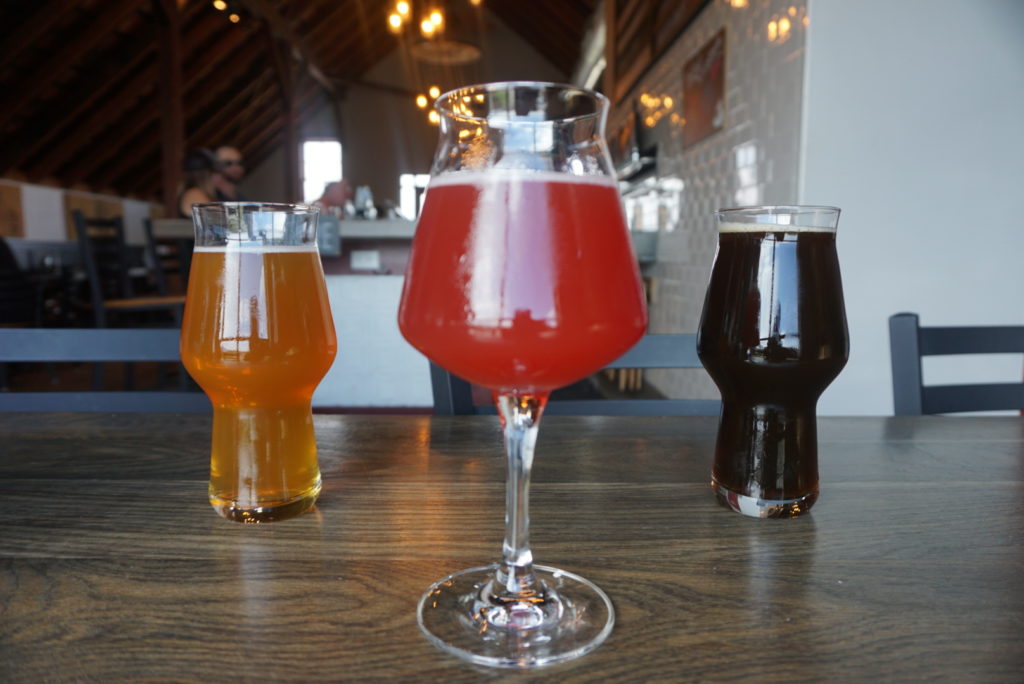 After dinner, wander over to the Jessup Farm Barrel House which is a stone's throw from the restaurant. Housed in the same old building, the brewery is housed in 3,000 sf restored barn. As you walk in on the main level, you'll find fermentation vessels and barrel storage. Upstairs you'll find the tasting room with a wrap around bar, community tables and an open patio.
Jessup Farm beers are all about creativity and exploration, taking robust characteristics from wine, whiskey, and tequila barrels to bring out interesting flavors and nuances. Flights are helpful if you want to sample many, otherwise grab a pint of something barrel aged and enjoy the perfect ending to your Fort Collins vacation.
As you can see, there is plenty to do around here but very little time. Make sure to bookmark this page for your next visit to Fort Collins. Cheers!
---