No Comments
Can't-Miss Colorado Events During GABF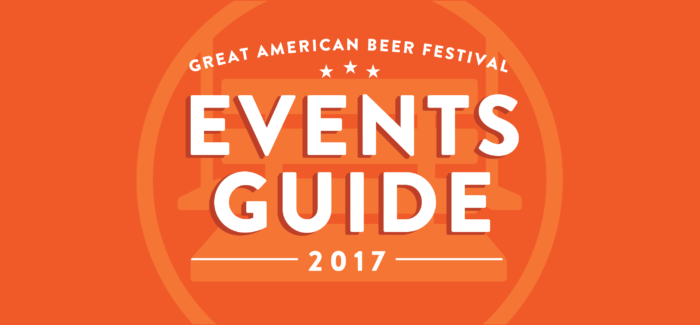 For one week a year, Denver and the surrounding metro turn upside down for the Great American Beer Festival. While the festival floor is a great place to sample hundreds of beers from all over the globe, the city really lights up with so many other opportunities to support craft beer. There are a lot. Like hundreds. Events popping up at your local restaurant, at your local brewery, at your local craft beer bar. Separate festivals all together have broken off of GABF. So, to help provide some perspective and frothy guidance, we have made that navigation a bit easier with our calendar of events. Make sure you check that out here. Too much to sort through and choose? Don't worry, chuggernaut, we got you covered.
Here is our list of Can't Miss GABF Events.
Something we missed? Is your brewery hosting a GABF event? Feel free to contact us and we'll update this list.
Sunday, October 1
Sour Sunday 2017 @ Backcountry Pizza and Tap House (Boulder) – This is a true sour showcase. All you tums-popping MotherPuckers are going to love this pourlist as it showcases all things tart. From acetobacter to mild tartness, this tap takeover of sour goodness promises to satisfy the sides of your tongues while also kicking off your week with some good stomach bugs.
Pop-Up Brunch with The Post & The Real Dill @ Stem Ciders – Did you get into town early? You a local but wanting to start the party early? The Post is known for bomb-ass chicken. The Real Dill is known for their pickling prowess. Stem Ciders is known for delicious ciders inspired by cidres (not that domestic shit). Want to put a base on while getting your buzz on?! Come to this brunch.
Lupulin Fiasco @ Romero's K9 Club & Tap House – HopHeads unite! Lupulin Fiasco hopes to perpetuate your affinity for all things hoppy as they roll out wicked amounts of fresh, dank hop brews for you to skull with the homies. Plus, you can bring your pooch.
Monday, October 2
Staying in Ft Co or doing some beer touring up that way? Make sure to stop by GABF One Night Stand @ The Mayor of Old Town (Fort Collins) for one helluva tap list.
GABF Kickoff Party @ Falling Rock Taphouse – The Unofficial OFFICIAL kickoff of GABF. Nuff Said.
Dad Beers: A Premiere GABF Pre-Party @ Ace Eat Serve – When prepping for GABF its important to build a base, but also to build up your tolerance. Ease into the week with some sessionable Dad beers from TRVE, Sierra Nevada, and Ratio Beerworks, plus Leopold's Bros will serve up some whiskey cocktails as well.
Tuesday, October 3
California Breweries Sour Showcase @ Goed Zuur – 5pm – Come skull some Left Coast sweetarts and pucker-pops as Goed Zuur hosts some serious Cali-sours paired with delicious food. This new beer bar is going to blow your fucking mind.
Beers Made by Walking @ Denver Museum of Nature and Science – 6pm – We are really proud of what this festival represents and how much it focuses on the craft beer footprint. The beers are always amazing and the stories behind these beers are so fascinating.
Brewers Karaoke @ Star Bar – 8pm – While Falling Rock might be the official start to GABF week, karaoke at Star Bar is the industry way of drunkenly kicking off the week.
Wednesday, October 4
Amalgam GABF Releases of Composition #1 & Composition #1 w/ Citra & Mosaic @ Small Batch Liquors- 11am – One of Colorado's brightest new sour producers is releasing it's second and third ever beer at Small Batch Liquors. We've gotten a sample of all three and this is a can't miss release!
Medianoche & Medianoche Reserve Release @ WeldWerks Brewing – 11am – If you were lucky enough to grab a ticket to this release then we really don't need to say any more.
Unity! A Plane to Trane Brewery Showcase – Noon – Before you step foot on Denver soil, catch the RTD from Denver International Airport straight to Union Station and sample serious heat from Ratio Beerworks, Modern Times, Fremont and Rhinegeist!
Colorado Invitational @ New Image Brewing – Noon – Coming into town for the fest? Try some of Colorado's rising breweries that require a bit of a trek to get to, all assembled in one place. This event features New Image, Cerebral, Wiley Roots, WeldWerks, 4 Noses and Odd 13.
Good Bugs Fermentation = Flavor @ The Crafty Fox -3pm- Learn about how import yeast is in imparting flavor into the beers you drink. Meet the brewers and sample the ONLY batches of these beers ever produced.
Dogfish Head Happy Hour w/ Sam Calagione & PorchCast Broadcast @ Avanti F&B -4pm- This is Sam's only appearance during GABF week as he won't be able to pour on the festival floor this year. Come meet Sam, try some specialty DFH beers and catch a live broadcast of The PorchCast.
2017 What the Funk!? Invitational @ The Studios at Overland Crossing – 6pm – The hype is real. And while the festival is in a new location again this year, the festival did a great job of cleaning up complaints they had in 2015. Expect a similar vibe this year where the festival moves into that sweet spot of really establishing itself as a premier festival worthy of your attendance.
Pink Boots Rare Beer Tasting @ Bierstadt Lagerhaus – 7pm – Sample beers from breweries local and afar that come from the industry's female brewers. This event benefits The Pink Boots Society.
All-Star IPA Throwdown @ Falling Rock – 9:30pm – This has quickly become one of the premiere GABF week events as it features some of the best hoppy beer producers from around the country. With breweries like Beachwood BBQ, Bissell Bros, Carton, Fieldwork, Great Notion, Lawson's Finest, Melvin, Modern Times, The Veil, WeldWerks and more you can't go wrong if you're a hop head.
Thursday, October 5
Bangerz & Smashed: Beer Media Breakfast Bottleshare @ First Draft Taproom and Kitchen – Come rub elbows with the Beer Media and get some of those early beers into your body to prep you for the first day of the floor.
TRVE & Friends GABF Week Tapping @ Hops & Pie – 11:30 am – TRVE's distribution arm is bringing the heat this year with breweries like: Trve, Commonwealth, Burial, Finback, 7venth Sun, Three Taverns, Modern Times, Kern River, Gigantic, Brewery Bhavana so sample them all at one of Denver's most iconic beer bars.
2nd Annual CTA [email protected]#*ing Catalina Wine Mixer @ Call to Arms Brewing – Noon -Our homies at CTA are dropping a bunch of their Carriage House wine barrel aged beers. 
Santa Fe Brewing GABF After Party Hosted by Meow Wolf @Summit Music Hall – 7pm – The iconic art installation Meow Wolf is setting up a popup installation with fellow New Mexico residents Santa Fe Brewing. This will be wild, delicious, and awesome all at once.
TRVE Brewing's 2017 GABF Kickoff Show @ the Hi-Dive -8pm- Like Metal? Like Beer? Do you want to live deliciously? Then you would like to go to this. Skull some coldies, high five your buds.
Late Night Happy Hour w/ Ratio Beerworks & The PorchCast @ Avanti F&B – 9pm – Ratio is hosting an after party to cap off the first session plus The PorchCast welcomes Ratio Co-Founder Jason zumBrunnen for a live broadcast along with several national media members, sobriety will be highly unlikely.
Friday, October 6
Kenny Lagers IV @ Star Bar – 10am – Light, Sessionable Beers & Yacht Rock. It's back for year 4 of Kenny Lagers w/ New Belgium Brewing.
CSA Showcase @ First Draft Taproom & Kitchen – 11am – CSA always brings the house, sample as much or as little as you want of everything at First Draft. Breweries include Jester King, Pure Project, Beachwood BBQ, Captain Lawrence, Almanac, Alesong, Madtree, Jolly Pumpkin and much more!
Adam Avery's Cellar Sale @ Avery Brewing (Boulder) – Check out the list right here . . . We don't need to wax poetic on why you shouldn't miss this. 
Denver Rare Beer Tasting IX @ McNichols Building – SOLD OUT – Noon- But we still got to mention why this festival is a must-drink affair. Brewed Food is catering, a bunch of breweries bring their oldest and rarest brews and it's all for health! Be healthy, drink beer.
Denver Beer Co's Collaboration Celebration @ Denver Beer Co – 2pm – DBC has collabed with breweries from all around the country. Try all creations here.
Curiosity Ball @ Star Bar – 7pm – One of the better collections of out-of-state breweries assembled for special tappings each year ft: Other Half Brewing Company, Burial Beer Co., Alvarado Street Brewery & Grill, Modern Times Beer, Boulevard Brewing Company, Jester King Brewery, Perennial Artisan Ales, 7venth Sun Brewery, Arizona Wilderness Brewing Co, and Jackie O's Brewpub & Public House
Enter the House of Flying Barrels @1235 Delaware St. – 9pm – In addition to a massive party thrown by Melvin Brewing featuring an attempt to build the world's largest beer can pyramid. Also the lineup includes Avery, 4 Noses, Firestone Walker, Odell and most importantly, the return of Owl Bear BBQ!
Saturday, October 7
GABF Brewers Breakfast: Burritos & Barleywines – Just read the title. How do you NOT want to go to this?
CiderGrass 2017 @ Stem Ciders – Sick of beer? Want to cleanse your palate before going back to beer? This bluegrass and cider event coincides with GABF and we are just fine with some variation!
Toasted Coconut and Mayan Chocolate Mr. Sandman Release @ River North Brewery – Noon – Now this is a toasty variant imperial stout release you won't want to miss!
Leopold Bros. 18th Anniversary Open House – Whiskey heads! This one is for you.
3rd Annual Ratio Karaoke GABF After-Party @ Ratio Beerworks – Three years and running. Unwind with the folks over at Ratio as they rock your socks off with their Karaoke party. 
Sunday, October 8
Work From Home Recovery Brunch @ Cerebral Brewing – Ah, Sunday morning in the mile high city and you are hungover. Or at least exhausted from the week. We know you want to work from home and tell everyone you are done with GABF for the year but this beer release and brunch is worth attending. This beer is fucking delicious.
October Bluegrass Brunch – Want to brunch closer to DIA on your way home? Stop by Station 26 on your way out of town to get some awesome nosh and your last bit of slosh before you board your plane back to reality.
Something we missed? Is your brewery hosting a GABF event? Feel free to contact us and we'll update this list.
---