No Comments
2017 GABF Route Guide | Hoppy Beers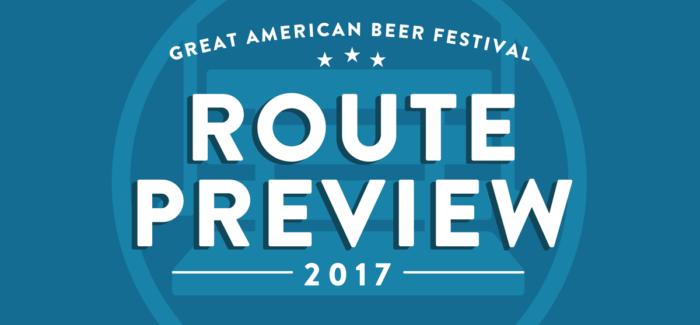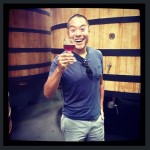 For the past month and a half our staff has been reaching out to every brewery attending the Great American Beer Festival to try to preview what they'll be bringing to the fest. As part of that research, we've sifted through that list of beers to bring you a series of themed routes to help you plan for your GABF based on various styles and flavors.

We kicked things off Monday with a preview of your Big Beers Route, yesterday we featured our Funk, Sours & Wilds Route and today's route features some of the best hop-forward beers that we know will be pouring at GABF. Hop heads unite, for these dank, piney, citrus and hoppy beers will be flowing at GABF.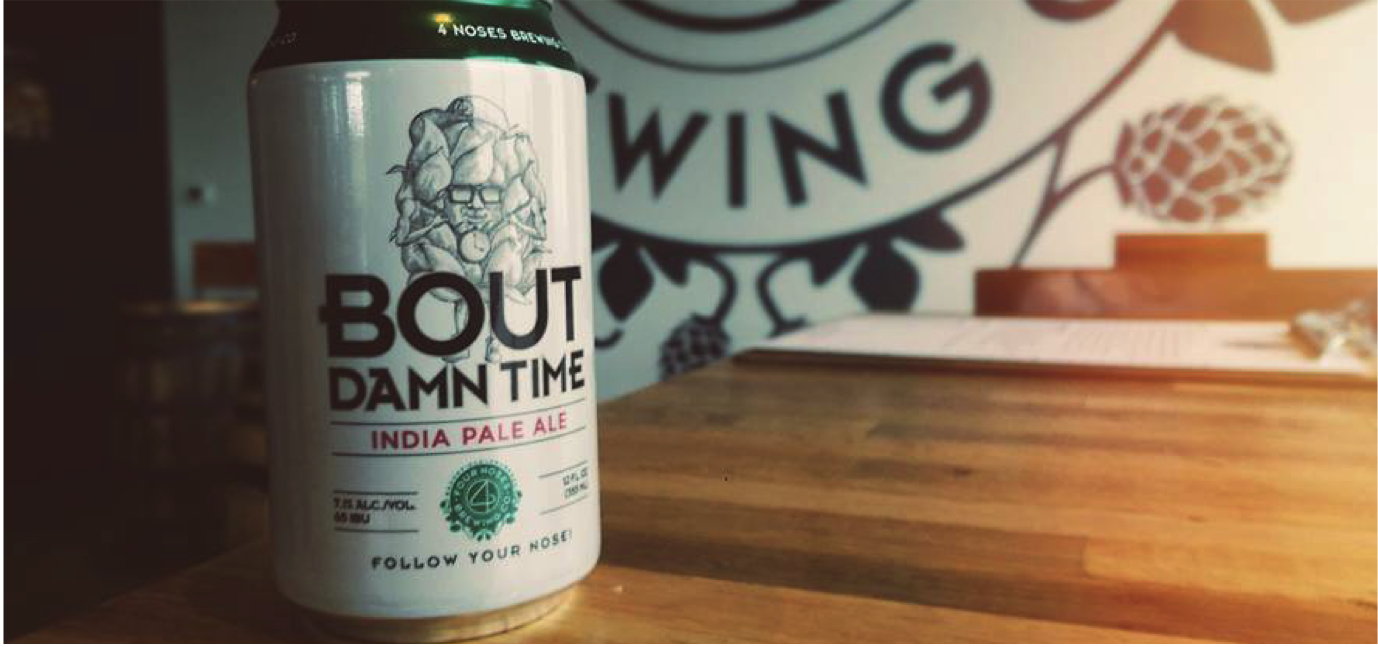 Hop Forward Route
21st Amendment
Blood Orange Brew Free! Or Die IPA – Brewed by the guys who first introduced you to delicious well-balanced fruit beer, this is our classic Brew Free! Or Die IPA generously dry hopped and fermented with 100% real Blood Oranges. – 70 IBU
4 Noses Brewing
Bout Damn Time IPA – Loaded with Pacific Northwest hops from the kettle to the fermenter, this IPA packs a massive aroma of bright tropical fruit and refreshing citrus notes. The simplicity of the malt bill allows for a plethora of hop flavors to come through on the pallet. – 68 IBU
Avery Brewing
Double Dry-Hopped Maharaja – With a double dose of hops, The Maharaja flaunts his authority: tangy, vibrant and pungent along with an insane amount of malted barley – fashioning a dark amber hue and exquisite malt essence. Welcome to his kingdom! – 102 IBU
Base Camp Brewing
Fresh Hop IPA – Process: brew a perfect IPA with Vienna, Pilsner, and Munich malts. Stuff lager tank full of fresh Centennial hops from our friends' family farm; circulate beer to steep out all that juicy fresh hop goodness. – 70 IBU
Bear Republic 
Hop Shovel – We added overflowing scoops of Mosaic, Meridian and Denali to this IPA to create huge tropical and citrus notes. – 100 IBU
Berryessa Brewing
Cortez the Killer Imperial IPA – Imperial IPA, this beer is special, maybe one of the best strong hoppy beers you'll find at GABF, unfortunately it wasn't ready for competition but it will be in Alpha King. Same thing with the IBU's probably around 80 but almost 10lbs/bbl were. – 80 IBU
Black Shirt Brewing
Pistachio Lavender Pale Ale – A unique, nutty, & floral rye pale ale made with pistachios & lavender
Boneyard Brewing
Incredible Pulp – Secondary fermentation on blood orange with a citrus hop profile and Pilsner malt. 35 IBU
Bootstrap Brewing
Wreck Havoc – A wonderful, hoppy red rye ale – massively hopped and bursting with flavor. 88 IBU
Stick's Pale Ale – Session beer! Steve (AKA Stick) wanted to craft a beer that he can drink all day long on horseback or rafting or just sitting in the sun on a great summer day and this is it. It's complimentary to our Insane Rush IPA with a lower ABV so you can enjoy more. – 36 IBU
Bosque Brewing
Acequia Wet Hop IPA – There's a small window of time every year where fresh, whole-cone hops are available and elated brewers produce some of the finest one-off libations. Fresh Chinook and Cascade hops inundate your palate and nose with spicy, earthy and citrus notes – 100 IBU
Boulevard Brewing
The Calling – The Calling is our most heavily hopped beer ever, bursting forth with unmistakable tropical fruit and pine hop aromas and flavor supported with a slightly sweet malt character, tapering to a crisp, dry finish. Heed your call and enjoy. 75 IBU
Breakside Brewery
Fresh Hop Cascade Wanderlust – This is our Wanderlust IPA brewed with farm-direct Cascade hops from Crosby Farms in Woodburn; we use our groundbreaking "liquid nitrogen hop shattering" technique to extract the maximum amount of hop character in this beer. 62 IBU
Cannonball Creek
Trump Hands – A blend of German and American hops lend notes of white grape and citrus fruit. This IPA is light bodied and finishes dry with a moderate hop bitterness.
Cellarmaker Brewing
Double Dobis 100% Citra IPA – Hopped with 100% Citra Hops. 85 IBU
Cigar City
Jai Alai – American IPA with six hop varietals. Dry-hopped with Simcoe. 65 IBU
Comrade Brewing
Fresh Hop Superpower IPA – 2014 & 2015 Great American Beer Festival Silver Medal Winner.
Dogfish Head
Liquid Truth Serum  IPA – IPA hopped entirely post-boil
Ex Novo
Fresh Hop Eliot IPA – Fresh hop version of Eliot IPA. Made with Amarillo wet hops. 65 IBU
Fat Head's Brewery 
Hop Juju – A powerhouse of hops creating aromas and flavors of citrus, pine and tropical fruit with a juicy resiny hop finish. 100 IBU
Wet Hopped IBU-sive – A super fresh IPA featuring Citra and loaded with copious amounts of fresh Centennial hops. 80 IBU
Fiction Beer Company
Logic is Relative – Over 4lbs of hops per bbl. This beer produces an aroma reminiscent of fresh orange juice, ripe melon and guava. The malt bill was designed to allow the senses to focus on hop flavor and aroma. A juice bomb in all the right places! 75 IBU
Firestone Walker
Generation One – Generation One, an unfiltered West Coast Style IPA, a Venice IPA of sorts. This is first experimental beer brewed on our 10hl Kaspar-Schulz brewhouse. An unfiltered IPA that bridges the gap between the juice-like hazy NE style IPAs and dry bitter West Coast IPAs. – 63 IBU
Founders Brewing
All Day IPA – Naturally brewed with a complex array of malts, grains and hops. Balanced for optimal aromatics and a clean finish. 42 IBU
Fremont Brewing
Lush – We bring this tropical treat to you as a gift from the Pacific Northwest. Lush is brewed with a hand-selected blend of malts and lush, tropical hops reminiscent of lime, mango, and guava…Because Beer Matters! 80 IBU
Georgetown Brewing
Bodhizafa IPA – Over five pounds of hops per barrel go into each brew, giving the flavor and aroma heavy doses of mandarin and citrus. Rolled oats provide a light, silky texture that goes down easy. Gold medal winner in the American Style IPA category at GABF 2016!
Gigantic Brewing
Pipewrench – Gin Barrel-Aged IPA – Our Gigantic IPA aged in Ransom Old Tom Gin Barrels for 3 months. Botanicals from the gin meld perfectly with citrusy hops and subtle wood in an incredibly complex beer. 65 IBU
Great Divide Brewing
Hazy IPA – This take on a Hazy IPA is a juicy mix of citrus aroma and nuanced fruit characters.
Great Notion Brewing
Juice Box – All Mosaic hazy IPA, the big brother to Juice Jr.
RIPE – All Citra hazy IPA
Half Acre Beer
Daisy Cutter – Our flagship pale, lush and dank.
Knee Deep Brewing
Breaking Bud – Old school meets new school in this fresh approach to the classic IPA. At 50 IBU's and 6.5% ABV, Breaking Bud features the restrained bitterness and alcohol of a classic IPA with newer tropical fruit hop flavors and aromas of Mosaic. – 50 IBU
La Cumbre Brewing
Project Dank – American IPA
Lord Hobo 
Boomsauce – Our flagship IPA features six hop varietals and a blend of spelt, oat and wheat. A late hop addition of Mosaic, Falconer's Flight and Amarillo delivers a notable citrus and tropical fruit finish. 78 IBU
MadTree Brewing
Blood Orange PsycHOPathy – PsycHOPathy IPA with real blood orange juice added. – 72 IBU
Modern Times Beer
Attack Frequency – Attack Frequency is a mouthwatering tropical juice-bomb of an IPA brewed with Citra, Amarillo, El Dorado and Rakau hops and taken to nigh-on-irresponsible levels of juiciness with the addition of guava and apricot. – 90 IBU
Mountain Sun Brewery
Fresh Hopped Hop Vivant Imperial IPA – Our American-Style Imperial I.P.A. is dry-hopped four times to provide explosive aromas of pineapple, citrus and pine. This batch was brewed with 100# of Fresh Organic Hops from High Wire Farms in Paonia, CO, which were used immediately after harvesting. – 100 IBU
New Image Brewing
One More Time – Double Dry Hopped NE IPA – One More Time is the remake of our famed anniversary IPA brewed with 8 LBS/BBL of Mosaic, Citra and Columbus hops. 65 IBU
New Terrain Brewing 
Golden Haze – New England style IPA.
Odd13 Brewing
Hopperella – Hopperella is an IPA first brewed to celebrate our third anniversary. It features hops that impart orange-like flavors and aromas: Galaxy, Citra, El Dorado and Centennial.
Odell Brewing
Rupture – Rupture is a Fresh Grind Ale, where we take whole flower hops, rupture the lupulin glands with a hammermill on-site, then immediately use those hops in the brew. – 37 IBU
Pinthouse Pizza
Electric Jellyfish – Juicy citrus, tropical fruit, and a refreshing balanced bitterness.
Port City Brewing
Monumental IPA – Pouring a rich, clear copper with a tight white head, Monumental IPA exhibits floral aromas and flavors of citrus and pine resin, balanced by toasty, caramel malt character. – 57 IBU
Ratio Beerworks
Rented World Session IPA – For Rented World, we employed our highest volume of late aroma hops to date, with massive amounts of Citra and El Dorado. Measuring in at an approachable 4.8% and 41 IBUs, this easy-drinking session IPA is big on bright citrus and pine flavors. –  41 IBU
Reuben's Brews
Amarillo Fresh Hop – Intense notes of Fresh Cut Grass, Orange Herbal notes from the wet hops, background notes of Lemon Zest. – 50 IBU
Russian River Brewing
Pliny the Elder – Brewed with Amarillo, Centennial, CTZ, and Simcoe hops. It is well-balanced with malt, hops, and alcohol, slightly bitter with a fresh hop aroma of floral, citrus, and pine. Best enjoyed FRESH! – 80 IBU
Scofflaw Brewing
Upper Westside – A big, but approachable West Coast IPA with an aroma of resinous, Pacific Coast hops up front, an inviting caramel malt backbone, and a boozy bite to boot. Up front malt with a lingering pine and rolling citrus hop punch that measures on Richter scale. – 85 IBU
SKA Brewing
Modus Mandarina – A unique twist on our Modus Hoperadi IPA, This citrus IPA is dry-hopped with generous portions of Mandarina Bavaria hops and brewed with sweet orange peel. – 88 IBU
Societe Brewing
The Pupil – The Pupil is a smooth, medium-bodied, pleasantly dry IPA with forward aromas and flavor evocative of tropical fruit. Notes of guava and mango are most commonly detected.
The Wrecking Bar Brewpub
Juice Willis – Dry Hop With a Vengeance – A modern IPA brewed with Pilsner and Flaked Wheat. Heavily hopped with Ekuanot and Eureka hops for notes of papaya, mango, pine needles, and resin. Incredibly easy drinking. – 60 IBU
Three Floyds
LazerSnake – A good old-fashioned Indiana Pale Ale brewed with special Bavarian hops. – 55 IBU
Zombie Dust – This intensely hopped and gushing undead Pale Ale will be one's only respite after the zombie apocalypse. – 50 IBU
Toppling Goliath
King Sue – With a ferocious bite that will make sure all learn to toe the line, this Citra hopped double IPA will make followers cheer and enemies crumble. – 100 IBU
Troegs Brewing
Hop Knife Harvest Ale – Hop Knife Harvest Ale recognizes the time-honored tradition of hand-harvesting at the peak of maturity. At the end of fermentation, the beer flows through our HopCyclone releasing a bounty of preserved citrus rind, crushed jungle and tropical aromas. – 87 IBU
Uberbrew
Humulus Insani – Insane Hops Gold Medal 2016 GABF; Seven additions of Chinook, Citra and Simcoe.  100 IBU
WeldWerks Brewing
DDH Juicy Bits – New England-style IPA brewed with 7 lbs of Citra, Mosaic and El Dorado hops per barrel.
---