No Comments
2017 GABF Pour List Preview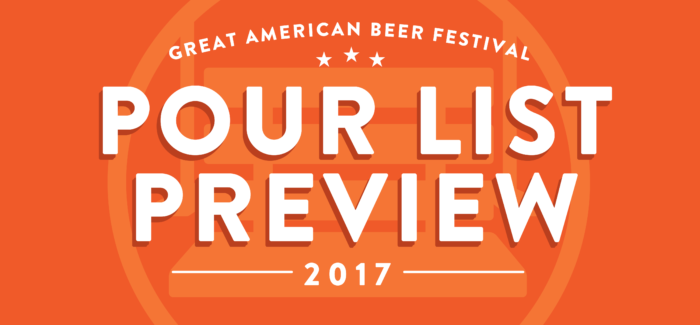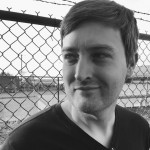 As the 2017 Great American Beer Festival approaches, I bet you're wondering what kind of delights you can expect to sample on the festival. A hazy IPA from that Vermont brewery that doesn't distribute in your state? A rare whale stout aged in the most fantastic of barrels? A wild, enamel-stripping sour ale full of hand-picked snozberries? PorchDrinking has you covered!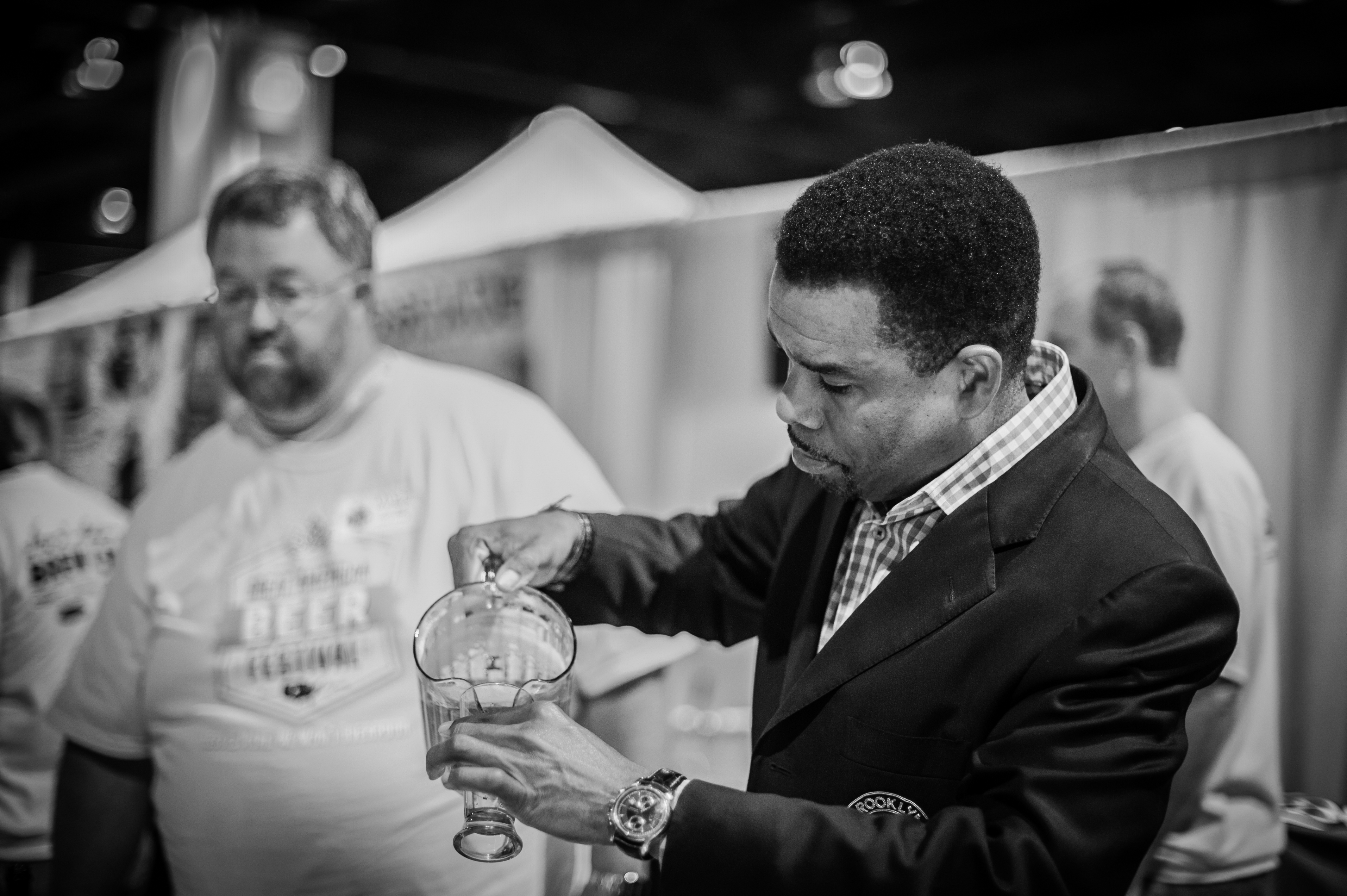 As in prior years, we reached out the nearly 800 breweries attending and asked them to share their beer lists with us. Thanks to their generous contributions, we offer our pourlist preview as a tool to help you build a plan of attack for your evening at the fest. Submissions are still rolling in as I type this, so if your favorite brewery isn't listed, check back soon. We'll be updating the list hourly until the fest.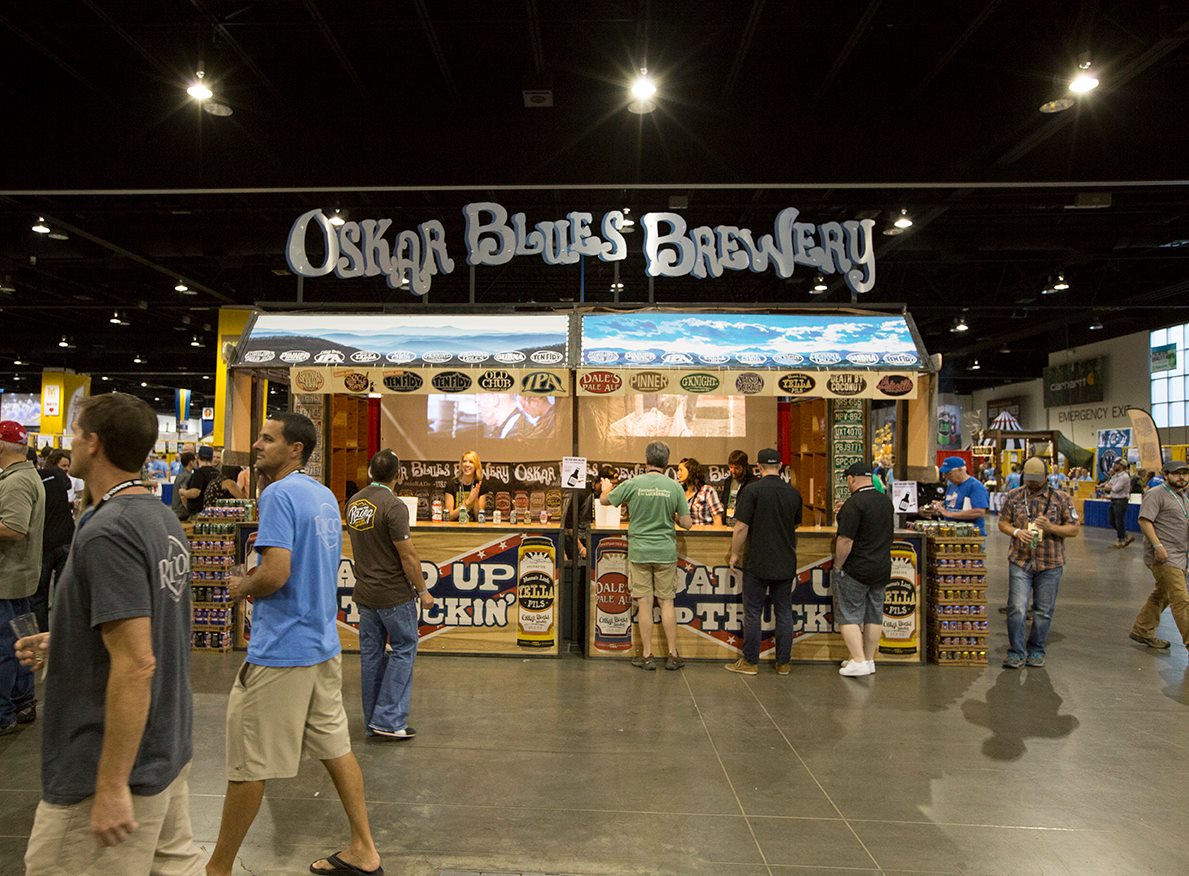 If you represent a brewery pouring at the fest and didn't receive an invitation to participate in our pour list project, please contact us so we can correct the oversight.
Please note:
These beers do not reflect the beers being judged as part of the GABF Competition portion. In some cases there may be a crossover, however our list focuses solely on what is being poured on the festival floor.
2017 GABF Pourlist
Brewery
Beer
Style
Description
ABV
IBU
(512) Brewing Co
(512) Export Lager
Dortmunder/European-Style Export
Dortmunder Export, this pale lager is a slightly bigger, perhaps more balanced version of the classic Pilsner. The beer is a pale gold color with a moderate bitterness from noble hops, a well attenuated body, and clean, crisp finish
5.2
30
(512) Brewing Co
(512) IPA
American-Style India Pale Ale
A big, aggressively dry-hopped American IPA with smooth bitterness (~65 IBU) balanced by medium maltiness. Organic 2-row malted barley, loads of hops, and great Austin water create an ale with apricot and vanilla aromatics that lure you in for more.
7.2
65
(512) Brewing Co
(512) Pecan Porter
Robust Porter
Nearly black in color, this robust porter is made with Organic US 2-row and lots of Crystal malt, Baird's Chocolate and Black malts. Its full body and malty sweetness are balanced with subtle pecan aroma and flavor from locally grown pecans.
6.8
30
(512) Brewing Co
(512) Whiskey Barrel Aged Double Pecan Porter
Wood- and Barrel-Aged Dark Beer
An Imperial porter accented by organic Texas pecans and subtly enhanced by aging in whiskey barrels. Notes of chocolate, coffee and pecan marry with the subtle flavors of vanilla and bourbon to to make this a wonderful warmer worth sharing and savoring
9.5
30
12Degree Brewing
Bike Ride
Specialty Saison
Saison brewed with Citra and Nelson hops. Light and refreshing with wine-like hop character.
6.6
20
12Degree Brewing
Grapefruit Express
American-Style Pale Ale
Pale ale brewed with El Dorado and grapefruit. Refreshing and citrusy.
5.8
20
12Degree Brewing
Inconceivable
American-Style India Pale Ale
Dry-hopped American IPA brewed with Citra, Mandarina, and Galaxy hops. Juicy, citrusy, tropical hop character.
6.7
38
12Degree Brewing
Morning Fog
Belgian-Style Quadrupel
Dark Quadrupel Ale blended with cold-brewed Chameleon coffee. Super smooth with coffee, chocolate, and molasses notes.
9.6
24
12Degree Brewing
Pommy Beret
American-Style Sour Ale
Kettle-soured Blond ale aged on pomegranate. Tart and refreshing!
6.5
12
12Degree Brewing
Soleil Saison
Specialty Saison
Dry, refreshing classic saison with tropical fruit notes and a bit of Brett funk.
7
23
12Degree Brewing
Treachery
Other Belgian-Style Strong Specialty Ale
Pale in color yet devilishly strong, this golden strong ale is crisp and fruity with a light mouthfeel and a clean finish.
8
25
12Degree Brewing
Walter's White
Belgian-Style Witbier
Light, refreshing, and hazy. Brewed with wheat, coriander, and orange peel.
5.7
18
13 Stripes Brewery
Barrel Aged Bloody Tyrant Red Rye
Belgian-Style Dubbel
Barrel Aged version of our Bloody Tyrant Red Rye.
8.9
22
13 Stripes Brewery
Bloody Tyrant Red Rye
Belgian-Style Dubbel
Brewed as a Dubbel but with a 40% Rye malt bill.
8
22
13 Stripes Brewery
ESB
English-Style Extra Special Bitter
Malty with floral hop notes and slight bitterness.
6.2
45
13 Stripes Brewery
Liberty Tree Brown Ale
English-Style Brown Ale
Slightly nutty, with some fruit and cocoa on the finish.
5.4
20
13 Stripes Brewery
Sgt Molly American Wheat
American Wheat Beer
Light, citrusy wheat ale.
5.4
25
13 Stripes Brewery
Southern Saint Belgian Tripel
Belgian-Style Tripel
Brewed with orange peel and earl grey. (Collaboration with The Southern Growl)
8.8
22
14er Brewing Company
Double Mt Massive IPA
American-Style India Pale Ale
Double Mt Massive is an extra juicy double IPA bursting with more tropical fruit, mango, citrus, grapefruit and peach flavors. Incredibly dry for a double IPA with little malt backbone setting the stage for the hops.
8.3
73
14er Brewing Company
Key Lime Pie Cream Ale
Experimental Beer
14er Key Lime Pie Cream Ale is brewed with fresh zested key limes and juice. Cream ale with lactose, cinnamon and vanilla. Tasty summer pie beer.
5.1
15
14er Brewing Company
Maroon Bells Tropical Ale
American-Style Fruit Beer
The Maroon Bells Guava Ale is a crisp fruity tropical beer brewed with guava puree and hibiscus. As Uniquely Crushable as they come.
5.2
15
14er Brewing Company
Mt Massive IPA
American-Style India Pale Ale
The Mt Massive IPA is hop forward, tropical fruit, grapefruit, and juicy hops on the nose. The taste is hoppy with bright drinkable citrus, grapefruit, and tropical fruit, rounded by a solid but not overwhelming bitterness.
6.5
65
14er Brewing Company
Rocky Mtn Saison
Chili Beer
2016 GABF Gold Medal winner, this chili beer bursts with peppers, citrus, spice, and yeast on the nose. The taste is subtle heat moving to a dry complex saison finish.
5.25
35
21st Amendment Brewery
Blah Blah Blah IPA
Imperial India Pale Ale
This double IPA is jam-packed with nine different hop varietals and features late-kettle boil additions that give this beer a juicy, hop chewy flavor. IPAs are here to stay and Blah Blah Blah in many ways is a tribute to their prevalence and popularity.
8
65
21st Amendment Brewery
Blood Orange Brew Free! Or Die IPA
American-Style India Pale Ale
Brewed by the guys who first introduced you to delicious well-balanced fruit beer, this is our classic Brew Free! Or Die IPA generously dry hopped and fermented with 100% real Blood Oranges.
7
70
21st Amendment Brewery
Down to Earth
Session India Pale Ale
This session IPA is more relaxed than an IPA, but with all the hop and aroma flavor. Down To Earth is our tribute to unsung heroes and unplanned adventures.
4.2
44
21st Amendment Brewery
El Sully
American-Style Lager
Sometimes you need an antidote to the big beers, so we made a Mexican-style lager brewed with Pilsner and Vienna malts, flaked maize, and Mexican lager yeast to create a crisp, bright, and refreshing flavor.
4.8
19
21st Amendment Brewery
Hell or High Watermelon
Fruit Wheat Beer
Description: A straw-colored wheat beer brewed with real watermelon for a refreshing hint o watermelon aroma and flavor. It's summer in a glass.
4.9
17
23rd Street Brewery
More Cowbell Milk Stout
American-Style Stout
Brewed with the addition of Lactose which makes for a sweeter finished beer and a richer mouth feel. This beer has notes of roast, chocolate and slight caramel. The Beer is malt forward with little to no hop character.
6
35
23rd Street Brewery
Rock Chalk Raspberry Wheat
American-Style Pale Ale
Our light, refreshing wheat ale, brewed with raspberry for a clean fruity finish.
5.2
13
23rd Street Brewery
Tiny Pieces Mosaic IPA
American-Style India Pale Ale
Hop forward, a bit fruity.
6.1
50
2nd Story Brewing Company
2SPils
German-Style Pilsener
Our Kellerbier, unfiltered German Pilsner. It's our 2nd best seller and honestly, sexiest can design yet!
5
0
2SP Brewing Company
Bean N' Gone
Coffee Stout or Porter
And past but not least, our dark horse, pun intended. Bean & Gone. It's a coffee steeped version of our S.I.P. IMPERIAL PORTER.
7.5
0
2SP Brewing Company
Imperial Shade
American-Style Black Ale
All Mosaic Black IPA. We at the brewery voted it best non core beer of the year in 2016
8.5
0
2SP Brewing Company
The Russian
American-Style Imperial Stout
Same recipe and style as the 2016 Gold Medal winner.
9
0
3 Freaks Brewing Co
Adams Turkey Stuffing
English-Style Brown Ale
Yes, it tastes exactly like turkey stuffing. Try it for yourself!
5.6
20
3 Freaks Brewing Co
Better Odds Stout
Coffee Stout or Porter
This beer has a voluptuous, oatmeal body finishing with rich, chocolate and coffee flavor.
6.6
20
3 Freaks Brewing Co
Brad Pitless Watermelon Blonde
Belgian-Style Fruit Beer
Meant for camping, rafting, paddle boarding, fishing, climbing, or whatever way you prefer to enjoy our Colorado sunshine.
5
18
3 Freaks Brewing Co
Yoga Pants IPA
English-Style India Pale Ale
A malt forward IPA brewed with 100% Simcoe hops that gives it a juicy, citrus aroma.
6.3
100
300 Suns Brewing Company
Blue Corn Maiden Cream Ale
American-Style Cream Ale
Cream Ale
5
20
300 Suns Brewing Company
Fortunate Squirre Nut Brown Ale
American-Style Brown Ale
Brown Ale
5.8
38
300 Suns Brewing Company
Salt Toffee Imperial Brown Ale
American-Style Brown Ale
Imperial Brown
9
32
300 Suns Brewing Company
Wash Away The Rain Double Black Ale
American-Style Black Ale
American Black Ale
7.3
62
350 Brewing Co
Cal Sag Cyclops
American-Style Imperial Porter
Toasted Marshmallow Wheat Porter
0
0
350 Brewing Co
Flaming Golden Hawk
English-Style Summer Ale
English Summer Ale
0
0
350 Brewing Co
Future Shock
Scottish-Style Light Ale
Scottish Ale
0
0
350 Brewing Co
I Hate Mondays
American-Style Imperial Porter
Espresso Imperial Porter w/ Dark Matter
0
0
350 Brewing Co
Passion Fruit Farmhouse Party
Other Belgian-Style Sour Ale
Kettle Sour
0
0
350 Brewing Co
Stop 2
German-style Kölsch
Honey & Lemon Kolsch
0
0
4 Noses Brewing Company
Bout Damn Time IPA
American-Style India Pale Ale
Loaded with Pacific Northwest hops from the kettle to the fermenter, this IPA packs a massive aroma of bright tropical fruit and refreshing citrus notes. The simplicity of the malt bill allows for a plethora of hop flavors to come through on the pallet.
7.1
68
4 Noses Brewing Company
Experimental Double IPA
Imperial India Pale Ale
With massive hopping, flavor and aroma these Imperial IPAs should be a real treat for those who love hops.
8.6
84
4 Noses Brewing Company
PERFECT DRIFT GERMAN STYLE PILSNER
German-Style Pilsener
A smooth and easy drinking twist on a German Style Pilsner. The German malts and lager yeast lend a bready, crisp and mildly sweet flavor of a traditional Pilsner.
4.5
25
4 Noses Brewing Company
Tart Mango Wheat
Fruit Wheat Beer
Crisp and tart wheat ale made with mangos and subtle spices
4.7
19
Abita Brewing Co
Andygator
German-Style Heller Bock/Maibock
A unique, high-gravity brew made with pilsner malt, German lager yeast and German Perle hops. Fermented to a dry finish with a slightly sweet flavor and subtle fruit aroma. It's dubbed a Helles Doppelbock.
8
25
Abita Brewing Co
Bourbon Street Series Old Fashioned Pale Ale
Wood- and Barrel-Aged Pale to Amber Beer
Brewed with malted barley and rye, and then aged in small batch bourbon barrels for eight weeks. After aging we add all the elements of an Old Fashioned - fresh orange peel, maraschino cherries and aromatic bitters to the brew.
9.25
22
Abita Brewing Co
Purple Haze
American-Style Lager
A lager brewed with real raspberries added after filtration. It is brewed with pilsner and wheat malts and Vanguard hops. The berries add a fruity aroma, tartly sweet taste and a subtle purple color and haze.
4.2
13
Abita Brewing Co
The Boot (Louisiana Exclusive)
Specialty Beer
A crisp, refreshing brew made proudly and sold only within our home state. Brewed with white wheat, oats, and barley, hopped with Hallertau Blanc and fermented with German Kolsch yeast.
4.8
14
AC Golden Brewing Company
Colorado Golden Lager
Dortmunder/European-Style Export
Native Golden Lager is an easy drinking, malt forward lager. Colorado grown Chinook and Nugget hops lead to a clean, crisp finish.
5.5
23
AC Golden Brewing Company
Colorado Native Kriek Noir
Wood- and Barrel-Aged Sour Beer
4 years in the making, CO Native Kriek Noir combines Palisade grown Montmorency and Bing cherries and ages the juice in wine and whiskey barrels with our house bugs for 2 years. Bottle conditioned another 2 years for a unique all Colorado Kriek.
6.2
5
AC Golden Brewing Company
Colorado Native Peche
Wood- and Barrel-Aged Sour Beer
Palisade Peaches in AC Golden's inimitable sour barrels. Enjoy the all Colorado nectar.
5.5
5
AC Golden Brewing Company
Colorado Native Pilsner
American-Style Pilsener
Made with all Colorado ingredients, it took AC Golden 5 years to grow enough Mt. Hood, Crystal and Centennial hops to brew this Pils. We developed and malt our own Munich malt to balance the hop goodness.
5
38
Adelbert's Brewery LLC
Buzzbait Blonde
Golden or Blonde Ale
This crisp, refreshing blonde ale is the perfect beer for summer sipping. Hints of honey and peach blend with Sladek hops to bring forth a bright and balanced beer. A portion of this beer's sales goes to protect coastal resources..
5.5
15
Adelbert's Brewery LLC
Flyin' Monks
Belgian-Style Quadrupel
Conditioned on oak cubes used by Spirit of Texas Distilleries to age their Pecan Street Rum, this ale has complex sweet oak, rum flavors with a warm alcoholic finish.
10.9
28
Adelbert's Brewery LLC
Forgotten Ale
Belgian-Style Flanders Oud Bruin or Oud Red Ale
Our newest special release is one that's been in the making for a long time... over 1500 days to be exact (4.5 years). This blend is dark, tart, fruity and just a bit funky.
8
20
Adelbert's Brewery LLC
Hibiscus Saison
Specialty Saison
his saison's vibrant pink color inspired us to give a percentage of the proceeds to the Breast Cancer Resource Center. Brewed with hibiscus flowers and dry hopped with Citra, this ale blends a hint of tartness with tropical fruit and citrus notes.
5.6
33
Adroit Theory Brewing Company
All I See is Carrion - Double Barrel Aged Belgian Quad
Other Belgian-Style Strong Specialty Ale
A Belgian Quad brewed with Tart Cherries. Aged in A. Smith Bowman Bourbon Barrels and then finished in Catoctin Creek Maple Whiskey Barrels
12.2
29
Adroit Theory Brewing Company
EBK - NE Style DIPA
Imperial India Pale Ale
A DIPA brewed with English Ale Yeast and a high amount of wheat for a hazy appearance. Double Dry-Hopped with Galaxy, Comet & Mosaic Hops. Low perceived bitterness with a juicy bouquet.
8.3
50
Adroit Theory Brewing Company
Illusion of Safety - Passion Fruit & Pink Guava Gose
Contemporary Gose
A classic Gose with slight salinity and tartness, and with the addition of Passion Fruit and Pink Guava for a refreshing finish.
4.5
6
Adroit Theory Brewing Company
Invisible Art - Rum Barrel Aged Black IPA
American-Style Black Ale
A full bodied Black IPA brewed with Sesame Seeds, and Aged in Meyers Dark Rum Barrels for a boozy affect.
10.1
100
Adroit Theory Brewing Company
Somnambulist - Rye & Honey Saison
Classic Saison
A classic saison brewed to style with the addition of Rye and Honey.
4.8
15
Adroit Theory Brewing Company
Therapy Sessions - Russian Imperial Stout
American-Style Imperial Stout
A huge stout with the addition of Coffee, Chocolate and Macadamia Nuts to create a sweet, but balance, full bodied beer.
15.5
70
Aftershock Brewing Co
Aftershock Saison
Specialty Saison
Rustic Saison brewed w/ oats & spelt. Barrel fermented, then aged for 5 months in a Petite Syrah barrel.
7
19
Aftershock Brewing Co
Double Barrel Arizona Bay
Wood- and Barrel-Aged Strong Beer
American Barley Wine 50% aged in Heaven Hill Bourbon Barrels and 50% in Breckenridge Rum Barrels for 10 months.
11.5
64
Aftershock Brewing Co
Oatmeal Raisin Cookie Ale
Herb and Spice Beer
Some people claim we've found a way to liquefy cookies. Bronze Medal, GABF 2015 / Silver Medal, San Diego International Beer Competition 2017
5.5
18
Aftershock Brewing Co
Peanut Alert
American-Style Amber/Red Ale
Breaking the "shell" of traditional American brewing, this nutty ale creates a new classic with its smooth and natural peanut-rich flavors. There's no "ifs", "ands" or "NUTS" about it - this is an ale you'll want to
6
25
Alaskan Brewing Co.
Amber Ale
German-Style Altbier
Alaskan Amber is based on a recipe from a turn-of-the-century brewery in the Juneau area. Our flagship beer, it is richly malty and long on the palate, with just enough hop backing to make it notably well-balanced. Pairs well with king or silver salmon.
5.3
18
Alaskan Brewing Co.
Big Mountain Pale Ale
American-Style Pale Ale
Alaskan Big Mountain Pale Ale is a nod to Alaska's many peaks, and to those who trek into the wild, seeking out the steepest chutes and raddest lines. With crisp flavor, strong herbal notes, and hints of stone fruit, this beer is an adventure of its own.
5.7
45
Alaskan Brewing Co.
Heritage Coffee Brown Ale
Coffee Beer
Alaskan Heritage Coffee Brown Ale has a big cocoa aroma with light earthy roasted and gourmet coffee notes. Light bodied and velvety, this beer includes malt roasted in Heritage Coffee's roaster, infusing it with the rich taste of premium Paixao coffee
7
19
Alaskan Brewing Co.
Hopothermia Double IPA
Imperial India Pale Ale
Hopothermia is a full-flavored representation of the Double IPA style with a robust malt body resting in easy harmony, like a massive grizzly bear in winter, with the big and drinkable American hop character.
8.5
70
Alaskan Brewing Co.
Husky IPA
American-Style India Pale Ale
Joining the pack as Alaskan Brewing's newest year-round beer, Husky IPA is a tail-wagging celebration of Mosaic hops, with tropical and stone fruit flavors and aromas of tangerine and papaya.
7
50
Alaskan Brewing Co.
Smoked Porter
Smoke Porter
Alaskan Smoked Porter has a dark, robust body and pronounced smoky flavor. Prior to brewing, selected malts are smoked with local alder. Introduced in 1988, our Smoked Porter is credited with helping inspire the revival of smoked beers in America.
6.5
45
Alaskan Brewing Co.
Spruce IPA
American-Style India Pale Ale
Alaskan Spruce IPA is brewed with locally picked Sitka spruce tips, which lend a berry-like, bubblegum character to the pungent character of the Chinook, Citra, and Denali hops. This beer has a touch of lingering spruce and sweetness in the aftertaste.
7
55
Alaskan Brewing Co.
White Ale
Belgian-Style Witbier
Alaskan White Ale has a soft, slightly sweet base with the unique spice aroma of coriander and crisp, citrus finish of orange peel. A light and effervescent body combined with the smooth palate creates a complex and delicate beer.
5.3
15
AleSmith Brewing Co
AleSmith IPA
American-Style India Pale Ale
Aromas of grapefruit and tangerine lead into an abundance of fresh pine and tropical fruit notes followed by a crisp, resinous bitterness. The complex hop profile is supported by a firm malt presence to create an incredibly flavorful and well-balanced IPA.
7.25
73
AleSmith Brewing Co
Horny Devil
Belgian-Style Pale Strong Ale
Belgian-style Golden Ale brewed w/ authentic Belgian ingredients, candi sugar & a Trappist yeast strain, fruity & spicy aromas include orange, banana & peppercorns. Coriander seeds add refreshing citrus notes which meld seamlessly the beer's delicate malt.
10
15
AleSmith Brewing Co
Nibs & Beans Speedway Stout
American-Style Imperial Stout
Originally created for the popular 3 Day Speedway Grand Prix event in our Tasting Room, features vanilla beans from Madagascar and Papua New Guinea, cocoa nibs from Brazil and Madagascar, and locally roasted Colombian coffee from Swell Coffee Co.
12
70
AleSmith Brewing Co
Old Numbskull
American-Style Barley Wine Ale
A deep copper-colored American Barleywine-style ale, alongside toasted malt and a hint of ripe dark fruits. Old Numbskull showcases malt sweetness, intense American hops, and an aggressive bitterness.
11
54
AleSmith Brewing Co
Spezial Pils
German-Style Pilsener
Our take on a German-style pilsner with a pleasant balance between light, grainy malt and spicy, floral hops. We lager it at freezing temperatures for an extended period to round out its delicate flavors and improve drinkability.
4.9
25
Allagash Brewing Co
Allagash White
Belgian-Style Witbier
Our interpretation of a Belgian-style wheat beer is brewed with oats, malted wheat, and unmalted raw wheat for a hazy, "white" appearance. Spiced with our own special blend of coriander and Curaçao orange peel, White upholds the Belgian tradition of beers
5.1
0
Allagash Brewing Co
Avance
Wood- and Barrel-Aged Sour Beer
Avancé is a strong, sour ale with aromas of strawberry preserves and toasted oak. Berries and more oak continue in the flavor, which concludes with a warm, sweet finish.
9.7
0
Allagash Brewing Co
Curieux
Wood- and Barrel-Aged Strong Beer
To make Curieux, we take our Tripel and let it age in bourbon barrels for seven weeks. Once that time is up, we take the beer out of our cold cellars and blend it back with a portion of fresh Tripel
11
0
Allagash Brewing Co
Tripel
Belgian-Style Tripel
Brewed with our 2-row barley blend, hopped with Nugget and Hallertau, then fermented on our house yeast, Tripel lingers on the palate for a complex, dry finish.
9
0
Alltech's Lexington Brewing
Kentucky Bourbon Barrel Ale
Wood- and Barrel-Aged Strong Beer
Kentucky Ale, an English pale/ Irish Red hybrid, is aged in freshly decanted bourbon barrels for six weeks to make Kentucky Bourbon Barrel Ale
8.2
19
Alltech's Lexington Brewing
Kentucky Bourbon Barrel Blackberry Porter
Robust Porter
Porter brewed with blackberries and aged in freshly decanted Kentucky bourbon barrels for six weeks.
8.3
16
Alltech's Lexington Brewing
Kentucky Bourbon Barrel Stout
Coffee Stout or Porter
Kentucky Bourbon Barrel Stout is brewed and aged with Alltech® Café Citadelle Haitian coffee and aged in world-famous Kentucky bourbon barrels. Complex stout with dark-roasted malts, hints of caramel and vanilla and a lightly roasted coffee
8
25
Alltech's Lexington Brewing
Kentucky Kolsch
German-style Kölsch
Our specialized yeast, said to be the life force of beer, is the single greatest flavor contributor to this crisp brew with a lively aroma. Our master brewers' recipe calls for imported pale malts and malted white wheat to create an exceptionally smooth fi
4.3
14
Alltech's Lexington Brewing
Kentucky Pumpkin Barrel Ale
Pumpkin/Squash Beer
A barrel-aged ale brewed with Kentucky-sourced pumpkin, richly spiced with cinnamon, nutmeg and allspice
10
20
Alltech's Lexington Brewing
Kentucky Vanilla Barrel Cream Ale
American-Style Cream Ale
We took a cold-conditioned cream ale, brewed with a hint of flaked corn and bourbon vanilla beans, and aged it in freshly decanted bourbon barrels for 2 months
5.5
22
Almanac Beer Company
Apricot de Brettaville
Mixed-Culture Brett Beer
Dry-hopped farmhouse ale aged in oak barrels with apricots
6.5
0
Almanac Beer Company
Cherry Picker
Belgian-Style Fruit Beer
Farmhouse ale aged in oak barrels with cherries
6.8
0
Almanac Beer Company
Farmer's Reserve Blackberry
Wild Beer
Sour blonde ale aged in wine barrels with blackberries
6.9
0
Almanac Beer Company
Passion Project
Mixed-Culture Brett Beer
Dry-hopped farmhouse ale aged in oak barrels with passionfruit, cedar spirals & spices
6.5
0
Almanac Beer Company
Strawberry & Basil
Mixed-Culture Brett Beer
Farmhouse ale aged in oak barrels with strawberries, basil & spices
6.9
0
Alosta Brewing Co
LOL
Belgian-Style Witbier
Belgian Style Witbier zested with more than 400lbs of Lemons,Oranges, and Limes
4.9
0
Alosta Brewing Co
Macho Ancho
Chili Beer
Dark Ale brewed with Piloncillo Sugar, Cinnamon, and Ancho Chilis.
0
0
Alosta Brewing Co
Manky Langer
Irish-Style Red Ale
Irish Style Red - San Diego International Beer Festival Gold Medal Winner
0
0
Alosta Brewing Co
Saison Bleu
Other Belgian- and French-Style Ale
Farmhouse Saison with Blue Sage (Salvia Clevelandii) and Ginger
6.7
0
Alosta Brewing Co
Swindler's Spice
Herb and Spice Beer
Brown Porter with Vanilla and Chai
4.5
0
Alter Brewing Company
Alterior Motive
American-Style India Pale Ale
Our flagship IPA epitomizes the balance of a Midwest IPA. Dry-hopping with Citra and Simcoe creates intense tropical and citrus aromas, while the strong malt bill produces an excellent balance with the hops for a smooth and minimally bitter finish.
6.5
68
Alter Brewing Company
Center Line
Golden or Blonde Ale
Pleasing malt notes of biscuit and honey, coupled with delicate floral and citrus aromas, make this an easy drinking golden ale that is friendly to everyone's palate.
5
35
Alter Brewing Company
Dan's Brown Ale
American-Style Brown Ale
This malty American Brown Ale is deep mahogany in color, with rich aromas and flavors of toffee, caramel and a subtle fruitiness.
6.4
38
Alter Brewing Company
Hopular Kid
American-Style Strong Pale Ale
Light golden in color with light to medium body and bright white foam. Flavor starts with some juicy tropical fruits such as mango and pineapple, along with some lemon-like citrus. Dry-hopped with Amarillo, Centennial, Citra, Mosaic, and Simcoe hops.
6.5
55
Alter Brewing Company
King Balaton
Fruit Wheat Beer
Over 90lbs of cherry juice were added to each barrel of this wheat ale. The result is a refreshing, effervescent, tart cherry beer with just the right splash of cherry sweetness.
5.1
10
Ass Clown Brewing Co
Ass Clown IPA
American-Style India Pale Ale
New England-style IPA.
6.7
0
Ass Clown Brewing Co
Betwixt 2 Berries
American-Style Sour Ale
Sour ale aged on strawberry and kiwi.
0
0
Ass Clown Brewing Co
Orange Citrus IPA
American-Style India Pale Ale
A massive citrus smooth IPA with orange peel added to enhance the orange aromas in the hops.
6.7
68
Ass Clown Brewing Co
Scared of Clowns
American-Style Sour Ale
Sour ale aged on orange blossom honey.
0
0
Ass Clown Brewing Co
Trending IPA
American-Style India Pale Ale
New England-style IPA
6.7
0
Atlas Brew Works
Dance of Days
American-Style Pale Ale
Pale Ale w/ Citra and Mosaic hops
5.7
30
Atlas Brew Works
District Common
California Common Beer
California Common lager w/ czech saaz
5.1
20
Atlas Brew Works
Ponzi
American-Style India Pale Ale
Criminally hoppy IPA made with 5 varietals of hops
7.3
62
Atlas Brew Works
Should I Stay or Should I Gose
Historical Beer
Gose brewed w/ Himilayan salt
4.7
10
Atwater Brewing Co
Atwater's Lager
Munich-Style Helles
Award-winning Atwater beer.
4.9
18
Atwater Brewing Co
Baptism of Carmen Waverly
Belgian-Style Dark Strong Ale
oak aged strong dark belgian ale made from the baptism water of Brad's daughter, a ceremony done by Pastor Fred Harms (father of Dragonmead head brewer Erik) in the mash/boil kettle at Atwater in the Park.
10.4
0
Atwater Brewing Co
Better Life Choices
American-Style India Pale Ale
Burnt orange colored America IPA.
6.5
85
Atwater Brewing Co
Blocktoberfest
German-Style Maerzen
Blocktoberfest is a German-style Maerzen lager known for its bready, nutty flavor.
6.2
30
Atwater Brewing Co
Decadent Dark Chocolate
American-Style Brown Ale
So much decadent dark love in a bottle, you'd think it was straight from the chocolate factory.
5
11
Atwater Brewing Co
Dirty Blonde
American-Style Wheat Wine Ale
From mild to wild this one's the perfect companion for whatever you're up for. Crisp wheat smoothness gives way to a touch of coriander snap and a kiss of sweet orange peel perk that lingers on your lips.
4.5
8
Atwater Brewing Co
GP Brett IPA
American-Style India Pale Ale
Columbus, Cascade, and Citra hops fermented with a Saison/Brett yeast blend.
6.8
60
Atwater Brewing Co
Imperial Voodoo Vator
German-Style Heller Bock/Maibock
We use Munich malts and caramels malts. German noble hops. Tettnang, Hersbrucker, Herkules.
10
44
Atwater Brewing Co
Purple Gang Pilsner
German-Style Pilsener
With a combination of earthy, grassy hops and light malty sweetness, this bad boy of a German Pilsner is out on parole for good flavor behavior.
4.8
32
Atwater Brewing Co
Whango
Fruit Wheat Beer
Tropical paradise in a bottle. Get your mouth ready for the perfect balance of mango sweetness and refreshing wheat flavor.
4.9
14
Atwater Brewing Co
Whango
Fruit Wheat Beer
Tropical paradise in a bottle. Get your mouth ready for the perfect balance of mango sweetness and refreshing wheat flavor.
4.9
14
Austin Beerworks
Bloodwork Orange Blood Orange IPA
American-Style India Pale Ale
Blood oranges and Citra hops orchestrate a Ludwig Van citrus symphony.
7
70
Austin Beerworks
Fire Eagle American IPA
American-Style India Pale Ale
GABF Sliver Medal (American-style Strong Pale Ale, 2014)
6.8
55
Austin Beerworks
Lazer Salad
Imperial India Pale Ale
Pew, Pew, Pew!
9.3
60
Austin Beerworks
Pearl-Snap German-style Pils
German-Style Pilsener
Austin Chronicle's Official Beer of Austin
5.3
45
Austin Beerworks
Super Awesome Lager
German-Style Leichtbier
Super easy to drink, super hard to make - it's Super Awesome.
4.5
8
Avery Brewing Co
Apricot Sour
Wood- and Barrel-Aged Sour Beer
Barrel-aged sour with apricot.
7.3
10
Avery Brewing Co
Double Dry-Hopped Maharaja
Imperial India Pale Ale
With a double dose of hops, The Maharaja flaunts his authority: tangy, vibrant and pungent along with an insane amount of malted barley – fashioning a dark amber hue and exquisite malt essence. Welcome to his kingdom!
10
102
Avery Brewing Co
Ginger Sour
Wood- and Barrel-Aged Sour Beer
Barrel-aged sour with fresh ginger.
7
10
Avery Brewing Co
Old Perseverance
Wood- and Barrel-Aged Strong Beer
Bourbon barrel-aged ale with maple syrup and dark muscovado sugar.
18.5
0
Avery Brewing Co
Promiscuus
Wood- and Barrel-Aged Sour Beer
Madeira and Port barrel-aged sour.
8.7
0
Avery Brewing Co
Rumpkin
Wood- and Barrel-Aged Strong Beer
Rum barrel-aged pumpkin ale with spices
16.9
0
Avery Brewing Co
Tangerine Quad
Belgian-Style Quadrupel
Bourbon barrel-aged Belgian-style Quadruple ale with tangerine.
10.1
25
Avery Brewing Co
Tweak
Wood- and Barrel-Aged Strong Stout
Bourbon barrel-aged coffee stout.
16
0
Avery Brewing Co
White Rascal
Belgian-Style Witbier
An authentic Belgian style white ale, this Rascal is unfiltered and cleverly spiced with coriander and Curaçao orange peel producing a refreshingly zesty classic ale.
5.6
20
Baere Brewing Company
Baere-liner Weisse
Berliner-Style Weisse
Our take on the traditional style brewed with barley and wheat. It is kettle soured with our house lactobacillus culture and then fermented in stainless with a mixed culture of yeast and bacteria.
4
0
Baere Brewing Company
Big Hoppy Brown
American-Style Brown Ale
A big and hoppy American Brown ale. A house favorite full of Cascade and Northern Brewer hops with notes of dark chocolate, coffee and pine.
8.8
0
Baere Brewing Company
Mixed Berry Table Sour
Berliner-Style Weisse
Our Baere-liner Weisse aged on Blackberry and Raspberry purée. Brewed in a strip mall with love.
4.3
0
Baere Brewing Company
Saison
Classic Saison
2016 GABF Bronze medal winner! Our take on the classic saison brewed with barley, wheat and rye. Highly carbonated. Enjoy with friends after a long day in the garden.
4.7
0
Baere Brewing Company
Totes Redux
American-Style India Pale Ale
Inspired by the NE IPAs near and far. Huge amounts of late and dry hopping with Citra, Simcoe and Motueka with a bit more bittering hops than most in this style.
7
0
Ballast Point Brewing Co / Home Brew Mart
Barrel-Aged Red Wine Navigator
Fruited American-Style Sour Ale
Navigator Doppelbock aged 17 months in neutral red wine barrels.
11.6
23
Ballast Point Brewing Co / Home Brew Mart
Commodore at Sea Bourbon Barrel-Aged
Wood- and Barrel-Aged Strong Stout
Sweet bourbon flavor, dark chocolate notes, smooth and boozy.
11.4
0
Ballast Point Brewing Co / Home Brew Mart
Moscow Mule
Experimental Beer
Ginger, lime, refreshing; all the good things you'd expect from the cocktail of the same name. We started with a light, sour base beer and then loaded it up with tons of fresh ginger and lime zest. All that is missing is the copper cup.
8
0
Ballast Point Brewing Co / Home Brew Mart
Russian Imperial Stout
American-Style Stout
Delightful. Slight bitter metallic taste, bthm still a valid stout.
9.8
5
Ballast Point Brewing Company
Brett Grunion
Brett Beer
Our Mosaic hop American Pale Ale fermented with Brettanomyces yeast, adding a Belgian funk to our 2014 GABF winner.
5.5
0
Ballast Point Brewing Company
Fathom IPA
American-Style India Pale Ale
Fathom IPA highlights our favorite characteristics of the west-coast IPA style. This crisp and clean brew features a touch of malt on the surface with an ocean of zesty orange and piney hops below. The result is a refreshing, easy drinking IPA with just th
6
70
Ballast Point Brewing Company
Navigator
German-Style Doppelbock
Ballast Point's Navigator Doppelbock is inspired by the strong German dark lagers and bock's. Briess Extra Special malt helps create the source of the flavors that dominate the aroma and taste buds in Navigator. You are able to enjoy forward flavors of car
8.1
23
Ballast Point Brewing Company
Piper Down
Scottish-Style Export Ale
A Scottish ale with San Diego spirit. Our Piper Down Scottish Ale hits all the right notes for the Ballast Point Bagpipe Corps that inspired it. We created this very low hopped, malty ale for the band to enjoy using UK Maris Otter malt, roasted barley, UK
5.8
22
Ballast Point Brewing Company
Sour Wench
Fruited American-Style Sour Ale
Our Sour Wench Blackberry Ale is a fruity Berliner Weisse-style beer bursting with Oregon blackberry flavor and aroma. The fruit addition adds a beautiful violet hue, and the taste has an approachable soft tartness from kettle souring. This artful gypsy wi
7
10
Ballast Point Brewing Company
Tongue Buckler
Imperial Red Ale
Our Tongue Buckler Imperial Red Ale doesn't pull any punches. This is a big brew with hops and malt in extreme abundance. The I.B.U.'s (International Bitterness Units) alone test the limits of your palate. Yet while the timid should take warning, Tongue Bu
10
108
Bandon Brewing Company
Camp7 Coffee Porter
Coffee Stout or Porter
Coffee porter
6
19
Bandon Brewing Company
Lord Bennett's Bandon
American-Style Amber/Red Ale
Red Ale
5.5
33
Barhop Brewing
Heathen Scotch Ale
Traditional Scotch Ale
Our scotch ale with experimental hop 472 for bourbon flavor. No oak, only hops!
7.4
18
Barhop Brewing
Hop Soup IPA
American-Style India Pale Ale
Our New England juicy IPA double dry hopped with Nugget, Citra, Zythos and Mosaic hops.
6.2
59
Barhop Brewing
ReSession IPA
Session India Pale Ale
Our session IPA brewed with Chinook, Citra, Simcoe and Mosaic hops.
4.8
51
Barnaby Brewing Company
McSteamy
California Common Beer
California common
4.5
43
Barnaby Brewing Company
The Goods from the Woods
Herb and Spice Beer
Spruce tip pale ale brewed with locally harvested spruce tips
4.5
37
Barnett and Son Brewing Company
Falling Skye Scottish Ale
Scottish-Style Export Ale
Rich and malty character. Hints of whiskey, smoke and peat.
7.4
32
Barnett and Son Brewing Company
Nevermore Pumpkin Ale
Pumpkin/Squash Beer
Spiced amber ale, clean and malty with just enough hop bitterness to balance the spices - nutmeg, cinnamon, and ginger - and of course, real pumpkin!
6
31
Barnett and Son Brewing Company
Oktoberfest
American-Style Maerzen/Oktoberfest
Rich and malty lager with a balance of clean hop bitterness. An Oktoberfest favorite ! .
5.6
26
Barnett and Son Brewing Company
Saoirse Irish Red Ale
Irish-Style Red Ale
Red and malty with a touch of Centennial and Fuggle hops.
5.6
26
Barrel of Monks Brewing
Abbey Terno
Belgian-Style Dubbel
Classic Dubbel made with candi syrup - delicious and drinkable!
7.5
24
Barrel of Monks Brewing
Grand Cru
Belgian-Style Dark Strong Ale
This strong Belgian Amber ale does not easily fit into a style - perhaps a Belgian-style Barleywine? Rich and full of flavor.
11
37
Barrel of Monks Brewing
The Wizard
Belgian-Style Witbier
Traditional Wit spiced with bitter Orange Peel and Coriander
5.5
14
Barrel of Monks Brewing
Three Fates
Belgian-Style Tripel
Traditional recipe brewed with a unique Belgian yeast strain for a dry/spicy profile.
9
28
Barrels & Bottles Brewery
Bang Your Head Red IPA
Double Red Ale
Our Red IPA has generous amounts of hops with a malty backbone.
7.4
73
Barrels & Bottles Brewery
Comb - Over Kolsch
German-style Kölsch
Very crisp with a slight bitterness.
5.3
24
Barrels & Bottles Brewery
Obsess Much? Stout
Chocolate Beer
Imperial Peanut Butter and Chocolate Stout
9
35
Barrels & Bottles Brewery
Orange Creamsicle Blonde Ale
Golden or Blonde Ale
Blonde Ale brewed with Orange Juice and Vanilla Beans
6
10
Base Camp Brewing Co
Barrel-aged Nomadic Brett Double IPA
Imperial India Pale Ale
This big, brett-fermented blood orange DIPA was racked into, aged, and blended from a careful selection of wine and spirits barrels. It's super complex and super tasty.
9.5
70
Base Camp Brewing Co
Fresh Hop IPA
Fresh or Wet Hop Ale
Process: brew a perfect IPA with Vienna, Pilsner, and Munich malts. Stuff lager tank full of fresh Centennial hops from our friends' family farm; circulate beer to steep out all that juicy fresh hop goodness.
7
70
Base Camp Brewing Co
OTT Juniper Cherry Wheat
Fruit Wheat Beer
Inspired by the Oregon Timber Trail, 668 miles of uninterrupted mountainbike trail across our home state split into four tiers. Each tier gets showcased in this beer: juniper, hops, wheat and cherries.
4.8
4
Base Camp Brewing Co
Rye Saison
Specialty Saison
A bright, spicy, funky saison with brett. From our award-winning Wildwood series of barrel-fermented & -conditioned farmhouse ales.
7.6
26
Base Camp Brewing Co
S'more Stout
American-Style Stout
Our internationally-acclaimed stout. Deep dark chocolate, biscuity graham, a hint of 'mallow sweetness, and some campfire smoke at the end of the taste.
7.2
66
Bauhaus Brew Labs
Crop Circus Double American IPA
American-Style India Pale Ale
Crop Circus features a huge, juicy hop profile typical of New England-style IPAs but without the pulpy haze. Instead of a bracing hop bitterness, this beer opts to focus on smooth hop flavors and aromas brimming with tropical fruit and fresh citrus that re
8.4
0
Bauhaus Brew Labs
Schwandtoberfest Bavarian-Style Festbier
German-Style Oktoberfest/Wiesn
Schwandtoberfest is Bauhaus' take on a classic German Oktoberfest beer. Schwandtoberfest has a toasty and bready malt profile with a hint of tangerine and spice from the hops. It finishes clean with no lingering hops. This is the perfect beer for ushering
5.7
27
Bauhaus Brew Labs
Stargrazer German Style Schwarzbier
German-Style Schwarzbier
Jet black in color, but without the heavy roast qualities found in most dark beers. Stargrazer has a surprisingly light body and a bright, yet mild, hop profile.
5
28
Bauhaus Brew Labs
Wagon Party West Coast Style Lager
California Common Beer
Our take on a classic steam beer, or California Common. This is a hybrid style, with both lager and ale characteristics. It's got a crisp, clean finish, subtle ale-like fruitiness, and a hop profile similar to classic American pale ales.
5.4
55
Bauhaus Brew Labs
Wonderstuff Neü Bohemian Pilsner
Bohemian-Style Pilsener
A hoppy, modern Czech-style pilsner. We include traditional Czech malt and hops, but we also add a dose of more modern hop cultivars that express hints of tropical fruits and lemongrass.
5.4
18
Bear Republic Brewing Co
A Beer Down Under
Australian-Style Pale Ale
This dry, quaffable pale ale features a fruity, tropical hop punch of flavor from the use of Galaxy and Ella hops
6.4
45
Bear Republic Brewing Co
Double Aught
German-Style Pilsener
Brewed with 100% barley malt and imported Hallertauer hops.
5
25
Bear Republic Brewing Co
Grand-Am
American-Style Pale Ale
Grand-Am is a sessionable, yet assertive ale that balances both classic and new American hop varieties with a distinct malt backbone.
6
45
Bear Republic Brewing Co
Hop Shovel
American-Style India Pale Ale
We added overflowing scoops of Mosaic, Meridian and Denali to this IPA to create huge tropical and citrus notes.
7.5
100
Bear Republic Brewing Co
Old Baba Yaga
Wood- and Barrel-Aged Strong Stout
The black depths of this Russian Imperial Stout hold coee, licorice, and bittersweet chocolate flavors.
13
115
Bear Republic Brewing Co
Pace Car Racer
Session India Pale Ale
Hoppy aromas of pine and citrus, with a smooth malt flavor.
4
55
Bear Republic Brewing Co
Peter Brown Tribute Ale
American-Style Brown Ale
This ale pays homage to the subtle nuances of golden brown sugars, and sweet molasses.
6.3
21
Bear Republic Brewing Co
Racer 5
American-Style India Pale Ale
This hoppy IPA is a full bodied beer brewed with malted barley, wheat, and crystal malts. The malt base is designed to highlight the unique floral qualities of Columbus and Cascade hops from the Pacific Northwest.
7.5
75
Bearded Fox Brewing Co.
Aunt Rose
Munich-Style Helles
Biscuit-y malts balance well with German hops to create our most approachable beer. Enjoyed by the craft beer aficionado, as well as the craft beer newcomer, the distinctive red hue and malty character make this beer a true crowd favorite.
5.5
0
Bearded Fox Brewing Co.
Foxtoberfest
German-Style Maerzen
With a beautiful copper coloring, this Maerzen gives a smooth, rich, deep maltiness, combined with a subtle sweetness thats makes drinking this a trulls amazing experience. A mild hop profile brings a beautiful balance to this beer; something truly to look
0
0
Bearded Fox Brewing Co.
G.O.A.T.
Imperial India Pale Ale
Bright and sweet malts are balanced with a generous portion of Columbus, Golding, and Fuggle hops in this Imperial IPA, with a little honey added just before fermentation. Tones of caramel stand up to the strong, but pleasant hop finish.
8.5
0
Begyle Brewing
2016 Barrel Aged Imperial Pajamas
Wood- and Barrel-Aged Strong Stout
We took our Imperial Pajamas recipe (sans coffee) and let it age for six months in Heaven Hill Bourbon barrels. The result is a rich, chocolatey beer that's gotten good and cozy with coconut, vanilla, and oaky bourbon notes – comfort beer at its finest.
9.8
0
Begyle Brewing
Boat Shoes
German-style Kölsch
With a moderate amount of bitterness and a crisp, dry finish, this light, malt-forward Kölsch-style ale is made for leisure. It might be what a fool believes, but we think that peaceful, easy feeling is more of a mindset than anything a rich girl can buy.
5
0
Begyle Brewing
Can't Find a Bitter Man
English-Style Extra Special Bitter
True to style, this dark amber colored ESB has aromatics of caramel, toffee, and molasses. The aromatics carry over to the flavor, which is slightly sweet, with a clean malt character, and bitter finish.
5
0
Begyle Brewing
Coffee Tough Guy
Coffee Beer
A traditional Brown Ale brewed with locally roasted coffee from Ipsento. Reminiscent of iced coffee, backed by a nutty, caramel malt character.
5.4
0
Begyle Brewing
Pinky Swear
American-Style Pale Ale
This sunshiny pale ale is SMaSH brewed (Single Malt and Single Hop) with just Amarillo hops and Golden Promise malt. Juicy orange notes from the hops and a mellow biscuit flavor from the malt will make you wish everything was this simple. Pinky swear.
5.7
0
Belching Beaver Brewery
Beavers milk
Sweet Stout or Cream Stout
Beaver's Milk Stout is a refreshingly smooth, dark brew with hints of roasted coffee and chocolate. Brewed with rolled oats and lactose, our Milk Stout is perfect for the hard-core beer geek and novice alike.
5.3
30
Belching Beaver Brewery
Here Comes Mango IPA
American-Style India Pale Ale
The Amarillo and Simcoe hops complement the natural mango flavors for a juicy, tropical and well-balanced beer. It's not over the top fruity, still very much an IPA… never mind that… HERE COMES MANGO!
6.6
55
Belching Beaver Brewery
Mexican Chocolate Peanut Butter Stout
Sweet Stout or Cream Stout
With notes of creamy peanut butter, cinnamon and coffee, this decadent milk stout is the perfect dessert beer to finish off your meal. Currently our highest rated beer, receiving numerous Gold and Silver medals. Sink your teeth into this liquid chocolate t
7.5
28
Belching Beaver Brewery
Peanut Butter Milk Stout
Sweet Stout or Cream Stout
America's Favorite Peanut Butter Milk Stout: this silk-smooth beer put us on the map. Don't let the dark color fool you, this beer is delightfully easy to drink with cascading aromas of roasted peanuts, dark chocolate, and coffee.
5.3
25
Belching Beaver Brewery
Phantom Bride IPA
American-Style India Pale Ale
Exploding with flavors of tropical fruit, citrus and pine. This beer has a light body with restrained bitterness and a pronounced dankness on the finish.
7
60
Belching Beaver Brewery
Phantom Bride IPA
American-Style India Pale Ale
Exploding with flavors of tropical fruit, citrus and pine. This beer has a light body with restrained bitterness and a pronounced dankness on the finish.
7
60
Bell's Brewery Inc
Ales for ALS IPA 2017
American-Style India Pale Ale
This American IPA is brewed with malted and flaked oats, which supply a round, silky outhfeel. The ALS hop blend is comprised of several established and experimental hops including Citra and Loral. This proprietary hop blend comes from Loftus Ranches and H
6.5
0
Bell's Brewery Inc
Arabicadabra
Coffee Stout or Porter
A little brewers' magic transforms locally roasted Arabica beans and a variety of specialty malts into a creamy, intense coffee stout. Arabicadabra is a Coffee Milk Stout brewed with a cold coffee extract made at the brewery using a combination of fair
5.5
0
Bell's Brewery Inc
Bell's Octoberfest
German-Style Maerzen
Crafted as a flavorful session beer and perfect for autumn, Octoberfest spends a full six weeks fermenting. With herbal hop aromas, this balanced amber lager focuses on lightly toasted malt that lends body without too much sweetness.
5.5
0
Bell's Brewery Inc
Blackbeard's Bear Hug Imperial Stout
American-Style Imperial Stout
Bear Hug stout aged in Rum barrels with vanilla beans, toasted coconut & Saigon cinnamon
13
0
Bell's Brewery Inc
Kiwi Club Gose
Leipzig-Style Gose
Bell's Kiwi Club Gose is a modern Gose – kettle soured with pediococcus or pedio for short. Brewed with both traditional (coriander & salt) and nontraditional (kiwi) ingredients, it is tart and very drinkable, with fruity notes and a hint of sea salt.
5
0
Bell's Brewery Inc
Raspberry Ale
Fruited American-Style Sour Ale
The vivid red hue and tart finish of Raspberry Ale comes from the use of massive amounts of whole raspberries. Intensely flavorful, Raspberry Ale focuses on the contribution of local agriculture and follows a Bell's tradition of leaning towards using tart
5
0
Bell's Brewery Inc
Roundhouse India Red Ale
Specialty Beer
Substantial amounts of late-kettle hop additions and dry-hopping yields a heady blend of fruity aromas of pineapple, peach and citrus. Those aromas continue into a crisply bitter hop presence across the tongue, but the judicious use of toasted and caramel
7.5
0
Berryessa Brewing Co
Cortez the Killer Imperial IPA
Imperial India Pale Ale
Imperial IPA, this beer is special, maybe one of the best strong hoppy beers you'll find at GABF, unfortunately it wasn't ready for competition but it will be in Alpha King. Same thing with the IBU's probably around 80 but almost 10lbs/bbl were
10.38
0
Berryessa Brewing Co
Double Nap Wet Hopped DIPA
American-Style India Pale Ale
wet hopped DIPA using Wet Simcoe and Wet Mosaic. This beer has a ton of hops but mainly in the dry hop so the IBUs come in around 75.
8.5
0
Berryessa Brewing Co
Freshie Fresh Hopped Pale
American-Style Pale Ale
Wet Simcoe boil, Wet Mosaic Dry Hop, delicious clean Wet Hopped Pale Ale. IBU 50.
5.5
50
Berryessa Brewing Co
Humble Promises English Pale
English-Style Pale Mild Ale
ew English beer this year brewed with Golden Promise malt and Tim Taylor Yeast to remember the late Peter Simpson.
5
0
Berryessa Brewing Co
Whippersnapper English Mild
English-Style Pale Mild Ale
medaled in the category this year at Cal State Fair and North American Beer Awards.
4
0
Big Alice Brewing Company
Hᵻˈbɪskəs Goes-Uh
Contemporary Gose
This gose gets its pinkish hue from hibiscus tea. The floral and fruity nose precedes a slightly tart flavor that is soft and refreshing. Finishes crisp with subtle notes of salt and coriander.
4.6
0
Big Alice Brewing Company
Smoked Saison
Other Smoke Beer
A rich, full-bodied Saison with beechwood smoked malts, that is flavorfully reminiscent of smoked charcuterie. Aromas of smoke, chipotle and subtle pineapple.
7.7
0
Big Alice Brewing Company
Sweet Potato Farmhouse Ale
Other Belgian- and French-Style Ale
A food friendly, medium to full-bodied Belgian Farmhouse Ale with prominent aromas of honey and clove. Flavors of candy and clove with a pleasant peppery finish.
6.3
0
Big Dog's Brewing Co
Red Hydrant
English-Style Brown Ale
English Style Brown Ale
5.5
20
Big Dog's Brewing Co
SeDated
Belgian-Style Dark Strong Ale
Belgian Style Dark Strong
10.2
20
Big Dog's Brewing Co
Tripel Dog Dare
Belgian-Style Tripel
Belgian Style Tripel
9
25
Big Dog's Brewing Co
Underbite
Imperial India Pale Ale
Imperial India Pale Ale
8.7
85
Big Storm Brewing Co.
Brett Florida Pale Ale
Brett Beer
Pours a hazy golden straw with mellow grainy malt sweetness. Hop flavors of tropical fruit and citrus dominate with the characteristic finish of brettanomyces funk
6.2
0
Big Storm Brewing Co.
Havana After Midnight Coffee Porter
Coffee Stout or Porter
Collab with King State Coffee Of Tampa; Intense start, ends with a sweet, pleasant finish; Aromas of lightly roasted coffee and cigar tobacco
6
0
Big Storm Brewing Co.
Imperial Bourbon Rye Ale
Wood- and Barrel-Aged Strong Beer
Rye Ale aged in Kentucky bourbon barrels; aromas of stone fruit esters, bourbon, wood, and vanilla; malty sweet flavor with earthy rye characteristics; bourbon and oak undertones present
9.3
0
Big Storm Brewing Co.
Palm Bender Gulf Coast IPA
American-Style India Pale Ale
Gulf Coast IPA made with Cascade hops; floral, pine, and citrus flavors present
7.3
70
Big Storm Brewing Co.
Tropic Pressure Florida Ale
American-Style Pale Ale
Highly drinkable Florida Ale steeped in Hibiscus with a hint of cinnamon; brewed with pale wheat and honey malt
4.4
17
Birdsong Brewing Co.
Jalapeño Pale Ale
Chili Beer
American Pale Ale base, fermented with fresh, de-seeded jalapeño peppers. Aroma and flavor with very little heat.
5.5
45
Birdsong Brewing Co.
Lazy Bird Brown Ale
American-Style Brown Ale
Rich mahogany in color with great malt character; nutty, chocolate notes; smooth and sessionable. You'll discover a mild lemon citrus hop flavor paired with pleasant aromas of roasted malt, making it a great brew for all occasions.
5.5
45
Birdsong Brewing Co.
Paradise City Session IPA
Session India Pale Ale
Bright tropical notes and clean finish make Paradise City a perfect all year brew. Amarillo, Cascade & Idaho 7 hops create a flavorful, aromatic IPA that's 100% drinkably dank.
4.8
45
Birdsong Brewing Co.
Wake Up Porter
Coffee Stout or Porter
Sumatra Lintong coffee and carefully chosen specialty malts blend to create a warm foundation and light body. Madagascar vanilla beans lend a subtle sweetness on the finish that you'll notice at the end of every velvety sip.
5.8
29
Bitter Brothers Brewing Co.
Aunt Joy
English-Style Dark Mild Ale
Lightly toasted coconut, with notes of chocolate and toffee rounding out the flavors.
4
0
Bitter Brothers Brewing Co.
Family Tart with White Peaches
Berliner-Style Weisse
Dry tart Berliner Weiss with White Peaches. Fresh fruit notes and clean wheat malt with a mild acidity.
4.5
0
Bitter Brothers Brewing Co.
Flesh & Blood
Wood- and Barrel-Aged Sour Beer
A sour blonde with strong notes of cherries and raspberries
5
0
Bitter Brothers Brewing Co.
Golden Child
American Wheat Beer
A pale, refreshing true-to-style German wheat beer with high carbonation it has a dry finish, a fluffy mouthfeel and a distinctive banana-and-clove yeast character.
5.2
0
Bitter Brothers Brewing Co.
Little Brother Citra IPA
Session India Pale Ale
Wheat based IPA, super citrus and tropical fruit notes, nice body despite the ABV. Citrus and Mosaic forward IPA.
4.8
0
BJs Chicago Pizza
Belgian Stout
Wood- and Barrel-Aged Strong Stout
Imperial stout fermented with saison yeast.
9
40
BJs Chicago Pizza
Berliner Weisse
Berliner-Style Weisse
Berliner Weisse is a Sour German Wheat beer that is tart and refreshing.
4
10
BJs Chicago Pizza
Das Alt Hound
German-Style Altbier
A German-Style Alt Beer aged in Spirit Hound Whiskey Barrels from Colorado.
7
15
BJs Chicago Pizza
Jeremiah Red
Irish-Style Red Ale
This Irish-style strong ale is brewed with a secret blend of five imported specialty malts.
7.3
25
BJs Chicago Pizza
Lightswitch Saber
American-Style Light Lager
LightSwitch® is BJ's mildest beer. We use German Hallertau hops for their pleasant aroma and to balance the mild malt flavor with a clean dry finish. The end result is a fresh and flavorful light beer with refreshing and smooth drinkability.
3.5
16
BJs Chicago Pizza
Oktoberfest
German-Style Maerzen
A traditional Oktoberfest lager at its best. Toasted malt flavor balanced by a crisp hop bitterness. Very smooth from a long lagering process.
5.6
28
BJs Chicago Pizza
Orange Storm IPA
American-Style India Pale Ale
Orange Storm IPA has an intense hop aroma with zesty citrus notes.
6
65
BJs Chicago Pizza
Oud Jeremiah
Belgian-Style Flanders Oud Bruin or Oud Red Ale
Our Flanders-style Oud Jeremiah is a sour red ale with a slightly sweet start balanced by a refreshingly tart finish.
7.5
20
BJs Chicago Pizza
Prickly Pear Honey Wheat
American Wheat Beer
BJ's Prickly Pear Honey Wheat is brewed with the fruit of the prickly pear cactus, malted wheat, Loral hops and local orange blossom honey.
6.4
16
BJs Chicago Pizza
Razz-Jerry Tart
Belgian-Style Flanders Oud Bruin or Oud Red Ale
Our Flanders-style Razz-Jerry Tart is a raspberry-flavored red ale with a deliciously sweet start balanced by a refreshingly tart finish.
7.5
20
Black Bottle Brewery
American Graffiti
Brett Beer
Barrel aged brett beer with lots of Ekuanot hops dry hop.
7.3
8
Black Bottle Brewery
Friar Chuck
German-style Kölsch
Straw colored easy drinking German ale brewed with noble hops at near Lager temperatures. (2015 GABF Bronze)
5.8
28
Black Bottle Brewery
Lichtenhainer
Historical Beer
Our GABF Pro-Am. A German style smoked sour beer. Low in alcohol with the perfect balance between smoke and sour flavor.
4
5
Black Bottle Brewery
The Last Unicorn
Belgian-Style Fruit Lambic
Wine barrel aged (2 years) Belgian Lambic with cherry and raspberry.
9
5
Black Bottle Brewery
Tripel
Belgian-Style Tripel
An easy drinking beer who's alcohol content will sneak up on you! Gold in color with sweet grain and coriander flavors. (2016 GABF Silver)
10.2
17
Black Cloister Brewing Co
Chained Dog
Belgian-Style Blonde Ale
Notes of apple, pear and orange and finishing with spicy floral notes and a nice alcohol warmth.
10
28
Black Cloister Brewing Co
Helles Angel
Munich-Style Helles
Easy drinking lager that is lightly hopped and packed full of sweet bready malt flavor.
5.4
11
Black Cloister Brewing Co
Phil's Lager
American-Style Amber Lager
A nice clean and easy drinking American Lager. Light and refreshing. The perfect lawnmower beer.
4.5
9
Black Cloister Brewing Co
Rekindle
American-Style Imperial Stout
An Imperial Stout infused with chipotle and guajillo peppers and aged on Mexican vanilla. This beer has rich chocolate flavor to go along with the smokiness of the chipotle peppers and the sweet heat of the guajillo peppers. Vanilla rounds out the flavor.
10
67
Black Cloister Brewing Co
True Scotsman
Scottish-Style Heavy Ale
Nice and boozy! Lots of deep toffee and caramel flavors with a slightly sweet finish.
9.2
21
Black Project Spontaneous & Wild Ales
Covert
Wood- and Barrel-Aged Strong Beer
100% Barrel Fermented Spontaneous Super Braggot with Cherries, Raspberries, and Black Currant.
18
0
Black Project Spontaneous & Wild Ales
Cygnus Double Montmorency
Wood- and Barrel-Aged Sour Beer
100% barrel fermented coolship spontaneous sour ale double fruited with whole local Montmorency cherries
6.5
0
Black Project Spontaneous & Wild Ales
Dreamland
Wood- and Barrel-Aged Sour Beer
Sour Golden Ale solera fermented using spontaneous caught microbes and yeast
6
0
Black Project Spontaneous & Wild Ales
Jumpseat
Wood- and Barrel-Aged Sour Beer
Dry-hopped Sour Golden Ale solera fermented using Spontaneous caught microbes and yeast
6
0
Black Project Spontaneous & Wild Ales
Shadow Factory
Wood- and Barrel-Aged Sour Beer
Cranberry Raspberry. Sour Wheat ale with Cranberry and Rapsberry solera fermented using Spontaneous caught microbes and yeast
5.5
0
Black Shirt Brewing Co
Blood Orange Double IPA
Herb and Spice Beer
A juicy and fruity double IPA made with blood oranges & double dry-hopped with Mosaic & Amarillo hops
8
90
Black Shirt Brewing Co
Colorado Red Ale
Double Red Ale
Our flagship beer - a citrusy and floral Red IPA
7
42
Black Shirt Brewing Co
Pistachio & Lavender Rye Pale
Field Beer
A unique, nutty, & floral rye pale ale made with pistachios & lavender
6
42
Black Shirt Brewing Co
Stringbender Saison
Specialty Saison
An amplified & resonant Saison with notes of pear & apricot and undertones of black pepper and clove
7.5
35
Black Sky Brewery
Bergamot Norwegian Farmhouse
Experimental Beer
Conditioned on Bergamot orange and fermented using Kviek Norwegian Farmhouse yeast.
5.3
27
Black Sky Brewery
Black Currant Belgian Strong Ale
Herb and Spice Beer
Dark strong ale with ample amounts of black currant.
8.7
24
Black Sky Brewery
Hoperation Mindcrime
American-Style India Pale Ale
American IPA using 90 lbs of whole cone hops.
7.7
66
Black Sky Brewery
Imperial Petal to the Metal
Wood- and Barrel-Aged Strong Beer
Rose and hibiscus ale aged in Cabernet Sauvignon barrels.
9.1
9
Black Sky Brewery
Timekeeper Rye Pale
Rye Beer
A precise, balanced, & crisp pale ale with tropical fruit characters
6
42
Blackrocks Brewery
51K IPA
American-Style India Pale Ale
Our American IPA full of earthy grapefruit, apricot, and piney hop aroma and flavor with a nice balanced yet dry finish.
7
68
Blackrocks Brewery
Honey Lav
Herb and Spice Beer
An American Wheat brewed with Michigan honey and full dried lavender flowers. Fresh and flavorful with a great balance between the sweet honey and floral lavender.
5.2
17
Blackrocks Brewery
Honey Lav
Herb and Spice Beer
An American Wheat brewed with Michigan honey and full dried lavender flowers. Fresh and flavorful with a great balance between the sweet honey and floral lavender.
5.2
17
Blackrocks Brewery
Nordskye
American-Style India Pale Ale
Galaxy hops bring out big tropical/fruity aroma and flavor, the low ABV and crisp body make it easy to grab for "one more."
4.8
39
Blackrocks Brewery
Presque Ale
American-Style Pale Ale
A nicely hopped Pale made for summer days. Perfect for watching sunsets and/or sunrises.
5.5
17
Blind Tiger Brewery & Restaurant
Basil Beer
Herb and Spice Beer
Maibock brewed with fresh Basil
6.8
16
Blind Tiger Brewery & Restaurant
Java Porter
Coffee Beer
Robust Porter brewed with in-house roasted coffee
5.7
23
Blind Tiger Brewery & Restaurant
Maibock
German-Style Heller Bock/Maibock
German Style Maibock
6.8
16
Blind Tiger Brewery & Restaurant
TOP GUN IPA
American-Style India Pale Ale
San Diego style IPA brewed with Amarillo and Simcoe hops
7
60
Blind Tiger Brewery & Restaurant
What the Helles for Breakfast Beer?
Munich-Style Helles
Mild, bready golden lager bier
5.2
14
Blue Blood Brewing Company
Outlaw Series Caribbean Wild Ale 2017
Wild Beer
Brett Fermented Ale with pineapple and mango aged in oak barrels.
6.8
18
Blue Blood Brewing Company
Outlaw Series Cabern-aged Brett Saison With Peaches 2016
Classic Saison
Funky, Funky, Funky & a whole lot more! Slight hints of peaches & pineapples combined with the Brett Saison leaves you with nothing less than an opinion to craft on your own.
7.5
23
Blue Blood Brewing Company
Outlaw Series Malbrett 2017
Specialty Saison
Oak Barrel Aged Belgian Ale with Brett & Malbec Grapes. Even the most famous of Outlaw Duos could not live up to the makings of this ale. Forcing this Belgian style ale to ferment with Malbec grapes and locked up in oak barrels
6.9
20
Blue Blood Brewing Company
Robber's Cave Series Passion Fruit Gose 2017
American-Style Sour Ale
Really a sour - gose. Nothing but Passion in this fruity Gose. Right from the start it holds a juicy passion fruit flavor and ends with the traditional characteristics of a Gose, tart and salty.
4.5
9
Blue Owl Brewing
Hop Totem
American-Style Sour Ale
Strikes a bold balance of bitterness, sweetness, and sourness. Heavily hopped with Falconer's Flight, Citra, and Simcoe
6.2
56
Blue Owl Brewing
Little Gose
Contemporary Gose
Gose with tangerine and basil Fresh and Refreshing. Freshly zested tangerines and Thai basil make a summer cocktail beer.
3.8
7
Blue Owl Brewing
Professor Black
American-Style Sour Ale
Toasted malt with a complex dark fruit and tart cherry flavor. Swanky.
6.1
40
Blue Owl Brewing
Spirit Animal
American-Style Sour Ale
American pale ale, hoppy citrus balanced with sturdy malt backbone and tart crispness.
5.1
35
Blue Owl Brewing
Van Dayum!
American-Style Sour Ale
Balanced red ale. Malty, with biscuit, caramel, and dark fruit character with a moderate sour finish.
5.7
32
Blue Point Brewing Co
Last Call
American-Style Amber/Red Ale
This beer is only available in the food pairing section of GABF. Last call is our tribute to those who've made the ultimate sacrifices. This amber ale is perfectly balanced to embody their courage and character.
8
70
Blue Point Brewing Co
Outlaw Series Rum Barrel Aged Quad
Belgian-Style Quadrupel
Brand new beer. No description availalble.
11.3
38
Blue Skye Brewery & Eats
Brown Eyed Girl
American-Style Brown Ale
Brown Eyed Girl is our take on the classic American brown ale, rich in olde English heritage with an American spin, full of roasted malt flavor but delicate on the palate and perfect for crisp summer days.
5.9
20
Blue Skye Brewery & Eats
Fargo Original
European-Style Dark Lager
This traditional unfiltered German lager has a crisp finish from extended lagering. Well-balanced between the sweetness of the pils malt and a restrained bittering. Light, crisp, and uncomplicated.
5.1
17
Blue Skye Brewery & Eats
Hugh Heff
American Wheat Beer
A wheat ale, this American version of a German classic Hefe Weizen, rich golden color, cloudy and unfiltered. Heff boasts aromas of banana and clove derived from straining the German yeast.
5.5
11
Blue Skye Brewery & Eats
Jalapeño Cream Ale
American-Style Cream Ale
The Jalapeño Cream Ale has a rich white head sitting atop a bright, effervescent ale the color of golden wheat. The aroma is full of fruity roasted jalapeño and subtle malt notes, while the flavor is well balanced to calm the capsaicin components of the pe
6
16
Blue Skye Brewery & Eats
Mugler's Revenge IPA
American-Style India Pale Ale
Peter Mugler inspired this smooth yet bold India Pale Ale, big bodied and generously hopped. Mugler operated a Brewery in Salina from 1877 to 1881. He sued to stop prohibition, but lost.
6.7
67
Blue Skye Brewery & Eats
Rye Barleywine
Strong Ale
A classic English Barleywine. Pours dark amber. Sweet caramel and toffee notes.
8.2
30
Blue Spruce Brewing
Companion Cream Ale
American-Style Cream Ale
Light bodied, clean ale that allows corn and malt to shine. 5.7% ABV
5.7
0
Blue Spruce Brewing
Kiidk'yaas Golden Strong Ale
Belgian-Style Pale Strong Ale
Belgian yeast provides a distinct fruit and spice character that pairs well with coriander that we add to the kettle. 9.2% ABV
9.2
0
Blue Spruce Brewing
Laughing George Kolsch
German-style Kölsch
German-Style, sweet and malty, dry, crisp finish. The honey and fruity yeast profile makes this one of our best sellers. 5.6% ABV
5.6
0
Blue Spruce Brewing
Ravenous Monk Doppelbock
German-Style Doppelbock
A darker version of a typical Bock Beer with a rich malty backbone and aroma, with caramel toasted notes and a slight chocolate finish 5%ABV
5
0
Boggy Draw Brewery
ES Bueno ESB
English-Style Extra Special Bitter
Traditional English style Extra Special Bitter. Not overly bitter with a nice malty flavor and mouthfeel.
0
0
Boggy Draw Brewery
Sgt. Sinkhole Hefeweizen
South German-Style Hefeweizen
a nice traditional hefeweizen with banana and clove characteristics
6.7
0
Boggy Draw Brewery
Space Cowboy Cream ale
American-Style Cream Ale
Sweet cream ale, super refreshing.
5.6
0
Boise Brewing
Black Cliffs
American-Style Stout
Well balanced flavor between the rich chocolate and coffee tones and the plentiful northwest hop character.
7
65
Boise Brewing
Burn One Brown
American-Style Brown Ale
Hop forward, earthy brown malt flavor, strong hop aroma, medium bodied
5.7
55
Boise Brewing
Café Mulé
Coffee Stout or Porter
Brewed with a local cold brew, coffee aroma, rich and roast with a smooth finish
5.8
65
Boise Brewing
Jagged Shard
Imperial Red Ale
Citrus fruit aroma, rich malt backbone, assertive hop character, smooth mouthfeel
8.4
80
Boneyard Beer Co
Bone-A-Fide
American-Style Pale Ale
IPA drinkers will be second guessing this pale ale - pine, stone fruit and grapefruit dominate.
5.5
38
Boneyard Beer Co
Funky Bunch
Wild Beer
A Funky Bunch of wild and sour flavors fermented in French Oak foeders finished on fresh raspberries
5.7
6
Boneyard Beer Co
Gooze Cruze
Belgian-Style Gueuze Lambic
Proprietary wild yeast culture aged in Seguin Moreau foeders. Complex and balanced version of an Oude Gueuze-style Lambic
5.7
6
Boneyard Beer Co
Incredible Pulp
American-Style Fruit Beer
Secondary fermentation on blood orange with a citrus hop profile and Pilsner malt
6
35
Boneyard Beer Co
Wooden Femur
Wood- and Barrel-Aged Strong Beer
Rye Whiskey Barrel English-style Barleywine aged for 7 months.
11
43
Bootstrap Brewing Co
Cabana Boy
Vienna-Style Lager
We realized that we needed a kick @$$ beach lager to enjoy in a hammock and thus, Cabana Boy was born!
5.1
12
Bootstrap Brewing Co
Chillax Pineapple Gold
American-Style Fruit Beer
Our 1956 Golden Ale infused with pineapple. A great, light refreshing beverage all year round. Drink…Chill…Relax…Repeat
4.5
10
Bootstrap Brewing Co
Flagstaff Amber
English-Style Extra Special Bitter
Named after one of Boulder's front-range mountain peaks, this amber beer combines a blend of malts from light to dark along with various Cascade hop additions to make a fresh, crisp, hoppy beer.
5.6
28
Bootstrap Brewing Co
Stick's Pale Ale
Australian-Style Pale Ale
Session beer! Steve (AKA Stick) wanted to craft a beer that he can drink all day long on horseback or rafting or just sitting in the sun on a great summer day and this is it. It's complimentary to our Insane Rush IPA with a lower ABV so you can enjoy more
5.5
36
Bootstrap Brewing Co
Wreak Havoc
Imperial Red Ale
A wonderful, hoppy red rye ale – massively hopped and bursting with flavor.
8.6
88
Bosque Brewing Co
Acequia Wet Hop IPA
American-Style India Pale Ale
There's a small window of time every year where fresh, whole-cone hops are available and elated brewers produce some of the finest one-off libations. Fresh Chinook and Cascade hops inundate your palate and nose with spicy, earthy and citrus notes washing o
6.4
100
Bosque Brewing Co
BOSQUE LAGER
American-Style Lager
Inspired by German Pilsners, Bosque Lager quenches thirsty palates without sacrificing depth and character. Where this straw-colored, crisp, and brilliant lager deviates from tradition is in a noble hop dry-hop for a bright and floral aroma.
4.8
25
Bosque Brewing Co
ELEPHANTS ON PARADE
American Wheat Beer
Enough with the fruit nuance, put it out in front! Packed with Raspberry and tart cherry puree and colored with a Sandia sunset, this unfiltered, American-style wheat ale is imbued with a light sweetness and tartness that complements the beer's medium-full
5.5
12
Bosque Brewing Co
Fifth Value India Black Ale
American-Style India Pale Ale
The legendary Scale Tipper recipe has taken on many iterations over the years, so a black IPA seemed like the next logical evolution in this beer's pedigree. Fifth Value adds a crescendo of roasted caramel malt flavors to its vibrant hop profile creating a
6.5
70
Bosque Brewing Co
IRA India Red Ale
American-Style India Pale Ale
Ruby red and bursting with personality, IRA pushes the boundaries of hop expression while effortlessly accentuating malt complexity and nuance. This India Red Ale is a true balancing act that honors tradition while emphasizing innovation.
7.9
75
Boston Beer Co
American Kriek
Wild Beer
The intense black cherry character in this beer comes from Balaton®* cherries, which were discovered in Hungary and are now grown in Michigan. These special cherries are prized for their depth of flavor. The tartness from the cherries is balanced by a rich
7
0
Boston Beer Co
Coffee Head Imperial Stout
Coffee Stout or Porter
A sweet, roasty, smooth stout.
7
22
Boston Beer Co
Double Bock
German-Style Doppelbock
We use an enormous amount of malt, half a pound per bottle, to brew this intensely rich lager. Its deep brown-ruby color is all made in the kettle - no black malt is used, resulting in a rich sweetness that is free of the rough taste of burnt malt. All tha
9.5
25
Boston Beer Co
Fat Jack on Nitro
Pumpkin/Squash Beer
This rich and luscious brew indulges in flavor with over 28 lbs. of pumpkin per barrel, for a full bodied sweetness and deep russet color. Classic pumpkin pie spices like cinnamon, nutmeg, and allspice ignite a warmth and spark that's deepened by an underc
8.5
25
Boston Beer Co
Kosmic Mother Funk Grand Cru
Brett Beer
This one-of-a-kind Belgian ale is fermented with multiple micro-organisms including Brettanomyces, Lactobacillus and other wild critters found in the environment of our Barrel Room.
6.5
9
Boston Beer Co
New England IPA
American-Style India Pale Ale
New England Style IPA
6.8
0
Boston Beer Co
OctoberFest
German-Style Maerzen
Our version of this classic style blends hearty malts for a deep, smooth flavor with notes of caramel, creating a brew that's perfect for the season, or whatever you're celebrating.
5.3
16
Boston Beer Co
Raspberry Lemon Gose
Contemporary Gose
Raspberry Lime Gose
5.4
0
Boston Beer Co
Samuel Adams Boston Lager
American-Style Amber Lager
Samuel Adams Boston Lager helped lead the American beer revolution, reviving a passion for full-flavored brews that are robust and rich with character. Since 1984, Samuel Adams Boston Lager has used only the finest hand-selected ingredients to create this
5
30
Boston Beer Co
Utopias
Strong Ale
Each release is a blend of batches, some having been aged up to 16 years in the barrel room of our Boston Brewery, in a variety of woods. We aged a portion of the beer in hand-selected, single-use bourbon casks from the award-winning Buffalo Trace Distille
27
0
Bottle Logic Brewing
Cobaltic Porter
Baltic-Style Porter
Rich and roasty, dark fruit notes.
8
30
Bottle Logic Brewing
Double Actuator
Imperial India Pale Ale
Tropical and malt driven, notes of blueberry and papaya.
9
100
Bottle Logic Brewing
Heliosphere
Munich-Style Helles
Traditional German-Style bready lager.
4.7
20
Boulder Beer Co
Boulder Brown
American-Style Brown Ale
Brown Ale
0
0
Boulder Beer Co
Bump 'n' Rind Watermelon Kolsch
German-style Kölsch
A crushable Kolsch-style beer with just the right amount of fresh watermelon zing
5.6
25
Boulder Beer Co
Nothing Too Fancy Pale Ale
American-Style Pale Ale
Nothing Too Fancy is a sessionable, light-bodied pale ale brewed with pale barley malt and malted wheat for a soft mouthfeel. The unique Equinox hops provide aromas and flavors of fresh tropical fruits with a subtle peppery touch.
5.1
36
Boulder Beer Co
Pulp Fusion Blood Orange IPA
American-Style India Pale Ale
Pulp Fusion Blood Orange IPA blends the beauty of an IPA with vibrant citrus flavor from the juice of blood oranges. It shines with a bright, golden color and finishes smooth without lingering bitterness.
6.5
52
Boulder Beer Co
Shake Chocolate Porter
Robust Porter
Our twist on the traditional robust American Porter, Shake Chocolate Porter is dark black in color with rich, sweet aromatics and flavors of dark chocolate, coffee and caramel. This unique brew blends five different grains, including Chocolate Wheat.
5.9
39
Boulevard Brewing Co
American Kolsch
German-style Kölsch
With a light to medium mouthfeel, American Kolsch delivers a honey-like malt sweetness that gives way to a crisp clean finish with a touch of lingering citrus/herbal hop flavor.
4.6
18
Boulevard Brewing Co
Cranberry Orange Radler
Fruit Wheat Beer
Cranberry Orange Radler is a zesty, refreshing take on the tradition of mixing beer with soda or lemonade to create a light, thirst-quenching beverage. Our winter interpretation marries tangy blood orange with tart cranberry.
4.1
12
Boulevard Brewing Co
Jam Band
American-Style Fruit Beer
Accompanying a simple malt base, blueberry, raspberry and tart cherry play in perfect harmony to create a slightly tart ale that bursts with fruit flavor. Aromas of dark berries, citrus and melon open the show, bridging to zippy fruit flavors.
7
6
Boulevard Brewing Co
Saison Brett
Specialty Saison
Saison Brett, based on our very popular Tank 7, is assertively dry hopped, then bottle conditioned with various yeasts, including Brettanomyces, a wild strain that imparts a distinctive earthy quality.
8.5
38
Boulevard Brewing Co
Tank 7 Farmhouse Ale
Specialty Saison
Beginning with a big surge of fruity aromatics and grapefruit-hoppy notes, the flavor of this complex, straw-colored ale tapers off to a peppery, dry finish.
8.5
38
Boulevard Brewing Co
The Calling Double IPA
Imperial India Pale Ale
The Calling is our most heavily hopped beer ever, bursting forth with unmistakable tropical fruit and pine hop aromas and flavor supported with a slightly sweet malt character, tapering to a crisp, dry finish. Heed your call and enjoy.
8.5
75
Boulevard Brewing Co
Unfiltered Wheat Beer
American Wheat Beer
Boulevard Unfiltered Wheat Beer is a lively, refreshing ale with a natural citrusy flavor and distinctive cloudy appearance. This easy drinking American-style wheat beer has become our most popular offering, and the best-selling craft beer in the Midwest.
4.4
14
Boulevard Brewing Co
Whiskey Barrel Stout
Wood- and Barrel-Aged Strong Stout
This twist on the classic style starts with several types of malted barley, rye, oats and wheat. Robust flavors of vanilla, espresso, whiskey, chocolate and roasted grain are balanced by hints of date and plum, with just enough hops to round it all out.
11.8
32
Boundary Bay Brewery & Bistro
2015 Old Bounder
Strong Ale
A rich, full-bodied barley wine with a smooth caramel sweetness, waking alcohol ton tent and a balanced hop character. Excellent with desserts as an after dinner beverage. To be appreciated in moderation.
9.9
60
Boundary Bay Brewery & Bistro
Inside Passage Ale (Our Classic IPA)
American-Style India Pale Ale
Our Classic IPA Honey-amber color, medium-body, fairly-strong alcohol content and an aggressive hop quality define our classic IPA. It's dry-hopped with Amarillo to kick it up a notch! One of our most popular brews!
7.5
78
Boundary Bay Brewery & Bistro
Raspberry Radler
Specialty Beer
Raspberry Radler is inspired by traditional German ingenuity; a concoction of half beer, half sparkling fruit juice with a thirst-quenching reputation. The Oregon raspberry puree complements the tart kettle-soured base beer.
5.4
10
Boundary Bay Brewery & Bistro
"Batch 5000" Imperial Porter
Robust Porter
Boundary's 5,000th Batch of beer brewed, Imperial Porter is a large incarnation of a classic robust porter that's silky-smooth and surprisingly refreshing for such a big beer.
9.8
38
Boundary Bay Brewery & Bistro
"Batch 6000" Baltic Porter
Baltic-Style Porter
Take a trip to chocolate town with this light-bodied Baltic Porter! Notes of stone fruit, vanilla & hazelnuts complement the smooth, rich & chocolatey finish. Pairs well with dessert.
8.5
35
Boxing Bear Brewing Company
Body Czech Bohemian Pilsner
Bohemian-Style Pilsener
This light, crisp and refreshing Pilsner is brewed with traditional malts and hops as well as given a proper six week lagering time to insure quality.
4.3
40
Boxing Bear Brewing Company
Chocolate Milk Stout
Sweet Stout or Cream Stout
Sweet, silky and delicious. This Stout brings the child out of any adult!
5.2
20
Boxing Bear Brewing Company
Featherweight Session IPA
Session India Pale Ale
Big on hop aroma and flavor but light on alcohol, this beer is a true champion and a crowd pleaser.
4.8
65
Boxing Bear Brewing Company
The Red Glove
Double Red Ale
A hoppy double red ale bursting with American hop aromas and flavors paired with a slightly malty backbone.
7.2
100
Boxing Bear Brewing Company
Uppercut IPA
American-Style India Pale Ale
Big citrus aromas dominate this hop forward beer while providing a nice bitter punch.
7.2
100
Braindead Brewing
Export Stout
Export Stout
Export-Style Stout
0
0
Braindead Brewing
Given to Rye to Rye
Wood- and Barrel-Aged Strong Beer
Rye Brown Ale aged in Rye Whiskey Barrels
0
0
Braindead Brewing
Hammer of the Gods 2016
Wood- and Barrel-Aged Sour Beer
Bourbon Barrel Aged Imperial Wheat Porter
0
0
Braindead Brewing
Idle Playthings
Belgian-Style Pale Strong Ale
Belgian-Style Pale Strong Ale
0
0
Braindead Brewing
Terrasse Gose
Contemporary Gose
Brewed with Gewürtzraminer juice, Himalayan Pink Salt and Coriander
0
0
Brasserie Saint James - Reno
Daily Wages
Classic Saison
This traditional Saison takes 3 months in fermenter to really dry this beer out. 3 different Yeast strains are added at specific times, temps and gravities. Green peppercorns are added to enhance the iconic Belgian spice notes.
6.7
24
Brasserie Saint James - Reno
Quadrophobia
Belgian-Style Quadrupel
Fine European malts, hops, Kandi-sugar and Trappist yeast make up this Mahogany colored beer with hints of molasses and candied prunes. It's velvety smoothness masks the robust ABV while providing hints of warming alcohol our signature dry finish.
11
24
Brasserie Saint James - Reno
Santiago
International-Style Pilsener
New! This Light Pilsner is as refreshing as they come. The sweet note of pilsner malt with the slightest touch of nobel hops allow this crisp beer to bounce off the palate inviting another sip. Salud!
4.2
14
Brasserie Saint James - Reno
Third Man
Belgian-Style Tripel
A luxuriant golden ale will pour with a faint haze and fluffy snow-white head. Clean crackery malt notes with floral and mellow spiciness, a true showcase of the complexity of well-handled Belgian Trappist yeast
8
24
Breakside Brewery
Bazooka Face
Session India Pale Ale
More hops than you can shake a stick at in this session IPA, and at 4.7% it reall is a true session beer. loads of Citra, Eldoardo, and Nugget hops lead the charge here to support a soft malt base
4.7
65
Breakside Brewery
ESB
English-Style Extra Special Bitter
Award-winning pale ale with a nice malt backbone and firm bitterness from the use of Slovenian hops
5.4
30
Breakside Brewery
First Blanche
Belgian-Style Witbier
Classic Belgian-style witbier made with coriander and orange peel. a beautiful balance of flavors from the spices, yeast, acidity and wheat malt
4.7
13
Breakside Brewery
Fresh Hop Cascade Wanderlust
Fresh or Wet Hop Ale
This is our Wanderlust IPA brewed with farm-direct Cascade hops from Crosby Farms in Woodburn; we use our groundbreaking "liquid nitrogen hop shattering" technique to extract the maximum amount of hop character in this beer
6.2
62
Breakside Brewery
IPA
American-Style India Pale Ale
Classic craft beer of the Pacific Northwest. notes of evergreen, citrus and tropical fruit.
6.3
74
Breakside Brewery
Mo' Problems
American-Style Pale Ale
A contemporary American Pale Ale! beautiful for its balance between hops and malt, its affinity for foods ranging from pub grub to fine dining. This is a very hop forward beer with rich mid palate notes of orange, pine, and cannabis.
5.9
30
Breakside Brewery
Pause for Effect
American-Style Sour Ale
A blend of five casks of mixed culture sour beers, including several barrel-fermented saisons and a sour golden ale. the blend is aged on over 300 lbs of apricots-- that's more than 1 lb of fruit per gallon of beer
6.7
9
Breakside Brewery
Rye Curious?
Rye Beer
Clean and easy drinking rye ale that showcases the complex character of this underloved malt: the rye contributes fruity aromatics, spicy flavors, and a slightly rich mouthfeel. this drinks like a straightforward "microbrew" but the complexity runs
5.7
15
Breakside Brewery
Smoked Porter
Smoke Porter
Award-winning robust porter made with malts smoked over beachwood and oak: rich chocolate and roasty notes are complemented by a hint of smokiness that evokes campfires, barbecues, and savory desserts
6.3
38
Brew Bus Brewing
Florida Avenue Berliner Weisse
Belgian-Style Witbier
Classic style Berliner weisse soured with our house blend of cultures.
4
1
Brew Bus Brewing
Summer Lovin'
Other Belgian-Style Sour Ale
Kettle soured Belgian blonde ale fermented with montmorency tart cherries.
4.5
10
Brew Bus Brewing
Tummy Sticks
Leipzig-Style Gose
Leipzig style gose aged on crisp, dill pickles.
4.2
6
Brew Bus Brewing
Twisty Treat
American-Style Imperial Stout
Imperial sweet stout brewed with lactose and aged with cacao nibs and vanilla beans.
10.5
30
Brewability Lab
"Purple" Coffee Porter
Coffee Stout or Porter
Brown style porter brewed with Ugandan cold-pressed coffee
5.7
15
Brewability Lab
"Red" Strawberry Blonde
American-Style Fruit Beer
American blonde ale brewed with strawberries.
5.5
10
BrewDog Brewing Company
Dead Pony Club
American-Style Pale Ale
Our West Coast Pale Ale kicks like a mule. Hopped to the verge of insanity it delivers a citrus juggernaut. The toasted malt backbone accelerates hard into a huge hop hit, where tropical fruit and floral notes abound, all under-pinned with a little spice.
3.8
40
BrewDog Brewing Company
Elvis Juice
American-Style India Pale Ale
An American IPA with a bitter edge that will push your citrus tolerance to the brink and back; Elvis Juice is loaded with tart pithy grapefruit peel. Waves of crashing pine, orange and grapefruit round out this citrus infused IPA.
0
0
BrewDog Brewing Company
Jet Black Heart
Oatmeal Stout
This sable stout is black as pitch and smooth as hell. Jet Black Heart is a milk stout; roasty malt flavours of coffee and chocolate, bound to a decadent full-bodied richness. Flaked oats and wheat add to the velvet mouth-feel, with the carbonation adding
4.7
30
BrewDog Brewing Company
Punk IPA
American-Style India Pale Ale
Punk IPA is a contemporary British style IPA with an international twist. Making our flagship beer lighter, fruiter, less bitter and more session-able than its American counterpart.
5.6
35
Brewery Ommegang
Nirvana IPA
American-Style India Pale Ale
A big citrus smack, rounded and juicy with tropical and floral notes and just a touch of honey malt sweetness.
6.5
60
Brewery Ommegang
Rare Vos
Other Belgian-Style Ale
Belgian-style cafe ale, mellow, fruity, spicy.
6.5
0
Brewery Ommegang
Witte
Belgian-Style Witbier
Traditional Belgian-style wheat ale, flavorful, soft and hazy.
5.2
0
Briar Common Brewery
902-Bravo
Brett Beer
Pineapple, passion fruit and aged Romano cheese notes, medium body with a tart finish.
6
25
Briar Common Brewery
Joyce
Classic Saison
Asian pear and white pepper notes, medium-light body, crisp finish.
6
30
Briar Common Brewery
Lanham
Belgian-Style Dubbel
Plum and dark cherry notes, medium-light body, crisp finish.
7.5
28
Briar Common Brewery
Rochus
Robust Porter
Rich coffee and light roasted coffee notes, medium body, dry finish
6
35
Brieux Carre Brewing Company
Old Square
English-Style Extra Special Bitter
notes of bitter chocolate and a hint of nuttiness
4.8
33
Brieux Carre Brewing Company
Stacey
Classic Saison
a dry saison boiled with white muscadine grapes
6.4
15
Brieux Carre Brewing Company
The Frenchman
French-Style Biere de Garde
a maltier french ale complementing a clean french saison yeast
7.1
17
Brieux Carre Brewing Company
Weisses & Virtues
South German-Style Weizenbock
Hints of banana and clove on this unfiltered german wheat ale
6.2
20
Brink Brewing Company
Afterglow
American-Style India Pale Ale
Juicy, hazy IPA
7.5
26
Brink Brewing Company
Brink Brown
English-Style Brown Ale
Traditional English Brown Ale
5.5
0
Brink Brewing Company
Cocoa Nib Porter
Robust Porter
An English-style Robust Porter with Cocoa Nibs
7.5
0
Brink Brewing Company
Hold the Reins
English-Style Pale Mild Ale
Traditional English Mild
4.6
0
Brink Brewing Company
Moozie
Sweet Stout or Cream Stout
Milk Stout with loads of chocolate and lactose
5.4
0
Brink Brewing Company
The Bulldog
Old Ale
Traditional Old Ale
8.4
32
Bristol Brewing Co
Beehive Wheat Ale
American Wheat Beer
Beehive has a beautiful honey-gold color and refreshing, full flavored body. For our version of the classic American Wheat, we use less two-row and more Munich malt for depth, and soften the edges with the lightness of wheat. Local Black Forest honey adds
4.4
16
Bristol Brewing Co
Bristol's Hefeweizen
South German-Style Hefeweizen
Ours doesn't disappoint, with its white head, golden color, and light body. We keep it unfiltered to retain the traditional banana and clove undertones from the yeast, which means that mild, soothing, one-of-a-kind flavor you expect from a hefeweizen.
5
10
Bristol Brewing Co
Bristol's Mango Golden Sour
Fruited American-Style Sour Ale
To craft this beer, our brewers brought together wheat and barley, mango puree, our house kolsch yeast--and of course, a carefully selected strain of lactobacillus to do the heavy lifting. The result is a simple, clean sour, light-bodied and refreshing.
4.3
8
Bristol Brewing Co
Laughing Lab Scottish Ale
Scottish-Style Export Ale
The Lab has a complex maltiness that comes from a careful blend of specialty malts. Its nutty, roasted flavor is mildly sweet, but not too rich. Smooth and luscious!
5.4
19
Broken Clock Brewing Cooperative
Community Kolsch
German-style Kölsch
A clean, crisp, delicately-balanced beer with very subtle fruit and hop character. Hop varieties include German Tradition and Hersbrucker
5
28
Broken Clock Brewing Cooperative
Lavender Uprising IPA
American-Style India Pale Ale
Intensely hoppy, fairly strong India pale ale infused with dried organic lavender flowers. Hop varieties include Cascade, Chinook, Centennial, and German Northern Brewer
7.5
89
Broken Clock Brewing Cooperative
Stand Up Stout
Sweet Stout or Cream Stout
This sweet stout has notes of caramel, chocolate, coffee, toffee and wild berries; lightly hopped with East Kent Golding hops and has a slightly smoky finish
5
35
Broken Clock Brewing Cooperative
Sundial Citrus IPA
American-Style India Pale Ale
This delectable IPA is brewed and dry-hopped with Citra and Mosaic hops, bringing tropical citrus flavors of melon, tangerine, and grapefruit to the palate and nose
6
83
Broken Compass Brewing
Chardonnay Barrel Golden Ale
Golden or Blonde Ale
Fermented in a sour chardonnay barrel on 30 pounds of Palisade peaches and brettanomyces, this special release golden ale is slightly tart, crisp and complex. It's a very limited supply so get it while it lasts.
5.3
16
Broken Compass Brewing
Chili Pepper Pale Ale
Golden or Blonde Ale
This loaded chili beer has five kinds of peppers - habaneros, jalapeños, serranos, poblanos & Anaheim peppers - for a dynamic chili flavor. Don't let it fool you though, it's an easy drinking pale ale with big flavor and a little tickle of heat on
6.9
20
Broken Compass Brewing
Coconut Porter
Robust Porter
A robust porter loaded with so much organic, toasted coconut, it just about transports you to a tropical island. Rich and delicious with that coconut pop, this GABF bronze medal winner drinks as smooth as could be
5.9
28
Broken Compass Brewing
Ginger Pale Ale
American-Style Pale Ale
Short Description of the beer: Crisp, refreshing and packed with fresh ginger flavor derived from both raw ginger root for spice and aroma and ginger tea for a touch of ginger flavor that tickles the taste buds.
5.9
20
Broken Compass Brewing
Helles
Munich-Style Helles
Our take on a this classic style of lager, our Helles is crisp and delicious with a slightly sweet, malty finish. The perfect beer for sipping in the sun.
5.4
18
Broken Plow Brewery
India Spring Honey Cream Ale
American-Style Cream Ale
Honey Cream Ale
0
0
Broken Plow Brewery
Raspberry Wit
Fruit Wheat Beer
Raspberry wheat beer
0
0
Brooklyn Brewery
Bel Air Sour
American-Style Sour Ale
A thrilling jolt of tartness up front opens onto a riot of tropical fruit, courtesy of our lacto, our ale yeast, and a generous helping of Amarillo dry-hopping. Soft barley and wheat malts keep things dry and refreshing.
5.8
0
Brooklyn Brewery
Black Ops
Wood- and Barrel-Aged Strong Stout
Aged for months in bourbon barrels, bottled flat & re-fermented w/ Champagne yeast. Presumably such a beer would raise a rich, fluffy dark brown head & it would combine chocolate & coffee flavors w/ a rich underpinning of vanilla-like bourbon notes.
11.5
0
Brooklyn Brewery
Brooklyn Lager
Vienna-Style Lager
Our flagship Vienna-style lager.
5.2
0
Brooklyn Brewery
Cloaking Device
Wood- and Barrel-Aged Dark Beer
We brewed a strong Brett-fermented porter and aged it for nine months in French oak red wine barrels from our pals at the Larkmead Winery in California. It was then hand-bottled and re-fermented in the bottle with Champagne yeast.
10.5
0
Brooklyn Brewery
Defender IPA
American-Style India Pale Ale
Our heroically hopped golden IPA featuring strong notes of tropical fruit, well-muscled hop bitterness, and an incredibly dry finish. Cape not required.
5.9
0
Brooklyn Brewery
El Caliente Black Chocolate Stout
Wood- and Barrel-Aged Strong Stout
The legendary Black Chocolate Stout, barrel-aged on a proprietary blend of spicy peppers.
10
0
Brooklyn Brewery
Golden Ale
Experimental Beer
Fruity and friendly golden ale with a soft, crisp finish. Limited experimental release.
4.8
0
Brooklyn Brewery
Kiwi's Playhouse
Wood- and Barrel-Aged Sour Beer
We peeled a pallet-full of ripe fresh kiwi fruit, adding it to a finely tuned sour beer in red wine barrels for a few months. Blended w/ another beer that's spent over a year in barrels to add extra complexity & re-fermented it a bottle.
8.1
0
Brooklyn Brewery
Pendragon
Wood- and Barrel-Aged Strong Beer
Belgian tripel aged on Red Hook Winery lees in chardonnay barrels.
9.5
0
Brooklyn Brewery
Sorachi Ace
Classic Saison
Sunny saison powered by the unique Sorachi Ace hop.
7.6
0
Brouwerij West
Ask the Dusk IPA
American-Style India Pale Ale
Mecca Grade Estate Barley, Spelt, & Raw Barley. Citra, Mosaic, & Simcoe Hops
6.6
0
Brouwerij West
Dog Ate My Homework Blackberry Saison
Specialty Saison
A fresh, decidedly fruit-forward saison brewed with lots of Washington state blackberry juice. This beer is deep, deep red in color, but rather than being sweet like many fruit beers, it is dry, tart, and refreshing.
7
0
Brouwerij West
Falling Water IPA
American-Style India Pale Ale
Mecca Grade Estate Barley, Buckwheat, and Spelt. Simcoe, El Dorado, & Motueka Hops.
6.5
0
Brouwerij West
Popfuji Pilsner
American-Style Pilsener
What a fresh unfiltered Pilsner should be: malty and refreshing with a slight fruity/hoppy character. Authentic production methods used.
0
0
Brouwerij West
Saison Extra
Classic Saison
Our evolving house Saison - this time fermented clean in stainless to showcase our house Saison yeast strain. Dry, light, and refreshing, with the perfect blend of fruit and spice character.
6
0
Brown Truck Brewery
#10 American light lager
American-Style Light Lager
Light malty refreshing
3.7
14
Brown Truck Brewery
#14 IPA
American-Style India Pale Ale
Hoppy
6.7
88
Brown Truck Brewery
#30 Tripel
Belgian-Style Tripel
Med body full of flavor
10.3
31
Bruery Terreux
Frucht: Peach
Fruited Wood- and Barrel-Aged Sour Beer
Berlin-Style Tart Wheat Beer Aged in Oak Foeders with Peaches
4.5
0
Bruery Terreux
Humulus Terreux
Brett Beer
Hoppy Brettanomyces Beer with Mosaic Hops
6.3
0
Bruery Terreux
One Way or Another
Fruited Wood- and Barrel-Aged Sour Beer
Sour Tripel Aged in Oak Barrels with Oregon Marionberries and California Meyer Lemon Zest
9.3
0
Bruery Terreux
Oude Tart w/ Raspberries
Belgian-Style Flanders Oud Bruin or Oud Red Ale
Flemish-Style Red Ale Aged in Oak Barrels with Raspberries
7.7
0
Bruery Terreux
Train to Beersel
Wood- and Barrel-Aged Sour Beer
Imperial Sour Blonde Aged in Oak Barrels
8.4
0
Bruery The
10 Years (Highland Park Brewery Collaboration)
American-Style India Pale Ale
10 Years (Highland Park Brewery Collaboration)
8.2
0
Bruery The
Black Tuesday
Wood- and Barrel-Aged Strong Stout
Bourbon Barrel Aged Imperial Stout
20.3
0
Bruery The
Share This: Mint Chip
Chocolate Beer
Imperial Stout with mint and cacao nibs
10.5
0
Bruery The
White Chocolate w/ Cherries
Wood- and Barrel-Aged Strong Beer
Bourbon Barrel Aged Wheat Wine-Style Ale with cacao nibs, vanilla beans, and tart cherries
14.2
0
Brues Alehouse Brewing Company
Boneman Tripel
Belgian-Style Tripel
Belgian tripel with ripe fruit esters and bone dry finish
8
0
Brues Alehouse Brewing Company
Chemistry
Belgian-Style Dubbel
Delgian Dubbel aged in red wine barrels
8
0
Brues Alehouse Brewing Company
Leadhead IPA
American-Style India Pale Ale
West-coast Style IPA with Mosaic, Citra, and Chinook hops
6.6
0
Brues Alehouse Brewing Company
Valve-3 Amber
American-Style Amber/Red Ale
Amber ale with toasty caramel malts, red hued-with floral hop aroma and semi-sweet caramel character
5.2
0
Bull & Bush Brewery
Allgood Amber Ale
American-Style Amber/Red Ale
Amber Ale
6
30
Bull & Bush Brewery
Big Ben Brown Ale
American-Style Brown Ale
Brown Ale
6
20
Bull & Bush Brewery
Boston Cream Pale Ale
American-Style Cream Ale
Boston Cream Pie Pale Ale
6.5
20
Bull & Bush Brewery
Chinook Lager
American-Style Lager
Amber Lager brewed with Chinook Hops.
7
50
Bull & Bush Brewery
Grapefruit Pale Ale
American-Style Pale Ale
Grapefruit Pale Ale using orgainic peel and juice.
4.2
65
Bull & Bush Brewery
MAN BEER
English-Style India Pale Ale
English-Style IPA
7.7
56
Bull & Bush Brewery
Royal Oil (LIMITED BOTTLES EACH SESSION)
Wood- and Barrel-Aged Strong Beer
Bourbon Barrel aged for 2.0 years English Strong Ale
13
29
Bull & Bush Brewery
Single Hop Series: Comet
American-Style India Pale Ale
Single hop beer brewed with Comet Hops.
6.8
60
Bull & Bush Brewery
The Legend of the Liquid Brain Imperial Stout (LIMITED BOTTLES EACH SESSION)
Wood- and Barrel-Aged Strong Beer
Bourbon Barrel aged for 1.5 years Imperial Stout
12.5
33
Bull & Bush Brewery
The Tower E.S.B.
English-Style Extra Special Bitter
Extra Special Bitter
6.5
47
Bull & Bush Brewery
Turnip The Beets
Belgian-Style Tripel
Belgian-Style Tripel refermented in Sonoma-Cutrer Chardonnay barrels with Champagne yeast, organic Turnips and Beets.
8
15
Bull & Bush Brewery
Woody Pils
American-Style Pilsener
Alban Vineyards Syrah barrel aged pilsner.
6.8
40
Bull Island Brewing Company
Bubba Boots Pilsener
German-Style Pilsener
A classic German style pilsener. Pale in color, but bold in hops and aroma. Bubba Boots Pilsener is a crisp, flavorful aromatic delight!
6
23
Bull Island Brewing Company
Bull Island Oyster Jalapeno Porter
Chili Beer
Nope! It's not a stout, it's a porter. This Porter is brewed with the freshest oyster and jalapenos. It is a somewhat lighter in colored porter that brings out more of the jalapenos, and a finish of sea salt.
5
30
Bull Island Brewing Company
Dare Double Stout
British-Style Imperial Stout
British emperial stout that offers a sweet, roasted flavor profile with hints of chocolate and coffee balanced with a slightly high hop profile.
8.5
57
Bull Island Brewing Company
Laura's Favorite Belgian Tripel
Belgian-Style Tripel
Belgian-Style Tripel that showcases our special yeast Very Pale in color, with a smooth malt backbone and a hint of spice
8.8
33
Burn'Em Brewing
14 Buck Chuck
American-Style Pale Ale
Juicy, Citra dry-hopped American Pale Ale.
5.4
0
Burn'Em Brewing
Joey Wheat
Specialty Beer
Coffee Wheat Ale brewed w/ Infusco Coffee Roaster's Kenyan Roast.
6.2
0
Burn'Em Brewing
M.F. Saison
Other Belgian-Style Ale
Blend of Oak Aged mixed-fermentation Saisons, fermented w/ wild & domestic Saccharomyces, rare Brettanomyces & Lactobacillus.
6
0
Burn'Em Brewing
Raspberry Mr. Tea
Specialty Beer
Green/Black Tea Ale finished w/ Raspberries.
7.5
0
Byway Brewing Company
Haulin' Oats
Oatmeal Stout
A silky smooth, medium-bodied stout that gives off characteristics of roast and chocolate notes with a mild bitterness in the back. Into Darness - light-to-medium body, rich copper appearance, with caramel and roasted notes.
5.75
30
Byway Brewing Company
Into Darkness
Munich Dunkel
light-to-medium body, rich copper appearance, with caramel and roasted notes.
5.5
18
Byway Brewing Company
It's Just a Flesh Wound
English-Style India Pale Ale
This English-style IPA is characterized by generous use of East Kent Goldings hops, arguably the noblest of English hops. This style strikes a balance between malt and hops for a more rounded flavor.
7
45
Byway Brewing Company
Orange is the New Wheat
American Wheat Beer
crisp, zesty, and refreshing. The equivalent of 120 oranges per barrel, which perfectly coalesce with the wheat base.
5
20
Cabarrus Brewing Company
1792 English Bitter (ESB)
English-Style Extra Special Bitter
English-style extra special bitter.
5.2
38
Cabarrus Brewing Company
Boll Weevil Brown
English-Style Brown Ale
A classic English brown ale, medium bodied and moderate with caramel sweetness. Low hop additions allow the caramel and roasted malts to dominate this old style beer.
5
20
Cabarrus Brewing Company
Mule Spinner Stout
Oatmeal Stout
A full bodied, oatmeal stout. Roasted caramel and chocolate malts are used to give this beer its rich flavor. Oatmeal provides a creamy, sweet body and complexity.
5
22
Cabarrus Brewing Company
Spring Street Wheat
South German-Style Hefeweizen
American wheat ale brewed with White Wheat, 2 Row, Caramel, and Munich malts. German Hallertau hops add to the spicy, fruity characteristics of the American Hefeweizen yeast to create an extremely refreshing beer.
4.9
17
Calicraft Brewing Co
Barrel Project: Raspberry Sour
Fruited American-Style Sour Ale
A blend 3 base beers: red wine yeast fermented, brettanomyces fermented, lacto fermented. Further aging in red wine barrels. Raspberries are added to half of the barrels, while the other half of the barrels contain zinfandel pomace (spent grape skins).
8.5
5
Calicraft Brewing Co
Barrel Project: Zinfandel Sour
Wood- and Barrel-Aged Sour Beer
Base beer is fermented with red wine yeast. Further aging in freshly emptied zinfandel red wine barrels. Barrels are left to sour spontaneously with latent cultures in the barrel and cellar. Additionally, zinfandel pomace (spent grape skins) are added.
8.5
5
Calicraft Brewing Co
Guava Trees
Fruit Wheat Beer
This beer is guava juice in a glass. We started with a malt bill full of wheat and oats for a juicy texture. Then we fermented the beer with a wine yeast for floral aromatics and a slight tart finish. Finally we add 450 lbs of guavas and 150 lb white wine
7.2
7
Cambridge Brewing Co
Arquebus 2017
American-Style Barley Wine Ale
Blonde Barleywine brewed with New England honey and white wine grapes, aged in Stag's Leap Napa chardonnay barrels.
12
0
Cambridge Brewing Co
Bagel Bock
Rye Beer
Strong rye lager brewed with pumpernickel bagels from Mamaleh's Delicatessen next door to our brewery.
6.7
0
Cambridge Brewing Co
Cor Cordium
Specialty Saison
Collaboration with Jester King, this wild saison was co-fermented with both breweries' mixed cultures, then aged on foraged Cornelian fruit and heirloom cranberries for nine months
5
0
Cambridge Brewing Co
Flower Child IPA
American-Style India Pale Ale
Classic American IPA with loads of fresh floral and citrusy hop character.
6.5
0
Cambridge Brewing Co
Letter To Jimmy Page
American-Style Brown Ale
English-style dark mild ale brewed with Amber and Brown malts and English treacle.
3.7
0
Cambridge House Brew Pub - Granby
Double D Scotch Ale
Wood- and Barrel-Aged Strong Stout
Our Imperial Stout aged in Heaven Hill bourbon barrels. Rich, deep, and complex with a subtle bourbon character.
10.3
45
Cambridge House Brew Pub - Granby
Heaven and Helles
Munich-Style Helles
A refreshing German-style lager. Malt forward with a slightly dry finish.
5.3
20
Cambridge House Brew Pub - Granby
Old Mill Pond ESB
English-Style Extra Special Bitter
A well balanced English-style pub ale with a spicy and floral hop finish.
5.1
25
Cannonball Creek Brewing Co
Black 28
American-Style Black Ale
Aromas of grapefruit, orange, and resinous pine give way to subtle notes of caramel and chocolate, and an assertive hop bitterness. The finish is dry.
8.2
0
Cannonball Creek Brewing Co
Solid Gold Belgian Golden
Belgian-Style Blonde Ale
Belgian ale yeast contributes to an aroma of fresh tart lemons, balanced by a very subtle spice. Highly effervescent with a crisp, dry finish.
7.4
0
Cannonball Creek Brewing Co
Trump Hands IPA
Session India Pale Ale
A blend of German and American hops lend notes of white grape and citrus fruit. This IPA is light bodied and finishes dry with a moderate hop bitterness.
4.7
0
Canteen Brewhouse
Astro Hound DIPA
Imperial India Pale Ale
Imperial India Pale Ale
10
90
Canteen Brewhouse
High Plains Pils
Bohemian-Style Pilsener
This Czech Pilsner is brewed with German pilsner malts and hopped with Czech Saaz for a floral and herbal note, which finishes clean and crisp. Winner of Silver at the 2016 World Beer Cup.
5.5
35
Canteen Brewhouse
Laid Back Lager
American-Style Light Lager
American-Style Light Lager
4.9
22
Canteen Brewhouse
Social Capital
American-Style Sour Ale
American kettle sour, dry-hopped with Citra and Mosaic.
5.5
15
Canteen Brewhouse
Sundance Kolsch
German-style Kölsch
German-style Kölsch
5
24
Cape May Brewing Company
Coastal Evacuation
Imperial India Pale Ale
"Coastal Evacuation": a phrase common at the Jersey Shore. Hurricane season hits hard, and we're hitting back with a Double IPA able to withstand the storm. Copious amounts of Centennial hops dominate the flavor from start to finish.
8
80
Cape May Brewing Company
Corrosion
American-Style Sour Ale
Sour. IPA. Boom. A beer geeks' dream beer. Bitter and sour, two flavor profiles that more often clash then complement, are brought together in a harmonious blend via the guiding nature of ample amounts of Citra and Centennial on the dry hop.
5.75
45
Cape May Brewing Company
Follow the Gull
American-Style India Pale Ale
Brewed with 5.5 pounds per barrel of Citra, El Dorado, Amarillo, Cascade, and Azacca, Follow the Gull is super juicy, ridiculously tropical, ultra-drinkable, and immanently Cape May.
5.5
45
Cape May Brewing Company
Oktoberfest
German-Style Maerzen
This traditional Marzen style lager is all about balance. Enough hop presence to show up in the background, Oktoberfest is focused on the grain bill.Comprised of Vienna, Munich, Caramunich, Pilsen and Melanoidin malts to lend a toffee and caramel sweetness
5.8
25
Cape May Brewing Company
Turtle Gut
American-Style Sour Ale
Subtle earthy funk, malty sweetness and sharp acidity combine to give Turtle Gut its distinctive profile.Achieved by a quick souring with Lacto before being fermented with our house Saccharomyces strain, then allowed to get funky with a hefty dose of Brett
5.5
18
Carolina Brewery
Carolina Honey Brown
American-Style Brown Ale
Sourced local wildflower honey from King Cobra Apiary in Orange County, NC. Medium bodied light brown ale. Wonderful wildflower aroma followed by rich notes of caramel & chocolate, with a sweet honey flavor. Finished with herbal Fuggle hops.
5.3
10
Carolina Brewery
Copperline Amber Ale
American-Style Amber/Red Ale
This brilliant red ale is brewed with caramel and pale malts. The ale yeast provides a touch of fruit and Kent Golding hops lend just enough bitterness and aroma to round out the flavor.
5.2
33
Carolina Brewery
Flagship IPA
American-Style India Pale Ale
This beer has a unique floral aroma from the generous addition of Cascade hops to the fermenter in a procedure known as dry hopping.
5.9
66
Carolina Brewery
Sky Blue
German-style Kölsch
This thirst-quenching Kölsch-style ale is spritzy, not too malty, with the pleasing aroma of imported Hallertauer hops.
4.8
20
Cascade Brewing
Apricot
Wood- and Barrel-Aged Sour Beer
This Northwest sour ale is a blend of blond ales that were aged in oak wine barrels for up to 14 months with more than 13,000 pounds of fresh apricots from the Pacific Northwest.
7.2
0
Cascade Brewing
Bourbonic Plague
Wood- and Barrel-Aged Sour Beer
2008 GABF gold medal winner. Spiced double Porters aged in bourbon barrels for up to two years with dates, vanilla beans and cinnamon. Flavors of bourbon, roasted malts, dried dark fruits, vanilla and spice.
12.1
0
Cascade Brewing
Manhattan NW
Wood- and Barrel-Aged Sour Beer
Manhattan NW is a blend of sour quad and blond ales aged in bourbon and wine barrels with sour pie cherries and apricot noyaux. A tribute to the classic Manhattan cocktail.
10.3
0
Cascade Brewing
Sang Noir
Wood- and Barrel-Aged Sour Beer
Sang Noir is a blend of imperial red ales aged in bourbon and wine barrels for up to two years with Bing cherries. The darkest in our series of "Sang" projects, Sang Noir features flavors of dark roast malts, bourbon, black cherries and port wine.
10.1
0
Cascade Brewing
Vlad the Imp Aler
Wood- and Barrel-Aged Sour Beer
Winner of the Silver Medal at the 2008 GABF .This Northwest style sour is a blend of spiced Quads, Triples and Blondes aged in Bourbon and wine barrels for over 18 months with orange peel and coriander.
10.9
0
Caution: Brewing Company
Card You Mom Saison
Herb and Spice Beer
Brewed with cardamom, coriander, and orange peel. Not only that, we used a blend of tripel and saison yeasts to give the perfect amount of body and mouthfeel to a light, flavorful, and dry finishing Belgian-Style speciality ale.
6.9
24
Caution: Brewing Company
Easy Money American Light Lager
American-Style Light Lager
Taking the macro playbook, we brewed an American Light Lager with 25% rice, and 4 other ingredients. Yes, we used yeast in our beer as well (take note, AB). Clean, crisp, and effervescent, its the craft version of the ultimate light beer.
4
11
Caution: Brewing Company
Lakewood Summer British Golden Ale
Golden or Blonde Ale
Our take on the English-Style Summer Ale made in Lakewood, CO. Golden straw in color and brewed entirely with UK hops, a slight biscuit malt profile makes for a refreshing and thirst quenching summer beer.
4.9
33
Caution: Brewing Company
Purgatory Belgian-Style Golden Strong Ale
Belgian-Style Blonde Ale
Our Pro-Am entry brewed with Jonathan Aronson who won gold at Big Beers in Breckenridge this last January with this recipe. Fruity, complex, with a characteristic spiciness from the Trappist yeast and highly attenuated dry finish.
8.4
29
Caution: Brewing Company
The Earl English Mild
Herb and Spice Beer
What beer drinks like tea? The Earl does. Imagine hints of cream, vanilla, bergamot, and black tea in the aroma paired with a caramel malty sweetness backed with the perfect amount of carbonation.
4.2
29
Cellarmaker Brewing Company
Double Dobis 100% Citra DIPA
Imperial India Pale Ale
Hopped with 100% Citra Hops
8.5
85
Cellarmaker Brewing Company
Imperial Coffee and Cigarettes
Smoke Porter
This Is The Bigger, Badder Version Of Coffee And Cigarettes. We Use Over 4 Lbs Per Barrel Of Sightglass Coffee For An Intense Coffee Kick Alongside A Light Addition Of German Beechwood Smoked Malt For A Touch Of Smoke Character.
10.9
56
Cellarmaker Brewing Company
Lost Wisdom Solera Saison
Specialty Saison
Saison with Brett Brux, Brett Drei, and Lactobacillus dry hopped with Nelson, Mosaic and Citra
5.9
7
Cellarmaker Brewing Company
Manhattan Barrel Vastness of Space
Wood- and Barrel-Aged Strong Stout
14 Months Ago We Were Fortunate To Procure These High West Whiskey Barrels That Further Aged The Same Rye Whiskey In Addition To Vermouth & Bitters To Form A Barrel Aged Manhattan Cocktail. We Filled These Barrels With Our Traditional Imperial Stout. The R
11.5
45
Cellarmaker Brewing Company
Turok: Mosaic Hunter
American-Style India Pale Ale
Each Year's Hop Harvest Is Often Thought Of As A Linear Progression: Present Becomes The Past All The While Moving Into The Future. Unbeknownst To Most Of Us, Turok: Mosaic Hunter, Exists Within A Pseudo-Yakima, Hop Farms Of The Now & Those That Have Yet T
7.1
43
Central Waters Brewing Co
BREWER'S RESERVE BOURBON BARREL BARLEYWINE
British-Style Barley Wine Ale
An American Barleywine Ale aged in used oak bourbon barrels This beer develops rich flavors of dark fruits and wood that deepen over time. **2008 Great American Beer Festival Gold Medal Winner**
14.3
80
Central Waters Brewing Co
BREWER'S RESERVE BOURBON BARREL SCOTCH ALE
Scottish-Style Heavy Ale
This rich, malty ale has been aged to perfection in our barrel house. Subtle and smooth, this is a decadent display of patience and process. Join us in a toast to good health. Slainte!
11
29
Central Waters Brewing Co
CASSIAN SUNSET
American-Style Imperial Stout
A bourbon barrel aged imperial stout with local Emy J's coffee, whole vanilla beans, and cinnamon.
10.5
0
Central Waters Brewing Co
HHG APA
American-Style Pale Ale
Inspired by the music of Wisconsin band Horseshoes & Hand Grenades, this Citra & Mosaic hopped Americana Pale Ale is best enjoyed with friends old and new while playing or dancing to your favorite tunes. Let's make some memories today!
5.4
48
Central Waters Brewing Co
Nineteenth Anniversary Stout
Specialty Beer
Released exclusively at the brewery, is a meticulous blend of several different barrel aged stouts.
13
0
Chapman Crafted Beer
Absofruitly: Mango & Peach
Berliner-Style Weisse
Tart - Fruity - Definitely
5.3
10
Chapman Crafted Beer
Balancing Opposites
Imperial India Pale Ale
Mosaic - Azacca - Citra
8
65
Chapman Crafted Beer
Blogger
American-Style Dark Lager
Smooth - Roasty - Opinionated
6.5
15
Chapman Crafted Beer
Blogger
American-Style Dark Lager
Smooth - Roasty - Opinionated
6.5
15
Chapman Crafted Beer
Chapman Crafted Pils
Bohemian-Style Pilsener
Crisp - Quenching - Classic
5.2
10
Chapman Crafted Beer
Identifying Features
American-Style India Pale Ale
Citra - Galaxy - Mosaic
6.8
45
Chapman Crafted Beer
Old Towne Fest
German-Style Maerzen
Floral - Biscuity - Prost!
5.7
12
Chapman Crafted Beer
Personal Perspective
American-Style Pale Ale
Citrus - Expressive - Outlook
5.8
50
Chapman Crafted Beer
Slow Riser w/ Bangarang Coffee
American-Style Amber/Red Ale
Nitro Red Ale w/ Bangarang Coffee Roasters Roasty - Smooth - Percolating
6.3
15
Chelsea Craft Brewing Co Llc
Alpha 5 Pale Ale
American-Style Pale Ale
An American-style Pale Ale.
5
0
Chelsea Craft Brewing Co Llc
Checker Cab Blonde Ale
German-style Kölsch
This crisp, straw-colored ale is brewed in the style of a German Kolsch beer. Aged cold, its taste resembles a Lager. Imported malts are balanced with the delicate notes of noble hops to create a pleasant ale.
5
0
Chelsea Craft Brewing Co Llc
Royal IPA
American-Style India Pale Ale
An American-style IPA
8
0
Chelsea Craft Brewing Co Llc
Sunset Red Ale
American-Style Amber/Red Ale
A medium bodied ale with the perfect balance of malt and domestic hop flavors and aromas.
5
0
Cheluna Brewing Company
Benito's Oaxacan Imperial Stout
Wood- and Barrel-Aged Dark Beer
Robust black ale infused with blackberry and aged in Oaxacan mezcal barrels. ¡Sabrosa!
10
50
Cheluna Brewing Company
Cheluna Gose de Tamarindo
Leipzig-Style Gose
Savory, hazy tart wheat beer featuring tamarind and plum. ¡Rica!
4.9
12
Cheluna Brewing Company
Cheluna Mexcellent Lager
American-Style Lager
Crisp, clean, medium bodied lager. ¡Deliciosa!
4.6
12
Cheluna Brewing Company
Coco Xoco
Chocolate Beer
Medium bodied porter infused with kilos of cacao, toasted coconut and pure vanilla.
7
50
Chuckanut Brewery
Dunkel Lager
Munich Dunkel
Chuckanut's Dunkel is a deep reddish-brown color, capped by an impressively sturdy tan head. Some of the malts have been roasted, giving Dunkel toffee, chocolate, coffee, and even licorice notes.
4.7
18
Chuckanut Brewery
Helles Lager
Munich-Style Helles
Helles lager has a well-developed bready flavor that rewards the drinker with sublime balance and a subtle, elegant maltiness.
5
22
Chuckanut Brewery
Kolsch
German-style Kölsch
Kölsch is a blonde, top fermented ale brewed from pilsner malt. Bitterness is restrained, and the palate is light-bodied and dry with a soft malt flavor in the center giving way to a dry finish. Kölsch has won 3 GABF awards and one World Beer Cup!
4.5
20
Chuckanut Brewery
Pilsner
German-Style Pilsener
Chuckanut's Genuine Pilsner is a thing of beauty; it is delicate, sharp, flavorful, aromatic, and appetizing. Pilsner's cold fermentation leaves the beer clear and bright after its long aging process.
5
36
Chuckanut Brewery
Vienna Lager
Vienna-Style Lager
Our Vienna Lager is brewed with half Vienna malts creating a delicate amber lager with a slightly caramelized and toasted malt character balanced by a subtle hop presence. The beer finishes clean and crisp!
5.5
22
Chula Vista Brewery
Beautiful View
American-Style Pale Ale
Made with select malts and Pacific Northwest hops.
5.6
0
Chula Vista Brewery
JJ Pale
English-Style Pale Mild Ale
Light herbal flavor with balanced malts and hops.
5.2
0
Chula Vista Brewery
Ruby Red
American-Style Amber/Red Ale
Medium-bodied with toasted malts and caramel notes.
5.3
0
Chula Vista Brewery
South Bay
American-Style Brown Ale
Made with oats, has chocolate notes and nutty flavor.
5.2
0
Cigar City Brewing Co
Albatross Fuel
Czech Premium Pale Lager
Bohemian-style Pilsner
5.8
33
Cigar City Brewing Co
Cognac Barrel-aged Marshal Zhukov's
Wood- and Barrel-Aged Strong Stout
Imperial stout aged in cognac barrels
12
56
Cigar City Brewing Co
Good Gourd
Pumpkin Spice Beer
Imperial Pumpkin Ale with cinnamon, Jamaican allspice, Zanzibar cloves, nutmeg and vanilla
8.8
33
Cigar City Brewing Co
Guayabera
American-Style Pale Ale
American Pale Ale brewed with 100% Citra hops
5.5
50
Cigar City Brewing Co
Hunahpu's
Chili Beer
Imperial Stout with ancho and pasilla peppers, cinnamon, vanilla and cacao
12
74
Cigar City Brewing Co
Jai Alai
American-Style India Pale Ale
American IPA with six hop varietals. Dry-hopped with Simcoe.
7.5
65
Cigar City Brewing Co
Life Is Like...
Wood- and Barrel-Aged Strong Stout
Bourbon Barrel-aged Sweet Stout with cherries and cacao nibs
13
54
Cigar City Brewing Co
Maduro
English-Style Brown Ale
English-style Brown Ale brewed with Fuggles and East Kent Goldings hops
5.5
25
Cigar City Brewing Co
Margarita Gose
Contemporary Gose
Gose wit sea salt, lime and orange peel.
4
12
Cigar City Brewing Co
White Oak Jai Alai
American-Style India Pale Ale
American IPA aged on white oak spirals
7.5
65
Circle Brewing Company
Alibi Blonde
Golden or Blonde Ale
A laid back easy drinking American Blonde with the smooth richness of a German maibock
4.3
17
Circle Brewing Company
Blur Texas Hefe
South German-Style Hefeweizen
This Texas twist on the German wheat beer brings a hint of caramel to a crisp and refreshing style. The citrus aroma plays off the light and creamy body to create a beer that has no rival whether you enjoy it in the sun or shade.
4.6
12
Circle Brewing Company
Falkor Experimental Wheat
Belgian-Style Witbier
Using a specifically design experimental hop with subtle vanilla notes, Falkor has a fantastically smooth and crisp finish.
5.5
15
Circle Brewing Company
Lady Bird American IPA
American-Style India Pale Ale
Inspired by endless fields of bluebonnets and slow drives rolling through Texas hill country. An elegant yet blunt American IPA. Lady Bird blossoms with dank and tropical hop aroma, finishing with a smooth floral flavor to balance against its malty complex
7.2
48
Circle Brewing Company
Tuxedo T-Shirt Black IPA
American-Style India Pale Ale
Rolling four deep with its friends Nugget, Columbus, Mosaic, and Amarillo, Tuxedo T-shirt wont hesitate to hop burst all over your taste buds but in a classy way.
6.5
41
City Star Brewing
All American IPA
American-Style India Pale Ale
American IPA brewed with a handful of elusive USA hops: Columbus, Simcoe, Amarillo, Mosaic and dry hopped with Citra hops.
6.5
79
City Star Brewing
Bandit Brown
English-Style Brown Ale
English Brown Ale. Malt forward with caramel, nut and toffee flavors.
5.5
17
City Star Brewing
Belle
Wood- and Barrel-Aged Sour Beer
Sour oatmeal pale ale aged 2 years in whiskey oak barrels and aged 3 months with golden passion fruit.
6.6
0
City Star Brewing
Outlaw
Wood- and Barrel-Aged Strong Stout
2017 vintage of this imperial stout was aged 14-18 months in Kentucky bourbon whiskey oak barrels. Flavors of rich chocolate, toffee, dark dried fruit, oak, vanilla and of course American whiskey.
12.75
0
City Star Brewing
Scoundrel
Wood- and Barrel-Aged Sour Beer
Sour brown ale aged in oak Cabernet wine barrels for two years. Soured with a blend of lactobacillus and pediococcus bacteria.
6.8
0
CO-Brew
Chocolate Coffee Stout
Coffee Stout or Porter
American style dry stout with coffee and chocolate.
6.7
34
CO-Brew
Farmhouse Saison
Specialty Saison
A dry hopped Brett Saison, that is very drinkable with noticeable Lemon and Pineapple notes.
8.2
28
CO-Brew
Meyer Lemon Gose
Leipzig-Style Gose
Tart, salty, refreshing, like drinking lemonade on a hot day.
4.1
8
CO-Brew
Mosaic IPA
American-Style India Pale Ale
West coast style IPA with loads of late hop additions. Single hopped with Mosaic CryoHops, giving this beer loads of tropical fruit hop flavor and aroma.
7.2
74
Colorado Plus
Curly's Ale
American-Style Cream Ale
Named for a Colorado Plus regular, it is our take on New world meeting world; an American cream ale with German hop flavour.
5.1
15
Colorado Plus
Geata Dubh
Classic Irish-Style Dry Stout
A traditional dry Irish, brewed with malt from Ireland.
5
32
Colorado Plus
Insert Coin
American-Style Pale Ale
A citrus forward pale ale, brewed with oat and hopped with citra and Azacca.
5.5
52
Columbus Brewing Co
Festbier
German-Style Maerzen
Oktoberfest style Lager
5.3
18
Columbus Brewing Co
SFW
Pale American-Belgo-Style Ale
Session Farmhouse Ale
4.7
24
Columbus Brewing Co
Simon
American-Style Stout
American style Stout
8
0
Columbus Brewing Co
ThunderLips
International-Style Pale Ale
International style Pale Ale
5.3
50
Columbus Brewing Co
Uncle Rusty
Imperial Red Ale
Imperial Red Ale
9.5
90
Community Beer Co
Mosaic IPA
Imperial India Pale Ale
A well balanced, floral IPA showcasing Mosaic hops. Notes of mango, papaya, & blueberry.
8.6
85
Community Beer Co
Public Ale
English-Style Extra Special Bitter
Two time GABF gold medal winner, this English-style ESB utilizes all English ingredients including Marris Otter malt & East Kent Golding hops.
5.5
38
Community Beer Co
Vanilla Ascension Coffee Porter
Coffee Stout or Porter
This beer begins as a baltic style porter with additions of cold pressed coffee fro a local roaster. We then aged the beer on Madagascar vanilla beans to complete this complex, smooth, and delicious brew.
6.9
37
Community Beer Co
Yessir! Pale Ale
American-Style Pale Ale
Refreshingly dry American-style pale ale bursting with citrusy flavors and aromas thanks to large additions of Lemon Drop, Citra & Eureka hops.
5.2
32
Comrade Brewing Company
An Imperial Christmas
Herb and Spice Beer
Our Pro-Am beer for the Great American Beer Festival. We teamed up with Marc Svitak, gold medal winner at the 2017 Big Beer, Belgians and Barleywines Festival in Breckenridge, CO. Brewed with honey malt, Patagonian Crystal 70, Victory and a touch of wheat,
0
0
Comrade Brewing Company
Fresh Hop Superpower IPA
Fresh or Wet Hop Ale
2014 & 2015 Great American Beer Festival Silver Medal Winner
0
0
Comrade Brewing Company
REDCON
Irish-Style Red Ale
Our take on an Irish Red Ale. Brewed with Chinook, Golding and Cascade hops. Slight caramel sweetness and just a hint of roast, and a light citrus nose
0
0
Comrade Brewing Company
Superpower IPA
American-Style India Pale Ale
American IPA with loads of Pacific Northwest hops. Huge pine and grapefruit hop aroma, with flavors of citrus, balanced bitterness with a light malt character
0
0
Comrade Brewing Company
Yellow Card
Golden or Blonde Ale
Crisp and refreshing blonde ale brewed with Citra hops. Subtle notes of melon, passion fruit and lime in the aroma. A real thirst quencher
0
0
Confluence Brewing Co
Blue Corn Lager
American-Style Light Lager
it tastes like a fancy tortilla chip dipped in a medium spicy salsa. its amazing how the flavor of the corn comes through, toasted and dried, even roasted and salted like a chip might actually be, the rest of the malt is light
6
21
Confluence Brewing Co
Capital Gold Lager
American-Style Lager
Glowing like the Iowa Capitol dome in Iowa's capital city, Des Moines, this golden lager is brewed with time-honored German brewing methods. Its slightly sweet, bready, malty flavor is balanced perfectly by traditional German noble hops with medium-low hop
5.1
22
Confluence Brewing Co
Des Moines IPA
American-Style India Pale Ale
As the capital of Iowa, Des Moines constantly surprises first-time visitors with its mix of expected agrarian heritage and influences and unanticipated cosmopolitan flare. So too, with Des Moines IPA, an American take on a world beer: India Pale Ale (IPA).
6.9
75
Confluence Brewing Co
Farmer John's Multi-Grain Ale
Strong Ale
Farmer John's Multi-Grain Ale is amber waves of grain in a glass. A refreshing, blonde ale, it features a base of two row American barley malt along with a large portion of wheat malt, a small dose of rye malt and un-malted oats, corn and wheat.
5.7
25
Confluence Brewing Co
Marquette & Joliet
French-Style Biere de Garde
We began our journey by aging our French style St. Etienne Biere de Garde in our 30bbl American oak foeder. The lactobacillus in the oak imparted a gentle tartness we found would blend perfectly with strawberry, black pepper, and orange peel.
8.4
22
Conshohocken Brewing Co.
Blueberry Berliner Weisse
Berliner-Style Weisse
Blueberry Berliner Weisse is our spin on the classic German sour style. Brewed with over seven pounds of blueberry purée per barrel, our Berliner Weisse is flavorful, tart and refreshing
4.1
0
Conshohocken Brewing Co.
Day Without A Dawn Imperial Black Ale
American-Style Black Ale
Day Without A Dawn is our Imperial American Black Ale. Six specialty malts were used to create a complex symphony of roasted malt flavors, including chocolate, black coffee and dark cherries. With over 4 lbs of hops per barrel, intensely earthy and piney
8.2
0
Conshohocken Brewing Co.
Puddlers Row ESB
English-Style Extra Special Bitter
Silver Medal winner at the World Beer Cup, Puddlers Row ESB is a classic English-style ale with mellow roasted flavor that's rounded out by a toffee-like caramel sweetness. Puddlers Row is well balanced between English malts and European hops.
5.4
0
Conshohocken Brewing Co.
Schwarzbier
German-Style Schwarzbier
Schwarzbier is an often overlooked style of dark lager from Bavaria. Despite it's dark appearance, it is very balanced and smooth without being roasty. Flavors like toffee, chocolate and baked bread dominate this malty brew. It finishes clean and dry,
5.2
0
Conshohocken Brewing Co.
Smoked Biere de Garde
Other Smoke Beer
A wonderfully complex Belgian-style ale. Deep amber in color, our smoked BDG has sweet malt flavors and aromas of bread and toffee and a full, creamy mouth feel. Subtle smoke character adds another layer to this already elaborate Belgian style ale.
7
0
Conshohocken Brewing Co.
Type A IPA
American-Style India Pale Ale
Conshohocken IPA features bold Cascade and Bravo hop-derived flavors and aromas of citrus fruits with a subtle earthy spice characteristic. Combined with a firm malt foundation and dry finish, our IPA makes for a smooth and refreshing drinking experience.
6.4
0
Conshohocken Brewing Co.
Viking Funeral
Other Smoke Beer
Rye Whiskey Barrel Aged Smoked Honey Ale. This beer defies description. We brewed it with pale, munich, light crystal and smoked malts, then added 60lbs of local wildflower honey. Deep, smokey and incredibly hard to define, Viking Funeral is smooth
10.9
0
Conshohocken Brewing Co.
Wings of Steel
Wood- and Barrel-Aged Strong Beer
Barrel Aged Barleywine brewed with a blend of five types of malt and aged in Buffalo Trace Rye Whiskey barrels. The rich complexity of this English-style Barleywine intertwines with the barrel derived whiskey​ flavors and aromas in a most inviting way
9.7
0
CooperSmiths Pub and Brewing
Gravity Well
British-Style Imperial Stout
Imperial Stout
8.5
40
CooperSmiths Pub and Brewing
Not Brown Ale
English-Style Brown Ale
English Brown Ale
5.3
27
CooperSmiths Pub and Brewing
Punjabi Pale Ale
English-Style India Pale Ale
English IPA
6.6
65
CooperSmiths Pub and Brewing
Stankonia IIPA
Imperial India Pale Ale
Double IPA
9.3
97
Copper Kettle Brewing Company
Citrus Paradisi
American-Style India Pale Ale
New England hazy/juicy IPA, hoppy but not bitter East Coast IPA brewed with Citra and Mosaic hops
6.3
25
Copper Kettle Brewing Company
Helles Lager
Munich-Style Helles
German style golden lager with a clean, crisp finish.
4.8
15
Copper Kettle Brewing Company
Mexican Chocolate Stout
Chili Beer
A complex spiced Stout brewed with cinnamon, cacao, and the blend of three Central American Chili Peppers. Our interpretation of ancient Mayan cacao recipes.
7
50
Copper Kettle Brewing Company
Snowed In Mocha
Wood- and Barrel-Aged Strong Stout
This bourbon barrel-aged Imperial Oatmeal Stout is taken to a whole new level by adding chocolate and coffee. Rich and complex, this beer is a prime candidate for extended aging.
13.2
40
Coppertail Brewing
Blackberry Cucumber Florida Weisse
Berliner-Style Weisse
Tart fruit, fresh cucumber
3.5
0
Coppertail Brewing
Free Dive
American-Style India Pale Ale
Loads of citrusy, piney hops, dry finish
5.9
0
Coppertail Brewing
Independent Pilsner
German-Style Pilsener
Crisp hop character, clean finish
5.5
0
Coppertail Brewing
Oktoberfest
German-Style Oktoberfest/Wiesn
Floral hops and toasty malt
5.8
0
Coppertail Brewing
Tampa Dunkel
Munich Dunkel
Bold maltiness with rich roasty notes
5.2
0
Coronado Brewing Co
CoastWise Session IPA
Session India Pale Ale
A collaboration between Coronado brewing Company and the Surfrider Foundation, CoastWise is inspired by a shared love of the coastal lifestyle and a desire to protect the natural environment that inspires it.
5
0
Coronado Brewing Co
Onboard Stout
Oatmeal Stout
Session Oatmeal Stout
4.8
0
Coronado Brewing Co
Orange Ave Wit
Belgian-Style Witbier
A refreshing, light-bodied brew rife with citrus zing and a hint of earthy spice.
5.2
15
Coronado Brewing Co
SeaCoast Pilsner
German-Style Pilsener
This California pilsner is crisp, refreshing and highly drinkable with hop aroma and flavor from Czech Saaz, Cluster and German Hallertau hops.
4.9
18
Coronado Brewing Co
Stingray IPA
American-Style India Pale Ale
Citra, Mosaic, Simcoe and Southern Cross hops provide flavors and aromas of tropical fruits and sun-kissed citrus with soft accents of nectarine and peach.
7.9
48
Council Brewing Company
Beatitude Cherry
Fruited American-Style Sour Ale
A mixed fermentation sour beer, which uses real cherries and is complex and refreshingly dry.
4.5
0
Council Brewing Company
Bully Pulpit IPA
American-Style India Pale Ale
Perfect blend of citrus and tropical fruit notes with a touch of dankness supported by a malt body and dry finish.
7.2
0
Council Brewing Company
Third Anniversary Biere De Miel
Specialty Beer
Highly carbonated, inspired by sparkling wine, this barrel-aged golden sour with honey added has a crisp dry finish.
11.2
0
Council Brewing Company
Unbreakable Hex
Wood- and Barrel-Aged Sour Beer
Intense tropical fruit aroma and flavor with a bright acidity and juicy finish.
6.3
0
Crane Brewing Company
Farmhouse IPA with Brett
Brett Beer
We love the combination of juicy hops and the fruity esters and phenolics of Belgian yeast. Now we added Brettanomyces at the point of bottling to provide an extra layer of complexity and funk to our Farmhouse IPA
6.8
28
Crane Brewing Company
Grapefruit Gose
Leipzig-Style Gose
Possibly the most rustic and obscure beer of Germany, the salty, sour gose of Leipzig needed an American touch. How about grapefruit zest? The result is probably the only beer that goes as well by the pool as it does with Thanksgiving dinner.
4.1
4
Crane Brewing Company
Nostaglia
Mixed-Culture Brett Beer
Nostalgia is a nod to the original saison brewing techniques. Brewed with oats, spelt, and flaked wheat in addition to malted wheat and barley. We wine barrel fermented with a mixed culture that includes locally harvest wild yeast
5.5
17
Crane Brewing Company
Trailsmith
Classic Saison
A touch of malt sweetness with fruity ester and white pepper spice yeast character. Very refreshing dry finish, perfect for any trail you are on!
6.8
28
Crazy Mountain Brewing Co
Creedence Pilsner
International-Style Pilsener
This Pilsner is modeled after the classic bohemian Pilsners of Europe. We use high quality Pilsner malt to lend the beer a nice delicate flavor and aroma. We add classic Czech hops to give a slightly spicy and cedary nose with a light floral finish.
4.9
35
Crazy Mountain Brewing Co
Hookiebobb IPA
American-Style India Pale Ale
A Colorado approach to an American take of an English classic. Three aggressive yet floral American hops and one hop from Down Under team together to make a bright, citrusy, floral India Pale Ale.
6.7
87
Crazy Mountain Brewing Co
Horseshoes & Hand Grenades
American-Style Extra Special Bitter
Our American ESB showcases complex maltiness and unique hop character. Chinook & Amarillo hops coupled with 5 different types of malt make this brew a one-of-a-kind. Enjoy this ale when close just won't cut it.
6
35
Crazy Mountain Brewing Co
Lawyers, Guns & Money
American-Style Barley Wine Ale
For this special brew we use an assortment of crystal malts and throw a little Belgian candi sugar into the Brew Kettle to give a hearty maltiness. Dry hopping with American hops gives this English style a refreshing twist.
10
56
Crazy Mountain Brewing Co
Local's Stash Blueberry Vanilla Petite Sour
American-Style Sour Ale
This sour ale begins with a petite sour base and then blueberry is added to provide a subtle and soft tartness. The addition of vanilla brings a touch of sweetness, resulting in an exceptionally refreshing sour ale.
5
8
Crazy Mountain Brewing Co
Local's Stash Bourbon Barrel Aged Imperial Pumpkin Ale
Pumpkin Spice Beer
We added 150lbs of pumpkin to the mash, as well as cinnamon, all-spice, and nutmeg to the boil. It was then aged in Breckenridge Distillery Bourbon barrels for 12 months, giving a distinct bourbon and vanilla warmth with additional woody accents.
10.2
27
Crazy Mountain Brewing Co
Local's Stash Colorado Chocolate Cherry Imperial Stout
American-Style Imperial Stout
This Imperial Stout is brewed with 100% Colorado-grown malts, hops, and fruit.
9.2
40
Crazy Mountain Brewing Co
Local's Stash Radler Style Ale
American-Style Fruit Beer
A tasty, low alcohol refresher perfect for the hot days of summer, our take on the traditional German Radler starts with a Wit beer base, with the sharp and tart citrus flavors of grapefruit and lemon.
4.5
10
Crazy Mountain Brewing Co
Local's Stash Raspberry Belgian Style Quad
Belgian-Style Quadrupel
This brew has been molded after a classic Belgian Quad and its beautiful red color shines through with a rich malty profile of dark fruit flavor and aroma. Note flavors of dates, figs, and plums as you savor this full bodied quad.
10
30
Crazy Mountain Brewing Co
Local's Stash Zinfandel Barrel Aged Old Soul
Wood- and Barrel-Aged Strong Beer
For this tasty concoction we aged one of our favorite belgian style ales, Old Soul, in Zinfandel barrels. This beer is dangerously delicious and the Zinfandel barrels give the beer a pleasant sweetness to complement the bold and fruity flavor.
7.6
32
Crestone Brewing Company
Emergence American Pale
American-Style Pale Ale
Traditional American citrus / resin hop character above biscuity malt
5.25
0
Crestone Brewing Company
Recurrence Red IPA
Double Red Ale
CTZ hopped amber with sturdy caramel/rye body
7
0
Crestone Brewing Company
Shieldmaiden Dunkel
Munich Dunkel
German dark lager with sweet bready malt and soft fruit esters
4.9
0
Crestone Brewing Company
Sojourn Rye Saison
Rye Beer
Rustic farmhouse ale with a moderate peppery rye finish
6.2
0
Crestone Brewing Company
Tractor Beam Czech Pils
German-Style Pilsener
Traditionally made with sweet pilsner and a moderate noble hop bite
4.5
0
Crooked Stave Artisan Beer Project
Nightmare of Brett
Wood- and Barrel-Aged Sour Beer
A demonic dark sour, Nightmare on Brett takes on many facets during its transformation to the sour side. Initially aged in large oak foeders with our mixed culture of wild yeast and bacteria, this beer is then transferred to bourbon and whiskey barrels.
9.666
0
Crooked Stave Artisan Beer Project
Trellis Buster
Imperial India Pale Ale
Brewed with more hops than we have ever used in a single beer, this resinous trellis-busting hop bomb is bursting with bold character. We've tailored the malt profile to deliver a ridiculously smooth and drinkable double IPA; dry-hopped with Azacca, Ci
8.5
0
Crooked Stave Artisan Beer Project
Von Pilsner
German-Style Pilsener
Combining our brewery's super soft water, traditional floor malted barley and the finest German hops, this unfiltered keller pilsner is crushable. Brewed as a traditional European pilsner, this is what beer tastes like pouring from the wooden vats used
5
0
Crooked Thumb Brewery
Abbey of the South Belgian Singel Aged on Plums.
Belgian-Style Blonde Ale
A Belgian-Style Blonde Ale aged on plums for two months, then bottle conditioned for an additional two months. The plums impart a tart fruity complexity with a hint of classic farmhouse notes from co-fermentation on Brett B.
0.055
25
Crooked Thumb Brewery
Abbey of the South Belgian Trippel
Belgian-Style Tripel
A Belgian brew with Noble hop aromatics of orange rind, clove, banana and apricot. This beer becomes more complex as it warms.
0.096
23
Crooked Thumb Brewery
Florida Grapefruit Gose
Contemporary Gose
A classic tart wheat ale with German roots inspired by Safety Harbor's historical link to grapefruit. Brewed with coriander and citrus peel, this beer is citrusy, refreshing and slightly tart.
0.043
8
Crooked Thumb Brewery
Grandpa Jack's Pils
German-Style Pilsener
A German-style Pilsener made with noble hops and Pilsener malt resulting in floral and spicy aromas and a subtle malt character. Best Florida Beer 2nd Place winner in 2016.
0.053
23
Crooked Thumb Brewery
Harbor Lager
Vienna-Style Lager
This traditional German inspired style is dominated by a bready malt profile in aroma and flavor, balanced with a subtle spicy hop character.
0.057
18
Crow Hop Brewing Co. Ltd.
'Rado's Red Ale
American-Style Amber/Red Ale
Our Irish-style red is crystal clear with reddish hues. Upfront notes of dark caramel with a slightly astringent quality build into bold roasted toffee with nutty undertones. It finishes with a light taste of toasted grain, which lends a characteristic dry
5.9
30
Crow Hop Brewing Co. Ltd.
Big Water Nut Brown Ale
American-Style Brown Ale
Based on a Northern English Brown, this medium-light bodied brew has a deep reddish-brown color. Upfront notes of sweet chocolate, toffee, and nuts are followed up with a hint of roasted bitterness. The blend of American and English hops gives this beer a
5.2
32
Crow Hop Brewing Co. Ltd.
Knee-Knocker Porter
Brown Porter
Our rendition of this classic British ale is medium bodied with a has a deep brown color. It has an aroma rich with caramel, chocolate, and a hint of roastiness. The flavor mirrors the aroma, giving way to a smooth, satisfying finish.
5.2
23
Crow Hop Brewing Co. Ltd.
Norteño Mexican Lager
International-Style Pilsener
Mexican Lager
5.5
25
Crow Hop Brewing Co. Ltd.
Recess India Pale Ale
English-Style India Pale Ale
Bright orange-citrus aroma with hints of caramel leads to a grapefruit flavor with toffee-like flavors and a firm, but balanced bitter finish.
6.5
86
Crow Hop Brewing Co. Ltd.
Sleeping Owl Stout
American-Style Stout
Our Oatmeal Stout is very dark and full-bodied, with predominate chocolate and coffee notes. A smooth, almost silky-like mouthfeel features a bit of noble hop bitterness, maltiness, and some sweetness. You'll discover hints of oatmeal and a little roas
5
33
Cueni Brewing Co.
Blonde... Jon's Blonde
Golden or Blonde Ale
Soft malt with a slightly citrus hop character. Well balanced and easy drinking.
4.7
27
Cueni Brewing Co.
ESB
English-Style Extra Special Bitter
A balance of toasty malt and herbal hops. An "English pale ale".
5.4
37
Cueni Brewing Co.
Monkey Skull Porter
Coffee Stout or Porter
Rich malt with hints of chocolate and coffee. Won a Bronze in category at Best Florida Beer Competition.
6
33
Cueni Brewing Co.
Moove Over, I'm Milk Stout
Sweet Stout or Cream Stout
A full bodied stout with a well rounded sweetness. Some notes of coffee and a smooth mouthfeel.
5.6
29
Culmination Brewing Co
Dunkel
Munich Dunkel
German Amber Lager with Cinnamon Cap Mushrooms
4.8
20
Culmination Brewing Co
Good Intentions Helles
Munich-Style Helles
German Light Lager, Decoction Mashed with Czech Saaz Hops
5.3
15
Culmination Brewing Co
Sonny Disposition Baltic Porter
Baltic-Style Porter
Baltic Porter featuring notes of light caramel, roast, and light acidity
8
50
Damgoode Pies
Arkansas Amber
American-Style Amber/Red Ale
Sweet, malty bread-like aroma with caramel and sweet baked bread flavors.
5
30
Damgoode Pies
Ready, Set, Gose'
Leipzig-Style Gose
Tart, German sour wheat ale that utilizes Salt and Coriander.
4.2
1
Damgoode Pies
Trips To Win
Belgian-Style Tripel
Citrusy and Creamy Trappist-style Belgian Ale
8.7
31
Damgoode Pies
We Copied That
American-Style Sour Ale
Heavily Dry-hopped Sour Pale Ale with fruity aroma and sharp, tart notes.
5.5
38
Daredevil Brewing Company
J.W.P.
American-Style Stout
Forged from the combination of nine grains and American hops to deliver a huge bouquet of aromas and abundant flavors of rich, silky espresso and chocolate in an expressive American Stout with the spirit of the Wild West!
8.2
65
Daredevil Brewing Company
Lift Off
American-Style India Pale Ale
A bounty of American hops deliver the signature clean and crisp finish of a perfectly balanced West Coast style IPA.
7.2
72
Daredevil Brewing Company
Pils
German-Style Pilsener
This traditional German-style pilsner provides the flavor and aroma of German malt and hops with a clean, crisp finish. Prost!
5.2
45
Daredevil Brewing Company
Slip Stream
American-Style Pale Ale
An exotic blend of hops provide a blast of flavor and break away aromas in a golden ale built for maximum momentum.
5.5
55
Daredevil Brewing Company
Vacation
German-style Kölsch
An authentic Kölsch style ale brewed with the finest German malts, hops and yeast to provide a crisp, clean and refreshing match for every day relaxation.
5
20
DC Brau Brewing
Brau Pils
German-Style Pilsener
Brau Pils is a straight forward Pilsner with a light body, moderate carbonation and an assertive yet restrained hop character. Aromas of earthy, spicy noble hops are chased by a rich, cracker-like note backed up with clean, malty notes and a neutral lager
4.6
28
DC Brau Brewing
Heurich's Lager
Specialty Beer
Heurich's Lager has a sweet, mellow nose with hints of grain and bread. Appearance is a pleasant straw-golden color First sip yields a nice peppery bitterness that transitions into a smooth, sweet corn-like note riding on a velvety mouthfeel.
7
36
DC Brau Brewing
Oktoberfest
German-Style Oktoberfest/Wiesn
DC Brau's Oktoberfest has a classic light amber to copper hue that is topped with intense German malt aromas of toasty bread, light caramel and faint biscuit. It's supported by a traditionally light Noble hop aroma that complements the rich malty n
5
25
DC Brau Brewing
On the Wings of Armageddon
Imperial India Pale Ale
OTWOA is a single hop blend* beer utilizing Falconers Flight™. Brewed with just enough Pale malt, Cara-60, CaraPils and Malted wheat to carry the intense hop character onto the pallet.
9.2
110
DC Brau Brewing
Savor the Swill
German-Style Heller Bock/Maibock
A light, golden German lager with lively, natural carbonation that touts aromas of lightly kilned malt, grain and cracker with a subtle herbal hop presence.
5
13
Deep Ellum Brewing Co
Barrel Crusher
American-Style Strong Pale Ale
Hop-forward American strong ale aged in WhistlePig Rye Whiskey barrels.
13
100
Deep Ellum Brewing Co
Dallas Blonde
Golden or Blonde Ale
This shimmering, golden ale combines citrusy and floral American hops with Pale, Vienna and Wheat malts. It's a beautifully balanced, sessionable brew. Guaranteed to deliver more fun—go blonde.
5.2
23
Deep Ellum Brewing Co
Darkest Hour
Wood- and Barrel-Aged Strong Stout
Darkest Hour is brewed with an abundance of roasted malts for rick malt sweetness. We use firm resinous hops and dark candi syrup to make it uniquely rustic, then conditioned in BOURBON BARRELS and freshly charred New American Oak Barrels.
11
60
Deep Ellum Brewing Co
Deep Ellum IPA
American-Style India Pale Ale
For an IPA to bear our hometown name, it better be potent. So we loaded it with our favorite American hops for a bitter punch. And with some over-the-top tropical fruit, citrus, pine and floral aromas and flavors, you've got one big Texas IPA, deserving of
7
70
Deep Ellum Brewing Co
Deep Ellum Lager
American-Style Lager
Inspired by soft pilsner malt, we use rye malt for flavor and spice it up with hops from the Czech Republic. Deep Ellum Lager has a distinct light body, earthy, and floral aroma that will leave you thirsting for an encore.
4.8
20
Deep Ellum Brewing Co
Dream Crusher
Imperial India Pale Ale
Our ode to the Hop Gods. Well-balanced with a hearty malt backbone.
9.5
100
Deep Ellum Brewing Co
Hop Seeker
American-Style Pale Ale
100% Wet Hop American Pale Ale brewed with 300 lbs of fresh-cut, unprocessed Centennial hops.
5.6
64
Deep Ellum Brewing Co
Numb Comfort
American-Style Barley Wine Ale
Everything is turned up to 11! We fill the mash tun with four of our favorite malts, then dose it with enough of our favorite resinous, piney and fruity hops to balance. English Ale yeast takes it from there. We then age a portion of this flavorful ale in
11
85
Deep Ellum Brewing Co
Play Date
American-Style Sour Ale
For an IPA to bear our hometown name, it better be potent. So we loaded it with our favorite American hops for a bitter punch. And with some over-the-top tropical fruit, citrus, pine and floral aromas and flavors, you've got one big Texas IPA, deserving of
5.4
8
Denver Beer Co
Drama Queen
Wood- and Barrel-Aged Sour Beer
Red Wine Barrel Aged Saison
7.6
0
Denver Beer Co
Graham Cracker Porter
Robust Porter
Porter
5.6
0
Denver Beer Co
Maui Express
American-Style India Pale Ale
Coconut IPA
6.6
0
Denver Beer Co
Pretzel Assassin
American-Style Amber Lager
Amber Lager
5
0
Denver Beer Co
Princess Yum Yum
American-Style Fruit Beer
Raspberry Kolsch
4.8
0
Deschutes Brewery
American Wheat Ale
American Wheat Beer
This crowd-pleasing American-style ale delivers a tempting citrus aroma and light wheat character. With a subtle hop aroma and thirst quenching citrus finish, it's the perfect companion for adventure anytime, anywhere.
5
25
Deschutes Brewery
Black Barleywine
American-Style Barley Wine Ale
This behemoth of a barleywine brings all of the rich malt character you would expect, with a color and subtle roasty edge that make it surprisingly drinkable. The chocolate and licorice flavors help cut the malt sweetness, with a finish of vanilla.
11.9
45
Deschutes Brewery
Black Butte Porter
Robust Porter
This is the beer that started it all. A rich, creamy mouthfeel complements a layered depth, revealing distinctive chocolate and coffee notes. Full of flavor, yet easy to drink.
5.2
30
Deschutes Brewery
Cultivateur
Specialty Saison
Cultivateur represents our own take on a barrel-aged classic. Blending saison, brett, and sour styles to build depth and  complexity, Rustic Brett notes of pear and apricot blend into this bright oak-aged Saison.
8
20
Deschutes Brewery
Fresh Squeezed IPA
American-Style India Pale Ale
This mouthwateringly delicious IPA gets its juicy citrus and grapefruit flavor profile flavor from a heavy helping of citra and mosaic hops. It is as if fresh Citra and Mosaic hops were squeezed straight into the bottle.
6.4
60
Deschutes Brewery
Hopzeit Autumn IPA
American-Style India Pale Ale
This modern ale inspired by the time-honored flavors of a Märzenbier combines classic malts with the latest hop varietals from Germany to deliver an herbal and balanced Autumn IPA that's as at home in your backyard as the biergarten.
7
60
Deschutes Brewery
Mirror Pond
American-Style Pale Ale
A crisp, single-hop pale ale with floral and citrus notes from 100% Cascade hops and a smooth caramel malt character.
5
40
Deschutes Brewery
Obsidian Stout
American-Style Stout
Deep, robust and richly rewarding, this is beer to linger over. Obsidian has distinct notes of espresso, chocolate, roasted malt and black barley, with just enough hop bite to cut the sweetness.
6.4
55
Deschutes Brewery
Pacific Wonderland Lager
American-Style Light Lager
Citrusy Tettnang Mandarina hops combine with the crisp, bright character of a traditional lager to deliver a beer that is truly refreshing, and undoubtedly worth sharing. Citrus, floral and herbal hop flavors, with a delicate malt body and crisp finish.
5.5
40
Deschutes Brewery
The Abyss 2015
American-Style Imperial Stout
A deep, dark Imperial Stout, The Abyss has almost immeasurable depth and complexity. Hints of molasses, licorice and other alluring flavors make it something not just to quaff, but contemplate.
11.1
80
Deschutes Brewery & Public House - Bend
Bachelor Bitter
English-Style Extra Special Bitter
•\tThe local's favorite down at our Bend, Oregon pub. Bitter is the most traditional of our ales Bachelor Bitter has a deep copper color, rich malt body and classic English hops.
5
51
Deschutes Brewery & Public House - Bend
Boggs' Lager
American-Style Light Lager
This Pre-Prohibition Style Lager harkens back to a time when American brewers first started using adjuncts like rice and corn in their beers to give better clarity, lighter body and color, and better stability.
4.3
20
Deschutes Brewery & Public House - Bend
Lost Shaker Assault
Contemporary Gose
We took the easy drinking gose style a little further by adding Makrut Lime salt, and then pushed it over the edge by aging it 3 months in tequila barrels. Tart but refreshing, the tequila note is present as is the barrel character.
6.3
8
Deschutes Brewery & Public House - Bend
No. 1 Seed
American-Style Lager
•\tWhen you're watching the tournament you want a highly drinkable beer that you'll want to crush all the way to the finals. This lager is it! Featuring light bready and toasty malt notes with subtle hop character from EKG and Hallertau Mittelfruh h
5.3
25
Deschutes Brewery & Public House - Bend
Wheat Wine
American-Style Wheat Wine Ale
A malty wonderland of flavors! 44% of the grist is wheat, lending a light balancing tartness to the sweet malty.
9.8
48
Deschutes Brewery & Public House - PDX
Black by Hopular Demand
American-Style Black Ale
Brewed for the recent solar eclipse. Dark malt and light taste make this beer tingle all your senses. Packed with Chinook and Sorachi Ace hops for aroma and flavor.
6.5
62
Deschutes Brewery & Public House - PDX
Fresh Hop Lager
American-Style Lager
An easy drinking and delightfully refreshing lager to quench your thirst as the summer months come to a close. The light malt bill is complimented by Freshly kilned Santiam and Fresh Williamette hops that offer aromas of citrus and stone fruit.
5.2
40
Deschutes Brewery & Public House - PDX
Overnight Phenom
Fruited American-Style Sour Ale
Black raspberry unites with tartness to form a whole that is greater than the sum of its parts. A kettle sour with a light malt base lets the bright black raspberry flavor and color pair up with clean acidity to form a delightfully refreshing sour ale.
3.9
6
Deschutes Brewery & Public House - PDX
Trees of Doom
Munich Dunkel
Dunkel- The German word meaning Dark that describes the rich mahogany color of this malt dominated lager. Brewed with a large portion of Pilsner and Munich malt, this beer is soft and mellow with a medium body.
4.8
25
Deschutes Brewery & Public House - PDX
Valley of the Shadow
American-Style Dark Lager
You unlock this Dark Lager with the key of imagination. Beyond it is another dimension. A dimension of taste, smell, sight and mind. You're sipping on a beer of both shadow and substance, hops and delightful maltiness.
4.8
25
DESTIHL - Normal
Deadhead
Imperial India Pale Ale
Imperial red IPA
9.4
86
DESTIHL - Normal
Dosvidanya Vanilla Rye
Wood- and Barrel-Aged Strong Stout
Russian-style imperial stout
12.5
84
DESTIHL - Normal
Moonjumper
American-Style Stout
Milk Stout
6.1
30
DESTIHL - Normal
Normal Pils
German-Style Pilsener
German-style pilsener
5
38
DESTIHL - Normal
WiLD Sour Series - Cranberry Criek
American-Style Sour Ale
Sour ale brewed with cranberries and cherries
5
26
DESTIHL Brewery
Dosvidanya
Wood- and Barrel-Aged Strong Stout
Russian-style imperial stout
12.5
84
DESTIHL Brewery
Metallurgy Sour Collection - Grape
American-Style Sour Ale
American wild ale with grapes
6.4
10
DESTIHL Brewery
Saint Dekkera Reserve Sour Ale Series - Flanders Oud Bruin
Wood- and Barrel-Aged Sour Beer
Barrel-aged sour Belgian style ale
7.2
19
DESTIHL Brewery
WiLD Sour Series - Blueberry Goes
Leipzig-Style Gose
Leipzig-style Gose with blueberries
5.2
11
DESTIHL Brewery
WiLD Sour Series - Synchopathic Apricot
American-Style Sour Ale
Dry-hopped sour ale with apricots
6
8
Device Brewing Company
Anguish DIPA
Imperial India Pale Ale
West coast-style Imperial India Pale Ale brewed with Midwest malt, Northwest hops, and California ale yeast. Golden color. Medium-light body, dry finish, high bitterness. Hop character is a wonderful balance between danky, fruity, and floral.
8.5
80
Device Brewing Company
In the Afterglow Munich Helles
Munich-Style Helles
A crisp and light German-Style Lager. This tasty brew is perfect on a warm day and leaves you wanting more. 2017 California State Fair bronze medal winner.
5.2
16
Device Brewing Company
Brits in Moscow Russian Imperial Stout
American-Style Imperial Stout
Imperial stout brewed with 10 different grains for a very complex, yet delightful malt flavor. Black color. Medium body, mild malt sweetness, and medium-high bitterness. Notes of coffee, dark chocolate, molasses, and caramel.
8.5
80
Device Brewing Company
Integral IPA
American-Style India Pale Ale
West coast-style IPA brewed w/ Midwest malt, Northwest hops & CA ale yeast. Copper color. Medium body, dry finish, medium bitterness & light caramel malt flavors. Dry hopped w/ Mosaic hops, very pleasant hop aroma of berries, citrus & tropical fruit.
70
50
Device Brewing Company
Pincushion Pilsner
German-Style Pilsener
Traditional German-Style Pilsner with a dry finish, light body, and bright noble hop character. Pale straw color. Brewed with imported German malt and hops, and cold-fermented with German lager yeast.
5.3
28
Diamond Bear Brewing Co
Pale Ale
American-Style Pale Ale
A Pale Ale with earthy malt versus bright beautiful hops. It's a highly drinkable concoction.
6.2
33
Diamond Bear Brewing Co
Presidential IPA
American-Style India Pale Ale
An IPA with big hops bitterness bumping against three varieties of 2 row barley malt goodness.
6.2
57
Diamond Bear Brewing Co
Southern Blonde
Golden or Blonde Ale
A crisp, golden lager with a little southern twang. A hint of caramel and a restrained hop presence give this little lady a dry, crisp finish.
4.4
22
Diamond Bear Brewing Co
Strawberry Blonde
American-Style Fruit Beer
A light colored, crisp German lager infused with real strawberries. The nose gives you a bouquet of strawberry aroma, yet the taste is very subtle and sweet.
4.4
20
Diamond Bear Brewing Co
Two Term Double IPA
Imperial India Pale Ale
Big flavor. Makes other beers taste like tap water. Beer Geek Note: We started using Warrior hops in this brew in place of Chinook.
9.9
90
Diebolt Brewing
Anton Francois French Ale
French-Style Biere de Garde
A clean, refreshing French Ale with a light malt and fruity aroma, crisp malt flavor that makes its way to a slightly earthy, hop bitterness and bready malt finish
5.5
25
Diebolt Brewing
Postcard Robust Porter
Robust Porter
A smooth, highly drinkable interpretation of a classic style. Subtle aroma of light coffee, chocolate, and roast with a slight earthy bitterness and a moderately sweet, creamy flavor that moves to a dry finish.
6
30
Diebolt Brewing
Rayon Solaire Hoppy French Saison
Specialty Saison
Rayon Solaire boasts a beautiful blonde color; big, bold, tropical fruit nose; spicy flavor and a smooth, slightly bitter finish.
7.9
80
Diebolt Brewing
Vladislav, Baby Don't Hurt Me
Wood- and Barrel-Aged Strong Stout
This smooth hit is climbing the charts with notes of dark fruit, bourbon and espresso that crescendo into a velvety chocolate, vintage port and oaky bourbon beat, then dances to a bittersweet finish.
11
60
Dillon Dam Brewery
Here's Your Dam IPA
American-Style India Pale Ale
American IPA
7
75
Dillon Dam Brewery
McLuhur's Irish Stout
Classic Irish-Style Dry Stout
Dry Irish Stout
5.5
0
Dillon Dam Brewery
Montezuma Marzen
German-Style Maerzen
Oktoberfest Marzen
6
0
Dillon Dam Brewery
Sweet George's Brown Ale
English-Style Brown Ale
English Brown Ale
5.5
0
Dillon Dam Brewery
Tropical Hefeweizen
South German-Style Hefeweizen
Papaya, Guava Passionfruit, Mango, and pineapple in a traditional German Hefeweizen
6.5
0
Dionysus Brewing Co.
Berlinersfield w/ Apricots
Berliner-Style Weisse
Berliner with Apricots
4.5
5
Dionysus Brewing Co.
Currantly Noir w/ Vanilla beans
Fruited Wood- and Barrel-Aged Sour Beer
American sour aged in French oak with black currants and vanilla beans
8.2
5
Dionysus Brewing Co.
Hazy Mazzy
American-Style India Pale Ale
NE IPA
6.4
35
Dionysus Brewing Co.
Through the Ages
American-Style Sour Ale
Sour ale aged in an oak foeder
7.2
5
Dogfish Head Craft Brewery
Chicha
Specialty Beer
Peruvian ale brewed with maize and strawberries
5.7
7
Dogfish Head Craft Brewery
Do It, You Won't
American-Style Pilsener
Pilsener
5.3
43
Dogfish Head Craft Brewery
Flesh & Blood IPA
American-Style India Pale Ale
IPA brewed with a bevy of real citrus
7.5
45
Dogfish Head Craft Brewery
Frequent & Vigorous
Classic Saison
Calamondin Saison
5.5
15
Dogfish Head Craft Brewery
Liquid Truth Serum IPA
American-Style India Pale Ale
IPA hopped entirely post-boil
6.8
70
Dogfish Head Craft Brewery
Lupu-Luau IPA
American-Style India Pale Ale
Our juicy, coconut-centric lupulin party
7.3
45
Dogfish Head Craft Brewery
Oak-aged Vanilla World Wide Stout
Wood- and Barrel-Aged Strong Stout
A dark, roasty stout aged in oak barrels on vanilla beans
16
70
Dogfish Head Craft Brewery
Puddin' Wine
Wood- and Barrel-Aged Strong Beer
Port Barrel –aged Christmas pudding inspired Barley-wine
10.5
25
Dogfish Head Craft Brewery
Remarkable Architect
Wood- and Barrel-Aged Sour Beer
Barrel-aged sour with blackberries and blueberries
7.4
6
Dogfish Head Craft Brewery
SeaQuench Ale
American-Style Sour Ale
Session sour with black limes and sea salt
4.9
10
Double Mountain Brewery
DARK AND MOODY
American-Style Imperial Stout
Fig, caramel, chocolate, and coffee aromas ride on a delicious carriage of deep, viscous consequence. Brewed with our friends at Tavour.
10.6
100
Double Mountain Brewery
DEVIL'S KRIEK
Belgian-Style Fruit Lambic
2016 Belgian Style Sour Ale brewed with Cherries; This vintage brings dark ripe cherry, raspberry, and a sweet spring funk aroma to a bed of juicy red fruited jam with a crisp, tart finish.
9.2
11
Double Mountain Brewery
Hop Lion
American-Style India Pale Ale
ropic resin, tangerine, evergreen, and the earthy scent of Northwest petrichor leap from the nose of this proud IPA. Tangelo and fresh bread stalk closely behind, finishing with orange and dark pine.
6.7
65
Double Mountain Brewery
KILLER RED
Fresh or Wet Hop Ale
Fresh hops are picked, shucked straight in to bins, and transported post haste to the brewery. The exorbitant amount of fresh Perle whole leaf hops heaped in to the kettle and hop back give this juiced up IRA a wonderful juicy apple and pine flavors.
7.3
78
Double Mountain Brewery
KÖLSCH
German-style Kölsch
This unfiltered ale features a unique yeast strain, providing restrained fruited aromas to complement the rounded malt quality; with a touch more hop character than its counterpart in Cologne. Crisp, dry, and highly refreshing.
5.2
40
Double Nickel Brewing Company
Pilsner
German-Style Pilsener
A classically styled, clean and crisp option for the lite beer drinker and beer geek alike. Our modern take on a traditional German pilsner.
5.6
28
Double Nickel Brewing Company
Vienna Lager
Vienna-Style Lager
A malt-forward lager brewed German-style hops and Pilsner, Vienna, and Munich malts.
5.3
20
Drake's Brewing Co
Black Robusto Porter
Robust Porter
Our Black Robusto goes down smoothly with flavors of bittersweet chocolate and slight roast from Crystal and Chocolate malt. A touch of spicy, herbal hop character from Willamette hops balances out the finish.
6.3
35
Drake's Brewing Co
Denogginizer Double IPA
Imperial India Pale Ale
Denogginizer Double IPA is a monster of a beer made with a colossal mash of malted barley and finished with an irresponsible amount of West Coast hops. An epic tsunami of dank, chewy hops cuts like a guillotine through the warm embrace of sweetness.
9.75
90
Drake's Brewing Co
Flyway Pils
German-Style Pilsener
An Americanized version of a North German style pils. Hop forward with a dry, crisp body, this beer exhibits floral and spicy notes derived from the use of Vanguard, a domestic Noble hop
4.6
0
Drake's Brewing Co
India Pale Ale
American-Style India Pale Ale
This Classic West Coast IPA is harmonious fusion of resinous pine and orange peel cascading over a backdrop of lightly toasted caramel and brisk bitterness. Revel in the bright aromatics and let Drake's IPA show you why the West Coast is the best coast.
7
65
Drake's Brewing Co
Lusu's Love Child
Belgian-Style Flanders Oud Bruin or Oud Red Ale
A collaboration beer between Drakes and Bedrock Wine Co. Two tons of Grenache grape skins were thrown on top of 12 barrels of our Flanders style sour red. Tart, jammy, with red wine accents. This beer is a bold wine/beer hybrid.
8.8
0
Drake's Brewing Co
Rye Robustito
Wood- and Barrel-Aged Dark Beer
Session Porter aged in High West Rye Whiskey barrels
0
0
Drekker Brewing Company
Coconut Killer
American-Style India Pale Ale
Starts like a juicy, New England-style IPA & finishes like melted coconut ice cream. Brewed w/ lots of oats & lactose to give it a smooth, creamy body & intensely hopped w/ Mosaic & Mandarina Bavaria hops, conditioned on vanilla beans & toasted coconut.
5.6
40
Drekker Brewing Company
Hell Bent
American-Style Brown Ale
Pours reddish-brown, aromas of toffee, caramel & subtle floral note from a small dry hop addition of Horizon hops. A delicious roasted, nutty, English Brown malt backbone. Finishes clean, slighty bitter note from early American hop additions.
6
27
Drekker Brewing Company
People Eater
American-Style Sour Ale
Starts w/ a mostly German Pilsner-based malt bill & is kettle soured for just the right amount of tartness. It's then fermented with monstrous amounts of blueberry puree & conditioned on Thai Basil for a nice, herbal balance to the blueberry's sweetness.
5.5
15
Drekker Brewing Company
Pushing Daisies
Belgian-Style Witbier
Pushing Daisies is a Belgian-style witbier brewed with orange peel, Indian coriander, and chamomile flowers. It's got a delicate, bready wheat character up front and a clean, floral and citrus finish.
4.8
17
Drekker Brewing Company
Wheez the Juice
American-Style India Pale Ale
Wheez the Juice is a hazy, juicy New England-style IPA generously hopped with Mosaic and Mandarina Bavaria hops. Smooth and soft and bursting with tropical pineapple & orange flavor with very little bitterness.
6
59
Dry Dock Brewing Co
Amber Ale
American-Style Amber/Red Ale
This​ ​deep​ ​copper​ ​ESB​ ​is​ ​the​ ​definition​ ​of​ ​balance.​ ​With​ ​each​ ​sip,​ ​rich​ ​malt​ ​opens up,​ ​revealing​ ​an​ ​earthy​ ​hop​ ​flavor​ ​and​ ​just​ ​enough​ ​bitterness​ ​to​ ​round​ ​it​ ​all​ ​out.
5.8
49
Dry Dock Brewing Co
Apricot Blonde
Belgian-Style Blonde Ale
A​ ​misty​ ​golden​ ​blonde​ ​ale​ ​fermented​ ​with​ ​shiploads​ ​of​ ​fruit.​ ​A​ ​crisp, clean​ ​finish​ ​and​ ​just​ ​enough​ ​apricot​ ​to​ ​make​ ​this​ ​a​ ​favorite.​ ​Combine​ ​with​ ​sunshine​ ​and​ ​friends for​ ​full​ ​effect.
5.1
17
Dry Dock Brewing Co
Bligh's Barleywine
American-Style Barley Wine Ale
Malty​ ​and​ ​complex,​ ​this​ ​big​ ​beer​ ​has​ ​a​ ​strong​ ​caramel backbone​ ​supporting​ ​oak​ ​and​ ​whiskey​ ​flavors​ ​with​ ​hints​ ​of​ ​dark​ ​fruits.​ ​The​ ​nose​ ​wafts​ ​of coconut,​ ​toffee,​ ​and​ ​a​ ​smooth​ ​hint​ ​of​ ​alcohol.​ ​The​
10.5
30
Dry Dock Brewing Co
Cream Ale
American-Style Cream Ale
A spin-off of American Light Lagers, cream ales utilize adjuncts and ale yeast. We use flaked corn in addition to the quality malted barley we use in our other beers. This "ale" was fermented with our house ale yeast at a much cooler temperature than norma
5.5
15
Dry Dock Brewing Co
Docktoberfest
German-Style Maerzen
Our​ ​classic​ ​annual​ ​Märzen​ ​features​ ​elegantly​ ​rich,​ ​toasty​ ​German​ ​malt​ ​flavors, a​ ​modest​ ​hop​ ​bitterness,​ ​and​ ​a​ ​creamy​ ​mouthfeel​ ​all​ ​giving​ ​way​ ​to​ ​a​ ​crisp,​ ​dry​ ​finish.​ ​Every​ ​year it's​ ​here​ ​and​ ​it's
5.6
22
Dry Dock Brewing Co
Grapefruit Double IPA
Imperial India Pale Ale
​It's​ ​a​ ​tall​ ​order​ ​to​ ​brighten​ ​our​ ​Double​ ​IPA—​ ​a​ ​gentle​ ​beast​ ​brewed with​ ​seven​ ​different​ ​American​ ​"C"​ ​hops—​ ​but​ ​we​ ​think​ ​the​ ​infusion​ ​of​ ​grapefruit​ ​is​ ​a​ ​perfect complement.​ ​Expect​ ​hoppy
9
90
Dry Dock Brewing Co
Helles
Munich-Style Helles
This classic Bavarian staple is straw-colored, light to medium bodied, softer and maltier than a Pilsner with a hint of noble character and a flavor that is unmistakably German
5
22
Dry Dock Brewing Co
IPA
American-Style India Pale Ale
Brewed​ ​and​ ​dry​ ​hopped​ ​with​ ​Mosaic,​ ​Ekuanot​ ​and​ ​other​ ​varieties,​ ​this​ ​beer​ ​is​ ​unfiltered​ ​to provide​ ​juicy​ ​hints​ ​of​ ​citrus,​ ​mango,​ ​peach​ ​and​ ​pear.​ ​We​ ​also​ ​add​ ​copious​ ​amounts​ ​of​ ​spelt​ ​and oats​ ​for
7
60
Dry Dock Brewing Co
Pilsner
German-Style Pilsener
This​ ​beer​ ​style​ ​is​ ​the​ ​ultimate​ ​showcase​ ​for​ ​noble​ ​hop​ ​character​ ​and​ ​to​ ​that​ ​end​ ​we tried​ ​to​ ​pack​ ​as​ ​much​ ​hop​ ​flavor​ ​in​ ​as​ ​we​ ​could​ ​without​ ​compromising​ ​old​ ​world​ ​German brewing​ ​ethics​ ​and​ ​t
5.3
41
Dry Dock Brewing Co
Pumpkin Double Porter
Robust Porter
Pumpkin​ ​and​ ​a​ ​touch​ ​of​ ​island​ ​inspired​ ​spices​ ​add​ ​complexity​ ​to​ ​our bourbon​ ​barrel-aged​ ​double​ ​porter.​ ​Hints​ ​of​ ​caramel​ ​and​ ​toffee​ ​meld​ ​with​ ​nutmeg,​ ​cinnamon, and​ ​ginger​ ​creating​ ​a​ ​smooth​ ​and​ ​rich​
10.5
30
Durango Brewing Co
American Pale Ale
American-Style Pale Ale
American Pale Ale with Cascade, Citra, Chinook, Galaxy, Amarillo, Magnum and Dry Hopped with Chinook
6
0
Durango Brewing Co
India Red Ale
Imperial Red Ale
India Red Ale
7.4
54
Durango Brewing Co
IPA
American-Style India Pale Ale
With a heady aroma of pine, citrus, and fresh-cut grass, the Durango India Pale was brewed with hop lovers in mind. This aggressively-hopped IPA is brewed with Magnum, Cascade, Chinook, Centennial and Columbus hops from the Yakima Valley, and is sure to pl
7.3
0
Durango Brewing Co
San Juan Saison
Specialty Saison
This seasonal was inspired by the farmhouse beers of Belgium. Our Saison has pronounced fruit and herbal notes, but finishes dry and effervescent. We made this beer to celebrate the warming sunny spring days here in the beautiful San Juan Mountains.
6.7
0
Durango Brewing Co
Southwest Lager
Vienna-Style Lager
Made in the strict German tradition, we use the finest Vienna, Pilsner and Munich malts to add depth to this seasonal. The noble hops provide a gentle earthy spice while the lager yeast adds a slight mineral finish. Prost!
5.9
0
Eagle Creek Brewing Company
Georgia Porter Authority
Strong Ale
This rich, full bodied double porter has aromas of spicy rye malt, chocolate and burnt sugar. Even more chocolate in the flavor as the alcohol burn warms you up
11.4
45
Eagle Creek Brewing Company
Georgia Tea Party- Sweet Tea Amber Ale
Herb and Spice Beer
The best of Southern Traditions, good ole' Sweet Tea! A refreshing Amber Ale with Orange Pekoe and Black Tea.
6.3
22
Eagle Creek Brewing Company
Nature Boy
Honey Beer
WOOOOO!!!! This beer was created with a sort of "flair" and inspiration pulled from all things flamboyantly natural! With a hint of smoke and a kiss of honey, this beer sends your taste buds on a journey through nature.
6.3
26
Eagle Creek Brewing Company
Spot Tail Blonde
Golden or Blonde Ale
A simple little Beer for those just dipping their toes into Craft Beer. A bit more body and flavor than standard Lite Beers Perfect for any Pre-Game Tailgate, Day on the Beach, or just a Day on the Lawnmower.
4.2
18
Eagle Creek Brewing Company
Y3B
Belgian-Style Tripel
Local Gallberry honey from H.L. Franklin's Healthy Honey provides apricot flavors with hints of cinnamon and pepper. An elegant, simple, yet complex ale
9.3
23
Ecliptic Brewing
Barrel-Aged Oort Imperial Stout
Wood- and Barrel-Aged Strong Stout
Massive amounts of roasted barley and chocolate malts are combined with three types of caramel malts for a rich, full, mouth feel. This version spent fifteen months slumbering in 12-year-old bourbon barrels.
12.1
0
Ecliptic Brewing
Capella Porter
Brown Porter
Sweet dark malt aromas are followed by a nice medium body. Flavors of chocolate and caramel meld with just a touch of roast. A collection of American hops (Nugget, Chinook, Centennial, and Cascade) brighten this lively porter.
5.2
39
Ecliptic Brewing
Carina Peach Sour Ale
Fruited American-Style Sour Ale
Loaded with fresh peach flavor, Carina is a sour ale perfect for any time of year. The use of Pale malt makes for a crisp character, while lactobacillus gives Carina a tart and refreshing finish.
5.5
10
Ecliptic Brewing
Starburst IPA
American-Style India Pale Ale
A starburst galaxy produces an exceptionally high amount of stars, similar to how Ecliptic Starburst IPA produces a soaring amount of hop flavor. Brewed with Amarillo, Azacca, Centennial, Citra, Mosaic and Simcoe hops for flavors of citrus and fruit.
7.8
75
Ecliptic Brewing
UltraViolet Blackberry Sour Ale
Fruited American-Style Sour Ale
UltraViolet is brewed with Oregon blackberries and soured in the brewhouse. The result is a tart and crisp sour ale, with ripe blackberry flavors radiating throughout it like cosmic rays traversing the universe.
7.5
25
Eddyline Brewing LLC
Black Eddy Black IPA
American-Style India Pale Ale
Heavy aroma of roasted malt and pine compliment a citrus hop finish.
7.5
75
Eddyline Brewing LLC
Crank Yanker IPA
American-Style India Pale Ale
Our flagship IPA is complex and balanced with tropical notes of mango and pineapple.
7
70
Eddyline Brewing LLC
Epic Day Double IPA
Imperial India Pale Ale
Notes of grapefruit, pine and resin shine through while maintaining remarkable drinkability.
10
100
Eddyline Brewing LLC
Pumpkin Patch Ale
Pumpkin/Squash Beer
Brewed with real pumpkin purée, earthy with a dash of all spice and local honey for a touch of sweetness.
5.5
20
Eddyline Brewing LLC
River Runners Pale Ale
American-Style Pale Ale
Crisp and refreshing with enough bitterness to satisfy both the hop head and everyday drinker.
5.8
60
Elk Mountain Brewing Co
Berserker Imperial Red
Imperial Red Ale
Imperial Red Ale
9
85
Elk Mountain Brewing Co
Collision Kolsch
German-style Kölsch
Kolsch-style
5.3
27
Elk Mountain Brewing Co
Ghost Town Brown
American-Style Brown Ale
Brown Ale
5.3
25
Elk Mountain Brewing Co
Melisandre
Golden or Blonde Ale
Raspberry Golden Ale
5.5
17
Epic Brewing Co - SLC
Big Bad Baptist
Coffee Stout or Porter
Imperial Stout aged in whiskey barrels with coffee and cacao nibs added
12
38
Epic Brewing Co - SLC
Big Bad Baptista
Coffee Stout or Porter
Imperial Stout aged in whiskey barrels with vanilla, cinnamon, mexican coffee and cacao nibs added
12.3
38
Epic Brewing Co - SLC
Brainless on Pineapples
Fruited Wood- and Barrel-Aged Sour Beer
Sour ale aged in oak barrels with pineapple
7.9
12
Epic Brewing Co - SLC
Double Barrel Big Bad Baptist
Coffee Stout or Porter
2016 Rare Release - Imperial Stout aged in whiskey barrels with barrel aged coffee can cacao nibs
12.5
45
Epic Brewing Co - SLC
Los Locos
International-Style Pilsener
Mexican-Style Lager with lime and sea salt
4.8
16
Epic Brewing Co - SLC
New England-Style IPA
American-Style India Pale Ale
AKA Citralush - Hazy, Juicy NEIPA
7
47
Epic Brewing Co - SLC
Oak and Orchard
Fruited Wood- and Barrel-Aged Sour Beer
Dark Sour aged in whiskey barrels with plum
8.2
15
Epic Brewing Co - SLC
Son of a Baptist
Coffee Beer
Imperial Stout brew with locally sourced coffee
8
38
Epic Brewing Co - SLC
Tart 'n Juicy Sour IPA
American-Style Sour Ale
Sour India Pale Ale
4.5
30
Equinox Brewing
2013 Barleywine
American-Style Barley Wine Ale
2013 vintage of Barleywine
0
0
Equinox Brewing
Cosmic Kolsch
German-style Kölsch
Subtle fruit notes mingle with a light maltiness in the aroma, body, and finish. The refreshing tanginess leaves your tongue thirsting for another sip. This perfect late-summer drink might cause a cosmic shift in your approach to light beers. "Light&#3
5.8
25
Equinox Brewing
Cumulus Witbier
Belgian-Style Witbier
The aroma preludes with sweet fruit notes but then eludes to a spicy clove and citrus hint. All of which mingle together in the flavor. The light "puffy and cotton-like" nature of this beer is a perfect additon to a warm summer day. We hope you&#39
5
22
Equinox Brewing
Waves of Grain Amber Ale
American-Style Amber/Red Ale
Waves of Grain pours into a glass with a soft velvet texture. A tight head of tan foam floats upon the deep copper brew. The flavors unfold in layers of nuttiness and caramel sweetness. Hops contribute mild notes of citrus and pine while balancing the malt
6.1
35
Escape Brewing Company
BCBC
American-Style Brown Ale
Brown Chicken Brown Cow Brown Ale, medium body with chocolate, biscuit and coffee notes.
5.5
60
Escape Brewing Company
Scandalous
Imperial India Pale Ale
A big juicy double IPA with loads of Citra and Simcoe hops for a dank, citrus hop bomb. Gold Medal 2017 Best Beer of Florida.
9
78
Escape Brewing Company
Seeds of Change
Specialty Saison
Brett Saison aged in Chardonnay barrels.
7
20
Escape Brewing Company
The Other West Coast
American-Style India Pale Ale
West Coast Style India Pale Ale, light malt character. Aggressively hopped with Mosaic and Citra to create tropical fruit flavors complemented by subtle berry and stone fruit notes. Gold Medal 2016 Best Beer of Florida.
7.2
60
Evil Genius Beer Co
And It Don't Stop
Specialty Saison
A spiced "Super Saison"
8.8
0
Evil Genius Beer Co
Do You Even Lift, Bro?
American-Style India Pale Ale
An American-style IPA
0
0
Evil Genius Beer Co
Ermagherd Hrny
Honey Beer
A hoppy honey Blonde Ale
5.5
0
Evil Genius Beer Co
That's Why You Always Leave A Note
American-Style Extra Special Bitter
An American-style ESB
0
0
Evil Genius Beer Co
Wubba Lubba Dub Dub!
French-Style Biere de Garde
A French-/Belgian-style Biere de Garde
5.8
0
Evil Horse Brewing Company LLC
Downtown Hottie
American Wheat Beer
: Bright golden in color beneath a frothy white head. It has a crisp and refreshing taste and a silky mouthfeel from the wheat.
5.7
17
Evil Horse Brewing Company LLC
Leaping Bull
South German-Style Hefeweizen
: A classic German wheat beer that is light and refreshing. Creamy malt sweetness from the wheat as well as notes of clove and banana that are unique to this brew. Notably hazy from the yeast in suspension but with light golden straw color. Sometimes se
5.5
13
Evil Horse Brewing Company LLC
Paxon The Ponyless
Brown Porter
Rich and robust, yet smooth and silky. Notes of coffee and dark chocolate dominate the flavor with a good finishing balance of sweetness and bitterness.
5.7
45
Evil Horse Brewing Company LLC
Trot Hopple
American-Style India Pale Ale
An amber colored ale with a firm initial bitterness. Pleasant notes of caramel mid-palate with a large dose of piney/citrusy hop flavor and aroma. The bitterness goes long into the finish for a pleasing crispness.
6.7
67
Ex Novo Brewing Co
Cactus Wins the Lottery
Berliner-Style Weisse
Brewed with prickly pear cactus
4.4
8
Ex Novo Brewing Co
Fresh Hop Eliot IPA
American-Style India Pale Ale
Fresh hop version of Eliot IPA. Made with Amarillo wet hops.
6.6
65
Ex Novo Brewing Co
ISO: NEIPA
American-Style India Pale Ale
New England-style IPA
6.8
48
Ex Novo Brewing Co
Saison Classique
Specialty Saison
Our base Saison for most of our barrel aged Saisons. Brewed with our house mixed culture and Hallertau Blanc hops.
7.4
0
Ex Novo Brewing Co
The Most Interesting Lager In The World
Vienna-Style Lager
Crisp and refreshing, this Mexican Lager was brewed with Vienna and Pilsner malts with a hint of flaked corn. Don't fear the lime!
5
15
Factotum Brewhouse
Backhand Brown Ale
American-Style Brown Ale
An original recipe from the Treeline Brew Club.
6
36
Factotum Brewhouse
Bike Fight Barleywine
American-Style Barley Wine Ale
Brewed by guest brewer Johnny Flowers.
11.3
43
Factotum Brewhouse
Magnum Red IPA
Double Red Ale
The winner of our March Madness-style brew competition, Aaron Murphy's red IPA is hoppy with a roasted finish. This beer is in the competition.
5.8
61
Factotum Brewhouse
Soldier's Reward Classic American Pilsner
International-Style Pilsener
A pre-Prohibition classic American Pilsner using the ingredients of German immigrants in the 1800s (6-row malt, corn, rice, Cluster hops)
5.4
29
Factotum Brewhouse
Sunday New England-Style IPA
American-Style India Pale Ale
A hazy (but not TOO hazy) New England-style IPA from guest brewer Ben Valdez.
6.3
71
Fair State Brewing Cooperative
Barrel-Fermented Du Pounde
Mixed-Culture Brett Beer
Barrel-Fermented Du Pounde is the mixed culture, oak-fermented version of our flagship Saison. Historically, Saison would have skewed towards the very bitter or the noticeably sour, depending on wort composition and fermentation. Brewed with malted wheat a
5.2
25
Fair State Brewing Cooperative
Festbier
German-Style Maerzen
Our version of the traditional Oktoberfest lager. Brewed with Vienna and Munich malts for a toasty, bready character. Crisp and easy to drink liters of.
5.7
20
Fair State Brewing Cooperative
LÄCTOBÄC
Mixed-Culture Brett Beer
LÄCTOBÄC is our mixed culture playground. Fermented with Saison yeast, Lactobacillus, and Brettanomyces, this batch features fresh ginger, lemongrass, and lemon zest. Funky, drinkable, and satisfyingly summery.
10
5
Fair State Brewing Cooperative
Lichtenhainer
Other Smoke Beer
Smoked beer is an acquired taste. So is sour/funky beer. We've acquired those tastes, and as a result, we present to you this Lichtenhainer: a 100% barrel-fermented, 100% beech-wood and oak smoked malt sour wheat.
5.1
10
Fair State Brewing Cooperative
Time Debt
Wood- and Barrel-Aged Sour Beer
Time Debt is a dark sour beer fermented in bourbon- and rye-whiskey barrels that add notes of wood smoke, vanilla, and char, alongside strong acidity and funk.
7.3
30
Fanatic Brewing Company
Fanatic Pale Ale
American-Style Pale Ale
This American-style pale ale offers an intriguing blast of citrus, floral and pine hop flavor without an excess of bitterness. Honey gold in color and quaffable.
5.5
30
Fanatic Brewing Company
Tennessee Blonde
Golden or Blonde Ale
A crisp refreshing American-style blonde ale featuring a light body and dry finish. Delicately thirst-quenching derived from a complex blend of American and imported hops.
5
12
Fanatic Brewing Company
Tennessee Radler
American-Style Fruit Beer
Our take on a traditional radler, with a Tennessee twist. Beer & grapefruit? YUM!
4
0
Fanatic Brewing Company
Tennessee Red
English-Style Extra Special Bitter
Well-balanced and drinkable, but slight malt forward ESB. Goes great with food but also delicious by itself. Made with Caramel and Munich malts.
5.8
19
Fargo Brewing Co
Dad's Pale Ale
American-Style Pale Ale
One in a series of specially hopped pale ales. This version uses Amarillo and Galaxy hops which gives floral notes with citrus and tropical fruit.
5.4
31
Fargo Brewing Co
Dad's Pale Ale
American-Style Pale Ale
One in a series of specially hopped pale ales. This version uses Amarillo and Galaxy hops which gives floral notes with citrus and tropical fruit.
5.4
31
Fargo Brewing Co
Fargo Original
Munich-Style Helles
This traditional unfiltered German lager has a crisp finish from extended lagering. Well-balanced between the sweetness of the pils malt and a restrained bittering. Light, crisp, and uncomplicated.
5.1
17
Fargo Brewing Co
Rye Barleywine
British-Style Barley Wine Ale
A classic English Barleywine. Pours dark amber. Sweet caramel and toffee notes.
8.2
30
Fargo Brewing Co
Super Green
American-Style Pale Ale
This super hoppy pale ale uses fresh whole cone hops grown exclusively on North Dakota farms and malted barley grown and malted in the state. This is a liquid testament to our favorite flower and our favorite state.
5.6
40
Fargo Brewing Co
Super Green
Fresh or Wet Hop Ale
This super hoppy pale ale uses fresh whole cone hops grown exclusively on North Dakota farms and malted barley grown and malted in the state. This is a liquid testament to our favorite flower and our favorite state.
5.6
40
Fargo Brewing Co
Wood Chipper
American-Style India Pale Ale
A piney, resinous assault on your tastebuds with grapefruit and citrus undertones.
6.7
70
Fargo Brewing Co
Wood Chipper
American-Style India Pale Ale
A piney, resinous assault on your tastebuds with grapefruit and citrus undertones.
6.7
70
Farnam House Brewing Company
Biere de Garde
French-Style Biere de Garde
French Amber Farmhouse Ale
6.7
22
Farnam House Brewing Company
Brett Harvest
Brett Beer
Brett Saison
7.4
40
Farnam House Brewing Company
Farnamator Doppelbock
German-Style Doppelbock
Dark German Lager
9.5
22
Farnam House Brewing Company
Oud Bruin
Belgian-Style Flanders Oud Bruin or Oud Red Ale
Belgian-style Sour Brown
7.6
22
Fat Bottom Brewing
Cavalier
Specialty Saison
Saison with lychee fruit added and finished with brettanomyces.
8.8
31
Fat Bottom Brewing
Firestarter
Smoke Porter
Smoked malt porter with pumpkin added.
6.5
30
Fat Bottom Brewing
The Admiral
Belgian-Style Tripel
Classic Belgian-style Tripel beer.
9.7
36
Fat Bottom Brewing
The Baroness
Wood- and Barrel-Aged Strong Stout
Oatmeal stout aged in bourbon barrels from a local distillery.
8.5
45
Fat Bottom Brewing
W.A.C.
American-Style Pale Ale
American pale ale featuring Warrior, Azacca and Citra hops.
5.3
35
Fat Head's Brewery
Alpenglow
South German-Style Weizenbock
Very complex. Spicy with banana, clove, raisin and bubblegum, caramel malt dark fruits and a hint of licorice
8.7
19
Fat Head's Brewery
Black Muddy River
Imperial India Pale Ale
A bold mix of Pacific Northwest hops with a burly malt base of crystal and debittered black malts provides a wide gamut of pine, dank, and citrus flavors and aromas on top of a layer of malt sweetness.
9.2
95
Fat Head's Brewery
Bone Head
Imperial Red Ale
Hopped-up to the max, deep ruby in color, with a smooth as silk mouthfeel and an almost pungent piney aroma. Malts bone-up their magic with a hearty, biscuity, almost rustic touch of flavor and a slightly bitter fruitiness
9.4
90
Fat Head's Brewery
Head Hunter
American-Style India Pale Ale
An Uncivilized and Aggressive, dry-hopped west coast-style IPA. Big hop flavors of citrus, pine & grapefruit.
7.5
87
Fat Head's Brewery
Hop Juju
Imperial India Pale Ale
A powerhouse of hops creating aromas and flavors of citrus, pine and tropical fruit with a juicy resiny hop finish
9
100
Fat Head's Brewery
Midnight Moonlight
American-Style Black Ale
Dank resinous & citrusy hops flex their muscles while an aggressive, palate scraping bitterness rips through the mouth. Toasty caramel malt flavors and a dash of chocolate malt round this one out
8.3
79
Fat Head's Brewery
Sunshine Daydream
Session India Pale Ale
Big hop aromas and flavors of citrus, orange and tropical fruit with a nice light malt backbone. Peace, Love & Hoppiness.
4.9
60
Fat Head's Brewery
Wet-Hopped IBU-sive
Fresh or Wet Hop Ale
A super fresh IPA featuring Citra and loaded with copious amounts of fresh Centennial hops.
7.6
80
Fat Head's Brewery - PDX
Cream Ale
American-Style Cream Ale
This light end beer uses flaked maize, creating a crisp, easy drinking.
5.4
23
Fat Head's Brewery - PDX
Four Hundo
American-Style Strong Pale Ale
Brewed in honor of our 400th Batch on our 10BBL system. This West Coast IPA predominately features Simcoe with a dose of Mosaic Lupulin. Dry hopped with Simcoe, Mosaic, and Citra.
7
65
Fat Head's Brewery - PDX
New Order IPA
American-Style India Pale Ale
West Coast-style IPA with citrusy, tropical and piney flavors.
6.8
70
Fat Head's Brewery - PDX
When the Lights Go Brown in the City
American-Style Brown Ale
Nutty and toasty, this brown ale is a perfect pairing for BBQ with a bitter backbone.
5.9
30
FATE Brewing Company
Apollo Tsai
American Wheat Beer
Hopped up honey wheat ale infused w/earl grey tea from Boulder's The Tea Spot
5.8
0
FATE Brewing Company
Chai Pumpkin Saison
Pumpkin Spice Beer
PSL's craft beer alternative. Pumpkin and ginger chai saison.
6.9
0
FATE Brewing Company
Coffee IPA
Coffee Beer
Moirai India Pale Ale infused with single origin Ethiopian coffee.
7
0
FATE Brewing Company
Decima
Wood- and Barrel-Aged Sour Beer
Leopold Brother's Peach Whiskey Barrel Aged Sour Belgian Quad
10.6
0
FATE Brewing Company
Laimas
German-style Kölsch
2014 GABF Gold Medal winning German-style Kölsch Style Ale.
5
0
FATE Brewing Company
Lemon Lime Wit
Belgian-Style Witbier
GABF Pro-am collaboration with Mike Shaffer
4.9
0
FATE Brewing Company
Moirai
American-Style India Pale Ale
Citrus forward hops make this totally drinkable IPA our #1 seller both on draft in our brew pub and offsite to local restaurants and bars.
7
0
FATE Brewing Company
Pineapple Berliner Weisse
Berliner-Style Weisse
Tart and sour german wheat ale infused with fresh pineapple puree.
3.3
0
FATE Brewing Company
Pinot Noir Gose
Contemporary Gose
Traditional gose fermented with pinot noir grape must.
4.7
0
FATE Brewing Company
RHS '98
Imperial Red Ale
Sour Imperial Red India Pale Ale that isn't afraid to tell you how it feels or throw a punch
8.4
0
FATE Brewing Company
Uror
Leipzig-Style Gose
Gose style sour german wheat ale spiced with coriander & sea salt
4.8
0
Fegley's Brew Works
Bagpipers
Scottish-Style Heavy Ale
Aroma of caramel, nuts and light smoke with flavors of nuts, cocoa and raisins
8.5
25
Fegley's Brew Works
Hop Regime
Imperial India Pale Ale
Hopped in every vessel of the brewery with 8 hop varities
8
100
Fegley's Brew Works
Monkey Wrench
Classic Saison
Aroma of juicy fruit gum and flavors of lemon grass and pepper
7
25
Fegley's Brew Works
Sour Cherry Triple
Belgian-Style Fruit Beer
Belgian Triple aged on sour cherries so a subtle sour cherry finish
10.2
20
Fiction Beer Company
Antiquarian No. 3 - Golden Sour
American-Style Sour Ale
A reserved aroma of brett derived funk and tart citrus fruit dominate while complex characteristics of stone fruit and tobacco linger in the background. A bright crisp lemon tart flavor and a dry finish make this one of our favorite sours to date!
5.5
3
Fiction Beer Company
Barrel Aged Feely Effects
Wood- and Barrel-Aged Strong Stout
Our classic Green Tea Milk Chocolate Stout aged for 18 months in a Bourbon barrel. Rich dark chocolate, herbal notes of green tea, and a delicately oaked whiskey play perfectly together to created a piece of liquid literature; A liquefied cordial!
8
32
Fiction Beer Company
Fresh Hop Sly Boots
Fresh or Wet Hop Ale
A West coast style IPA produced with fresh hops from Paonia, CO. Bright, citrusy and a touch of dank.
7
68
Fiction Beer Company
Logic is Relative
American-Style India Pale Ale
Over 4lbs of hops per bbl. This beer produces an aroma reminiscent of fresh orange juice, ripe melon and guava. The malt bill was designed to allow the senses to focus on hop flavor and aroma. A juice bomb in all the right places!
7.9
75
Fiction Beer Company
Written for Film
German-Style Oktoberfest/Wiesn
The classic Oktoberfest. Rich, malty, and sessionable. Notes of biscuit and bread dominate while the soft touch of Noble hops to balance the sweetness.
5
25
FiftyFifty Brewing Co
2016 Grand Cru Eclipse
Wood- and Barrel-Aged Strong Stout
Imperial Stout aged in Bourbon barrels - Grand Cru Brewmaster Blend
11
0
FiftyFifty Brewing Co
Annularity
Wood- and Barrel-Aged Strong Beer
Blonde Barleywine aged in Bourbon Barrels
10
0
FiftyFifty Brewing Co
ASP - Oud Bruin
Wood- and Barrel-Aged Sour Beer
Experimental Sour Brown Ale
0
0
FiftyFifty Brewing Co
Donner Party Porter
Robust Porter
Robust Porter brewed with molasses and hand toasted oats
6.7
30
FiftyFifty Brewing Co
Spring Fever
Honey Beer
Golden Ale brewed with honey, lemongrass and orange peel.
5.4
39
Firestone Walker Brewing Co
El Gourdo
Wood- and Barrel-Aged Sour Beer
The beer got its start when a local pumpkin patch ask the brewery to take in orphaned Cinderella pumpkins. The pumpkins were fire roasted with bay leaf and walnuts, in an oven fueled by brandy and white oak staves. 500 pounds of the roasted pum
5.8
0
Firestone Walker Brewing Co
Feral One
Wood- and Barrel-Aged Sour Beer
We humbly offer you Feral One on the occasion of our Fourth anniversary. Feral One is an annual blend of our best efforts, from hand-selected well-aged barrels, chosen by the Masterblender and Barrelmeister. An earthy funky nose gives way to complex es
6.1
0
Firestone Walker Brewing Co
Generation 1
American-Style India Pale Ale
Generation One, an unfiltered West Coast Style IPA, a Venice IPA of sorts. This is first experimental beer brewed on our 10hl Kaspar-Schulz brewhouse. An unfiltered IPA that bridges the gap between the juice-like hazy NE style IPAs and dry bitter West Coas
7.6
63
Firestone Walker Brewing Co
Helldorado
Wood- and Barrel-Aged Strong Beer
Part of the adventure of aging beer in retired spirits barrels is the synergistic interaction of different malt flavors with the oak and spirit flavors from the barrel. Darker beers like stouts and darker barley wines have typically been the favored candid
12.8
24
Firestone Walker Brewing Co
Imperial Smoked Porter
Wood- and Barrel-Aged Dark Beer
Meet Walker's Reserve's big brother: Imperial Walker's Reserve! We took our original porter, ramped up the recipe & barrel aged it. The result is a 12.5% ABV beer where the roasted malt leads into chocolate & burnt caramel with notes of charred oak, vanill
12.5
0
Firestone Walker Brewing Co
Krieky Bones
Wood- and Barrel-Aged Sour Beer
What began as a birthday gift, took on a life of its own. Proprietor David Walker cornered us one day and requested a sour cherry fermented beer for his 50th birthday. Done. A handful were sold at a Liberation, after which our loyal patrons demanded mor
5.7
0
Firestone Walker Brewing Co
Leo v. Ursus INFEROS
American-Style India Pale Ale
Inferos is a rye imperial IPA that is fiery in color, hellacious in hoppiness and bursting with spicy rye goodness. Forged with 25 percent rye grain and loaded with more than four pounds of hops per barrel, Inferos is ultimately a big, lively beer that wil
8.2
60
Firestone Walker Brewing Co
Luponic Distortion Rev. 007
Australian-Style Pale Ale
Now in rotation: Revolution No. 007, the latest release in Firestone Walker's Luponic Distortion revolving hop series, featuring yet another trailblazing blend of distinctive hops. True to form, Luponic Distortion Revolution No. 007 represents a fresh ite
5.9
50
Firestone Walker Brewing Co
Pivo Pilsner
German-Style Pilsener
Pivo Pils is a classically rendered pilsner with a West Coast dry-­‐hopping twist, showcasing stylistic influences from Germany, Italy and the Czech Republic. Lighter beer styles like pilsner have been hijacked by industrial lager beer in the United S
5.3
40
Firestone Walker Brewing Co
XX Anniversary Ale
Wood- and Barrel-Aged Strong Beer
A blend of barrel aged beers to commemorate our 20th anniversary: 40% Parabola - Russian Imperial Oatmeal Stout 20% Stickee Monkee - Central Coast Quad 17.5% Velvet Merkin - Traditional Oatmeal Stout 12.5% Bravo - Imperial Brown Ale 10% Helldorado - Blonde
13
0
Flix Brewhouse - Carmel
Bon Père
French-Style Biere de Garde
An old French style, known as biere de garde, brewed in the farmhouse tradition.  A lovely balance of malt, hops, and spicy yeast character, Bon Pere is the perfect beer during the fall harvest season.
7
20
Flix Brewhouse - Carmel
Eater of Worlds
Specialty Beer
a juicy Brett Pale Ale with strawberry, orange, pineapple, and mango dominating the aroma and flavor.
5
44
Flix Brewhouse - Carmel
The Franchise
American-Style India Pale Ale
Hazy, citrusy IPA with a mellow bitterness and soft mouthfeel
6.5
65
Flix Brewhouse - Carmel
Tripel Whammy
Belgian-Style Tripel
This classic Belgian beer is light in body, has a mild earthy hop profile, is full of citrusy and clove yeast character and packs a pleasant amount of alcohol.
8.6
34
Flix Brewhouse - Carmel
Wet Your Whistle
American-Style India Pale Ale
50 pounds of resinous, fresh Chinook hops came straight from the harvest vines of Indy High Bines and into our tanks.
7.5
75
Flix Brewhouse - Round Rock
Cocoa Loco Pumpkin Ale
Pumpkin Spice Beer
A rich amber ale brewed with pumpkin spices for a flavorful, medium bodied take on a fall classic.
6.3
15
Flix Brewhouse - Round Rock
Key Lime Mario Gose
Contemporary Gose
Key Lime is the perfect complement to our traditional Gose's soft, tart, refreshing acidity.  The traditional ingredients of salt and coriander give this German sour a unique complexity to complement the tart finish.
4.4
15
Flix Brewhouse - Round Rock
Luna Rosa
Belgian-Style Witbier
Our Luna Rosa Wit is subtly spiced with coriander and rather than the orange peels traditionally added to Wits, we've added a puree of blood oranges, giving this unique beer a pink hue and refreshing citrus character.
5
16
Flix Brewhouse - Round Rock
Lupulus IPA
American-Style India Pale Ale
a wonderfully drinkable West Coast IPA featuring hops loaded with pine, citrus, and tropical fruit flavors
7.5
70
Flix Brewhouse - Round Rock
Quadzilla
Belgian-Style Quadrupel
 Belgian style quadrupel, aged in Michter's Rye barrels.  Boozy, with big notes of cooked sugar, cotton candy, vanilla and oak.  
11.9
25
Florence Brewing Company
Alpine Loop Hefeweizen
South German-Style Hefeweizen
This light-colored, traditional German hefeweizen features a slight clove nose and hints of banana. The cloudy appearance is normal for this type of style and is actually yeast that is caught in suspension. This beer is a Nice clean and easy drinking treat
4.7
18
Florence Brewing Company
Fool's Gold IPA
American-Style India Pale Ale
Caramel Vienna and Munich malts take a backseat to the tropical bitterness of El Dorado hops. Pear, watermelon and stone fruit flavors are prevalent with a touch of mosaic mango notes in the background.
6.4
72
Florence Brewing Company
Marzen
German-Style Maerzen
Glistening orange-amber, with an aroma that is an enticing blend of herbal German hops and fresh bready and spicy malt. This is a medium bodied beer with just enough hop bitterness to accent and compliment the malt. The finish is soft, clean and crisp, jus
4.5
22
Foothills Brewing Co
Bourbon Barrel Aged Sexual Chocolate
Wood- and Barrel-Aged Strong Stout
A cocoa infused Imperial Stout. Opaque black in color with a dark brown head. Big chocolate aroma with notes of espresso, blackstrap molasses, dark sweet toffee and dark fruit.
9.6
75
Foothills Brewing Co
Jade IPA
American-Style India Pale Ale
Bold, citrusy Pacific Jade hops lend striking tropical fruit notes and a hint of peppery finish to this easy-drinking IPA. Dry hop additions of Chinook and Citra add heady aroma and bold flavor.
7.4
86
Foothills Brewing Co
Oktoberfest
German-Style Oktoberfest/Wiesn
Prince Ludwig, when he married in 1810, invited the entire town of Munich. Thus Oktoberfest was born, along with the sweet, dark amber lager that has become the namesake of that annual celebration. Ours stays true to this classic style.
5.8
29
Foothills Brewing Co
Torch Pilsner
Bohemian-Style Pilsener
Defending champion! 2016 GABF Award Winner – Bohemian Pilsner category
5.3
35
Forbidden Root Restaurant & Brewery
Fernetic
Specialty Beer
We're privileged to collaborate with the Branca family on this interpretation of their famous liqueur in beer form. The flavor is deep and brooding, with a strong aromatic character—an absolutely unique experience.
8.4
0
Forbidden Root Restaurant & Brewery
Radio Swan
Specialty Beer
Brewed in collab with local artist, Tony Fitzpatrick. We use rye malt, Mosaic and El Dorado hops, and a touch of lactose. It has dank aromatics with a touch of bright fruit. Creamy mouthfeel starts sweet and juicy; finishes dry w/ an echo of rye complexity
6.4
0
Forbidden Root Restaurant & Brewery
Sublime Ginger
American Wheat Beer
We start with a dry and creamy wheat beer, and add fresh botanicals and a splash of key lime juice for a tangy flavor with the delicious bite of ginger. The flavor is bright, layered, and thoroughly satisfying.
3.8
14
Fort George Brewery
3 Way IPA 2017
American-Style India Pale Ale
Hazy IPA
7
0
Fort George Brewery
Fields of Green
American-Style India Pale Ale
American India Pale Ale
7
0
Fort George Brewery
Matryoshka
Wood- and Barrel-Aged Strong Stout
Russian Imperial Stout aged in bourbon barrels
12
0
Fort George Brewery
Suicide Squeeze
American-Style India Pale Ale
American India Pale Ale
7.2
0
Fort George Brewery
Weisse Versa
South German-Style Hefeweizen
Hefeweizen
5.5
0
Fossil Cove Brewing Co
IPA #3
American-Style India Pale Ale
IPA brewed with CTZ, Cascade and Willamette hops. Notes of grapefruit, caramel, orange bitters and toffee balance to create our year-round IPA.
6
75
Fossil Cove Brewing Co
La Brea Brown
Belgian-Style Dubbel
A riff on a Belgian Dubbel our Brown Ale is characterized by notes of dark fruit, chocolate toastiness, nuttiness and spice. Brewed with an addition of coriander.
6
18
Fossil Cove Brewing Co
Oatty Stout
Oatmeal Stout
Rich, dark roasty notes blend with hints of chocolate and a subtle creaminess. Well balanced and an excellent companion for an Ozark winter.
6.9
25
Fossil Cove Brewing Co
Paleo Ale
American-Style Pale Ale
Pale Ale with notes of white grape, citrus, caramel and toast.
5.5
35
Fossil Cove Brewing Co
Session IPA
Session India Pale Ale
Session IPA brewed with Simcoe, Amarillo, NZ Rakau and Mosaic hops. Light bodied with juicy tropical fruit, citrus and floral notes.
4.9
50
Founders Brewing Co
All Day IPA
Session India Pale Ale
Naturally brewed with a complex array of malts, grains and hops. Balanced for optimal aromatics and a clean finish.
4.7
42
Founders Brewing Co
KBS
Wood- and Barrel-Aged Strong Stout
What we've got here is an imperial stout brewed with a massive amount of coffee and chocolates, then cave-aged in oak bourbon barrels for an entire year to make sure wonderful bourbon undertones come through in the finish.
11.8
100
Founders Brewing Co
Porter
Robust Porter
The nose is sweet with strong chocolate and caramel malt presence. No absence of hops gives Founders' robust porter the full flavor you deserve and expect
6.5
45
Founders Brewing Co
Rubaeus
American-Style Fruit Beer
Optimizing the flavor of fresh raspberries, Rubaeus is Founders' way of celebrating the joys of summer year-round. This stunning berry-red masterpiece is the perfect blend of sweet, tart and refreshing.
5.7
15
Four Peaks Brewing Co
Golden Lager
Munich-Style Helles
Golden Lager
0
0
Four Peaks Brewing Co
Hop Knot IPA
American-Style India Pale Ale
American IPA
0
0
Four Peaks Brewing Co
Kilt Lifter
Scottish-Style Light Ale
Scottish Ale
0
0
Four Peaks Brewing Co
Peach Ale
American-Style Fruit Beer
Peach Ale
0
0
Four Peaks Brewing Co
Pitchfork Pale Ale
American-Style Pale Ale
Pitchfork Pale Ale
0
0
Four Saints Brewing
Bandwagon New England IPA
American-Style India Pale Ale
Bandwagon New England IPA is loaded up with dry hop additions including Amarillo, Crystal, CTZ, El Dorado, Nugget, and Waimea hops. The addition of torrified wheat and naked oats provide the deep haze that is a signature character of New England IPAs.
6.1
30
Four Saints Brewing
Bourbon Barrel Aged Impending Grace Imperial Stout
American-Style Imperial Stout
Dark cocoa flavors play with the sweetness of the added local honey. The aging of Impending Grace in Buffalo Trace Bourbon barrels adds subtle, yet distinct flavors and aromas of vanilla, charred oak, and timelessness.
10
42
Four Saints Brewing
Farmhouse Saison
Classic Saison
This saison is 100% oak fermented and full of flavor. This beer's dry, crisp, and refreshing light citrus flavor is complemented with a slight funk.
6.2
33
Four Saints Brewing
Genesis Belgian-style Dubbel
Belgian-Style Dubbel
The caramel sweetness from crystal malts and light fruitiness of traditional Trappist Ale yeast of our Belgian Dubbel pays homage to the beginnings of this style.
7.1
20
Four Saints Brewing
Hefeweizen German-style Wheat
South German-Style Hefeweizen
The lightness in color masks the intensity of the flavor. The esters and clove aromas and flavors accentuate that you cannot judge a beer by its color alone.
4.2
8
Four Sons Brewing
3rd Anniversary
American-Style Sour Ale
Oak aged imperial sour with cherries, cinnamon and vanilla
11.3
0
Four Sons Brewing
B2 Stealth
Wood- and Barrel-Aged Strong Stout
Imperial stout aged in bourbon barrels with Vietnamese coffee
13.9
0
Four Sons Brewing
Self Taught
Wood- and Barrel-Aged Strong Beer
Imperial amber aged in rye whiskey barrels with toasted coconut
16.3
0
Four Sons Brewing
Special K
American-Style Sour Ale
Imperial sour blonde with black currants
7.9
0
Four Sons Brewing
Subtle One
Chili Beer
Habanero pineapple double IPA
9.9
99
Fremont Brewing Co
Bourbon Barrel Aged Dark Star
Wood- and Barrel-Aged Strong Stout
This year's release is a blend of 18, 12, and 8-month Bourbon Barrel-Aged Dark Star in 12-year old Kentucky bourbon barrels.
14
50
Fremont Brewing Co
Brett French Saison
Specialty Saison
Fermented in stainless with a French ale yeast and then bottle conditioned for 8 months with Brettanomyces, our Brett French Saison presents notes of banana, clove, orchard fruit, and pepper.
5
5
Fremont Brewing Co
Field to Ferment – Amarillo
Fresh or Wet Hop Ale
We brew this fresh hop ale throughout the entire hop harvest in Yakima highlighting different hop varieties as they are harvested. This batch features fresh Amarillo hops remiscent of orange and dank pine.
6
50
Fremont Brewing Co
Lush
American-Style India Pale Ale
We bring this tropical treat to you as a gift from the Pacific Northwest. Lush is brewed with a hand-selected blend of malts and lush, tropical hops reminiscent of lime, mango, and guava…Because Beer Matters!
7
80
Fremont Brewing Co
Rusty Nail
Wood- and Barrel-Aged Strong Stout
The Rusty Nail begins life as The First Nail, an oatmeal stout of epic proportions with brewer's licorice, smoked barley, and pale malt and is then aged on cinnamon bark. She becomes The Rusty Nail after spending 15 months in 12-year old bourbon barrels
12.7
40
Friendship Brewing Company
Bourbon Barrel Aged Wentzville Downtown Brown
American-Style Brown Ale
Bourbon Barrel Aged Wentzville Downtown Brown is aged in Wood Hat Bourbon Barrels.
6.5
21
Friendship Brewing Company
Cathy's Cure
American-Style Cream Ale
One of our most popular lighter beers. Based upon our Andrew's Ale, Cathy's Cure has a great addition of Raspberries. This beer was produced for one of our Family members the help cure her of cancer. It seemed to work just fine!
6
15
Friendship Brewing Company
Laplander
Imperial India Pale Ale
Well Balanced, a bit on the bitter side, but nothing overwhelming. Dry hopped with Mosaic and Citra giving it a nice citrusy flavor. The name Laplander comes from 1940's train lingo when a passenger is jostled into someone else's lap in a crowd
9
106
Friendship Brewing Company
Ryenot
Rye Beer
American Rye Ale with Chocolate and Coffee notes. Smooth refreshing light ale
6
32
Friendship Brewing Company
Wentzville Downtown Brown
American-Style Brown Ale
A slightly hopped up version of a classic brown ale named for Wentzville's historic Village Center Downtown.
6.5
21
Front Range Brewing Co.
Colorado Fall Golden Coffee Stout
Coffee Beer
Our core Coffee Stout is actually our take on a Golden Stout, BIG malty body, high ABV balanced with Lactose, Liquid Cacao Nibs & Ethiopian Yirgacheffe Toddy to create a slighty sweet, roasty, chocolatey light colored stout.
8
30
Front Range Brewing Co.
Ma Belle Maison Saison
Classic Saison
Our Core French style Saison is brewed with Orange Peel, Black Peppercorns, Star Anise and Ginger to create a unique Farmhouse Ale
5.7
23
Front Range Brewing Co.
Piney Ridge Dunkel
Munich Dunkel
Our GABF 2016 Silver Medal Winning (Category 46 2016) German Munich style Dunkel uses Dark Munich Malt as the base of the grain bill along with a few specialty malts to create a Smooth Munich rich Lager with notes of Cacao, Toffee and Caramel.
5
18
Front Range Brewing Co.
Prairie Fire Helles
Munich-Style Helles
Our Munich Helles is the perfect light beer for all day enjoyment, smooth malty-sweet cereal notes balanced with spicy Flaked Rye and Saaz Hops!
5.7
21
Front Range Brewing Co.
TrHOPical Illusion IPA
American-Style India Pale Ale
Silent "H" not so silent HOP! Our Flagship American IPA uses a large dose of late addition Belma and Citra hops along with dry hopping to create a unique IPA with notes of Strawberry, Melon and Citrus.
6.5
70
Fulton Beer
300 IPA
American-Style India Pale Ale
Originally brewed as a one-off in celebration of the 300th batch at our original downtown Minneapolis brewery, this West Coast IPA was so well received we had to make it available year-round. It's built on a base of Pilsner malt and heavily hopped with
6.9
74
Fulton Beer
Culture 2
Wood- and Barrel-Aged Sour Beer
The second release in our Culture Project Series underwent primary fermentation with saccharomyces in stainless steel. The beer was then transferred to oak wine barrels and puncheons and inoculated with a unique blend of Brettanomyces, Pediococcus, & Lacti
6.25
15
Fulton Beer
Hopstar IPA
Session India Pale Ale
Twice dry-hopped with Citra, Mosaic, and Amarillo, this Session IPA shines bright hop rays through a nebulous body of Maris Otter, Golden Promise, Golden Naked Oats, and white wheat. It's Session IPA, NE Minneapolis style.
4.9
37
Fulton Beer
Lonely Blonde
Golden or Blonde Ale
The Lonely Blonde wears a delicate fragrance of German noble hops, and slips a touch of white wheat between American pale and crystal malts for a smooth, sensuous body, fair complexion, and a pleasantly lacy white head. Crisp carbonation slinks the Lonely
4.8
29
Fulton Beer
Pils
Bohemian-Style Pilsener
Inspired by the pale lagers of Central Europe, Fulton Pils is crafted from Pilsner malt, noble hops, and Pilsner yeast. Elegant and refreshing, classic yet transcendent
5.3
30
Funkwerks
Nelson Sauvin
Specialty Saison
Named after the unique New Zealand hop that has distinct white wine characteristics, this single-hop Saison has a subtle aroma of gooseberries, honeydew melon and a hint of spiciness from our house Saison yeast strain. 
7.5
0
Funkwerks
Pineapple Provincial
Belgian-Style Fruit Beer
Pineapple Provincial is brewed utilizing a unique 24-hour warm souring technique using lactobacillus in the wort. We ferment with a Belgian yeast strain famous for fruity flavors and a dry finish.
4.2
0
Funkwerks
Raspberry Provincial
Belgian-Style Fruit Beer
This delightfully tart fruit beer is refreshing, with a citrusy raspberry aroma which transitions to a subtlety sweet and tart finish.
4.2
0
Funkwerks
Saison
Classic Saison
Our flagship Saison was born from a series of test batches begun in Gordon Schuck's backyard to become the GABF gold medal-winning Saison. Notes of passion fruit, tangerine, lemon verbena, ginger and black pepper.
6.8
0
Funkwerks
Tropic King
Specialty Saison
Originally designed to be a hoppier version of our flagship Saison, the accidental (but fortuitous) addition of two extra bags of Munich malt balanced the hop bitterness leaving us this very unique Imperial Saison. Notes of passion fruit, mango, & ginger.
8
0
Funky Buddha Brewery
Floridian Hefeweizen
South German-Style Hefeweizen
Unfiltered and refreshing German-style wheat ale
5.2
12
Funky Buddha Brewery
Get Pitted
Fruited Wood- and Barrel-Aged Sour Beer
Barrel-Aged Sour Ale with Cherries
7
35
Funky Buddha Brewery
Maple Bacon Coffee Porter
Specialty Beer
Porter with Coffee, Maple Syrup and Natural Flavorings
6.4
35
Funky Buddha Brewery
No Crust
Specialty Beer
Brown Ale with Peanut Butter and Jelly Sandwiches added
6.4
36
Gatlinburg Brewing Company
Cloudy Wit a Chance For Buzz
Belgian-Style Witbier
Cloudy appearance and citrus nose. This wit is light and dry with a soft mouthfeel and finishes with a hint of coriander.
5.3
18
Gella's Diner & Liquid Bread Brewing Co
Liberty Stout
American-Style Stout
Celebrate American Beer with this full-bodied American Stout brewed with American hops. Liberty Stout is a big brew finishing with a nice dry, roasted flavor so great you'll get your bell rung.
5.9
31
Gella's Diner & Liquid Bread Brewing Co
No. 09 American Hefeweizen
South German-Style Hefeweizen
Light-bodied and cloudy, this is the unfiltered version of the American Wheat Beer
4.5
12
Gella's Diner & Liquid Bread Brewing Co
No. 11 German-Style Kolsch
German-style Kölsch
Light-bodied ale, crisp taste, mild citrus undertones with light hoppiness. Finishes dry and clean.
5.1
0
Gella's Diner & Liquid Bread Brewing Co
No. 66 American Golden Ale
Golden or Blonde Ale
A clean refreshing blonde ale with moderate maltiness and a touch of hops. Pairs well with lawn mowing, grilling, or hangin out at the lake.
4.5
15
Genesee Brewing Company
Genesee Brew House Experimental Cream Ale
Experimental Beer
Silky, smooth and crisp brewed in the tradition of Genesee Cream Ale with intense aromas and flavors from dry hopping with Citra, Cashmere, Styrian Wolf and Slovakian experimental hops.
6.4
16
Genesee Brewing Company
Genesee Brew House Pilot Batch Reisky & Spies Bourbon Barrel-Aged Old Ale
Wood- and Barrel-Aged Dark Beer
This Old Ale has been aged to perfection in Kentucky bourbon barrels. Rich, complex malt notes of dark chocolate and subtle fruit pair perfectly with the big flavors of bourbon, vanilla and oak from the barrel aging.
10.3
0
Genesee Brewing Company
Genesee Brew House Pilot Batch Scotch Ale
Scottish-Style Heavy Ale
A rich and chewy, deep garnet colored, heavily bodied strong ale that is deceptively smooth
7.5
20
Genesee Brewing Company
Genesee Cream Ale
American-Style Cream Ale
Introduced in 1960! Depth of flavor of an ale with the smoothness of a lager. That's how Genesee Cream Ale became an American original.
5.2
9
Genesee Brewing Company
Genesee Oktoberfest
American-Style Maerzen/Oktoberfest
Our Oktoberfest is a deep-golden lager, big on malt flavor and complimented by subtle herbal notes of noble hops. We hope this beer gives you good reason to raise a stein and celebrate. Prost!
5.5
21
Georgetown Brewing Co
Barrel Aged Choppers Red Ale
Wood- and Barrel-Aged Pale to Amber Beer
A hoppy Northwest-style red, with lots of late addition Centennial hops to make it floral and fruity, gets the barrel aged treatment making it a little drier, with a more subdued hop profile.
9.4
0
Georgetown Brewing Co
Bodhizafa IPA
American-Style India Pale Ale
Over five pounds of hops per barrel go into each brew, giving the flavor and aroma heavy doses of mandarin and citrus. Rolled oats provide a light, silky texture that goes down easy. Gold medal winner in the American Style IPA category at GABF 2016!
6.9
0
Georgetown Brewing Co
Gusto Crema Coffee Ale
Coffee Beer
Building on Gusto Crema blend, a medium roasted bean from our friends at Caffè Umbria, we made a smooth, rich cream ale. This beer has roasted flavor, aroma, and color from cold brew coffee. Smooth, rich mouthfeel comes from oats and Munich malt.
4.5
0
Georgetown Brewing Co
Johnny Utah Pale Ale
American-Style Pale Ale
With heavy grapefruit, citrus and resin in the nose, this light colored ale has minimal malt interference, giving the beer a clean finish without a cloying bitterness. Pronounced grapefruit and pine flavors with a faint verdant note.
5.6
0
Georgetown Brewing Co
Manny's Pale Ale
American-Style Pale Ale
A careful selection of Northwest hops, premium barley, and our unique yeast give this ale a rich and complex malty middle with a snappy hop finish. Crisp, clean and smooth with hints of citrus and fruit.
5.4
0
Georgetown Brewing Co
Meowsa! Double IPA
Imperial India Pale Ale
If you force fed a watermelon a steady diet of mandarin oranges and pineapples, and then dropped said watermelon into a wood chipper, the aromas and flavors that came out of the business end of the wood chipper would best describe Meowsa!
8.4
0
Georgetown Brewing Co
Roger's Pilsner
Czech Pale Lager
Yakima grown Czech-style Sterling hops give this refreshing pilsner a spicy and earthy hop aroma. Malt character is accentuated by a Bavarian Lager Yeast that ferments dry but round and complex.
4.9
0
Georgetown Brewing Co
Warchild Double IPA
Imperial India Pale Ale
Warchild is kinda like that super cool uncle who was actually a pineapple that loves crashing on your parents couch in the basement, eating potato chips and not being uptight, man.
7.5
0
Gigantic Brewing Co
Fantastic Voyage
Brett Beer
Our brett saison was initially fermented with two saison and two brett strains, then aged a year in oak. We refermented in the bottle with another yeast for added complexity.
6.6
14
Gigantic Brewing Co
Gigantic IPA
American-Style India Pale Ale
True to its name. Cascade, Centennial, Crystal and Simcoe create a citrusy hop confluence that continuously embiggens with each drink. The embodiment of our brewing philosophy to "Never Give An Inch".
6.9
75
Gigantic Brewing Co
Ginormous
Imperial India Pale Ale
In the search for a hoppier, better equipped Ginormous we are launching an ever-changing series of Ginormous Imperial IPAs developed at our secret testing facility deep in S.E. Portland. We focus on the bright citrus from Simcoe, Citra and Nelson hops.
8.8
100
Gigantic Brewing Co
Kölschtastic
German-style Kölsch
Sometimes you simply want a beer that's just delicious. One that's crisp and flavorful, a subtle balance of malt and hops - a traditional beer. You don't just want a kölsch, you want a beer that's Kölschtastic.
5.2
22
Gigantic Brewing Co
Pipewrench - Gin Barrel Aged IPA
American-Style India Pale Ale
Our Gigantic IPA aged in Ransom Old Tom Gin Barrels for 3 months. Botanicals from the gin meld perfectly with citrusy hops and subtle wood in an incredibly complex beer.
8
65
Gilgamesh Brewing Co
Doug FIRocious
Imperial India Pale Ale
Doug emerged from the depths of the overgrown Willamette Valley rain forests. This giant is brimming with FIRocios hop nectar, putting hair on the chests of those who slug it down. Be FIRocious!
8.7
87
Gilgamesh Brewing Co
Doug FIRocious
Imperial India Pale Ale
Doug emerged from the depths of the overgrown Willamette Valley rain forests. This giant is brimming with FIRocios hop nectar, putting hair on the chests of those who slug it down. Be FIRocious!
8.7
87
Gilgamesh Brewing Co
Hoot Attack
Session India Pale Ale
This ISA is a drinkable reminder of the owl attacks that occur in Salem's Bush Park. The light body and bright hop flavors pair nicely with a mangled scalp and tired legs.
4.9
50
Gilgamesh Brewing Co
Hoot Attack
Session India Pale Ale
This ISA is a drinkable reminder of the owl attacks that occur in Salem's Bush Park. The light body and bright hop flavors pair nicely with a mangled scalp and tired legs.
4.9
50
Gilgamesh Brewing Co
Mamba
Specialty Beer
A unique malt beverage defined by black tea, bergamot, tangerine peel and rye. Mamba is light-flavored and smooth-bodied with a taste that can only speak for itself.
6.5
1
Gilgamesh Brewing Co
Mamba
Specialty Beer
A unique malt beverage defined by black tea, bergamot, tangerine peel and rye. Mamba is light-flavored and smooth-bodied with a taste that can only speak for itself.
6.5
1
Gilgamesh Brewing Co
Oedipus IPA
American-Style India Pale Ale
A complex northwest IPA brewed with a family secret blend of hops. It's auburn body is balanced with a light bitterness and defined by its citrus and passionfruit flavors.
6.4
65
Gilgamesh Brewing Co
Oedipus IPA
American-Style India Pale Ale
A complex northwest IPA brewed with a family secret blend of hops. It's auburn body is balanced with a light bitterness and defined by its citrus and passionfruit flavors.
6.4
65
Glenwood Canyon Brewing Co
Alpha Beta Project
American-Style India Pale Ale
Experimental hop series featuring Ekuanot hops
0
0
Glenwood Canyon Brewing Co
Mango Gose
Leipzig-Style Gose
Mango Gose is made with 50% wheat malt and 50% 2-row malt. This tart summer refresher is kettle soured with lactobacillus and then boiled with Himalayan sea salt. We dry-hopped it with Mosaic hops and then added real mango late in fermentation.
4.68
30
Glenwood Canyon Brewing Co
Quandry Belgian Quad
Belgian-Style Quadrupel
Belgian Quad
0
0
Glenwood Canyon Brewing Co
St. James Irish Red
Irish-Style Red Ale
St. James Irish Red is loaded with malt character from the judicious use of Melanoidin Malt, Cara-Munich Malt and a touch of Brown Malt. It has a very smooth malt sweetness and only a subtle touch of hops.
5.7
20
Glenwood Canyon Brewing Co
Vapor Cave IPA
American-Style India Pale Ale
Our hop additions are thoughtful, steering away from too much bitterness, while focusing on the hop aroma and flavors. With a massive dry hop of Mosaic, Citra, and Chinook, this libation comes through with a nice blend of citrus, tangerine and grapefruit.
7.4
65
Golden City Brewery
Evolution IPA
American-Style India Pale Ale
American Style IPA
0
0
Golden City Brewery
Legendary Red Ale
Irish-Style Red Ale
Legend tells of a land dominated by a giant, and in need of a true champion. A red-haired knight rose to the challenge, and faced great peril for the freedom of his people. To honor his illustrious valor and victories, a red ale was crafted.
0
0
Golden City Brewery
Mad Molly's Brown Ale
American-Style Brown Ale
Brown Ale
0
0
Golden City Brewery
The Beerd Single-hop Simcoe
American-Style Pale Ale
Simcoe Single Hop Pale Ale
0
0
Golden City Brewery
Too Hot in the Hot Tub Chili
Chili Beer
Chili Beer
0
0
Good River Beer Company
American Authentic Pilsner
American-Style Pilsener
Named after the American River and its pre-prohibition recipe, this clean, crisp, brilliantly clear lager packs much more flavor than you might expect. Soft malt and slight sweetness in the aroma mingle with subtle, floral hops.
6
30
Good River Beer Company
Class V IPA
American-Style India Pale Ale
A big, bold double IPA with a dry finish and a huge but not completely over the top hop flavor and aroma. Citrus and pine dominate and the clean bitterness encourages the next sip
8.5
100
Good River Beer Company
Fu Brett 2016 limited release
Belgian-Style Pale Strong Ale
A twist on Fu Fighter by finishing off the fermentation and bottle conditioning with a blend of wild yeasts. The result is a unique, complex Belgian that remains approachable to those new to mixed fermentation Brett beers. Brewed in September, 2016.
9.8
25
Good River Beer Company
Fu Fighter
Belgian-Style Pale Strong Ale
Named after the Futaleufu River in Chile and our efforts to protect the river. This is a big, bold beer that remains dry and drinkable. Two Belgian yeast strains used in combination produce unique and complex fruit flavors and aromas.
8.9
25
Good River Beer Company
Gunny Black Lager
German-Style Schwarzbier
Named after Black Canyon of the Gunnison River and based on a traditional German Schwarzbier, but far more flavorful. The restrained roast is mostly mild chocolate, the finish is caramel, and German Noble hops round out this very sessionable beer.
5.5
25
GoodLife Brewing Company
29'er Brown Ale
American-Style Brown Ale
Tons of biscuit and roasted character on the nose with subtle hints of caramel. Flavors of chocolate and caramel couple with low bitterness that let the malt character really shine, making this a very well balance brown ale. Not too heavy, not too light.
6
45
GoodLife Brewing Company
Brett Lager (Collaboration with The Ale Apothecary)
Brett Beer
Fresh cut hay, funky barnyard notes and figs are reminiscent of Belgian lambic while the initial lager characteristics of Mecca Grade Estate malt and yeast are still evident and intertwined.
8.5
25
GoodLife Brewing Company
Pass Stout
American-Style Stout
Dark roast coffee and chocolate aromas lead into a light bodied stout that is still packed with dark robust flavors. Bitterness and mouthfeel are light to medium in intensity and allow all of the flavors you would expect from an American Stout to shine.
7
70
GoodLife Brewing Company
Sweet As! Pacific Ale
American-Style Pale Ale
Sweet As! is a bright beer in appearance as well as flavor. Checking in at 6%, this beer has a bright golden color complimented by a bright white head. Pineapple, cream, and other soft tropical aromas dominate your nose.
6
18
Grand Teton Brewing Co
Ale 208
Session Beer
This crisp drinkable ale has a light malt body and subtle yet citrusy hop character.
4.7
16
Grand Teton Brewing Co
American Sour 2016
Wood- and Barrel-Aged Sour Beer
American Sour 2016 is a blend of beers aged in various red wine barrels for up to 24 months.
8
0
Grand Teton Brewing Co
Barrel-Aged Fruited Gose
Fruited Wood- and Barrel-Aged Sour Beer
This is a sour ale with cherries and cranberries added.
7
0
Grand Teton Brewing Co
Black Cauldron
American-Style Imperial Stout
Black Cauldron boasts flavors of chocolate and coffee, along with raisins and dried fruit soaked in sherry.
9.5
54
Grand Teton Brewing Co
Teton Range IPA
American-Style India Pale Ale
The flavor of Teton Range IPA is juicy, like fresh squeezed tropical fruit with some pine in the background.
6.5
62
Granite Falls Brewing Co.
Boysenberry Falls Sour Ale
American-Style Sour Ale
American Pale Wheat Ale soured with 9 strains of bacteria and fermented with over 300 lbs of Boysenberries.
5.5
15
Granite Falls Brewing Co.
Castle Stormer Scottish Ale
Peated Scotch Ale
Traditional Wee heavy brewed with 8 different malts.
9
29
Granite Falls Brewing Co.
Knotty Gurl Blonde Ale
Golden or Blonde Ale
American Blonde Ale brewed with 2-row, wheat, dextrine malt, and Amarillo and Citra hops.
4
22
Granite Falls Brewing Co.
The Untold Want
Fruited Wood- and Barrel-Aged Sour Beer
Mixed Fermentation blended sour aged for 1.5 years in red wine barrels and refermented for 6 months on tart cherries.
7
11
Granite Falls Brewing Co.
Vicki The Elephant Peanut Butter Amber
Field Beer
American Amber Ale brewed with real peanut butter.
5.7
30
Gravity Brewing
Cerveza Espacial
International-Style Pilsener
Traditional Mexican-Style Lager brewed with 2-row and 6-row barley and a touch of corn. Light, refreshing, easy drinking lawn mowing beer!
5
14
Gravity Brewing
Coal Kriek
Belgian-Style Fruit Beer
2016 World Beer Cup Silver winning Belgian-Style Dubbel with Tart Cherries!
6.5
25
Gravity Brewing
Olde Gravitatem
Old Ale
English Strong Ale with malty, vinious, dried fruit character.
8.1
41
Gravity Brewing
Schwerkraft - Pumpkin Spice Lager
Herb and Spice Beer
German Festbier with Pumpkin Pie Spices!
5.5
23
Grayton Beer Company
30A Beach Blonde Ale
Golden or Blonde Ale
Classic noble hop characteristics paired with subtle malt sweetness yield a perfectly balanced, crisp, and refreshing blonde ale. Smooth and approachable, this is the beer that put us on the map!
4.6
13
Grayton Beer Company
Dubbel Barrel
Wood- and Barrel-Aged Strong Beer
Aged in Nelson's Green Brier Distillery's Belle Meade Bourbon barrels, bold malt flavors of caramel and toffee compliment the dark fruit and spice notes. Complex barrel character of vanilla and maple syrup, finished with the trademark rye spice.
8
23
Grayton Beer Company
Grayton Pale Ale
American-Style Pale Ale
We love our take on this style, which draws you in with a fragrant nose of bright lemon peel and oranges with pine undertones from American hops. The result is an aromatic and complex medium-bodied beer reminding us of the citrus fruits and pines of NW FL.
5.7
51
Grayton Beer Company
Harvest CentenniAle
Fresh or Wet Hop Ale
Bright citrus and floral hop characteristics from fresh centennial hops combined with a complex yet dry malt profile, yield a beautifully aromatic and dangerously balanced Harvest ale that finishes as crisp as an October night.
6.1
50
Grayton Beer Company
Rosé of the Gulf
Contemporary Gose
A elevated twist to our Salt of the Gulf! We macerate berries and hibiscus with our traditional Gose'-style brew. The result: a beautiful pinot rosé color beer that is both tart and salty yet fruity and spicy. Enjoy our Rosé all day!
4.4
12
Great American Restaurants Sweetwater Tavern
Frontier IPA
American-Style India Pale Ale
East-Coast style fruity, citrusy IPA...
6.5
70
Great American Restaurants Sweetwater Tavern
Iron Horse Lager
German-Style Schwarzbier
Rich and malty yet smooth & clean...
5.6
22
Great American Restaurants Sweetwater Tavern
Naked RIver Light
American-Style Light Lager
Clean light lager with a hint of classic German flavors...
4.5
10
Great American Restaurants Sweetwater Tavern
Octoberfest Lager
German-Style Maerzen
Classic Marzen style featuring all German ingredients...
6.3
19
Great American Restaurants Sweetwater Tavern
Wit's End Ale
Belgian-Style Witbier
Classic spicy wit with a hint of grains of paradise...
5.4
15
Great Basin Brewing Co
39º North Blonde Ale
Belgian-Style Blonde Ale
ith a crisp malt flavor, a bright and refreshing finish, and just the perfect balance of hops, this brew was made to jump into – mouth first
4.9
20
Great Basin Brewing Co
Bitchin' Berry
Fruit Wheat Beer
A fruit-forward beer drawing distinctive flavors from a truly generous addition of real berries
5.6
15
Great Basin Brewing Co
Kaffir Lime Leaf & Basil Saison
Other Belgian- and French-Style Ale
Kaffir lime leaf (usually used in Southeast Asian cuisine) pairs up with basil that presents a refreshing fusion in this French/Belgian Farmhouse Ale.
7
0
Great Basin Brewing Co
The Great Pumpkin Ale
Pumpkin/Squash Beer
NA
0
0
Great Basin Brewing Co
Witbeck's Wizenbock
South German-Style Weizenbock
With a medium body, this unfiltered dark amber strong wheat beer has strong banana notes, subtle clove spiciness, mild hop bitterness, and a semi sweet finish.
7.8
0
Great Central Brewing Company
Festzelt
German-Style Oktoberfest/Wiesn
This is the most efficient way for our German brewmeister to put our German brewhouse through its paces. A traditional German-style Oktoberfest—malty but balanced with a clean finish. G'Suffa!
5.9
27
Great Central Brewing Company
Hefeweizen
South German-Style Hefeweizen
This Munich-style hefeweizen greets you with subtle banana aromas effortlessly balanced with citrus notes from Mandarina hops. The decoction-mashed wheat & pilsner malts give it a smooth, refreshing mouthfeel with a crisp, clean finish.
5.6
18
Great Central Brewing Company
Helles Lager
Munich-Style Helles
A very approachable traditional German-style recipe with German Pilsner malt, Bavarian Lager yeast, Perle & Tettnanger hops that's well balanced and lightly hopped for a crisp finish. The tuxedo t-shirt of beer: perfect for all occasions.
5.3
20
Great Central Brewing Company
Pils
German-Style Pilsener
The white pepper and bright green nose of fresh-from-the-farm Tettnanger hops—matched by a spicy and lingering hop bite with a light, crisp body and sparkling mouthfeel that finishes clean—is what defines this traditional German-style pilsner.
5.3
30
Great Divide Brewing Co
Barrel Aged Yeti Imperial Stout
Wood- and Barrel-Aged Strong Stout
This unique version of our monstrous Yeti Imperial Stout is aged for at least 12 months in whiskey barrels.
12.5
0
Great Divide Brewing Co
Chai Yeti Imperial Stout
American-Style Imperial Stout
Traditional Chai spices of cinnamon, green cardamom, black pepper, ginger, nutmeg, and vanilla blend seemlessly with Yeti's rich, roasted malt backbone for a spicy beast fit to tackle Everest.
9.5
0
Great Divide Brewing Co
Colette Farmhouse Ale
Specialty Saison
COLETTE is fruity and slightly tart, with a dry finish that makes it that rarest of treats — a beer as refreshing as it is complex.
7.3
0
Great Divide Brewing Co
Denver Pale Ale
American-Style Pale Ale
This American Pale Ale opens with big citrus and pine notes, then smooths out with a faint toasted malt character and dry, slightly bitter finish.
5
0
Great Divide Brewing Co
Hazy IPA
American-Style India Pale Ale
This take on a Hazy IPA is a juicy mix of citrus aroma and nuanced fruit characters.
6.2
0
Great Divide Brewing Co
Heyday IPA
American-Style India Pale Ale
Light straw in color with a slight haze and a thick head. Multi-faceted tropical fruit, berry, and melon notes from the complex hop bill (American, New Zealand, Australian, and German varietals), but supported by the cereal-like malt character.
5.8
0
Great Divide Brewing Co
Hibernation English-Style Old Ale
Old Ale
This robust, dry-hopped ale has a malty richness balanced with a complex hop profile and hearty, warming character.
8.7
0
Great Divide Brewing Co
Roadie Grapefruit Radler
American-Style Fruit Beer
Brewed with natural grapefruit puree, this easy-drinking ale pours a hazy sunrise gold and is bursting with citrus aroma.
4.2
0
Great Divide Brewing Co
Strawberry Rhubarb Sour Ale
Fruited American-Style Sour Ale
Bright and effervescent, this sour is a fun and refreshing, lip-puckering treat perfect for every occasion, any time of the year.
6.2
0
Great Divide Brewing Co
The Smoothness
Wood- and Barrel-Aged Strong Beer
The Smoothness is a rich, silky dark lager aged in Jameson Caskmates barrels , directly from Ireland.
8.7
0
Great Frontier Brewing Company
Blonde Annie
Gluten-Free Beer
Light, citrucy and refreshing
4.8
21
Great Frontier Brewing Company
Giant Forehead IPA
Gluten-Free Beer
For the gluten free hop heads
7
63
Great Frontier Brewing Company
Leo's Lager
German-Style Maerzen
Malty German lager
5.2
23
Great Frontier Brewing Company
Munich Dunkel
Munich Dunkel
Light, roasty flavor
5.2
22
Great Lakes Brewing Co.
Barrel Aged Alberta Clipper
Wood- and Barrel-Aged Dark Beer
Belgian chocolate and raspberry on top of roasted barley, complemented by vanilla oak barrel aging.
9.5
30
Great Lakes Brewing Co.
Barrel Aged Triple Dog Dare
Wood- and Barrel-Aged Strong Beer
Complex Belgian style fruity and spicy flavors complemented by bold wood and vanilla notes from barrel aging.
9.5
30
Great Lakes Brewing Co.
Christmas Ale
Herb and Spice Beer
Holiday spices of cinnamon and ginger, along with fresh honey sweetness, complement a pronounced maltiness.
7.5
30
Great Lakes Brewing Co.
Edmund Fitzgerald Porter
Robust Porter
Robust complexity, with notes of rich roasted barley and bittersweet chocolate & coffee. Despite the dark color, not overly heavy in body.
6
37
Great Lakes Brewing Co.
Good Talk Russ
American-Style Lager
A slightly more refined and flavorful take on the classic smooth, crisp rice lager.
4.3
15
Great Lakes Brewing Co.
Great Lakes Gose
Leipzig-Style Gose
Light bodied and slightly tart, with notes of coriander and salt.
4.4
5
Great Lakes Brewing Co.
Haus Malt Helles
Munich-Style Helles
Light floral hop bitterness with a mild malt sweetness.
5.7
20
Great Lakes Brewing Co.
Nosferatu Imperial Red Ale
Double Red Ale
A rich roasted malt body complements a stunning, bitter hop bite.
8
70
Great Lakes Brewing Co.
Oktoberfest
American-Style Maerzen/Oktoberfest
A celebration of maltiness. Packed with rustic, autumnal flavors, including vibrant malt and a festive flourish of Noble hops.
6.5
20
Great Lakes Brewing Co.
Turntable Pils
German-Style Pilsener
Earthy, fresh hop aromas from the use of Sterling hops, a relative to the noble Saaz hop used in the Czech Republic. Balanced by a smooth, refreshing, light-bready malt backbone.
5.4
35
Great North Aleworks
Cranberry Wit
Belgian-Style Fruit Beer
We started by brewing up a classic Belgian-style witbier with coriander and orange peel, to which we added juicy cranberries. The result is a lively, refreshing beer with a slight tart finish.
4.5
0
Great North Aleworks
Cranberry Wit
Belgian-Style Witbier
A new twist on an old favorite, Cranberry Wit! We started by brewing up a classic Belgian-style witbier with coriander and orange peel, to which we added juicy cranberries. The result is a lively, refreshing beer with a slight tart finish.
4.5
0
Great North Aleworks
IPA
American-Style India Pale Ale
Our IPA is inspired by the bold and aromatic IPAs of the West Coast. Generous hop additions give a bright, complex, juicy flavor with just the right malt balance. Awards: 2016 World Beer Cup Silver Medal, 2016 Great International Beer Fest Bronze Medal.
7
0
Great North Aleworks
IPA
American-Style India Pale Ale
Our IPA is inspired by the bold and aromatic IPAs of the West Coast. Generous hop additions give a bright, complex, juicy flavor with just the right malt balance to leave you longing for the next sip.
7
0
Great North Aleworks
RVP (Robust Vanilla Porter)
Specialty Beer
RVP (Robust Vanilla Porter) is brewed with a blend of roasted and toasted malts, laying a rich foundation of coffee and dark chocolate flavors. Madagascar vanilla arrives late to the party, giving RVP its signature flavor and aroma.
6.5
0
Great North Aleworks
RVP (Robust Vanilla Porter)
Robust Porter
RVP (Robust Vanilla Porter) is brewed with a blend of roasted and toasted malts, laying a rich foundation of coffee and dark chocolate flavors. Madagascar vanilla arrives late to the party, giving RVP its signature flavor and aroma.
6.5
0
Great North Aleworks
Tie Dyed
American-Style Pale Ale
Tie Dyed is a sessionable pale ale that's aromatic and refreshing. Brewed with Citra, Amarillo, and Cascade hops, this lively beer is light, crisp, and packed with flavor.
5.4
0
Great North Aleworks
Tie Dyed
American-Style Pale Ale
Tie Dyed is a sessionable pale ale that's aromatic and refreshing. Brewed with Citra, Amarillo, and Cascade hops, this lively beer is light, crisp, and packed with flavor.
5.4
0
Great North Aleworks
Tragically Hopped
Imperial India Pale Ale
A "classic" Double IPA, we use a blend of Centennial, Simcoe, and Mosaic, at 3 pounds per barrel in the kettle, and another 3 pounds per barrel as dry hops.
8.5
0
Great North Aleworks
Tragically Hopped
Imperial India Pale Ale
Tragically Hopped is designed and brewed as a "classic" Double IPA. We use a blend of Centennial, Simcoe, and Mosaic hops, at a whopping 3 pounds per barrel in the kettle, and another 3 pounds per barrel as dry hops.
8.5
0
Great Notion Brewing
Blueberry Muffin
American-Style Sour Ale
A tart whimsical ale that will remind you of your favorite childhood blueberry muffins!
5
0
Great Notion Brewing
Double Stack
American-Style Imperial Stout
A NW breakfast stout loaded with local PDX Clutch coffee and ridiculous amounts of maple syrup.
10
0
Great Notion Brewing
Juice Box
Imperial India Pale Ale
All Mosaic hazy IPA, the big brother to Juice Jr.
8.5
0
Great Notion Brewing
Juice Jr
American-Style India Pale Ale
The 2017 Oregon Beer of the Year, Juice Jr. is the little Brother of Juice Box DIPA. It's brewed with a ton of Mosaic hops and lots of love.
6
0
Great Notion Brewing
RIPE
American-Style India Pale Ale
All Citra hazy IPA
7
0
Green Flash Brewing Co
Barroque Belgique
Brett Beer
A bold and complex layering of herbal hops finds delicate balance from traditional malts. Bottle-conditioning with fresh ale yeast and Brettanomyces adds a funky finishing touch, creating a delightfully bright effervescence, dryness, and continuously evolv
7
0
Green Flash Brewing Co
Beach House Ale
Specialty Saison
Beach House Ale is an easy drinking summer ale that differentiates itself from the pack with complexity from the spices and yeast strain. A refreshing quality from the bright effervescence provided by the secondary fermentation and a lovely citrus note fro
5
0
Green Flash Brewing Co
Cosmic Ristretto
Coffee Stout or Porter
Marvel at its rich black appearance with bruleed edges and mocha-colored beer foam. Breathe in its coffee aroma and sweet malts, and savor its smooth, espresso, chocolate flavor. Don't fight its gravitational pull. This bold, complex, java-centric Baltic P
8.2
0
Green Flash Brewing Co
GFB Blonde Ale
Golden or Blonde Ale
GFB is a light, refreshing, crushable blonde ale with hints of honey and orange peel complemented by a mellow malt character. At 4.8%, it is expertly crafted to enhance any occasion.
4.8
0
Green Flash Brewing Co
Le Freak
Imperial India Pale Ale
Le Freak® is the first-ever hybrid ale of its kind: the convergence of a Belgian-Style Trippel with an American Imperial IPA. This zesty Amarillo dry-hopped, bottle-conditioned marvel entices with fruity Belgian yeast aromatics and a firm, dry finish. Arom
9.2
0
Green Flash Brewing Co
Natura Morta Blood Orange
Wood- and Barrel-Aged Pale to Amber Beer
Natura Morta Blood Orange starts as a Belgian-style Saison with ginger, orange peel, and grains of paradise. Barrel-aged, it becomes a scintillating celebration of sweet, tangy, fresh blood orange that tantalizes the taste buds. A hint of vanilla and earth
5.5
0
Green Flash Brewing Co
Passion Fruit Kicker
Fruit Wheat Beer
We've kicked it up a notch by adding a tropical twist to this refreshing ale. Get amped on Passion Fruit Kicker—a jaw-dropping, mouth-watering, smooth brew with sweet, tart, fruity flavor. We layer passion fruit tea and passion fruit juice with wheat malt
5.5
0
Green Flash Brewing Co
Sea to Sea Zwickel Lager
European-Style Dark Lager
Sea to Sea is an unfiltered Zwickel lager layered with German Pilsner malts, Hallertau Mittelfrüh and Czech Saaz hops, 2-row barley, and traditional Pilsner yeast. This sessionable brew has a light body with subtle sweet malt and fruity hop flavors, notabl
4
0
Green Flash Brewing Co
Soul Style IPA
American-Style India Pale Ale
Soul Style is their effortless and pure manifestation of the Single IPA. Citra, Simcoe, and Cascade hops are layered, allowing bright tropical waves of flavorful citrus and floral notes to break gently on the palate. Get stoked on a laid back single and ri
6.5
0
Green Flash Brewing Co
West Coast IPA
Imperial India Pale Ale
As craft beer pioneers, we embarked on an expedition to brew the benchmark West Coast IPA. We ventured into the unknown and struck gold, discovering a tantalizing menagerie of hops. Simcoe for tropical and grapefruit zest, Columbus for hop pungency, Centen
8.1
0
Green Mountain Beer Company
Kellerman Pilsner
German-Style Pilsener
Traditional Czech style Pils brewed with Saaz hops. Light crisp body. Upfront maltiness with a dry, hoppy bite on the tail end.
5.8
30
Green Mountain Beer Company
Schwarz Bier
German-Style Schwarzbier
Schwarzbier
5.5
25
Greenbush Brewing Co
Atomic Taun Taun Overdrive
Chili Beer
This flavorful ale is medium bodied with a sweet strawberry backbone & slightly spicy finish that is rounded out by notes of vanilla.
7.7
20
Greenbush Brewing Co
Brother Benjamin
Imperial India Pale Ale
Brewed with copious amounts of honey, this well-balanced beer has resin & citrus notes.
10.1
114
Greenbush Brewing Co
Star Chicken Shotgun
American-Style India Pale Ale
A bright medium bodied brew with strong citrus notes & smooth finish.
6.8
73
Grist Brewing Company
Mosiacism IPA
Session India Pale Ale
Light body, easy drinking IPA with Mosaic hops (blueberry, tangerine, papaya) on the nose and the tongue.
4.5
60
Grist Brewing Company
Prodigal Daughter
American-Style Fruit Beer
Inspired by a family Mexican Fruit punch recipe from a friend of the brewery. Highlights apple, pear, strawberry, hibiscus, tamarind, and cinnamon in a light ale base.
6
29
Grist Brewing Company
Skiing in Jeans
Czech Amber Lager
Amber colored Bock style lager, malty on the tongue with a crisp finish
7
23
Grist Brewing Company
Tartanium Berliner Weisse
Berliner-Style Weisse
Naturally soured German wheat beer, with a refreshing tartness
5.5
25
Grossen Bart Brewery
A Beer for Geoff- Pro am
Scottish-Style Heavy Ale
This Scottish heavy is a tribute to a friend who passed. We boiled this beer for 3 hours to create a chewy viscous beer giving it a slight minerally smokey flavour
5.2
25
Grossen Bart Brewery
Anker Beard Amber Ale
American-Style Amber/Red Ale
Caramel and toasted malts provide a bright amber color to this citrus hop forward ale
5.4
35
Grossen Bart Brewery
Handle Barley Oatwine
Aged Beer
The first release of our Handle Barleywine series. This big bodied boozer was brewed with 54%oats and has been aging in our cellar for over a year.
11.5
60
Grossen Bart Brewery
Stubble Kolsch
German-style Kölsch
A tradition style Kolsch with a touch of rye
4.8
25
Groundswell Brewing Co
First Date
Golden or Blonde Ale
Brewed with combination of pale and caramelized malts, this beer finishes light and refreshing, yet is full in flavor. Citra hops gives it a slightly floral lime and citrus aromatic note to complement its crisp and refreshing taste.
4.8
19
Groundswell Brewing Co
Mocha Milk Stout
Sweet Stout or Cream Stout
A nutty, medium bodied stout that is brewed with two-row malt, cocoa nibs, and local cold brew coffee, it is not overly heavy or overly sweet. Hints of chocolate and coffee bitterness this is an easy drinking, full-flavored stout.
6.8
35
Groundswell Brewing Co
Peach Tart
Berliner-Style Weisse
This kettle-soured beer is infused with fresh peach puree resulting in a beer that is not overly sour, but tart and balanced. It has rich fruit aroma and flavor, but a mellow finish that cleanses the palate.
4.6
20
Groundswell Brewing Co
Trop Hefe
South German-Style Hefeweizen
A hefeweizen w/ San Diego flair, brewed w/ wheat & dry-hopped w/ copious amounts of Galaxy hops, providing notes of pineapple, guava & passion fruit. The tropical flavor is balanced by the banana & clove esters imparted by traditional hefeweizen yeast.
5.2
15
Guanella Pass Brewing Company LLC
Bernese Mountain
American-Style Brown Ale
An American Brown Ale with Chocolate, wheat and a little Crystal 40 malts give a nice, subtle, malty, roasted, chocolate flavor while the Northern Brewer and Cascade hops provide a spicy, piney character.
5.5
57
Guanella Pass Brewing Company LLC
Grey Wolf Mountain
Classic Saison
Pilsner, Rye and a touch of Munich malt make up the grain bill, but the Belgian yeast does most of the work on this easy drinking Belgian style beer hopped with Northern Brewer and Hallertauer hops.
7.1
27
Guanella Pass Brewing Company LLC
Saxon Mountain
American-Style Stout
A roasty, bold stout with hints of chocolate and coffee courtesy of the roasted barley and dark chocolate malt. A bit of Special B CTZ and Centennial hops provide the bitter balance.
5.4
65
Guanella Pass Brewing Company LLC
Sugar Loaf Peak
American Wheat Beer
An easy drinking American Wheat (with a touch of rye) hopped with Willamette hops that proved nice earthy, spicy notes.
6.1
20
Gun Hill Brewing Co
Beast Coast
Imperial India Pale Ale
Double IPA with Mosaic, Equinox and Hallertau Blanc hops
9.8
0
Gun Hill Brewing Co
Freeman's Farmhouse w/ Peaches
Specialty Beer
A traditional Saison yeast from Tourpes pushes pepper, citrus,& bubble gum. Simple but vibrant grains, 100% grown in New York state, present an abundant grain character. Aged 8 months on brett and NY Peaches
7.7
0
Gun Hill Brewing Co
Gun Hill Manifesto
Bohemian-Style Pilsener
Our unfiltered golden lager uses lightly kilned malted barley from Monrovia, along with Czech Republic grown Saaz hops. Rich with complex malt and a spicy, grassy, and floral Saaz hop bouquet. Fermented with a traditional czech pilsner yeast for a crisp m
5.6
0
Gun Hill Brewing Co
Kentucky Common
Wood- and Barrel-Aged Sour Beer
Our modern rendtion of an indigenous American style. Brewed with traditional distillers grains, rye, barley, and corn, along with specialty malts. Kettle soured for days, fermented, then aged in Long Island Spirits Bourbon barrels
6.4
0
Gun Hill Brewing Co
Mosaic Soft Serve
Session India Pale Ale
Mostly Mosiac hops with a swirl of Centennial, all late, and heavy dry hop additions. Layers of juicy, fruity hop aromas, and dense with hop flavor. Peaches and cream, blueberry, mango. Strawberries, and honeydew melon. Brewed with flaked oats and lactose
3
0
Haint Blue Brewing Company
Marianne
Classic Saison
This Saison is spiced with Saffron grown between the mountains of Afghanistan. By choosing to source this ingredient, we give Afghan farmers a choice. A choice to grow saffron instead of opium poppy. In other words, we're fighting terrorism with beer!
8
0
Half Acre Beer Co
Benthic
Wood- and Barrel-Aged Strong Stout
Bourbon barrel aged stout with Coffee and Coconut.
12.3
0
Half Acre Beer Co
Daisy Cutter
American-Style Pale Ale
Our flagship pale, lush and dank.
0
0
Half Acre Beer Co
Deep Space
Imperial India Pale Ale
The amplified version of our House IPA, deep caramel channels and pine drips.
0
0
Half Acre Beer Co
Magick is Purple
Wood- and Barrel-Aged Sour Beer
An investment in time and the eccentricity of dynamic fermentation. Notes of bread, hay berry and cherry.
0
0
Half Acre Beer Co
Orin
Wood- and Barrel-Aged Strong Beer
Bourbon barrel aged imperial ale.
0
0
Half Acre Beer Co
Pony Pilsner
German-Style Pilsener
A firm take on German style pilsners, brewed because humans should drink clean, lager beer without unnecessary adornment.
0
0
Halfpenny Brewing Company
Finsternis Schwarzbier
German-Style Schwarzbier
Light in body and bitterness, but rich in flavor and dark roasted malts
5.7
30
Halfpenny Brewing Company
Oktoberfest
German-Style Oktoberfest/Wiesn
Lagered for 3 months, this beer is malty, crisp & delicious
6.1
26
Halfpenny Brewing Company
Pingin Irish Red
Irish-Style Red Ale
Fruity esters from the Irish Ale yeast combine with lots of caramel and biscuit flavors from the malt and a little residual sweetness for an eminently drinkable Red
6.6
38
Halfpenny Brewing Company
Ryetribution Rye IPA
Rye Beer
The perfect marriage of rye spiciness and piney hops (Chinook and Cascade) creates an IPA that is perfect with pizza and spicy foods
6
70
Happy Basset Brewing Company
Lemon Rosemary Wheat
American-Style Pale Ale
No Description Available
4.6
16
Happy Basset Brewing Company
Purebred Robust Porter
Baltic-Style Porter
No Description Available
5.8
35
Happy Basset Brewing Company
Yellow Brick Blonde
Golden or Blonde Ale
No description available
5.4
18
Headlands Brewing Company
Check Yo'Self DIPA
Imperial India Pale Ale
CollaBREWation w/ Oskar Blues, Perrin & Periodic Brewing. Inspired by our BeerRun GABF. This DIPA pours golden with aromas of berry, citrus, floral, tropical fruits and resinous pine. It finishes with a strong clean spicy bitterness with warming booziness.
8.1
0
Headlands Brewing Company
Hill 88 Double IPA
Imperial India Pale Ale
Employs a simple but sturdy malt backbone to balance an assertive hop aroma and flavor. It is named after one of the highest spots in the Marin Headlands and in the early days we might have sought inspiration there over a beer or two. Maybe.
8.8
88
Headlands Brewing Company
Pan Toll Porter
Coffee Stout or Porter
The roasted notes and aromas stave off the bite from the evening chill and dropping temps. A slight hop bitterness blends with the tannin-like character from the darker malts and is balanced against a full-bodied mouthfeel.
6.7
34
Headlands Brewing Company
Pt. Bonita Pilsner
Bohemian-Style Pilsener
The Point Bonita Lighthouse has been guiding ships through Bay Area fog for over 150 years. It won't help you see better, but our Bohemian Pilsner might open your eyes (and taste buds) a little. Rustic grains, noble hop character & body; yet light & crisp.
5.3
38
Headlands Brewing Company
Wolfback Ridge IPA
American-Style India Pale Ale
Rye malt, mosaic hops and a specific yeast strain synchronize to produce a West Coast-styled IPA with a difference. We named it after Marin's Wolfback Ridge trail – slightly off the beaten path, but worth every step. Or sip.
6.5
45
Hermitage Brewing Company
Cherry Almonds Sour
Wood- and Barrel-Aged Sour Beer
Sour Ale brewed with cherry juice and almond bran, aged in American and French Oak wine barrels.
6.5
0
Hermitage Brewing Company
Eurynome
Wood- and Barrel-Aged Sour Beer
Fresh Foeders produce strong wood flavors. This robust porter, brewed with fine ingredients from each of the 7 World Continents underwent secondary fermentation for 6 months with our house Brettanomyces.
11.6
0
Hermitage Brewing Company
Flour Sour
Wood- and Barrel-Aged Sour Beer
Our Flower Sour is a funky blonde ale, aged for 18-24 months in our French oak barrels and flavored with an assortment of flowers including rose, hibiscus, lavender and chamomile.
6.5
0
Hermitage Brewing Company
Ophion
Wood- and Barrel-Aged Sour Beer
Fresh Foeders produced strong wood flavors. This golden ale brewed with noble hops underwent secondary fermentation for 6 months with our house Brettanomyces and was dry hopped for a fresh, crisp finish.
11.6
0
Hermitage Brewing Company
Wild Blackberry Sour
Wood- and Barrel-Aged Sour Beer
Our Wild Blackberry sour pours a lovely deep purple with aromas of oak, vanilla, light smoke and dark fruits.
6.5
0
High Alpine Brewing Company
Curecanti Chili
Chili Beer
Infused with a myriad of different roasted chiles from our friends at Austin Family Farms, this golden ale is deliciously toasty and ever so slightly spicy on the finish.
0
0
High Alpine Brewing Company
Green Gate IPA
American-Style India Pale Ale
A true West Coast IPA for hopheads and folks looking to expand their palates with a very special beer. Made with two row, crystal malts and select hop varieties that take the stage. Citrus and stone fruit (think peach and apricot) flavors are gathered from
0
0
High Alpine Brewing Company
Italian Mountain Basil Ale
Golden or Blonde Ale
If you're looking for something unique and surprising, you have got to try this beer! Sweet basil infused into a blonde ale that leaves you asking for another glass.
0
0
High Alpine Brewing Company
Sol's Espresso Stout
Coffee Stout or Porter
A delightful chocolate stout that has been infused with just the right amount of espresso from our friends at Crowfoot Valley Coffee in Castle Rock, CO.
0
0
High Water Brewing
Aphotic Imperial Porter with Cacao Nibs
Chocolate Beer
Our Imperial Porter brewed with demerara sugar, molasses and star anise aged with Ghana Cacao Nibs from TCHO chocolate.
9.3
36
High Water Brewing
Campfire Stout
Specialty Beer
A s'more based Specialty Stout brewed with graham crackers, molasses, molasses and vanilla, it will "Leave You Wanting S'more"
6.5
18
High Water Brewing
Le Petit Diablotin Barrel Aged Sour
Fruited Wood- and Barrel-Aged Sour Beer
One of our Calambic Series barrel aged sours. Fermented with Brettanomyces and soured with Lactobacillus for one year in used wine barrels, Montmorency Cherries and Pomegranate Juice are added during the final 4 months of barrel aging.
6
11
High Water Brewing
Ramble on Rose Barrel Aged Sour
Fruited Wood- and Barrel-Aged Sour Beer
One of our Calambic Series barrel aged sours. Fermented with Brettanomyces and soured with Lactobacillus for one year in used wine barrels, Blueberries, Rose Hips, Rose Buds and Pink Peppercorn are added during the final 4 months of barrel aging.
6
11
High Water Brewing
Stella Blue Barrel Aged Sour
Mixed-Culture Brett Beer
One of our Calambic Series barrel aged sours. Fermented with Brettanomyces and soured with Lactobacillus for one year in used wine barrels, Blueberries, Strawberries and Rhubard are added during the final 4 months of barrel aging.
6
11
Highland Park Brewery
Genius
Imperial India Pale Ale
Hazy DIPA
8
0
Highland Park Brewery
Lazy Susan
American-Style Sour Ale
Sour blond with matsumoto peaches and nectarines
5
0
Highland Park Brewery
Timbo Pils
American-Style Pilsener
West Coast Pilsner
5.8
0
Highland Park Brewery
Zero Buttons
American-Style India Pale Ale
West Coast IPA
7.2
0
Holidaily Brewing Co
Confidence Booster Imperial IPA
Gluten-Free Beer
An Imperial IPA with citrus, tropical aroma, piney and melon flavors, and a sweet finish.
10
85
Holidaily Brewing Co
Fat Randy's IPA
Gluten-Free Beer
An American style IPA with tropical fruit and citrus aromas.
7.3
65
Holidaily Brewing Co
Favorite Blonde Ale
Gluten-Free Beer
Light with a subtle hop character and mellow malt flavor.
5
20
Holidaily Brewing Co
Riva Stout
Gluten-Free Beer
A bold stout with rich flavors of coffee and dark chocolate.
6.5
40
Holy City Brewing
Madam Basil
Herb and Spice Beer
Saison brewed with Basil
6.8
10
Holy City Brewing
Paradise Session IPA
Session India Pale Ale
Citra and Mosaic hopped session IPA
4.5
55
Holy City Brewing
Pluff Mud Porter
Brown Porter
Medium bodied brown porter with a little chocolate.
5.5
21
Holy City Brewing
Strawberry Beards Forever
Berliner-Style Weisse
Berliner Weisse brewed with Strawberries
4.1
8
Holy City Brewing
Washout Wheat
South German-Style Hefeweizen
German hefe with hints of banana and clove
5.1
15
Hop Dogma Brewing Company
Alpha Dankopotamus
American-Style India Pale Ale
Special batch of flagship IPA w/Nelson Sauvin and Ella hops
6.9
0
Hop Dogma Brewing Company
Honk If You're Heffy
South German-Style Hefeweizen
Traditional Bavarian Wheat Beer
5.4
0
Hop Dogma Brewing Company
Ol' Keller
Unfiltered German-Style Lager
Unfiltered German Pilsner
5
0
Hop Dogma Brewing Company
Rock-Biter Roggenbier
German-Style Rye Ale
Traditional German Rye Ale- 2016 GABF Silver Medalist
4.9
0
Hop Valley Brewing Co
Alpha Centauri
Imperial India Pale Ale
Big flavor, intense pine and citrus aroma. We keep the malt profile clean in this Imperial IPA to let the love lights shine on the fine Northwest hops.
9
100
Hop Valley Brewing Co
Bubble Stash
American-Style India Pale Ale
Our brewers reached into their secret stash of Mosaic Cryo hop resin to create a tropical dankness in this New Age IPA. Take a hit of these bright sweet fruit notes in this easy drinkin bubbler. You won't want to pass this one!
6.2
45
Hop Valley Brewing Co
Citrus Mistress
American-Style India Pale Ale
This IPA features 4 different hops with multiple flavors and aroma. It creates a bouquet of citrus, peach, and tropical fruits with enough Munich Malt to produce a classic burnt orange color.
6.5
80
Hop Valley Brewing Co
Hefe
American Wheat Beer
This American wheat beer is smooth, cloudy and full of creamy wheaty goodness. The use of an experimental hop added late in the boil process provides a zesty full finish.
5.5
18
Hoppy Brewing Co
Harris & Meyer Honey Lemon Ale
American-Style Fruit Beer
Brewed w/ 2 doses of Meyer lemons & local honey from the apiary of City Councilmember, Jeff Harris. Lemon juice is added to the mash to give the beer its crisp finish, lemon zest & honey are added at the end of the boil along w/ Cascade hops.
4.7
15
Hoppy Brewing Co
Hoppy Face™ Amber Ale
American-Style India Pale Ale
A blend of Caramel Malts give this beer a rich yet highly drinkable body, and heavy-handed additions of Nugget, Cascade, and Liberty hops protect this beer for the long cruise to India.
6.1
65
Hoppy Brewing Co
Scarborough Beer
Herb and Spice Beer
American IPA brewed with Parsley, Sage, Rosemary & Thyme.
6.5
15
Hoppy Brewing Co
Total Eclipse™ Black Ale
Robust Porter
Features Chocolate and Black Malts for a dark-roasted coffee-like flavor. Hopped with a-shade-more-than-typical additions of Nugget & Columbus Hops for an assertive, yet still pleasant bitterness.
5.6
48
Hops and Grain Brewing Company
78702
German-style Kölsch
Aromas of bready malt and spicy noble hops pop out of the glass and the flavor delivers thirst quenching refreshment, with an ever-so-slight malty and fruity finish.
5.35
45
Hops and Grain Brewing Company
Pellets & Powder
American-Style India Pale Ale
Pellets & Powder is our deeper exploration of hops, showcasing the advancement of hops by utilizing pelletized hops, along side Cryo hops, aka Lupulin powder. We're celebrating the hop farmer, and in this case it's Yakima Chief Hopunion.
6
0
Hops and Grain Brewing Company
River Beer
American-Style Lager
Light and bready malt character blends with a slight noble hop aroma that leads into a delightfully crisp and clean finish.
5.2
20
Hops and Grain Brewing Company
Volumes of Oak: Belgian Style Saison
Mixed-Culture Brett Beer
Notes of oak and a slight earthy funk are prominent on the nose and the flavor follows with a complex blend of fruity yeast esters, some pleasant funk and hints of vanilla and coconut in the finish.
5.7
18
Horse & Dragon Brewing Company
Atta Boy Jon Märzen
German-Style Maerzen
A classic and delicious Märzen scaled up from home brewer Jon Schiller's recipe and entered as a Pro-Am, this beautiful copper-colored beer is all delicious maltiness from aroma through taste, with a faint suggestion of noble hop balance on the finish. It
5
0
Horse & Dragon Brewing Company
Harry Hughes's Aggie Ale
American-Style Pale Ale
Orange hued with creamy yellow head, distinct floral aromas of jasmine and geranium combine with lemon citrus and earthy green tea. Citrus and grassy hop and tea flavors are balanced by a medium bodied malt backbone, & the floral sweetness carries through
5.3
0
Horse & Dragon Brewing Company
Picnic Rock Pale Ale
American-Style Pale Ale
Fresh hop aromas likened to lemon, pineapple, and honeydew melon stand out in front of this golden colored ale holding a white lace head. The aroma taking center stage is then carried into the noticeable hop bitterness. Malt body is medium-light and comple
6
0
Horse & Dragon Brewing Company
Sad Panda Coffee Stout
American-Style Stout
A rich, black-as-night color with a creamy, tan head; aromas of vanilla and chocolate are prominent yet balanced with malt sweetness and caramel aromas. Your first sip introduces the complex combination of flavors you might expect in your favorite coffee o
6.8
0
Hourglass Brewing
Cheeky Otter
Specialty Beer
Cheeky Otter is a Sour Double dry hopped DIPA brewed with Nelson Sauvin, Galaxy, and Mosaic.
7.8
74
Hourglass Brewing
Giant Giant Dwarf
Wood- and Barrel-Aged Strong Stout
Giant Giant Dwarf is an Imperial Stout 50% aged in Bourbon barrels, then blended into fresh beer and rested on Espresso Beans, Tahitian Vanilla, Luxardo Maraschino Cherries, and Dominican Cacao Nibs.
12
20
Hourglass Brewing
MechaKiwi
Imperial India Pale Ale
MechaKiwi is a double dry hopped DIPA brewed with Sorachi Ace and Nelson Sauvin hops.
8.4
90
Hourglass Brewing
Saison du Sablier
Specialty Saison
A dry, refreshing farmhouse ale brewed with floor malted pilsner malts, saaz, calypso, and huell melon hops, then fermented in our oak foeder with our house blend of traditional and wild yeast.
6.6
30
Hourglass Brewing
Veruca
Wood- and Barrel-Aged Sour Beer
Veruca is a barrel fermented mixed fermentation sour porter with almonds, cashews, chestnuts, tiger nut, and graham crackers.
7.6
1
Huss Brewing
Koffee Kolsch
German-style Kölsch
Our traditional, light bodied kolsch,cold steeped with freshly roasted caramel and hazelnut* coffee beans. An amazingly unique brew that drinks as light as any lager, yet packs a delicious coffee punch!
4.7
0
Huss Brewing
Magic in the Ivy Pale Ale
American-Style Pale Ale
A nicely hopped pale ale with hints of fresh grapefruit and citrus. This refreshing local wonder is a midwest tribute to the Chicago Cubs' ivy covered outfield wall
5.7
0
Huss Brewing
Scottsdale Blonde
German-style Kölsch
Brewed similar to a Lager, this local favorite is Huss Brewing's flagship beer. Crisp, clean and refreshing with a slightly sweet finish.
4.7
0
Huss Brewing
The Husstler
Sweet Stout or Cream Stout
2015 GABF Medal Winner - A perfect, silky smooth experience - highlights the roasted malts, flaked oats, and milk sugars in our award winning stout
5.5
0
Huss Brewing
Vienna Anniversary Lager
Vienna-Style Lager
Huss Brewing's Fourth Anniversary Release. Jeff Husses love for German style beers was the inspiration for HB4 Vienna Lager - it drinks as a moderate-strength amber lager with a soft, smooth maltiness and moderate bitterness, yet finishing relatively d
5.2
0
Idle Vine Brewing Company
Idle Vine IPA
American-Style India Pale Ale
Double dry-hopped, unfiltered west-coast style IPA
7.3
69
Idle Vine Brewing Company
Stygian
Belgian-Style Dark Strong Ale
Imperial dark farmhouse ale brewed with a house yeast blend.
8.7
31
Idle Vine Brewing Company
The Golden One
Specialty Saison
Saison brewed with house yeast blend and dry hopped with El Dorado
6.5
33
Idle Vine Brewing Company
Trackdown
Brown Porter
Pre-prohibition style porter. Light in body with heavy noted of chocolate and coffee.
5.6
25
Indeed Brewing Co
B-Side Pils
German-Style Pilsener
Crisp and clean, crushable and complex, B-Side is crafted with a traditional German malt bill and a blend of noble and newer German hops.
5.1
35
Indeed Brewing Co
Day Tripper Pale Ale
American-Style Pale Ale
Four pounds of hops per barrel give this West Coast-style pale ale a heady, dank, and citrus-laced aroma supported by a complex and subtly sweet malt backbone.
5.4
45
Indeed Brewing Co
Heliotropic
Wood- and Barrel-Aged Sour Beer
Wood-aged Brett Saison first fermented with Dupont yeast, then finished with Brett Brux III and Brettanomyces Claussinii in American Oak barrels and foeders. Dry, tart, and well balanced, with moderate to high carbonation.
7.3
20
Indeed Brewing Co
Lucy Session Sour
American-Style Sour Ale
Light in body with lush tropical fruit notes and a tart, citrusy finish, Lucy Session Sour is brewed with lemongrass, orange peel and passion fruit
4.2
27
Indeed Brewing Co
Saison de la Pomme
Wood- and Barrel-Aged Sour Beer
Aged in a mix of red wine and port barrels, this ale is refermented on pressed pomace, ground up apple that goes through the apple press. Funky Brett character mingles with notes of dry, tart apple, producing an effervescent and thirst quenching ale.
5.2
14
Innovation Brew Works
Brethren Belgian
Belgian-Style Pale Strong Ale
A light colored ale that boosts noticeable sweet and fruity character derived from Belgian yeast. The higher alcohol content adds a slight warmth on the tail. Brewed with barley from Spadra Ranch at Cal Poly Pomoma. Bohemian Pilsner base malt.
7.8
20
Innovation Brew Works
Guava Cream Ale
American-Style Cream Ale
Cream Ale w/ Guava and Vanilla.
5.5
12
Innovation Brew Works
Luther Holt IPA
American-Style India Pale Ale
A semi-sweet light malt start and a roll of piney hop flavor that kicks in strong at the tail, complimented with a slight citrusy aroma. Brewed with grains from Spadra Ranch.
6.5
75
Innovation Brew Works
Rubottom's Red
Double Red Ale
A slightly malty start with a notable hop presence on the trail. Brewed with grain from Spadra Ranch at Cal Poly Pomona.
6.7
60
Intersect Brewing
Bright Lights, Big City
Vienna-Style Lager
Vienna Lager
5.5
22
Intersect Brewing
Conscience Compass
Sweet Stout or Cream Stout
Milk Chocolate Stout
5.5
41
Intersect Brewing
Friend of Chaos
American-Style Black Ale
Black Rye IPA
8.3
72
Intersect Brewing
Hollywood Bungalow
Fruited American-Style Sour Ale
Passionfruit Gose
5.3
7
Intersect Brewing
In Thru the Out Door
Berliner-Style Weisse
Raspberry Berliner Weisse
3.8
4
Iron Hill Brewery & Restaurant
Bedotter
Belgian-Style Tripel
Traditional Belgian-style tripel with a complex aroma and flavor of plums, spice, and bananas, balanced with a dry yet refreshing, crisp bitterness.
9
0
Iron Hill Brewery & Restaurant
Crusher Session IPA
Session India Pale Ale
With smooth notes of ripe pineapple and grapefruit punctuated by a lightly hopped finish, this session IPA is both refreshing and flavorful.
5
48
Iron Hill Brewery & Restaurant
Ore House IPA
American-Style India Pale Ale
Brewed as a collaboration amongst our brewery team, it strikes that perfect balance between hoppy bitterness and the flavors and aromas of citrus and pine.
6.5
55
Iron Hill Brewery & Restaurant
Pig Iron Porter
Baltic-Style Porter
Roasted malt flavor and notes of chocolate are punctuated by the slightest bitterness for a full flavor experience.
5.4
37
Iron Hill Brewery & Restaurant
Russian Imperial Stout
American-Style Imperial Stout
Full-bodied stout that starts with a complex, malty-sweet and high-roasted character that is wonderfully balanced with the use of citrusy American hops.
9.5
0
Iron Hill Brewery & Restaurant
Vienna Red Lager
Vienna-Style Lager
1999, 2011 Great American Beer Festival Bronze Medal - 2008 World Beer Fest Silver Medal - 2008 Great American Beer Festival Gold Medal
4.4
22
Ironclad Brewery
Land Ho Lager
Vienna-Style Lager
20 lbs of honey was locally smoked at Bone & Bean BBQ and added to this crisp, smooth Vienna Lager. Light in body, captures the essence of the smoked honey, and sets up for a tantalizing taste bud adventure .
5.1
0
Ironclad Brewery
Shipwrecked Tripel
Belgian-Style Tripel
A very complex hoppy American spin on a Belgian Tripel. Beautiful creamy thick head. Pineapple on the nose, with a fruity hop flavor. She moves into a banana/clove & finishes with the flavor of sweet pear. Drink too many and you may become shipfaced.
7.7
0
Ironclad Brewery
Zola Chai Brown
American-Style Brown Ale
Fusing together the powers of ginger, cinnamon, cardamom, black tea, and beer. The signature chai tea blend from our friends at Zola Coffee & Tea was added to a complex caramel brown and this exotic beauty was born.
6.9
0
Ironworks Brewery and Pub
BallyHoo Wit
Belgian-Style Witbier
Our Pro-Am Collaboration with Mark Wethington of the Aurora City Brew Club. Brewed with flaked wheat, oats and Strisselspalt hops, along with seville orange peel, grains of paradise, and chamomile.
4.2
14
Ironworks Brewery and Pub
Bear Creek Lemon Shandy
Fruit Wheat Beer
The antidote to your IPA overdose! A dry american wheat ale brewed with willamette and mt. hood hops. Then infused with fresh lemonade and fresh lemon zest
5
22
Ironworks Brewery and Pub
Ekuanot Session Pale Ale
Session Beer
One of our GABF entries. Brewed with exotic newcomer Ekuanot cryohops, along with 2 row, pilsner, vienna and crystal 120 malts. Big on aromatics, low on ABV and IBU's.
4
26
Ironworks Brewery and Pub
Hilltoppers Pride- Kentucky Common Ale
Historical Beer
A collaboration brew and GABF entry.1 of 3 indigenous american beer styles, a pre-prohibition relative to Cream Ale with a tiny amount of black malt and crystal 80 for color. 26% corn and 9% rye added, along with molasses.Finished with cluster hops
5.5
22
Ironworks Brewery and Pub
Hop Killah IPA
American-Style India Pale Ale
An old school Northwest style IPA with all the resiny blast you've come to expect courtesy of the three C's-columbus, cascade and chinook hops. Our flagship beer and biggest seller, brewed since at least 2001
6.7
62
Ironworks Brewery and Pub
Ironwood Oak Aged Scotch Ale
Wood- and Barrel-Aged Strong Beer
Take a big caramelly scotch ale and ignore it on oak for a few months.WOW! Brewed with golden promise and small amounts of DRC, chocolate and roasted barley malts, and add a bit of turbinado for good measure.
7.3
26
Ironworks Brewery and Pub
Root 66-Carrot Ginger Saison
Classic Saison
Brewed with roasted carrots, allspice, black pepper and ginger root. Then "dry carrotted" with fresh shredded carrots. A full days worth of beta carotene in every glass!
5.6
26
Island Brewing Co
Avocado Honey Ale
Honey Beer
No avocados were harmed while brewing this beer. This is a collaboration between bees, beekeepers, avocado growers, and brewery workers--a combined labor of love resulting in an amber honey ale with a uniquely smooth taste and slightly sweet finish.
5.3
0
Island Brewing Co
Bourbon Barrel Aged Rigamarole
Wood- and Barrel-Aged Strong Beer
Our 6 month bourbon barrel-aged Double Brown Ale. Flavors of toffee, hazelnut, baker's chocolate and a distinctive malt character with just a touch of bourbon heat to keep you lively.
8.5
32
Island Brewing Co
Jubilee Ale
Scottish-Style Export Ale
Ruby hues beckon from this Scotch-style ale. Caramel and malt sweetness, with a hint of hop character create subtle flavors of dark plum and a flicker of chocolate. The Jubilee is equally suitable for a summer picnic or winter gale.
6.8
28
Island Brewing Co
King Tide
Imperial India Pale Ale
Our King Tide Double IPA features Simcoe, Centennial, Cascade, and a secret experimental hop. These surf in union above a medium body of American malts, cresting into a flood of flavor. Double dry hopping brings harmonic amplitude to this DIPA.
9
90
Island Brewing Co
Tropical Lager
American-Style Lager
Light American Lager category: This is not your father's lawnmower beer: our Tropical Lager slakes the thirst of the season. Refreshing, with a clean finish, this lager is the perfect complement to adventure.
0
0
Jack's Abby Brewing
Copper Legend
German-Style Oktoberfest/Wiesn
malty, smooth, exceedingly drinkable
5.7
22
Jack's Abby Brewing
House Lager
American-Style Lager
Malty, sweet, light, refreshing. But at the same time, full bodied.
5.2
18
Jack's Abby Brewing
Post Shift
German-Style Pilsener
Bright, Crisp, and refreshing.
4.7
30
Jack's Abby Brewing
Springdale- Pearly Wit
Belgian-Style Witbier
Tart, Refreshing, extremely drinkable
4.75
0
Jagged Mountain Brewery
Cattywampus Grapefruit DIPA
American-Style India Pale Ale
Double IPA with Grapefruit
9.3
80
Jagged Mountain Brewery
Fetchez La Blonde
French-Style Biere de Garde
Biere De Garde (Pro Am Beer)
8
24
Jagged Mountain Brewery
Grizzly Peak
English-Style Dark Mild Ale
English Porter
3.8
18
Jagged Mountain Brewery
Grouse Mountain Gose
Leipzig-Style Gose
Goes with Blood Oranges, Sea Salt and Coriander
4.6
18
Jagged Mountain Brewery
Oktoberfest
German-Style Oktoberfest/Wiesn
German Oktoberfest
5.8
24
Jagged Mountain Brewery
Uber Slayer
Specialty Saison
Classic Saison with Yuzu and Kabosu Fruits, Ginger, Green Tea, Shiitake Mushrooms, Kelp, Roasted Seaweed, Sansho Pepper, Black Sesame Seeds, Rice
6.4
18
Jailbreak Brewing Company
de Garde de Faith
French-Style Biere de Garde
An exploration of terroir, brewed with 100% French ingredients.
6.7
10
Jailbreak Brewing Company
Dusk till Dawn (2016)
Coffee Stout or Porter
A medley of chocolate, fresh-pressed coffee and roasted malt. Don't fear the dark...
10.3
65
Jailbreak Brewing Company
Into The Dark
American-Style Stout
Fashioned as a nod to stouts of old.
6
57
Jailbreak Brewing Company
The White Russian
Coffee Beer
Light in color, yet full in flavor. An appropriate marriage of golden malts and perfectly roasted coffee.
5.5
13
JDub's Brewing Co.
Bell Cow
Coffee Stout or Porter
A milk chocolate porter featuring rich notes of chocolate and a medium-bodied mouth feel. The sweetness from the lactose blends well with the dark malts.
5.6
22
JDub's Brewing Co.
Indecorous DIPA
Imperial India Pale Ale
Double IPA hopped with Pacific Gem, Citra, Mosaic and Mandarina Bavaria hops. This juicy, bold DIPA is sure to entice the hop heads without a doubt.
9
0
JDub's Brewing Co.
Kveik
Swedish-Style Gotlandsdricke
Norwegian farmhouse ale aged in chardonnay French oak barrels.
6.8
0
JDub's Brewing Co.
Red Hole Sun
Wood- and Barrel-Aged Sour Beer
Sour red ale fermented with Brett-C in oak barrels.
6.6
0
JDub's Brewing Co.
Siesta Key Rum Barrel Aged Imperial Stout
Wood- and Barrel-Aged Strong Stout
Not to be confused with our on-going collaboration with Siesta Key Rum (Drumcircle Distillery), these rum barrels were fresh and should give all their flavor to our Imperial Stout.
11
0
Jellyfish Brewing Company
Beer Salad
Field Beer
French Saison with a touch of Funk and more that a touch of salad. Cucumber, fresh lemon, grilled lemon, basil.
6
35
Jellyfish Brewing Company
Planktonic
American-Style Amber/Red Ale
Bright and hoppy with just enough body. Not malty and nutty like oh so many Reds. Whisper of Hibiscus to bring some color and juicy flavor.
6
69
Jellyfish Brewing Company
Smack IPA
American-Style India Pale Ale
It could be called a hyrbid or mash up of American IPA styles. Softer malt character with just enough dank pine and citrus. Won't wreck your palate. You'll want more.
7
75
Jellyfish Brewing Company
Sour Suzie
American-Style Sour Ale
Funked up in the kettle with Lacto, fermented with saison yeast and blackberry puree. It's tart, it's juicy, it's pink.
4.6
18
Jellyfish Brewing Company
Tickle Monster
British-Style Imperial Stout
Totures you with kindness. You beg it to stop but you don't really mean it. Smooth and roasty.
10.5
50
Jessup Farm Barrel House
Cross Drinker: Whiskey Sour
Wood- and Barrel-Aged Sour Beer
A cocktail inspired beer consisting of a blend of American-style Strong ale aged in Wyoming Whiskey barrels and a Dark sour ale fermented with whole lemon puree.
7
0
Jessup Farm Barrel House
Fancy Pants
Wood- and Barrel-Aged Sour Beer
A blend of pale ale and Brett IPA aged in oak barrels. Dry hopped with Galaxy and Equinox.
7
0
Jessup Farm Barrel House
Legal in Europe
Wood- and Barrel-Aged Strong Stout
Aged in a blend of KY Bourbon barrels for 8 months, spiced with a blend of dried Peruvian chiles, cocoa nibs, and cinnamon.
11
0
Jessup Farm Barrel House
Older, Fatter, Happier
Wood- and Barrel-Aged Pale to Amber Beer
Our no-coast Double IPA, Fat and Happy, aged in Vapor Distillery Ginsky barrels for 2 months.
8.7
0
Jessup Farm Barrel House
UB Funky
Wood- and Barrel-Aged Pale to Amber Beer
Red ale aged in oak barrels for 7 months with a blend of Brettanomyces strains
7.1
0
Jolly Pumpkin Artisan Ales
Bamarillo
Wood- and Barrel-Aged Sour Beer
Oak aged amarillo hopped saison with pineapple added
5.1
24
Jolly Pumpkin Artisan Ales
La Roja
Wood- and Barrel-Aged Sour Beer
Oak aged sour amber ale crafted on the Flander's tradition of aged and blended beers
7.2
25
Jolly Pumpkin Artisan Ales
Olas Espaciales
Wood- and Barrel-Aged Sour Beer
Oak aged sour saison brewed with lime salt and cherry puree
5.8
35
Jolly Pumpkin Artisan Ales
Phuket; It's not that far from Laos
Wood- and Barrel-Aged Sour Beer
Oak aged sour saison brewed with jasmine rice, palm sugar, lemon peel, and lime peel
6
20
Joseph James Brewing Co Inc
Busker Brown
American-Style Brown Ale
When tasked with making a typically unexciting style, our brewers decided to do it their way. The end result is our full-flavored, hoppy, Busker Brown Ale. We've combined brown malt and chocolate malt to lend a toasty flavor and deep brown color, as well a
5
0
Joseph James Brewing Co Inc
Citra on Brett
Brett Beer
We start this award winning pale ale with 2-row, Vienna, and Rye malts. This accentuates the Centennial and Citra hops added during the boil. The combination leaves you with enticing aromas of lychee, gooseberry, and passion-fruit with brett
5.4
0
Joseph James Brewing Co Inc
Citra Rye Pale Ale
American-Style Pale Ale
To create a bready malt backbone with a dry finish, we start this award winning pale ale with 2-row, Vienna, and Rye malts. This accentuates the Centennial and Citra hops added during the boil. The combination leaves you with enticing aromas of lychee, goo
5.4
0
Joseph James Brewing Co Inc
Foxtail Gluten Free Ale
Gluten-Free Beer
Rising to the challenge of creating a Gluten-Free beer for those who demand flavor, we present the Fox Tail Pale Ale. Brewed from a base of organic rice, this ale is undeniably unique. A solid hop bitterness is complimented with pear-like esters reminiscen
5
0
Joseph James Brewing Co Inc
Imperial Smoked Porter w/ Cacao Nibs
Smoke Porter
We started with a rich, dark ale brewed with Cherrywood smoked malt and aged it in Bourbon Barrels for 8 months. Then we blended it with a young dark ale, further ageing it on house smoked Cacao Nibs. The result is a luscious ale with intense flavors of da
10
0
Joyride Brewing Co
Ah, Ale Yeah! (version 2) Hazy Pale Ale
American-Style Pale Ale
Hazy Pale Ale brewed with Mosaic and Ekuanaut lupulin powder, as well as Citra pellets. So bright and juicy, you'll say "Ah, Ale Yeah!"
5.8
40
Joyride Brewing Co
Black Razz Blonde
American-Style Fruit Beer
We used roughly 300 lbs of fruit puree with the mix being about 57% blackberry. This "blonde" pours a beautiful purple/pink color and has a faint fruit tartness on the back end. It's berry good!
6
19
Joyride Brewing Co
Ice Cutter Kölsch
German-style Kölsch
Our Kölsch is a classic interpretation of the style, very smooth & drinkable like a lager with a light fruit flavor from ale fermentation. It has moderate levels of bitterness and noble hop flavor & a crisp, dry finish.
6
25
Joyride Brewing Co
Joyride Double IPA
Imperial India Pale Ale
Seven different additions of Simcoe and Citra layer piney, citrus, tropical fruit, and melon flavors into this dangerously drinkable ale.
9
100
Joyride Brewing Co
No, No, No. Say-Zohn.
Classic Saison
Brewed with lemon peel, lemongrass, and lemon verbena. 17% spelt in the grist, with a touch of Vic Secret hops at the end.
5.5
40
Jupiter
Amber
American-Style Amber/Red Ale
Our take on an extra special bitter, this brew is crafted with English malt, hops & yeast. A lightly toasted, chocolate malt flavor is met with smooth, earthy hop character for a well-balanced drinking experience.
5.9
28
Jupiter
Hefeweizen
South German-Style Hefeweizen
Our hefeweizen is a true-to-form american interpretation of a German weissebier. Two-row & malted white wheat create the perfect stage for our house Bavarian yeast to shine. This brew is unfiltered, with light fruitiness & banana-like esters.
4.5
15
Jupiter
Quasar Double IPA
Imperial India Pale Ale
Simcoe & citra hops shine through this stripped down malt bill of 2-row & golden naked oats. Quasar's crisp, dry body leaves plenty of room for the citrusy hop dankness.
8
80
Jupiter
XHP
American-Style Pale Ale
Clean & crisp, our new-school american pale ale is the perfect blend of citrus & piney hops. Generously dry-hopped with amarilla & simcoe, a bright punch of orange blossom & grapefruit melts to evergreen, with a touch of honey sweetness.
5.5
48
Knee Deep Brewing Co.
Breaking Bud
American-Style India Pale Ale
Breaking Bud IPA features the restrained bitterness and alcohol of a classic IPA with newer tropical fruit hop flavors and aromas of Mosaic. Also in the hop mix are Simcoe and CTZ, creating layers of mango, passion fruit, pine and dank.
6.5
50
Knee Deep Brewing Co.
Breaking Bud
American-Style India Pale Ale
Old school meets new school in this fresh approach to the classic IPA. At 50 IBU's and 6.5% ABV, Breaking Bud features the restrained bitterness and alcohol of a classic IPA with newer tropical fruit hop flavors and aromas of Mosaic. Also in the hop mix
6.5
50
Knee Deep Brewing Co.
Fuzzy Bushel
American-Style Fruit Beer
What do you get when you take our "Nice Bushel" American Wheat Beer and add juicy peaches? You get a "Fuzzy Bushel"! Fuzzy Bushel is a 5.5% ABV American Wheat Beer with peach puree added. The cloudy yellow appearance promises (and delivers) a sweet peach f
5.5
22
Knee Deep Brewing Co.
Fuzzy Bushel
American Wheat Beer
This pale wheat ale has a light peachy flavor with a sweet bread like malt. Its silky and medium bodied.
5.5
22
Knee Deep Brewing Co.
Lupulin River
Imperial India Pale Ale
This Double IPA includes Mosaic and Simcoe hops, South American specialty malt, and tons of tastiness. Looks like liquid gold, smells like a bright tropical fruit pine forest, and tastes like all that and more.
8
80
Knee Deep Brewing Co.
Lupulin River
Imperial India Pale Ale
This Double IPA includes Mosaic and Simcoe hops, South American specialty malt, and tons of tastiness. Looks like liquid gold, smells like a bright tropical fruit pine forest, and tastes like all that and more.
8
0
Knee Deep Brewing Co.
Simtra
Imperial India Pale Ale
Simtra Triple IPA delivers a punch in the face with its very danky hop aroma derived from Simcoe and Citra hops. You wanted more hops you got them.
11.25
131
Knee Deep Brewing Co.
Simtra
Imperial India Pale Ale
Simtra Triple IPA delivers a punch in the face with its very danky hop aroma derived from Simcoe and Citra hops.
11.25
131
Kokopelli Beer Company
Berryana Strawberry Weissbier
Berliner-Style Weisse
A deliciously creamy head tops off fruity, tangy sweetness reminiscent of bubblegum.
5
10
Kokopelli Beer Company
Blarney Stone Irish Red
Irish-Style Red Ale
A medium bodied ale with caramel malt character, mild hop bitterness, and a hint of roasted grain. Moderate carbonation gives it a smooth, slightly sweet finish.
6.1
23
Kokopelli Beer Company
Edelweiss German Pilsner
German-Style Pilsener
Crisp & bright, slightly sweet notes of cereal are balanced by earthy hop bitterness. Beautiful lacing weaves a story on your glass.
4.9
32
Kokopelli Beer Company
Smok'n Jo Smoked Porter
Smoke Porter
Deep mahogany in color, this medium bodied brown porter has a delicate, smokey sweetness.
4.4
25
Kros Strain Brewing Company
Dark Pardise Amber Ale
English-Style Pale Mild Ale
Roasty amber ale with chocolate and coffee notes. Don't let the dark color intimidate you, this beer is super smooth.
4.3
25
Kros Strain Brewing Company
Bo-Pils Pilsner
International-Style Pilsener
No Description Available
4.8
0
Kros Strain Brewing Company
Fairy Nectar IPA
American-Style India Pale Ale
Aromatic hops and notes of grapefruit, mango and tropical goodness fill this tasty IPA. Leaving very little bitterness behind.
6.2
62
Kros Strain Brewing Company
Fairy Nectar Project - London Ale
American-Style India Pale Ale
Fairy Nectar fermented with London Ale Yeast. Hazy appearance and juice aromas.
6.2
62
Kros Strain Brewing Company
Helles Creek
Munich-Style Helles
Easy Drinking German Style lager light malt sweetness with no bitterness.
4.8
16
Kuhnhenn Brewing Co
DRIPA
Imperial India Pale Ale
Huge citrus hop character in the aroma is followed by a medium-high bitterness, balanced surprisingly well with cereal malty notes. The signature of this beer is the brilliant clarity, and the crisp, dry snap at the finish, thanks to a very time consuming
9.5
0
Kuhnhenn Brewing Co
Loonie Kuhnie
American-Style Pale Ale
By today's standards, this may not be a hoppy beer. Inspired by the original craft pale ales from the Pacific Northwest, this beer is golden in color with a medium citrusy hop aroma with flavors of citrus, pine, caramel, and toasty malt. Medium bittern
5.8
0
Kuhnhenn Brewing Co
Raspberry Eisbock
German-Style Eisbock
After a very very long boil, followed by a freezing and aging period, fresh raspberries and raspberry juice is infused into this intense lager, bringing about bright berry notes with a hint of chocolate, like a chocolate truffle. In MI Guild
15.5
0
Kuhnhenn Brewing Co
The Fluffer
Session India Pale Ale
This lower-alcohol, sessionable IPA features all the bright citrus and pine intensity in the aroma and flavor, with a lighter mouthfeel than bigger beers. Oily and bold, yet brilliantly balanced. Light bready notes are accentuated by firm citrusy hop chara
4.5
0
Kuhnhenn Brewing Co
White Devil
Belgian-Style Witbier
An Imperial White Ale, White Devil is a cloudy straw color, bursting with zesty citrus aroma, and more spice-forward than many wits. Refreshingly crisp with a pleasantly spicy hop character, thanks to the Noble-like Styrian Goldings hops, as well as notes
9
0
La Cumbre Brewing Co
a Slice of Hefen
South German-Style Hefeweizen
Hefeweizen
0
0
La Cumbre Brewing Co
Beer
American-Style Lager
American Style Lager
0
0
La Cumbre Brewing Co
Elevated IPA
American-Style India Pale Ale
IPA
0
0
La Cumbre Brewing Co
Hibiscus Quercus
South German-Style Hefeweizen
Hef
0
0
La Cumbre Brewing Co
Malpais Stout
Export Stout
Export Stout
0
0
La Cumbre Brewing Co
Persica Quercus
South German-Style Hefeweizen
Hef
0
0
La Cumbre Brewing Co
Project Dank
American-Style India Pale Ale
American IPA
0
0
La Cumbre Brewing Co
Red Ryeot
Rye Beer
Rye Beer
0
0
La Cumbre Brewing Co
Ryeot On
Rye Beer
Rye Beer
0
0
La Cumbre Brewing Co
Siberian Silk
Baltic-Style Porter
Baltic Porter
0
0
Lady Justice Brewing Company
Alright Alright
American-Style Pale Ale
Classic Pale Ale
6
38
Lady Justice Brewing Company
Sageson
Specialty Saison
A saison brewed with fresh sage.
8.4
21
Ladyface Alehouse & Brasserie
Dérailleur
Other Belgian-Style Ale
Bière-de-Garde. This ale is malty and rustic, with a spicy yeast character. Subtle flavors of French oak were derived from aging in Rhône-varietal Mourvèdre wine barrels over one year.
7
0
Ladyface Alehouse & Brasserie
Guardians De La Galaxie
Other Belgian-Style Ale
This French-style ale presents aromas of lightly toasted malts, the distinctive spicy fruit esters of farmhouse yeast, and very subtle hops. It is deep gold in color and medium bodied with light malt sweetness, finishing dry to quench a farmer's thirst.
8.3
0
Ladyface Alehouse & Brasserie
La Grisette
Other Belgian-Style Ale
It is pale-colored, low alcohol, refreshing and light, and brewed with acidulated barley that adds a crisp tartness to the finish.
5.3
0
Lakes & Legends Brewing Company
Barrel-Aged Blueberry Stout
Wood- and Barrel-Aged Strong Stout
Aged in whiskey barrels for a year, then finished on local MN blueberries, with nearly 30lbs of blueberries per barrel.
8
37
Lakes & Legends Brewing Company
Cool for Summer
Specialty Saison
Cucumber and mint saison. Refreshing notes of cucumber at the start with a hint of mint at the finish. Brewed with 300 lbs of organic cucumber, and over 5 lbs of Minnesota grown mint.
5.8
27
Lakes & Legends Brewing Company
Marigold
Strong Ale
A beer to savor, this beer's apple-like smell combined with its easy drinkability belie the higher alcohol content. Soothe your mind and warm your nights with this signature Belgian ale.
7.7
25
Lakes & Legends Brewing Company
St Gail
Specialty Beer
Don't be fooled by this beer's pink lemonade looks – this love triangle between raspberries, honey, and Belgian ale may seem sweet on the surface, but at 7.2% alcohol it'll keep the party going late.
7.2
4
Latitude 33 Brewing Co
Blonde Cartel
Belgian-Style Blonde Ale
Like the perfect crew, Blonde Cartel has a perfectly balanced cast of characters. It's a flavorful blonde ale with the right amount of bitterness. At first you'll experience a floral hop character then a slightly biscuit-like malt flavor.
5.1
25
Latitude 33 Brewing Co
Blood Orange IPA
American-Style India Pale Ale
As blood orange stands above everyday citrus, it is not your typical citrus infused IPA. With a crisp entry and slightly sweet finish, Blood Orange IPA has fans raving.
7.2
61
Latitude 33 Brewing Co
Honey Hips
American-Style Stout
She may be sweet as honey, but this daring brew packs a punch. Honey Hips conjures aromas of clover honey and refreshing citrus with a touch of sweetness, making her seductively drinkable. Brewed with honey and spices.
8.3
18
Latitude 33 Brewing Co
Lifted Embargo
American-Style India Pale Ale
Don't ban your taste buds from this hop-forward brew. Lifted Embargo embodies San Diego's passion for a well-crafted IPA. It's crisp and dry with a burst of citrus aroma, finishing with a signature bitterness from the finest hops.
7.1
67
Latitude 33 Brewing Co
Mangoveza
American-Style India Pale Ale
In tribute to our southern neighbors, we crafted an unparalleled contrast of sweet and heat with Mangoveza. Fruity bitterness upfront followed by a burst of habanero warmth provides a well-balanced IPA—unlike any other spicy ale.
7.2
64
Launch Pad Brewery
Bikini Atoll
Belgian-Style Pale Strong Ale
Pina Colada Belgian golden strong
7.6
0
Launch Pad Brewery
Cape Canaveral
Classic Saison
That Key Lime Pie taste just like momma used to made...if your mother was from Florida.
7.5
25
Launch Pad Brewery
Peacekeeper
Brown Porter
Session smoked porter
4.9
0
Launch Pad Brewery
Soyuz
American-Style Imperial Stout
A compilation of Russian icons. Part Soyuz, from the R7 family of rockets (took Yuri Gagarin to space). Part St. Basil's Cathedral (just so darn pretty). A Grand drink for czarists, communists, capitalists and (all) people
9.1
64
Left Coast Brewing
Del Mar St. Lager
Dortmunder/European-Style Export
Del Mar St. is a Dortmunder Export Lager. Pale gold with a medium white head and great lacing. Flavor is malt dominant with moderate bitterness from noble hops. Clean rounded lager character and, a well attenuated body makes for a good session beer.
5
18
Left Coast Brewing
Galaxy Supernova IPA
American-Style India Pale Ale
Galaxy hopped IPA
6.5
54
Left Coast Brewing
Hopt Juice Triple IPA
American-Style India Pale Ale
This hop monster uses Premium American 2–Row & a touch of light crystal malt to create a solid malt foundation. Five different Hop Varieties are used in the Hop Juice. Dry hopped with Mosaic for great aroma. Starts sweet & finishes with a crisp bitterness.
10
100
Left Coast Brewing
Trestles IPA
American-Style India Pale Ale
Trestles IPA is light bodied, clean and pleasantly hoppy. Simcoe and Centennial hops contribute to its great citrus flavor and the creative use of four hops keeps this beer easy drinking and moderately bitter.
6.8
58
Left Coast Brewing
Una Mas
American-Style Amber Lager
Styled after the popular amber lagers south of the border, Una Mas is the perfect easy drinking brew. Small amounts of dark roasted malts add rich color without making it thick or chewy. Munich malt adds a rich, toasty finish to the beer.
5.8
25
Left Hand Brewing Company
Extrovert American IPA
American-Style India Pale Ale
Assertive tropical hops, malt backbone and a dry finish.
7.1
75
Left Hand Brewing Company
Fade to Black Foreign Stout
Export Stout
Pours black with licorice, espresso bean, molasses and black cardamom notes.
8.5
30
Left Hand Brewing Company
Milk Stout Nitro Sweet Stout
Sweet Stout or Cream Stout
Super smooth with soft roastiness and mocha flavor
6
25
Left Hand Brewing Company
Oktoberfest Märzen Lager
German-Style Maerzen
Toasty malt flavors dominate up front and noble hops lead to a spicy and superbly clean lager finish.
6.6
24
Left Hand Brewing Company
Polestar Pilsner
American-Style Pilsener
Zesty and biscuity with a dry crisp finish.
5.5
33
Left Hand Brewing Company
Saison au Genièvre
Specialty Saison
The third of our saison series, Les Quatre Saisons (The Four Seasons), dry and crisp farmhouse-style ale. Mild tartness with Colorado juniper berries.
6.8
10
Left Hand Brewing Company
Sawtooth Amber Ale
American-Style Amber/Red Ale
Malty with herbal, earthy hops and a dry finish.
5.3
27
Left Hand Brewing Company
Test Kitchen IPA
American-Style India Pale Ale
Azacca, Galaxy, and Citra hops hit heavy with tropical fruit notes in both the aroma and flavor. A hint of malt provides a wee bit of balance, but the beer still finishes very dry.
6.66
70
Left Hand Brewing Company
Travelin' Light Kölsch-Style Ale
German-style Kölsch
Golden, crisp, dry and refreshing with herbal hops.
4.8
22
Left Hand Brewing Company
Wake Up Dead Imperial Stout
Export Stout
A smooth, warming stout with malt flavors of raisins, licorice, coffee and dark chocolate.
10.2
45
Legacy Brewing Company
Iron Wharf Lager
Munich-Style Helles
Brewed and cellared in accordance with German Purity Laws of 1516, this is a Munich style Helles, meaning "light".
5.1
24
Legacy Brewing Company
Orange Blossom IPA
American-Style India Pale Ale
A west coast style IPA with a nice fragrant orange blossom and deep blood orange flavor that is both appealing to the palate and nose.
6.7
85
Legacy Brewing Company
Strawberry Hibiscus Wit
Belgian-Style Witbier
Crisp refreshing Witbier infused with Hibiscus Tea and Strawberries. Its tart sweet and refreshing.
5.5
20
Legacy Brewing Company
That Guava Beer
American-Style Fruit Beer
Huge Guava aroma and flavor on the front palate with a dry yet smooth and refreshing finish.
4.9
22
Lewis & Clark Brewing Co
Miner's Gold
American Wheat Beer
Hand-crafted using Montana gown and malted barley along with malted wheat to create a refreshing unfiltered wheat beer with hints of citrus.
5.8
10
Lewis & Clark Brewing Co
Pompey's Pilsner
American-Style Lager
Brewed in the traditional Czech style with the finest 2-row German pilsen and a touch of Munich barley malts.
5.7
15
Lewis & Clark Brewing Co
Prickly Pear Pale Ale
American-Style Pale Ale
A smooth balanced Pale Ale with great body and just enough hops to keep you coming back for more. Brewed with real Cactus juice.
5.9
23
Lewis & Clark Brewing Co
Tumbleweed IPA
English-Style India Pale Ale
Montana's most award winning IPA, winning Gold at GABF twice, this is a very balanced IPA using Montana barley and plenty of Centennial and Cascade hops.
7.7
68
Liquid Mechanics Brewing Company
Barrel Aged Awesomeness
Wood- and Barrel-Aged Strong Beer
We are leaving the barrel aged beer we bring a surprise!!
10
50
Liquid Mechanics Brewing Company
Belgian Double IPA
Experimental Beer
An Imperial IPA double dry hopped with Citra, fermented with Abbey Ale yeast
8.5
75
Liquid Mechanics Brewing Company
Hop Nectar
Experimental Beer
Our New England Style IPA. Full of haze, juiciness, and hype. We use 4lbs. per barrel of Citra, El Dorado, and Amarillo.
5.3
35
Liquid Mechanics Brewing Company
Kolsch
German-style Kölsch
Light, crisp, refreshing German ale
5.3
35
Liquid Mechanics Brewing Company
Peanut Butter Porter
Experimental Beer
American Imperial Porter infused with organic peanut. A crowd favorite, put it in your mouth hole.
8.6
42
Little Apple Brewing Co
Hombre De La Noche (Nightman)
American-Style Amber/Red Ale
Hombre de la Noche (aka Nightman) is a Mexican lager inspired Amber Lager. Brewed with a heavy dose of flaked maize (corn) making for excellent light drinkability; crisp and sessionable. Dont be afraid of the color, for the Nightman cometh!
4.86
13
Little Apple Brewing Co
Prairie Pale Ale
American-Style India Pale Ale
No Description Available
6.6
62
Little Apple Brewing Co
Riley's Red Ale
American-Style Amber/Red Ale
No Description Available
5.2
27
Little Machine
Diptych
Traditional Scotch Ale
Big and sultry, Rich, kettle-caramelized malt and mossy hop undertones.
9.9
28
Little Machine
Dreams Team
California Common Beer
Medium bodied amber beer is brewed with classic European lager yeast. Smooth, biscuity malt is tempered by earthy hops leading to a crisp, dry finish
5.9
35
Little Machine
Razz Against the Machine
American-Style Fruit Beer
Tart, fruit-forward start and a crisp finish, with just enough zing in between.
5.3
12
Little Machine
Sir Veza
International-Style Pilsener
Light pale, with just a hint of corn sweetness and a crisp finish. Classic, easy-drinking lager.
5.3
8
Living the Dream Brewing Co.
Belgian Brune
Belgian-Style Dark Strong Ale
A smooth Belgian brown ale with a creamy mouthfeel and notes of dates and figs.
7.3
26
Living the Dream Brewing Co.
Deutsch Vader
German-Style Schwarzbier
Dark, Dark German Lager with roasty notes balanced with a slight malty sweetness and a crisp dry finish.
5.2
35
Living the Dream Brewing Co.
Helluva Caucasian Stout
Chocolate Beer
A cream stout inspired by a white Russian cocktail. Balanced flavors of chocolate, espresso & peanut butter. Medium bodied with a shot of espresso on the finish
8
30
Living the Dream Brewing Co.
Schuss Bomber
Dortmunder/European-Style Export
Dortmunder style export lager, Crisp & refreshing yet a flavorful malt profile.
6.1
24
Living the Dream Brewing Co.
The Great Oatdoors IPA
American-Style India Pale Ale
A New England style IPA in approach, but finished clear. An Oatmeal IPA featuring Idaho 7 & Azacca Hops to bring forth big tropical aspects
6.8
54
Locavore Beer Works
Edward's Wee Demise
Scottish-Style Heavy Ale
Scottish Wee Heavy
8
26
Locavore Beer Works
Heisenberg
Chili Beer
Roasted Hatch green chile pale ale.
6
25
Locavore Beer Works
Smokey Joe
Bamberg-Style Maerzen Rauchbier
Bavarian rauchbier
5.9
25
Locavore Beer Works
Two Fingers IPA
American-Style India Pale Ale
Tropical and citrusy IPA
7.8
65
Loma Brewing Company
Appeasement
American-Style India Pale Ale
American style India Pale Ale with blueberry and stone fruit hop flavors.
7
50
Loma Brewing Company
Boys Club
American-Style Lager
Refreshing lager with a subtle, sweet corn and rice aroma and flavor.
4.3
13
Loma Brewing Company
Middle Out
Vienna-Style Lager
Amber lager with honey, caramel, floral, and spicy aromatics.
4.5
30
Loma Brewing Company
No Oranges Allowed
American Wheat Beer
A pale, hazy wheat ale with citrus and spicy hop flavors.
5.7
17
Loma Brewing Company
Warren Peace
German-style Kölsch
A delicate German ale with a soft fruit and wine like aroma and crisp finish.
4.9
25
Lone Pine Brewing Company
FIDLAR DIPA
Imperial India Pale Ale
Life's a risk.
8.1
0
Lone Pine Brewing Company
III Carters
Specialty Beer
Blackened gose with Maine seaweed, bay leaves, and lemon zest. Collaboration with The High Roller Lobster Co. and Eaux Portland.
4.2
0
Lone Pine Brewing Company
Oh-J DIPA
Imperial India Pale Ale
A carefully selected arrangement of late-addition hops produce a pure citrus punch. 0% fruit. Fresh, never frozen. Not from concentrate.
8.1
0
Lone Pine Brewing Company
Portland Pale Ale
American-Style Pale Ale
Our flagship pale ale carries a bright, clean body, with stone fruit and ripe citrus flavors from heavy late addition hopping.
5.2
0
Lone Pine Brewing Company
Tessellation DIPA
Imperial India Pale Ale
Our 100% mosaic hopped Double IPA stands bright, but with a strikingly soft and rounded mouthfeel. Heavy whirlpool & dry hop additions showcase the complex mosaic hop aromatics of blueberry, mango, and juicy, overripe peach.
8
0
Lone Tree Brewing Co
Biere de Printemps
French-Style Biere de Garde
French-style spring ale, brewed with noble hops and a touch of white wheat. Bright lemon notes from the yeast finish out the experience and open the senses to the aromatics of spring
8
25
Lone Tree Brewing Co
Hop Zombie
Imperial Red Ale
Deep red color, caramel, chocolate & biscuit notes alongside bold hop flavors from eight hops.
8.5
90
Lone Tree Brewing Co
Irish Red
Irish-Style Red Ale
A complex grain bill creates the rich and malty backbone of this traditional style with a light hop finish. Subtle notes of toffee, caramel & chocolate.
6
23
Lone Tree Brewing Co
Mexican Lager
American-Style Lager
A large percentage of flaked corn contributes a slight sweetness balanced with a clean, crisp finish.
5.3
25
Lord Hobo Brewing Co
Boomsauce
American-Style India Pale Ale
Our flagship IPA features six hop varietals and a blend of spelt, oat and wheat. A late hop addition of Mosaic, Falconer's Flight and Amarillo delivers a notable citrus and tropical fruit finish.
7.8
78
Lord Hobo Brewing Co
Consolation Prize
Imperial India Pale Ale
A full-bodied Double IPA that glows a magnificent hazy orange. Hevily dry-hopped with Jarrylo, Axacca & Mosaic resulting in big notes of pineapple, mango, honeydew with a notable Pilsner malt backbone. Dangerously drinkable and surprisingly mellow.
95
70
Lord Hobo Brewing Co
Glorious
American-Style Pale Ale
This beautifully smooth New England-Style Pale Ale pours a hazy, straw color. A double-dose of sought after Galaxy hops delivers a silky peach-grape aroma, tropical fruit flavors and an elegant mouthfeel.
6.5
72
Lord Hobo Brewing Co
Life
Session India Pale Ale
This Session IPA is heavily dry hopped with Citra and rests on 20% flaked oaks. Refreshing and bright with notes of lime and grapefruit zest to entertain the palate.
4.5
70
Lost Cabin Beer Co.
Dakota Common
California Common Beer
Bright copper with a creamy off-white head. Biscuit and caramel malt flavor with woody and minty hop notes. Moderately bitter, finishes dry and crisp.
5.5
37
Lost Cabin Beer Co.
Lord Grizzly
Traditional Scotch Ale
Deep ruby color with a light tan head. Rich maltiness with layers of plum, toffee and molasses.
8.2
29
Lost Cabin Beer Co.
Tie-Dye Wolverine
Wood- and Barrel-Aged Strong Beer
American Style Double IPA aged in Woodford Reserve Double Oak casks.
9
96
Lost Cabin Beer Co.
Turtle Creek
Classic Saison
Burnished gold, hazy with a thick white collar of foam. Delicate but complex blend of orange zest and earthy yeast. Subtle spice with a clean finish.
7.5
35
Lost Cabin Beer Co.
Woodshop Series: IPA #3
American-Style India Pale Ale
Bright copper color with an off white head. Pleasantly bitter with bright, fruity hop flavor followed by a dry, resinous finish.
6.8
67
Lost Highway Brewing
Bad Moon Rising
Other Belgian-Style Ale
Belgian Ale brewed with Brownie, Toasted Honey, and Belgian Chocolate malts boasting notes of chocolate and honey.
5.7
0
Lost Highway Brewing
Golden Ghost
Belgian-Style Blonde Ale
Brewed with oats, pilsner malt, Belgian yeast strain and Styrian hops. This crisp dry beer boasts citrusy notes and subtle estery flavors reminiscent of those made by our Belgian friends.
6
0
Lost Highway Brewing
Grave Robber Fraud Quad
Belgian-Style Quadrupel
Brewed with Belgian malts, a Trappist yeast strain, Belgian brown sugar with plum and raisin flavors.
9
0
Lost Highway Brewing
Longest, Wickedest Wit
Belgian-Style Witbier
his take on the classic Belgian White style is as complex as the street it was named for. A blend of wheat malts and barley, and nicely spiced with orange peel and coriander, it will take you on a fun flavorful trip down this historic byway.
4.8
0
Lost Highway Brewing
Lost Higway Saison
Other Belgian- and French-Style Ale
Our version of a Belgian classic. Dry with a subtle maltiness, and hints of pepper/spice to round it out.
6.3
0
Lost Highway Brewing
Raspberry Beret
Berliner-Style Weisse
Traditional Berliner Weisse with Raspberries
3.2
0
Lost Highway Brewing
Tripel Homicide
Belgian-Style Tripel
Traditional style Tripel made with three grains. Barley, Oats and Wheat. Delivers hints of citrus and spice. Finishes dry and refreshing.......and the monks rejoice!
8.5
0
Lost Rhino Brewing Co
Face Plant
American-Style India Pale Ale
A strong, malty backbone balances the mountain of whole cone hops we pack into our American-style IPA. Moderate grapefruit bitterness and herbal aromas take your pallet for a ride.
6.8
65
Lost Rhino Brewing Co
Red Flanders
Aged Beer
Our Red Flanders Sour Ale has been aged in red wine barrels for a period of 13 months. This is our attempt at a classic red ale from West Flanders. Red to brown in color, this sour beer is moderate in lactic acidity, with a touch of acetic acid, and notes
5.8
0
Lost Rhino Brewing Co
Rhino Chasers
German-Style Pilsener
Like an early morning dive into crisp waves, this premium Pilsner packs a quick, hoppy bite to wake up your senses. Topped with a dense creamy head, this golden lager is one you won't forget.
5.6
45
Lost Rhino Brewing Co
RhinOfest
German-Style Maerzen
A beer designed for the funfair of traditional German culture (which wouldn't be complete without beer). Our Märzen is an excellent companion to autumn's first chill with its full body, malty flavors and a clean, dry finish.
5.5
21
Loveland Aleworks
American Sour Ale with Raspberries
Fruited American-Style Sour Ale
Crisp and refreshing! Made with real Raspberries, kettle soured with pride.
8.1
5
Loveland Aleworks
Darkest Day
Chocolate Beer
Brown porter aged on freshly toasted coconuts and cocoa nibs.
6.6
24
Loveland Aleworks
Double Birds IIPA
Imperial India Pale Ale
Crazy drinkable imperial IPA
8.9
75
Loveland Aleworks
Save the Puppies Blended Sour Ale aged in Tequila barrels
Wood- and Barrel-Aged Sour Beer
This tastes like college
7.7
1
Low Tide Brewing
Gingerly Squeeze My Lemons
Fruit Wheat Beer
A refreshing wheat beer that is brewed with the perfect touch of Lemon and Ginger. The pop of ginger finished with sweet lemon flavor makes this beer perfect for food pairing, beach bumming or sharing with your main squeeze.
0
0
Low Tide Brewing
Isle of Extra Pale Ale
American-Style Strong Pale Ale
Life on the island isn't complete until you have this hop-forward ale that is brewed with Amarillo, Centennial and Simcoe hops. The tropical, citrus and minty flavors make this tasty pale ale perfect for life near the water.
6
45
Low Tide Brewing
Just a Peach of Habanero IPA
Chili Beer
It is known that less is more and sometimes more is more. This beer's unique flavor journey is a must try for everyone, with a wild blend of hops, peaches and habanero. Each flavor is bold but balanced against a soft mouthfeel of caramel malt forward IPA.
7.5
55
Low Tide Brewing
Motor Boatin' Melons Sour
Fruited American-Style Sour Ale
We used a "boat-load" of South Carolina fresh watermelon & mint to make this beer. The juicy sweet flavors are set off with a great touch of salty sourness of a Gose style beer.
5
5
M.I.A. Beer Co
Baltizar
Baltic-Style Porter
Epic Baltic porter built with a complex malt layering yielding a port wine, dried fruit sweetness that finishes with a hint of dark chocolate & light roasted coffee.
6
26
M.I.A. Beer Co
Big In Japan
Ginjo Beer or Sake-Yeast Beer
This Japanese hybrid judo chop to the mouth is made with malt, rice, & sake yeast. Soft notes of rice, plum, pear, & tropical fruit with a dry & crisp finish.
9
11
M.I.A. Beer Co
Edenboc
German-Style Doppelbock
Rich caramel flavor with a hint of roast
7
15
M.I.A. Beer Co
HRD WTR Cucumber Citrus
Experimental Beer
A clear sparkling water with a hint of natural flavors. Refreshing!
5
0
M.I.A. Beer Co
Jazz
American-Style India Pale Ale
Huge tropical flavors and aromas of passion fruit and guava
7.4
71
M.I.A. Beer Co
My Lil Brony
Session Beer
A low ABV "session" brown ale. This beer is aged on hard maple wood and vanilla bean for 6 weeks.
4.9
29
M.I.A. Beer Co
Neon
American-Style India Pale Ale
A white IPA brewed exclusively with Citra hops
7.5
72
M.I.A. Beer Co
Regressa A Mi
Berliner-Style Weisse
This Berliner Weisse fermented with guava & hibiscus will make you come back for more!
4
5
M.I.A. Beer Co
Sip n Slide
Golden or Blonde Ale
Golden Ale dry hopped with Citra and Mosaic
4.7
8
M.I.A. Beer Co
Yacht Rock
American-Style Light Lager
A smooth, easy drinking lager
4
8
MacLeod Ale Brewing Company LLC
Better Days
American-Style Pale Ale
Strong malt backbone with just the right amount of bitterness to balance the beer with a bright tropical fruit aroma and finish.
5.6
35
MacLeod Ale Brewing Company LLC
London Lager
American-Style Lager
Lager, Well balanced malt forward lager with a touch of hops.
5.3
25
MacLeod Ale Brewing Company LLC
Lost in London
Oatmeal Stout
Creamy mouthfeel with chocolate and coffee notes dominating the palate.
4.7
30
MacLeod Ale Brewing Company LLC
Son of Leod
American-Style Pilsener
Crisp and clean with a beautiful straw color and just the right amount of hop to make it stand out.
5.3
30
MacLeod Ale Brewing Company LLC
The Unjust Incarceration
Baltic-Style Porter
Barrel Aged. Roasty, yet crisp with hints of chocolate and a smooth bourbon flavor that compliments the roast.
8.6
35
Mad Beach Brewing
Dubious Intentions
Wood- and Barrel-Aged Dark Beer
Bourbon Barrel Aged Imperial Brown Ale
9
0
Mad Beach Brewing
HMB
Coffee Beer
Coffee Vanilla Stout
5
0
Mad Beach Brewing
Levique Lager
American-Style Lager
Refreshing Lager
5
0
Mad Beach Brewing
Life's A Beach
American Wheat Beer
Orange Blossom Honey Wheat Ale
5
0
Mad Beach Brewing
Oscuro
Strong Ale
Imperial Brown Ale
9
0
Mad Fox Brewing Co
Nickel Tour Amber Ale
American-Style Amber/Red Ale
Fresh sharp piney hop aroma, followed by silky caramel malt backbone.
5.3
0
Mad Fox Brewing Co
English Summer Ale
English-Style Summer Ale
This crisp golden ale is lightly hopped with American Citra hops.
5.2
0
Mad Fox Brewing Co
Saison
Specialty Saison
This traditional Belgian-style farmhouse ale showcases complex honey and spice notes with a semi-dry finish.
6.4
0
Mad Malts Brewery & Tap Room
Mad Malts Double Cherry Sour
Fruited American-Style Sour Ale
We captured a wild form of Pediococcus, then added Brettanomyces along with sour and Bing cherries, and waited. The resulting ale is tart, with subtle cherry and residual malt flavors adding balance.
9
40
Mad Malts Brewery & Tap Room
Mad Malts Imperial Porter
American-Style Imperial Porter
A big malty, porter with hints of coffee, chocolate, and other roasty flavors.
7.8
35
Mad Malts Brewery & Tap Room
Mad Malts Oatmeal Stout
Oatmeal Stout
Mad Malts Oatmeal Stout combines the dark malty goodness of a quality stout with the silky mouth feel of our least favorite breakfast cereal (you know it's true, it always has to be combined with something).
6.1
27
Mad Malts Brewery & Tap Room
Mad Malts Raspberry Blonde
American-Style Fruit Beer
The MM Raspberry Blond is a double strength blond ale infused with raspberries and honey. The fruit flavors in this dry ale complement the honey and malt sweetness and balance out the hops bitterness in a very harmonious way.
8.5
23
Mad Malts Brewery & Tap Room
Mad Malts Russian Imperial Stout
British-Style Imperial Stout
It's the biggest, malty-est, strongest, darkest, and some think, delicious-est beer we've made so far. This beer is simply bursting with flavors of dark malts and molasses.
10
43
Mad Malts Brewery & Tap Room
Mad Malts Yam I Am
Herb and Spice Beer
Yam I Am proudly proclaims its independence from ordinary beers with subtle flavors that blend to complement the total package. Mild yam flavors combine with allspice, nutmeg, ginger and cinnamon to complement the base amber ale in a most pleasing
6
27
MadTree Brewing
Blood Orange PsycHOPathy
American-Style India Pale Ale
PsycHOPathy IPA with real blood orange juice added.
6.2
72
MadTree Brewing
JOON
Wood- and Barrel-Aged Pale to Amber Beer
Kölsch aged in gin bourbon barrels with juniper and ginger added.
4.7
11
MadTree Brewing
Lift
German-style Kölsch
Whether taking a break from a hard day of work or just a huge day of hops, this crisp refreshing beer with a hint of orange will lift your spirits without lowering your expectations for what a craft beer should be.
4.7
11
MadTree Brewing
PsycHOPathy
American-Style India Pale Ale
The subtle malt backbone combats the bitterness and intensity of floral, grassy, and citrus hop flavors. However, taste is perception. What's your slant?
6.9
60
MadTree Brewing
Sequoia's Gift
Wood- and Barrel-Aged Sour Beer
BLEND OF A BELGIAN BLONDE AGED IN RED WINE PUNCHEONS WITH BRETT ADDED AND A BELGIAN GOLDEN WITH 100% BRETT PRIMARY FERMENTATION AGED IN OAK BARRELS
7.2
0
MadTree Brewing
Shade
Fruit Wheat Beer
Tart fruit ale brewed with blackberries and sea salt.
4.6
10
Manifest Beer Company
Imminent Hop
American-Style India Pale Ale
100% Weyermann Malt, American Ale Yeast (West Coast), Hops are Columbus (Bitter Resin Pine Nose) Citra (Citrus Flavor and Nose) Simcoe (Earthy and Pine) and Cascade (Floral) Mosaic and Mosaic Cryo. Dry hop with over 6lbs per bbl of mix of the above hops. T
6.7
100
Manifest Beer Company
Un Mélange De Serendipity Lychee & Passion Fruit
American-Style Sour Ale
Un Mélange De Serendipity Lychee & Passion Fruit is a Cocktail Inspired American Sour. Brewed with 100% Weyermann Maltz, Kettle Soured using only Sour Maltz (no dairy) for natural and wild fermentation. Finished with a Belgian yeast strain, lager for 30 da
5
5
Mantra Artisan Ales
Cassis
Belgian-Style Flanders Oud Bruin or Oud Red Ale
Wine barrel-aged Flanders Red aged on tart cherries and black currants.
6.2
4
Mantra Artisan Ales
Guru Gish
Sweet Stout or Cream Stout
Milk stout with peanut, vanilla and caramel.
6
20
Mantra Artisan Ales
Saffron IPA
American-Style India Pale Ale
IPA brewed with Saffron & Cardamom.
7.2
55
Mantra Artisan Ales
Tacenda Sauvined
Fruited American-Style Sour Ale
Muscadine Grape Sour Ale dry-hopped with Nelson Sauvin hops.
5.7
2
Maplewood Brewing Company
Charlatan
American-Style Pale Ale
2016 GABF Bronze medal winner. Fresh Cut Citrus. Aromatic. Clean
6.1
35
Maplewood Brewing Company
Crushinator
Session India Pale Ale
Hoppy. Tropical Citrus. Sessionable.
4.5
32
Maplewood Brewing Company
Fat Pug
Oatmeal Stout
Roasty. Dark Chocolate. Smooth.
5.6
25
Maplewood Brewing Company
Pulaksi Pils
German-Style Pilsener
Balanced. Rich Grain. Floral Finish
5.1
25
Maplewood Brewing Company
Son of Juice
American-Style India Pale Ale
Juicy. Juicy. Juicy.
6.3
12
Marble Brewery - Mav Lab
Cholo Stout
American-Style Stout
Yo, this stout is legit bro! It cruises low with a dark blend of roasted malts and bounces high with a pop of bright Pacific Northwest hops.
6.9
0
Marble Brewery - Mav Lab
Dupy's Dunkel
Munich Dunkel
Inspired by the dark lagers of Bavaria, our Dunkel features a light noble hopping supported by toasted & honeyed malt tones. Full of balance & finesse, this beer drinks by the liter.
5
0
Marble Brewery - Mav Lab
Marble Pale Ale
American-Style Pale Ale
Heavy handed doses of Centennial, Galaxy, Mosaic, Simcoe, & Idaho 7 hop varietals impart a fabulously fruity aroma & flavor to this classic American Pale Ale.
4.8
68
Marble Brewery - Mav Lab
Passionate Gose
Leipzig-Style Gose
The perfect balance of passion fruit, tart vibrance and a mild salt come together in this fantastic libation!
6.6
0
Marble Brewery - Mav Lab
White Out
Belgian-Style Witbier
Our 7th Anniversary Ale. American hop flavor greets spicy Belgian ale yeast in our artful Anniversary Brew. Coriander and Curacao orange peel brighten a storm of Citra and Mosaic. A study in contrast, White Out's flavor profile is uniquely Marbleous.
9
40
Marble Brewery - Production
Double White
Belgian-Style Witbier
Delicate and dry, pale and hazy, this Belgian­-inspired wheat ale is accented with traditional spices.
7
8
Marble Brewery - Production
Imperial Red
Imperial Red Ale
Brewed with royalty in mind, no expense was spared in crafting our Imperial Red. Generous additions of our favorite hop varieties blend harmoniously with long layers of dark caramel malts.
9
130
Marble Brewery - Production
India Pale Ale
American-Style India Pale Ale
Our favorite aromatic and bittering hops deliver a fragrant citrus aroma and snappy hop character to this eminently quaffable IPA.
6.8
95
Marble Brewery - Production
Marble Pilsner
German-Style Pilsener
Our interpretation of a German classic. Dry hopped and unfiltered, this lager is floral, spicy and crisp.
4.7
40
Marble Brewery - Production
Mavbock
Munich-Style Helles
Bready, crisp, robust pilsner malt backbone, doused with a wave of German Noble hops, Maibock is a celebration of innovation and an homage to tradition.
7.2
0
Mastry's Brewing Co.
Beach House
Other Belgian- and French-Style Ale
golden Saison with a classic Belgian character made for the beach crowd. Refreshing, tart and dry.
5.5
31
Mastry's Brewing Co.
Breezy
Specialty Beer
Tropical blonde ale fermented with a Kveik yeast strain, hopped with Mandarina Bavaria and Motueka.
6.3
20
Maui Brewing Co
Imperial Coconut Porter
American-Style Imperial Porter
Brewed with hand toasted coconut, with subtle hints of cacao and coffee.
9
37
Maui Brewing Co
Double Overhead Double IPA
Imperial India Pale Ale
Rich, slightly malty body supports this generously hopped Imperial India Pale Ale.
8.5
85
Maui Brewing Co
Pau Hana Pilsner
American-Style Pilsener
European Pilsner malt offers sweetness balanced by a spicy hop profile.
5.2
30
Maui Brewing Co
Waimea Red Ale
American-Style Amber/Red Ale
American-style red ale with balanced hops and sweet malt character for a crisp finish.
6.5
50
Maxline Brewing
English Mild
English-Style Dark Mild Ale
Coming soon...
0
0
Maxline Brewing
ESB
English-Style Extra Special Bitter
Balanced with biscuity-sweet malt and slight lemony bitterness, this brew entices the imbiber with aromas of earthy hops and light fruitiness.
0
0
Maxline Brewing
Imperial Brown
American-Style Brown Ale
Light chocolate aromas dance with notes of light fruit and herbal hops.
0
0
Maxline Brewing
Irish Red
Irish-Style Red Ale
This easy-drinking brew boasts notes of caramel, bread crust, and bing cherries. Aromas of sweet caramel and toffee greet the nose.
0
0
Maxline Brewing
Pat's Porter
Robust Porter
This robust brew boasts notes of fig, slightly tart cherry, and blackberry jam. Aromas of dark chocolate, vanilla, and roasted​ coffee greet the nose as this medium-bodied brew is enjoyed.
0
0
McClellan's Brewing Company
Kilt Tilter - Wee Heavy
Scottish-Style Heavy Ale
This beer is all about the malts (and it is super malty) with just the subtlest hint of Fuggles and East Kent Goldings on the nose.
7
30
McClellan's Brewing Company
Wulver - Scottish IPA,
International-Style Pale Ale
This is a recipe pulled from the Scottish Brewing Archives and dates back to 1885. It is loaded with English hops but don't let the IBU put you off - it doesn't taste anywhere near that bitter due to the well balanced malts.
7.7
80
Mike Hess Brewing
Claritas
German-style Kölsch
Claritas is derived from the Latin word meaning clarity. An authentic German Kölsch style beer with a crisp and clean finish. Easy drinking, slightly hoppy and pilsner malt profile.
5.8
28
Mike Hess Brewing
Grapefruit Solis
American-Style India Pale Ale
California-style IPA infused with real grapefruit creating a fruit-forward, crisp & refreshing beer. The hops compliment the fruit's zestiness, and the malt backbone provides subtle balance.
7.5
95
Mike Hess Brewing
Habitus
Imperial India Pale Ale
Liberally hopped throughout the brew process, then dry hopped with an additional pound per barrel of Sterling & Chinook hops. Spicy notes from both hops and rye malt complemented by floral & piney aromatics.
8
100
Mike Hess Brewing
Umbrix
American-Style Imperial Stout
Award-winning Rye Imperial Stout w/ rich deep & intense flavors. 7 different malts & PNW hops contribute to a coffee, chocolate & toffee taste w/ while the rye malt & hopping rate result in an enjoyable spiciness.
10.2
75
MillerCoors Brewing Co
Miller High Life
American-Style Lager
Miller High Life has been known as the Champagne of Beers, brewed to be the best of its kind. Brewed with light-stable hops so quality is not compromised when served in a clear glass bottle.
4.6
7
MillerCoors Brewing Co
Coors Banquet
American-Style Lager
Coors Banquet is the beer Adolph Coors first brewed in 1873. Since then, Banquet has been brewed only in Golden, CO with 100% Rocky Mountain water and Moravian barley. It is a beer steeped in rich heritage and tradition.
5
10
MillerCoors Brewing Co
Coors Light
American-Style Light Lager
Coors Light is cold-lagered for a crisp, clean taste, cold-filtered for a brilliant, bright appearance and cold-packaged at the peak of freshness.
4.2
7
MillerCoors Brewing Co
Hamm's
American-Style Lager
From the Land of Sky Blue Waters, has rich heritage dating back more than 150 years. A subtle blend of complex aromatics that includes malty notes, highlights of grassy and fruity hop and low/hop-appropriate bitterness.
4.7
0
MillerCoors Brewing Co
Miller Lite
American-Style Light Lager
Miller Lite established the light beer category and introduced the perfect balance of lightness and flavor nationally. It's a real Pilsner, brewed to have more color and taste with only 96 calories per 12oz.
4.2
7
Mirror Twin Brewing
Citranomical
American-Style India Pale Ale
A Twin to our Mos Def IPA, we changed the hops around to citra in this brew. Citra adds more orange and lemon flavor while keeping the same aspects of the Original. We double dry hop this beer.... Because, why not?!?!?!
7.5
74
Mirror Twin Brewing
Red Blooded American
American-Style Amber/Red Ale
This medium bodied, delicious ale makes you want to yell out 'Merica. It has a beautiful red color with just enough hop bitterness to play perfectly with the malty goodness. This is a great beer for people who are ready to graduate from a blonde ale, a
6
25
Mirror Twin Brewing
W.G.W.
American-Style Pale Ale
This is a light and refreshing ale that is easy to drink and easy to enjoy. We use two different malts to give this blonde ale a bit of color and a slight sweetness.
4.5
15
Mirror Twin Brewing
We Boil All Our Denims
Belgian-Style Quadrupel
This medium bodied, delicious ale makes you want to yell out 'Merica. It has a beautiful red color with just enough hop bitterness to play perfectly with the malty goodness. This is a great beer for people who are ready to graduate from a blonde ale, a
11
34
Missouri Beer Company
Berliner Weiss
Berliner-Style Weisse
A very pale, refreshing, low alcohol German wheat beer with a clean lactic sourness
3.3
3
Missouri Beer Company
English Dark Mild
English-Style Dark Mild Ale
A dark, low gravity, malt focused British session ale readily suited to drinking in quantity. Refreshing, yet flavorful!
4.2
15
Missouri Beer Company
Kolsch
German-style Kölsch
A clean, crisp, German Ale. Delicately balanced and refreshing.
4.5
19
Missouri Beer Company
Mango Hibiscus
American-Style Pale Ale
An American pale ale with a twist. Hibiscus flowers are added at the end of the boil to add an earthy- flowery flavor. Fresh Mango puree' is added after fermentation to add the fruity sweetness.
5
35
Missouri Beer Company
Red Rye IPA
Rye Beer
An American Red IPA made with a large amount of Rye Malt. Crystal Rye gives it it's red color and slightly spicy maltyness. Large amounts of Columbus hops are added to the boil and the Dry Hop making a very hoppy brew.
5.9
65
Modern Times Barrel House
Batch 1500 with Black Currants
Fruited American-Style Sour Ale
We added a generous helping of black currants to this lot of Batch 1500, which combine with the existing notes of dark fruit, oak, and funky complexity to create a truly stunning ensemble.
7.6
35
Modern Times Barrel House
Monsters' Park aged in Bourbon Barrels w/ Vanilla
Wood- and Barrel-Aged Strong Stout
We took this batch of Monsters' Park to a new tier of decadence by loading it up with a whole bunch of delicious vanilla beans, which meld magnificently with the barrel character and giant, roasty profile to create a uniquely majestic beer experience.
14.6
60
Modern Times Barrel House
Monsters' Park Aged in Bourbon Barrels: Mexican Hot Chocolate Edition
Wood- and Barrel-Aged Strong Stout
We loaded this massively flavorful, barrel-aged imperial stout with cinnamon, cocoa nibs, chilis, and vanilla, yielding a Mexican hot chocolate party of staggeringly delicious proportions.
14.6
60
Modern Times Barrel House
Monsters' Park Aged in Spanish Brandy Barrels
Wood- and Barrel-Aged Strong Stout
This is Monsters' Park, our hulking, cantankerous imperial stout, aged in Spanish brandy barrels, which begin their life as sherry casks. The fruit-forward barrel character is immediately evident on the nose and only grows more intense in the flavor. B
13.3
60
Modern Times Barrel House
One Million Tomorrows w/ Raspberries and Blueberries
Fruited Wood- and Barrel-Aged Sour Beer
We added these berry champions to a batch of fresh saison and fermented with our resident bugs in white wine barrels. What we ended up with is a stunningly beautiful beer boasting a deep berry character, Brett-tastic notes of hay and pepper, and a bright,
7
0
Modern Times Beer
Attack Frequency
American-Style India Pale Ale
Attack Frequency is a mouthwatering tropical juice-bomb of an IPA brewed with Citra, Amarillo, El Dorado and Rakau hops and taken to nigh-on-irresponsible levels of juiciness with the addition of guava and apricot. Seriously, we could spend paragraphs desc
7
90
Modern Times Beer
Critical Band
American-Style India Pale Ale
Description of the Beer: Brewed with Denali, Ekuanot, Citra, and Centennial hops, Critical Band is a blast wave of pineapple, papaya, and pink grapefruit over a crisp, restrained malt bill, before wrapping up in a soft, round finish that leaves you with wa
6.7
60
Modern Times Beer
Dragon Mask
American-Style Stout
Born of a collaboration with Casita Cerveceria, this mythical flavor beast is part imperial stout, part churro, and all magic. We layered this beer's rich, chocolaty profile with cinnamon, cacao nibs, salt, & vanilla, opening an astoundingly tasty 13% ABV
13
60
Modern Times Beer
Echoic Memory
American-Style India Pale Ale
Cloudwater collab w/ Nelson, Enigma, Denali, & Citra Cryo
8.5
40
Modern Times Beer
Perfect Talon
American-Style India Pale Ale
Ready your grill-piece for a hazy juice-bomb of staggering proportions. We crammed this 7.5% IPA with mountains of Simcoe, El Dorado, Denali, Amarillo, Idaho 7, & Citra hops, yielding a beverage experience that erupts with big, beautiful notes of citrus, s
7.5
40
Monkey Paw Brewing
Back In The ESSA
English-Style Summer Ale
A better Blonde Ale, with all English malts and a touch of floral hops
4.9
0
Monkey Paw Brewing
Friar Fanatic
American-Style India Pale Ale
American IPA
6.8
0
Monkey Paw Brewing
Ol' Colo
German-Style Altbier
Balanced, crisp, malty Amber Ale
6
30
Monkey Paw Brewing
Too Much Monkey Business
American-Style Brown Ale
Brown Ale w/ toasted coconut, beer version of an 'Almond Joy'
5.8
30
Moody Tongue Brewing Company
Aperitif Pilsner
German-Style Pilsener
This light, refreshing 5.0% German pilsner carries the aromatics of a croissant alongside the flavor of a French baguette.
5
0
Moody Tongue Brewing Company
Bourbon Barrel Aged Imperial Stout
Wood- and Barrel-Aged Strong Stout
Imperial stout aged in Kentucky bourbon barrels.
0
0
Moody Tongue Brewing Company
Caramelized Chocolate Churro Baltic Porter
Baltic-Style Porter
This 7.0% medium-bodied, coffee-colored Baltic Porter carries the flavors of Madagascar vanilla and Mexican cinnamon with the aromatics of dark Oaxacan chocolate.
7
0
Moody Tongue Brewing Company
Smoked Applewood Gold
Bamberg-Style Helles Rauchbier
This 5.0% Gold carries the flavors of applewood alongside the aromatics of peachwood within a light, refreshing body.
5
0
Moody Tongue Brewing Company
Steeped Emperor's Lemon Saison
Belgian-Style Fruit Beer
This 6.3% medium-bodied Saison carries the flavors of a lemon meringue pie alongside the aromatics of Meyer lemons. The resulting Saison has a pineapple color and a dry finish.
6.3
0
Moon River Brewing Co
Slowvannah Session IPA
Session India Pale Ale
The laid-back little brother of Swamp Fox, Slow-vannah is sessionable and big on hops. Amarillo, Simcoe and Centennial varieties used during dry-hopping adds a resinous, grapefruity flavor and aroma.
4.8
0
Moon River Brewing Co
Taterator
Field Beer
Rich with Munich malt toastiness, more than a hint of sweet potato flavor and the distinctive nose of a traditional, German-style lager.
8.2
0
Moon River Brewing Co
Wild Wacky Wit
Belgian-Style Witbier
This Old-world, Belgian-style of wheat ale is spiced with Curacao bitter orange peel, coriander seed and a touch of chamomile. Light and exotic, it's a party in your mouth.
4.1
0
Moon River Brewing Co
Yoga Pants
International-Style Pale Ale
Easy drinking and respectable flavor. Not too bitter and hopped with only the sexiest varietals, sophisticated malt profile and brazen hoppiness.
5
0
Moonlight Pizza
2x IPA
Imperial India Pale Ale
Hoppy and malty.
9
0
Moonlight Pizza
Salida Wheat
Light American Wheat Beer with Yeast
Unfiltered wheat brewed with coriander and orange peel.
4.5
0
Moonlight Pizza
Woods whiskey barrel aged Wee Heavy
Wood- and Barrel-Aged Dark Beer
Our traditional Scottish heavy aged in whiskey barrels.
8.4
0
Mother Earth Brew Co - Nampa
2016 Four Seasons of Mother Earth "Winter"
Wood- and Barrel-Aged Strong Stout
An amped up version of our normal breakfast stout, this Barrel Aged and blended rendition is meant to represent the breakfast essentials: oats, milk and coffee.
10.5
31
Mother Earth Brew Co - Nampa
Boo Koo IPA
American-Style India Pale Ale
IPA bursting with flavor and aroma, finished dry, and most importantly hop-forward. This beer is teeming with fruit and pine notes, and its light gold to blonde color make it drink like a session beer.
6.5
58
Mother Earth Brew Co - Nampa
Fresh As It Gets
Fresh or Wet Hop Ale
From harvest to kettle within hours, our single, fresh hop IPA is juicy with aromas reminiscent of citrus, passionfruit, and a subdued yet present resin and pine.
6.7
65
Mother Earth Brew Co - Nampa
Primordial
Imperial India Pale Ale
One of our most tried and true DIPA recipes. We bitter with a well known super-alpha and mix traditional and modern hops together to create something familiar, yet boundry-pushing. At over 100 IBUs you will not forget this beer.
9
124
Mother Earth Brew Co - Nampa
Say When
American-Style India Pale Ale
Using some of the most intensely aromatic hops available, a minimalist malt bill ensures this Resinator installment is hop-focused, brite on the palate, yet contains enough character to avoid being thin.
7.5
75
Mother Earth Brew Co - Vista
2016 Four Seasons of Mother Earth "Winter"
Wood- and Barrel-Aged Strong Stout
An amped up version of our normal breakfast stout, this Barrel Aged and blended rendition is meant to represent the breakfast essentials: oats, milk and coffee.
10.5
31
Mother Earth Brew Co - Vista
2017 Four Seasons of Mother Earth "Summer"
Wood- and Barrel-Aged Strong Stout
Our established specialty stout aged in oak barrels rounded out with hints of nutty toffee and dark chocolate.
10.5
69
Mother Earth Brew Co - Vista
Boo Koo IPA
American-Style India Pale Ale
IPA bursting with flavor and aroma, finished dry, and most importantly hop-forward. This beer is teeming with fruit and pine notes, and its light gold to blonde color make it drink like a session beer.
6.5
58
Mother Earth Brew Co - Vista
Call Me Ginger
Golden or Blonde Ale
Using a light, crisp Blonde Ale as a base, we add lemon and ginger after fermentation to create a refreshingly unique summer classic.
4.8
21
Mother Earth Brew Co - Vista
Renown Brown
American-Style Brown Ale
An American-style brown ales with a subdued hop profile. Deep caramel malts and a medium final gravity leave a memorable body and present a wonderful cocoa color.
6
25
Mountain Sun Brewery
"Fresh Hopped" Hop Vivant Imperial I.P.A.
Fresh or Wet Hop Ale
Our American-Style Imperial I.P.A. is dry-hopped four times to provide explosive aromas of pineapple, citrus and pine. This batch was brewed with 100# of Fresh Organic Hops from High Wire Farms in Paonia, CO, which were used immediately after harvesting.
8.9
100
Mountain Sun Brewery
Black Aria Baltic Porter
Baltic-Style Porter
Rich malt flavors of dark raisin and caramel meld with a righteous roastiness that has a pleasantly lingering aftertaste.
7.3
37
Mountain Sun Brewery
Bourbon Barrel-Aged Chocolate Thunder Imperial Chocolate Milk Stout
Wood- and Barrel-Aged Strong Stout
Chocolate Thunder is full-bodied with a soft, velvety texture from additions of milk chocolate, dark chocolate and milk sugar. It has assertive flavors of chocolate, vanilla and oak from several months aging in Four Roses Bourbon barrels.
10.4
33
Mountain Sun Brewery
Onslaught Belgo-American Imperial I.P.A.
Pale American-Belgo-Style Ale
Citrusy hops immediately assault the palate giving way to fruity esters and mild spice from the Belgian yeast fermentation.
9.6
68
Mountain Sun Brewery
Tank Top I.P.A.
International-Style Pale Ale
This light-bodied American-Style I.P.A. combines a gentle biscuit malt character with a dynamic hop profile of pine, tropical fruit and citrus. Notes of tangerine, guava and lemon meld with a moderate bitterness and dry, fruity finish.
6.3
40
Municipal Brew Works
Approachable Blonde Ale
Golden or Blonde Ale
A touch of Vienna Malt provide a nice bready flavor to a light crisp refreshing beer.
5
15
Municipal Brew Works
Our Two Cents
American-Style Strong Pale Ale
All Centennial hops and dry hopped with centennial give it an IPA start but the hops are in for a short boils which keeps the IBUs lower so it finishes lighter than an IPA. At 6.8% ABV it's far from a session. It's our two cents on a Pale Ale.
6.8
45
Municipal Brew Works
Station 2 Rye Pale Ale
Rye Beer
Rye and Cascade hops add a nice peppery quality to a balanced malt bill. Pairs with about any food this rye pale ale has great flavor and balance.
5.1
32
Municipal Brew Works
The Duelist
Belgian-Style Dark Strong Ale
This Belgian Stout is a duel of styles. When cold is possesses the traditional smokey roasts flavor of a stout with an interesting finish. As it warms the fruity esters of the Belgian yeast come through providing a Belgian chocolate flavor
8
37
Nantahala Brewing Co
Bryson City Brown
American-Style Brown Ale
A mild, easy drinking "session" beer with a complex flavor. The chocolate and nutty character is flavorful yet not too heavy. There is very little hop bitterness and the finish is smooth and pleasant.
3.8
14
Nantahala Brewing Co
Dirty Blonde Girl
Golden or Blonde Ale
Brilliantly clear with sparkling carbonation, our dirty girl is a light easy - drinking - american blonde. Crisp and refreshing throughout with hints of noble hops in the aroma.
5.75
10
Nantahala Brewing Co
Judaculla Russian Imperial Stout
Wood- and Barrel-Aged Strong Stout
Judaculla (pronounced JOOda KULLa) is our Russian Imperial Stout made with local sorghum syrup and wildflower honey, and aged in Jack Daniels barrels for three months.
10
40
Nantahala Brewing Co
Rivers End Oktoberfest
German-Style Maerzen
A malty, biscuity festbier intended to christen the colorful celebrations of Fall in the Smokys.
6.7
20
Nebraska Brewing Co
Blanc is the New White
Specialty Saison
Pushing creativity into new realms of barrel aging, this Saison was made with the Ardennes yeast strain and aged in Sauvignon Blanc barrels for 6 months. The result is a beer that spans the breadth of grassy down into lightly tropical character. Uniquely p
7.6
20
Nebraska Brewing Co
EOS Hefeweizen
South German-Style Hefeweizen
This medium to full-bodied beer, pale to golden in color, is most accurately described as a Bavarian wheat beer. The aroma and flavor of this unfiltered beer is decidedly fruity and spicy evoking tastes and aromas of cloves, nutmeg or sometimes vanilla wit
5.2
13
Nebraska Brewing Co
Gimme S'more
American-Style Brown Ale
We've taken a newly formulated Brown Ale & blended in a perfect amount of vanilla & created the equivalent of a S'More in a pint glass! While there is no actual chocolate or marshmallow in here, you'll be hard pressed to convince your senses that they're n
5.2
13
Nebraska Brewing Co
Hop God
American-Style India Pale Ale
A beautiful golden crossbreed of a Belgian Tripel and a West Coast IPA. A remarkable explosion on the palate with spiciness, tropical fruit, and a firm citrus bitterness that will leave you begging for more! Aromas of grapefruit, citrus, and piney hops &
9.3
87
Nebraska Brewing Co
Mélange a Trois
Wood- and Barrel-Aged Strong Beer
Mélange A Trois begins with a wonderfully big Strong Belgian-Style Blonde Ale and moves into the extraordinary category through an additional 6 month French Oak Chardonnay Wine Barrel maturation. The essence of Chardonnay permeates while a subtle sweetness
11.3
33
Nevin's Brewing Company
Apocalyptinator
German-Style Doppelbock
Apocalyptinator is a big blast of caramel, chocolate and toasted toffee. It will have you so entranced that you won't even notice the four horsemen riding by.
8.1
21
Nevin's Brewing Company
Hook & Hatchet
Vienna-Style Lager
We use a variety of high kilned, crystal and roasted malts to produce this copper hued, pretzely, malty, with a hint of caramel, brew.
5
20
Nevin's Brewing Company
Pilsner
German-Style Pilsener
Our pilsner is brewed with 100% German pilsner malt along with Mandarina Bavaria hops. Our take on the pilsner is that it should feature the flavors and aromatics of the hop with very little bitterness.
5
25
Nevin's Brewing Company
Snitches Get Stitches
Robust Porter
We teamed up with our good friends in the Spent Grain Society homebrew club to brew this. Chocolate, roast, and a hint of dark caramel make this beer amazing.
6.8
26
New Belgium Brewing Co
Fat Tire
Other Belgian-Style Ale
Fat Tire blends a fine malt presence, fresh herbal hop balance and a touch of fruity yeast to offer drinkers everywhere a timeless craft beer experience with a rare blend of balance and complexity.
5.2
22
New Belgium Brewing Co
Fat Tire Belgian White
Belgian-Style Witbier
Fat Tire Belgian White is made with Seville oranges and Indian coriander. It's a fresh, perfectly sweet, natural tasting Belgian White.
5.2
12
New Belgium Brewing Co
Felix Aged in Apple Whiskey Barrels
Wood- and Barrel-Aged Sour Beer
A foeder-aged golden sour additionally aged in freshly decanted apple whiskey barrels from Leopold Bros. Distillery in Denver, CO.
8.8
0
New Belgium Brewing Co
Honey Orange Tripel
Belgian-Style Tripel
A big, sweet and citrusy Belgian-style Tripel with thoughtfully sourced ingredients, including organic honey from Africa and freshly ground Seville orange peel.
10
25
New Belgium Brewing Co
Juicy Mandarina IPA
American-Style India Pale Ale
Juicy Mandarina IPA is an unfiltered wheat IPA and part of the Voodoo Ranger Special Release Series. Featuring German Mandarina Bavaria and Australian Galaxy hops, this IPA will pour hazy with a burst of citrus.
6.5
65
New Belgium Brewing Co
La Folie
Wood- and Barrel-Aged Sour Beer
This wood-aged, sour brown spends one to three years in big, oak barrels, known as foeders. And when the beer finally hits the glass, La Folie is sharp and sour, full of green apple, cherry, and plum-skin notes.
7
18
New Belgium Brewing Co
Le Terroir with Amarillo and HBC #522
Wood- and Barrel-Aged Sour Beer
An American sour ale that is barrel-aged in neutral French Oak foeders and dry-hopped using fruit-forward and experimental hops.
7.5
12
New Belgium Brewing Co
Oscar Aged in Blackberry Whiskey Barrels
Wood- and Barrel-Aged Sour Beer
A foeder-aged dark sour additionally aged in freshly decanted blackberry whiskey barrels from Leopold Bros. Distillery in Denver, CO.
8.8
0
New Belgium Brewing Co
Passionfruit Foeder Saison
Specialty Saison
An experimental saison brewed with passionfruit and 100% acidified in a French Oak foeder. This marks the first time we've used a base beer other than our usual base beers of Felix and Oscar.
8.3
0
New Belgium Brewing Co
Sour Saison
Wood- and Barrel-Aged Sour Beer
Traditional, barrel-aged sour blended with a dry, champagne-like farmhouse ale.
7
18
New Bohemia Brewing Co
Beech Bonfire
German-Style Schwarzbier
A Classic black lager, but with the addition of Beechwood smoked barley to give this beer a solid smokey character. The aroma is reminiscent of a beach BBQ, that preempts a silky flavor of bready, smokey deliciousness.
4.4
27
New Bohemia Brewing Co
Highway to Hefe
South German-Style Hefeweizen
Classic Bavarian style, with 50% wheat malt to complement traditional Pilsner malt. Notes of banana, clove and spice, from the yeast, dominate the aroma and flavor.
4.2
18
New Bohemia Brewing Co
Monkey Business
South German-Style Dunkel Weizen
Brewed with 50% Dark Wheat, this Dunkel offers a great balance of clove, banana and a slight hint of chocolate. Fermented warmer to accentuate the yeast flavor.
4.8
18
New Bohemia Brewing Co
NuBo Pils
Bohemian-Style Pilsener
Brewed w/ traditional Pilsner malt & a classic mix of German & Czech hops. It's lagered for over a month in horizontal tanks, allowing for slow maturation & natural clarification, this unfiltered Pilsner offers a great balance of sweetness & bitterness
5.4
45
New Bohemia Brewing Co
The Green Room
American-Style Lager
A classic German-style lager at its malt base, using heirloom Barke Pilsner malt, but then we flip the script & add enormous amounts of late addition & dry hops. A mix of traditional Saaz & new American El Dorado hops, green tea & candy aroma.
6.5
22
New Holland Brewing Co
Baltic Anomaly
Baltic-Style Porter
Much like the alien mystery found at the bottom of the Baltic Sea, this Baltic Porter boasts an anomaly of its own. Honey lends an extraterrestrial dimension to this earthly porter, balancing out the sweetness with a slightly dry finish.
8.5
20
New Holland Brewing Co
Black Tulip
Belgian-Style Tripel
Mysterious, alluring and seductive, yet tantalizingly elusive; these are the storied characteristics of the Black Tulip.
8.8
21
New Holland Brewing Co
Blue Sunday
Wood- and Barrel-Aged Sour Beer
This unique anniversary libation, heritage-blended from our library of barrel-soured beers, exhibits deeply layered flavors of malt and oak, with a tart finish.
7
18
New Holland Brewing Co
Dragon's Milk
Wood- and Barrel-Aged Strong Stout
A stout with roasty malt character intermingled with deep vanilla tones, all dancing in an oak bath.
11
31
New Holland Brewing Co
Hoptronix
Imperial India Pale Ale
Hoptronix 1-ups the game with its eye-popping bitterness. Mosaic hops give this IPA a dark aroma, yet it finished smooth and crisp.
9
70
New Holland Brewing Co
Ichabod
Pumpkin Spice Beer
Ichabod combines malted barley and real pumpkin with cinnamon and nutmeg in a delicious and inviting brew. After dinner, try it with your favorite dessert.
4.5
25
New Holland Brewing Co
Mad Hatter
American-Style India Pale Ale
Mad Hatter's whimsy is celebrated w/ floral aromatics from assertive dry-hopping and a bright, hoppy body, punctuated w/ Centennial, Citra and Michigan-grown Cascade hops. Citrus and pleasant bitterness excite the palate before welcoming a balancing finish
7
65
New Holland Brewing Co
Pilgrim's Dole
American-Style Wheat Wine Ale
A barleywine-style ale made with fifty percent wheat malt, or what we at New Holland call a wheatwine. Pilgrim's Dole blends warming and slightly sweet flavors with a unique caramelized character
12
30
New Holland Brewing Co
Xtra Time
Session Beer
A light, easy-drinking beer perfect for life's adventures-- or a relaxing day off. Xtra Time's crisp, refreshing taste will keep up with you, no matter your pace.
4.4
11
New Image Brewing Co
Dyad
Wild Beer
Sour Kombucha Ale - Dyad is a mixed culture sour ale fermented with brettanomyces and lactobacillus then blended with raw kombucha.
7.5
5
New Image Brewing Co
East Coast Transplant
American-Style India Pale Ale
American Double India Pale Ale - big boozy backbone, tropical hops and fruity yeast character round out a heavily hopped beer for a smooth drinking experience
8.5
65
New Image Brewing Co
Melanoidin - Cuban Coffee
American-Style Stout
Cuban Coffee Stout - this version of our rotating coffee stout, Melanoidin, features the intense flavors of dark roasted coffee with a thick, sweet body and subtle vanilla
6.5
25
New Image Brewing Co
One More Time
American-Style India Pale Ale
Double Dry Hopped NE IPA - One More Time is the remake of our famed anniversary IPA brewed with 8 LBS/BBL of Mosaic, Citra and Columbus hops.
7.8
65
New Image Brewing Co
Paul
American-Style Pale Ale
Vermont Pale Ale - Paul is our take on a larger than life American Pale Ale with 6.5 LBS per BBL of Centennial, Simcoe, Chinook and Columbus hops.
5
85
New Sarum Brewing
142 Blonde Ale with Grits
Field Beer
Grits is a southern tradition & New Sarum incorporated this ingredient into this creation. Teaming up with local NC establishments, Miknik Farms & Riverbend Malt House, the local grits & grain provide this this beer its distinctive easy to drink flavor.
5.5
29
New Sarum Brewing
Bell Tower Honey Nut Brown Ale
American-Style Brown Ale
This imperial Brown ale is brewed with Fire Toasted Almonds and Wild Flower Honey. The combination of these ingredients produces a beer built for the Autumn!
8.6
30
New Sarum Brewing
High Rock Red Ale
English-Style Extra Special Bitter
This innovative Red Ale was created with the use of Marris Otter and Rye, imparting a light biscuit flavor & spice note. The addition of English all hops to this creation yields enjoyable sweet hop flavors and aromas.
6
33
New Sarum Brewing
Hurley Park Blood Orange Wheat
Fruit Wheat Beer
Red and pale malted wheat, aromatic hops, lemon grass and orange peel gives this ale a unique twist on classical wheat beers. The addition of blood oranges late in the brewing process yields an unmistakable conflict of sweet & tart.
6
32
New Sarum Brewing
Lemon Balm and Beet Hoppy Wheat
Herb and Spice Beer
This very unique creation is brewed with locally sourced Lemon Balm and Beets! We then dry hopped two times with Citra to give this thing amazing aromatics.
6.5
32
New Terrain Brewing Company
Abound Brown
American-Style Brown Ale
American brown ale
0
0
New Terrain Brewing Company
Against the Currant
American-Style Sour Ale
American sour ale with black currant added
0
0
New Terrain Brewing Company
Golden Haze
American-Style India Pale Ale
New England style IPA
0
0
New Terrain Brewing Company
Hoppatropica
International-Style Pale Ale
Pale ale with bright fruit hop character
0
0
New Terrain Brewing Company
Suntrip Wit
Belgian-Style Witbier
Belgian style witbier
0
0
Night Shift Brewing Inc
Annie Oatley
American-Style Pale Ale
American Pale Ale Brewed With Oats
5
0
Night Shift Brewing Inc
Matisse
Specialty Saison
Traditional Saison
0
0
Night Shift Brewing Inc
Passion Weisse
Berliner-Style Weisse
Mixed Fermentation Sour Ale Aged With Passion Fruit
4.1
0
Night Shift Brewing Inc
Santilli
American-Style India Pale Ale
American India Pale Ale
6
0
NOBO Brewing Company
Basil IPA
Herb and Spice Beer
This has been with us since the beginning and had to be one of our Core beers! This beer has a bold Basil aroma and a light bitterness with a flavorful malt backbone which makes this very smooth and easy drinking. Pair with a margherita pizza!
7.2
0
NOBO Brewing Company
Blackstrap Imperial Stout
Historical Beer
Molasses based Imperial Stout that pays homeage to the early days of brewing in the United States by using all types of fermentable sugars. Complex with very little booziness.
12
73
NOBO Brewing Company
French Vanilla Coffee Pot Porter
Robust Porter
Porter with house roasted coffee, a dose of lactose and hand sliced Madagascar vanilla beans.
6.5
33
NOBO Brewing Company
Old School Hefe
South German-Style Hefeweizen
A tradional Bavarian Hefeweizen made with a 50:50 ratio of 2 row and wheat malt and uses a true Hefeweizen yeast that gives it a perfect balance of banana and clove.
5.5
15
NoDa Brewing Co
Boba Brett
American-Style Sour Ale
Our base beer in our new Sour Program. This complex but drinkable sour is filled with flavors of tropical fruit, funk and tartness without being too tart on the finish.
7.4
5
NoDa Brewing Co
Hop Drop n' Roll
American-Style India Pale Ale
Our 2014 World Beer Cup Gold Medal American IPA. Balanced malt body allows for a showcase of hops in the form of Citra, Amarillo, Centennial, Chinook and Warrior.
7.2
81
NoDa Brewing Co
NoDaJito
Herb and Spice Beer
Our 2016 GABF Gold Medal Herb/Spice Beer. This Belgian Wit base is a great hot weather drinking ale accented with Mojito inspiration in the form of Spearmint and Key Lime.
4.9
18
NoDa Brewing Co
Pitmaster Smoked Wheat
Grodziskie
Our take on a Polish Gratzer or Smoked Wheat Ale. This easy drinking ale boast a smooth smokey aroma and flavor from Weyermann Smoked Wheat Malt which makes up over 85% of the grain bill.
4
11
Noon Whistle Brewing Company
Bernie
Sweet Stout or Cream Stout
Dark and delicious with a full body. A slight sweetness with hints of chocolate and roasted barley. A great beer that is rich and complex but not too filling.
5
20
Noon Whistle Brewing Company
Blue
American-Style India Pale Ale
A nicely balanced IPA using Simcoe and Mosaic hops. It has a color of a golden ray of sunshine and can only be described as dubiously delicious.
7.3
52
Noon Whistle Brewing Company
Gummypocalypse
American-Style India Pale Ale
A hazy IPA with a massive amount of Citra, Simcoe and El Dorado hops. It has tropical aromas and very juicy flavors. The hops are plentiful but the bitterness is not.
8.2
0
Noon Whistle Brewing Company
High Falutin
Traditional Scotch Ale
Rich and malty with intense caramel flavors. Bold upfront with some undertones of dried fruits in the finish.
8.5
24
Noon Whistle Brewing Company
S-Punk
American-Style India Pale Ale
Bright Golden IPA bursting with Passion fruit and berry aromas from Simcoe hops.
5
45
North By Northwest Restaurant and Brewery
Maple Falls
Strong Ale
A complex malty beer with a semi-sweet finish. Notes of caramel, biscuit, fruit, and dark cherry are apparent.
8
30
North By Northwest Restaurant and Brewery
Northern Light
German-Style Heller Bock/Maibock
Perfect touch of Hallertau hops in tandem with German Pilsner malt create this classic, clean, and crisp German Helles.
5
12
North By Northwest Restaurant and Brewery
Pink Cashmere
Belgian-Style Gueuze Lambic
Hazy, tart, sour, and blackberry flavors, along with a mild salty characteristic, make this a delightful and easy-to-drink
3.8
8
North By Northwest Restaurant and Brewery
Red Zeppelin
Irish-Style Red Ale
Malty, yet light with a hint of roast malt make this beer enjoyable, session-able, and true to its style.
4.6
17
North By Northwest Restaurant and Brewery
Splintercat
British-Style Imperial Stout
Flavors and aromas of roast, chocolate, malty sweetness, and coffee dominate this dark Imperial Stout. It's not for the faint of heart.
10.5
52
North Country Brewing Co. LLC
Buck Snort Stout
American-Style Stout
Buck Snort Stout features bold dark and roasted malt character that is heavily aromatic with abundant American hops.
0
0
North Country Brewing Co. LLC
Lavender Abbey Ale
Belgian-Style Pale Strong Ale
Belgian style ale using lavender during the boil and conditioning, giving the beer a hint of lavender in the aroma and a unique dry finish.
0
0
North Country Brewing Co. LLC
Station 33 Firehouse Red
Irish-Style Red Ale
This red is a rich, malty, ruby-colored ale with a smooth finish
0
0
Novo Brazil Brewing Company
Corvo Negro
American-Style Imperial Stout
Our World beer cup bronze winner Corvo Negro (black raven) gushes with aroma of coffee, cocoa, caramel and vanilla. Rich lasting intensity on the palate.
11
80
Novo Brazil Brewing Company
Ipanema
Imperial India Pale Ale
A massive whirlpool additions and double dry-hopped of amarillo, city, mosaic and Galaxy gives ipanema DIPA a juicy, smooth bitterness and vivid, tropical aroma.
8.2
72
Novo Brazil Brewing Company
Samba Haze
American-Style India Pale Ale
Samba Haze will flood your senses with its tropical bouquets and flavors! Just as a falling ripe fruit it need to be freshly enjoyed.
6
52
Novo Brazil Brewing Company
The Mango IPA
American-Style India Pale Ale
Enjoy the freshness of mango orchard! this delicious beer is a tempting merge of a san diego IPA excellence and mango topicality. no one better them novo brazil to bring you this unique experience.
7
55
Oak Park Brewing Company
Betty's Wit
Belgian-Style Witbier
Brewed in the traditional style of a wit with raw wheat, orange peel, and coriander, and then some rose hips added as well to pay homage to Oak Park's most famous Betty.
4.6
12
Oak Park Brewing Company
Half-Timbered Kolsch
German-style Kölsch
Light and delicate. Brewed to the style of the beers native to Cologne, Germany. All the flavor of an ale with the crisp and clean finish of a lager.
4.6
23
Oak Park Brewing Company
Helles Other People
Munich-Style Helles
One of our year-round beers, this lager is a malt showcase. Perfect for toasting.
5
16
Oak Park Brewing Company
Oak Parker Fest
German-Style Oktoberfest/Wiesn
Brewed in the style of a German Festbier, our Oktoberfest is golden and malt forward.
6.2
26
Oakshire Brewing
Brunch in Hell
Coffee Stout or Porter
Russian Imperial Stout aged in oak brandy barrels. Conditioned on maple syrup and single origin Brazilian Conquesta coffee
14
20
Oakshire Brewing
Citrafonix IPA
American-Style India Pale Ale
IPA with orange peel and grapefruit and lime juice
6.3
65
Oakshire Brewing
Fruit Farm with Pinot Noir Grapes
Mixed-Culture Brett Beer
Open fermented and oak conditioned farmhouse style ale. Re-fermented with estate grown Pinot Noir grapes from Oregon's Iris Vineyards
7.2
6
Oakshire Brewing
Sun Made Blackberry Berliner Weisse
American-Style Sour Ale
American Sour ale brewed in the Berliner Weisse style. Re-fermented with Oregon grown Marion Blackberries
4
12
Oakshire Brewing
X: Tenth Anniversary Cuvee Blend
Mixed-Culture Brett Beer
Cuvee blend of three threads of oak-aged farmhouse ale; farmhouse golden with white wine grapes, Brett table farmhouse ale, and Biere de Garde. Blended for our tenth anniversary
5.5
20
Oasis Texas Brewing Company
London Homesick Ale
Ordinary Bitter
The winner of GABF gold in 2014 in the Ordinary/Premium Bitter category. Brewed as a traditional English pub ale. Distinct biscuit flavor of Maris Otter and Challenger hops make for a natural session beer.
4.9
27
Oasis Texas Brewing Company
Luchesa Lager
Unfiltered German-Style Lager
A German-style kellerbier, unfiltered and young, in the style of a German-style pilsner. Czech pilsner malt lends a round sweetness, balanced with the sharp bitterness of a young lager.
48
30
Oasis Texas Brewing Company
MegaModern Double IPA
Imperial India Pale Ale
This Double IPA, at 9.7%ABV, uses raw Texas heirloom red wheat for a natural haze and body. Dry hopped three times with a blend of Citra, Mosaic, Moteuka, Amarillo and others.
9.7
100
Oasis Texas Brewing Company
MetaModern Session IPA
Session India Pale Ale
Our signature session IPA, dry-hopped with Citra and Mosaic. Light in color, well-balanced and refreshing.
4.5
45
Oasis Texas Brewing Company
You May All Go to Helles, And I Will Go To Texas
Munich-Style Helles
Traditional Helles lager, brewed with Czech Pilsner malt, Hallertau Blanc and an Oktoberfest yeast strain, lagered for 2 months. No guff.
4.7
18
Odd13 Brewing Inc
Codename: Superfan
American-Style India Pale Ale
Codename: Superfan is a deliciously modern take on the American IPA style, brewed with a variety of juicy hops from the American Northwest.
6.5
0
Odd13 Brewing Inc
Hopperella
American-Style India Pale Ale
Hopperella is an IPA first brewed to celebrate our third anniversary. It features hops that impart orange-like flavors and aromas: Galaxy, Citra, El Dorado and Centennial.
7
0
Odd13 Brewing Inc
n00b
American-Style Pale Ale
n00b is a hazy pale ale hopped with mosaic and El Dorado. The hops impart flavors of candied orange, blueberry and tangerine.
6
0
Odd13 Brewing Inc
Sheriff Shane Sherman the Solera Cyborg
Wood- and Barrel-Aged Sour Beer
Sheriff Shane Sherman is a pale base, fermented with several strains of Brettanomyces and lightly soured. Extended aging in a foeder contributes subtle oak and brings out subtle notes from the Brett.
6.6
0
Odd13 Brewing Inc
Vincent Van Couch
American-Style Sour Ale
Vincent Van Couch is a kettle sour fermented with wild yeast and dry hopped with citra and mosaic. The result is a highly refreshing, moderately acidic beer with fruity hop flavors.
4.7
0
Odell Brewing Co
Drumroll
American-Style Pale Ale
A drumroll fills you with anticipation—much like the notes in this American pale ale. Each year we select the rock-star hops of the harvest to craft this bold, juicy, tropically hop-forward brew, drumming up a citrus-inspired rhythm for what's to come.
5.3
47
Odell Brewing Co
Myrcenary
Imperial India Pale Ale
Named for Myrcene, a component of essential oils in the hop flower, Myrcenary Double IPA is our tribute to those who revere the illustrious hop. this double IPA prevails with a tropical fruit-like flavor, a pungent floral aroma, and a clean getaway
9.3
70
Odell Brewing Co
Odell - Avery Collaboration Stout
Wood- and Barrel-Aged Strong Stout
On-site blended beer only for GABF! One white stout from Odell's and one dark stout from Avery come together in synergistic harmony as our two teams combine to create a big, delicious stout with notes of coffee, oak, and bourbon.
11
40
Odell Brewing Co
Odell IPA
American-Style India Pale Ale
Odell IPA produces aromas of grapefruit and fresh hops, and a flavor profile of tangerine, peach, and pine. The hoppy flavors abound, while still balanced with a solid malt backbone.
7
60
Odell Brewing Co
Rupture
American-Style Pale Ale
Rupture is a Fresh Grind Ale, where we take whole flower hops, rupture the lupulin glands with a hammermill on-site, then immediately use those hops in the brew.
6
37
Odell Brewing Co
Sunny Rain
Experimental Beer
Sunny Rain has bright hop aroma balanced with a slightly tart citrus-like character. Aromas of peach and apricot burst from the glass in this dry-hopped golden tart.
6
23
Odell Brewing Co
Ten Paces
Belgian-Style Fruit Beer
Drawing on the natural tartness of the huckleberries, this American-Style Wild Ale features a unique blend of yeast strains that produce a complex aroma of tropical fruit and clove like spiciness while accentuating the deep fruit flavors.
6.5
12
Odell Brewing Co
Whiskey Barrel Aged Lugene
Wood- and Barrel-Aged Strong Stout
Whiskey Barrel Aged Lugene is an imperial stout brewed with dark chocolate and lactose, then aged for six months in freshly emptied Woody Creek Rye Whiskey barrels, resulting in a rich, chewy stout with hints of molasses, chocolate, bourbon and oak
10.5
18
Odyssey Beerwerks
Fluffy Pumpkin Toasted Marshmallow Pumpkin Porter
Pumpkin Spice Beer
Brewed with ample amounts of roasted pumpkins, select seasonal spices, vanilla and marshmallow, Fluffy Pumpkin hits the spot for those of us longing for both the holiday table and the campfire ring. This beer isn't around for very long, so indulge and reac
6
28
Odyssey Beerwerks
Heliocentric Hefeweizen
South German-Style Hefeweizen
Find within this well-carbonated beer hints of clove and a light banana flavor that is always present. Flowery German hops linger in the background. The result is a great beer on a sunny day.
5.5
12
Odyssey Beerwerks
Palm Tree Pilsner
German-Style Pilsener
An homage to the islands, with a flourish of spicy hops and a deep malt character, this Pilsner is crisp and refreshing. Best consumed while wearing shades and basking on the beach.
4.8
39
Odyssey Beerwerks
Woods Monk Barrel Aged Quad
Wood- and Barrel-Aged Strong Beer
Rich imported malts provide body, sweetness and depth to its strength. Fermented with a monastic strain of yeast, Woods Monk is bursting with complex yeast aromas of dark fruit, brown sugar and subtle spice.
10
31
Oggi's Sport Brewhouse Pizza
#21 Grapefruit Session IPA
American-Style India Pale Ale
Bittersweet grapefruit flavors complement a piney and citrus hop dominated beer. A hop bomb of an IPA with a decreased alcohol level and a lighter body.
4.5
41
Oggi's Sport Brewhouse Pizza
California Gold
Golden or Blonde Ale
A hint of Vienna malt adds body and flavor while preserving the light color. Light Sterling hops add a bit of spice in the aroma to give this Blonde Ale its subtle, drinkable quality.
4.5
14
Oggi's Sport Brewhouse Pizza
Hoppily Ever After
American-Style India Pale Ale
romas of citrus, grapefruit, tangerine, and pine from the generous use of Mosaic hops. A subdued malt bill allows the hop flavors to dominate. Medium to high bitterness with a dry finish.
6.5
55
Oggi's Sport Brewhouse Pizza
McGarveys Scottish Ale
Scottish-Style Export Ale
Scottish-style Ale is brewed with small amounts of dark grains for color and flavor. By mashing in at a higher temperature the beer receives a hint of sweetness.
5.2
21
Oggi's Sport Brewhouse Pizza
The Daily Grind Coffee Cream Ale
American-Style Cream Ale
This beer is a gold in color with a coffee, milk chocolate and hazelnut aroma. Light in body, crisp, refreshing, and very drinkable.
4.7
16
Olde Hickory Brewery
Death by Hops
American-Style India Pale Ale
71lbs of high alpha hops were used to make this beer. Chinook, Columbus, Simcoe, Centennial and Cascade hops (twice dry hopped with different combinations of these hops). 2 Row barley, Carapils and Crisp Crystal 45 malts.
7
108
Olde Hickory Brewery
Irish Walker
British-Style Barley Wine Ale
English-style barleywine with a full body, deep mahogany color and malty finish with a pronounced fruity quality. Irish Walker is dry hopped with a generous amount of English hops yielding a wonderfully spicy hop bouquet and flavor with less bitterness.
10
60
Olde Hickory Brewery
Ruby Lager
American-Style Amber Lager
A deep amber hue invokes a refreshing taste in this smooth brew. Slightly nutty, Ruby Lager has a dry finish, leaving one with a satisfying, warm glow, reminiscent of Ruby's color.
4
20
Olde Hickory Brewery
The Event Horizon
Wood- and Barrel-Aged Strong Stout
Imperial stout aged in oak bourbon barrels, from several bourbon varieties, and blended. Dark and rich with bourbon flavors.
8.5
50
Open Door Brewing Company
#Caychel
Light American Wheat Beer with Yeast
Hoppy Wheat featuring El Dorado
5.8
55
Open Door Brewing Company
Citrasaurus Rex
American-Style India Pale Ale
Citrusy New England IPA
6.4
55
Open Door Brewing Company
Libertas
American-Style Cream Ale
Pre-Prohibition Rye Cream Ale
5
35
Open Door Brewing Company
Over The Moon
Sweet Stout or Cream Stout
Vanilla Milk Stout
5.6
33
Open Door Brewing Company
Short Arm
American-Style India Pale Ale
Cretaceous IPA
6
65
Oskar Blues Brewery & Tasty Weasel Tap Room
Barrel Aged Death by Coconut
Wood- and Barrel-Aged Strong Beer
Barrel Aged intense pure liquid cacao flavors swirl with popping coconut aromas, all supported by a semi-sweet porter made from loads of our dark chocolate and extra dark caramel malt.
10.84
25
Oskar Blues Brewery & Tasty Weasel Tap Room
Barrel Aged Ten Fidy
Wood- and Barrel-Aged Strong Stout
Aged through four seasons & from a blend of the top Bourbons around, this Ten Fidy has morphed into a monster of cranked up flavor. Espresso, burnt sugar, rich chocolate, caramel notes are now driving alongside the vanilla, oak & bourbon from the barrel.
12.9
75
Oskar Blues Brewery & Tasty Weasel Tap Room
Beerito
Vienna-Style Lager
a light bodied, amber Mexican lager brewed with premium German and coloRADo sourced craft malts and featuring a crisp accent from noble hops. The mouth feel is incredibly smooth with flavors of walnut, toasted bread, plum, honey and cocoa.
4.5
21
Oskar Blues Brewery & Tasty Weasel Tap Room
Dale's Pale Ale
American-Style Pale Ale
THIS VOLUMINOUSLY HOPPED MUTHA… delivers a hoppy nose and assertive-but-balanced flavors of pale malts and citrusy floral hops from start to finish.
6.5
65
Oskar Blues Brewery & Tasty Weasel Tap Room
G'Knight
Imperial Red Ale
Our 'Velvet M-80' is a hefty, dry hopped double-red ipa with a nose full of aroma, a sticky mouthfeel, a malty middle and unctuous hop flavors. G'Knight sports a surprisingly sensuous finish for a beer of its size.
8.7
60
Oskar Blues Brewery & Tasty Weasel Tap Room
Hotbox Coffee Porter
Coffee Beer
This Porter is based on malt flavors of roasted nuts, creme brulee, cocoa & caramel extracted from English & German roasted & caramel malts. Hotbox Roasters cold-extracted coffee adds flavors of dark plums, chocolate & hints of blueberry.
6.4
30
Oskar Blues Brewery & Tasty Weasel Tap Room
IPA
American-Style India Pale Ale
Malt barley and red wheat combine to create a clean malt backbone with foolproof flavor and mouthfeel to support the main act of Enigma, Vic Secret, Ella, Topaz and Galaxy hops. Headline notes of passion fruit, raspberries, pineapple & citrus.
6.43
70
Oskar Blues Brewery & Tasty Weasel Tap Room
Mama's Little Yella Pils
Bohemian-Style Pilsener
An uncompromising, small-batch version of the beer that made Pilsen, Czech Republic, famous. Unlike mass market' "pilsners'" diluted with corn and rice, Mama's is built with 100% pale malt, German specialty malts, and Saaz hops.
5.3
35
Oskar Blues Brewery & Tasty Weasel Tap Room
Old Chub
Traditional Scotch Ale
This jaw-dropping Scottish strong ale is brewed with bodacious amounts of malted barley and specialty grains, and a dash of beechwood-smoked malt. Old Chub features semi-sweet flavors of cocoa and coffee, and a wee-bit of smoke.
8
25
Oskar Blues Brewery & Tasty Weasel Tap Room
Pinner
Session India Pale Ale
This drinkable IPA uses several varieties of hops to target the ever-evolving flavor. With tropical fruits, citrus juices, pineapple and spice berry up front in the aroma and flavor, the biscuit & toasted bread at the back balance out all the hops.
4.9
35
Oskar Blues Brewery & Tasty Weasel Tap Room
Ten FIDY
Export Stout
This titanic, immensely viscous stout is loaded with flavors of chocolate-covered caramel and coffee and hide 65 IBUs underneath the smooth blanket of malt. Made with enormous amounts of two-row malt, chocolate malt, roasted barley, flaked oats & hops.
10.5
65
Our Mutual Friend Brewing
Camisado Cream Ale
American-Style Cream Ale
A crisp, clean, standard cream ale.
5
0
Our Mutual Friend Brewing
Saison Trystero
Brett Beer
Standard brettanomyces saison
6.6
0
Our Mutual Friend Brewing
Sur Framboise
Fruited American-Style Sour Ale
Sour Belgian wit with raspberries
7.3
0
Our Mutual Friend Brewing
Weirding Way
Brett Beer
Citra dry-hopped brettanomyces saison
7.6
0
Packinghouse Brewing Co The
Black Beauty Cream Stout
Sweet Stout or Cream Stout
the darkest of our core beers, Black and silky, but still exceptionally easy drinking. Chocolate and coffee flavors and a creamy mouth-feel finishes smooth and slightly sweet.
5.1
20
Packinghouse Brewing Co The
Nighthawk American Pale Ale
American-Style Pale Ale
An American pale ale, with the addition of rye malt to add a spicy crispness.
5.3
0
Packinghouse Brewing Co The
Riley's Irish Red
Irish-Style Red Ale
2016 GABF medal winner! Deep reddish copper in color, caramel like aroma. An easy drinking, medium bodied ale. Smooth clean and refreshing.
5.3
15
Paducah Beer Werks
Dark Knowledge
Robust Porter
A full-bodied brew — roasted, malty aroma with a velvety roast coffee/ dark chocolate flavor and slightly bitter finish. Taste this dark brown brew and see what's been missing in your regular porters.
6.4
47
Paducah Beer Werks
Irish Red
Irish-Style Red Ale
Made with toasted malts and minimal hops--with a smooth/ even flavor, no bitterness and a sweet finish. The award-winning flagship of Paducah Beer Werks, it's the go-to brew.
5.2
12
Paducah Beer Werks
Traditional English Pale Ale
American-Style Pale Ale
A classic pale — with a light golden color plenty of citrus aroma and a smooth hop forward flavor. A solid beginning for aspiring hopheads.
4.6
38
Pair O' Dice Brewing Company
Clearwater Honey Cream
Honey Beer
Similar to an American light lager, the Clearwater Honey Cream is light, crisp, and refreshing. It is brewed with local, Florida orange blossom honey and orange peel. The beer has a nice honey aroma and flavor while still bring crisp, dry, and drinkable.
5
9
Pair O' Dice Brewing Company
Hop Bet Red IPA
Double Red Ale
A hoppy American red ale, the Hop Bet Red IPA is a malt forward IPA. It is brewed with lots of caramel malts and is hopped like an IPA. The hops balance out the sweet caramel malts to create a complex yet balanced hoppy red ale.
6.5
50
Pair O' Dice Brewing Company
Little Joe Stout
Oatmeal Stout
An American oatmeal stout, the Little Joe Stout is a velvety and surprisingly easy to drink stout. It is brewed with copious amounts of oats, chocolate and caramel malts. The beer has a medium body and notes of dark chocolate and roasted coffee.
6.3
25
Pair O' Dice Brewing Company
Lowball IPA
Session India Pale Ale
A light bodied hop forward IPA, the Lowball IPA is the perfect Florida IPA. It is brewed with 100% Mosaic hops. The beer has a citrusy and piney aroma and flavor while still bring dry and drinkable.
5
55
Pair O' Dice Brewing Company
Lucky Lucy Strawberry Blonde
American-Style Fruit Beer
A fruit forward blonde ale, the Lucky Lucy Strawberry Blonde is light, fruity, and refreshing. It is brewed with local Plant City, Florida strawberries. The beer has a nice strawberry aroma and flavor while still being dry, refreshing and drinkable.
5.5
10
Pariah Brewing Company
Clearly Juice DIPA
Imperial India Pale Ale
Double India Pale Ale brewed with Mosaic lupulin powder, Mosaic, Simcoe and Columbus hops.
8.8
77
Pariah Brewing Company
Dank Drank IPA
American-Style India Pale Ale
Hop-bursted India Pale Ale.
6.6
66
Pariah Brewing Company
Dorcha Extra Stout
Coffee Stout or Porter
Stout brewed with molasses, cocoa nibs & a proprietary blend of Pariah coffee from Bird Rock Coffee Roasters in La Jolla, CA.
7.2
31
Pariah Brewing Company
Erotic City
Herb and Spice Beer
Ale brewed with honey, muscat grapes & grains of paradise.
9
20
Pariah Brewing Company
Off White Wit
Belgian-Style Witbier
Belgian-Style Witbier brewed with honey, green tea, lemongrass, orange peel & ginger.
5.4
15
Payette Brewing Co
Imperial Pistolero Barrel Aged Porter\t
Wood- and Barrel-Aged Dark Beer
Think of Barrel Aged Imperial Pistolero as the bigger, burlier amigo of our year-round Pistolero offering. Pitch black in color, this robust beer is very smooth with a chocolate and caramel sweetness, hints of cherry and fig.
8
13
Payette Brewing Co
Oktoberfest Marzen Lager
American-Style Maerzen/Oktoberfest
Here's our take on the classic Marzen Style Lager, for the original festival that celebrates beer - with beer. Our Oktoberfest goes well with sauerkraut, brauts and a pair of lederhosen. It has a rich body, smooth flavor and notes of sweet caramel malt
5.9
10
Payette Brewing Co
One in the Chamber Imperial India Pale Ale
Imperial India Pale Ale
Dubbed "dangerously drinkable" by Payette's Head Brewer, One in the Chamber packs some serious hop flavor. Enjoy the explosion of citrusy-orange aromas courtesy of a unique hop blend and aggressive hop flavors. Careful, at 9.7% it drinks smooth
9.7
96
Payette Brewing Co
Ooskie India Pale Ale
Session India Pale Ale
Ooskie is a delicious and spicy India Pale Ale. Right off the nose, this beer is super resinous and pinky. It's a beer that has everything that is good and nothing that is bad. Its massive spicy notes keep its body light and uniquely refreshing.
60
6
Payette Brewing Co
Rodeo Citra Pale Ale
American-Style Pale Ale
Unlike a real rodeo, the aroma or passion fruit, peaches and mangos gills the air with this sessionable ale. Rodeo is a single-hop rye pale-style beer. Citra hops give it a tropical fruit nose and flavor with a spicy, rye kick.
4
35
Peak To Peak Tap & Brew
Fire & Ice Green Chile Ale
Chili Beer
Green chile aroma and flavor, but no burn! Toasted pine nuts were added to this ale, along with Citra & Cascade hop additions.
6.2
29
Peak To Peak Tap & Brew
Gallagher Watermelon Blonde
American-Style Fruit Beer
Light, refreshing and made with 30 pounds of watermelon.
4.7
19
Peak To Peak Tap & Brew
London Borough Brown Ale
English-Style Brown Ale
A traditional recipe of Maris Otter malts, chocolate oats and Fuggle hops.
4.9
19
Peaks N Pines Brewing Company
Backcountry Brown
English-Style Brown Ale
Roasty, nutty flavor profile with right amount of hop character.
6.5
26
Peaks N Pines Brewing Company
Blizzard Pilsner
Bohemian-Style Pilsener
Sweet, balanced pils with very good complement of hoppyness. Clean lager, no unexpected, unwanted flavors
5.2
44
Peaks N Pines Brewing Company
Ginger not Mary Anne
American-Style Amber/Red Ale
Brewed with lots of fresh ginger, nice ginger balance with hops
6.4
21
Peaks N Pines Brewing Company
Hopaloranja
American-Style India Pale Ale
Well balanced citricy orange IPA
7
64
Peaks N Pines Brewing Company
Marzen
German-Style Maerzen
Wonderful malt backbone, not overpowering. Clean crisp lager.
5.7
27
Periodic Brewing LLC
Bleidorf Kolsch
German-style Kölsch
A Kolsch-style with depth and balance. Brewed using the Hoch-Kurz mash process and a complicated fermentation schedule. Liquid cracker and cereal.
5.5
30
Periodic Brewing LLC
Hope Pass IPA
American-Style India Pale Ale
Smooth and hoppy don't often show up in the same beer. Hope is both with a clean bitterness and big aromatics from Simcoe, Centennial and Cascade dry-hopping.
7.6
76
Periodic Brewing LLC
Periodic Marzen Oktoberfest
German-Style Maerzen
Big malty lager as an old-school Oktoberfest. Bronze for all Lager at 2016 All Colorado Beer Festival
6.3
22
Periodic Brewing LLC
Premyslid Pilsner
Bohemian-Style Pilsener
Throwback Bohemian (Czech) Style Pilsener. Balanced malt and Saaz hop. Floral and earthy.
4.8
31
Periodic Brewing LLC
Tourmaline Black Ale
American-Style Black Ale
Born from our Black DIPA out of a bad brew day, stark black and malty with Amarillo hops to make a very drinkable American Black
7.8
37
Perrin Brewing Company
Bullet Tooth
Wood- and Barrel-Aged Strong Stout
Rum barrel aged Russian Imperial Stout with deeply complex notes of roast, dark fruit and baker's chocolate.
9.5
60
Perrin Brewing Company
Casear's Gimp
Imperial Red Ale
A hybrid Imperial Red Ale fermented with Cabernet Sauvignon grape juice and then aged in California Merlot oak wine barrels.
13.2
35
Perrin Brewing Company
No Rules
Wood- and Barrel-Aged Strong Stout
This 15% Vietnamese Imperial Porter was made with coconut & turbinado sugar then laid down & aged in bourbon barrels for several months.
15
56
Perrin Brewing Company
Passionfruit Gose
American-Style Sour Ale
Brewed with Australian Ella hops; Hawaiian pink sea salt contributes to the lightly salty element of the beer, and balances perfectly against a flavorful hint of passion fruit.
4.3
36
Perrin Brewing Company
Tangerine Dream
American-Style Sour Ale
Kettle soured and dry hopped creating a light body, sweet tangerine, tropical fruits, and subtle tartness.
4.6
16
pFriem Family Brewers
Extra Pale
American-Style Strong Pale Ale
Fruity scents of melon and pineapple, and the juicy essence of strawberry and gooseberry make pFriem Extra Pale Ale taste great, but it's the big hoppy aroma and full flavor that makes it 'Extra.'
6.5
45
pFriem Family Brewers
Frambozen
Belgian-Style Lambic
Take a sniff of our raspberry Lambic-inspired ale, pFriem Frambozen, and huge perfumy aromas of fresh fruit will tease your nose. Take one sip and your taste buds will be embraced by the flavors of lavender and fresh jam before the tart, prickly finish.
5.7
6
pFriem Family Brewers
Mexican Lager
American-Style Lager
Our light and crisp reinvention is brewed with malted barley and corn, with smells of orange blossom and a faraway Mexican beach. Like the lagers that inspired us, pFriem's Mexican Lager will leave you wanting another, and another…
4.4
17
pFriem Family Brewers
Pilsner
German-Style Pilsener
The story of pFriem Pilsner starts in the Pacific Northwest where it acquires the aroma of fresh grass and flowers and a touch of honey. While there are no monks involved in this pilsner, there is still a crisp and spicy finish.
4.9
38
pFriem Family Brewers
Pruim
Wood- and Barrel-Aged Sour Beer
pFriem's Prium is a fruit-forward Lambic-inspired ale with a modern plummy twist. Made with juicy, sweet Brooks and Italian plums from our friends at Sherwood Orchards. Rounded out by rosy hits of lavender and white spring flowers.
6.3
6
Phantom Canyon Brewing Co
DOS LUNAS MEXICAN LAGER
American-Style Lager
Our take on the crisp, light gold colored lagers of Mexico. It's a light flavored beer that has mildy sweet maltiness and just a kiss of hops.
4.5
11
Phantom Canyon Brewing Co
EWAN MCTEAGLE'S SCOTTISH ALE
Scottish-Style Export Ale
A Scottish-style export ale that has a nice malty flavor with hints of dark barley and caramel. It's an easy-drinking beer with subtle, yet balanced hops.
5.4
22
Phantom Canyon Brewing Co
JOHNSON'S FARM TART RASPBERRY ALE
American-Style Fruit Beer
This ale was both sour mashed and kettle soured to produce a tart and refreshing beer. After fermentation it was aged on 480 pounds of raspberries giving it a pink color and enticing fresh berry flavor.
6.1
13
Pinthouse Pizza North
ATX Pale Ale
American-Style Pale Ale
Fruity and dank hop aroma, crisp finish 
5.5
0
Pinthouse Pizza North
Fully Adrift
Imperial India Pale Ale
Passion fruit, fruity, dank and pungent hops
10.5
0
Pinthouse Pizza North
Fully Awake
Imperial India Pale Ale
Coffee Infused Fully Adrift
10.5
0
Pinthouse Pizza North
Man O' War
American-Style India Pale Ale
Citrus, cattiness, and a balanced finish
6.5
0
Pinthouse Pizza North
Training Bines
American-Style India Pale Ale
Dank, fruity and a balanced body
7
0
Pinthouse Pizza South
Electric Jellyfish
American-Style India Pale Ale
Juicy citrus, tropical fruit, and a refreshing balanced bitterness
6.5
0
Pinthouse Pizza South
Lil' Sebastian
Belgian-Style Witbier
Sweet orange, peppery and fruity esters, rustic grain
5.7
0
Pinthouse Pizza South
Nomura Imperial Jellyfish
Imperial India Pale Ale
Tropical fruit, catty, and juicy
10
0
Pinthouse Pizza South
Road to Nowhere
American-Style India Pale Ale
Resinous, dank, and juicy citrus
9
0
Pinthouse Pizza South
What The [email protected]&% Is Juice
American-Style India Pale Ale
Tropical fruit, juicy dankness, soft pillowy mouthfeel
7
0
Platt Park Brewing Co.
Gumps Vienna Lager
German-Style Maerzen
V-M-O
5.5
18
Platt Park Brewing Co.
Phaded Pale Ale
American-Style Pale Ale
get phaded
5
44
Platt Park Brewing Co.
Velvet Ninja
German-Style Schwarzbier
Germanic Black Lager
5
20
Platt Park Brewing Co.
Watermelon Berliner Weiss
Berliner-Style Weisse
Classic Berliner style done with watermelon
4
22
Pleasure House Brewing
Liquid Communication
Belgian-Style Tripel
Formerly known as Pope's Holiday ale, this updated Tripel has been very well received. Drew changed it from Abbey to Monastery (aka Trappist) yeast and tweaked the recipe to make it a touch sweeter and more complex.
9.2
0
Pleasure House Brewing
Red Mill Seven
American-Style Amber/Red Ale
Red Ale
6.2
0
Pleasure House Brewing
Shark Tears
Contemporary Gose
Our first kettle-soured beer, this Gose is firmly tart before the salt and a hint of fruitiness make the beer a refreshing delight.
4.6
0
Pleasure House Brewing
Tricks
Specialty Saison
French saison yeast gives this bone-dry beer white pepper, light citrus, and a silky mouthfeel, while cinnamon, ginger and other pie spices gently celebrate the season.
8.9
0
Pollyanna Brewing Company
Fruhauf
German-Style Maerzen
Oktoberfest Lager
5.4
23
Pollyanna Brewing Company
Fun Size
Field Beer
Milk Stout with Peanut, Vanilla Bean, Cocoa Nib, and Sea Salt.
6.1
25
Pollyanna Brewing Company
Summerly
American-Style Fruit Beer
Raspberry Wheat Ale
4.8
13
Pollyanna Brewing Company
The Full Lemonty
Golden or Blonde Ale
Golden Ale
5
20
Port City Brewing Co.
COLOSSAL 5
Old Ale
Port City's 5th Anniversary beer is a rich, full-bodied ale that pours a dark mahogany accentuated by ruby highlights. Flavors of treacle, plum pudding, and dried fruit are complemented by a subtle dry hop presence.
9.8
55
Port City Brewing Co.
COLOSSAL 6
British-Style Imperial Stout
Inky black with a tan cap, Port City's 6th Anniversary Russian Imperial Stout bursts with notes of cocoa powder, freshly roasted coffee, and leather.
10.2
65
Port City Brewing Co.
Downright Pilsner
Bohemian-Style Pilsener
Downright Pilsner is a brilliant gold lager brewed using Pilsner malt and Saaz hops. Medium-bodied with a soft, round malt profile and crisp, spicy hop character.
4.8
43
Port City Brewing Co.
Essential Pale Ale
American-Style Pale Ale
Essential Pale Ale is a deep golden color with bright aromas of summer stone fruits that leap from the glass. The first sip brings a firm bitterness, carried along by subtle sweetness and culminating in a refreshingly dry finish.
5.5
35
Port City Brewing Co.
Franconian Kellerbier
Unfiltered German-Style Lager
One of the specialties of Franconia is Kellerbier, an unfiltered, hop-forward lager. For their rendition, Port City used European malt varieties to create a medium-bodied, amber base upon which to layer noble hop character.
5.1
35
Port City Brewing Co.
Monumental IPA
English-Style India Pale Ale
Pouring a rich, clear copper with a tight white head, Monumental IPA exhibits floral aromas and flavors of citrus and pine resin, balanced by toasty, caramel malt character.
6.3
57
Port City Brewing Co.
Oktoberfest
Vienna-Style Lager
Oktoberfest is a brilliant amber lager with gently sweet flavors of crusty bread, leading to a clean, dry finish punctuated by just a touch of noble hops. Served in the keller style, this Oktoberfest is full-on authentic.
5.5
24
Port City Brewing Co.
Optimal Wit
Belgian-Style Witbier
Brewed in the traditional Belgian style, Optimal Wit is crisp and citrusy with layers of flavor that evolve in the glass.
4.9
15
Port City Brewing Co.
Porter
Robust Porter
Smooth and silky, Port City's flagship porter pours a dark mahogany with a firm cap of tan foam. The complex malt bill imparts bittersweet chocolate and coffee notes and a depth that bigger beers aspire to.
7.2
45
Port City Brewing Co.
Rauch Märzen
Bamberg-Style Maerzen Rauchbier
Brilliant copper in color, Rauch Märzen showcases German malt character, including a judicious amount of traditional beechwood-smoked malts that impart an appetizing, savory smokiness.
5.1
30
Prison City Brewing
Cyrpess Pils
American-Style Pilsener
American Pils with all German Ingredients
5.3
0
Prison City Brewing
Guavatanamo Bay
American-Style Sour Ale
Mixed Culture Sour with Guava
4
0
Prison City Brewing
Lights Out at 11
Aged Beer
Bourbon BBL Aged Imperial Stout with Vanilla Bean
11
0
Prison City Brewing
Riot IPA
American-Style India Pale Ale
NE Style - Juicy, Hazy, Hoppy
6.5
0
Prost Brewing
Dopplebock
German-Style Doppelbock
Doppelbock, Strong, dark and delicious. Crafted by Monks centuries ago to sustain them during lent. This triple decocted bier has a rich malt profile and will keep you warm on cold Winter nights.
8.9
26
Prost Brewing
Kolsch
German-style Kölsch
Kolsch, Delicate and pale with a subtle fruitiness
4.6
22
Prost Brewing
Marzen
German-Style Maerzen
Marzen, Copper in color with an abundance of Vienna & Munich malts... Fall in a glass!
5.8
24
Prost Brewing
Weisse
South German-Style Hefeweizen
German style hefeweizen, Unfiltered wheat bier with flavors of banana and clove
4.5
12
Pumphouse Brewery and Restaurant
Base Camp Stout
American-Style Stout
A special milk stout with Ozo Peruvian coffee, Madagascar vanilla beans & hand-roasted organic coconut.
6
22
Pumphouse Brewery and Restaurant
Coco-Frambozenbier
Fruited American-Style Sour Ale
Brightly tart, and slightly sweet, this beer literally tastes like a fresh raspberry dipped into chocolate. Notes of cocoa and vanilla roll into crisp raspberry tartness, and finish nutty from buckwheat and bready from Belgian yeast notes.
4.5
11
Pumphouse Brewery and Restaurant
Cucumber Kolsch
German-style Kölsch
This light German-style ale features the crisp & clean character of a lager with a touch of malty sweetness found in an ale.
4.7
18
Pumphouse Brewery and Restaurant
It's Always Cloudy IPA
American-Style India Pale Ale
Cloudy, just like the weather this time of year in New England, this easy drinking IPA is packed full of hops but low on bitterness.
5
30
Pumphouse Brewery and Restaurant
Raspberry Wheat
Fruit Wheat Beer
American Style Wheat This sessionable wheat ale balances sweet & tart, with bright raspberry aroma & a smooth wheat finish.
5
21
Pyramid Breweries / North American Breweries
Apricot Ale
Fruit Wheat Beer
Full of big, fresh apricot notes, this untraditional take on a traditional unfiltered wheat beer invigorates the body and soul with its smooth, refreshing finish.
5.1
11
Pyramid Breweries / North American Breweries
Hefeweizen
South German-Style Hefeweizen
More than just an unfiltered, smooth and refreshing ale. It's an ode to the purity of the wild Northwest and its pristine waters.
5.2
18
Pyramid Breweries / North American Breweries
Outburst Citrus IPA
American-Style India Pale Ale
Citrus Outburst has all the big hop flavor you love, but with the perfect amount of orange and tangerine peel added into the mix. Still big, still mouth wateringly hoppy, and now with a tasty, aromatic, citrusy punch that your taste buds will love.
7.5
55
Pyramid Breweries / North American Breweries
Outburst Imperial IPA
American-Style India Pale Ale
This Imperial IPA explodes with juicy hop flavors and aromas that can only be balanced by the perfect malt bill. Outburst is a big, bold and ambitious display of the style that you'll enjoy from your first hop-filled sip to your last.
8.5
80
Pyramid Breweries / North American Breweries
Pale Ale
American-Style Pale Ale
Pyramid Pale Ale represents a refreshing update on a NW classic. Amarillo® hops draw you in with bright, citrusy aromas & flavors set against a light malt body. Let its fresh, green flavor bring you to the banks of the Columbia & across the great NW.
5.7
45
Quarter Celtic Brewpub
Bruce Black IPA
American-Style India Pale Ale
n/a
0
0
Quarter Celtic Brewpub
Clark Wet Hop
Fresh or Wet Hop Ale
n/a
0
0
Quarter Celtic Brewpub
Crimson Lass
Irish-Style Red Ale
A delicate Irish Red that stands true to the tradition of the style.
6
20
Quarter Celtic Brewpub
Mangose
Historical Beer
Mango Gose
0
0
Quarter Celtic Brewpub
Pedro O'Flannigan's Mexican Lager
American-Style Amber Light Lager
n/a
0
0
Rahr and Sons Brewing Co
Angry Santa
Specialty Beer
English Dark Ale Brewed with Mulling Spices-notes of fresh vanilla, cinnamon and honey-sweet and malty-tastes like a gingerbread cookie in a glass
8
44
Rahr and Sons Brewing Co
Dadgum IPA
American-Style India Pale Ale
India Pale Ale-charged with Citra & Lemondrop hops-fresh cut pine-lively bitterness-intense fruit flavors and aromas
6.6
70
Rahr and Sons Brewing Co
Iron Joe
Wood- and Barrel-Aged Strong Beer
Oaked Scottish Ale with Coffee-roasted malt-fresh Avoca coffee-american oak-notes of chocolate & Marshmallow
8
35
Rahr and Sons Brewing Co
Midnight Cab
Specialty Saison
Imperial Black Saison Aged in California Cabernet Barrels-aged 6 months in French oak wine barrels-hints of white pepper, black tea and currants
8.5
25
Rahr and Sons Brewing Co
Mr. Wiggles
Imperial India Pale Ale
Double Dank IPA-big, bold & hoppy-notes of pine and grapefruit-malty backbone-herbal-crisp aromas
9.2
100
Rahr and Sons Brewing Co
Oktoberfest
German-Style Maerzen
Marzen Lager-full-bodied, rich & toasty-dark copper color-noble hops-malty sweetness-balanced finish
6.7
27
Rahr and Sons Brewing Co
Pride of Texas
American-Style Pale Ale
Pale Ale-medium hop bitterness-clean and crisp-balanced malt character-bright floral and citrus aromas
5.8
55
Rahr and Sons Brewing Co
Pumpkin Ale
Pumpkin Spice Beer
Brown Ale with Pumpkin-sweet, malty backbone-balanced flavors of clove, nutmeg, cinnamon and fresh pumpkin
7.8
20
Rahr and Sons Brewing Co
Rahr's Blonde
Munich-Style Helles
Helles Lager-bright and crisp-light body with a mild clean finish-subtle malt complexity
5
20
Rahr and Sons Brewing Co
The Regulator
German-Style Doppelbock
German Doppelbock-bold and brawny-full-bodied-slightly sweet-exceptionally malty-rich aromas of raisin and plum-bready
8.5
30
Rails End Beer Company
Amber Ale
American-Style Amber/Red Ale
Balanced and smooth drinking with a backbone of caramel and toffee malt flavors
5.3
28
Rails End Beer Company
Blood Orange Double IPA
American-Style Fruit Beer
Balanced bitterness & bursting with the citrus hop flavors of grapefruit, orange, and tangerine
7.8
88
Rails End Beer Company
Honey Blonde
Honey Beer
Light and easy-drinking with a nice touch of honey sweetness on the finish
5
21
Rails End Beer Company
Robust Porter
Robust Porter
chocolate flavors up front, caramel in the middle and light roasted finish
5.6
35
Rails End Beer Company
Weiss beer infused with Woodruff
American Wheat Beer
light notes of banana and bubble gum and slightly sweet with a hint of vanilla on the finish
4.7
14
Rants And Raves Brewery
Anonymous Double IPA
Imperial India Pale Ale
This Imperial IPA has a very simple clean body featuring Cascade, CTZ, and Centennial Northwest hops giving big citrus and grapefruit notes leading into a bitter finish.
8.1
98
Rants And Raves Brewery
Dragon Hunter Red Ale
American-Style Amber/Red Ale
A medium bodied and malty Amber Ale inspired by Dragon Hunters of Hell's Canyon. Malty sweetness up front transforms into deeper caramel flavors
5
32
Rants And Raves Brewery
Duckface Blonde
Golden or Blonde Ale
Crisp refreshing Blonde Ale brewed with malt, German hops and lemongrass.
4.3
19
Rants And Raves Brewery
Pert Near Pils
German-Style Pilsener
Pilsner
5
37
Ratio Beerworks
Dear You French Saison
Specialty Saison
Our citra-hopped French Saison showcases bright, refreshing, citrus flavors, giving way to a dry, earthy, clean finish. Celebrate every day with a Dear You.
5.5
25
Ratio Beerworks
Major Nights Lime Gose
Contemporary Gose
This mildly tart, mildly salty, traditional German-style wheat beer received a "dry hop" addition of nearly 400 hand zested limes. Major Nights is an explosion of unique savory flavors brought on by the use of coriander and red gold Hawaiian sea salt, as w
5
5
Ratio Beerworks
New Wave Strawberry Berliner Weisse
Fruited American-Style Sour Ale
New Wave is a kettle soured, Strawberry Berliner Weisse brewed with patio sessions in mind. This bright pink Berliner Weisse is light, tart, effervescent, and clean on the finish. Strawberries are the dominant flavor profile, as each batch is fermented on
4
5
Ratio Beerworks
Rented World Session IPA
Session India Pale Ale
For Rented World, we employed our highest volume of late aroma hops to date, with massive amounts of Citra and El Dorado. Measuring in at an approachable 4.8% and 41 IBUs, this easy-drinking session IPA is big on bright citrus and pine flavors, but a mere
4.8
41
Real Ale Brewing Co
Axis
American-Style India Pale Ale
Like its namesake before it, the Axis deer of Southern Asia, so too has this species of hop-forward animal magnetism come to invade the landscape of IPA's that have long held sway over the taps of Texas's finest watering holes. Tropical fruit, citrus, and
7.1
60
Real Ale Brewing Co
Firemans #4
Golden or Blonde Ale
Named as a tribute to our good friends (and bad ass bike makers) at Firemans Texas Cruzer and because it was the fourth year-round beer we created, Firemans #4 is our most popular and best-selling beer to date. With an ever-drinkable balance of smooth malt
5.1
23
Real Ale Brewing Co
Lux Aeterna
Specialty Beer
Our Belgian-inspired White beer was aged for 8-10 months in old oak wine barrels that had been inoculated with our favorite house culture of wild yeast and bacteria. The end result is a deliciously light sour beer marked by notes of tropical fruit, subtle
5.5
0
Real Ale Brewing Co
Pinsetter
Vienna-Style Lager
Pinsetter is brewed using the finest American 2-row and caramel malts, with a touch of roasted malt for a rich amber color. The beer has a pleasant malt profile, subtle sweetness, and a balanced hop bitterness.
5.4
25
Real Ale Brewing Co
Real Heavy Scotch Ale
Scottish-Style Heavy Ale
Our take on the Wee Heavy style is an imposing malt forward brew weighing in at 9.3% ABV. It is brewed with English Crystal malt, English hops, and fermented with our house English ale yeast, resulting in a rich brown color and a toffee accented malt chara
9.3
27
Red Horn Brewing Co.
Beach Bear Pale Ale
American-Style Pale Ale
Beach Bear is light bodied, crisp, slightly sweet, and a little fruity from the charge of American hops added late in the boil and after fermentation. Cascade and Mosaic combine to provide grassy, floral, orange, & blueberry flavors that meld beautifully.
5.8
34
Red Horn Brewing Co.
HapSlappy IPA
American-Style India Pale Ale
HapSlappy boasts an extremely palatable 78 IBUs, achieved by using only late kettle hops. Utilizing the unique characteristics of northwest American hops, HapSlappy achieves a citrusy and herbal balance that compliments the smooth malt body.
7
68
Red Horn Brewing Co.
House United Coffee Stout
Coffee Stout or Porter
Our house specialty brew unites our two in house features, fresh roasted coffee and great craft beer. Brewed with six specialty malts and a touch of lactose sugar at the end of the boil. House United is a rich, complex beer with a deceivingly low ABV.
4.7
30
Red Horn Brewing Co.
More Better Tropical Milkshake DIPA
Imperial India Pale Ale
Hazy, soft, juicy, bright, and refreshing. Brewed with tons of oats, flaked wheat, lactose sugar, hops, and pureed fruit. This variant contains Pineapple, Coconut, and Passion Fruit with copious amounts of Azacca and Mosaic hops.
8.3
80
Red Horn Brewing Co.
Trail Runner Golden Ale
Golden or Blonde Ale
Trail Runner Golden Ale is our easy drinker! This crisp session ale is brewed to be subtly complex and incredibly refreshing. Brewed with German Pilsner Malt and Cascade hops, Trail Runner is bright and clean with subtle notes of citrus.
5
15
Red Rock Brewing Co
Blackbier
German-Style Schwarzbier
Though never truly black, this very dark brown lager is known for having the roasty character of a stout, but the drinkability of a light lager.
4
25
Red Rock Brewing Co
Blonde Ale
Golden or Blonde Ale
Approachable malt character with mild hop bitterness and clean fermentation character make for an excellent anytime beer.
4
18
Red Rock Brewing Co
Lady Ga Gose
Contemporary Gose
Gose, pronounced "gose-uh", is a historicial German style wheat ale brewed with salt and coriander. The use of salt is to imitate the natural salinity of the water from this styles birthplace.
4
8
Red Rock Brewing Co
Nut Brown Ale
American-Style Brown Ale
Traditional English brown ales exhibit mild hop notes and toasty, nutty flavors give by the malt. Our Americanized borwn ale leans more on a piney, dank American hop character, balanced by a nearly chocolately, dry malt backbone.
4
25
Red Rock Brewing Co
Zwickelbier
German-Style Pilsener
This unfiltered offering is mild, effervescent form of Kellerbier, meaning "cellar beer" in German. Our Zwickelbier, however, can be best thought of as an unfiltered Pilsner.
4
22
Reprise Brewing
Fortissimo
Imperial India Pale Ale
Fortissimo is an extremely hop forward imperial IPA. Tired of sweet imperial IPA's? Then this beer is for you, with over 22 pounds of hops it is sure to please!
9.6
105
Reprise Brewing
Reprise Pub Ale
American-Style Extra Special Bitter
This pub ale will make you think you are sitting in a pub with your best blokes. The perfect balance of malt and hop make this beer an everyday favorite.
6.7
35
Reprise Brewing
Santa's Coal
German-style Kölsch
We try to stretch the limit of beer styles and have done so with this black kolsch. Plenty of chocolate and roasted flavor in a light body beer.
6
32
Resolute Brewing Company
5280 Light Lager
American-Style Amber Light Lager
\tThe 5280 Lager by Resolute was made exclusively for 5280 Burger Bar. The easy drinking pilsner lager is handcrafter entirely with locally sourced Colorado indegredients. 5280 Lager is clean and crisp with a pleasantly dry finish.
5.6
12
Resolute Brewing Company
Resolute Amber Lager
American-Style Amber Lager
Knock back a Resolute Amber Lager if you're into silky-smooth flavors of toasted malt, a dash of caramel sweetness, and a slight hop aroma. Pours a beautiful amber/copper color with a creamy off-white head and moderate carbonation. Pairs perfectly with
5.03
20
Resolute Brewing Company
Resolute Hefeweizen
South German-Style Hefeweizen
A beautiful hazy, straw-colored, refreshing German wheat beer with high carbonation, a delectable dry finish, a fluffy mouthfeel, and a distinctive banana-and-clove yeast character. Unfiltered and traditional in every sense of the Bavarian style.
4.5
13
Resolute Brewing Company
Resolute Session IPA
Session Beer
A decidedly hoppy and bitter, sessionable American pale ale, showcasing modern American hop varieties. The balance is hop forward, with a clean, dry, refreshing finish. The supporting malt allows the spectrum of hop character to shine through.
4
80
Reuben's Brews
Amarillo Fresh Hop
American-Style India Pale Ale
Intense notes of Fresh Cut Grass, Orange Herbal notes from the wet hops, background notes of Lemon Zest.
6
50
Reuben's Brews
Crikey
American-Style India Pale Ale
Hop profile led by Notes of Citrus, Tangerine & Tropical Fruit with a little Pine in the Background.
6.8
53
Reuben's Brews
Gose
Leipzig-Style Gose
A traditional German Sour Ale, brewed with Lactobacillus, Salt, and Coriander to make a refreshingly crisp brew with lemon notes and a vibrant salinity.
4.3
6
Reuben's Brews
Pilsner
Bohemian-Style Pilsener
Clean, Crisp and Bright Lager with Bready Malt notes and Floral & Spicy Hops.
5.4
35
Reuben's Brews
Triumvirate
International-Style Pale Ale
Juicy bright hops, with notes of Grapefruit and Passionfruit.
6
52
Revelry Brewing Co.
Achtung!
Berliner-Style Weisse
Our German-style Berliner weisse is the go-to summer sour in this part of town. This version of our Drive-By Series is packed full of red raspberry and blackberry... and has looks to kill.
4
0
Revelry Brewing Co.
Eden's Lot
Brett Beer
A barrel aged mixed fermentation beer with guava and passion fruit added, and bottle conditioned with brettanomyces. Exploding with a tantalizing fruit aroma & flavor, you'll be tempted to covet this bottle all for yourself, although sharing is encoura
7.5
0
Revelry Brewing Co.
Oh My Darlyn!
Traditional Scotch Ale
A strong, traditional Scotch ale that presents with a sweetness brought on through malty flavors of caramel, fig, toffee and raisin. Very low hop bitterness and full-bodied mouthfeel makes this beer a warming sipper with dessert or wild game/poultry.
10
0
Revelry Brewing Co.
Red 5 Standing By
Belgian-Style Flanders Oud Bruin or Oud Red Ale
A Flanders style red ale aged in French oak foudres for 8 months. Pours a reddish-brown with aromas of oak, soft acid & dark fruits. The flavor is decidedly acidic with notes of tart cherry, citrus & subtle chocolate.
7.5
0
Revelry Brewing Co.
Two Sides
German-Style Schwarzbier
A dark German lager that balances roasted, yet smooth malt flavors with moderate hop bitterness. Light, dry and smooth with a subtle dark chocolate component and without harsh, burnt or heave aftertaste, makes this beer drinkable.
5.5
0
Revolution Brewing - Brewpub
Freedom of Press
Fruited American-Style Sour Ale
Black Currant Kettle Sour made with Greek yogurt, black currant concentrate, and a Saison yeast strain. The Lacto in the yogurt produce a tart character, and the black currant gives the beer a pinkish hue, as well as some sweetness to balance the acidity.
3.9
10
Revolution Brewing - Brewpub
Ghost Ride
German-style Kölsch
Also known as Geistfahrt, this traditionally lagered Kolsch is brewed with an ale yeast resulting in a light-bodied, crisp, & refreshing brew, in part due to its extended cold aging.
4.9
25
Revolution Brewing - Brewpub
Rise
American-Style Stout
In our series of stouts, this one has the highest level of both hop bitterness & aroma. A rich & complex beer with notes of dark roasted coffee & baker's chocolate come through with a blast of fresh flowery hop aroma & a dose of citrus zest & pine arom
7.6
55
Revolution Brewing - Brewpub
Working Mom
Wood- and Barrel-Aged Strong Beer
Our Winter Woman Imperial Brown aged in Old Forester barrels for 9 months. Wonderfully complex notes of bourbon married with chocolate, toffee, fruit & vanilla with a lingering hop bitterness & alcohol warmth that you would expect from a beer this big!
11
69
Revolution Brewing - Production
Cross of Gold
Golden or Blonde Ale
An easy drinking golden ale for everyone. Brewed to be crisp and refreshing with a bit of wheat malt for body and a delicate hop finish. The speech by William Jennings Bryan, Cross of Gold, provided the inspiration for one of our original beers.
4.8
25
Revolution Brewing - Production
Oktoberfest
German-Style Maerzen
Classic German-style Oktoberfest Lager that goes down smooth with a pleasant, toasty, malt flavor. The addition of traditional German Magnum and Hersbruker hops provide a crisp balanced bitterness and spicy/earthy aroma to round out this robust beer.
5.7
25
Revolution Brewing - Production
Rev Pils
German-Style Pilsener
Our Chicago Pilsner. Brewed traditionally German, with a slightly American approach. All German hops and malts come together for an exceptionally clean, crisp pilsner.
5.5
40
Revolution Brewing - Production
Sun Crusher
American-Style Pale Ale
A crushable hoppy Wheat Ale brewed with Apollo & Amarillo & a dry-hop blend of Crystal, Amarillo, & Mosaic, resulting in a mellow bitterness & pronounced flowery & citrus aromas.
5.3
35
Rhinegeist Brewery
Knowledge Imperial IPA
Imperial India Pale Ale
Bold and refined, Knowledge delivers notes of resinous pine, pithy grapefruit, dank sap, and ripe pineapple.
8.5
98
Rhinegeist Brewery
Maracuja
American-Style Sour Ale
A Sour Ale with the addition of lively passion fruit juice, that elevates tartness with zesty tropical fruit notes.
7
12
Rhinegeist Brewery
Science Fiction
Brett Beer
Fiction (Belgian Extra Pale Ale) with Brettanomyces, Lactobacillus, and Pediococcus.
7
40
Rhinegeist Brewery
Truth IPA
American-Style India Pale Ale
Intensely hopped (3 lb/BBL) dry IPA with Centennial, Citra, Amarillo, and Simcoe to rev up peach, mango, and passion fruit notes.
7.2
75
Rhinegeist Brewery
Uncle British Mild
English-Style Dark Mild Ale
Seriously sessionable British Mild with complex malt character.
3.8
17
Riff Raff Brewing
Black Cherry Porter
Robust Porter
Robust porter with a subtle black cherry finish
5.5
0
Riff Raff Brewing
El Duende Verde Chile Ale
Chili Beer
All aroma and flavor without the heat!
5.5
31
Riff Raff Brewing
Hopgoblin American IPA
American-Style India Pale Ale
Traditional West Coast IPA: cascade, centenntial, chinook
7
83
Riff Raff Brewing
Stepchild American Red
American-Style Amber/Red Ale
American Red Ale dry hopped with apollo, cascade and summit for a piney, citrusy finish.
6.2
37
Right Brain Brewery
Concrete Dinosaur
Rye Beer
Brown rye IPA with giant notes of rye accented by subtle citrus undertones. An intriguing combination of barley, hops, and rye.
7.2
60
Right Brain Brewery
Gin Joy Ale
Wood- and Barrel-Aged Pale to Amber Beer
Gin barrel-aged cream ale with real Madagascar vanilla.
6.2
12
Right Brain Brewery
Looping Owl
Wood- and Barrel-Aged Pale to Amber Beer
Amber ale aged in whiskey barrels. Expect major notes of oak, vanilla, and of course, whiskey.
6.8
22
Right Brain Brewery
Mangalitsa Pig Porter
Experimental Beer
A rich, chocolaty porter brewed with real smoked Mangalitsa pig heads and bones.
7
28
Rip Current Brewery
Breakline Traditional Bock
Traditional German-Style Bock
Features big toasty, dark bready malt character with just a hint of bitterness to balance. The mid-palate is malty without being sugary sweet and leads to a clean finish without significant bitterness or astringency.
6.7
0
Rip Current Brewery
Choppy Surf Czech-Style Pilsner™
Bohemian-Style Pilsener
Features a cracker, biscuit sweetness balanced by an herbal and pleasantly spicy character from the hops. The finish is crisp, dry and refreshing. This blonde pilsner is a great alternative to mass produced lagers and a gateway for those drinkers into craf
5.3
0
Rip Current Brewery
Cloudy by Nature Hazy Session IPA
Session India Pale Ale
Packed w/ juicy tropical fruit flavors & notes of citrus. Followed the New England approach making this IPA; modifying the water, dry hopping early/often during fermentation, mixing up the hop goodness during the final stages instead of going for clarity.
4.8
0
Rip Current Brewery
Java Storm Coffee Imperial Porter™
American-Style Imperial Porter
Includes a substantial portion of cold steeped Kona and Sumatran coffees. Our process minimizes the acrid, roasty character sometimes imparted by coffee leaving a delicious coffee flavor with background complex dark malt character.
10
0
Ritual Brewing Co
Barrel-Aged Hellion
Golden or Blonde Ale
Belgian-Style Golden Ale aged in barrels that originally aged Qupe Syrah, then sent to High West Distillery to finish a Rye Whiskey, and finally brought to the brewery to age our Hellion.
8.2
28
Ritual Brewing Co
Big Deluxe
Oatmeal Stout
Our multi-award winning Imperial Oat Stout.
12.2
85
Ritual Brewing Co
Guava-Matic IPA
American-Style India Pale Ale
A riff on our flagship IPA infused with fresh guava.
7.1
80
Ritual Brewing Co
Pale Ale
American-Style Pale Ale
Classic West Coast Pale Ale featuring Cascade and Mosaic hops.
5.2
50
River Dog Brewing Co
Force Ten
Imperial India Pale Ale
A force ten hop explosion with overwhelming notes of citrus, pine, stone fruit, berries, and melon. Double dry-hopped with El Dorado, Simcoe, Citra, and Huell Melon. Available in 22 oz. bomber bottles exclusively in our taproom!
10
110
River Dog Brewing Co
Lowcountry Ambrosia
Honey Beer
This Pale American Wheat ale is brewed with Wildflower Honey. A Lowcountry staple sure to refresh even the most parched. Brewed with Wildflower Honey, it is deliciously grainy with honey-like sweetness.
5.4
19
River Dog Brewing Co
Riverwalk Empire
American-Style Pilsener
Our flagship Pre-Prohibition style pilsner. Riverwalk Empire is a light, refreshing and snappy Pilsner that's the perfect complement to life here in the lowcountry. Clean cereal-like notes, rustic hop flavor and a clean finish.
5.6
27
River Dog Brewing Co
Salty Dog Pale Ale
American-Style Pale Ale
Cascasde, Amarillo, and Simcoe. A classic American Pale Ale with slight caramel sweetness and citrus pine aromatics.
5.8
40
River Rat Brewery
Hazelnut Brown Ale
English-Style Brown Ale
English brown ale with chopped hazelnuts added to the mash, for just a little extra.
5.4
28
River Rat Brewery
Moncks Corner Abbey Ale
Belgian-Style Dubbel
Belgian-style Dubbel brewed with extra dark Belgian candy sugar.
7.2
29
River Rat Brewery
My Morning Stout
Coffee Stout or Porter
A light stout aged on cocoa nibs, fresh cracked coffee beans and Madagascar vanilla beans.
6
35
River Rat Brewery
Oktoberfest
American-Style Maerzen/Oktoberfest
A beer perfect for fall. Malty, but not too malty with just the right amount of hops, makes this a great beer for the season.
6.6
25
River Rat Brewery
Tabasco Saison
Chili Beer
We took our French saison and aged it for a year in Tabasco barrels. Adds just the right amount of heat and pepper taste.
4.5
20
RJ Rockers Brewing Co
Brown Eyed Squirrel
American-Style Brown Ale
Deep brown in color, from a fusion of rich chocolate, caramel and black malts. Brown Eyed Squirrel is a smooth, flavorful brown ale and is one of our most regularly awarded beers.
5.6
18
RJ Rockers Brewing Co
Good Boy Stout
American-Style Stout
A full bodied American Stout brewed with a variety of caramel and roasted malts which produce a deep color and rich flavor. It's chocolate and coffee notes coupled with its 6.5% ABV produces a sweet flavor that finishes warm and smooth.
6.5
23
RJ Rockers Brewing Co
Light Rock
German-style Kölsch
Inspired by the session ales of Southern England, the aromatic tendencies of Palisade & Simcoe hops bring a rich complexity of apricots, soft citrus & resinous freshly-cut grass. Easliy bittered, fluffy body & dryness keep things light & sessional.
4.5
20
RJ Rockers Brewing Co
Pool Boy
American-Style India Pale Ale
Aggressively hopped late in the boil with Citra & Mosaic hops & dry-hopped similarly late in fermentation. Initial aroma with notes of stone fruit, mango & berry. Upon the first sip is a tropical, fruity & citrusy explosion with almost no bitterness.
7
45
RJ Rockers Brewing Co
Son of a Peach
American Wheat Beer
An unfiltered American Wheat Ale brewed with South Carolina grown peaches. Golden in color, the aroma of ripe peaches and a smooth, fluffy, wheat body with a slight tart finish.
5.6
16
Roadhouse Brewing Company
Avarice & Greed
Golden or Blonde Ale
Bottle-conditioned belgian-style golden ale
9
32
Roadhouse Brewing Company
Dreaded Beast
Wood- and Barrel-Aged Strong Stout
Imperial Stout aged in Wyoming Whiskey barrels for two years with Brett, lacto and pedio.
9
53
Roadhouse Brewing Company
Primal Soup
Belgian-Style Flanders Oud Bruin or Oud Red Ale
Belgian Flanders aged in chardonnay barrels with Brett, lacto and pedio
7
10
Roadhouse Brewing Company
Sacred Brett
Wood- and Barrel-Aged Sour Beer
Belgian saison aged in wine barrels for sixteen months with Brett.
6.5
33
Roadhouse Brewing Company
Trout Whistle
American-Style Pale Ale
American Pale Ale brewed with Mosaic, Azacca and Calypso hops for a citrusy, but balanced, flavor.
6
55
Rockyard American Grill & Brewing Company
Slightly Sessionable
Session India Pale Ale
Session IPA
5
42
Rockyard American Grill & Brewing Company
Keller Lynx Lager
Unfiltered German-Style Lager
Kellerbier/Zwickelbier
5.5
22
Rockyard American Grill & Brewing Company
Plum Creek Sour
Wood- and Barrel-Aged Sour Beer
Plum Sour
6.2
5
Rockyard American Grill & Brewing Company
Strawberry Berliner Weisse
Fruited American-Style Sour Ale
Strawberry Berliner Weisse
3.8
5
Rogue Ales Brewery & Headquarters
6 Hop IPA
American-Style India Pale Ale
Rogue Farms Dare™, Risk™, Roasted & Unroasted McKercher Wheat, Roasted Dream Rye, Maier Munich & Dare™ R-1 Malts; Rogue Farms Liberty, Revolution, Independent, Freedom, Yaquina & Alluvial Hops; Pacman Yeast & Free-Range Coastal Water.
6.66
87
Rogue Ales Brewery & Headquarters
Cold Brew IPA
American-Style India Pale Ale
Stumptown Coffee Roasters' Cold Brew Coffee is blended with an IPA made using Rogue Farms hops for a unique interplay of hops and coffee flavors.
7.5
82
Rogue Ales Brewery & Headquarters
Dead 'N' Dead
Wood- and Barrel-Aged Strong Beer
The barrels enhance the robust malt and hop profiles of original Dead Guy Ale. The ale soaks in hints of oak and whiskey while maturing over several months at the Rogue ocean aging room.
7.3
40
Rogue Ales Brewery & Headquarters
Fresh Roast
American-Style Brown Ale
A dark, bold, roasty ale reminiscent of fresh-brewed coffee. Just imagine that smell of freshly brewed coffee wafting through the air early in the morning.
5.7
37
Rogue Ales Brewery & Headquarters
Hazelutely Choctabulous
Sweet Stout or Cream Stout
Rogue Chocolate Stout blended with Hazelnut Brown Nectar. It tastes like a candy bar: dark and decadent with a rich nutty flavor up front followed by a chocolate truffle finish.
5.7
51
Rough Draft Brewing
5th Anniversary Ale Emboozlement Tripel
Belgian-Style Tripel
Belgian-style Tripel aged in Pinot Noir barrels
9.5
25
Rough Draft Brewing
AmaGalaCitraScade Hazy IPA
American-Style India Pale Ale
Unfiltered IPA with 5 lbs. of hops per barrel
6.5
70
Rough Draft Brewing
Apricot Wundersauer
Berliner-Style Weisse
A Berliner-style Weisse Ale infused with real apricots. Tart and acidic with a touch of wheat. (Pronounced: "Vunder-sour")
6.4
7
Russian River Brewing Co
Beatification
Belgian-Style Lambic
100% spontaneously fermented, then transferred to oak wine barrels where it ferments wildly and ages for a few months. The end result is a wild, spontaneously fermented blonde, sour and tasty hand-crafted beer!
6
0
Russian River Brewing Co
Pliny the Elder
Imperial India Pale Ale
Brewed with Amarillo, Centennial, CTZ, and Simcoe hops. It is well-balanced with malt, hops, and alcohol, slightly bitter with a fresh hop aroma of floral, citrus, and pine. Best enjoyed FRESH!
8
80
Russian River Brewing Co
STS
International-Style Pilsener
A classic European style Pilsner hop forward with a mild malt foundation, strong lager yeast characteristic, and a dry, bitter finish.
5.35
45
Russian River Brewing Co
Temptation
Belgian-Style Lambic
Blonde Ale aged in used Chardonnay barrels from local Sonoma County wineries for about 9 to 15 months. Medium bodied with hints of oak and Chardonnay, funky brett characteristics, with a nice, long sour finish.
7.5
0
Russian River Brewing Co
Toronado 30th Anniversary
Brett Beer
Light orange color with a delicate white head, the aroma is decidedly Brett with notes of spice (mint / spearmint), roses and jasmine. Mild doughy bread notes in the aroma and mid-palate while the hops are present but layered in the aroma and flavor.
7
0
Sactown Union Brewery
#KÖLSCH
German-style Kölsch
We strip our water down to the bare essentials then rebuild it to match the mineral content of the water in Köln, Germany. Then we add in tons of German Pilsner malts and spice it up with just a 'eine kleine menge' of German Perle and Tettnang hops
5.1
27
Sactown Union Brewery
It Gose Down Tonight
Contemporary Gose
This wheat beer is kettle soured with Lactobacillus, then gets down with some locally grown Meyer Lemons we've been preserving the last few months in sea salts harvested by Brewer Lauren, before finishing off with a touch of Indian Coriander.
4.4
8
Sactown Union Brewery
Jeff's Hefe
South German-Style Hefeweizen
A true-to-style, unfiltered Bavarian Hefeweizen, with notes of fresh grapefruit, clove and banana! Just enough sweetness, just enough tartness, just enough body.
5.2
12
Sactown Union Brewery
Prop 64
Session India Pale Ale
A dank & resiny session IPA dry-hopped with 42 lbs of Idaho 7 hops. This lower OG beer has all kinds of sticky icky aroma with a nice citrusy, nostril clearing note to it, and it won't leave you locked to the couch.
5
49
Sactown Union Brewery
The Catalyst
California Common Beer
A bright, earthy flavor from Sacramento native Cluster hops and a slightly sweet, nutty character from roasted barley, we think you'll love this little trip through history!
5.4
36
Saint Arnold Brewing Co
2017 Pumpkinator
Herb and Spice Beer
Pumpkinator is a big, black, full of spice, full of flavor beer.
11
34
Saint Arnold Brewing Co
Art Car IPA
American-Style India Pale Ale
Art Car IPA is an American IPA featuring a blend of both new and old hop varieties from the Pacific Northwest.
7.1
55
Saint Arnold Brewing Co
Bishop's Barrel No. 17
Adambier
Adambier Aged in Bourbon Barrels
13.2
30
Saint Arnold Brewing Co
Fancy Lawnmower
German-style Kölsch
A true German-style Kölsch.
4.9
18
Saint Arnold Brewing Co
Pub Crawl Pale Ale
American-Style Pale Ale
This crisp, sessionable Pale Ale is brewed with a combination of hops: Centennial hops at the beginning of the boil for bitterness, and Amarillo and Galaxy hops at the end for the bulk of the flavor and aroma.
4.7
48
Saint Arnold Brewing Co
Raspberry AF
Berliner-Style Weisse
Raspberry AF is a fruited Berliner Weisse.
3.6
7
Sanctum Brewing Co
Deus Vult
Belgian-Style Dubbel
Belgian Dubbel
8.8
10
Sanctum Brewing Co
Red Leader
Double Red Ale
Hoppy Double Red
6.2
75
Sanctum Brewing Co
Solar
Munich-Style Helles
Munich Helles Style Lager
5
10
Sanitas Brewing Co
Black IPA
American-Style India Pale Ale
Deep black in color with a soft khaki head, our smooth IPA drips notes of pine resin and grapefruit. The roasted malt contributes a bittersweet chocolate and coffee finish.
6.5
65
Sanitas Brewing Co
Cherry Saison
Specialty Saison
This contemporary Saison has the delightful addition of tart cherries. An inviting fruitiness and lively pink hue give way to a subtly sweet finish. Crisp. Fruity.
5.9
22
Sanitas Brewing Co
Sanitas IPA
American-Style India Pale Ale
This definitive Colorado IPA is gold in color with a harmony of ripe pineapple & dank. Grassy hop undertones. Exotic fruit gives way to a bold bitterness. Made with a medley of organic malts. Bold. Vibrant. Aromatic.
7
80
Sanitas Brewing Co
Sanitas Saison
Specialty Saison
Our take on the classic Saison pours a bright marigold color. Delivering tangerine and bubble-gum esters in the aroma. Mellow flavors of grassy hops round out this Farmhouse Ale. Crisp. Rustic. Iconic.
5.9
22
Santa Clara Valley Brewing
Alviso Mills Hefeweizen
German-Style Leichtes Weizen
German Style Hefeweizen with notes of Banana, Clove and Bubblegum.
5.6
20
Santa Clara Valley Brewing
Electric Tower IPA
American-Style India Pale Ale
West Coast IPA with aromas and flavors of PIne, Citrus and Tropical Fruit.
7.1
65
Santa Clara Valley Brewing
New Almaden Red
Imperial Red Ale
Imperial Red Ale with hints of caramel and strong hop aromas.
10
80
Santa Clara Valley Brewing
Rye Whiskey Barrel Aged Loma Prieta Imperial Stout
Wood- and Barrel-Aged Strong Stout
Imperial Stout aged in HIgh West Rye Whiskey Barrels for 9 months.
11.5
40
Santa Clara Valley Brewing
Saratoga Gap Scotch Ale
Traditional Scotch Ale
Deep red, malty, flavors and aromas of toffee and caramel.
9.6
20
Santa Cruz Mountain Brewing
Amber Ale
American-Style Amber/Red Ale
A copper colored, medium bodied ale with aromas of organic hallertaur hops.
5
26
Santa Cruz Mountain Brewing
Fresh Hopped Pale Ale
Fresh or Wet Hop Ale
Fresh Wet Hopped Pale Ale brewed with 30lbs of Chinook, Centennial, and Gargoyle Hops.
5
33
Santa Cruz Mountain Brewing
Madam Grey
Specialty Beer
Our award winning milk stout brewed with 2 lbs. of Earl Grey tea, lactose, and honey. The result is full bodied and mildly sweet, with the unforgettable flavors of its eponymous forbear.
6
30
Santa Cruz Mountain Brewing
O'Berry
Fruit Wheat Beer
American Style blonde ale with 180lbs of fresh Olalliberries and Hibiscus added.
5.2
27
Saugatuck Brewing Co
Bonfire Brown
American-Style Brown Ale
Bonfire Brown is a classic American Brown Ale with just a hint of smoke and a touch of bitter. It's a highly awarded, perfectly balanced example of a traditional Brown Ale. This is the perfect beer for kicking one back around a bonfire with your pals.
5.5
20
Saugatuck Brewing Co
Cotton Mouth Quencher
American-Style Sour Ale
A funky, tart, crazy sour ale brewed with blackberries.
6
15
Saugatuck Brewing Co
Daze On Saison
Classic Saison
Go to a whole new dimension with this off the wall Farmhouse Ale. Dry hopped with copious amounts of Mandarina & Mosaic hops for an interesting twist.
5.5
24
Saugatuck Brewing Co
Neapolitan Milk Stout
Sweet Stout or Cream Stout
A creamy Milk Stout with all the brilliant flavors of Neapolitan Ice Cream in one glass. Taste the rich flavors of chocolate, vanilla and strawberry in this unique beer.
6
37
Saugatuck Brewing Co
Oval Beach Blonde
Golden or Blonde Ale
Our Oval Beach Blonde is a light ale with subtle malt characteristics combined with a pleasing hop profile for light fruit flavors. This is a good gateway into the world of beer for newer craft beer drinkers and a perfect everyday pint.
5
11
Schlafly Beer/The Saint Louis Brewery LLC
Hop Trial Ella
Golden or Blonde Ale
No Description Available
0
0
Schlafly Beer/The Saint Louis Brewery LLC
Local Oak
American-Style Sour Ale
A mixed-fermentation process creates all the personality you expect from a beer like this, with a light malt character and tart fruitiness from Lactobacillus and Brettanomyces. Aged in Foeders hewn from locally grown Ozark timber.
4.5
5
Schlafly Beer/The Saint Louis Brewery LLC
Pumpkin
Pumpkin Spice Beer
Our Pumpkin Ale has a bold, big pumpkin taste, flavored with pumpkin, cinnamon, nutmeg, and clove. With little bitterness and a malty backbone, the flavors of the pumpkin and spices take the lead.
8
16
Schlafly Beer/The Saint Louis Brewery LLC
Variant
American-Style Stout
Aged in Port-wine barrels, and jam-packed with flavors not found in other beers, this stout is dark in appearance, full-bodied and brimming with complex, intriguing flavors.
9.4
30
Schlafly Beer/The Saint Louis Brewery LLC
White Lager
American-Style Amber Light Lager
Think of this as a fresher, hoppier Hefeweizen: smooth, cloudy, and golden-colored. This style dates back to the Middle Ages, where the beer was matured in deep vaults and emerged rich in vitamins.
5.5
20
Scofflaw Brewing Co
Basement IPA
American-Style India Pale Ale
A dank aroma full of earthy tones, citrus and a hint of lemongrass are derived from maximum Citra hops. There is a hint of alcohol heat on the way down for this hop-forward, unfiltered IPA with characteristic haze and a slightly sweet finish.
7.5
60
Scofflaw Brewing Co
Drop Kick IPA
American-Style India Pale Ale
A Northeast-style IPA made with Wai-Iti hops from New Zealand and El Dorado. With a unique whirlpool addition, the firm bitterness and aromatic pear and melon flavors from El Dorado mesh well with the peach and apricot aromas from New Zealand.
6.5
75
Scofflaw Brewing Co
Goats Milk IPA
American-Style India Pale Ale
Made with milk lactose and fermented on strawberries and mango. The creamy smoothness of this hazy, milkshake IPA lets the citrus flavors, led by Citra hops, shine without bitterness.
8.5
60
Scofflaw Brewing Co
Upper Westside
Imperial India Pale Ale
A big, but approachable West Coast IPA with an aroma of resinous, Pacific Coast hops up front, an inviting caramel malt backbone, and a boozy bite to boot. Up front malt with a lingering pine and rolling citrus hop punch that measures on Richter scale.
10
85
Scofflaw Brewing Co
Vanilla Absentium
Wood- and Barrel-Aged Strong Stout
Aged in bourbon barrels that were then used by a spice company to age a batch of its vanilla extract. A smooth imperial stout with deliciously inviting flavor notes. No vanilla was harmed in the making of this beer.
13.9
60
Scratch Brewing Company
Bark
Experimental Beer
Sour beer without hops made with cherry, hickory, and oak bark and fermented with our wild house mixed culture.
0
0
Scratch Brewing Company
Flowers
Herb and Spice Beer
Farmhouse ale fermented with our wild house mixed culture and brewed with borage, marigold, hyssop, rose, and bee balm flowers.
0
0
Scratch Brewing Company
Leaves
Specialty Saison
Farmhouse ale fermented with our wild house mixed culture and brewed with leaves from 34 different plants and trees: oak, hickory, sage, hyssop, bee balm, lemon balm, thyme, filé spice, laurel, mint, thistle, blackberry, raspberry, oregano, sweet cicely, g
0
0
Scratch Brewing Company
Roots
Specialty Saison
Farmhouse ale fermented with our wild house mixed culture and brewed with Southern Illinois-grown ginger, turmeric, carrot, clover, and burdock roots.
0
0
Scratch Brewing Company
Seeds
Specialty Saison
Farmhouse ale fermented with our wild house mixed culture and brewed with hickory, juniper, and laurel seeds from our property.
0
0
Seabright Brewery
Easy Money IPA
American-Style India Pale Ale
Don't miss this IPA! Loaded up with Nuggest, Chinook, CTZ, and Mosaic.
8.3
0
Seabright Brewery
Jasmine Pale Ale
Herb and Spice Beer
Base style is golden ale, jasmine added before packaging.
6.1
0
Seabright Brewery
Mermaid Tail Ale
Experimental Beer
Base style is an American Golden ale, brewed with beets, finished with blood oranges, and legged with glitter.
6.2
0
Seabright Brewery
Neighborhood Buzzz
Coffee Beer
This is a pale ale, whole coffee beans were cold steeped for several days before packagin. Looks like a beer, tastes like coffee!
5.3
0
Seabright Brewery
Solstice Smoke
Other Smoke Beer
Base style is american red ale, the majority of the smoked malt was done at home with cherrywood. Super smokey.
5.6
0
Second Chance Beer Company
Legally Red
American-Style Amber/Red Ale
Bold, fruity hops, with rich caramel malts. Feisty, just like her namesake!
7.2
68
Second Chance Beer Company
Mulligan Irish-Style Red
Irish-Style Red Ale
Smooth caramel malts, balanced, mild, and easy drinkin'!
5.6
26
Second Chance Beer Company
Seize the Coffee
Coffee Beer
Coffee IPA
7
65
Second Chance Beer Company
Tabula Rasa Toasted Porter
Robust Porter
Roasted malt, toasted oats, and light cocoa make this a smooth drinker!
6.2
33
Seedstock Brewery
Bohemian Ale
Bohemian-Style Pilsener
New copper in color with a slightly tart and citrus aroma. Czech Kazbek hops provides an earthy spiciness combined with a slight citrus flavor. Has a moderate hop bitterness at the finish. Pairs well with conversation.
6.2
50
Seedstock Brewery
Czech Pilsner
German-Style Pilsener
Straw-yellow in color, with thick white head. Complex and distinct pilsner aroma. Balanced bitterness with a clean, dry finish. Pairs well with a good hike.
5.6
42
Seedstock Brewery
Vanilla Espresso Milk Stout
Coffee Stout or Porter
Mocha espresso aroma, with a full and creamy mouthfeel. Has a hint of vanilla and finishes with roasty espresso. Pairs well with dessert.
4.9
37
Seismic Brewing Co.
Alluvium
German-Style Pilsener
Brewed with 100% Bohemian malt to get the crisp, clean finish that is a hallmark of German Pilsner. Generously hopped, Alluvium is aromatically imbued with the spicy noble hops and a pleasantly bitter finish.
5
55
Seismic Brewing Co.
Liquifaction
German-style Kölsch
We enhance this delicate-yet-delicious flavor profile with floral hop nobility and a distinct San Francisco sourdough character to create an homage to the traditional Kolsch beer with a modern twist.
4.8
25
Seismic Brewing Co.
Megathrust
American-Style India Pale Ale
Each hop is loaded with essential oils redolent of tropical fruit, citrus, and pine. Built upon a luxurious malt foundation and dry-hopped with Mosaic and Azacca, Megathrust bursts with flavors of mango, pineapple, papaya, and tangerine.
7
55
Seismic Brewing Co.
Namazu
Session Beer
Brewed with a unique blend of hops, this generously dry-hopped Pale Ale boasts tropical, citrusy aromas, with a hint of strawberry and melon.
4.8
30
Seismic Brewing Co.
Shatter Cone
American-Style India Pale Ale
n.a.
7
55
Service Brewing Company
Ossabaw
American-Style India Pale Ale
A hoppy pale ale brewed with Savannah Bee Co. honey and Locally harvested Yaupon Holly leaves for hint of tea flavor
6.7
56
Service Brewing Company
Rally Point
Bohemian-Style Pilsener
"Rally Point" is a term used in military maneuvers to represent a place for troops to regroup, but there's no need for such formality here, soldier. Just grab some friends and gather round this light session brew. Bearing a sweet, malt character that burs
4.6
35
Service Brewing Company
SBC 3 Anniversary Ale
American-Style Wheat Wine Ale
Inspired by the dessert Tres Leches, This is a complex wheazwine brewed with Savannah Bee Co. honey, Vanilla Bean, and Milk sugar. A smooth brew with notes of candied fruit and caramel.
9.25
31
Service Brewing Company
Teufel Hunden
German-Style Maerzen
Legend has it that in WWI, the fortitude and ferocity shown by Marines earned them a fearsome nickname by their German counterparts: Teufel Hunden, or "Devil Dogs." That savage sobriquet has stuck around to inspire new generations of soldiers towards honor
5.5
23
Ship Bottom Brewery
Barnacle Bottom Stout
Coffee Stout or Porter
This Stout is Jet Black with a Creamy Tan Head. Flavors of Coffee, Chocolate and Oatmeal give this stout full flavor and great body
8.4
20
Ship Bottom Brewery
Barnegat Lager
German-Style Maerzen
Tribute to Old Barney. The most iconic landmark on Long Beach Island. Our classic German Lager has a malty aroma with a subtle fruit flavor from the Munich malt and has a very crisp finish.
6.3
15
Ship Bottom Brewery
Beach Patrol Hefeweizen Ale
German-Style Leichtes Weizen
This Wheat Beer is light, refreshing, it's made with a Yeast that leaves you with aromas and flavors of clove and bananas.
5.2
15
Ship Bottom Brewery
Stupid Paddle Boat IPA
Session India Pale Ale
Created with the crew at Pinocchio's Beer Garden to Go. This IPA was created using Amarillo, Simcoe, Citra and Columbus hops during the brewing process, then it's Hop Flushed to provide fresh hop aromas when fermentation is almost complete.
4.7
30
Ship Bottom Brewery
The Shack IPA
American-Style India Pale Ale
The hops used in this IPA leave hints of musky, earthy, citrus, mango, tropical and stone fruit aromas.
7.6
80
Shmaltz Brewing Co
Bittersweet Lenny's R.I.P.A.
Rye Beer
A rye-based double IPA brewed with an obscene amount of malts and hops.
10
0
Shmaltz Brewing Co
Funk Jewbelation 17
Aged Beer
A blend of eight ales and lagers, aged in bourbon barrels and rye whiskey barrels.
9.4
0
Shmaltz Brewing Co
Hop Manna IPA
American-Style India Pale Ale
Manna was said to combine the tastes of everything most delicious to each individual, depending on their desire. This beer is a celebration of the flower of the craft beer revolution; an opportunity to feed your inner hop head and rejoice in HOP MANNA
6.8
0
Shmaltz Brewing Co
Jewbelation 20
Strong Ale
10 malts, 10 hops, 20th-anniversary strong ale
16.8
0
Shmaltz Brewing Co
Messiah Nut Brown Ale
American-Style Brown Ale
A complex, yet smooth, blend of bold dark malts revealing hints of chocolate, coffee and toffee paired with a lovely hop character.
5.2
0
Shmaltz Brewing Co
Slingshot American Craft Lager
Session Beer
A tasty and clean craft lager for craft ale drinkers; a hint of rye and wheat in the malt bill and a blast of Pacific Northwest hops in the nose balances creativity with drinkability.
5.3
0
Shoe Tree Brewing Co.
American Brown Ale
American-Style Brown Ale
roasty and toasty with nice body
6.3
27
Shoe Tree Brewing Co.
Blonde Ale
Golden or Blonde Ale
all day drinking beer, smooth, light, and clean
5
15
Shoe Tree Brewing Co.
Cherry Berliner Weisse
American-Style Sour Ale
brewed w/ sour cherries, light and tart
4.1
8
Shoe Tree Brewing Co.
Root Beer Stout
American-Style Stout
brewed with lots of dark malts aged over root beer soaked oak chips
5.5
43
Shoreline Brewery
Atomic #29
American-Style India Pale Ale
Named for the 29th element on the periodic table, Atomic #29 Copper IPA contains seven different malts. An experiment in flavor combinations, this beer highlights the qualities of Cascade, Chinook, and Columbus hops.
7
0
Shoreline Brewery
Curse the Goat
German-Style Eisbock
This beer was brewed for ten years before the Curse of the Billy Goat was finally broken. Now brewed in celebration of the end of the 108 year drought, this rich and hearty lager is sure to satisfy all sports fans.
9.8
0
Shoreline Brewery
Don't Panic
English-Style Pale Mild Ale
Brewed for hoopy froods who know where their towels are, this beer is great when you need to limber up before hitching a ride. Our Don't Panic! is a classic English-style Pale Ale, medium bodied and lightly bittered with traditional old world hop varieties
5
0
Shoreline Brewery
Oktoberfest
German-Style Heller Bock/Maibock
A very true to style example of a traditional Oktoberfest, slightly sweetened by the use of caramelized malts. This lager is balanced with German grown hops, a soft water profile, and an authentic German lager yeast strain. Prost!
7
0
Shoreline Brewery
Shoddy Dock
Herb and Spice Beer
Brewed and fermented with grapefruit peel and fresh-cut lemongrass, this low-alcohol Session IPA is dry-hopped with Citra and Amarillo hops to compliment the herbs and spices.
4.5
0
Short's Brewing Co
Ants on a Lager
Vienna-Style Lager
Vienna style Lager brewed w/ peanut butter, raisins & hand-juiced celery. Copper-colored w/ a frothy white head. Aromas of peanut butter, caramel & light biscuit. Flavors of peanut butter & slightly sweet raisin are followed by a hint of celery.
5.9
15
Short's Brewing Co
Aorta Ale
Double Red Ale
Aorta Ale is a double red ale with aromas of candy, brown sugar and toasted malt, and a dark reddish-brown appearance.
9.6
82
Short's Brewing Co
Bourbon Barrel Aged Black Cherry Porter
Wood- and Barrel-Aged Dark Beer
Aged in bourbon barrels for 9 months, fermented w/ Northern Michigan sweet black cherries & 8 different malts. A slight purple lace from the fruit puree enticingly leads into smooth soft hints of roasted chocolate & pleasurable black cherry & bourbon.
11.3
35
Short's Brewing Co
Carrot Cake
American-Style Brown Ale
An Experimental Strong American Brown Ale developed to taste like a traditional carrot cake. The malty rich base provides the "cakebatter" to support the ginger, allspice, cinnamon, maple syrup and carrot puree for additional depth, complexity and flavor.
8
9
Short's Brewing Co
Gitchy Gitchy Ooh La La
Experimental Beer
An Experimental Kolsch style Ale brewed with lemon juice, cucumber and lilac flower. Pleasant grain qualities help achieve a balance between refreshment and bold ingredients, with a light bitterness to round out the finish.
5.5
35
Short's Brewing Co
Local's Light
American-Style Lager
Local's Light is a light and very tasty Lager. The beer is crisp and clean and has a subtle malt quality. Flavors of grass and sweet corn are complemented by the scent of mild noble hops.
5.2
11
Short's Brewing Co
Mule Beer
American-Style Cream Ale
A Cream Ale brewed with lime and blended with Northwoods Soda & Syrup Co. Wild Ginger soda. Hazy copper in color with an off-white head, Mule Beer pours with aromas of pungent ginger and tangy lime.
6.2
25
Short's Brewing Co
Soft Parade Shandy
American-Style Fruit Beer
Soft Parade Shandy is a blend of Short's flagship Fruit Rye Ale, Soft Parade, and Northwoods Soda & Syrup Co. Gourmet Lemonade.
4.2
12
Short's Brewing Co
Woodmaster
American-Style Brown Ale
High gravity, American Brown Ale fermented with Northern Michigan maple syrup & toasted pecans. This dark brown, full bodied ale is rich with sweet malt & syrup flavors. These flavors are complemented by the presence of hop aromas & a faint nuttiness.
10.5
23
Short's Brewing Co
Wowee Zowee
American-Style Amber/Red Ale
An Experimental American Amber Ale brewed with fresh mint and mango. Slight sweetness with medium to light fruit tones are provided by mango, while fresh mint brings balanced herbal refreshment.
6.2
50
Sibling Revelry Brewing
Coffee Red
American-Style Amber/Red Ale
We took a few barrels of our flagship Red Ale and conditioned it with freshly roasted Rwandan coffee from our friends at duck-rabbit Coffee. Using whole beans instead of ground or cold press gives a rounder, more subtle coffee flavor.
5.5
35
Sibling Revelry Brewing
IPA
American-Style India Pale Ale
An IPA with big pine, citrus and stone fruit aromas and a clean, dry finish.
6.5
60
Sibling Revelry Brewing
Pilsner
German-Style Pilsener
The clean malt profile allows the bright hop aroma and spicy character of the noble hop varieties to shine. The beer finishes clean and dry, brewed to be a perfectly drinkable compliment to summer.
5.1
35
Sierra Blanca Brewing Co
Sierra Blanca Bone Chiller Brown Ale
English-Style Brown Ale
The complexity of this Nut Brown is created mainly by chocolate and dark chocolate malted barley. There is a roasted coffe flavor with hints of chocolate & nutty or nutmeg finish on the back of the tongue.
5
16
Sierra Blanca Brewing Co
Sierra Blanca Cherry Wheat
Fruit Wheat Beer
Brewed with Real Cherries, this cherry wheat is a perfect balance of sweet & wheat. Luscious and tart cherry fruitiness add to the mystery as this crisp, refreshing beer satisfies the discerning beer drinker.
4.5
10
Sierra Blanca Brewing Co
Sierra Blanca Desert Pilsner
German-Style Pilsener
Using only German yeast, malt and hops. This lager is fermented @ 55 for a week and the lagered (Geman for stored) for atleast 2 more weeks. The sharp hop bite up front keeps the palette clean; giving the beer a high drinkability.
5.4
37
Sierra Blanca Brewing Co
Sierra Blanca Green Chile Cerveza
Chili Beer
American Light Lager using Roasted New Mexico Hatch Big Jim Chile which is steeped in our American Lager for 7 days
4.67
12
Sierra Nevada Brewing Co
Beer Camp Dry-Hopped Barleywine Ale
British-Style Barley Wine Ale
A blend of our classic Bigfoot Barleywine and Avery Brewing Co.'s Hog Heaven, lovingly dubbed "Big Hog" or "HogFoot." Big, intense, and hoppy.
9.4
90
Sierra Nevada Brewing Co
BFD - Beer for Drinking
Golden or Blonde Ale
Unfussy, uncomplicated hoppy golden ale brewed to hit all the right spots. This isn't beer for collecting, this beer is for Drinking.
4.9
33
Sierra Nevada Brewing Co
Know Good IPA
American-Style India Pale Ale
A straightforward, full-throttle, American IPA. Hop flavor and lots of it. It's hazy blonde malt body has just enough heft to carry the citrus and the floral hop notes straight to your palate.
6.2
62
Sierra Nevada Brewing Co
Oktoberfest
German-Style Oktoberfest/Wiesn
Collaborated with Germany's Brauhaus Miltenberger for a festival beer true to style--deep golden in color with deceptively rich malt flavor balanced by traditional German-grown whole-cone hops.
6.1
30
Sierra Nevada Brewing Co
Otra Vez Lime and Blue Agave
Contemporary Gose
Our take on the gose is light bodied and thirst quenching, filled with complex and interesting flavors.
4.5
5
Sierra Nevada Brewing Co
Pale Ale
American-Style Pale Ale
Our classic Pale Ale. Pine and grapefruit aromas, complex and bold.
5.6
38
Sierra Nevada Brewing Co
Torpedo Extra IPA
American-Style India Pale Ale
The first beer to feature our Hop Torpedo--a revolutionary dry-hopping device-- Torpedo Extra IPA is an aggressive yet balanced beer with massive hop aromas of citrus, pine, and tropical fruit.
7.2
65
Sierra Nevada Brewing Co
Trip in the Woods Barrel-Aged Cocoa Coconut Narwhal
Wood- and Barrel-Aged Strong Stout
Our cult classic Narwhal Imperial Stout brewed with cocoa and coconut and aged in bourbon barrels. Rich and decadent.
11.8
0
Sierra Nevada Brewing Co
Trip in the Woods Red Wine Barrel-Aged Bigfoot
British-Style Barley Wine Ale
An astonishingly complex range of flavors, matching bittersweet caramel-like malt notes of Bigfoot with deep, dark fruit notes from the red wine barrels and a touch of oak character that shines through.
9.5
65
Sierra Nevada Brewing Co
Tropical Torpedo
American-Style India Pale Ale
We used our one-of-a-kind Hop Torpedo to deliver an intense rush of hop flavor and the lush aromas of mango, papaya, and passionfruit with every sip.
6.7
55
Silva Brewing
1st Gold
German-style Kölsch
Inspired by a 2000 World Beer Cup Gold Medal winning German Blonde Ale recipe, straw yellow colored with a soft Pilsner malt flavor and lightly hopped with Oregon grown Mt Hood hops for a crisp clean finish.
4.5
20
Silva Brewing
525 Pine
American-Style India Pale Ale
Golden IPA having a deep golden color from premium English pale malts while lending a mildly sweet undertone for this Mosaic, Citra, and Simcoe hop laden IPA.
6.5
65
Silva Brewing
Hop Maniac
American-Style India Pale Ale
A definitive Classic West Coast-style IPA inspired by the original 2003 GABF Bronze Medal winning Hop Maniac IPA
7
90
Silva Brewing
Paso Pale
English-Style Summer Ale
Modern American Pale Ale, golden colored brewed with a proprietary pale malt blend for medium-low intensity malt flavor in support of bright Citra hop, accentuate by pungent Simcoe hop, and dry-hopped with both for bright hop aromatics.
5.5
28
Silva Brewing
PoHo
Double Red Ale
Nicknamed in honor of North SLO County's "Pour House", a Red IPA with deep ruddy and chestnut hues is brewed with rich caramel malts and elevated hop character.
6.5
65
Single Speed Brewing Co
Coconut Migration
Imperial India Pale Ale
If you like Piña Coladas and/or getting caught in the rain you're probably gonna be feeling this beer. If you don't like either of those things, well that sucks for you. We still recommend ordering one.
7.4
75
Single Speed Brewing Co
Jeremy and the Giant Peach
American-Style Sour Ale
Lightning Strikes and from it this American-Style Kettle Sour falls... A lactobacillus granted tartness is layered upon prominent fresh fruit notes (Peach/Apricot) giving this rhinoceros of an ale a truly special flavor profile.
4.6
9
Single Speed Brewing Co
Tip the Cow
American-Style Stout
Have you ever reveled in the essence of a chocolate-covered espresso bean? How about in form of a beer? Here is your shot. This full bodied, creamy, Milk Stout has been touched by the gentle hand of Sidecar Coffee Roasters.
6.2
34
Single Speed Brewing Co
Zach's Mexican Donuts
Oatmeal Stout
Locally roasted coffee, Ecuadorian cacao nibs, vanilla bean and a spince blend transform this standard take on the stout style into a full blown life-altering experience.
5.6
20
Six Rivers Brewery
Chili Pepper Ale
Chili Beer
Specially brewed wheat ale infused with Brewmaster Carlos' special blend of fresh and fire roasted chilies. "It's a hot boy!" *GABF Silver Medal Winner 2004
6
22
Six Rivers Brewery
Hammond Trail Ale
American-Style Cream Ale
A classic American Lagered Cream ale, brewed with 20% flaked corn added to the grist. Light on hops, smooth and flavorful, crisp finish.
6
26
Six Rivers Brewery
Macadamia Nut Porter
Robust Porter
Brewed with Williamette and Northern Brewer Hops and all imported malts. Deep mahogany in color, this multiple award winning fan-favorite packs a tropical twist.
6
22
Six Rivers Brewery
Raspberry Lambic
Belgian-Style Dubbel
Bursting with real fruit flavor, each batch is brewed with 480lbs of whole respberries, Belgian ale yeast, Belgian and candi sugar, Hallertauer hops, and American Oak chips. Deep red in color with a powerful raspberry punch.
7
13
SKA Brewing
BHC DIPA
Imperial India Pale Ale
When life hands us too many hops, we brew this fruity, juicy, hop-bursting double IPA. Full and luscious tropical fruit aromas, pull you in and eventually give way to stone fruit flavors.
8
75
SKA Brewing
Mexican Logger
American-Style Lager
The perfect Mexican Lager, light and refreshing
5.2
16
SKA Brewing
Modus Hoperandi
American-Style India Pale Ale
An American style IPA with a deep Golden-Orange color. Bitter and hoppy with a surprisingly smooth finish.
6.8
88
SKA Brewing
Modus Mandarina
American-Style India Pale Ale
A unique twist on our Modus Hoperadi IPA, This citrus IPA is dry-hopped with generous portions of Mandarina Bavaria hops and brewed with sweet orange peel.
6.8
88
SKA Brewing
Pils World Craft Lager
American-Style Pilsener
The new American Pilsner. Crisp and clean. Our twist on a classic German Pilsner lends a light malt backbone to a moderately bitter hop presence.
5.4
34
SKA Brewing
Pink Vapor Stew
American-Style Sour Ale
A tropical medley of citrus, sour, and tart flavors blended together. Featuring Citra, and Belma hops combined with beets, carrots, ginger and apples.
5.1
20
SKA Brewing
Rye Barrel-Aged Russian Imperial Stout
Wood- and Barrel-Aged Strong Stout
Aged on Woodford Rye Barrels, this Russian Imperial Stout is nothing short of remarkable. With barrel derived notes of coconut, vanilla, huge roasted chocolate and burnt malt flavors.
13.1
58
SKA Brewing
Sour Apple Gose
Contemporary Gose
The scent of sweet apple blossoms give way to honey and lemony tartness from the citra hops and souring. Tastes like you're sipping on crisp apple juice with bright tartness that's refreshing not drying.
5.1
11
SKA Brewing
Tart Mexican Logger
American-Style Lager
Mexican Logger Soured with Lime, Lemon and Sea Salt
5.2
20
SKA Brewing
True Blonde Ale
Golden or Blonde Ale
A crisp blonde ale, golden in color, medium in body brewed with honey.
5
22
Sly Fox Brewing Co
Grisette Summer Ale
Other Belgian- and French-Style Ale
A Belgian-style Farmhouse Ale
5.6
25
Sly Fox Brewing Co
Helles Golden Lager
Munich-Style Helles
A German-style golden lager brewed with imported German pils malt and Saaz and Hallertau hops.
4.9
18
Sly Fox Brewing Co
Oktoberfest
German-Style Oktoberfest/Wiesn
A medium-bodied, smooth and malty brew made with German Vienna malts and noble German hops.
5.8
25
Sly Fox Brewing Co
Pikeland Pils
German-Style Pilsener
A northern German-style Pilsner brewed with imported German pils malt and hopped with German and Czech hops.
4.9
44
Snake River Brewing Co
Hoback Hefeweizen
South German-Style Hefeweizen
The classic banana and clove-like flavors are derived from the Weihenstephan Bavarian yeast. Because the beer is unfiltered, these dynamic yeasty flavors come through strongly. There is merely a hint of hop flavor added so as not to compete with the yeast
5
12
Snake River Brewing Co
Long Strange Trip
American-Style Sour Ale
Sour Beer
0
0
Snake River Brewing Co
Monarch Pilsner
German-Style Pilsener
Our Monarch Pilsner is a traditional style European pilsner, brewed with 100% pilsner malt. Hopping with German lineage hops produces evident bitterness as well as a crisp finish
5
38
Snake River Brewing Co
Spear Gun Coffee Milk Stout
American-Style Stout
The addition of lactose (milk sugar) to this easy drinking stout gives it a creamy smooth finish. Flaked barley and oats create a mouthfeel like no other. The addition of cold pressed coffee from Snake River Roasters will have you absolutely buzzing!
4.6
13
Snowbank Brewing
Colorado Red
Double Red Ale
Deep amber, medium body, balanced caramel and crystal malt flavor with a hefty tropical hop bitterness and resiny, citrus aroma.
7
0
Snowbank Brewing
Cranknbrew
Coffee Beer
Crisp and clean pale ale with a powerful addition of fresh, locally roasted ethiopian coffee beans.
5.5
0
Snowbank Brewing
Cucumber Sourado
American-Style Sour Ale
A dry hopped session sour hopped with a hefty dose of Apollo and Citra hops, then infused with real cucumber juice.
4.3
0
Snowbank Brewing
Dark Chocolate Porter
Robust Porter
Black coffee, caramel and intense cacao nibs on the nose, chocolate covered almond flavor, and a mellow chocolatey finish.
6.4
0
Snowbank Brewing
Snow Juice NEIPA
American-Style India Pale Ale
Lower bitterness, juicy, and hazy. This beer was made with a large amount of Citra, El Dorado and Apollo hops, english yeast, and plenty of oats
6.5
0
Snowy Mountain Brewery
2017 Solar Eclipse
Czech Dark Lager
German-style Schwarzbier (Black Lager). Our version of this dark-colored, malty lager has a light body with complex aromas of nuts, caramel, coffee and chocolate
4.7
0
Snowy Mountain Brewery
Aspen Alley Alt
German-Style Altbier
German-style Altbier medium bodied, amber colored ale with notes of sweet malt, grapes, toasted malt flavor and a even bitterness throughout.
5.5
0
Snowy Mountain Brewery
Saratoga Oktoberfest
German-Style Maerzen
American-style Oktoberfest Amber Lager. Smooth and crisp with hints of caramel and toasted malts.
5.9
0
Snowy Mountain Brewery
Treasure Island IPA
American-Style India Pale Ale
Belgian saison aged in wine barrels for sixteen months with Brett.
6.8
0
Societe Brewing Company
The Coachman
Session India Pale Ale
The Coachman is a session IPA that packs intense hop presence despite its low-alcohol content. It exhibits evergreen hoppiness and restrained bitterness evocative of lemon rind.
4.7
0
Societe Brewing Company
The Harlot
Belgian-Style Blonde Ale
The Harlot is crisp, light and easy-drinking. It combines a Pilsner-like base-recipe with Belgian yeast to create a versatile beer with a light body and elegant, floral hop character.
5.6
0
Societe Brewing Company
The Pupil
American-Style India Pale Ale
The Pupil is a smooth, medium-bodied, pleasantly dry IPA with forward aromas and flavor evocative of tropical fruit. Notes of guava and mango are most commonly detected.
7.5
0
Societe Brewing Company
The Thief
Mixed-Culture Brett Beer
The Thief is a mixed-culture blonde ale aged with Grenache Blanc grapes.
6.3
0
Societe Brewing Company
The Volcanist
American-Style Stout
The Volcanist is crafted in the American style, it delivers all of the deep, roasty, chocolaty flavors one desires from a stout, but with bright, piney highlights brought on by the addition of Cascade hops.
6.3
0
Something Brewery
Beez Knees
Belgian-Style Blonde Ale
Honey Blonde Ale
5.6
24
Something Brewery
Charons Obol
Irish-Style Red Ale
Vanilla Irish Red
5
21
Something Brewery
Hop Galaxy
Imperial India Pale Ale
Double IPA
8.5
100
Something Brewery
Totes Habaneros
American-Style Pale Ale
Pineapple Mango tea infused habanero Pale Ale
5.6
41
South Park Brewing
Colorado Kool-Aid
Other Smoke Beer
Smoked Brown Porter - Bacon, Caramel, Chocolate, Bread
4.8
0
South Park Brewing
Grassmarket
Scottish-Style Export Ale
Malt, Caramel, Toffee, Raisin, Not sweet or cloying!
5
0
South Park Brewing
Scripps Pier
Oatmeal Stout
Balanced, Roast and oats
5.2
0
South Park Brewing
Uniform of the Day
American-Style India Pale Ale
Juicy, Fruity, Delicious
7
60
Southern Prohibition Brewing
Bourbon Barrel Aged Sleeper Agent Russian Imperial Stout
Wood- and Barrel-Aged Strong Stout
Russian Imperial Stout conditioned in Willet Bourbon Barrels for 8 months. This beer was released with immediate consumption in mind, but we believe it can go under cover in your cellar as well.
9.1
0
Southern Prohibition Brewing
Clandestine Cuvée
Brett Beer
Oak aged Saison refermented with brettanomyces claussenii. Four premium barrels, selected and blended by our head brewer.
8.4
0
Southern Prohibition Brewing
Devil's Harvest Breakfast IPA
Session India Pale Ale
Flaked oats in the boil, confront a heavy hand of citra in the dry hop and bring forth a nose and mouth feel worthy to be a part of many a well balanced breakfast.
4.9
0
Southern Prohibition Brewing
Paradise Lost Double Dry-Hopped IPA
Imperial India Pale Ale
Deep golden and opaque, massive tropical fruit and pine aromas. Brewed with Lupulin powder and a heavy handed double dry-hop creating flavors of peach, mango and pineapple.
8.1
0
Southern Tier Brewing Co
2XIPA
Imperial India Pale Ale
A feverishly hoppy Double IPA with a malty backbone and higher-than-standard alcohol content. Citrusy hops tease the senses with aromatics and lingering bitterness, while just the right balance of malts disguises 2XIPA's extra gravity.
8.2
80
Southern Tier Brewing Co
Monstrosus
Wood- and Barrel-Aged Strong Stout
Part of our Barrel Works Series, this bourbon barrel aged imperial stout features black malt, chocolate malt and roasted barley on the grain bill. The beer then ages for 12 months in bourbon barrels.
14.7
0
Southern Tier Brewing Co
Nu Skool IPA
American-Style India Pale Ale
An approachable, well-balanced IPA with slight malty sweetness that's brimming with tropical, fruity, spicy, piney & citrus character.
6
55
Southern Tier Brewing Co
Pumking Imperial Ale
Pumpkin/Squash Beer
Take a whiff of this complex ale and your journey has just begun. At first sip, a magical spell will bewitch your taste buds, yet anther victim enraptured by the Pumking.
8.6
30
Southern Tier Brewing Co
Thick Mint Stout
American-Style Imperial Stout
This imperial stout is a mouthful of perfectly balanced mint & chocolate. Roasty malts coalesce with notes of Belgian dark chocolate, sweet mint & just a touch of sweet caramel. So decadently delicious, you'll wish you'd bought another box… er, bottle.
10
60
SouthNorte Beer Co.
Big Jefe
German-Style Leichtes Weizen
Weizenbock collab w/ Fauna Brewing
7
0
SouthNorte Beer Co.
No Güey!
American-Style India Pale Ale
Mango IPA
6.5
45
SouthNorte Beer Co.
Sea Señor!
American-Style Lager
Mexican Style Lager
4.5
18
SouthNorte Beer Co.
SouthNorte Agave Pilsner
German-Style Pilsener
Agave Pilsner
6.3
20
SouthNorte Beer Co.
SouthNorte Dark Lager
Czech Dark Lager
Dark Lager
4.5
25
Speciation Artisan Ales
Genetic Drift Batch 4
Mixed-Culture Brett Beer
American Wild Saison Dry Hopped w/ Belma & Saphir
7.1
26
Speciation Artisan Ales
Rhubarb Vanilla Incipient
American-Style Sour Ale
Stainless Aged Sour with 2 lb/gallon MI grown Rhubarb and Mexican vanilla beans
7
0
Speciation Artisan Ales
Sweet Cherry Incipient
American-Style Sour Ale
Stainless Aged Sour with 1.5 lbs/gallon sweet cherries from Traverse City.
6.5
0
Speciation Artisan Ales
Tequila BA Incipient w/ Blood Orange, Guava, Limes, & Salt
Wood- and Barrel-Aged Sour Beer
Tequila BA Incipient w/ Blood Orange, Guava, Limes, & Salt
7.5
0
Spice Trade Brewing
Calico IPA
American-Style India Pale Ale
This IPA is brewed with 100% Mosaic hops and drinks with notes of papaya and tropical fruits.
5.4
75
Spice Trade Brewing
Coffee Rocket
Coffee Beer
Coffee snobs rejoyce! If a pour over and a beer had a baby, Coffee Rocket would be it.
6.7
25
Spice Trade Brewing
Dog Days - Pro Am
Fruit Wheat Beer
This American style Wheat Ale is crisp and refreshing, brewed with lemon peel and raspberries.
5.1
17
Spice Trade Brewing
King Montezuma
American-Style Imperial Stout
A seriously complex Russian Imperial Stout infused with ceylon cinnamon, mexican vanilla, and a blend of roasted chili peppers. This beer has layers of chocolaty complexity and is inspired by the traditional Mayan Chocolate recipe
9.7
70
Spice Trade Brewing
Pineapple Jalapeno Lena
Chili Beer
Light in color, not in flavor. Aged on jalapeno peppers and pineapple for a deliciously aromatic, moderately spicy and slightly sweet beer.
5.2
25
Spice Trade Brewing
Sun Temple IPA
American-Style India Pale Ale
This juicy, NE style IPA is excessivley dry hopped with ElDorado, Citra and Simcoe hops. It drinks with notes of Mango, candy, and citrus fruit.
6.5
60
Spider Bite Brewing Co
Boris the Spider
British-Style Imperial Stout
Big and black
10
0
Spider Bite Brewing Co
Second Bite IPA
American-Style India Pale Ale
Ipa with Citra, Cascade, and Zythos hops
7.4
0
Square Peg Brewerks
Colorado Common Cream Ale
American-Style Cream Ale
Cream Ale
4.8
13
Square Peg Brewerks
The Duke Vienna Style Lager
Vienna-Style Lager
Strong Vienna style lager
6.8
15
Square Peg Brewerks
Wheat Boss Hefe
South German-Style Hefeweizen
South Bavarian hefeweizen with hint of banana and a touch of clove.
4.2
14
St. Elmo Brewing Company
Angus
American-Style Stout
Roast - Vans - Cacao - Rock
5.1
25
St. Elmo Brewing Company
Carl
German-style Kölsch
Flowers - Green Grape - Smiles - Necessary
4.6
27
St. Elmo Brewing Company
Chico
American-Style Pale Ale
Friendly - Grapefruit - Young - Pow!
5.3
30
St. Elmo Brewing Company
Dad
American-Style Pilsener
America - Corn - Lawnmower - Light
4.9
21
St. Pete Brewing Company
Milo's IPA
American-Style India Pale Ale
West coast style IPA, piney and full of flavor. N. Brewer, Chinook and Columbus hops.
7
85
St. Pete Brewing Company
Put Me in, Kolsch
German-style Kölsch
A crisp and refreshing beer with subtle fruit and hop characters.
6.4
0
St. Pete Brewing Company
The McCracken Scottish Ale
Scottish-Style Export Ale
Full bodied with a sweet caramel and malt character.
6
0
Standard Deviant Brewing
Altbier
German-Style Altbier
Classic German Amber Ale. Crisp and malty with slight roast.
5.6
33
Standard Deviant Brewing
Callista Pale Ale
American-Style Pale Ale
Single Hopped Pale Ale. Light malt with light fruit and citrus notes leaves this refreshing and easy to drink with low bitterness.
5.8
40
Standard Deviant Brewing
Kolsch
German-style Kölsch
Crisp, light, smooth and refreshing beer with a clean but assertive bitterness.
5.3
25
Standard Deviant Brewing
Porter
Brown Porter
English Brown Porter with nice amber colors. Very subtle flavors of coffee and chocolate round out this beautiful Porter.
6.6
22
Starr Hill Brewery LLC
Festie Oktoberfest Lager
German-Style Oktoberfest/Wiesn
Rich and malty, Festie is our tribute to the great German lager. Its name invokes the German tradition of Oktoberfest, while also paying homage to the end of the summer music festival season.
4.8
0
Starr Hill Brewery LLC
Front Row Golden Ale
Golden or Blonde Ale
This light and refreshing beer is the perfect balance of Honey malt and Cascade hops for a smooth body and clean finish.
4.9
0
Starr Hill Brewery LLC
Last Leaf Maple Brown Ale
American-Style Brown Ale
A classic English Brown Ale brewed with several different malts, hopped with East Kent Goldings, and real Virginia maple syrup. The maple aroma, with subtle vanilla notes, leads into a rich and smooth body with a malty character.
6.1
0
Starr Hill Brewery LLC
The Love Wheat Beer
South German-Style Hefeweizen
The Love is an unfiltered wheat beer, also known as a Hefeweizen. It is distinguished by its extremely light body and fruity aroma, finished with spicy notes.
5.1
0
Steady Habit Brewing Company
Big Bad Bunny
Sweet Stout or Cream Stout
Chocolate Coconut Milk Stout. Creamy, bitter sweet.
8
0
Steady Habit Brewing Company
Boom! Citra Laka
Imperial India Pale Ale
Single hop (Citra) Double IPA. Big bold citrus flavor with a nice hop bite and a clean finish.
8
0
Steady Habit Brewing Company
Hoptical Storm
American-Style India Pale Ale
Blend of Kohatu and Pacific Gem hops for a nice tropical flavor and a slightly bitter finish
6.5
0
Stockyards Brewing Company
West Hef (Hefeweizen)
South German-Style Hefeweizen
This Bavarian wheat beer has the traditional banana and clove flavors with the toasted grain character from torrified wheat and white wheat malts. A touch of Crystal hops finish this refreshing summer staple
4.8
13
Stockyards Brewing Company
Anniversary Ale
Belgian-Style Dark Strong Ale
Brewed with family grown and malted barleys from Two Track Malting in North Dakota. This strong Belgian Ale is borderline IPA with the tropical fruit characteristics of Mosaic and El Dorado hops. Fermented with a classic Belgian Abbey yeast.
7.7
65
Stockyards Brewing Company
Saison
Classic Saison
Belgian yeast takes a front seat in this wheat and rye ale. The equal balance of orange peel, lemon peel, and crushed black pepper lightly dance around your palate.
6.5
29
Stockyards Brewing Company
Stocktoberfest
German-Style Maerzen
No description available
5.2
0
Stone Brewing Co
Cimmerian Portal
American-Style Stout
Stone Brewing World Bistro and Gardens - Liberty Station
7.2
0
Stone Brewing Co
Delicious IPA
American-Style India Pale Ale
A citrusy India pale ale with Lemondrop and El Dorado hops
7.7
75
Stone Brewing Co
Enjoy By 10.31.17 IPA
Imperial India Pale Ale
#unfilteredfresh
9.4
90
Stone Brewing Co
Fruitallica
Experimental Beer
Colab with Beaverton & Garage Project. Brewed with New Zealand hops, Golden Kiwi, Yuzu peel and Habanero
8
80
Stone Brewing Co
Neapolitan Dynamite
Experimental Beer
Colab with Paul Bischeri & PAtrick Martinez and Abnormal Beer Company. An Imperial stout brewed with chocolate, vanilla, strawberries and coffee.
8.5
0
Stone Brewing Co
Ripper
American-Style Pale Ale
Grapefruit and passion fruit hoppiness
5.7
40
Stone Brewing Co
Stone Farking Wheaton W00tStout
Specialty Beer
Brewed with pecans, what & rye, one quarter aged in bourbon barrels
13
65
Stone Brewing Co
Vengeful Spirit IPA
American-Style Fruit Beer
Unfiltered IPA w/juicy pineapple and Mandarin orange
7.3
57
Stone Brewing Co
Witty Moron
Belgian-Style Witbier
Stone Brewing World Bistro and Gardens - Liberty Station
4.9
0
Stone Brewing Co
Xocoveza
Specialty Beer
Winter-spiced Mocha Stout
8.1
50
Stonehome Brewing Company
Heartless
Golden or Blonde Ale
A bright golden ale that is subtly sweet, light on the tongue and palate.
4.5
18
Stonehome Brewing Company
Juneberry Jam
American-Style Fruit Beer
Brewed with 88 pounds of Juneberries. Fruit-forward Juneberry flavor with a grain aftertaste.
4.9
0
Stonehome Brewing Company
Sauce Box
Berliner-Style Weisse
Brewed very low in ABV at 3.7% and in house it is served with a customer's choice of raspberry, blueberry or woodruff sauce.
3.7
0
Stonehome Brewing Company
Traust
Classic Irish-Style Dry Stout
The name is Norwegian for stout. Easy drinking, lightly roasted, foamy tan head with a clean, light mouthfeel.
4.5
37
Stonehome Brewing Company
War Bonnet
Imperial India Pale Ale
Juicy, aromatic with citrus and tropical fruit.
7.6
75
Storm Peak Brewing Company
Citra Lawn Mower Cream Ale
American-Style Cream Ale
Floral and citrus notes come through with this Cream Ale hopped with Citra™ Hops. Clean, refreshing, and bright
5
17
Storm Peak Brewing Company
Gaper Pilsner
American-Style Pilsener
Pilsner
4.9
30
Storm Peak Brewing Company
Mad Creek Kolsch
German-style Kölsch
Kolsch-style
5.2
22
Storm Peak Brewing Company
Maestro IPA
American-Style India Pale Ale
Heavily hopped with Citra, Chinook, Cascade, and Columbus
7.1
70
Storm Peak Brewing Company
Paddy's Porter
Robust Porter
Dark and hearty with roasted flavors of chocolate and coffee
7.6
0
Storm Peak Brewing Company
We're 3 Hoppy Wheat
American Wheat Beer
Hoppy Wheat
5.4
0
StormBreaker Brewing
Extra Special Baby
English-Style Pale Mild Ale
Brewed with Sterling Hops. Fruity and earthy aromas. Malty with a touch of caramel balanced with spicy, herbal and fruity hop notes.
5.8
46
StormBreaker Brewing
Mississippi Dry Hopped Red
American-Style Amber/Red Ale
An homage to our street we now call home, this Citra dry hopped Red gives the appearance of an IPA on the nose, with hops apparent on the palate, but balanced with caramel flavors for a smooth finish. Red perfection!
5.8
29
StormBreaker Brewing
Opacus Stout
Oatmeal Stout
As dark and rich as the thick cloud formation for which it is named, the infiltrating aromas of cocoa, deep roast, and caramel are followed by swarming flavors of toffee, dark chocolate, and coffee. 
5
27
StormBreaker Brewing
Triple Double IPA
Imperial India Pale Ale
With 10 hop additions of 3 hop varietals: Mosaic, Citra, and Amarillo, this beer SCORES on your palate, REBOUNDS in your nose, and is ASSISTED by the citrus flavors.
8.5
90
Strange Craft Beer Co
1000 Barrels Imperial IPA
Imperial India Pale Ale
Over 3 pounds of Simcoe Amarillo and Summit per barrel.
9.2
99
Strange Craft Beer Co
Cherry Kriek
Belgian-Style Fruit Beer
Think cherry pie in a glass.
5
15
Strange Craft Beer Co
Dr. Strangelove
American-Style Barley Wine Ale
Hoppy, malty award-winning barleywine.
11.5
100
Strange Craft Beer Co
Fallout Pale
American-Style Pale Ale
Hop forward pale featuring Citra & Mosaic.
4.4
30
Strange Craft Beer Co
Farmhouse Ale
Other Belgian-Style Strong Specialty Ale
Fruity spicy malty. Huge Belgian character.
8.3
40
Strange Craft Beer Co
IPAphany IPA
American-Style India Pale Ale
Malty, hoppy, lusciously smooth drinking.
6.6
60
Strange Craft Beer Co
Shaking the Tree
Berliner-Style Weisse
Kettle sour finished on purple plums.
4.4
10
Strange Craft Beer Co
Strangely Epic
American-Style Stout
Collab with Epic, blend of Big Bad Baptist and Cherry Kriek.
8
40
Strange Craft Beer Co
Watermelon Hefe
Fruit Wheat Beer
Over 600 pounds of watermelon per 10bbl batch.
5.5
15
Studio Brew
Dad Pilsner
German-Style Pilsener
Southern German Style Pilsner
5.5
31
Studio Brew
Studio Vienna
Vienna-Style Lager
Vienna Style Lager
5.5
23
Studio Brew
The Ferguson
Oatmeal Stout
Oatmeal Chocolate Milk Stout
6.1
23
Studio Brew
The Ferguson Bourbon Barrel
Oatmeal Stout
Oatmeal Chocolate Milk Stout aged in Bourbon Barrels
6.1
23
Sudwerk Brewing Co
Funk Hop Farm
Mixed-Culture Brett Beer
Dry hopped golden sour - gold medal winner at 2016 GABF
6.5
15
Sudwerk Brewing Co
Kristalweizen
South German-Style Kristal Weizen
Clear and clean wheat ale with notes of clove, bubblegum and spice.
4.5
22
Sudwerk Brewing Co
Northern Pilsner
Bohemian-Style Pilsener
Clean and crisp pilsner - the brewer's choice of our beers.
5.3
35
Sudwerk Brewing Co
Uncle Fester
Wood- and Barrel-Aged Sour Beer
Sour doppelbock aged in wine barrels.
9
10
Sudwerk Brewing Co
Vienna Lager
Vienna-Style Lager
Vienna Lager brewed in conjuction with local home-brewer.
5.6
20
Summit Brewing Co
Summit Extra Pale Ale
English-Style India Pale Ale
A pioneer in craft beer (hey, that rhymes), Summit Extra Pale Ale has been gracing the pint glasses of serious beer lovers since 1986. Bronze color. Gold medal-winning flavor. Featuring caramel, biscuity malts balanced by an earthy hop bite and juicy citru
5.2
49
Summit Brewing Co
Summit Oktoberfest
German-Style Maerzen
Brewed in the classic Märzen style with Northern Brewer hops from Germany. Rich, toffee malt flavors up front with a clean hop finish as crisp as the autumn air. Unfortunately, like the fall colors, this seasonal beer is gone before you know it.
6.5
30
Summit Brewing Co
Summit Pilsener
Bohemian-Style Pilsener
Authentic Saaz hops from the Czech Republic give our Pilsener just the right amount of spicy floral aroma. With a crisp, refreshing malt backbone and lightly spiced hops, it provides a taste of the Bohemian life.
4.5
23
Summit Brewing Co
Summit Sága IPA
American-Style India Pale Ale
Named after the Norse goddess Sága, drinking companion of the God Odin. Featuring a divine tropical fruit hop aroma and clean, assertive bitterness.
6.2
80
Summit Brewing Co
Summit Unchained 25: Vienna-Style Lager
Vienna-Style Lager
A style that has gone mostly extinct in its area of origin, Unchained 25 features notes of toast, biscuit, and caramel from Barke Vienna and CaraFoam malt, plus balanced bitterness from spicy and herbal Hallertau Mittlefruh and German Perle hops.
5.1
23
Sun King Brewing Co
Caramel Apple Tripel
Belgian-Style Tripel
Caramel Apple Tripel combines the fruity caramel character of traditional Belgian-style Tripels with dried apple and brown sugar sweetness.
9.4
30
Sun King Brewing Co
Cherry Busey
Other Belgian-Style Sour Ale
Cherry Busey is a Flanders-style Oud Bruin Ale produced using a complex cocktail of wild yeasts and aged in a bevy of barrels. A multitude of Montmorency cherries were lovingly liberated to give the beer its tart cherry tang.
6.9
23
Sun King Brewing Co
Magpie Muckle
Wood- and Barrel-Aged Sour Beer
Magpie Muckle combines the abundant fruity aromatics and sweetness of mead with the balanced butterscotch richness and warming character of its Scottish Wee Heavy base.
9.4
23
Sun King Brewing Co
One Bad G
Wood- and Barrel-Aged Strong Beer
One Bad G is a Strong Ale malt showcase, with flavors of dark chocolate and fruit, rounded out by vanilla and oak from bourbon barrel-aging.
10.9
40
Sun King Brewing Co
Pachanga
American-Style Lager
Pachanga is a Mexican-Style Lager with a crisp malt flavor and thirst-quenching character, perfect for hot days in the summer sun.
4.2
24
Swamp Rabbit Brewery and Taproom
Golden Guppy
Belgian-Style Tripel
True Tripel with 3 malts: wheat, Pilsner, and pats. House witbier yeast strain blended with Trappist high gravity ale yeast makes a smooth yet phenolic Tripel.
10
25
Swamp Rabbit Brewery and Taproom
Numbskull
German-Style Heller Bock/Maibock
Last years' silver medal winner for the same category, this beautifully balanced maibock will leave you wanting more. Drinkable, malty, slightly nutty and toasty: it's a must try.
7.2
25
Swamp Rabbit Brewery and Taproom
The Fixxated
Vienna-Style Lager
Extremely drinkable, slightly sweet and toasty traditional Vienna Lager. Influenced by George Fixx, this Lager beer is over 130 days old.
6.5
20
Swamp Rabbit Brewery and Taproom
The Limerick
Double Red Ale
A double red ale made with Irish ale malt, Noble hops, and American ale yeast. Nutty, toasty, smooth, beautiful, drinkable red ale
9.5
60
T.W. Pitchers Brewing Co
Grapefruit & Blood Orange Radler
American-Style Fruit Beer
Traditional Bavarian style blend of lager and grapefruit juice with a hint of blood orange for good measure. Crisp, refreshing, and easy to drink.
5.1
0
T.W. Pitchers Brewing Co
Snake Bite Apple and Cranberry Shandy
American-Style Fruit Beer
Lager blended with crisp apple cider and cranberry.
5.1
0
T.W. Pitchers Brewing Co
Tropic Plunder IPA
American-Style India Pale Ale
Citra and Mosaic hop IPA with a touch of passion fruit and lychee added post fermentation. Soft mouthfeel and a tropical hop profile result in a supremely crushable juicy IPA.
6.1
0
Tailgate Brewery
Naked Statue
German-style Kölsch
Light, easy drinking traditional German Kolsch
4.8
21
Tailgate Brewery
Peanut Butter Milk Stout
Field Beer
Added peanut butter natural flavor.
5.8
33
Tailgate Brewery
Pumpkin Spice Latte
Pumpkin Spice Beer
Our base milk stout brewed with pumpkin Puree and pumpkin spice
5.8
33
Tailgate Brewery
Raspberry Berliner
Fruited American-Style Sour Ale
Tart and refreshing with 150lbs of raspberry added
5.8
8
Tailgate Brewery
Southeast IPA
Australian-Style Pale Ale
Dry, bold, and piney hop flavor
6.3
90
Taps Fish House and Brewery - Brea
Amend This!
American-Style Pilsener
Brewed in Pre-Prohibition style. This traditional style incorporates rice and a slightly higher hopping rate than modern pilsners for a clean and crisp finish. 2015 GABF Bronze and 2016 World Beer Cup Silver Medal Winner.
5
30
Taps Fish House and Brewery - Brea
Bohemian Tapsody
Bohemian-Style Pilsener
Dominated by spicy, floral hop aroma from Saaz hops balanced with a pleseant malt backbone. Gold in color, this beer drinks refrshingly crisp with a light-medium body and finishes with a soft, rounded bitterness.
5.8
40
Taps Fish House and Brewery - Brea
Boppeldock
German-Style Doppelbock
Our take on the classic German high gravity lager, was enthusiastically brewed with no caramel malts. By utilizing an extended boil, the brewers achieved a copper color and subtle notes of caramelized sugar on the palate.
7.7
20
Taps Fish House and Brewery - Brea
Das Booze!
German-Style Pilsener
Brewed with authentic German malt, hops, and yeast. Light-bodied, straw in color, with notes of floral and spicy hops, finishing nice and crisp.
5.5
37
Tattered Flag Brewery
Manghost-Double IPA
Chili Beer
spicy/fruity/citra hops
12.75
120
Tattered Flag Brewery
Teutonic Knight Hefeweizen
Fruit Wheat Beer
banana/hazy
5.4
16
Tattered Flag Brewery
TMIPA-Double IPA
American-Style India Pale Ale
juicy/dank
7.7
105
Tattered Flag Brewery
Warbonds Stout
Oatmeal Stout
roasty/creamy
6
31
Telluride Brewing Co
Bridal Veil Rye Pale Ale
American-Style Pale Ale
Brewed with a generous amount of German Rye malt and an abundance of American hops, our ale embodies an earthly flavor and finishes with a hint of spice.
5.5
60
Telluride Brewing Co
Face Down Bourbon Brown
Wood- and Barrel-Aged Strong Beer
We take our award-winning Face Down Brown beer and then age it in bourbon barrels, which makes for an incredibly enjoyable drinking experience.
8.4
20
Telluride Brewing Co
Face Down Brown
American-Style Brown Ale
A beautiful hybrid of an English and American style Brown that explodes with toffee, chocolate, and nut flavors.
5.7
37
Telluride Brewing Co
Fishwater Double IPA
Imperial India Pale Ale
A beautiful Double IPA featuring caramel notes and a bold ABV, balanced by generous amounts of spicy and fruity American hop goodness.
8.5
82
Telluride Brewing Co
Fishwater Project
Wood- and Barrel-Aged Strong Beer
Taking Fishwater to the next level! We take our Double IPA and age it for 6 Months in bourbon barrels. We then blend it with fresh Fishwater to bring back the fresh hop characteristics.
11
72
Telluride Brewing Co
Freaky Fish
Imperial India Pale Ale
We take our Fishwater Double IPA wort and ferment it with a blend of Belgian Strong Ale yeast and our house yeast. We then double dry hop it to make the FreakyFish a dynamite drinking experience.
8.5
82
Telluride Brewing Co
redFISH Ale
American-Style Amber/Red Ale
An American-style Red Ale, distinguished by its bold hop flavor and aroma. This complex, yet balanced beer, will truly dance on any pallet.
5.4
30
Telluride Brewing Co
Russell Kelly Pale Ale
American-Style India Pale Ale
This American-style Strong Pale Ale is named after a true Telluride legend, and is as bold as Russell was adventurous. This pale ale is brewed big but is balanced with Chinook and Mosaic hops.
6.5
85
Telluride Brewing Co
Tempter IPA
American-Style India Pale Ale
Named after the coolest backcountry run in North America, this American style IPA is bold yet balanced.
6.4
70
Telluride Brewing Co
Whacked Out Wheat
American Wheat Beer
An easy drinking American style wheat. It's light, crisp and extremely refreshing.
5.1
30
Tenaya Creek Brewery
Bonanza Brown Ale
American-Style Brown Ale
Our "Brown Ale" is a malty brown ale with dark amber hues. There's a velvety smooth body with a light bitter finish from our friend the Chinook hop. We've struck a balance to the bitterness with a hint of spiciness while using Tettang hops to give this ale
5.6
0
Tenaya Creek Brewery
Craft Pilsner
German-Style Pilsener
Tenaya Creek Pilsner (draft only) year round. Golden lager, perfectly balanced malt and hop characteristics.
5.5
0
Tenaya Creek Brewery
Dutch Belgian Style Tripel
Belgian-Style Tripel
Belgian Style Tripel
0
0
Tenaya Creek Brewery
Gypsy Fade IPA
American-Style India Pale Ale
New beer, old name. Lighter, drier IPA.
6
0
Tenaya Creek Brewery
Oktoberfest
German-Style Maerzen
To commemorate a festival that's been raging since 1810, we've kept to tradition by using the finest Vienna and Munich malts. German Magnum and Czech Saaz hops round out the malty sweetness to produce and old-world favorite that is sure to please.
6
0
Tennessee Brew Works
1927
American-Style Strong Pale Ale
Juicy. Citrusy. Dank. A tribute to the birth of modern country music. Bristol, Tennessee, 1927.
7.5
0
Tennessee Brew Works
TENN No 12 Quad
Wood- and Barrel-Aged Strong Beer
A deep, rich mahogany abbey-style strong ale, aged in George Dickel No. 12 whisky barrels. Aromas of toffee, plum and subtle tobacco notes from the barrels. Caramel, toffee, fig, plum notes, balanced by subtle oak tannins with a dry, slight alcohol finish.
10
35
Tennessee Brew Works
Tripel Star
Belgian-Style Tripel
Harnessing the yeast of a legendary Belgian Abbey, we have created a traditional Belgian-style Tripel in Tennessee. Notes of apricot, cinnamon, nutmeg and clove provide a complex and full-flavored ale.
9
30
Tennessee Brew Works
Wildwood Flower
Honey Beer
Belgian-style blonde ale derived from a classic Belgian Abbey yeast; accentuated by a floral, aromatic hop profile and commingled with a blend of the locally sourced Wildflower and Sourwood honeys (Strange Honey Farm, Del Rio, Tenn).
6.8
22
The Bakers' Brewery
Bakers' Beach Pina Colada IPA
American-Style India Pale Ale
The tropical fruit of new school hops and caramel malts smooths the transition from the pineapple and coconut to the piney-dankness in the just right bitter finish.
6.3
77
The Bakers' Brewery
Barking Dog Brow
English-Style Dark Mild Ale
An English Mild/Brown Ale that brings a bit bolder Chocolate-Caramel front yet maintains a very light and friendly, clean and dry, malted milk ball like finish.
4.8
20
The Bakers' Brewery
Belgian Rebellion Pale Ale
Belgian-Style Pale Ale
A three-way balanced burst of flavor featuring Tropical fruit notes from Equinox and Tahoma hops paired with the spicy-peppery zest of our Belgian yeast strain, and a bit of zesty Rye alongside a touch of caramel malt sweetness.
5.5
61
The Bakers' Brewery
French Silk Stout
Sweet Stout or Cream Stout
Like the name implies, this lactose-free cream style stout is silky smooth with a rich creamy body that isn't overwhelming and a bit of subtle black coffee bitterness to balance out all the chocolate and caramel malts.
5.1
30
The Bold Missy Brewery
Find A Way Wheat
American Wheat Beer
American wheat ale brewed with tangerine peel, Herkules and Centennial hops. Named for Diana Nyad, world champion swimmer.
4.9
27
The Bold Missy Brewery
Git Yer Gun Golden Ale
Golden or Blonde Ale
A light and refreshing German style golden ale brewed with Mt. Hood hops. Named for Annie Oakley, the legendary American sharpshooter.
4.9
35
The Bold Missy Brewery
Rocket Ride IPA
American-Style India Pale Ale
Brewed with Simcoe, Glacier and El Dorado hops. Named for Sally Ride, the first American woman in space.
6.7
52
The Bold Missy Brewery
Solo Flight American Brown
American-Style Brown Ale
Light Brown ale with a big hop character of Aurora and Chinook hops. Named for Amelia Earhart, the famous aviator.
6
38
The Intrepid Sojourner Beer Project
Basil IPA
Herb and Spice Beer
A delicate balance of hops, malt and basil, earthy spiciness of the basil accentuates the floral Amercian hop profile. Sweet Italian Basil floods the palate from beginning to end and blends with this Colorado-focused IPA
7.1
64
The Intrepid Sojourner Beer Project
Gratzer
Historical Beer
Known for its smokiness, our gratzer is a S.M.A.S.H. beer consisting of 100% oak smoked wheat malt and Czech Saaz hops. This beer has a powerful aroma of smoked meats and gives way to a light and smoky flavor on the palate
5.1
21
The Intrepid Sojourner Beer Project
Lavender Tripel
Belgian-Style Tripel
A light, citrusy character and waves of floral lavender blend with the sugary dryness and esters from the yeast in this traditional Belgian style
9.1
0
The Intrepid Sojourner Beer Project
Strong Scotch Ale
Peated Scotch Ale
A small amount of peat smoked malt separates this ale from its Wee Heavy kin. Clean yeast and a mild hop earthiness accentuate the peat flavors derived from our special blend of malt and hold up to the American oak
7.6
31
The Intrepid Sojourner Beer Project
Turkish Coffee Stout
Coffee Stout or Porter
The moderate roasty and coffee flavors along with the elevated alcohol typical of a foreign export stout provide background to the strong earthy notes of a finely ground Turkish coffee blend with cardamom spice and orange peel for a sweet and bold flavor
7
0
The Post Brewing Co
1771 IPA
American-Style India Pale Ale
Sterling, with its spicy, herbal nobility, meets the ultra-modern, tropical fruit heavy Azacca, setting your senses awash in a juicy escapade. Enjoy!
7.3
0
The Post Brewing Co
Achtertuin Seizoen
Specialty Saison
Inspired by the delicious farmhouse ales of Belgium and Holland, this beer is a fragrant reminder that life is better outside. Brewed to 5.6% ABV with barley, wheat and rye malts, this hazy golden ale is spiced with three distinct American hop varieties f
5.6
0
The Post Brewing Co
Birra Vintastica La Rossa
Wild Beer
The beer half is a blend of American barley, wheat and rye malts flavored with earthy, floral Willamette hops and fruity, herbal Glacier hops. This was blended in the fermenter with California Syrah must and fermented with a unique blend of cultured ale ye
8.6
0
The Post Brewing Co
Howdy Beer
American-Style Pilsener
With Howdy Beer, we've taken the notion of the American Pilsener and have refreshed and renewed it as a gloriously drinkable celebration of our unique American brewing heritage and amazing American ingredients. This smooth, drinkable pils features a lovely
4.5
0
The Post Brewing Co
Ol' Zippy
American-Style Pale Ale
Inspired by the great canned ales of the American Northeast, Ol' Zippy features a crisp malt flavor and a snappy hop aroma. The hop zing carries through the flavor as the beer comes to a clean finish with a pleasant, subtle sweetness derived from flake
5
0
The Post Brewing Co
Townie Ale
American-Style Pale Ale
Townie balances the rough and the smooth with an attitude that is never out of place. This beer delivers an amazing, complex hop aroma and flavor with a smooth malt backbone that will leave you wanting more.
6.2
0
The Rare Barrel
For Ever More
Fruited Wood- and Barrel-Aged Sour Beer
golden sour beer aged in oak barrels with blueberries, boysenberries, cinnamon, and vanilla bean
6.2
2
The Rare Barrel
Hyper Paradise
Fruited Wood- and Barrel-Aged Sour Beer
Golden Sour beer aged in oak barrels with mangoes and passion fruit
6.3
2
The Rare Barrel
On the Shoulders of Giants
Fruited Wood- and Barrel-Aged Sour Beer
Golden Sour beer aged in oak barrels with peaches and jasmine pearl tea. Fermented with a unique mixture of microorganisms, this sour is a play on peach tea. Fresh and juicy with a refreshing, floral finish.
5.8
2
The Rare Barrel
Small Acts
Wood- and Barrel-Aged Sour Beer
This single batch of grisette aged in oak barrels is a seedling in our development. Budding with notes of pear and honeydew alongside accents of freshly cut grass and crackery grain, Small Acts showcases the coexistence of a saison mixed culture yeast
4.2
2
The Tank Brewing Company
El Farito IPA
American-Style India Pale Ale
Boasting an intense hoppy nose of citrus and tropical fruit, this drinkable IPA will satisfy your hop fix anytime of the day.
6.5
60
The Tank Brewing Company
Frank The Tank
American-Style Imperial Stout
Dark chocolate and french press coffee dominate the palate, accompanied by a fruity bouquet of blackberry, dark cherry, and raisin, with hints of brown sugar.
10
45
The Tank Brewing Company
Freedom Tower
American-Style Amber/Red Ale
Freedom Tower Amber is a malt-forward ale that features lush flavors of toffee, caramel, and toast.
5.3
30
The Tank Brewing Company
La Finca Miami
Classic Saison
Crisp and exceptionally refreshing; "La Finca Miami" is the perfect companion on a hot day.
6.2
26
The Tank Brewing Company
Märzen
American-Style Maerzen/Oktoberfest
This medium-bodied amber lager is full flavored and malty with a dry finish that keeps it drinkable by the liter. Traditionally floor-malted Munich and Vienna malts contribute rich flavors of fresh baked bread with underlying notes of hazelnut and honey.
6
22
The Wrecking Bar Brewpub
ALTlanta Altbier
German-Style Altbier
A northern German Altbier with notes of toffee, caramel and biscuits. Noble German hops to balance the malt complexity. Malty, gently bitter, dry finish.
5.3
30
The Wrecking Bar Brewpub
Bourbon Barrel Aged Siberius Maximus
Wood- and Barrel-Aged Strong Stout
A thick, viscous, and incredibly complex Imperial Stout aged for 13 months in Buffalo Trace bourbon barrels.
12.5
70
The Wrecking Bar Brewpub
Juice Willis: Dry Hop with a Vengeance IPA
American-Style India Pale Ale
A modern IPA brewed with Pilsner and Flaked Wheat. Heavily hopped with Ekuanot and Eureka hops for notes of papaya, mango, pine needles, and resin. Incredibly easy drinking.
6.5
60
The Wrecking Bar Brewpub
Le Papillon Peche Witbier
Belgian-Style Witbier
Our house Witbier refermented in wine barrels with Pearson Farm peaches (Georgia) and Brettanomyces Claussenii.
5.5
15
The Wrecking Bar Brewpub
Sea Shanty Gose
Contemporary Gose
A modern take on a Leipzig-style Gose. Brewed with a balanced addition of a custom sea salt blend and Indian coriander. Kettle soured with local Greek yogurt. Tart, refreshing, and imminently crushable.
4.5
5
Thorn Brewing Co
Barrio Lager
American-Style Lager
A crisp, light, and refreshing brew. This Baja-style lager is easy to drink and perfect for the beach on a summer day. It's not hoppy or bitter, just smooth and drinkable.
4.5
14
Thorn Brewing Co
Cocomotive Coconut Porter
Brown Porter
This robust porter tastes like a fresh macaroon dipped in a delicious malty beer. The base recipe is a smooth, strong porter with plenty of chocolate overtones. Organic coconut is oven-roasted and steeped in the finished beer.
8.1
42
Thorn Brewing Co
Foreplay Blonde
Belgian-Style Blonde Ale
An authentic Trappist yeast strain and spicy Czech Saaz hops are used in this traditional Belgian-style ale where yeast derived flavors of pear and bubble gum blend with spice and floral notes from the late Saaz hop addition.
6.3
28
Thorn Brewing Co
Relay IPA
American-Style India Pale Ale
This San Diego-style IPA is hop forward and not overly matly or bitter. Simcoe, Centennial, Amarillo, and Citra run a hop relay during the brew. Flavors of citrus, mango, grapefruit, and pine blend to form a deliciously hoppy beverage.
7.2
72
Thorn Brewing Co
Rock The Pale Ale
American-Style Pale Ale
Just like San Deigo's independent music scene, this traditional, California-style pale ale unapologetically stands out. It's a highly balanced beer with pine and citrus hop flavors coming from a generous late-kettle addition and dry hop.
5.5
44
Three Floyds Brewing Co
Flying Tigersault
American-Style Pilsener
The architect and undisputed future of Pilsner.
4.8
52
Three Floyds Brewing Co
LazerSnake
American-Style Pale Ale
A good old-fashioned Indiana Pale Ale brewed with special Bavarian hops.
7
55
Three Floyds Brewing Co
Zombie Dust
American-Style Pale Ale
This intensely hopped and gushing undead Pale Ale will be one's only respite after the zombie apocalypse.
6.2
50
Tivoli Brewing Company
Bohemian Girl Pilsner
Bohemian-Style Pilsener
We recreated a classic Denver brand using German Hallertau and Czech Saaz hops to result in a light, dry, crisp lager with a bready finish.
4.5
30
Tivoli Brewing Company
Hop Project #1
Imperial India Pale Ale
Mandarina Bavaria, Falconers Flight, and Galena hops are showcased and prominent with sweet tropical fruit flavors and aromas.
11
32
Tivoli Brewing Company
Hop Project #4
American-Style India Pale Ale
This IPA has a generous amount of Galena, Cascade, Centennial, and Mosaic. Juicy, fruity, and finishes with a hint of caramel.
6
70
Tivoli Brewing Company
Jet Malt Liquor
Experimental Beer
A take on one of our retro portfolio brands, but 2.0. This Imperial Malt Liquor imparts tropical fruits with a hint of Kohatu hop at the finish.
9.5
35
Tivoli Brewing Company
She's My Cherry Pie Lager
American-Style Fruit Beer
2,400lbs of local Montmorency cherries burst at the seems with subtle flavors of cinnamon and brown sugar. Local honey balances out everything creating a dangerously smooth cherry lager.
10
28
Tivoli Brewing Company
Sigi's Wildhorse Bock-style Ale
German-Style Altbier
Alt yeast is lagered to recreate this pre-prohibition style ale imparting fire-kilned malt flavors with a mild, roasty caramel finish.
6.7
35
Tivoli Brewing Company
Strawberry Mint Berliner Weisse
Fruited American-Style Sour Ale
A tart beer with effervescent and refreshing mint and tart strawberry aromas and flavors. One of our limited specialty releases that quenches all thirst buds.
4.5
2
Tivoli Brewing Company
Thirst Hoppy
German-Style Maerzen
A unique twist on the traditional Oktoberfest beer, we've hopped this malty delight up with Ekuanot, Cascade, and Mosaic for a juicy sipper.
5.6
35
Tivoli Brewing Company
Tivoli Helles Lager
Munich-Style Helles
Our flagship Bavarian-style Lager brewed using the same ingredients from the original 1859 recipe. Golden hued with a light mouth feel and mild sweet finish.
5.1
25
Tivoli Brewing Company
Victory Highway
South German-Style Hefeweizen
Banana and clove aroma dominate while there is a juicy strawberry undertone that plays well with the banana and blends nicely with the clove.
5.47
35
Tomoka Brewing Company
American Lager
American-Style Lager
Easy drinking lager for those hot days to accompany you while grilling or just having fun.
4.5
12
Tomoka Brewing Company
Lunar Eclipse Stout
Export Stout
Rich foreign extra stout with hints of chocolate and coffee.
7.2
20
Tomoka Brewing Company
McCarthy's Irish Red
Irish-Style Red Ale
Malty sweet Irish red ale.
5
15
Tomoka Brewing Company
Tom Yum Thai Gose
Contemporary Gose
Gose brewed with lemongrass, four different chilis, coriander, lime and sea salt.
4.2
10
Topa Topa Brewing Co
Cali Common
California Common Beer
n.a.
5
30
Topa Topa Brewing Co
Chief Peak IPA
American-Style India Pale Ale
Piney hops, tropical tones of passion fruit, orange and gooseberry
7
75
Topa Topa Brewing Co
Dozer Line Dark Lager
German-Style Schwarzbier
n.a.
4.6
27
Topa Topa Brewing Co
Sespe Pilsner
International-Style Pilsener
n.a.
5.1
34
Toppling Goliath Brewing Co
Dorothy's New World Lager
California Common Beer
Mildly hopped, light in color and body, and clean to the taste, this california common-style lager drinks easy. Each sip charms the senses with distinct flavor and refreshing simplicity, delivering a smooth finish.
5.5
11
Toppling Goliath Brewing Co
King Sue
Imperial India Pale Ale
With a ferocious bite that will make sure all learn to toe the line, this Citra hopped double IPA will make followers cheer and enemies crumble.
8.5
100
Toppling Goliath Brewing Co
Mornin' Delight
American-Style Imperial Stout
A huge Imperial Stout with an explosive espresso aroma followed by strong notes of maple syrup and vanilla.
12
0
Toppling Goliath Brewing Co
Pompeii
American-Style India Pale Ale
Influenced by the preserved mosaics buried under the ash of Mount Vesuvius, Pompeii is our single hop mosaic IPA. It houses mango and pineapple flavors with a medium-bodied feel and bright tones to tantalize the palate.
5.5
60
Toppling Goliath Brewing Co
Pseudo Sue
American-Style Pale Ale
This single hop pale ale showcases the Citra hop for a well balanced beer that is delicate in body with a mild bitterness in the finish. Ferocious hop aromas of citrus and mango give a refreshing taste that is bright with just enough bite!
5.8
55
Torched Hop Brewing
It's 8 O'Clock Somewhere
American-Style Cream Ale
Imagine drinking a milk stout that was golden in color. Lactose, coffee, and cocoa nibs create a mind bender of a beer.
5.8
30
Torched Hop Brewing
Oktoberfest
German-Style Oktoberfest/Wiesn
A true to style Oktoberfest with 100% German malt and hops.
5.2
35
Torched Hop Brewing
Perkunas
Baltic-Style Porter
We used our house lager yeast strain to create a silky smooth Baltic Porter. We hand toasted 150 pounds of coconut in our pizza oven and rested the beer on them for a week.
9.2
35
Town In City Brewing Co LLC
Chipped Tooth IPA
American-Style India Pale Ale
During an extended visit at the local watering hole one night with friends in Golden, Colorado, our dear friend (who we'll call "Steph" to protect her identity) decided she'd like to mount and ride a full-sized bronze statue of a horse acro
7.1
65
Town In City Brewing Co LLC
City Amber
American-Style Amber/Red Ale
Our City Amber is an English style amber brewed with a blend of North American and English malts. The results is a complex, roasted, and subtly nutty profile. The malt is balanced with hops from the Pacific Northwest to give a floral and subtle hop aroma.
5.8
40
Town In City Brewing Co LLC
City Porter
Brown Porter
his rich and deeply colored ale is brewed with English malts and American hops. This combination provides a medium-body, with light chocolate and coffee notes. The refreshingly clean finish makes for the perfect after-work companion.
5.8
25
Town In City Brewing Co LLC
Tejas-Style Lager
American-Style Lager
A Tejas twist on an American classic style. Brewed with 2- and 6-row malted barley, southwest corn, and a touch of German caramalt. Perfect porch beer for the 9 months of summer in Texas.
5.2
23
Town In City Brewing Co LLC
Uncommon Cowboy
California Common Beer
An amber lager hybrid with light caramel and toasted bread malt flavors, and a healthy dose of northwest hops to provide the perfect balance between malt and hop. Harmony in a glass.
6.3
45
Track 7 Brewing Co
Bee Line Honey Blonde Ale
Golden or Blonde Ale
German and Czech hops round out the flavor, with the end result being a delicate ale with hints of flowers on the nose and a subtle spice on the palate.
5.2
26
Track 7 Brewing Co
Burnt Fog Smoked Porter
Smoke Porter
Brewed with Simcoe and Mt. Hood hops, along with a generous helping of malts smoked with beechwood and cherry wood.
5.5
23
Track 7 Brewing Co
Daylight Amber Ale
American-Style Amber/Red Ale
Too firmly hopped to be a pure Amber Ale, but too malty to be an IPA, this not-so-typical Amber Ale has a slight up-front bitterness that fades into a malt body influenced by caramel, toast, and toffee flavors.
6.3
45
Track 7 Brewing Co
Golden Guava IPA
American-Style Fruit Beer
Features four types of hops, Citra, Crystal, Mosaic, and Simcoe, which combine to bring out a wealth of citrusy and tropical flavors
6.5
60
Track 7 Brewing Co
Hoppy Palm Pale Ale
American-Style Pale Ale
Aggressively dry-hopped with Cascade, Chinook, and Galaxy hops, producing an American Pale Ale with a light body and minimal sweetness.
5.7
42
Track 7 Brewing Co
Left Eye Right Eye Double India Pale Ale
Imperial India Pale Ale
A blend of 5 hop varieties that hits you right between the eyes with an intense hop experience, but pleases the palate with a smooth flavor.
9.5
65
Track 7 Brewing Co
Mo'Suka
Imperial India Pale Ale
An intense mix of Cascade, City, Galaxy, and Mosaic hops, if you like our Sukahop Northeast-Inspired Pale Ale, then you'll love Mo'Suka.
8
78
Track 7 Brewing Co
Panic India Pale Ale
American-Style India Pale Ale
Lurking beneath the flavorful hops are subtle citrus flavors, a not-so-subtle stone fruit, notes of grapefruit, and a slightly dank nose. Big hops and a smooth body make Panic an exceptional example of a West Coast Style IPA.
7
70
Track 7 Brewing Co
S.F.L.B. 2x Milkshake IPA
Imperial India Pale Ale
With Pomegranate and Blueberry
8.2
35
Track 7 Brewing Co
Walking on Sunshine Kettle Sour with Fruits of the Sun
Berliner-Style Weisse
We've blended orange, grapefruit, blood orange, and lime into this bright citrusy-tart sour.
8
10
Transplants Brewing Company
El Mas Guapo
American-Style India Pale Ale
Brewed with the classic West Coast hop combo this beer gets the tropical treatment with a hefty dose of fresh guava puree. The result is a surprisingly smooth, unfiltered IPA bursting with tropical goodness.
7.5
0
Transplants Brewing Company
Filbert
American-Style Brown Ale
A dessert in a glass. It is a rich, robust brown ale bursting with luscious chocolate and hazelnut. Notes of coffee and caramel round out this delicious treat.
6.5
0
Transplants Brewing Company
Mecha Pronghorn
American-Style Imperial Stout
Imperial stout aged in Koval Whiskey barrels.
10
0
Transplants Brewing Company
Palmdale Poppies
Golden or Blonde Ale
Our most approachable and "normal" beer focuses on poppy leaves instead of hops for its unique aroma and flavor. Clean, simple, but still enough going on to keep things interesting; this beer pairs well with almost anything.
4.9
0
Triple Digit Brewing Co & Listermann Brewery
Coconut Chickow!
American-Style Brown Ale
Hazelnut Double Brown Ale w/ Coconut added
10
0
Triple Digit Brewing Co & Listermann Brewery
Jungle Honey God Mode
American-Style Pale Ale
Wet hopped with Simcoe
5.5
0
Triple Digit Brewing Co & Listermann Brewery
Nutcase
Brown Porter
Peanut Butter Porter
6.8
0
Triple Digit Brewing Co & Listermann Brewery
Team Fiona
American-Style India Pale Ale
Collaboration with the Cincinnati Zoo, this is a New England Style IPA with Citra and Centennial hops.
5.8
0
Triple Digit Brewing Co & Listermann Brewery
Turtle Chickow
American-Style Brown Ale
Hazelnut Double Brown Ale with Caramel and Chocolate added.
10
0
Triple Rock Brewery and Alehouse
30th Anniversary Black Rock Imperial Porter
Wood- and Barrel-Aged Strong Beer
To celebrate Triple Rock's 30th Anniversary we brewed an Imperial version of our Black Rock Porter and aged it in High West Whiskey barrels for 8 months.
11.5
0
Triple Rock Brewery and Alehouse
Her Majesty's Crush
Old Ale
Blends of young and barrel aged Her Majesty's Crush. Simpsons Best Pale malt along with Simpsons character malts and UK East Kent Goldings.
10.5
0
Triple Rock Brewery and Alehouse
More Mild Than Bitter
English-Style Dark Mild Ale
Crisp Chevallier Malt along with Crisp and Simpsons character malts. UK East Kent Golding hops.
3.8
20
Triple Rock Brewery and Alehouse
Specifically Pacifica
Australian-Style Pale Ale
Blend of pale base malts, touch of light crystal malt and Australian Summer, Galaxy and Pacifica (specifically) hops.
5.2
38
Triton Brewing Company
Barn Phantom Blueberry Gose
Contemporary Gose
This Gose is infused with Blueberry and a touch of lemon peel, coriander, & Himalayan pink salt, Fruity and refreshing !
4
10
Triton Brewing Company
Barn Phantom Gose
Leipzig-Style Gose
Effernescent and delicately sour with a citrus aroma & hint of minerality, this Gose is brewed with coriander & Himalayan pink salt.
4
10
Triton Brewing Company
Barn Phanton Mango Gose
Contemporary Gose
This Gose is infused with Mango and a touch of lemon peel, coriander, & Himalayan pink salt, Fruity and refreshing !
4
10
Triton Brewing Company
Fieldhouse Wheat
American Wheat Beer
An American Wheat Ale the way it's suppose to be. Crisp & refreshing, gold in color with a white head, this Wheat is moderately hopped for a thorouly friendly experience.
5.4
25
Troegs Brewing Co
Hop Knife Harvest Ale
American-Style India Pale Ale
Hop Knife Harvest Ale recognizes the time-honored tradition of hand-harvesting at the peak of maturity. At the end of fermentation, the beer flows through our HopCyclone releasing a bounty of preserved citrus rind, crushed jungle and tropical aromas.
6.2
87
Troegs Brewing Co
Perpetual IPA
American-Style India Pale Ale
At Tröegs, artisanal meets mechanical in a state of IPA we call Perpetual. Cycling through our HopBack vessel and dry-hopping method, this bold Imperial Pale Ale emerges rife with sticky citrus rind, pine balm and tropical fruit.
7.5
85
Troegs Brewing Co
Sunshine Pils
American-Style Pilsener
Like the rising sun, Sunshine Pils delivers winter, spring, summer and fall. This deceptively complex pilsner is all about the tightrope walk of two-row barley, zesty Saaz hops and lager yeast. It's a go-to when the sun is shining, and it makes us happy wh
4.5
45
Troegs Brewing Co
Troegenator Double Bock
German-Style Doppelbock
Monks had fasting figured out. No food? No problem. Just drink a Double Bock. Thick and chewy with intense notes of caramel, chocolate and dried stone fruit, 'Nator (as we call him) serves as a tribute to this liquid bread style.
8.2
25
Twisted Pine Brewing Co
Big Shot
Coffee Beer
Espresso Stout with locally roasted Unseen Bean organic Peruvian coffee for a robust body and fresh-roasted flavor from aroma to finish
6
31
Twisted Pine Brewing Co
Billy's Chilies
Chili Beer
Wheat Ale dry-peppered with fresh Anaheim, Fresno, jalapeño, Serrano, and habanero
5.2
15
Twisted Pine Brewing Co
Intercept
American-Style India Pale Ale
India Pale Ale with strong citrus, melon, and tropical fruit notes
7.4
85
Twisted Pine Brewing Co
Patio Pounder
Session India Pale Ale
Session India Pale Ale with white grape and tropical fruit undertones, balanced by an easy-drinking body
4.7
53
Twisted Pine Brewing Co
Sexi Mexi
Vienna-Style Lager
An amber lager that originated in Vienna before emigrating to Mexico, the Mexi is a light, toasty brew that is flavorful but still refreshing. No lime necessary
5.7
25
Twisted Spur Brewing
Dead Head Red
German-Style Maerzen
This is an ale version of a traditional Fest or Marzen from Germany. Hefty doses of Dark Munich and Caramunich give this beer a sweet and complex, malty backbone. It is finished off with floral and slightly spicy hops.
5.9
30
Twisted Spur Brewing
Fräulein Hefeweizen
South German-Style Hefeweizen
A German style wheat, this beer is made of approximately 55% malted wheat (traditional with style). Look of great banana & clove notes with rich creamy head. We added a few additional pounds of Caramunich to give it a beautiful orange glow.
5.2
12
Twisted Spur Brewing
Lemongrass Kolsch
German-style Kölsch
A German kolsch brewed with lemongrass, grains of paradise, and English and American hops for a nice refreshing Summer treat.
5.1
25
Twisted Spur Brewing
Wheat Fight
American Wheat Beer
American style Wheat Ale using the perfect blend between America Red and German Pale Wheats. A mild addition of American and German hops allow the true competition between the red & pale wheat to show through. You decide who wins.
5
18
Two Roads Brewing Co
Espressway
Coffee Stout or Porter
A Cold Brew Coffee Stout
0
0
Two Roads Brewing Co
Holiday Ale
French-Style Biere de Garde
Our take on the Biere de Noel style of French Farmhouse Ale
7.3
0
Two Roads Brewing Co
Jambic
Belgian-Style Lambic
Made with Road Jam, our raspberry and lemongrass summer seasonal and then aged in oak
0
0
Two Roads Brewing Co
Lil Heaven
American-Style India Pale Ale
Session IPA
0
0
Two Roads Brewing Co
Ok2berfest
German-Style Maerzen
Our tradition Oktoberfest
0
0
Two Roads Brewing Co
Ol'Factory
German-Style Pilsener
Dry-hopped German Pils
0
0
Two Roads Brewing Co
Road 2 Ruin
American-Style India Pale Ale
Our Double IPA made with seven Pacific NW hops
0
0
Two Roads Brewing Co
Two Juicy
American-Style India Pale Ale
A New England IPA made with Citra, Hallertau Blanc and Mandarina Bavaria hops
0
0
Two Roads Brewing Co
Worker's Stomp
Other Belgian-Style Ale
Saison aged in White Wine barrels
0
0
Two22 Brew
Barrel-Sour Patio Peach
Fruited Wood- and Barrel-Aged Sour Beer
A blend of our fantastic peach beer aged in bourbon & rye barrels. This beer has a great balance, with those barrel aged notes at the beginning and ending with the sweetness of the peaches.
6.2
10
Two22 Brew
Coca-fiena Coffee Porter
Coffee Beer
Brewed with cold brewed vanilla roasted coffee beans that please the nose. Centennial and Columbus hops are used to balance the chocolatey feel and add robust flavor.
6.4
40
Two22 Brew
Coffee Porter
Coffee Stout or Porter
Brewed with cold brewed vanilla roasted coffee beans that please the nose. Centennial and Columbus hops are used to balance the chocolatey feel and add robust flavor.
6.4
40
Two22 Brew
Dotsero Burst IPA
American-Style India Pale Ale
Brewed with a hop-forward mentality, this IPA utilizes a unique balance of malts and oats. It is hop bursted during the 90-minute boil to highlight the extraordinary hop flavors. The focus of this beer, the Huell Melon hops, have a unique strawberry & hone
6.9
75
Two22 Brew
Dotsero Burst IPA
American-Style India Pale Ale
Brewed with a hop-forward mentality, this IPA utilizes a unique balance of malts and oats. It is hop bursted during the 90-minute boil to highlight the extraordinary hop flavors. The focus of this beer, the Huell Melon hops, have a unique strawberry & hone
6.9
75
Two22 Brew
Reformation Scottish Ale
Scottish-Style Export Ale
Full-bodied and pours a beautiful golden brown. Malty, with a low hop complex that is nicely balanced with a slightly sweet caramel flavor. The name depicts the spiritual heritage of the Reformation in Scotland during the 16th and 17th Centuries.
4.8
22
Two22 Brew
Reformation Scottish Ale
Scottish-Style Export Ale
Full-bodied and pours a beautiful golden brown. Malty, with a low hop complex that is nicely balanced with a slightly sweet caramel flavor. The name depicts the spiritual heritage of the Reformation in Scotland during the 16th and 17th Centuries.
4.8
22
Uberbrew
CANÜ Recreation Ale
American-Style Cream Ale
Go forth and play! Refreshing, crushable thirst quencher.
5
12
Uberbrew
Hoppy Keen
Imperial India Pale Ale
Peach infused Imperial IPA; collaboration with Two22 Brew of Centennial, CO
9.1
70
Uberbrew
Humulus Insani
Imperial India Pale Ale
Insane Hops Gold Medal 2016 GABF; Seven additions of Chinook, Citra and Simcoe
8.5
100
Uberbrew
IPA 4 Short
American-Style India Pale Ale
Beautiful profile of five additions, Chinook, Citra and Liberty Hops.
7
65
Uberbrew
White Noise
Light American Wheat Beer with Yeast
Unfiltered refreshing wheat beer.
5.7
15
Uinta Brewing Co
Anniversary Barley Wine
American-Style Barley Wine Ale
Anniversary Barley Wine uses a heavy dose of resinous Chinook and Centennial hops backed by a big malt body with nutty, dried fruit character.
10.4
88
Uinta Brewing Co
Cahoots Flanders Red
Wood- and Barrel-Aged Sour Beer
Brewed with rich caramel malt and fermented with a blend of wild yeast and bacteria, this brew has a complex finish with bright notes of cherries and raspberries.
8
25
Uinta Brewing Co
Croggy Brett Saison
Specialty Saison
This Saison possesses a tropical fruit character and snappy aroma that partners perfectly with the crisp, dry tartness of the Brettanomyces yeast.
6.8
21
Uinta Brewing Co
Detour Double IPA
Imperial India Pale Ale
Our trail blazing double IPA hauls a bold hop profile featuring heavy pine, orange rind, and guava with a sweet malty finish.
9.5
96
Uinta Brewing Co
Fest Helles
Munich-Style Helles
n/a
5.5
0
Uinta Brewing Co
Funk'N Patch
Pumpkin/Squash Beer
Aged in whiskey barrels and fermented with a mix of brewers yeast and brettanomyces, Funk'n Patch grooves through seasonal pumpkin spices, rich caramel and bourbon tones with a wild, barnyard finish.
8
25
Uinta Brewing Co
Grapefruit Hop Nosh
American-Style India Pale Ale
Our flagship IPA boasts an assertive bitterness and vibrant hop aromatics. Expect notes of pine, lime zest, and grapefruit supported by caramel malts.
7.3
84
Uinta Brewing Co
Hopscursion
Specialty Beer
Venture further into the world of brettanomyces with this West-Coast style IPA. Hopscursion blends tropical hop aromatics and funky fruit zest with a dry, earthy undertone
6.5
70
Uinta Brewing Co
Lime Pils
American-Style Pilsener
Crisp, light-bodied and immensely refreshing, our small batch Lime Pilsner combines a subtle malty sweetness with hints of fresh limes for a little splash of summertime in a can.
5.3
14
Uinta Brewing Co
West Coast Style IPA
American-Style India Pale Ale
Our bold and citrusy West Coast-style India Pale Ale—brewed using four different hop varieties—features pronounced aromas of pineapple, mango and pine.
6.3
69
Uncommon Brewers
Baltic Porter
Baltic-Style Porter
Baltic Porter brewed with licorice and star anise
9.2
0
Uncommon Brewers
Framboos op Eiken
American-Style Sour Ale
Barrel-aged sour blonde conditioned on fresh raspberries
7.6
0
Uncommon Brewers
Long Form Tripple
Belgian-Style Tripel
Belgian-style tripel brewed with long pepper
10.2
0
Uncommon Brewers
Siamese Twin Ale
Belgian-Style Dubbel
Belgian-style dubbel brewed with lemongrass, kaffir lime leaves, and corriander
8.5
0
Uncommon Brewers
Steamers Lane Lager
American-Style Lager
Common lager brewed with lavender blossoms
4.3
0
Upland Brewing Co
Champagne Velvet
American-Style Pilsener
Balance of corn & malted barley offers golden straw color/subtle sweetness, reminding of time when corn provided flavor/stability. Oldest variety of US cluster hops utilized for bittering; late kettle German Tettnang addition gives noble hop flavor & aroma
5.5
29
Upland Brewing Co
Cherry
Fruited Wood- and Barrel-Aged Sour Beer
Pours with rich hues of red and pink foam, with zesty effervescence. Tart cherries dominate the aroma, with hints of wine and cider. Notes of cherry pie, lactic tartness and mild barnyard envelop the palate. Dry finish, w/ lingering cherry frutiness.
6
10
Upland Brewing Co
Hopsynth
Wood- and Barrel-Aged Sour Beer
Polite lactic acid tartness compliments the piney, tropical, grassy and grapefruit hop flavors. This lighter hoppy sour ale finishes dry, with lingering hop flavors.
6
15
Upland Brewing Co
Petal to the Kettle
Wild Beer
Pours pinkish purple akin to inside of a ripe grapefruit. Aroma is of tart strawberries lemon & grapefruit w/ floral notes of rose & hibiscus. Flavor is distinctly tart grapefruit character supported by peach; strawberry; delicate hints of floral perfume.
6
5
Upland Brewing Co
Sour Reserve
Belgian-Style Gueuze Lambic
Sour Reserve is a tart, dry, and refreshing blond sour ale, with multiple layers of flavor by selecting premium barrels of aged sour blonde. Expect flavors of peach, cherry, wine, cider with rich aromas of lactic sourness and multiple fruity notes.
6
10
Upper Hand Brewery
906® Ale
American-Style Amber/Red Ale
A celebration of the 906 area code, this huge, hoppy ale features an explosive hop profile with massive aromatics and a moderate body. Deep, ruby red from specialty malts, this beer has big, lingering, juicy hop flavors and bitterness.
9.06
0
Upper Hand Brewery
Escanaba Black Beer
American-Style Black Ale
Escanaba Black Beer is malt forward, dark, and delicious. Its moderate roastiness is balanced with a mild hop bitterness. The result is a silky smooth finish for this sessionable ale, making it the perfect beer for anything the north has to offer.
4.5
0
Upper Hand Brewery
Laughing Fish Ale
German-style Kölsch
Similar to a German Kolsch, this lighter-bodied, easy-drinking ale showcases clean malt and crisp hop characters. Brewed with raw Upper Peninsula-sourced wheat, our light, snappy sipper is the perfect companion to northern summers
4.85
0
Upslope Brewing Company
Upslope Belgian Wit
Belgian-Style Witbier
A traditional take on the the style, with a few Upslope twists. Brewed with typical ingredients including coriander and orange peel, we also add some lemon peel and chamomile to dial up the flavor profile. A floral aroma leads to a deceivingly complex fl
4.6
20
Upslope Brewing Company
Upslope Blackberry Lemon Kettle Sour
American-Style Sour Ale
A bright and beautiful red hue, with white head. A taproom staff original, the beer has an aroma of dried thyme and sweet lemons. The aroma leads you into a clean and crisp tartness with a strong blackberry and lemon backbone. This patio crusher is sure
4.5
17
Upslope Brewing Company
Upslope Brown Ale
American-Style Brown Ale
Our medium-bodied Brown Ale is brewed in the English tradition, with an infusion of American creativity. The rich, malty backbone balances an assertive hop character, and ends with a smooth, dry finish. Our Brown Ale boasts a dark brown body that supports
6.7
45
Upslope Brewing Company
Upslope Citra Pale Ale
American-Style Pale Ale
Prominently featuring Citra hops, our Citra Pale Ale delivers pungent grapefruit and tropical fruit aromas on the nose with a semi-dry finish. Juicy notes imparted by the hops pair with the light caramel malt character to balance this drinkable, "go-to" Am
5.8
37
Upslope Brewing Company
Upslope Craft Lager
American-Style Lager
Our Craft Lager is a premium American lager brewed entirely of malted barley. Snowmelt-infused and river-ready, this Colorado-style session beer stands side-by-side with our family of premium ales to bring you a clean, easy, light-bodied lager for the ages
4.8
15
Upslope Brewing Company
Upslope English Dark Mild
English-Style Dark Mild Ale
A light English style with complex malt character and dark, stout-like appearance. Notes of dark chocolate, light roastiness, bread crust, and a touch of caramel. Smooth and light-bodied, this is the original session beer.
3.3
15
Upslope Brewing Company
Upslope English Porter
Robust Porter
A traditional style popular amongst the dockhands of 18th century England, this beer is deep brown in color with an attractive tan head. Smooth milk chocolate character, light roast, and underlying caramelized sugar notes are supported by a silky, creamy m
6
45
Upslope Brewing Company
Upslope German Pilsner
German-Style Pilsener
This German Pilsner is clean, crisp, and the perfect beer for hopheads and lager lovers alike. Pouring a brilliant gold color, it offers floral and spicy aromas from the Loral and Tettnanger hops used. There is a refreshing bitterness on the finish topped
4.9
35
Upslope Brewing Company
Upslope Pumpkin Ale
Pumpkin/Squash Beer
Adding organic baby bear pumpkins to malt and hops makes this truly a local farm to brewhouse collaboration. A custom blend of six spices rounds out the flavors in this highly anticipated beer.
7.7
25
Ursula Brewery
Angel of the Odd
American-Style Sour Ale
Sour Ale with Cherries
6
0
Ursula Brewery
L'avenue Fatale
French-Style Biere de Garde
French Style Bierre de Grande
6
0
Ursula Brewery
Renata Passion Fruit Kolsch
American-Style Fruit Beer
Passion Fruit Kolsch
6
0
Ursula Brewery
Superficially Opaque
American-Style India Pale Ale
American Style IPA
7.5
0
Uturn BBQ
Dark
American-Style Stout
American Style Stout
5.9
0
Uturn BBQ
Light
German-style Kölsch
Kolsch-style Ale
5
0
Uturn BBQ
Oktoberfest
German-Style Maerzen
Marzen-style Oktoberfest
0
0
Uturn BBQ
Session IPA
Session India Pale Ale
Session IPA
0
0
Verboten Brewing
A Million Reasons
Wood- and Barrel-Aged Pale to Amber Beer
Old Fashioned inspired Golden ale aged in bourbon and rye whiskey barrels with cherries and orange peel.
8
19
Verboten Brewing
Blood Guardian
Imperial India Pale Ale
Imperial IPA with Blood Orange
9
100
Verboten Brewing
Grow Old With You
Wood- and Barrel-Aged Strong Beer
English Barleywine aged in bourbon barrels.
13
60
Verboten Brewing
LIttle Nonsense
Wood- and Barrel-Aged Strong Stout
Imperial Oatmeal Stout aged in bourbon barrels. 2016 GABF Bronze
11
39
Verboten Brewing
Roll in Ze' Watermelons
Contemporary Gose
Watermelon Gose
5
10
Vernal Brewing Company
.50 Caliber IPA
Imperial India Pale Ale
Intesnse tropical aroma, citrus and floral character, slight spiciness from the alcohol with a unique sweetness that pops.
8.5
103
Vernal Brewing Company
Mama's Milk
American-Style Stout
Milk Stout brewed with Coffee, vanilla beans and cacao nibs.
8.5
9
Victory Brewing Co
Golden Monkey
Belgian-Style Tripel
Experience the sweet, sensual aromas and flavors of our famous Belgian-style tripel. Immerse yourself in rich notes of fruit and spice and savor its dry finish.
9.5
23
Victory Brewing Co
Helios Ale
Specialty Saison
Heady with an earthy, aromatic hop start, this flavorful ale slides into flavors of honey and mildly tart fruit. Leaving a refreshing citrus and pepper impression of dryness, this is a quenching, invigorating ale, despite its substantial strength.
7.5
30
Victory Brewing Co
Prima Pils
German-Style Pilsener
Loads of earthy, herbal noble hop character with subtle malt complexity in the aroma. Flavor is very hop forward with ample bitterness. Balanced malt and clean fermentation.
5.3
35
Victory Brewing Co
Sour Monkey
Wild Beer
Sour Monkey puts a tastefully tart twist on our Golden Monkey's sweet, fruity essence. A sharp, citrus-laden tang makes this brew a Monkey all its own!
9.5
10
Victory Brewing Co
Victory Home Grown New American Lager
American-Style Pale Ale
Six varieties of American whole flower hops pack bold and juicy flavors into this crisp, drinkable lager. Meet Victory Home Grown. Your NEW American Lager.
4.8
40
Vision Quest Brewing Company
Coconut IPA
Herb and Spice Beer
Session IPA dry hopped with tropical hops and toasted coconut flakes
6.5
65
Vision Quest Brewing Company
Dubbel
Belgian-Style Dubbel
Strong Belgian-style malty Dubbel
8
20
Walking Tree Brewery
Breconshire Imperial Porter
American-Style Imperial Porter
Big chocolate and sweet dark malt flavors
9.7
54
Walking Tree Brewery
Mr. D's Dortmunder Export
Dortmunder/European-Style Export
Classic Dortmunder
5.8
25
Walking Tree Brewery
Peach Destroyer
Belgian-Style Pale Strong Ale
Big peach and bubble gum aroma followed by complex belgian characteristics
8.3
21
Walking Tree Brewery
Sandy Feet American Wheat
American Wheat Beer
Crystal hops, a clean American yeast strain, and a 40% wheat malt bill.
6.4
17
Walking Tree Brewery
White Walking Tree IPA
American-Style India Pale Ale
A "Florida IPA", light body/mouthfeel, low IBU, big hop aroma and flavor.
7.1
50
WeldWerks Brewing Co.
Coffee Maple Achromatic
Coffee Stout or Porter
Imperial Stout brewed with maple syrup and Peruvian coffee
9.8
0
WeldWerks Brewing Co.
DDH Juicy Bits
American-Style India Pale Ale
New England-style IPA brewed with 7 lbs of Citra, Mosaic and El Dorado hops per barrel
6.7
0
WeldWerks Brewing Co.
Extra Extra Juicy Bits
Imperial India Pale Ale
New England-style Double IPA brewed with more than 11 lbs of Citra, Mosaic, and El Dorado hops per barrel
8.4
0
WeldWerks Brewing Co.
Key Lime Pie Berliner
Berliner-Style Weisse
Berliner Weisse brewed with lactose, fresh key lime juice, vanilla beans and graham cracker
4
0
WeldWerks Brewing Co.
Medianoche
Wood- and Barrel-Aged Strong Stout
Imperial Stout aged in Bourbon barrels for 17 months
13.9
0
Werk Force Brewing Co
Sleepy Bear
American-Style Imperial Stout
A Russian Imperial Stout full of roasted malts, rye, oats, honey malt, brown sugar and Magnum and Fuggle hops. Straight out of hibernation, we recommend not feeding the Sleepy Bear.
10.8
0
Werk Force Brewing Co
Wolf of the Henhouse
Belgian-Style Witbier
A Belgian inspired Witbier with coriander and orange peel. Citrus aromatics with a peppery/spicy character from the Belgian yeast.
5.5
0
West Flanders Brewing Co
Angry Monk
Belgian-Style Table Beer
Angry Monk displays a very Belgian character due to the yeast strain, with an aroma heavy on caramelized banana with a dash of licorice.
6.8
31
West Flanders Brewing Co
Faodail
Wood- and Barrel-Aged Strong Beer
An incredibly smooth for such a big beer. Beautifully balanced oak and bourbon notes with the sweetness - a very malty beer.
8.9
22
West Flanders Brewing Co
Hoffmeister Pilsner
German-Style Pilsener
A very clean and crisp lager with just the right amount of noble Saaz hops for a Czech-style pilsner.
5
27
West Flanders Brewing Co
Lion Heart Stout
Export Stout
We use a delicate hand with the black and roasted barleys and we end up with a balanced, semi-sweet Black Malt Bomb displaying beautiful toffee favors and dark caramel aromas.
7.7
27
West Flanders Brewing Co
Snowy Wit
Belgian-Style Witbier
Our Pro-Am Competition entry, Snowy Wit is our take on a style of beer that dates back over 400 years. A slightly sweet and spicy aroma, with the addition of coriander and orange peel.
5.1
19
West Sixth Brewing Co
Pay It Forward Cocoa Porter
Robust Porter
Dark and rich with overtones of coffee and dark chocolate, it's chewy and yet smooth at the same time.
6
47
West Sixth Brewing Co
Sixfold VI: Wild Sour with Plums
Wild Beer
Aged for over a year in red wine barrels, locally grown whole plums were added to the barrels then aged on oak for several more months. Slight aromatics of plums and acidity lent from this juicy fruit complements the complex fruity and funky aromatics of o
6
0
West Sixth Brewing Co
Sixfold X: Flanders Red
Irish-Style Red Ale
Tart cherry, lemon citrus, brown sugar, leather, barnyard funk and oak character abound! All created from malted barley, hops, water, yeast, time and a few of our favorite microbes to help it along the way.
6.7
12
West Sixth Brewing Co
Snake Cake
American-Style Imperial Stout
Our snake eyes imperial stout aged in bourbon barrels with the vanilla beans and cocoa nibs added, creating a rich beer with a striking resemblance to chocolate cake.
13
0
Westbound & Down Brewing Company
Don't Hassle the Hefe
South German-Style Hefeweizen
The best of Bavaria in a glass… this Hefeweizen style is an easy drinking wheat beer with a nose of cloves, banana, and a citrus finish on the palate.
5.25
0
Westbound & Down Brewing Company
Modern Mountain Pale
American-Style Pale Ale
A very drinkable pale ale with an aroma of citrus, pine, floral, and slight tropical fruit. Amarillo, Centennial, and Mosaic hops. It has a golden/copper appearance from the crystal malt which gives it a slight biscuit and toasty taste, followed up by a sw
5.5
0
Westbound & Down Brewing Company
Soberish Monk
Session Beer
This session-able Belgian Table Beer has nice floral notes from Amarillo hops and citrus rind aromas from Lemondrop hops. Crisp, refreshing, and easy drinking.
4.5
0
Westbound & Down Brewing Company
Westbound and Down Double IPA
Imperial India Pale Ale
We did not hold back on this DIPA. A ludicrous amount of Vic Secret, Galaxy, Mosaic, and Cryo Mosaic hops pack big aromas of tangerine, blueberry, papaya, and other tropical fruits. Even with all of those hops you do get a nice sweet biscuit malt profile,
9.3
0
Westbound & Down Brewing Company
Wet-Hop Colorado Pale Ale
American-Style India Pale Ale
This American IPA has a bright citrus aroma from dry hopping with Cascade, Simcoe, Centennial, and Citra hops. They are balanced with formidable malt flavor from Maris Otter malt.
6.9
0
WestFax Brewing Co.
40 West IPA
American-Style India Pale Ale
The aroma presents notes of tropical and orange blossom. Medium-light body with strong citrus and tropical flavors followed by a satisfying bitterness from the copious amounts of hops added throughout the brewing process. Amarillo, Summer, Simcoe, Azacca
6.5
85
WestFax Brewing Co.
ALTernative Amber
German-Style Altbier
A German style Altbier with balanced hop bitterness and caramel malt. A very drinkable ale with a crisp lager like finish. Think Amber Kolsch.
5.5
40
WestFax Brewing Co.
Blootylicious
American-Style Fruit Beer
An American Wheat Ale infused with blueberries. Effervescent, aromatic, and refreshing.
4.8
25
WestFax Brewing Co.
Dark Intent
American-Style Brown Ale
An American porter with roast and dark crystal malts dominating the aroma and flavor. Flavors of chocolate, pipe tobacco, and leather present themselves as the beer warms.
5.6
38
Weyerbacher Brewing Co
BrauHeist
South German-Style Weizenbock
Wheat beer with caramel & bready flavors which give it a malty & rich, full-bodied character with faint notes of raisin & molasses. Very creamy and complex, with slight banana and clove notes.
10.1
0
Weyerbacher Brewing Co
Imperial Pumpkin Ale
Pumpkin/Squash Beer
Lots of pumpkin along with cinnamon, nutmeg and a touch of cardamom & clove, give this beer a spicy, full-bodied flavor.
8
21
Weyerbacher Brewing Co
Riserva
Fruited Wood- and Barrel-Aged Sour Beer
Aging in oak barrels for more than a year gives the beer a pungent raspberry aroma, lovely red color & balancing wood character.
10
0
Weyerbacher Brewing Co
Sunday Morning Stout
Wood- and Barrel-Aged Strong Stout
Aromas of roasted coffee and bourbon awaken your senses while their flavors blend with hints of chocolate, roasted malt, vanilla and caramel.
12.7
0
Whisper Creek Farm: Kitchen and Brewery
Chili Garden Amber Wheat
American Wheat Beer
Diced and roasted chili peppers from our garden add a little spice to the finish of this creamy and bready wheat beer.
5.8
19
Whisper Creek Farm: Kitchen and Brewery
Oatmeal Brown Ale
English-Style Brown Ale
Sessional English-style brown ale brewed with toasted oats and raisins.
5.4
27
Whisper Creek Farm: Kitchen and Brewery
Surplus Pale Ale
American-Style Pale Ale
American Pale Ale brewed with honey from our apiary and citrus from our farm.
5.5
23
Whisper Creek Farm: Kitchen and Brewery
The Purple Stuff
American-Style Sour Ale
Inspired by a traditional Peruvian drink that is a staff favorite, this brew incorporates several grains, fruits and spices.
5.4
0
Whisper Creek Farm: Kitchen and Brewery
Weekly Wit (with Passionfruit)
Belgian-Style Witbier
Oats and wheat provide a tart and creamy backdrop to showcase a variety of seasonal fruits as they are harvested at our farm.
5
12
Whitestone Brewery
Boondoggle Brown
American-Style Brown Ale
Balanced American Brown Ale with a slight toast and nuttiness combined with rich malt sweetness. A blend of 4 malts makes this an easy drinking brown both day or night.
5.7
22
Whitestone Brewery
Cedrela Hefeweizen
South German-Style Hefeweizen
A traditional German Hefeweizen with Spanish Cedar Spirals added to the fermenter to give a white pepper and slight tropical finish.
5
8
Whitestone Brewery
Konverter Kolsch
German-style Kölsch
Light, extremely clear and crisp beer. Mild malt sweetness with low earthy hop aroma. Converting one taste bud at a time.
4.7
17
Whitestone Brewery
Long Gone Blonde
Golden or Blonde Ale
A classic American Blonde Ale with a light malty body that seamlessly transitions to a subtle whole bean vanilla and orange peel finish.
5.2
10
Wibby Brewing
Fresh Hop Equal Hops APL
American-Style Lager
Brewed with equal parts crystal and cascade hops, its caramel notes are met with great hop flavor with not too much bitterness.
6
35
Wibby Brewing
Lighshine Helles
Munich-Style Helles
This light sweet finishing, Bavarian influenced lager will keep you on Wibby's patio 30 minutes after you meant to be home from work
5.5
22
Wibby Brewing
Moondoor Dunkel
Munich Dunkel
Supple and crisp this delectable dark lager has a medium body which starts with a chocolate and ends with ordering it again
5.5
25
Wibby Brewing
Volksbier Vienna
Vienna-Style Lager
The "people's lager"! This Amber lager is brewed with all German malt and hops and is nice and malty, yet quite approachable.
5.5
25
Wibby Brewing
Wibby IPL
Czech Premium Pale Lager
A hop head red lager with a smooth, malt finish and a pungent, citrusy hop aroma. Wibby's smoother version of your favorite IPA
7
76
Wild Woods Brewery
Agave Lime Mexican Lager
American-Style Fruit Beer
A light, refreshing Mexican Lager brewed with corn and agave nectar, aged on fresh lime peel.
5.5
17
Wild Woods Brewery
Gin Barrel Treeline IPA
American-Style India Pale Ale
American-Style IPA aged in freshly dumped Gin barrels.
7.6
65
Wild Woods Brewery
Oktoberfest Lager
German-Style Maerzen
A traditional Oktoberfest Lager brewed with Bavarian heirloom barley.
6.5
24
Wild Woods Brewery
Palm Tree Pale Ale
Field Beer
American-style Pale Ale with tropical Mosaic hops aged on toasted coconut.
6.2
45
Wild Woods Brewery
Ponderosa Porter
Wood- and Barrel-Aged Dark Beer
Rye Porter aged on vanilla beans and new oak.
5.6
40
Wind River Brewing Co - WY
Indian Pass IPA
American-Style India Pale Ale
Copper in color, with piney and citrus hop notes
7
63
Wind River Brewing Co - WY
Mango Wheat
Fruit Wheat Beer
Lively, refreshing mango infused wheat beer
5
13
Wind River Brewing Co - WY
Rendezvous Witbier
Belgian-Style Witbier
Fresh orange peel, grapefruit, coriander. Refreshing beer on a hot day
4.7
18
Wind River Brewing Co - WY
Wind River Blonde
Golden or Blonde Ale
Golden Beer that is light, lively, and refreshing
5
15