One Comment
New Yards Brewery & Taproom To Open in Philadelphia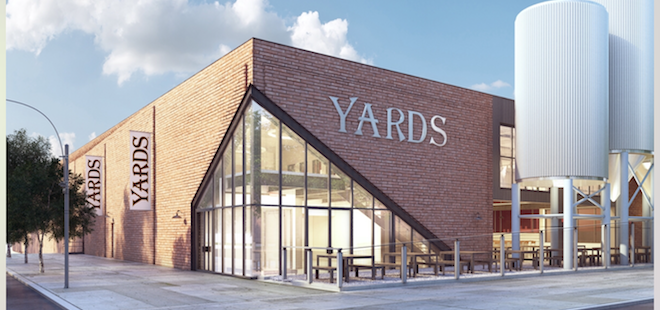 This November, Yards Brewing Company will expand into a new location in Philadelphia's beer-savvy Northern Liberties neighborhood. Located at 500 Spring Garden Street and called Yards Brewery and Taproom, this expansion provides a new 70,000-sqare-foot facility to produce their approachable ales and lagers. Yards was already one of the most recognizable craft beer brands in the city, but the move to this facility – located only blocks from the historic Liberty Bell – helps to cement their reputation as "Philadelphia's Brewery".
"Yards is continuing Philadelphia's brewing history, carrying on the proud and rich traditions of Philly's breweries that came before us," says Founder and Brewmaster Tom Kehoe, "Those early breweries were very much stitched to the fabric of the city, serving as integral parts of the community and helping lead downtown revival efforts. Since opening our doors in 1994, that is something we have always strived to do – and this investment only strengthens that commitment."
In order to stay true to Yards' Philadelphia roots, Kehoe and partner Trevor Prichett actually turned down more lucrative offers to move Yards outside the city limits, and both the vibe and design inside the new brewery reflects their dedication to the city.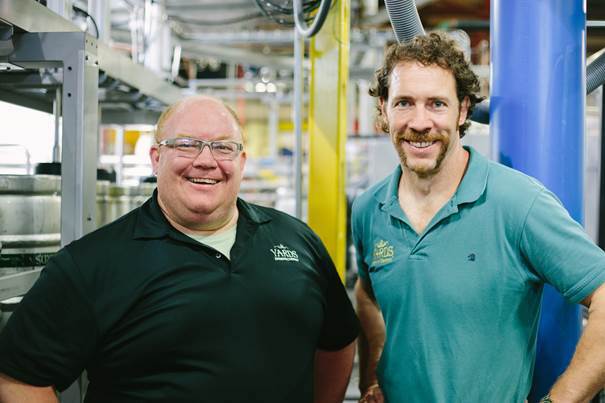 The Brewery
The brewery, constructed by local firm TN Ward, will remain 100% committed to wind power and sustainability, and their new 100-bbl brewhouse will mark further innovation: Yards will operate the only Ziemann Holvrieka brewhouse on the East Coast. The 100-bbl brewhouse has the capacity to produce more than double Yards' current output of 42,000 barrels, with the ability to increase production in the future.
"The order placed with ZIEMANN HOLVRIEKA includes one complete brewing line including the raw material handling. The brewhouse is designed for twelve brews per day. The planned cast out wort volume with an original wort content of 15.5° Plato amounts to 120 hectoliters per brew. The brewhouse will be equipped with the innovative mash agitator COLIBRI as well as with two LOTUS lauter tuns with diameters of 2.3 and 4.8 meters. This dual solution allows Yards Brewing Company to effectively process even brews with a volume of less than 25 hectoliters or lauter a very strong brew simultaneously with two lauter tuns. For this purpose, ZIEMANN HOLVRIEKA will also install an external wort boiler, which is ideally suited for small batches." – Ziemann-Holvrieka.com
With the installation of a brand new KHS canning line capable of filling 216 cans per minute, the new brewery will allow Yards to can its beers for the first time in company history. In early 2018, Philadelphia Pale Ale, IPA and Brawler will be available in 12-oz. and 16-oz. cans, just in time for tailgating playoff games at the stadiums on South Broad Street. In addition, they will continue to bottle all their year-round offerings and seasonal favorites in the new facility.
The Taproom and Kitchen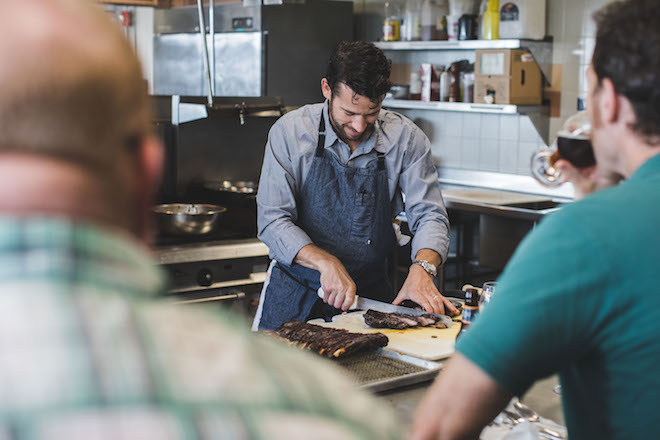 The first kitchen in the brewery's 23-year history will be helmed by James Beard Award semifinalist and prominent Philadelphia chef James Burke. Chef Burke's diverse menu will complement and incorporate the choice hops and grains used in Yards' award-winning beers, with special attention paid to local purveyors, Philly favorites and classic pub fare, with the menu being divided into Snacks, Sandwiches, Entrees and Desserts; and the kitchen will serve food until one hour before closing time.
Yards Brewery and Taproom, designed by Philadelphia-based architecture firm DIGSAU, will be modern industrial: an expansive, open floor plan with 25-foot ceilings, large hanging metallic lights and long wooden tables designed by local non-profit The Challenge Program. The space will offer 360 views of the entire brewing operation, from the new canning line to the state-of-the-art brewhouse. The taproom will comfortably accommodate up to 280 guests. Adjacent to the taproom will be the Brewer's Lounge, a hangout spot complete with a pool table, TV, dart board and shuffleboard.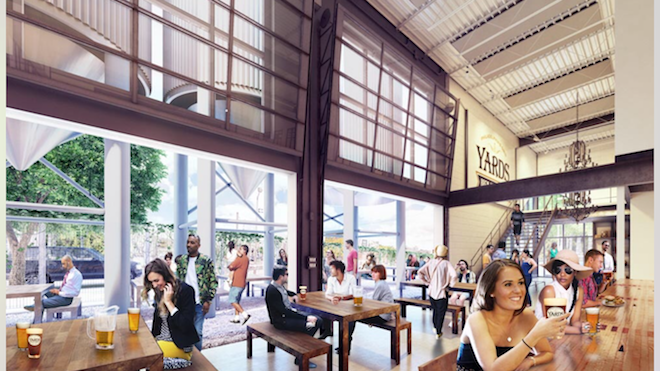 At the forefront of the taproom stands a main bar, constructed from repurposed wooden bowling lanes and featuring 20 tap lines. Located a few feet from the main entrance, the bar will serve as the central location for visitors to meet up and mingle upon entering the taproom, and a great spot for fans to cheer on all the local sports teams. At the entrance, guests will be able to purchase Yards beer to-go and merchandise.
Separated from the main taproom by a roll-up garage window is an outdoor area, where fans can linger under towering fermentation and aging tanks while enjoying a Philadelphia Pale Ale paired with Chef Burke's Roast Pork. On the second floor, a private event space (2,900-square feet) overlooks the brewery and taproom, available to accommodate 200 guests, perfect for hosting corporate gatherings and weddings.
Brewery tours will be limited while the final production equipment install is completed; please check yardsbrewing.com and follow Yards on social media @yardsbrew for updated tour information.
---