No Comments
Ultimate 6er | New M&M Flavors Paired with Excellent Beer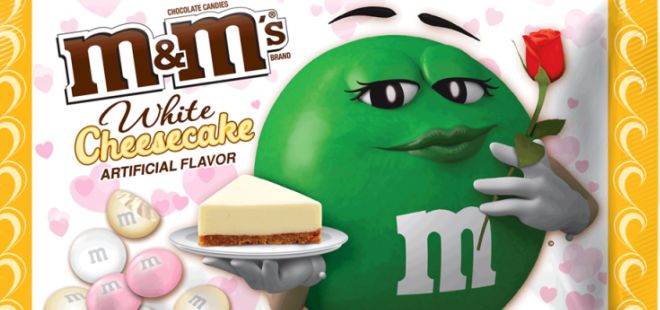 Halloween may have passed, but my stash of "Dad tax" candy continues to thrive — my kids must pay for the right to trick-or-treat. Hence, traditionally, all Reeses, Smarties and M&M's become my property.
As a result, I noticed an influx of new M&M flavors that I had not tried. Suddenly the classic, brown-bagged Plain M&M's and yellow-bagged Peanut M&M's were joined by such flavors as Birthday Cake, Pumpkin Spice, Cafe Mocha and Carrot Cake.
Of course, that got me thinking, 'Which of these flavors would go best with what beer?' This Ultimate 6er seeks to find the answers.
How to Drink Beer and Eat M&M's
Take a healthy swig of the suggested beer; it will coat your mouth just right.
Pop as many M&M's as you want and chew, chew, chew.
I really believe you'll get the maximum benefit of this experiment this way. So, without further ado, let's get our sweet tooth on.
We lead off with perhaps, in my opinion, the most difficult candy flavor to pair. Caramel is so sweet, that after a few tests, it was clear we needed a sweet beer to match.
New Belgium's Salted Caramel Brownie Brown Ale was literally created to pair with a Ben & Jerry's ice cream, so I think we're hitting a home run here.
This brew pours with a mocha-colored head and rich chocolate and caramel malt on the nose.
On the tongue, you'll get good vanilla and hints of coffee, plenty of chocolate. It is a very enjoyable beer.

---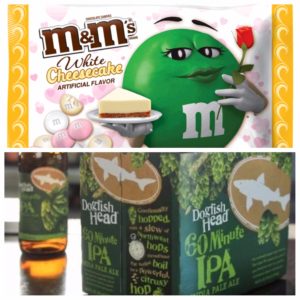 For this pairing, I first started with heavier beer such as a stout or a porter, which I assumed would pair well with the sweetness of the cheesecake. But after a few tries, I ended up abandoning that plan. I wanted to see if the slight bitterness of an IPA would be a better balance — I think I was right.
Dogfish Head 60 Minute IPA provided balance to the sweet M&M. The bitterness that lingers in your mouth, is suddenly smoothed out by the sweetness of the candy. So after trying out a few other IPA's, I decided it was just right to be paired with white cheesecake.
In fact, They blend perfectly, I must say.
---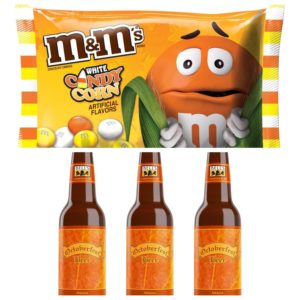 At first, this one appeared to be a no-brainier, simply because I've paired candy corn with macro lagers in the past.  Thus, it seemed as if a nice simple pilsner or golden lager would go perfectly with this flavor of M&M's.
However, after giving it a shot with a local, craft lager, I just wasn't feeling it. So, I went with another new favorite, Bell's Oktoberfest.  Though it may be difficult to find as we transition to winter and the holidays, it's worth the hunt for it.
The authenticity of this beer makes it one of my favorites. It pours a beautiful amber with a light tan head. Malty and just hit of floral on the nose. Alone, it's not that sweet, but it sets you up nicely for the Candy Corn flavor that explodes when you pop 'em in.
---
Raspberry Hefeweizen | Schlafly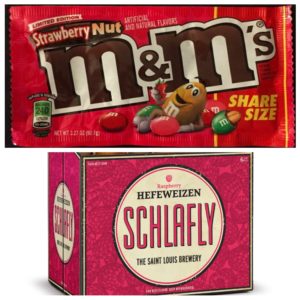 I wasn't sure where this pairing was headed. Instead of trying to counter the strawberry-nuttiness of this candy, I thought it would be better to embrace it.
The Schlafly Raspberry Hefeweizen, in my opinion, is one of the best summer beers found in in St. Louis.  The vibrant strawberry mixes with the raspberry esters in this otherwise classic German Hefeweizen.
Instead of balance, you'll experience a fruit-explosion when you follow the candy with a swig of the beer. The raspberry holds on, and then pushes the strawberry over the top. If you're not a fruit fan, you may want to skip this one. But, if you love fruit, this is the combo for you.
---
Breakfast Stout | Founders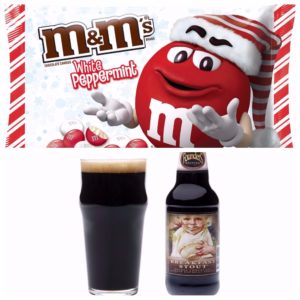 There was no question about what I was going to pair with a peppermint M&M's. The question was really, which breakfast stout would go best. For this pairing, I decided to go with one of, if not the best 'stout' I've ever tasted.
The acclaimed Founder's Breakfast Stout is not just a great stout, it's a great beer. It happen to also be a brilliant compliment to peppermint M&Ms. So, pace yourself because you'll want to savor how the peppermint partners with this beer's "abundance of flaked oats, bitter and imported chocolates and two types of coffee."
---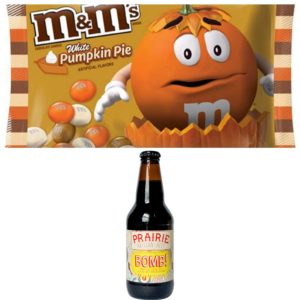 Go big or don't taste test.
I'm betting that the final beer in this Ultimate 6er is one of your favorites, too. And I realize that one bottle isn't cheap, so believe me when I say, I was reluctant to use my last Bomb in the fridge for this experiment. But, it was worth it.
I decided I needed a big beer to compliment the pumpkin pie, which I might add, is my favorite of all the M&M flavors on this list. Take a healthy swig and dare I say 'keep it in' and let that intense coffee, chocolate, vanilla and hit of pepper coat your mouth. When you pop those M&M's in your mouth and then mix them around, you may never drink a Bomb alone again.
This was by far my favorite pairing. It really does change how you'll drink big beers.
---