No Comments
The Weekly Buzz | February 16 – 22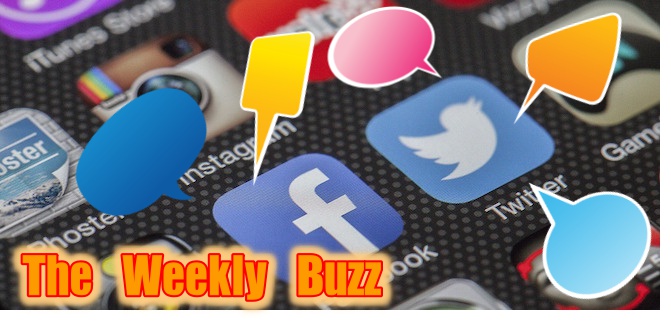 I'm not going to lie to you. I barely got on Twitter this week, and the bulk of that time was arguing the pronunciation of Hefeweizen with some podcasters. Despite that, I think I still managed to find a bunch of fun posts to share with you all! The most dominant theme was #DrinkItNow Day. I normally ignore made-up Twitter holidays, but this one seems worthwhile. Encouraging you beer-hoarding nerds to empty out your cellars is a mission I can really get behind! Open up that vertical of barrel-aged Stouts and enjoy The Weekly Buzz!

Did you enjoy a few beers while watching the Olympics?
https://instagram.com/p/BfYiLFRFuxu/
So incredibly proud of our fellow Alaskan, Kikkan Randall, and her partner, Jessie Diggins, for winning Olympic gold – the first gold medal in cross-country skiing won by American women! Congratulations! https://t.co/tXIaWISX56

— Alaskan Brewing Co. (@AlaskanBrewing) February 21, 2018
Beer-touting Scott Moir yells at women's hockey refs, achieves peak Canadahttps://t.co/EqrHGDbWbT

— SI Olympics (@si_olympics) February 22, 2018
---
How did you celebrate #DrinkItNow Day?
https://instagram.com/p/BfXFTP6hXJw/
https://instagram.com/p/BfXzxAVBwjk/
https://instagram.com/p/BfXRJSMlejN/
https://instagram.com/p/BfXNdPolJQK/
https://instagram.com/p/BfXJnvsHXPz/
https://instagram.com/p/BfXH0uxl6h3/
https://instagram.com/p/BfXHX7FDOvq/
---
Outdoor seating… in Pittsburgh… in FEBRUARY. Must be a heat wave!
https://instagram.com/p/BfbHtSMhYZK/
https://instagram.com/p/BfbFPWmAuD3/
---
Enter to win!
You and a friend can win the Ultimate Boston Weekend with the #NHLBruins and @harpoonbrewery from 3/8-3/11. Prize includes VIP tickets to various Harpoon events, 2 Bruins personalized jerseys, and 2 tickets to the game on 3/10. Enter now: https://t.co/Pwmfr7H83p pic.twitter.com/KWoPJqzrIS

— Boston Bruins (@NHLBruins) February 16, 2018
---
Drink beer and support a good cause!
Want to party for a good cause? Participate in this weekend's Cupid Undie Run! It's a little bit of running, a lot of Avery beer, and all proceeds benefit research for Neurofibromatosis, a genetic disorder that affects 1 in every 3,000 children born. https://t.co/684MhmLP68

— Avery Brewing Co (@AveryBrewingCo) February 20, 2018
---
Do you bring your kids to taprooms?
Our brewery was founded on the very premise that it should be family-friendly, just like the German venues that inspired its design (and our bier, of course). Thanks @FlatlandKC for the shout-out! #KC #DrinkLocal #KCBierCo https://t.co/s9YlPLaTPI

— KC Bier Company (@KCBierCo) February 20, 2018
---
Get ready to buy those tickets!
A little over a week until tickets for the 2018 #TellurideBlues & Brews Festival go on sale! Don't miss out on limited Early Bird 3-Day Passes, RV Camping Passes, Glamping Packages and exclusive VIP Passes, they will go quick! https://t.co/VcHwRqpqbx

— Telluride Blues (@TellurideBlues) February 21, 2018
---
Did you enjoy a beer on National Margarita Day?
https://instagram.com/p/Bfg0053hhd2/
---
Job alert!
Third Space is hiring! Looking for an additional Assistant Brewer. Please review the job description here and if qualified, motivated and a good fit, please apply! https://t.co/TIOL0j47xB pic.twitter.com/LBkEjnSyZv

— Third Space Brewing (@thirdspacebrews) February 22, 2018
---
There's nothing stopping you from enjoying a beer on a boat!
Winter Beer Festival postponed due to record flooding forecast https://t.co/cJ5mIQxa3x

— Wolverine Beer (@wolverinebeer) February 22, 2018
---
Spicy firkins? I'm in!
Only two days until we bring the heat at Fiery Firkin Fest! Do you have your tasting tickets yet? https://t.co/jp1uCIxKF0 // #fieryfirkinatx // 🍻 🌶 // pic.twitter.com/jhpRarRzsc

— Circle Brewing Co. (@circlebrew) February 22, 2018
---
Some brewery shenanigans!
A lot of talent goes into our beers… Including Kyle's mad forklift skills. Heads: we drink beer, tails: we still drink beer 🍻 pic.twitter.com/4u8Zh8SuDU

— Dry Dock Brewing (@DryDockBrewing) February 22, 2018
---