No Comments
The Weekly Buzz | March 16 – 22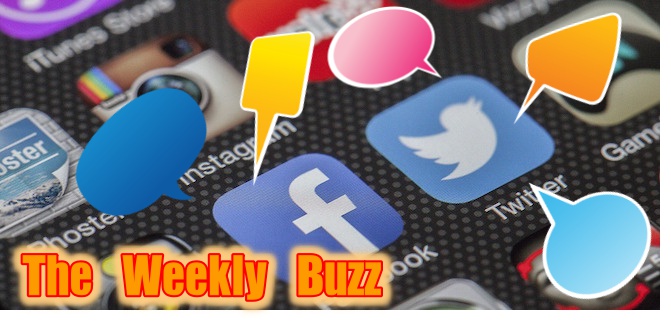 I had planned on writing something political this week. The urge to create a good old-fashioned doom-and-gloom post was almost undeniable, but it turns out that I don't have the energy. There is simply no fuel left in my tank. We had a snowstorm on the second day of spring, which led to a lot of unwelcome shoveling. I had to replace the battery in my fiancee's car (in the midst of the heaped-up snow). It's just been one of those weeks. Here's some stuff from Twitter and Instagram. I'll be in bed drinking beer and enjoying my Weekly Buzz.

Now THAT is a green beer worth trying!
https://instagram.com/p/BgbbfNFjWi4/
---
I'd take this over a yoga class any day!
https://instagram.com/p/Bgb9SGwHIXA/
---
How did you celebrate St. Paddy's Day?
https://instagram.com/p/Bgbw7_PA5i6/
https://instagram.com/p/BgcGxUfnYtl/
https://instagram.com/p/BgdvxodhAeP/
---
But who's gonna wear the costume?
Our massive, extraordinary Easter Brunch looms. If you don't think we're serious, we are renting an Easter Bunny costume. Menu and ticket availability at the link https://t.co/vxiPrvQQLW

— surlybrewing (@surlybrewing) March 18, 2018
---
I feel like I post one of these every week…
https://instagram.com/p/BggkxIqhBmy/
---
Let's have a brief moment of silence…
https://instagram.com/p/BgoVy9CnqCM/
---
I just thought this one was cool.
https://instagram.com/p/BgpQ527luzg/
---
Sounds better than the lunch I had today.
https://instagram.com/p/BgpKVE6Ah5b/
---
Empty those closets for a good cause!
Spring cleaning is a necessary evil, might as well make it count for a good cause! Join us as @charlottegpo partners with @boldmissybrewery and @safe_alliance on April 15th from 1-5pm when we roll up the garage door at Bold Missy Brewery and sell donate… https://t.co/LPUhoHR5HH pic.twitter.com/geojj8T95r

— Charlotte GPO (@CharlotteNCGPO) March 22, 2018
---
Are you looking for work?
Our upcoming Chicago Tasting Room & Kitchen is closer to completion, so we're holding a JOB FAIR this upcoming Sunday, Monday and Tuesday for all restaurant positions. 🍻
•
WHERE: 212 N Green St. Chicago, IL 60607
•
WHEN: ⠀
– Sunday, 3/25⠀
– Monday, 3/26⠀
– Tuesday, 3/27⠀… pic.twitter.com/P9EhotoAEf

— Ballast Point Beer (@BallastPoint) March 22, 2018
We're growing! Want to work at Speakeasy? Take a look at our Career page for new opportunities.https://t.co/ldVgXcvIkr

— Speakeasy Beer (@SpeakeasyBeer) March 22, 2018
---
Coming soon to a borough near you.
Article talking about our soon to open #eviltwinbrewingnewyork in Queens. https://t.co/O6rJrReAsz

— Evil Twin Brewing (@EvilTwinBrewing) March 22, 2018
---
Are they still called "bean counters" if they work in a brewery?
Q: What do 5 accountants do in a brewery? A: They brew an extra hazy IPA while asking how much everything costs. pic.twitter.com/gWSJ1JIMPC

— Rogue Ales & Spirits (@RogueAles) March 22, 2018
---
I'm 100% sure that your boss will honor this excuse.
Something "official" keeping you from enjoying #OberonDay? We've got you covered. Note: Actual results may vary. pic.twitter.com/qxW1u16Oya

— Bell's Brewery (@BellsBrewery) March 22, 2018
---
That's a long time between lineup changes.
It's finally here… Meet Golden Pilsner, our first new year-round beer in 17 years! #goldenpilsner #6thgeneration Learn more: https://t.co/qecEWgUdMh pic.twitter.com/b00jJesve9

— Yuengling Brewery (@Yuengling_Beer) March 20, 2018
---
She must REALLY like that beer.
I spy a pretty rad tattoo of yours truly. My @AmericanIdol vote goes to @effiepassero. Good luck this season! https://t.co/rya8wnULRy

— Voodoo Ranger (@voodooranger) March 22, 2018
---