No Comments
Brickstone Brewery | Brickstone APA: The Beauty of Amarillo Hops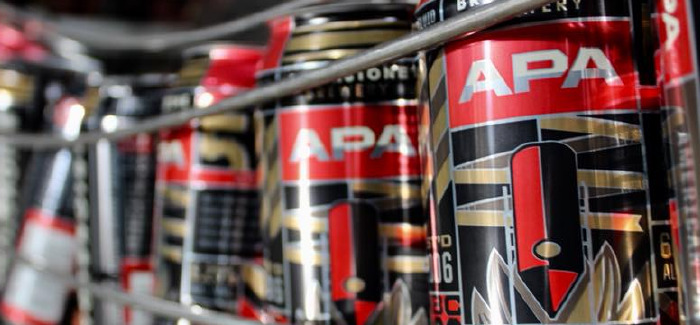 About 60 miles south of Downtown Chicago, in a town of roughly 18,500 people, one will find a superbly crafted American Pale Ale (APA). You remember APAs, right? Craft beer drinkers used to consume multitudes of them a few decades ago. Well, they still exist, and they are as good as ever, exemplified by Brickstone APA from Brickstone Brewery in Bourbonnais, IL.
ABV: 6.25% | IBU: 45
The profoundly golden Brickstone APA looks like a beer. Nothing hazy. No glitter. It's a old-school, tasty brew. In fact, it would be perfect for a beer commercial that runs during the "dog days" of summer. The mere sight of having it poured into a glass will inevitably induce drool in every beer fan.
As with most beer styles, APAs enjoy diversity in taste. Brickstone APA honors the stereotypical 1990s, West Coast style of hoppy beers that made many of us think, "Whoa, what is this odd thing in my beer? Oh, right. Flavor." Brickstone APA is comprised of light caramel malts, Centennial, Citra and plentiful Amarillo hops — the nuances of which make this beer worthy of buying again and again (and again).
For those that don't know, hop farmers in Washington discovered Amarillo Hops way back in 1990, by accident, growing next to some Liberty hops. The newer hops grew with much smaller cones that, when opened, appeared yellowish in color (hence the name Amarillo, which is Spanish for "yellow"). Most importantly, the new, Amarillo hop offered strong citrus aromas and flavor.
The Citra and Centennial are wonderful additions, too, as those varieties help to bolster the citrus notes, while also giving it a fresh boost of bitterness. Moreover, with each sip, there's a wonderful maltiness (just sweet enough to counter the bitterness) that makes for a beer that ranges to the bitter side, while avoiding the distinction of a palate killer.
Simply, Brickstone APA is a solid, flavorful, refreshing APA.
Ultimately, I prefer it poured into a proper glass, but Brickstone APA is crushable enough to be consumed straight from the can. In fact, the APA has often served as this writer's go-to holiday beer, be it Memorial Day, Independence Day or Labor Day — the perfect compliment to a good cookout and a game of bags.
Brickstone Brewery (opened in 2006) is no small brewery, by the way. The restaurant and brewery combine highly-regarded dining with its award-winning beer, while the 18,000 bbl/year brewhouse operates down the street. Thus, Chicago-area beer fans will have no problem finding this flagship brew, whether it be Independence Day or any other day of the year.
https://www.instagram.com/p/BjUwKM_ge-_/?hl=en&taken-by=brickstonebrewery
---