No Comments
Event Recap | 2018 Meeting of the Malts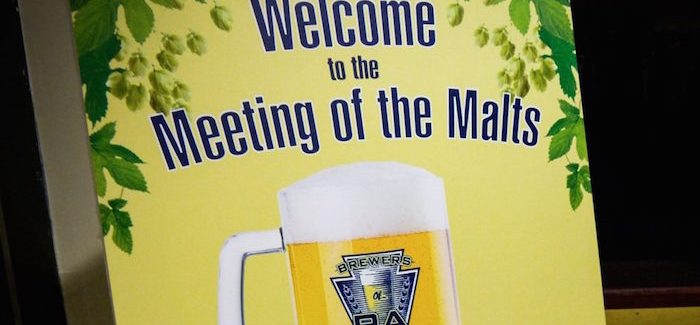 On Thursday, August 23, The Brewers of Pennsylvania (BOP) hosted the 2018 Meeting of the Malts. The event, held at Bethlehem, Pa.'s ArtsQuest Center, is an annual gathering of Pennsylvania's brewers, legislators and beer nerds. Serving as both a celebration of the state's beer and a "State of the Industry" discussion, Meeting of the Malts was a beautiful evening full of even more beautiful beer.

Opening Ceremonies, Awards & Panel Discussion
The evening began with opening remarks from BOP President Chris Lampe (Weyerbacher Brewing) and the presentation of the Legislative Awards. These awards recognize lawmakers who work to promote Pennsylvania's craft beer industry. This year's recipients from the State House of Representatives were Paul Costa, Adam Harris and Patty Kim; BOP recognized John Rafferty, James Brewster and Charles McIlhinney from the state Senate.
This year's President's Award was presented to founder and brewmaster of Stoudt's Brewing Company, Carol Stoudt. Carol has the unique distinction of being America's first female brewmaster after the repeal of Prohibition. She gave an engaging acceptance speech during which she named and applauded several women who are rising stars in Pennsylvania's craft beer scene.
https://www.instagram.com/p/Bm3uU7aFhwa/?taken-by=brewersofpa
Then the festivities really got started. Wendy Yuengling (D.G. Yuengling & Son) and Jim Koch (Samuel Adams Brewing Company) offered opening toasts and the assembled crowds raised glasses of Yuengling Golden Pilsner with an energetic, "Cheers!"
Beer Pairing Dinner
After the toast, the crowd settled in and enjoyed a fun panel discussion, hosted by long-time beverage industry expert and consultant Bump Williams, which featured Bill Covaleski (Victory Brewing Co.), Tom Kehoe (Yards Brewing Co.), Wendy Yuengling, Mike Stevens (Founders Brewing Co.) and Joey Redner (Cigar City Brewing). The discussion (which became quite raucous) included anecdotes from the brewers about their early careers and discussion about the state of the craft beer industry.
Before we knew it, dinner—and its delicious beer pairings—was upon us. The fun amplified as each course reached the table. Brewers, industry consultants, journalists and nerds all wandered the room discussing the pairings or just catching up; many only returned to their tables when the next course was served.
All of the beer and food courses were delicious, but the biggest surprise was the dessert course. We knew it would be paired with Founders' KBS, but most of us didn't realize was that we would be served three different vintages of the beer: 2016, 2017 and 2018. Once this was discovered, impromptu vertical tastings began at nearly every table.
https://www.instagram.com/p/Bm17mMsllrx/?taken-by=dcbortz
Pennsylvania Brewpub Festival
When dinner wrapped up, we headed downstairs for the Pennsylvania Brewpub Festival. This tasting session featured 31 different breweries, most hailing from the Keystone State. This was a very laid-back session which allowed attendees the opportunity to spend a little time chatting with brewers, including many of the evening's panelists.
I drank far too many beers to possibly go into detail about them all, but there were many tasty ones. The most prevalent styles, not surprisingly, were New England-style IPAs and kettle-soured styles like Berliner Weiss and Gose, but there were also several other styles to be found around the room.
Here are a few beers I thought stood out:
English Curse (Hazelnut) | Boneshire Brew Works – This English-style Porter was an interesting change of pace. This dark beauty has lots of delicious malt complexity and the hazelnut addition really dials it up. At 5% ABV, it's not quite a session beer, but I wouldn't let that stop me from sessioning it.
Berlina Blue | Roy Pitz Brewing Company – This Berliner Weisse is kettle soured and then fermented on a boatload of fresh blueberries and blackberries. The fruit gives the beer a bluish-red color and tons of fruit aroma. I'm a huge blackberry fan and could drink this all summer long.
Spacegrass | Collusion Tap Works – A New England-style IPA brewed with Citra and Mosaic hops, then dry-hopped with Galaxy, Mosaic and Citra, it gives you all the juicy citrus flavors that a growing haze-bro needs.
https://www.instagram.com/p/Bm1rrmxFqkk/?taken-by=brewersofpa
I'm not going to lie to you. Meeting of the Malts is a long night. You will drink a LOT of great beer and driving yourself home is entirely out of the question. But if you plan it right—including a full day to nurse your hangover—this event is one of the best that you could ever hope to attend. Keep your eyes peeled for tickets to next year's Meeting of the Malts: They're worth their weight in gold.
Featured Image Credit: Brewers of PA
---