No Comments
WeldWerks Announces GABF Releases to Exceed 100 New Beers in 2018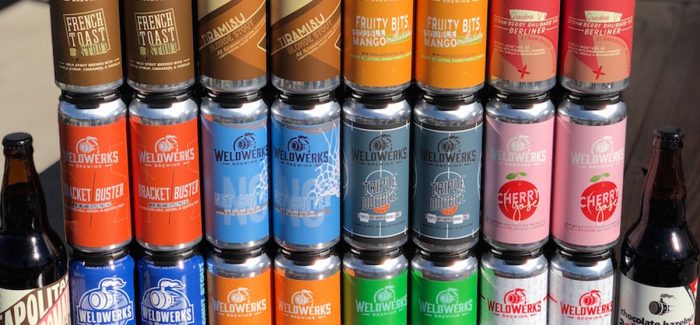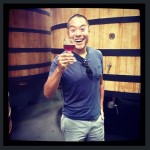 In today's landscape of experimentation and variety, it's not uncommon for a brewery to diversify their portfolio with an ever-rotating lineup of new beers. However for a brewery that's less than four years old, to be able to pull off over 100 new beer releases in less than a year, is an almost unfathomable feat.
Next Wednesday, Greeley's WeldWerks Brewing will cross that threshold with the release of beers #99 and #100 in Down the Hill, an 8.5% ABV New England-style double IPA made in collaboration with Outer Range Brewing and QDH Juicy Bits, a quadruple dry-hopped version of their Juicy Bits IPA.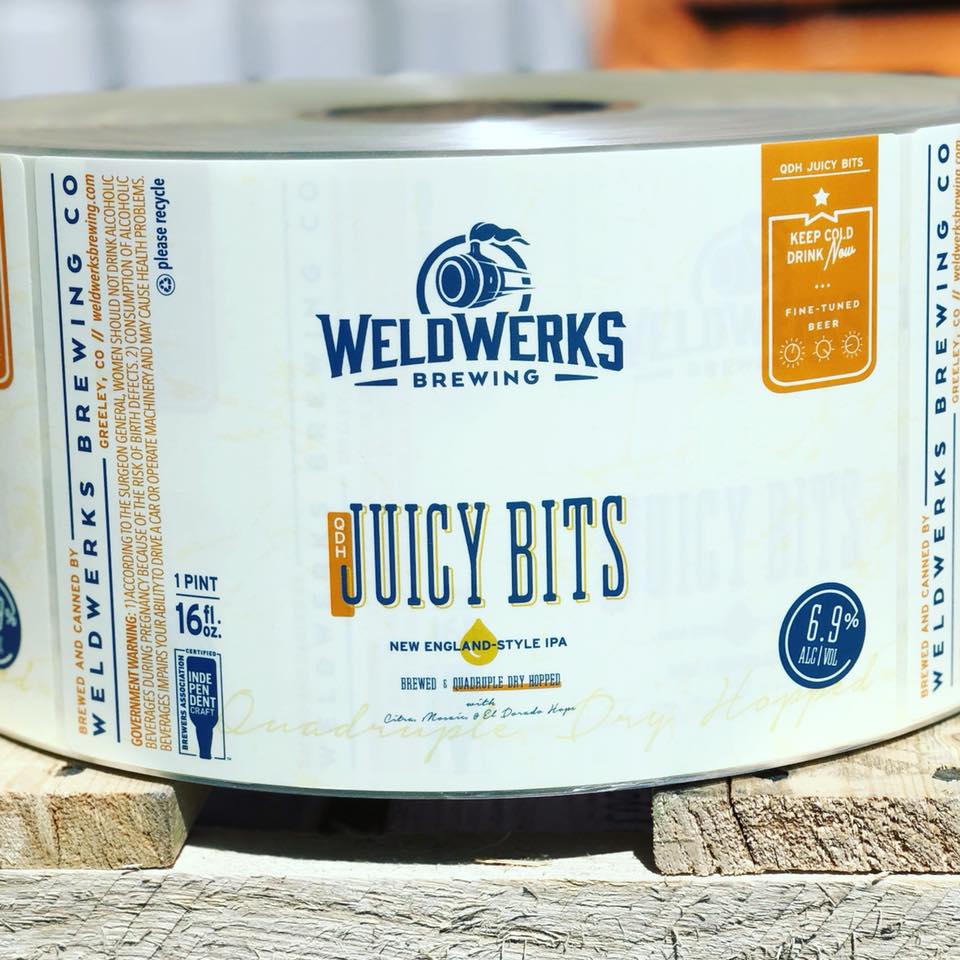 We first broke news on WeldWerks' ambitious goal back in January, when we interviewed Neil Fisher, head brewer and co-founder of WeldWerks during our Big Beers edition of The PorchCast. What makes the accomplishment even more incredible, is that nearly all of those releases were packaged in 16-ounce cans, and more than half of those brands were self-distributed to WeldWerks' full network of approximately 100 retail stores throughout the Front Range. To celebrate the release of 100 new beers, the WeldWerks team has plans to throw a party marking the occasion on November 9.
In addition to beers #99 and #100, we now also know the rest of WeldWerks release plans for the week of the Great American Beer Festival: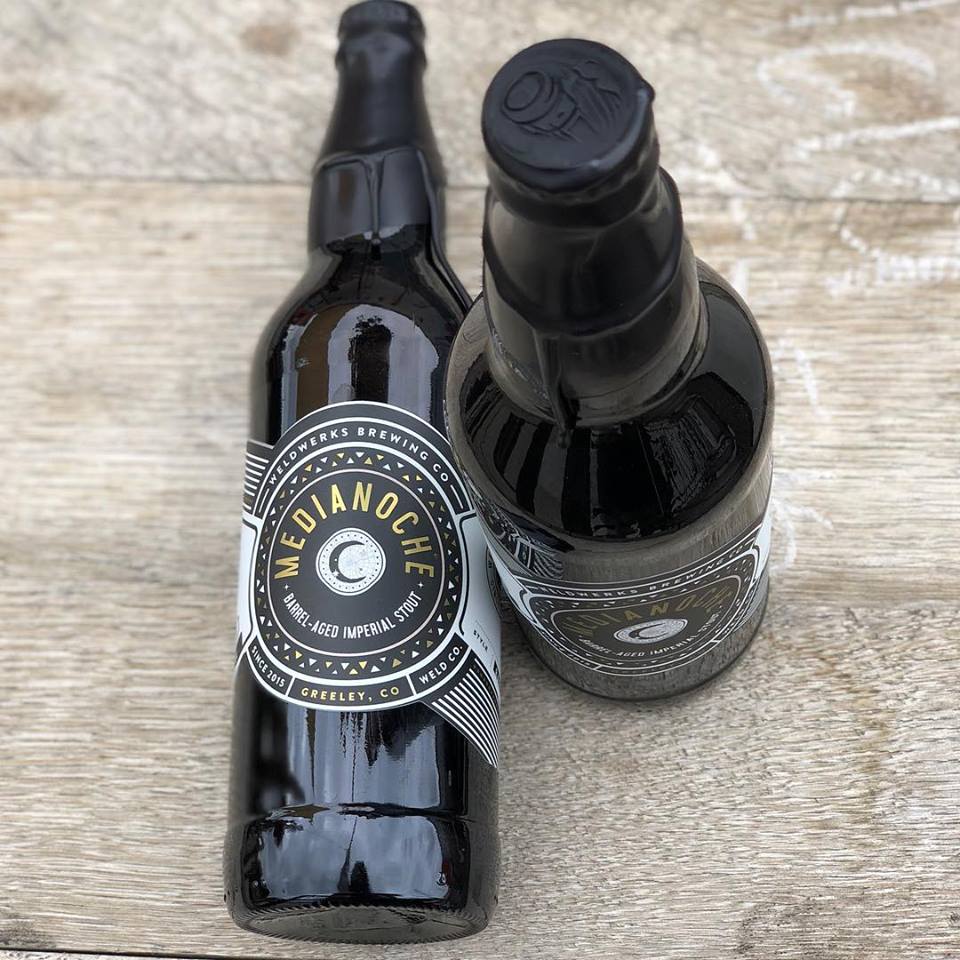 Releasing Wednesday, 9.19
– Down The Hill (NE IPA collab with ORB, beer #99), (Available on draft and in cans to-go)
– QDH Juicy Bits (beer #100),(Available on draft and in cans to-go)
– Cosmic Torero (re-release of Space Cowboy under a different name),(Available on draft and in cans to-go)
– Double Peach Milkshake, (Available on draft and in cans to-go)
– Pina Colada Milkshake, (Available on draft and in cans to-go)
– 18-Month Medianoche,(Available on draft and in bottles to-go)
– Coconut Medianoche, (Available on draft and in bottles to-go)
– Single Barrel Peanut Butter Cup Medianoche, (Available on draft only)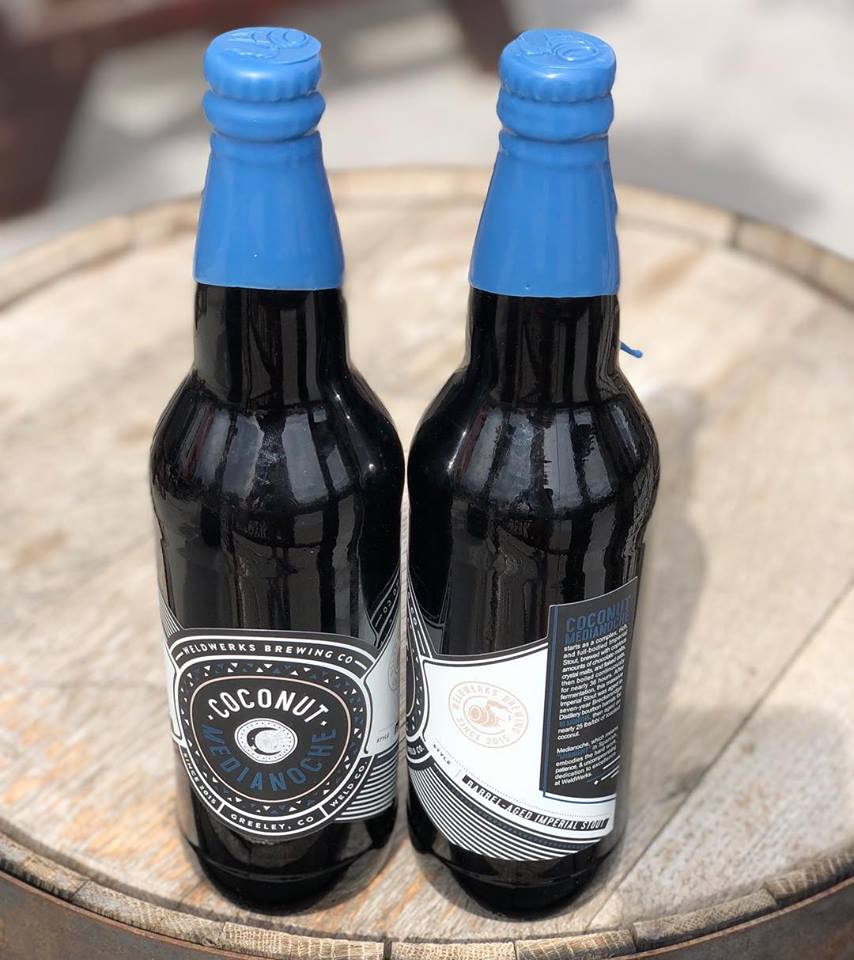 Releasing Friday, 9.21
– Brewer's Reserve Medianoche (w/vanilla and cacao, tapping in tandem with Rare Beer),(Available on draft only)
Take a look back at WeldWerks' full list of 100 new beers released in 2018:
1. Grisette
2. Citra DDH Juicy Bits
3. Cinnamon Dolce Latte Stout
4. Apricot Gose
5. 85 in a 55
6. Keller Pils
7. S'mores Achromatic
8. Space Cowboy
9. Single Barrel Coconut Coffee Medianoche (draft only)
10. Fruity Bits – Mango Milkshake
11. Amore Achromatic (Bottled 1/29/18)
12. Black Forest Cake Stout
13. Mosaic Basic Bits
14. Tiramisu Blonde Stout
15. Steambarrel 3.0
16. Net Cutter
17. Chocolate Coconut Achromatic
18. Cherry Gose (Canned 3/7/18)
19. Bracket Buster
20. Cereal Keller
21. Triple Double
22. Triple Dry Hopped Juicy Bits
23. Grandma J's Strawberry Rhubarb Pie Berliner
24. Transmountain Diversion
25. Fruity Bits Double Mango Milkshake
26. Neapolitan Achromatic
27. Chocolate Hazelnut Achromatic
28. Single Barrel Malibu Medianoche (draft only)
29. Single Barrel Mudslide Medianoche (draft only)
30. Single Barrel 13 Month Medianoche (draft only)
31. Single Barrel Neapolitan Medianoche (draft only)
32. Big Fig
33. PB&J Stout
34. Green Shell
35. Spiny Shell
36. Baklava Blonde Stout
37. Triple Red Shell
38. Kiwi Berliner
39. Fake Item Box
40. Double Peach Milkshake
41. Chocolate Chip Cookie Dough Stout
42. Marshmallow Medianoche (draft only)
43. Item Box
44. Banana Bunch
45. Peach Pie Berliner
46. Starman
47. Coalescence
48. Oatmeal Creme Pie Stout
49. Tropical Punch Berliner
50. Red Velvet Cake Blonde Stout
51. Double Blackberry Milkshake
52. Saison D'Amitie
53. Nutty Bar Stout
54. Singular Focus El Dorado
55. Mexican Medianoche
56. Single Barrel 16 Month Medianoche
57. Petrichor
58. Salt of the Dog
59. Confluence
60. Brownie Batter Stout
61. Evil Haze Factory
62. Stone Fruit Berliner
63. French Toast Achromatic
64. Coffee Coconut Achromatic
65. Tropical Milkshake
66. Spectral Class
67. Single Barrel Almond Joy Medianoche (draft only)
68. Single Barrel 18 Month Medianoche (draft only)
69. Single Barrel WeldWerks Invitational Festival Medianoche (draft only)
70. Vanilla Medianoche (Bottled 5/29/18)
71. Coffee Blonde Stout
72. Sour Hop Stand IPA
73. Rice Plum Gose
74. Basement Bits
75. Raspberry Lemonade Milkshake
76. Pina Colada Milkshake
77. Coffee Milkshake IPA
78. Itsy Bits
79. TBD
80. Imperial Brut
81. Keller Pils 2.0
82. Conflict Resolution
83. Galaxy Extra Extra Juicy Bits
84. Exact Opposite of Hawaii(an) Punch
85. Chardonney Brut
86. Steambarrel 4.0
87. Evil Pastry Stout Factory
88. Mosiac DDH Juicy Bits
89. Brambleberry Sour
90. Sweet Disposition
91. Blood Orange Creamsicle Milkshake
92. Apricot Wheat
93. Pillow Cannon
94. Perseid's Cloud
95. El Dorado DDH Juicy Bits
96. Coffee French Toast Stout
97. Spaghetti Gose
98. Blackberry Cobbler Berliner
99. Down the Hill NE IPA
100. QDH Juicy Bits
---