No Comments
First Impressions on Revolution Brewing's 2018 Deth's Tar and its Two Variants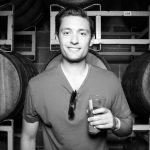 Two releases in and this year's version of Revolution Brewing Deep Wood Series is shaping up to be its best so far. After the daring idea to can its barrel-aged creations last year, the Chicago-based brewery decided to push the limits even further in 2018 by expanding the lineup to 10 ambitious beers, including new offerings such as Code Switch and Deth by Currants. The second release happens this Friday, November 16 at its Kedzie Taproom location (3340 N Kedzie Ave, Chicago, IL) and will feature the popular Deth's Tar, the highly-acclaimed Cafe Deth and the new Deth by Currants, which won the fan vote for best fruited variant.
We were lucky enough to get early access to these three Deth-inspired stouts and came away wholly impressed. Here are our initial thoughts.
Deth's Tar
Revolution understandably receives tremendous hype for its creative variants and one-off releases, but the foundational pillar of its Deep Wood series, Deth's Tar, showcases just how adept the Rev brewers are at barrel-aging beer. To get good variants, one needs to brew a base beer with enough backbone and flavor to hold its own and Deth's Tar delivers on that front. This barrel-aged imperial oatmeal stout is decadently smooth, delivering lush notes of chocolate with just enough barrel burn to highlight the near 15% ABV. Chocolate and barrel reign supreme, but there's enough balance in Deth's Tar to assure that neither overpowers the other; a splendid partnership.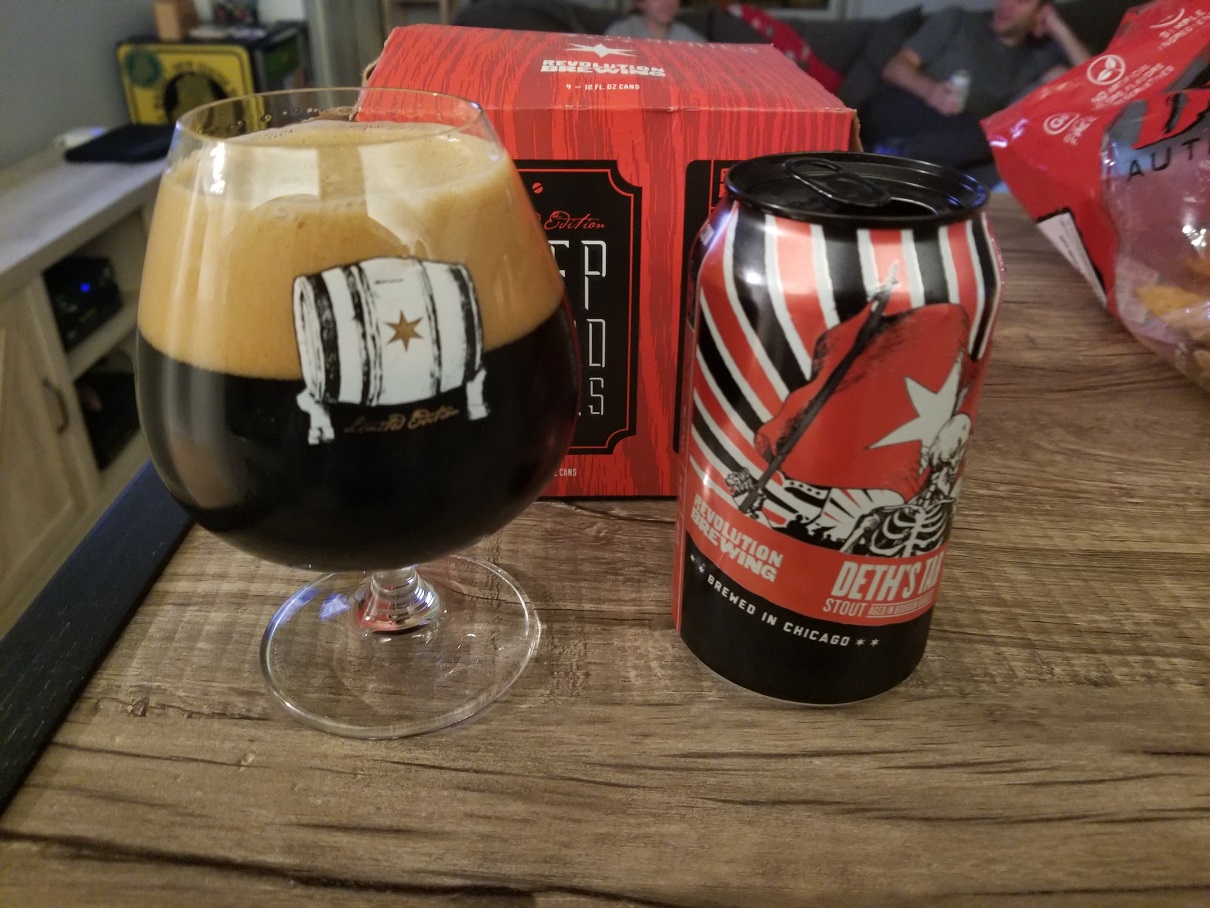 Deth by Currants
Much like Code Switch in Revolution Brewing's first release, Deth by Currants is sure to prove divisive among beer fans. The beer pours beautifully dark purple with a swirling brown head that only dissipates after the first few sips. Like Deth's Tar, the bourbon barrel is unmistakably present. However, the barrel character becomes a passenger to the tart currants which cut through the original flavor profile with a bit of acidic bite that livens up the beer. Overall, the addition of currants provide a nice bit of tartness which then meshes into boozy sweetness, but you do end up losing a bit of that rich chocolate flavor as a result. Deth by Currants forces beer fans to pay attention because the flavor notes presented are both intense and complex.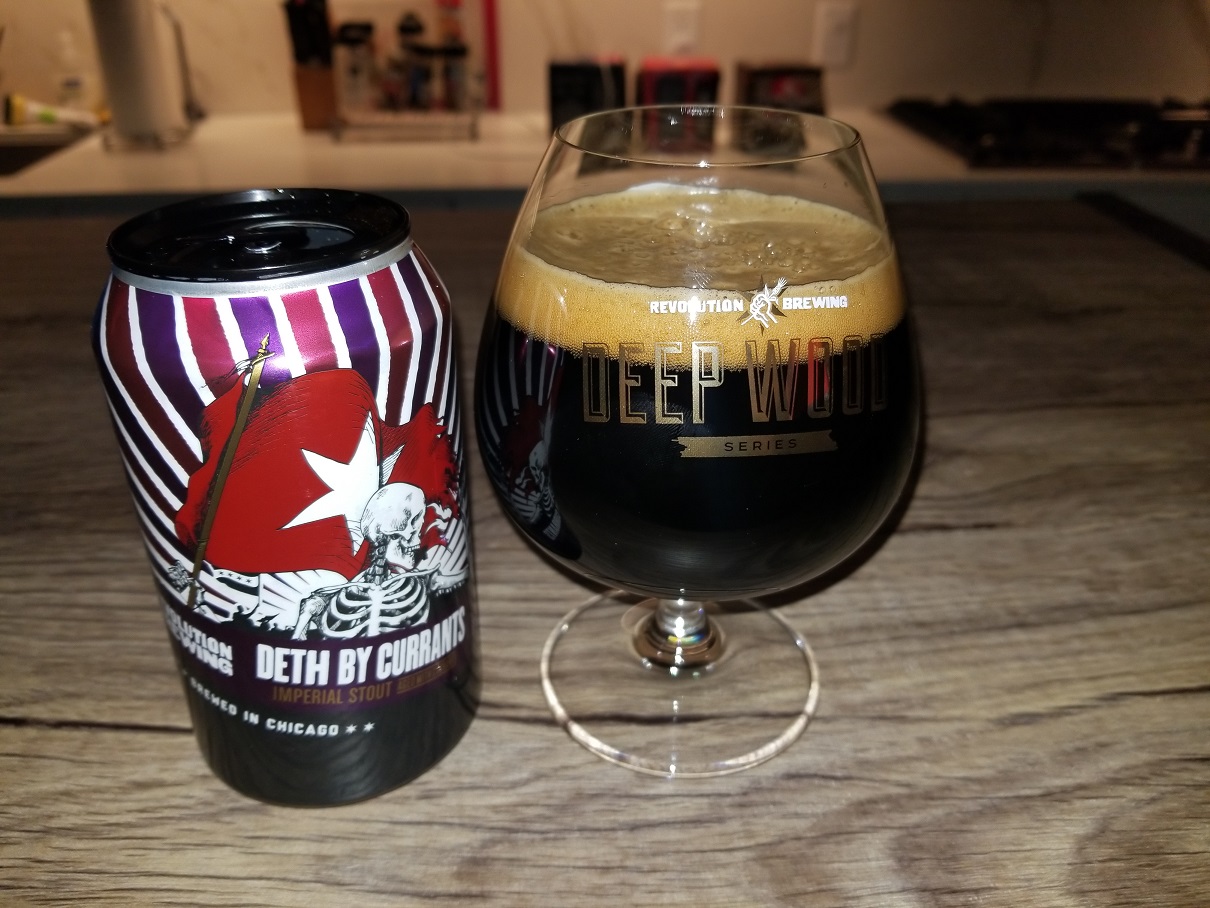 Cafe Deth
If you've tasted Coffee Eugene Porter, you know that the Revolution brewers exhibit extraordinary skill in brewing coffee-flavored beer, and Cafe Deth serves as an example why Revolution might arguably be one of Chicago's best breweries executing that style. Cafe Deth is that good, and it seems to have gotten better this year, which is astounding. The dark brown liquid flows and bubbles in the glass with ease, but the beer's wonderful aroma elevates the beer's quality to an even higher level. The roasted notes of coffee are distinct and highly enticing; it reminds one of the moment when one first opens the doors of a Dark Matter coffee shop. After the first sip, it becomes a challenge to put the beer down.
The coffee blended with the oatmeal makes it creamy and rich with big flavors of roasted coffee beans and chocolate. The bourbon barrel notes arrive on the palate afterward, but coffee owns the show, and that's not by mistake. Cafe Deth is a tremendously well-crafted beer that will almost certainly please every beer fan, notably those who enjoy coffee flavorings.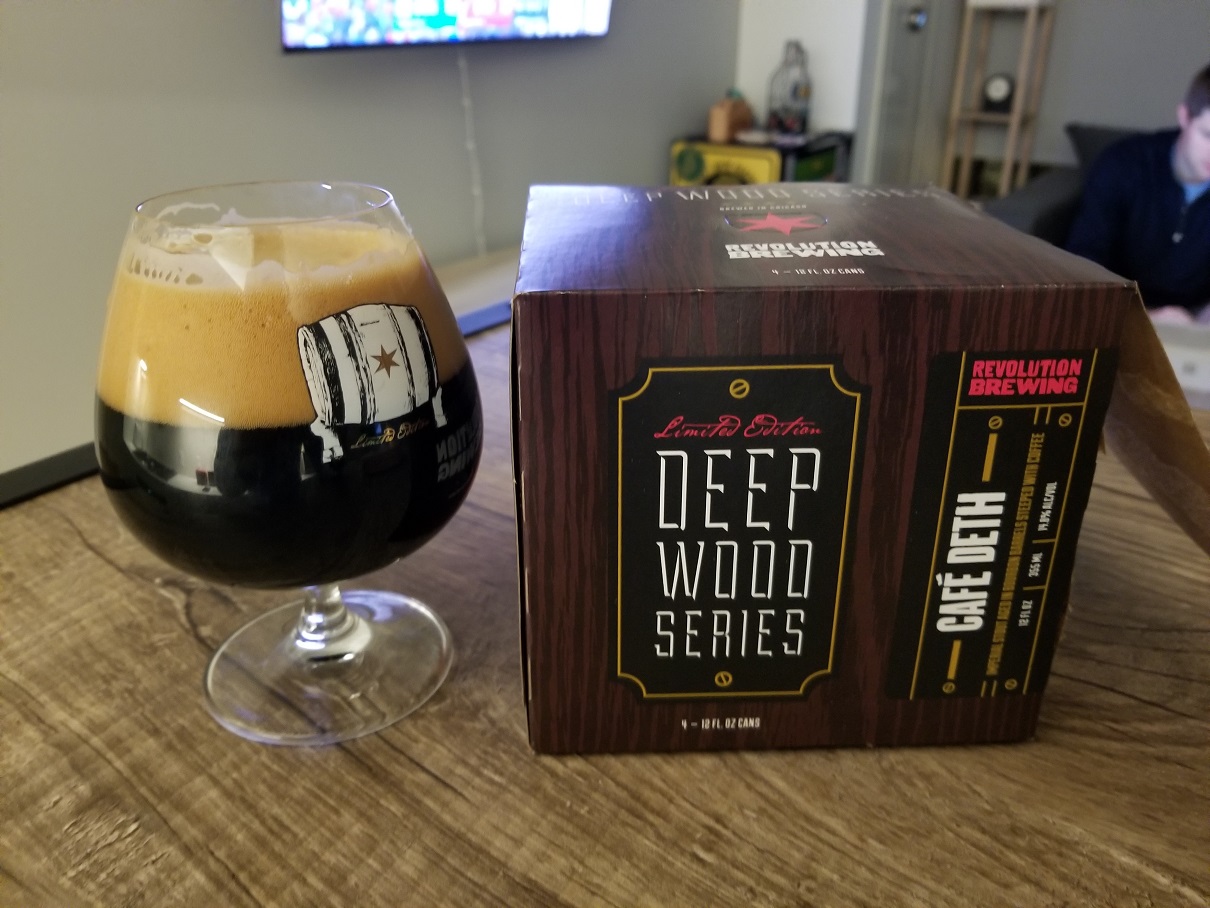 Where and when can one find these variants?
Revolution will release the variants on November 16 and 17 at the Revolution Brewery and Taproom (3340 N Kedzie Ave, Chicago, IL) in 4-packs of 12 oz. cans. And, beer fans should be able to find these and other beers from the Deep Woods series across Revolution's growing distribution footprint.
---