No Comments
The Weekly Buzz | November 9 – 15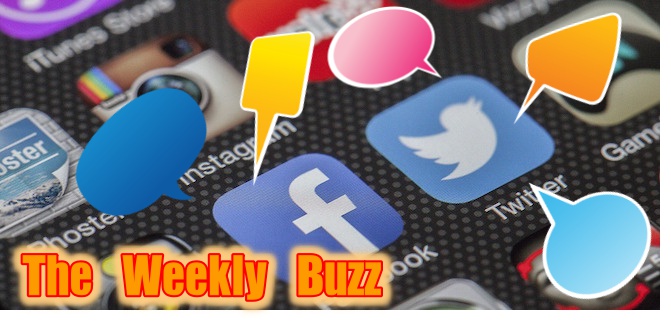 It's happened. A few meager inches of snow have fallen on southeastern Pennsylvania, and drivers who normally blow past my house at 20 MPH over the speed limit have slowed to an embarrassing crawl. I leave for work in three hours and I will lose my mind if the roads are still clogged with scared white-knucklers. This isn't our first winter. I'm not asking you to maintain your normal clear-weather speeds, but at least act like you've seen snow before. Anyhoo… I found some stuff on social media and hope you like it. This is The Weekly Buzz.

Who wants to go to the market?
https://www.instagram.com/p/BqLiL1uF0bI/?utm_source=ig_share_sheet&igshid=1kpi78q05rq5l
---
At least these people are putting the snow to good use!
https://www.instagram.com/p/BqL7kFijKgF/?utm_source=ig_web_copy_link
---
Beer byproducts can make great treats for Rover!
Have a beer with your favorite four-legged friend (sort of). An easy way to make spent grain #dog treats at home: https://t.co/JVNbw8CvRm #diy #homebrew *Always separate the hops, safety always. pic.twitter.com/29aG4G3j9h

— Bell's Brewery (@BellsBrewery) November 15, 2018
---
What's your football-viewing plan for the weekend?
The upcoming schedule for our Super Screen in the Beer Garden 📺 pic.twitter.com/6EZcc5b5iG

— SaintArnold (@SaintArnold) November 15, 2018
---
New location!
It's time for these shiny new beauties to start producing Melvin magic. Melvin Brewing San Diego opening November 16th! pic.twitter.com/mRZpIwe2vD

— melvin brewing (@Melvinbrewing) November 15, 2018
---
How have you been celebrating Yeti Awareness Week?
Have you heard about The Imperial #YetiCheers? It goes down 11/15 at 7pm your local time. Grab a glass and raise a toast to Yeti! Check out https://t.co/3kaJJRSELw for more info #yetimafia #yetiawarenessweek pic.twitter.com/4wgAWp6Fkr

— Great Divide Brewing (@greatdividebrew) November 14, 2018
---
It's never too early to make your Repeal Day plans.
https://www.instagram.com/p/BqLkKGCAf3m/?utm_source=ig_share_sheet&igshid=1ww6jn3hej51n
---
Are you going to FoBAB this weekend?
Watch the awards live and see who takes home the #FOBAB gold! 🏅 Saturday, Nov. 17 at 2PM CST. 🏅Tune in on Facebook and at https://t.co/msFFitvoMA 🏅🏅🏅#betterinbarrels #craftbeer #beerfestival #awards pic.twitter.com/98kl3UfxDb

— FoBAB (@FOBABofficial) November 14, 2018
We're tasting out some Barrel Aged beer variants this afternoon with the whole PW crew.
We're a brewery where everyone's opinion counts.
Some of these might end up at #FOBAB and others will be only sipped right here in this room. pic.twitter.com/y1sfBqRqZO

— Pipeworks Brewing Co (@PipeworksBrewin) November 14, 2018
What's this? A new barrel-aged beer? In two-packs? Yep. We let our house sahti, Bare Bear, rest in Rye Whiskey barrels for 11 months and are releasing it just in time for #FOBAB. 12oz 2-packs will be available To Go ($12) and on draft at @ocmousetrap at 1pm on Friday 11/16. pic.twitter.com/P9sYTNI6MU

— Off Color Brewing (@OffcolorBrewing) November 14, 2018
The perfect weather to kick off #FoBAB.

Presenting The Dark Pool Russian Imperial Stout with organic #madagascar vanilla beans, cocoa nibs and cinnamon (12% ABV). Aged in @journeymandistillery bourbon barrels.

Released at FoBAB tomorrow!#ChicagoBeer #DrinkLocal #Stout #Beer pic.twitter.com/siZ5QwAJzD

— Open Outcry Brewing (@OpenOutcryBrew) November 15, 2018
https://www.instagram.com/p/BqNFNBHl1pj/?utm_source=ig_share_sheet&igshid=yrvs9ajw3juo
https://www.instagram.com/p/BqNDMeHAyA6/?utm_source=ig_share_sheet&igshid=labhcg99qupy
https://www.instagram.com/p/BqLk_5BAlmb/?utm_source=ig_share_sheet&igshid=1mn0g4jw1ez1f
---
Whether your favorite brewery is open or closed, be safe out there.
https://www.instagram.com/p/BqNlYcTF6SA/?utm_source=ig_share_sheet&igshid=11lb7uymanq58
https://www.instagram.com/p/BqNhlf0FxSp/?utm_source=ig_share_sheet&igshid=1gmuo42jh8isn
---
Do a little Christmas shopping!
https://www.instagram.com/p/BqNXFKlDimo/?utm_source=ig_share_sheet&igshid=swtyottm0pfu
---