No Comments
Brewery Showcase | Ike & Oak Brewing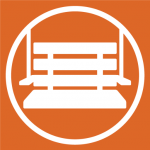 Ike and Oak Brewing Company recently opened in Woodridge, IL as the city's second brewery after Skeleton Key. They're offering 11 of their beers on tap, a variety of pizza options – all in a large venue with an exposed brewhouse and TVs to show any upcoming games. Whether or not that's conveniently located near you, here's why you should come through Woodridge.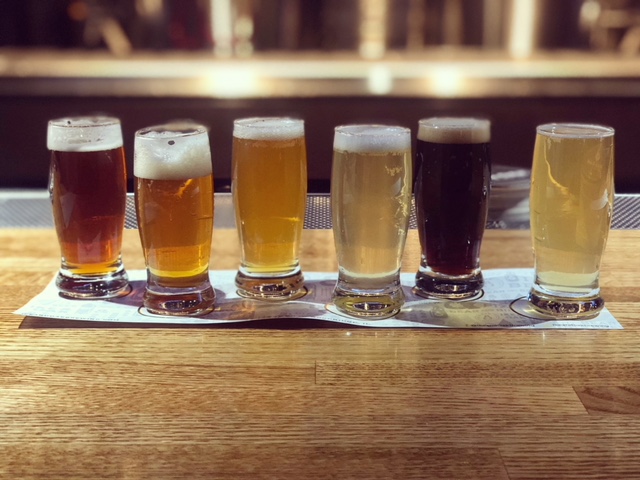 The Beer
It's a brewery. You'd hope the beer checks out, and I can guarantee you that it does. So that you don't have to do all the heavy lifting yourself, I sampled MANY of the new taproom's beers. What sets Ike & Oak apart is its variety of beer styles. They currently have 11 beers on tap including a Vienna Lager, IPA, Porter, Gose and Cream Ale. My favorite was the Monkey Nut Porter, which is an accessible and light Porter that packs a peanut butter punch to keep you wanting more. Runner-ups were the 53/14ers White Stout on Nitro and the Broken Carabiner Pale Ale.
The mastermind behind this draft list, Nathan Tertell, is no rookie. He comes to Ike and Oak with over 10 years of home brewing experience, along with past brewing experience at Two Brothers, Lagunitas and Baderbrau – how's that for a resume? Beyond his obvious ability to brew delicious beers across a wide range of styles, be sure to appreciate the Broken Carabiner Pale Ale, which is one of his original home brews.
If you're not a beer lover, you have additional drink options including draught cocktails, wine, spirits and a guest tap cider. While it's already difficult enough to choose between Ike & Oak's 11 beers on tap, the draught cocktails may be worth planning multiple trips, or pacing yourself and pairing it all with the delicious pizzas.
The Food
OK, a seemingly unoriginal second reason to visit a brewery or taproom, I get it. But trust me on this, Ike and Oak doesn't just serve up your regular bar food. That doesn't mean they don't offer cheese curds, because they do and you need to try them! But they've got many unique pizzas both in Roman and Neapolitan styles. Sure, you can grab a Classic Margherita, but why not try the Wild Boar Sloppy Joe, which is a Roman-style pizza made with smoked ketchup, pimento, cheddar and pepper jack cheese. Another house favorite is the Crab and Artichoke Mac N Cheese Pizza, which is another Roman style made with blue crab, artichoke hearts and white cheddar. These unique pizzas, along with Ike & Oak's other menu items come to you from Head Chef Michael Reid and Sous Chef MJ Senska. They both come with fine dining backgrounds and have specially crafted the taproom menu to be elevated brewpub fare.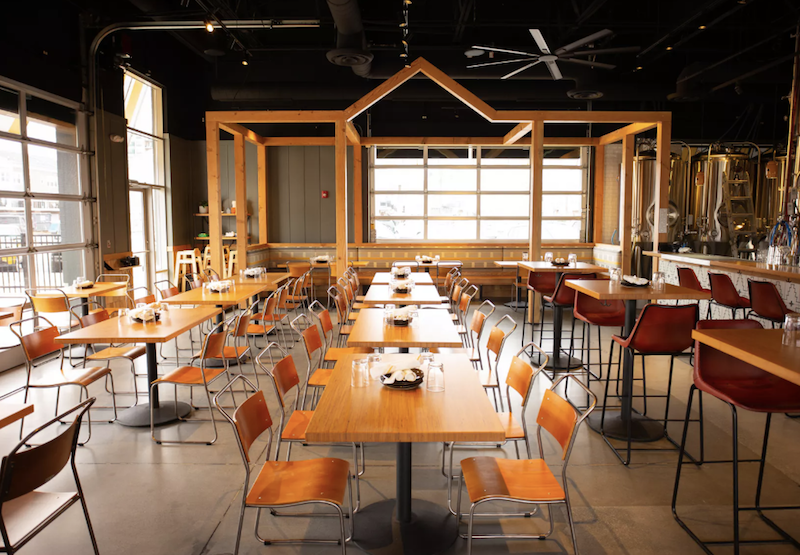 The Venue
Located within the larger Seven Bridges shopping complex nearby other bars, restaurants and movie theatre, Ike and Oak stands out with its… well, the space is incredible. It's huge! The brewhouse is exposed, and who doesn't love an exposed brewhouse? There are large TVs for sporting events but they don't take away from the overall ambiance, namely the incredible playlist that was seemingly curated by my former young, hip self. It was that cool y'all. The restaurant wraps around with multiple garage door opening for future patio seasons.
"Ike and Oak is unique and different. The interior design, created by FC Studios, is a north woods meets the Rockies mountains with a touch of Scandinavia space that is comfortable and fun." -Ed Ranquisk, Owner/Operator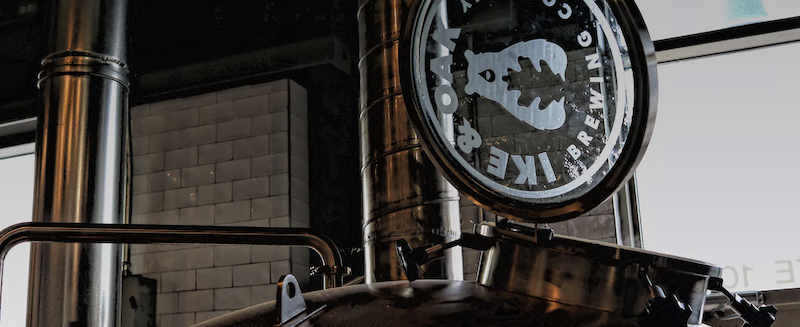 The Brand
One of my favorite parts of Ike and Oak is their branding. It's simple, consistent, yet memorable. The brand itself, including the Ike & Oak bear stems from a family story shared by the owner. I'd hate to give the full story away, but it can be found on the taproom menus or shared by Ike & Oak's staff upon visiting.
If you're local, then you've got yourself a new go-to taproom in the area. Ike and Oak is in great company with Skeleton Key nearby. If you're in a surrounding suburb or in the city like me, I guarantee you it's worth the trip.
Cheers!
Feature image courtesy of Ike & Oak
---